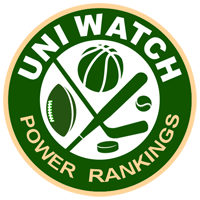 Paul here, making a rare August appearance, because today's a big day. We're rolling out a new edition of the Uni Watch Power Rankings over on ESPN. And instead of ranking the teams in a given league, we're adding a new category: ranking the best-looking cities as judged by their teams' uniforms, which I'm sure will result in lots of arguments, debate, and so on.
The rules were as follows:
• In order to be included in the rankings, a city had to have at least three teams in the "Big Four" pro leagues (NFL, MLB, NBA, NHL), a criterion that resulted in 20 eligible cities. A separate set of rankings was conducted for 11 small-market cities that have only two major-level teams. Minor league and college teams were not considered, because there are too many of them and they change their uniforms too often. MLS teams were also not considered, because they change kits too often, most of the jerseys have corporate advertising that renders them worthless, and I'm not equipped to assess soccer uniforms anyway.
• The rankings are based on each city's Uniform Numerical Index, or UNI, which is calculated like so: Each team's uniform set was ranked on a scale of 1 to 10. When applicable, points were added or subtracted for intangibles that affect the fan's visual experience, such as a particularly attractive ballpark (always good for an extra point or two) or a domed football stadium (an automatic two-point deduction). The city's total points were then tallied and divided by its number of teams, resulting in the UNI.
For example, a city with a good-looking MLB team (8.5 points), a mediocre-looking NBA team (4), and a decent-looking NFL team that plays in a dome (6 minus 2) would have a UNI of 5.5.
• All teams were judged based on their current uniform sets, even if those sets haven't yet seen any game action. For example, several NBA teams have unveiled new uniforms this summer — those unis were factored into these rankings, even though they haven't yet been worn on the court. Points were based primarily on home and road uniforms, with alternate designs factored in based on how often they're worn. One-off designs and special promotional jerseys were not considered.
• A few judgment calls were necessary regarding which teams should be associated with which cities. San Francisco, Oakland, and San Jose, for example, were all considered to be one municipality for the purposes of these rankings. Ditto for New York, Brooklyn, and New Jersey; Los Angeles and Anaheim; Dallas and Arlington; Minneapolis and St. Paul; Tampa and St. Petersburg; and Boston and Foxboro.
I also considered lumping Baltimore and DC into one metro area. But after consulting with several fans from both cities, I decided to treat them as separate entities. This meant that DC made the primary list of 20 big-market cities and Baltimore was relegated to the list of two-team cities.
Okay, ready to find out if your city's uniforms were judged to be eye candy or an eyesore? Here you go.
• • • • •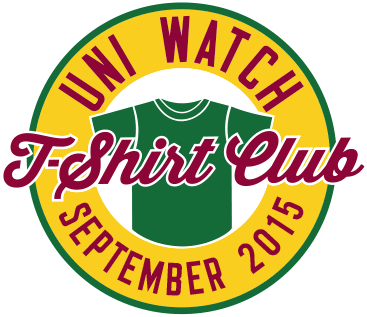 T-Shirt Club reminder: In case you missed it yesterday, the Uni Watch T-Shirt Club's latest offering — the road grey shirt — and it's now available for ordering. Obviously, this one is pretty straightforward, but it's still plenty handsome. In fact, I think this is my favorite design we've done so far (click to enlarge):
Again, this shirt is available here. And there's additional information about how this shirt fits into the larger T-Shirt Club program here. Thanks.
Now here's Phil with the rest of today's content.
Classic Ballpark Scoreboards
Thanks, Paul.
I'm pleased to continue with a favorite weekend feature here at Uni Watch, "Classic Ballpark Scoreboards," which are created by Gary Chanko. These run on the weekends when I'm handling those duties, but since I've got the weekday duties (except for today's lede), they'll run on Wednesdays for the month of August. The feature will return to the weekends when I do.
Here's Gary (click on image to enlarge):
. . . . . . . . . .
Classic Ballpark Scoreboards – Series II
by Gary Chanko
Classic Scoreboards next travels to east Montreal to visit the much ridiculed former home of the Expos, Olympic Stadium, or Stade Olympique if you prefer.
Olympic Stadium/ Stade Olympique (Montreal)

Baseball and Football Home of: Montreal Expos (1977""2004), Montreal Alouettes (CFL) (1976""1986; part time from 1996 to present); 1982 MLB All Star Game; Six Grey Cup games.
Opened (although not fully completed): Summer Olympics 1976
First Expos game: April 15, 1977
Last Expos game: September 29, 2004
Current Status: Multipurpose facility for special events; concerts, conventions. Reportedly needs major renovations over the next decade.
Olympic Stadium served as the home of the Montreal Expos from 1977-2004. It was and remains a multi-purpose facility located in the former Olympic complex.
Le Stade Olympique suffers a number one ranking in at least one Top Ten Worst lists, largely because of two decades of financial problems, roof construction and stability problems and other structure mishaps. Setting those controversies aside, the ballpark itself wasn't all that bad a venue for watching baseball. This was arguably so after improvements in the early 90s that moved the outfield seating closer and added a major centerfield scoreboard upgrade. After the damaged roof was removed in 1998 for repairs, the ballpark became "outdoors" for a season!
Olympic Stadium has a few nicknames. "The Big O" is a reference to the stadium's name and to the doughnut-shape of the structure."The Big Owe" is a mocking reference to the enormous expenditures for construction and repairs (about C$1.6 billion).
For more about the complicated history of Olympic Stadium you will want to read this comprehensive SABR article.
This Baseball-Fever posting provides an interesting pictorial history of Olympic Stadium's scoreboards. The 1992 vintage centerfield scoreboard was recently upgraded with new LED displays.
The illustration features the original matrix scoreboard (c.1990) with the reviled orange roof (finally installed in 1987) as the panoramic backdrop.
A Few Things to Know
• The Big O is one of three former Olympic Stadiums to suffer a conversion for Major League Baseball. The other two are: Los Angeles Memorial Coliseum (1932 and 1984 Summer Games) and Centennial Olympic Stadium (1996 Summer Games).
• The Expos' Pete Rose got his 4,000th hit in Olympic Stadium in April 1984.
• The largest ever paid crowd to the Olympic Stadium was a 1977 Pink Floyd concert attended by over 78,000 fans.
~ ~ ~ ~ ~ ~ ~ ~ ~ ~
If anyone is interested in purchasing a digital copy of these posters, Gary is working on an online purchase option. In the interim you can contact him directly at Classicscoreboards@gmail.com.
Uni Watch News Ticker:

Baseball News: On Monday night, a Cardinals fan and a Giants fan attended the St. Louis/San Francisco game — as their jerseys indicate, they've been together since 1952. I'm generally opposed to jersey chicanery like this, but in this case it's awesome. What do you guys think? … A local Michigan club baseball team out of Dexter recently dressed in 1860's uniforms and played with 1860's rules. Photos here and here (from PK Richardson). Some additional photos here. … Apologies if we've had these before, but here's a look at the Andy Pettitte and Jorge Posada retirement patches for the Yankees (from Diego Bauzá). … "I don't think I've ever seen a manager wearing a glove in the dugout during a game," says Dustin Semore. "Which makes this screenshot of Bobby Cox wearing a catcher's mitt in 2009 all the more interesting. This was taken during ejection #149, so 1 away from the record of 150. Maybe he was trying an anger management technique? Didn't seem to work." … Here are a couple of neat old Colorado baseball photos. Submitter jbird8212 adds, "The pictures aren't that great – but found these pictures of Mine supported teams that played around Frisco CO Back in the 20's." … The Schaumburg Boomers are hosting a "Zombie Night" this Saturday, and these are the jerseys they'll be wearing (from Steve Johnston). … Wow, some intern at the MLB Network is probably about to get fired (nice grab by Jeremie Archer). … Tonight at Wrigley, the Tigers and Cubs will wear 1945 throwback uniforms. (That was the last year the Cubs were in the World Series. They didn't win.) … Ooof: Color vs. color was taken to a new level in Wilmington yesterday, as the Nats & Blue Rocks both wore navy tops (h/t Mike Diodati). … Also not a good color vs. color combo: navy vs black for The Sugarland Skeeters and Bridgeport Bluefish (h/t Derrick Lockridge). … Roberto Clemente would have turned 81 years old yesterday. The great Rob Ullman posted this illo of Clemente on Twitter to commemorate his birthday. … The Rangers' longstanding red/blue confusion nicely captured by Chi Chi Gonzalez's socks and shoes (good spot by Paul). … Last evening, Andrew McCutchen wore an interesting new arm sleeve (thanks to Rob Ullman). … During a pitching change last night, Juan Lagares became a human cap & glove rack (h/t Frank Bledsoe, Jr.).

NFL News: Ronnie Hillman sure has an interesting mouthpiece! says Andrew Cosentino. … This is interesting: Color-changing NFL helmets could indicate brain damage. … Yesterday's ticker item about shadowing on the Browns' practice jerseys was i.d.'d the shadowing as "drop shadow.". Scott Turner points out the correct term is actually block shadow (actually block shadow outlined). This is a mistake I myself make often, so it's good to know the correct terminology. Thanks, Scott!

College Football News: Unlike other high-profile Division I schools who have gone to 'generic' jersey numbering for retail sales, UNC still sells player jerseys, for now. … Clemson helmets are coming together (h/t Mark Johnson). … Check the brand new Pitt football locker room and player lounge (via Josh Sánchez). … ASU will be unveiling a new "Desert Ice" uniform on Thursday. … Those new Vanderbilt alternates that were released on Sunday? Seems Redditors had some fun with one of the poses. … The Oregon State University "BeaverDam" has a logo for the student section (h/t Tanner Karp). … This is pretty cool: check out some nice drone video footage of Alabama's Bryant-Denny Stadium (from Wayne Harder). … The new Hawai'i home uniform has been released. Looks pretty nice! More here. Not quite sure about the pants yet tho. … The Georgia Bulldogs have officially designated their "black out" and "red out" games (note, this doesn't mean they're going to wear a black jersey for any of the "black out" games; pretty sure Richt has said no black jerseys this year). … Speaking of black — is this a black helmet for THE Ohio State? (via Jamie Dupler). … "Just finished up a project documenting every Virginia Tech football helmet design worn under Frank Beamer," writes Clark Ruhland. "Since 1987, the Hokies have worn over 50 different variances. Here is a look at every helmet design and detail from those years." … Looks like the Arkansas Razorbacks may have chrome helmet decals this season. … I love this hed from the Gwinnett Daily Post: "Oregon more than just uniforms."

NBA News: Reader Dan Michalek asks, "New Hornets court? I really hope not, since their honeycomb court is killer." … A designer created some basketball uniform concepts that combine rap and NBA logos and wordmarks (thanks Mike).

Hockey News: Check out this beautiful 1974 NHL All-Star Game program cover, back when the league had 16 teams (several of whom have since moved or been renamed), from Super 70s Sports. Also from Super 70s, feast your eyes on this 1979-80 NHL guide, with 21 teams (which included more expansion clubs and teams absorbed from the WHA). … Here's a look at the 20th Anniversary Logo for the AHL's Grand Rapids Griffins (via Matt McClain). … The Griffins also unveiled new home and road uniforms; here's a better look at the jerseys (thanks to Ben Greene). Here's a bit more on that. … Reader Jimmy Lonetti saw this tweet (announcing the Minnesota Wild would "will don something like this"), which is obviously a harkback to the old North Stars colors, with the Wild logo. The tweeter later added, "Per source, within Wild something 'like this' will be worn for ONLY the alumni game February 20th not the actual Stadium Series." Here's a bit more on that. … Andrew Hammond's new mask features the Hamburglar and a tribute to Ottawa's Butterfly Boy. Adds T.W. Feren, "Looking like the Golden Arches on the chin."

Soccer News: Here's a list of the "10 Worst FA Logos in the world (h/t Jim Collier). … The USWNT debuted their 3rd star and what they call the FIFA Champions badge during their victory tour in Pittsburgh on Sunday (thanks to Julie Streeter). … New soccer kits for Dayton Women (from Tom Hirt). … Metro State Denver Soccer has new kits. … "Great uniform matchup in (Mon)day's Champions League game between Manchester United & Club Brugge," notes Saurel Jean. "Even the uniform fonts were a great contrast (Schneiderlin – De Bock)."

Grab Bag: Here are the kits Leinster's rugby stars will be wearing this season. … A Dallas violinist and businessman have engineered a stretchable, breathable men's tuxedo shirt, a mix of formal attire and athletic performance wear (thanks, Paul). … This is what Danica Patrick's car will look like next NASCAR season (via Jerry Nitzh). Here's another view (h/t Chris Cruz). … A Baseball-themed play is coming this winter to the Japan Society in NYC (from Karen McBurnie). … Indiana University just inked a $53.6 million apparel deal with adidas (second only to Michigan and UCLA for schools signed with the three stripes). … NASA's logo from the '70s was ridiculously cool (thanks Brinke). … New volleyball unis for the ASU ladies.
And that's all for today — thanks to Paul for grabbing the lede today (and I'm looking forward to seeing those city rankings), to Gary for the Scoreboard feature, and everyone who emailed or tweeted a ticker item. Back tomorrow with more stuff.
Follow me on Twitter @PhilHecken.
Peace.
.. … ..
"RE: Curve on baseball brims. The brims of baseball hats should be 'curved' in an exact duplication of the curve on batting helmets. No more, no less."
— Mainspark