Interesting scene yesterday at Yankee Stadium, as American Pharoah jockey Viktor Espinoza threw out the first pitch prior to the Yanks/Halos game. As you can see above, they gave him a Yankees jersey for the occasion — nothing unusual about that. The interesting thing was the number on the back (screen shot by reader Chris Flinn):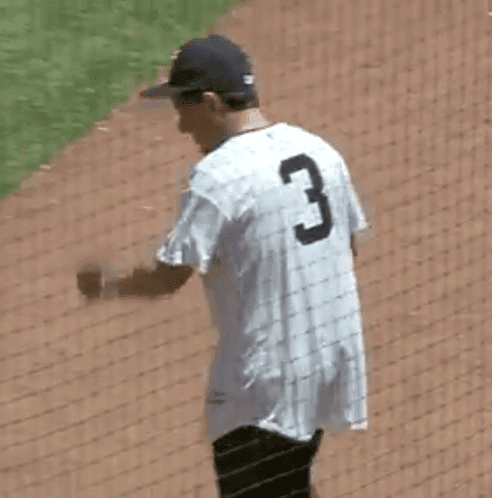 Okay, so we all understand what they were doing — the "3" stands for the Triple Crown. But it's still kinda startling to see someone wearing a Yankees jersey with the Babe's number on the back.
This raises an interesting question: Should retired numbers be off-limits for promotional jerseys? In November of 2013, for example, the Mets announced that they'd be adding a G.I. Joke jersey for the 2014 season and unveiled it with this photo: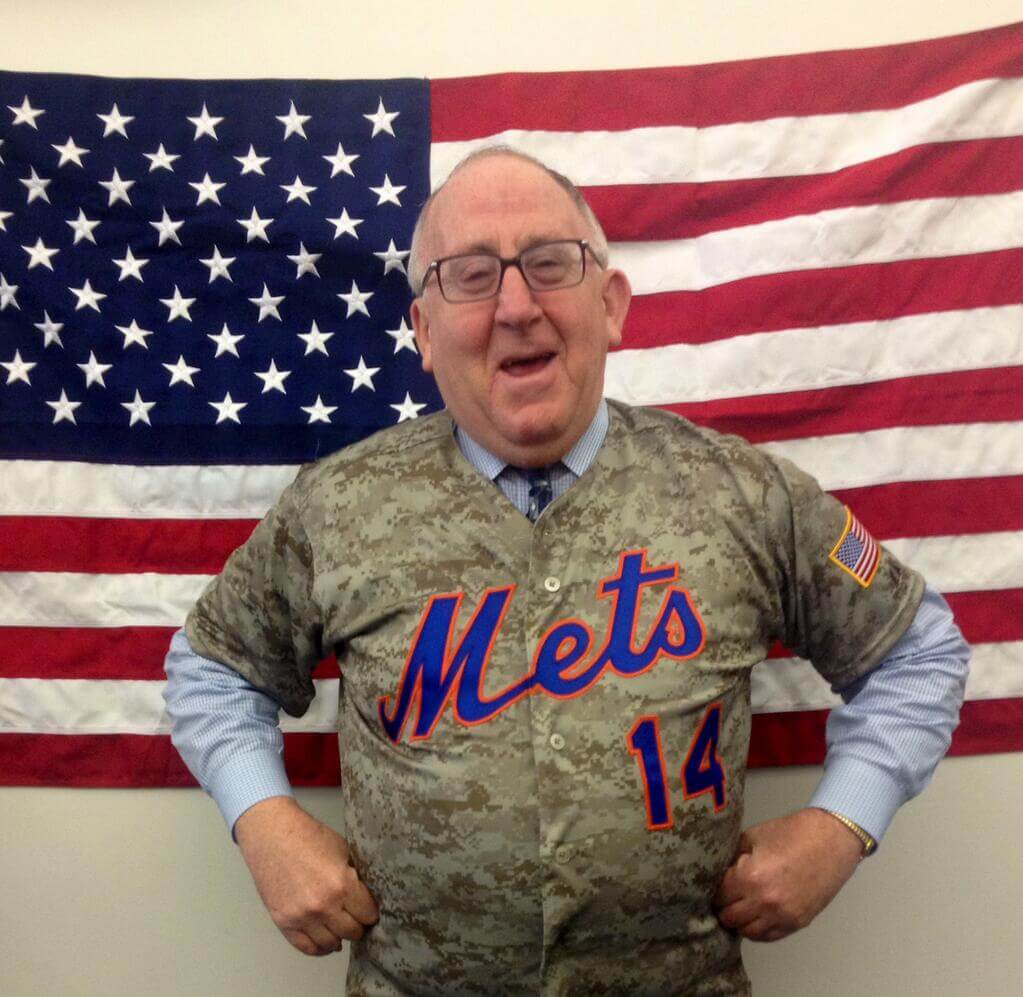 I kinda flipped out, and not just for the obvious reasons, but also because No. 14 is retired for Gil Hodges and my brain goes into "Does not compute" mode when I see anyone wearing a Mets jersey with that number. Obviously, in this case they were using 14 as a shorthand for 2014, but I still didn't like it. I'm sure there are lots of similar instances.
What do you folks think? Let's please skip the obvious responses ("If the Yankees didn't use their retired numbers for promo jerseys, they wouldn't have any numbers left to use!"), and let's also not hear from those of you who are opposed to the whole idea of retired numbers (a different argument for a different day). For the rest of you: Was it okay for the Yankees to give Espinoza a No. 3 jersey yesterday? What about situations like the Mets promotional photo?
• • • • •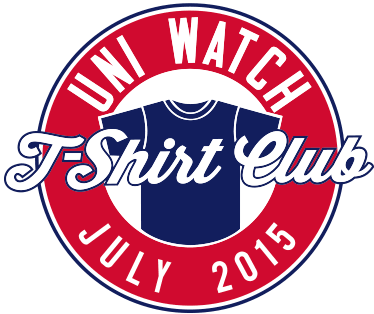 LAST CALL for the Fourth of July design: Today is the final day to order the Uni Watch T-Shirt Club's July design with the Independence Day theme. It's available until 11pm Eastern tonight and then it's gone for good.
In case you've somehow missed it, here's the design (click to enlarge):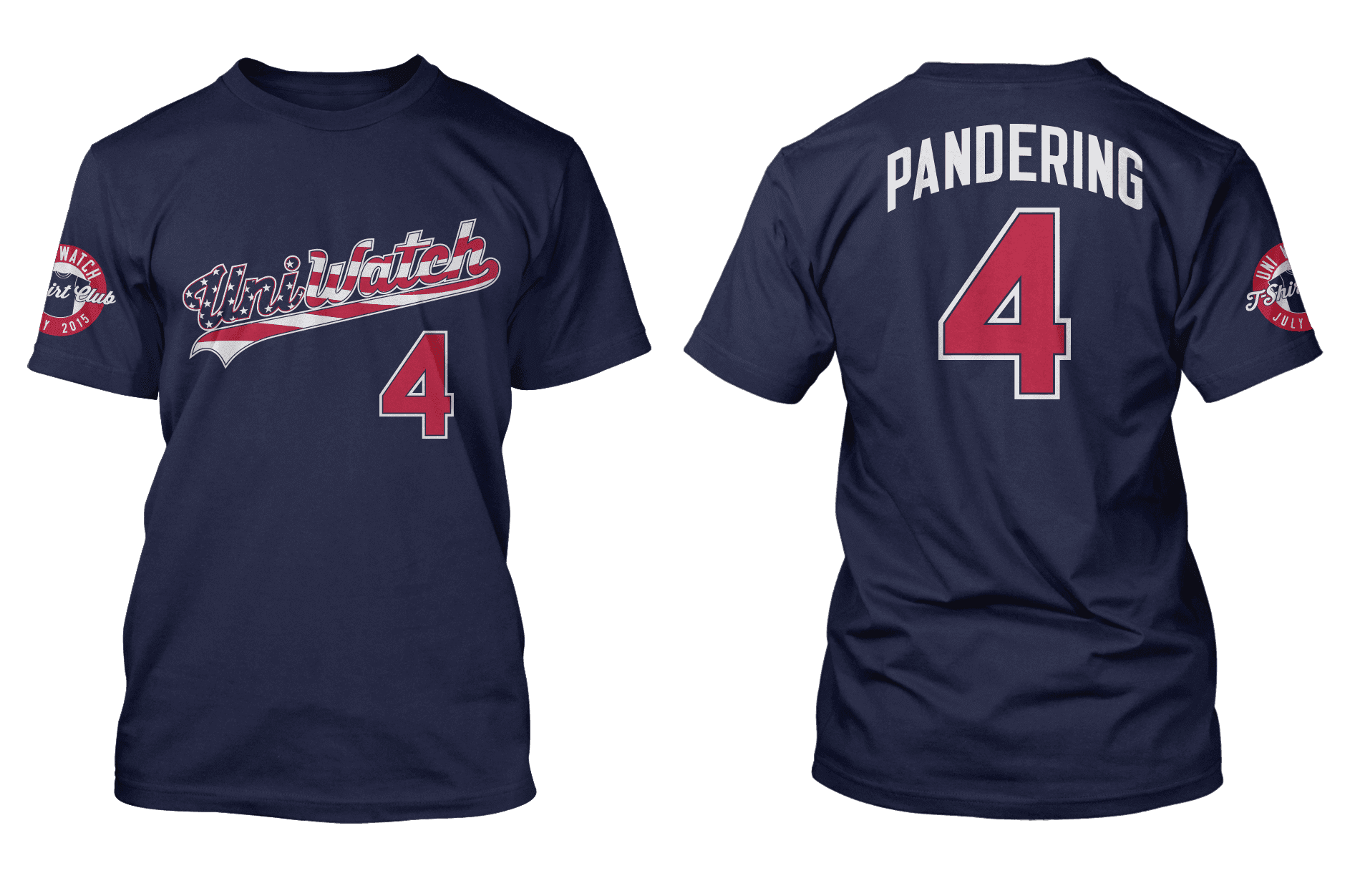 You can order the shirt on this page. For those who have issues with the "Pandering" NOB, that topic is discussed in depth here.
Meanwhile, big thanks to everyone who ordered the Canada Day shirt, which turned out to be more popular than we expected, and doubleplusthanks to reader Mike O'Connor for suggesting that we include a Canadian option for July. Wouldn't have happened without you, Mike!
• • • • •
Membership update: A bunch of new designs have been added to the membership card gallery (including Stephen Santangelo's 1980 USA hockey treatment, shown at right). We still need one more order to fill out the current batch. Once that happens, this batch will be printed, laminated, and shipped out.
As always, you can sign up for your own custom-designed membership card here, you can see all the cards we've designed so far here, and you can see how we make the cards here.
•  •  •  •  •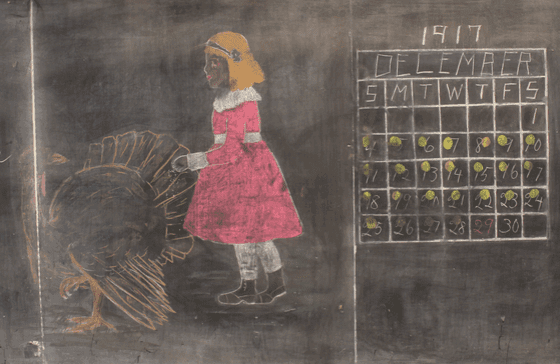 PermaRec update: The blackboard lesson shown above was, as the calendar suggests, created in 1917. It was recently uncovered, completely intact, at an Oklahoma City high school, along with several other blackboard lessons from the same period. Get the full scoop over on Permanent Record.
• • • • •

Baseball News: The Dodgers held a celebrity softball game with some pretty cool jerseys. "¦ The good news: Mets TV analyst Ron Darling noted that Jarrod Saltalamacchia, now with the D-backs, wears his catcher's helmet with the brim facing forward. The bad news: Darling stated that Salty is MLB's only front-brimmed backstop, which isn't even close to being true. In fact, as Darling should know, the first MLB catcher ever to wear his helmet that way was Jason Phillips of the Mets. "¦ Royals and Rangers went blue vs. blue yesterday (from Kyle Peters). "¦ Really nice cream unis with striped stirrups yesterday for Arkansas. "¦ Very nice to see that MLB's official Twitter feed is promoting striped stirrups (thanks, Phil). "¦ Alex Gordon of the Royals has stains on the back of his jerseys. It's apparently pine tar that comes off of his bat during a stretching routine that he does while on deck (good spot by Aaron Johnson.) "¦ Back in 1917, the Cubs and White Sox both wore jackets made by the Patrick Duluth company, which featured both squads in this great ad (from Will Scheibler).

Pro and College Football News: You probably already knew that the Duluth Eskimos had the coolest uniforms in NFL history. Now it turns out that they also had the best sideline jackets. Look how the lettering is tapered from top to bottom to keep the kerning tight throughout the radial arching — very cool (from Will Scheibler). "¦ Hmmm, did Arizona State just reveal a grey helmet?

NBA News: Stephen Curry changed shoe colors in the middle of last night's Warriors/Cavs game. "¦ Love the warm-up outfits in this 1972 Sonics team portrait (thanks, Phil). "¦ Also from Phil: Gotta love this old NBA team logo bedsheet. "¦ A current Gatorade ad shows a Lakers player wearing No. 100. Let's see the ref signal that to the scorer's table (from Mark V. Malazarte).

Grab Bag: Reader Ken Traisman sent in an interesting example of another vertically lettered sign with an apostrophe — only in this case the apostrophe is near the beginning of the business name, not near the end. Of course, there should also be another apostrophe before the "s," but that's another issue. "¦ The Helsinki Roosters, a youth football team in Finland, wear their team name on their socks. That sock style doesn't fit with NFL regulations, but it would be fine in the NCAA. Kinda surprising no college team has gone that route (from Dustin Semore). "¦ I recently began offering the Uni Watch watch, mainly because I think the name is funny. But get this: There was once a wristwatch brand called uniwatch! (Awesome find by Angelo Boscolo).
•  •  •  •  •

What Paul did last night yesterday: About a month ago I noticed that the Museum of Jewish Heritage in lower Manhattan was running an exhibition on Jewish mid-century modern furniture designers, which is basically my mom's entire aesthetic — or maybe her entire life — in a nutshell. I knew I had to get her to that exhibit.
Mom is now 91 and doesn't travel easily. Although she grew up in Brooklyn and continued to visit the city for many decades after she and my father moved to Long Island, she had been in the city only once, in 2011, over the past 10 years. Deep down, she still considers herself a New Yorker, but she now finds the city intimidating and feels increasingly alienated from the place she once called home, so it took a bit of cajoling to get her to agree to go, but I eventually managed to convince her.
So yesterday I drove out to Long Island, put Mom in my car, and drove us to the museum, where we both thoroughly enjoyed the furniture exhibit (highly recommended), along with a few others (the one on the Nazis' persecution of homosexuals was grim but really well done). Afterward, we got sandwiches and ate them on the Battery Park Promenade, with a view of the sexy Jersey City skyline, hot-cha-cha (photo by some guy who was walking by; click to enlarge):
It was great to give Mom a day in New York (possibly her last, although I hope I'm wrong about that), and we couldn't have asked for more perfect weather. On the way home, we detoured to my hometown and cruised past the house where I grew up, and where she and my father lived for 49 years. The new owners, who bought the place in 2004, have barely changed a thing, at least from the exterior, which Mom took as an implicit compliment ("They must have liked my landscaping, because they kept it!"). All in all, a very good day.