What you see above is a 2013 photo of the brachiosaurus skeleton outside the Field Museum in Chicago, which was decked out with a Blackhawks jersey to support the team during the Stanley Cup Finals. Unfortunately, the dinosaur will not be jersey-clad during the team's current Stanley Cup run. According to a museum spokesperson quoted in this article, "The sweater we used last year took more of a 'Chicago weather' beating than we realized. When we took it out this year, we learned we'd have to make a new one and, unfortunately, didn't have the time to do so." Bummer.
That late-breaking item didn't make it into my annual Stanley Cup Finals preview column, which was posted yesterday afternoon on ESPN, but the column includes lots of other good uni-centric items about the Blackhawks and the Lightning. Check it out here.
•  •  •  •  •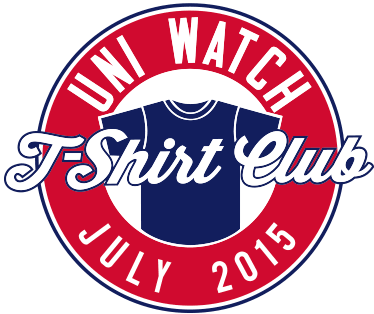 IMPORTANT T-Shirt Club update: In case you missed it yesterday, the Uni Watch T-Shirt Club's July designs — one for Independence Day and another for Canada Day — are now available. But we've discovered that the longer shipping times to Canada might make timely holiday delivery of the Canada Day shirt a bit iffy for our Canadian friends. We don't want that to happen (duh), so we're going to end that campaign a bit early. The Canada Day shirt will be available until 7pm Eastern this Sunday (instead of 11pm on Monday). Please plan accordingly. The USA shirt will still be available through Monday night.
In case you haven't seen the shirts yet, here they are (click to enlarge):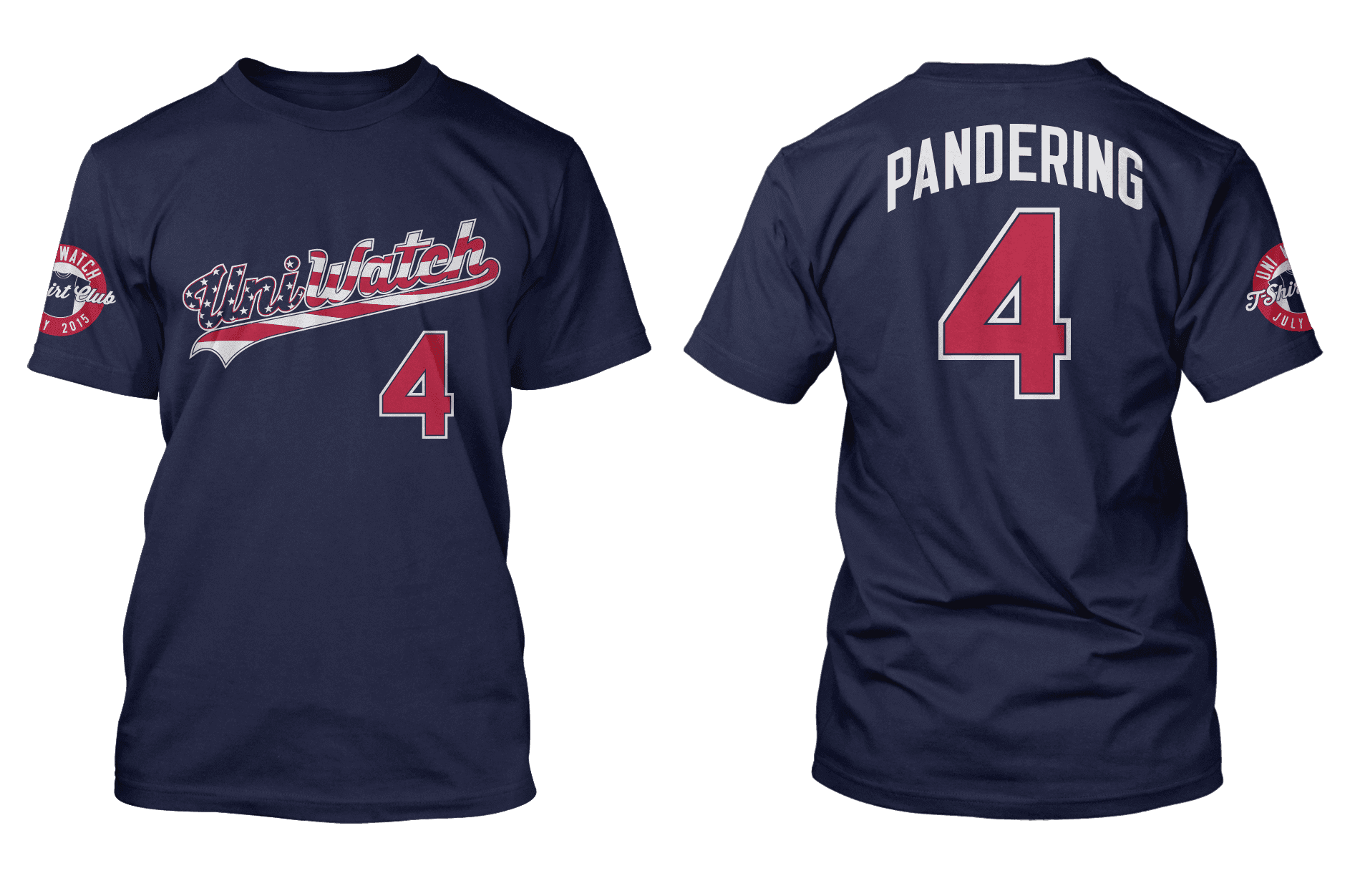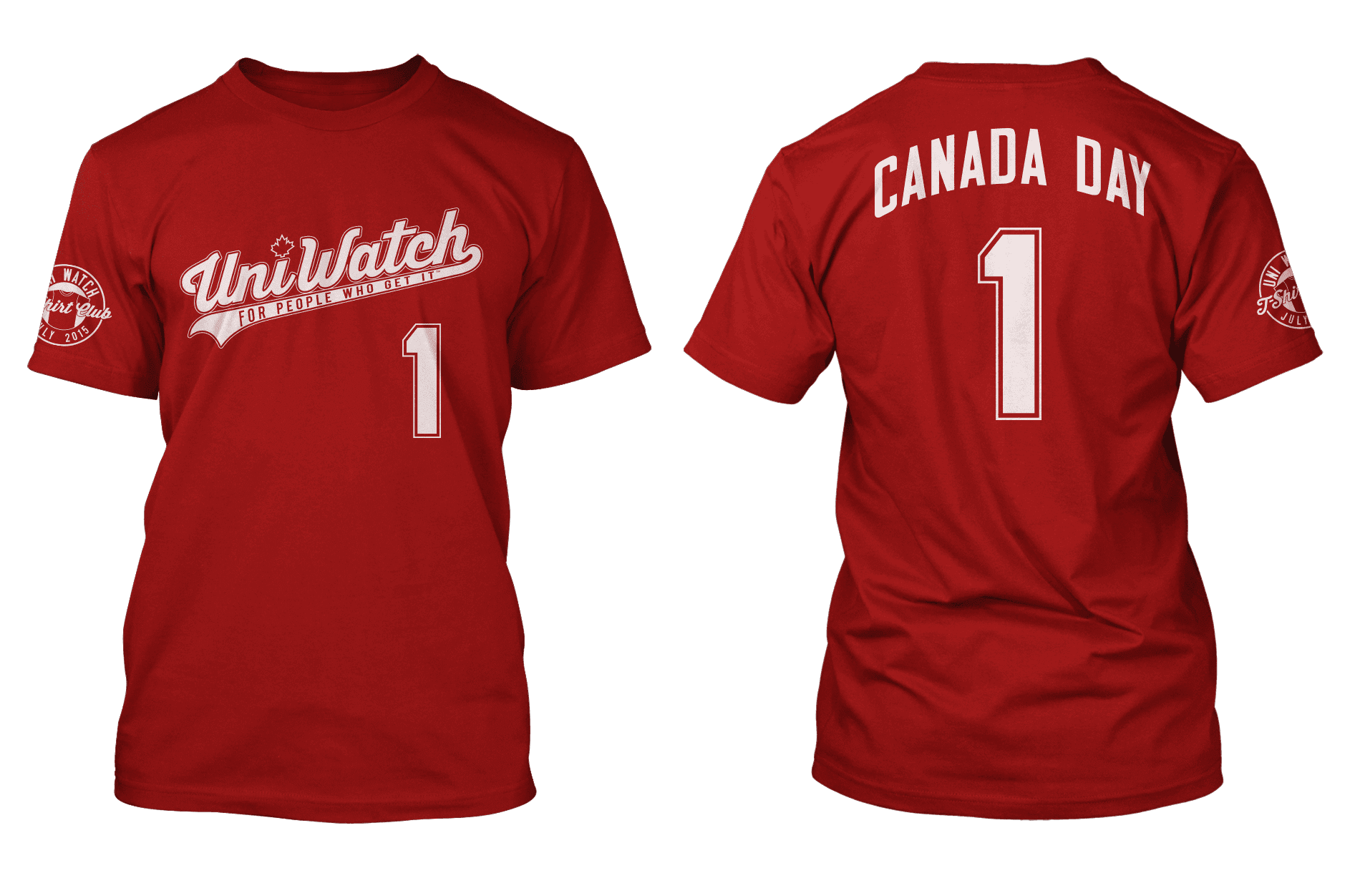 You can order Independence Day here and Canada Day here, and there's further info here. For those who have issues with the "Pandering" NOB on the Independence Day shirt, that topic is discussed in depth on this page.
•  •  •  •  •

Baseball News: Nice to see MLB and New Era continuing to bring class and dignity to the American flag. "¦ The Mets wore orange shirts — for a photo shoot, not on the field — for Gun Violence Awareness Day, which was yesterday. "¦ The Padres had three Chargers players throwing out the first pitch(es) tonight, and they'll be wearing Padres jerseys with Chargers bolts. "¦ Someone's running a Kickstarter campaign to raise funds for a new kind of protective headwear for pitchers (from Clinton Dybul). "¦ James Ryan Bounds's father has collected a shitload of caps. "¦ Here are the jerseys for the Norwegian national baseball team, which will be worn this weekend at the 2015 Nordic Open (from Torbjørn Olsen). … According to this story, Carlos Quintana once played in a big league game while wearing a minor league uniform (from Joe Kuras).

Pro Football News: Inconsistent 5s in this 1994 Browns game. When I posted that photo on Twitter yesterday, Scott Johnston provided a good explanation (from Matt Barnett). "¦ Vikings RB Adrian Peterson, dropped last year by Nike, showed up at OTAs yesterday wearing Adidas — "maybe the new Adizero 5," says Kawika Asuncion. "¦ "The Broncos just re-signed Ryan Harris to the team after originally drafting him in 2007," says Jeff Alexander. The Broncos acknowledged this by posting a photo of Harris holding up his original draft day jersey with an upside-down 'I' in his NOB. The serif should be on the upper left corner of the letter, not lower right." … The state of Florida is offering redesigned license plates for the Bucs, Dolphins, and Jags (thanks, Phil). "¦ You've heard of the San Francisco 49ers, but there's also a Mexican team called the 49ers, a Mexican women's team called the 49ers, and a semi-pro team in San Jose called the 49ers — and they all dress like the NFL team! "¦ The Rams have new practice jerseys. "¦ This SI article about the WFL includes the following passage: "Rick Eber, a swift wide receiver for the Shreveport Steamer, had four catches for 91 yards "¦ [while] playing with tacks taped to his fingers. 'They're small tacks,' he said. 'I can close my hand and the tacks won't even break the skin. They just drag on the ball. I knew it was illegal, but we needed a win'" (from Tris Wykes).

College Football News: Looks like Kansas State is finally switching to the Nikelace (from Alex Speth). "¦ You can see the new field turf being applied at Kentucky's stadium (from @ThePonchat).

Hockey News: In an interesting cross-sport move, Mitchell & Ness is making NBA-style tank tops for the Original Six NHL teams (thanks, Phil). "¦ There's been a catalog leak of next season's Bruins St. Paddy's Day warm-up jersey.

NBA News: Here's an interesting piece about the value of an old Steve Kerr jersey. "¦ David Lee has new sneakers for the NBA Finals (from Diamond Leung). "¦ Next season's St. Paddy's Day jerseys have leaked. So has some of next season's All-Star merch.

Soccer News: New away jersey for the Orlando Pirates, a South African team (from Alex Cohen). "¦ "Ecuador's soccer teams have received new jerseys ahead of the Copa America and the WWC," says CJ Hague. "The design is way simpler than last year's, when a number of outlets accused Marathon of using outdated styling to make a too-busy shirt. Most interesting to me, however, is that Marathon is claiming to have created a shirt with more technology, and specifically better ventilation. That is definitely in response to the fact that 2014's kit couldn't wick sweat at all, and the shirts clung to players' bodies, creating a see-through effect." "¦ "Chelsea wore their 2015-16 kits against Sydney FC on Tuesday, but with Chelsea FC Foundation on the front of their shirts, rather than Yokohama Tire," writes Bryan Justman. "They're also already wearing the gold EPL sleeve patch to reflect this season's Premier League title." "¦ I can never keep track of all these Man U leak stories, but here's the latest one. "¦ "Volkswagen has introduced a new typeface," says Callum Johnston. "What does that have to do with sports uniforms? Well, for the past two seasons Volkswagen-owned VfL Wolfsburg's shirt numbers and NOBs have been in VW's (now-outdated) typeface. But next season's Wolfsburg kits, which debuted during last week's cup final, feature the new font. Those shirts also featured a memorial patch for Junior Malanda, who passed away whilst playing at Wolfsburg in January. This makes me wonder, how many other times has a soccer team worn a memorial patch for a player?"

Grab Bag: The phenomenon of teams telling paying customers that they can't wear the opposing team's jersey appears to be spreading, which is just the latest example of why we'd be better off if jerseys weren't available for sale to begin with. "¦ Corsair has scrapped a new logo that had drawn ridicule from the gaming community. "¦ A recent installment of "What's the Diff?" included a jersey-based difference (big thanks to Marty Hick). "¦ Shame on the city of Dallas, which is licensing its logo for use by local businesses. Disgraceful (from Stu Taylor). "¦ The other day I asked about non-football athletes who wear breathing stripes. Sean Clancy reports that cyclist Alberto Contador has used them for a while now. "Also," says Sean, "motocross racer Adam Cianciarulo has been testing prototype nasal magnets, but he had some problems with them falling off after a crash at last month's Hangtown Classic. Details are near the bottom of this page." "¦ I just became aware of this company that sells really nice infographic posters. As you can see at the top of that page, they have a baseball design and a football design, each available in two different color treatments, and the non-sports stuff looks pretty awesome as well (big thanks to Roberto Zanzi). "¦ I haven't been following the French Open, but @holycalamity informs me that the ballgirls have been wearing some very nifty striped socks. Is that a new thing for this year? "¦ Pro bowler Kyle Troup has some funny ideas about proper lane attire. "¦ New uniforms for the USA women's volleyball team (from Steve Silva). "¦ New logo for Hewlett Packard Enterprise. "¦ Authorities in India say that the lion shown in their new "Make in India" logo is a "vibrant and dynamic" lion, while the lion in a very similar logo for a Swiss bank is a "dull and boring" lion.