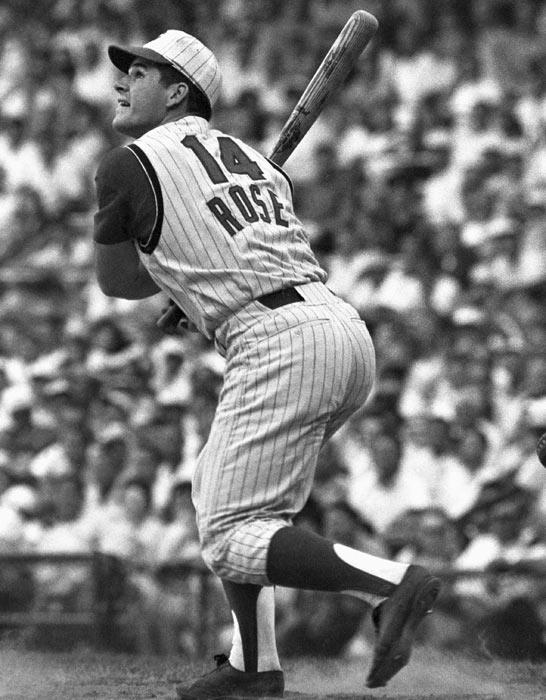 Reader Leo Strawn Jr. recently sent me this photo of Pete Rose, which I hadn't seen before. Pretty sure it's from 1963. There's so much going on here! Let's go one thing at a time:
• Rose was batting without a helmet.
• You don't often see a pinstriped vest, much less a pinstriped cap.
• Rose's pant length and stirrups style at this point in his career were both fairly conventional — a far cry from the Big Red Machine lower-leg style he's usually associated with.
• Note the black piping on the two armholes. The Reds' vests originally had no armhole piping. Then they added the black piping to the left armhole in 1961, as a memorial to owner Powel Crosley. They decided they liked the look so much that they added piping the right armhole the following year.
• And then there's that NOB. Yes, it's below the number, but the really odd thing about it, at least to me, is the radial arch. The Reds did this for all of their subscript NOBs during this period, and it always throws me when I see it. Arching on a conventional NOB makes sense, because it follows and reinforces the shape and drape of the player's shoulders. But arching on a subscript NOB doesn't make sense — it just feels wrong. But NOBs were still new at the time, and subscript NOBs newer still, so there were no established rules and the Reds were just making things up as went along. (Also worth noting: That back uni number was really small.)
Meanwhile: New ESPN column today. Remember our recent discussion of gay pride uniforms? I've expanded upon that for this column. Check it out here.
• • • • •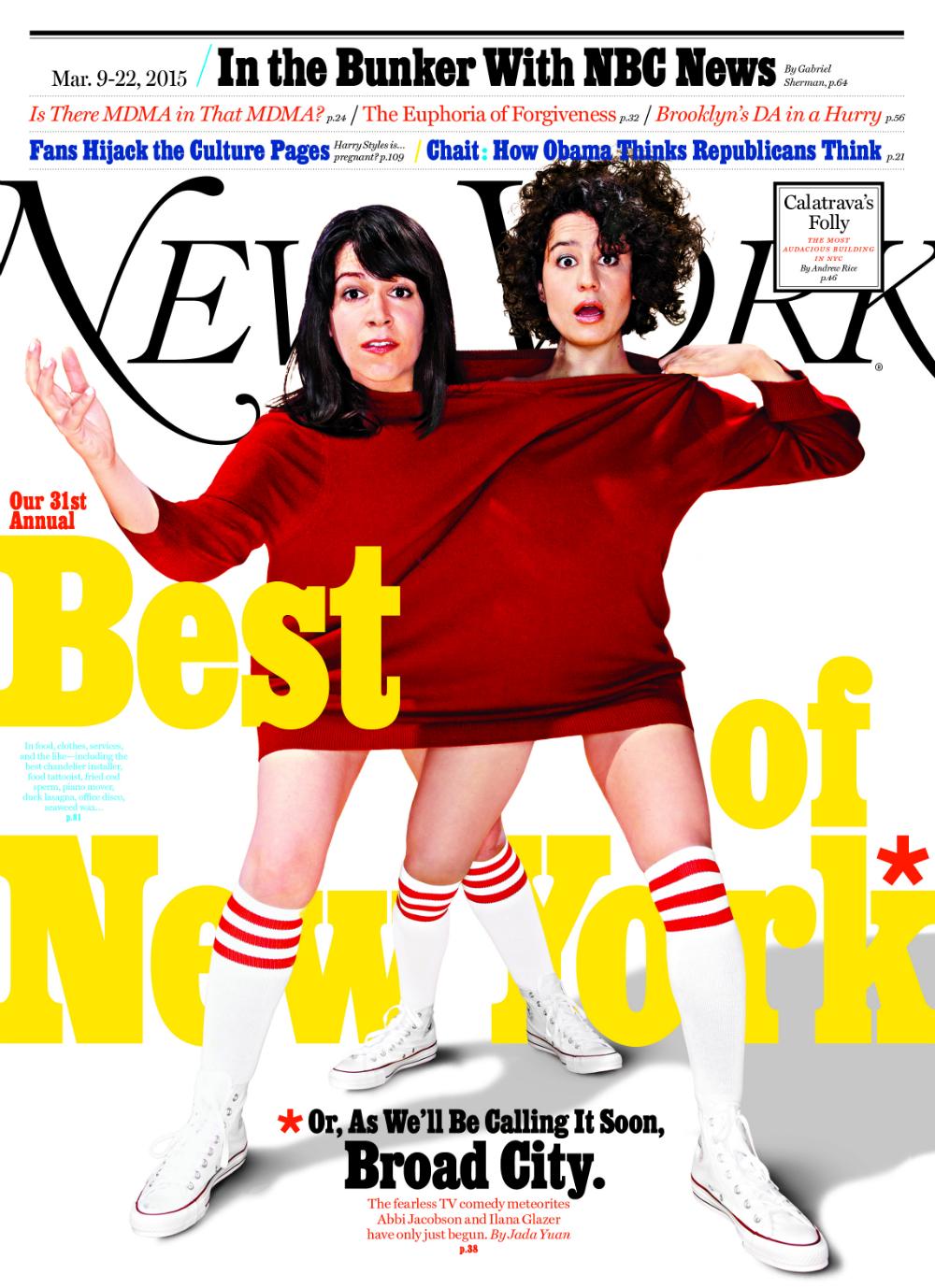 Click to enlarge
Foxes in Soxes: Aside from sports, I don't watch much television these days. I'm aware that we're supposedly in the midst of the "golden age of TV" and that I'm missing out on some high-quality stuff that I'd probably really enjoy, but I already spend most of my day sitting at home staring at various screens, so I'm not really looking to add more of that to my life.
Lately, though, I've somehow gotten hooked on Broad City. It's admittedly an odd choice for me, since it's about 20something stoners (not exactly my type), but something about it pushes my buttons. So I was happy to see the two stars, Abbi Jacobsen and Ilana Glazer, on the cover of this week's issue of New York magazine — a rare case of me being in tune with the pop-cultural zeitgeist. Best of all, they were wearing striped tube socks, so this counts as a uni-related item!
•  •  •  •  •
Too good for the Ticker: I don't mean to be all "They really knew how to design things back in the day," but, um, they really knew how to design things back in the day. Case in point: this completely amazing bow tie advertisement that is just so right, in so many ways:
I mean, seriously, how gorgeous is that? And I don't even particularly like bow ties! The colors, the angles, the typography, the composition — magnificent. Plus it has a sense of organic warmth that's missing from most digital design. I want to just wallow in it. Damn. Just "¦ damn.
• • • • •

'Skins Watch (a day early this week): The committee tasked with coming up with a new UND team name to replace "Fighting Sioux" is facing a time crunch. "¦ The ACLU has sided with the 'Skins in their First Amendment claim against the U.S. Patent and Trademark Office. Further info here (from Mike Styczen). "¦ The debate in the Buffalo-area town whose high school teams are called the Redskins, which has going on for some time now, is continuing.

Baseball News: The Mets have uni-numbered beverage containers at spring training camp. "¦ The Modesto Nuts will be wearing several one-off jerseys to mark their 10th-anniversary, including some "What Might Have Been" jerseys based on other names that had been suggested for the team 10 years ago (from Bryan Justman). … Pretty cool season ticket pack design for the Nationals (from Tommy Turner). "¦ You know how the Tigers have different versions of the old English "D" on their jersey and cap? Jeffrey Sak found a Tigers shirt with the jersey version on one sleeve and the cap version on the other. "I usually see merchandise with only one or the other," he says. "¦ Two steps forward, one step back: Stony Brook wore striped socks and G.I. Joe caps yesterday (from Pat Costello). "¦ Some Mariners players were wearing stirrups yesterday — but not the striped design that was supposedly going to be used this season. Maybe they're saving those for the regular season. "¦ LSU catcher Kade Scivicqueis has a seriously garish chest protector (from Joel Manuel). "¦ Will Ferrell will be playing for 10 MLB teams in various Cactus League games today — and presumably wearing 10 different uniforms. "¦ No visuals, but the Southern Maryland Blue Crabs are doing a one-day name change to the Hermit Crabs on April 24, and will wear "special jerseys saluting the loveable crustaceans." "¦ Here's a jersey-based schedule for the SEC (from Jay Sullivan). "¦ Team Europe, which is currently playing an exhibition series in Japan, appears to be using raised batting helmet logos, much like the Cubs. You can also just barely see the Netherlands flag on the right sleeve — each player wore his flag of national origin. "¦ When players wear windbreakers under their jerseys during spring training, those windbreakers usually have plain sleeves, but here's a shot of former Reds pitcher Orlando Pena with Mr. Redlegs and a uni number on his sleeve. And the windbreaker number doesn't match his jersey number!

Pro Football News: Here's great shot of Vikings DL Alan Page in the 1970 Pro Bowl, with the NFL 50th-anniversary logo on his shoulder and helmet (great find by Jeff Flynn). "¦ After the news broke that Darrelle Revis was returning to the Jets, some fans went and bought old discounted Revis jerseys from his first tour of Jets duty that were still available for sale online. "¦ Pretty wacky arena football uniforms in the X-League (from Seth Shaw). "¦ A Texas artist came up with an interesting helmet design honoring Cowboys TE Jason Witten (from Jay Sullivan).

College and High School Football News: Vanderbilt is working on new uniforms — although, really, who isn't? "¦ Interesting note from Brady Graham, who writes: "When I played high school football for Lee's Summit High School in Missouri 10 years ago, every player carried a single chain link during the week (every player is an important link in the chain, we're as strong as the weakest link, etc.). On game days, the chain was assembled and the coach wore it around his neck during the game. It now appears that the team has incorporated this into their uniforms."

Hockey News: Bridgeport Sound Tigers will wear Irish-themed uniforms this Saturday (from Dane Drutis). "¦ Assorted stars/stripes pad designs for the Team USA goalies (from John Muir). "¦ When the Avs wear their blue alternate jerseys tonight, it will be for the final time, as that design is being scrapped next season. Lots of additional info on the current state of NHL uni news here.

Basketball News: Here are all 30 NBA team logos broken down by how many basketballs appear in the design (from Mark Heggen). … Union and Northwestern Ohio went color vs. color. "¦ Here's something you don't often get to see: high school hoops footage from the early 1930s, in this case from the Illinois state tourney. It includes a shot of a teen-aged Lou Boudreau, who would go on to become a baseball Hall of Famer (nice find by Ben Fortney).

Soccer News: A Houston Dynamo player was apparently wearing a blood jersey the other day. "¦ AS Roma's 2015-16 kits have leaked. "¦ Last week I had a Grab Bag item about sanitation workers in Amman, Jordan, getting new uniforms because their old ones looked like the orange jumpsuits worn by ISIS beheading victims. But now that plan has backfired because the new uniforms looked too much like the jerseys worn by a Jordanian soccer team, and the team thought its players would be ridiculed for looking like sanitation workers. "¦ New York City FC's Mix Diskerud has a really big Yankees cap collection (from Yusuke Toyoda). "¦ Fox Sports 1's logo will soon start appearing on American Youth Soccer Organization jerseys — disappointing.

Grab Bag: The U.S. Navy granted permission for all past and present Navy reserves to wear their uniforms to their civilian workplaces on March 3, in commemoration of the Navy Reserve's centennial anniversary. "¦ Towson's lacrosse goalie has custom gloves. "¦ The California-based lettuce company Tanimura & Antle is reintroducing its old "T&A" logo. "¦ Is this history's oldest striped sock? Could be — dates back to about 200 A.D. (from K.C. Kless).