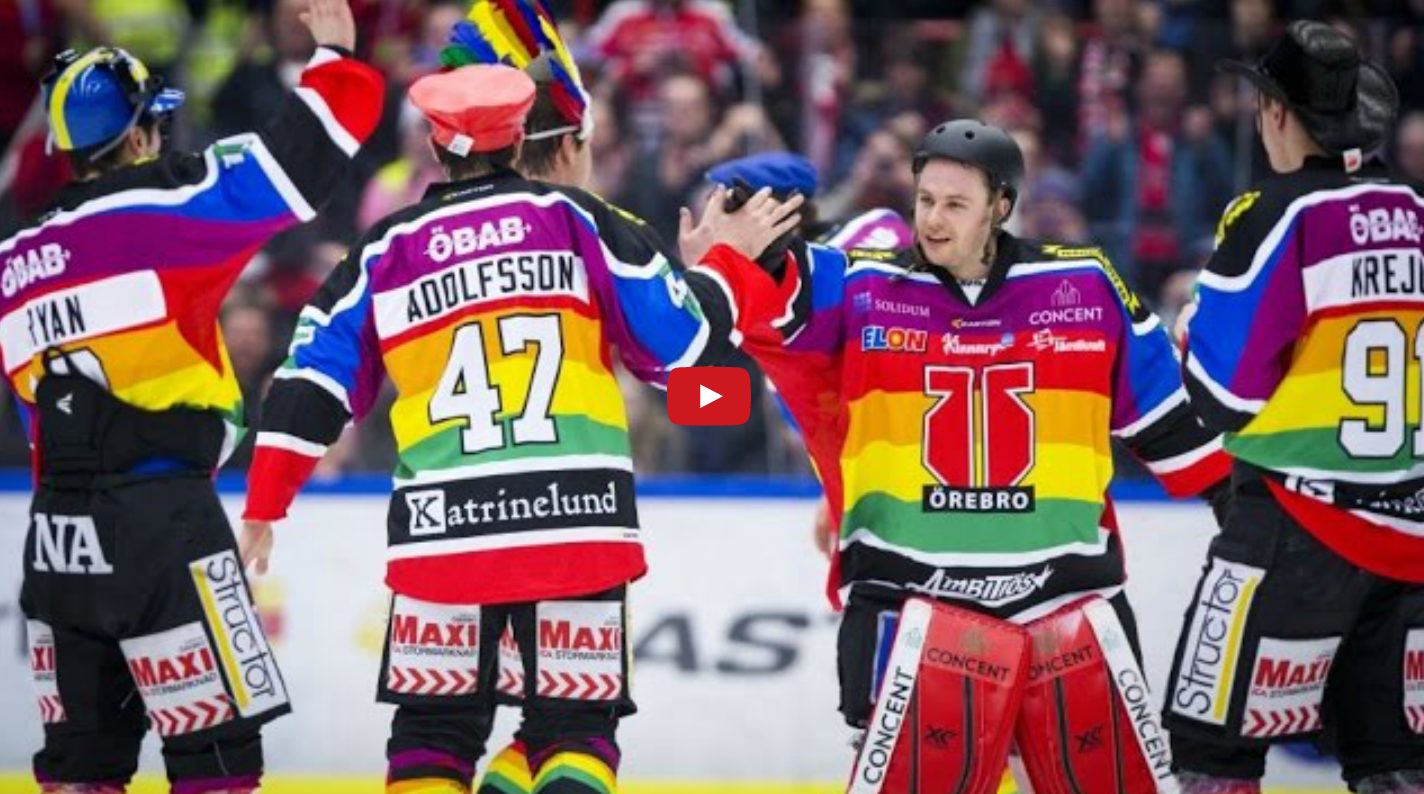 Click to enlarge
As you know, European hockey uniforms are plastered with ads. Toss in a rainbow design for Gay Pride Night, as the Swedish team Örebro did on Saturday, and the results, as you can see above, are eye-popping.
The visuals notwithstanding, it's interesting to see a team wearing a gay pride uni. According to this Hockey News story, the entire Örebro team — players and staff — marched in the local pride parade earlier in the day.
It turns out that Örebro isn't the first Swedish hockey team to wear a uni design in support of gay rights. Kiruna IF has been wearing rainbow-patterned jerseys as their primary uniform — not just a one-off — throughout the 2014-15 season (further info here; click photo to enlarge):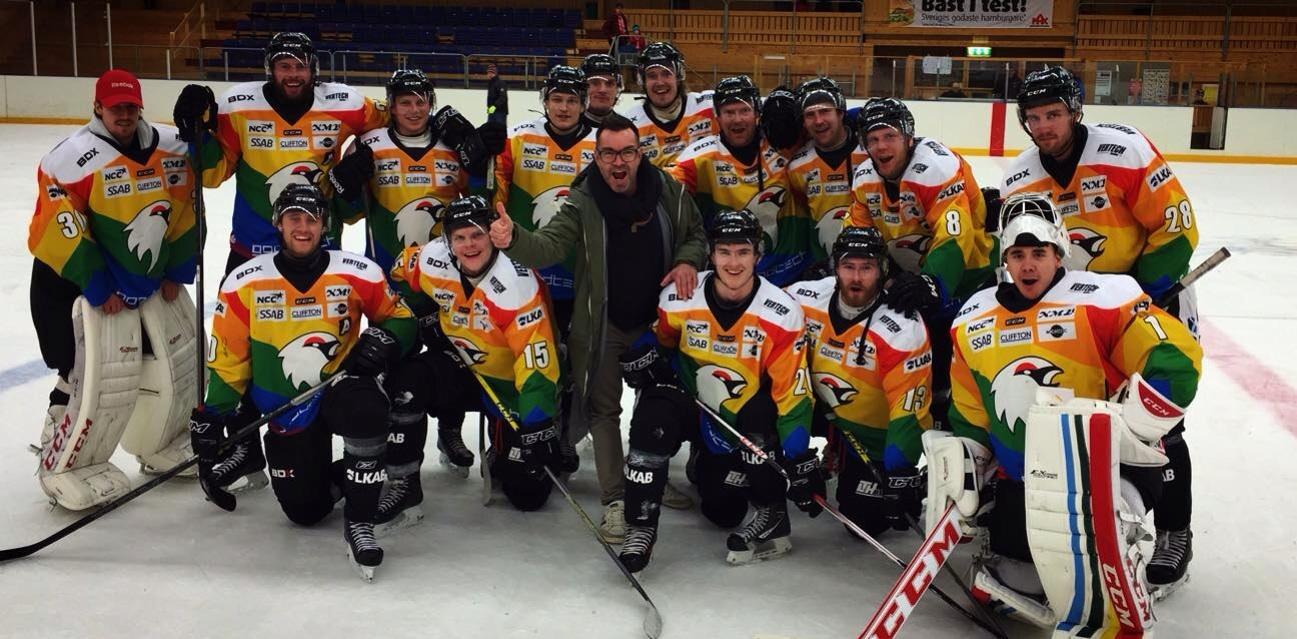 Have any other teams, in any sport, ever worn a gay pride or gay rights uniform? If so, I can't recall any. The closest things I'm aware of are these:
• In MLB, the Giants have been doing an annual LGBT Night promotion for several years now. This year's will be on June 26, and they'll be giving away this T-shirt.
• During last year's Winter Olympics in Sochi, Russia, the German team wore rainbow-patterned attire for the opening ceremonies, which was widely interpreted as a protest against Russia's anti-gay laws (although the German sports authorities denied it).
Update, 7:45am: Twitter user @dmoon informs me that Detroit FC — a fourth-tier soccer team — wore LGBT-awareness jerseys for a match last June. Further info here.
I'm not generally a fan of creating separate uniforms for every cause or initiative under the sun. Still, given the macho culture that's rampant throughout so much of the sports world, it's nice to see this particular cause get equal time with all the camouflage and pink uniforms. Think a team in any of the Big Four leagues would ever do something like this?
(My thanks to Rob Yasinsac for tipping me off to this one.)
• • • • •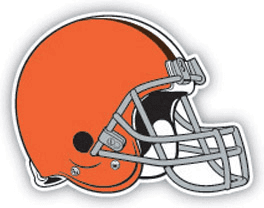 Potentially major Browns info "" or not: Someone on Reddit who apparently works in the retail/merch biz has described what he claims to be the Browns' new logos. He says there are three new marks, as follows:
The first is a lighter-than-we're-used-to brown block-C with a white outline. It's pretty straightforward.

The second is the new helmet. It's a darker orange with a broad brown stripe bordered in white with what looks like little hats in the stripe like Seattle's wing pattern. Brown facemask, too.

The final one is my favorite and, if I had to guess, I bet it's the new primary logo. It's a silhouette of a man from shoulders up wearing a derby hat, but his chin is to his chest and the hat's brim covers all but his chin and a smirk. His hat is brown with a orange stripe. His coat is orange and his tie is brown.

I think it's Paul Brown and they can't show his face because his son owns the Bengals. But it's seriously badass.
The block-C and helmet descriptions largely conform with other info that's been circulating. The Paul Brown logo, if that's what it is, is intriguing, no?
Of course, we have to take all of this with a grain of sodium chloride because it's, you know, just some guy on Reddit. But still.
In any case, we'll find out tomorrow. And no, I don't know what time the unveiling is scheduled for, although I'm trying my best to find out.
(My thanks to Jon Dies for the Reddit link.)
• • • • •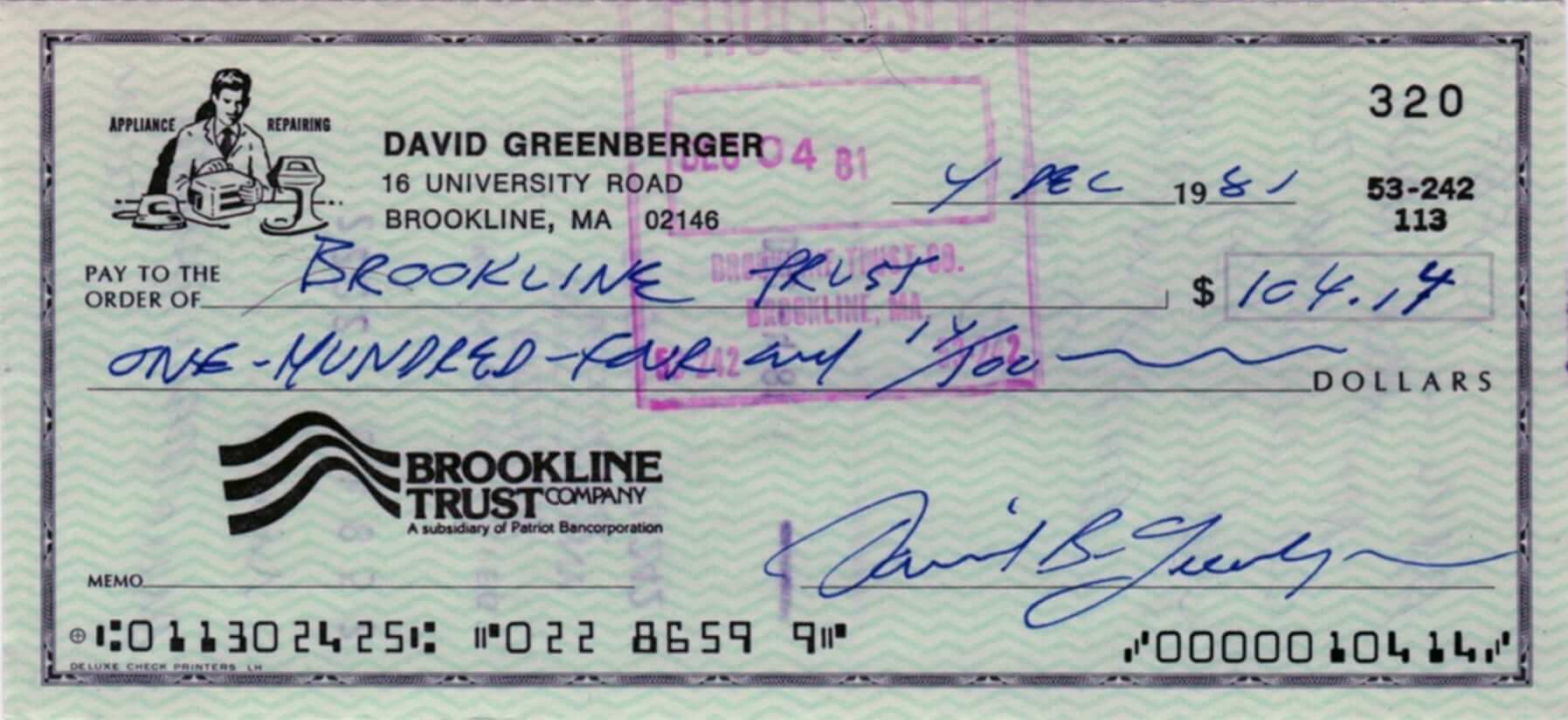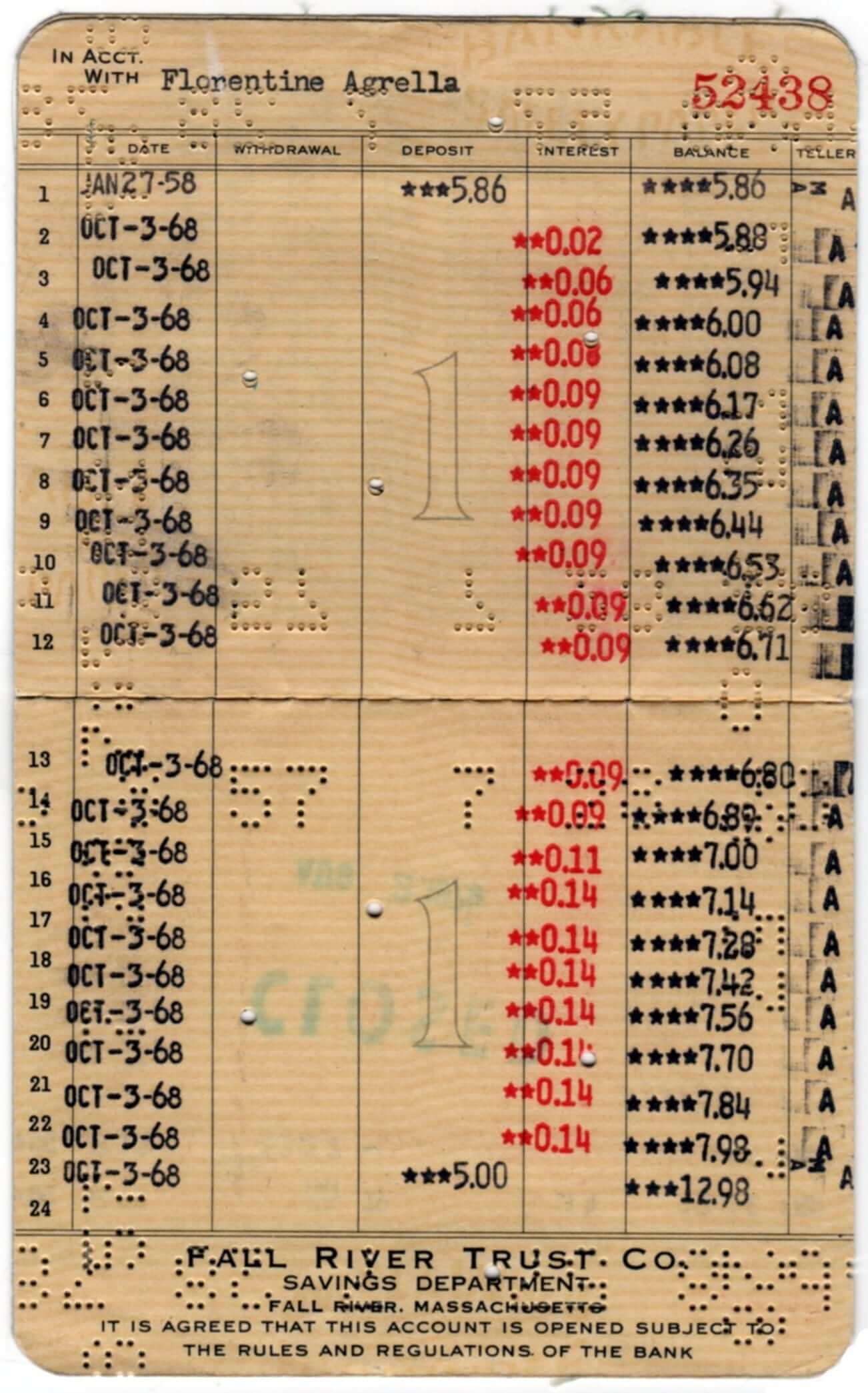 PermaRec update: I posted two new new entries on the Permanent Record site over the weekend:
• A cancelled check and a cancelled savings passbook (both shown above) are among the hard-copy banking records examined in this entry.
• Very old coins, tossed into the River Thames as love tokens and then discovered many decades later (an example of which is shown below), are discussed in this entry.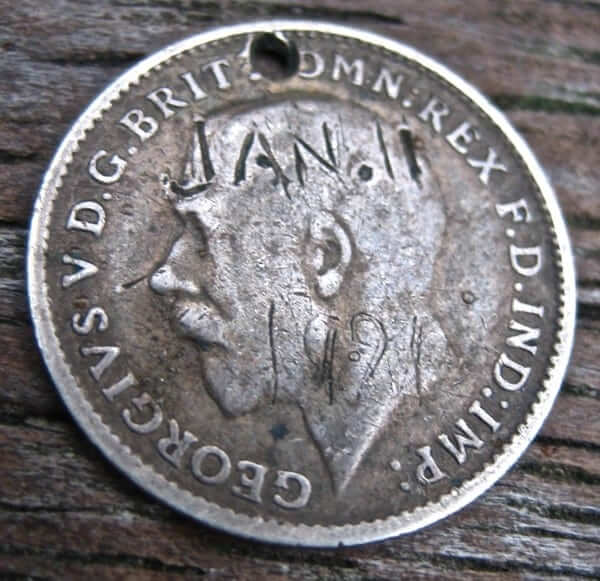 • • • • •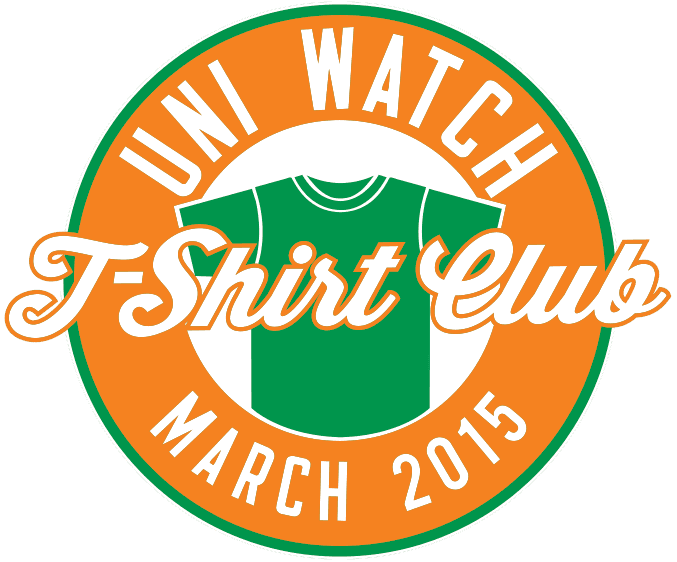 ITEM! T-Shirt Club "" last call and new sizes now available: In case you missed it yesterday, we've added 4XL and 5XL size options to the Uni Watch T-Shirt Club's March design. If you had wanted to order one of those sizes, go to the ordering page and choose the new Fruit of the Loom option, which Teespring is now offering.
No matter which size you want, today is the last day to order the March design, which is inspired by Patrick's Day. If you want this shirt, you must order by 11pm Eastern tonight. Full details here, or just go straight to the ordering page.
• • • • •
Raffle results: The winner of the custom-designed bat is Scott Davis. Thanks to all who entered. More raffles coming soon.
• • • • •

Baseball News: Odd development in Atlanta, where Braves OF BJ Upton is now Melvin Upton Jr., and a team beat writer says he'll have JrOB (from Mike Nessen). "¦ Kinda like this T-shirt showing the Astrodome seats' rainbow pattern (from Chris LaHaye). "¦ Tyler Kepner spotted yet another version of the Tigers' "D" down at spring training. "¦ Picture-perfect stirrups, complete with the Liberty Bell icon, for Phillies reliever Mario Hollands. Also, note that the Phils are wearing a Clearwater centennial sleeve patch this spring — here's a closer look at that design (photo by Ryan Lawrence, brought to my attention by Alex Krul Jr., with patch info fromJustin Dilks). "¦ Very nice striped stirrups for MSU Denver, McNeese State, and UConn. "¦ I'm not a fan of two-in-ones, but Under Armour has come up with a version that is definitely better-looking than the older, blocky-looking style. "¦ Check out the 1981 Phillies' "World Champions" warm-ups. Never seen that version of the "P" logo before. Compare to the one on Rose's helmet. "¦ Cubs C David Ross is experimenting with several different masks during spring training. "¦ A couple of players at Mets camp — definitely pitchers Matt Harvey and Bobby Parnell, possibly others — have been wearing a pullover jersey with an odd collar, instead of the standard button-front BP jersey (good work by Nicholas Schiavo, who's been tracking this rather obsessively). "¦ Old issues of Popular Mechanics are filled with sports-related "innovations" that never panned out, including these baseball goggles from 1961 (from Graham Clayton). "¦ Hmmm, did Reggie Jackson have "Suck" written on his batting glove? (Good spot by Tristan Ridgeway.) … Update: That's not "Suck" on Jackson's glove — it's "Buck," which was one of his nicknames.

NFL News: "This is a Walmart prize machine in Ithaca, New York, that's remarkably and inexplicably heavy on Cleveland Browns items," says James Comfort. "My favorite: If you look closely, there's a fishing lure. How many fish do you expect to catch with a Browns lure?" Maybe everyone's just clearing out their Browns merch in advance of tomorrow's logo unveiling. "¦ I think we may have seen this before, but once more won't hurt: Just prior to the start of Super Bowl XII (Cowboys/Broncos), CBS play-by-play man Pat Summerall and color man Tom Brookshier showed and discussed a pair of the Broncos' original vertically striped socks. Intriguingly, Sumerall then said that some Broncos players would be wearing those socks during the game as a tribute gesture. "I didn't have two and a half hours to watch and see if any players actually did that, but maybe there's an enterprising Uni Watcher out there with the time," says Mike Wissman. I'm pretty sure it didn't happen, but it's interesting nonetheless.

College Football News: Absolutely worth your time to scroll all the way through this amazing 1903 Ohio State/Indiana program. Tremendous stuff (from Trayton Miller).

Hockey News: The Avs went G.I. Joe during pregame warm-ups last night. "¦ Patrick Kane of the Blackhawks didn't have a number on his helmet yesterday. "¦ Pink unis on Saturday for the Belleville Bulls. "¦ I'll say this much for the Edmonton Oil Kings: Their pink jersey might set the record for the biggest pink ribbon (thanks, Phil). "¦ The San Diego Gulls are back.

NBA News: The Pacers wore their FloJo throwbacks last night. "¦ J.R. Smith, traded from the Knicks to the Cavs last month, returned to Madison Square Garden for yesterday's Cavs/Knicks game and reportedly "tapped the Knicks logo at center court before the the game." "¦ Lots of love for Jerome Kersey last night in Portland, as the Blazers wore "JK25" warm-up tees and also wore their Kersey memorial patch for the first time.

College Hoops News: Nebraska wore 1954-55 throwbacks yesterday, and coach Tim Miles got into the act as well (screen shot by David Feit). "¦ Abilene Christian and Southeastern Louisiana went color-vs.-color on Saturday (from Chris Mycoskie). "¦ Middle Tennessee State had a blue-out yesterday, creating a color-vs.-color game against Western Kentucky (from Zack Bennett). "¦ When UNC wore throwbacks on Saturday, Joel James had the old ACC logo. Everyone else had the current one. "So either they didn't make him a new jersey for this year or his old one got mixed in," says Jamie Hall. "¦ Seriously ugly new unis for the Washington State women's team. "¦ Pink trim yesterday for the Duke and NC State women's teams. It's a little hard to see in that photo, but the NOB on the NC State player at right is "Inspire." Other players wore "Fight" and "Courage." "¦ The UNC women's team is now wearing the "DES" patch for Dean Smith (from James Gilbert).

Soccer News: Here's a ranking of the top eight jerseys for the 2015-16 season. "¦ West Ham midfielder Alex Song was wearing one yellow shoe and one orange shoe yesterday. Apparently this is common among Puma-clad players these days (from Brian Mazmanian). "¦ Leicester and Everton went color-vs.-color yesterday (from Josh Billman). "¦ Pink cancer-awareness unis the other day for the Baltimore Blast (from Steve James). "¦ Chelsea responded to the latest racist brouhaha by promoting its anti-discrimination program on its jerseys (although it kinda gets lost amidst all the other bumper stickers) and wearing warm-up T-shirts with an anti-racism message (from Yusuke Toyoda).

Grab Bag: Remember when I wrote about pizza box lid supports a few years ago? If so, you may enjoy this cartoon that recently ran in The New Yorker. "¦ F1 driver Sebastian Vettel says he might ignore the new ban on helmet livery changes. "¦ Interesting article on the rebranding of Hillary Clinton, right down to the size of the "H" in her logo, as the 2016 presidential campaign approaches (thanks, Phil). … The city of Newport, Kentucky, is considering a new logo and slogan. "¦ Jared Patz has started a Twitter account devoted to pro wrestling attire. "¦ No photo, but an interesting NASCAR note from David Firestone: "Kyle Busch is out with injuries after a horrible wreck at the Xfinity Race. Matt Crafton took over driving duties of the No. 18 M&M's Crispy Toyota. Crafton raced wearing Busch's firesuit, which had to be hemmed at the last minute since Crafton is four inches shorter than Busch." "¦ Actor Russell Crowe thinks the UK rugby team Bath's jersey is "kind of shitty." "¦ Century 21, the company that gave us MLB's TATC uniforms in 1999, has announced new sponsorships with U.S. Soccer, CFH Racing, IndyCar Series driver Josef Newgarden, and USA Bobsled & Skeleton. "¦ Some mismatched fonts for Army lacrosse. "¦ NASCAR driver Brad Keselowski was wearing Adidas and Puma at yesterday's Daytona 500.
•  •  •  •  •

What Paul did last night: I've done two Uni Watch posts on curling pins (look here and here), but I've never had a curling pin of my own until now — see above. That's the pin for our curling club here in Brooklyn, which I rejoined last night, as our latest five-week competitive league began.
It had been about two months since I'd last curled, but I played pretty well. Phil's also on board, and I'm happy to report that our team, called Sweeping to Victory, lived up to its name with a 7-0 thumping of our opponents. Then my bike slipped on black ice and fell out from under me twice on my way home — oof. A good reminder not to get too cocky. Bike and I are both okay, although at least one of us will likely end up with a black-and-blue mark. Bet you didn't know curling was a contact sport, eh?