Reader Bill Kellick recently pointed me toward Connie Scouts.com, which is a site devoted to Connie Nicholas Carberg, who in 1976 was hired by the Jets to become the NFL's first female scout. She's devoted most of her life to the Jets (her father was the team's internist for 24 years, so she grew up around the team), and her site is filled with interesting Jets-centric photos.
Here, for example, is a great shot of Jets players participating in a charity basketball game — apparently while wearing their football jerseys — at Babylon High School on Long Island in the summer of 1968. That's running back Emerson Boozer taking the jump shot while wearing Chucks. Note that the Babylon team is wearing sleeves (for all of today's images, you can click to enlarge):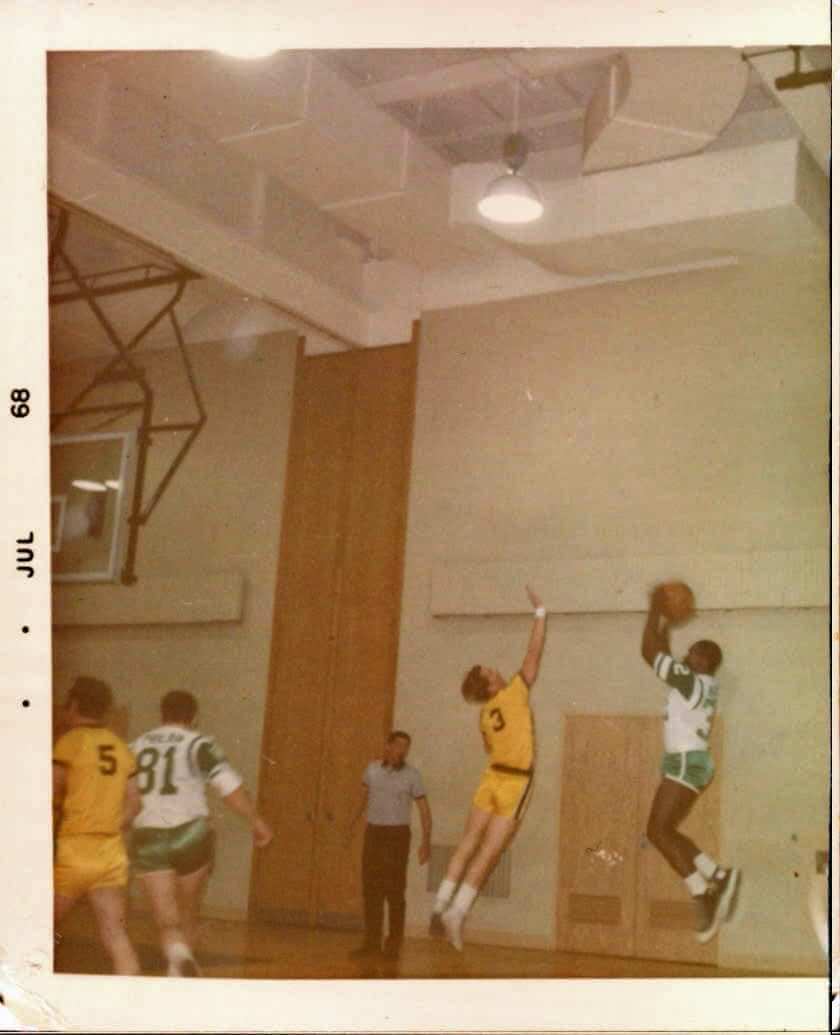 And here's a gem — the team's 1966 Thanksgiving dinner menu: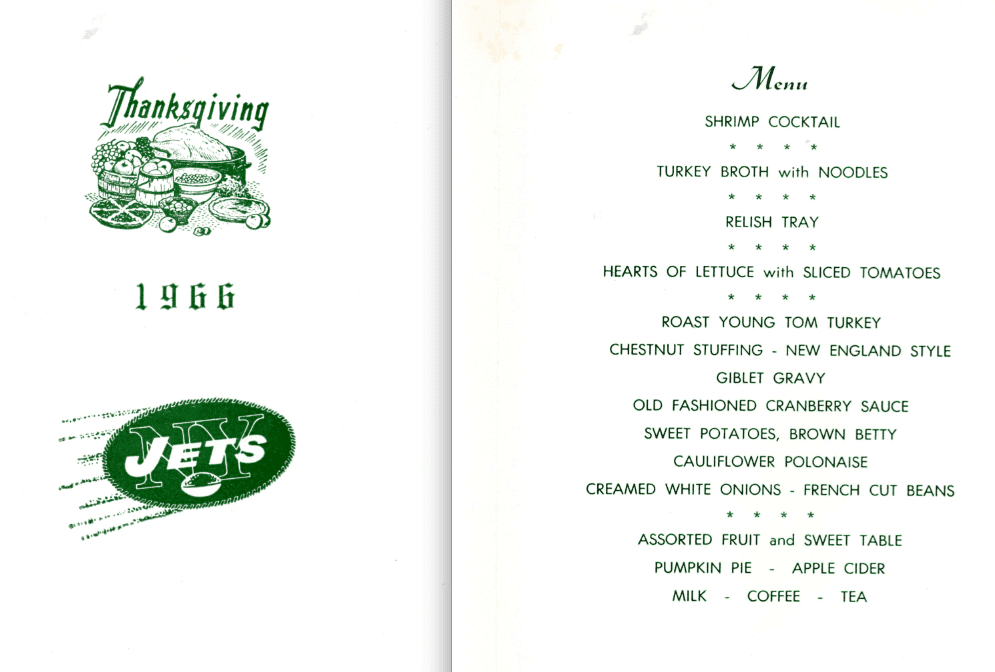 There are also lots of candid photos of Joe Namath and other Jets greats, some crazy retro clothing (that's Emerson Boozer again on the left, with his wife, Enez Boozer, seated next to him), and more — it's a really fun site to explore, and definitely worth your time.
As I looked at the various photos, though, one thing stood out: Connie herself has worn a tremendous number of Jets-branded shirts and dresses over the years. I counted a dozen, and I think I may have missed a few because the site has so many different photo galleries. Here, check this out (if you can't see the slideshow below, click here):
There are even more T-shirts to be found if you count the ones worn by other people in the various photos. The site's photo galleries are like a Jets merch time capsule.
I hadn't known about Connie or her website until now, so big thanks to Bill Kellick for the tip.
• • • • •
Membership update: Three new designs have been added to the membership card gallery (including Chris Valenzuela's card, shown at right, which is based on this Arizona hoops sweatback jersey — Scott did a great job with it, no?). These are the first three cards of the current batch of eight, so they won't be printed until we fill the other five slots.
If you want to fill one of those slots, you can sign up for your own custom-designed card here. And, as always, you can see all the cards we've designed so far here, and you can see how we make the cards here.
• • • • •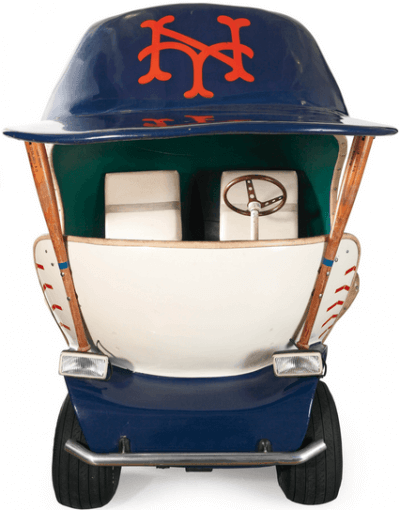 Too good for the Ticker: Got a spare 30 grand lying around? Then you might wanna give it all to me already and what the fuck is taking you so long put it toward this vintage Mets bullpen buggy, which looks like it's in great shape.
But wait a minute — something ain't right. The headlights are just, you know, headlights. Everyone knows a real bullpen buggy is supposed to have headlights mounted in baseball gloves. Hmmmmm. Maybe you should just give the 30 grand to me after all.
On the plus side, the buggy's cap has a blue squatchee, which of course is period-appropriate. If the Mets had a buggy like this today, let's hope they'd trade it for a shortstop or a lefty reliever it'd have an orange squatchee. But New Era would probably insist on having its logo on the side.
My favorite part of the auction listing: This photo of the gas and brake pedals. Nice!
You like bullpen buggies? You might wanna check out this ESPN article on buggy history that I wrote a few million years ago. Lots of good photos and info — enjoy.
(Big thanks to Mets Police honcho Shannon Shark for tipping me wise to this one.)
• • • • •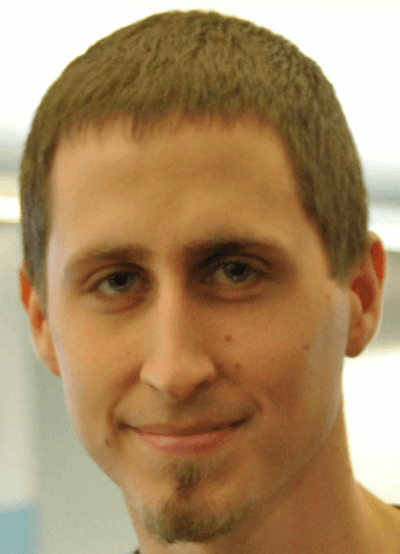 Mike's Question of the Week
By Mike Chamernik
The other day I watched a clip of a 1980 Spurs/76ers game, featuring George Gervin and Julius Erving. Or, as they were better known, the "Iceman" and "Dr. J." Or, by the even shorter monikers "Ice" and "Doc."
I realized that athletes don't have cool nicknames anymore. Take Kevin Durant, for instance. Every so often the internet or the media tries to give Durant a nickname, and none of the suggestions stick. In fact, they're usually hackneyed and forced. ("Slim Reaper?" Come on.) He just goes by KD, and that's good enough, I guess.
My question is, what are some of your favorite athlete nicknames? Have you ever given someone — either a friend, teammate, or even an athlete you watch — a nickname? Do you have a nickname? If so, what's the story behind it?
I like boxer Thomas Hearns's "Motor City Cobra" tag. Two nicknames in one! I've never had a nickname that stuck long-term, but in eighth grade my baseball team called me "Chewbacca," for reasons that remain unclear. Lastly, I was the coach of my brother's grade school basketball team when I was 17, and our center was so big and so stiff and awkward that when he fell to the floor, it was like a tree was falling. So I called him "Big Oak."
As always, post your responses in today's comments.
• • • • •
Uni Watch News Ticker
By Mike Chamernik

Baseball News: Mono-black uniforms — with black lettering, too — for Mississippi State (from Sander Bryan). … The Orioles released their 2015 promotional schedule. Andrew Cosentino is excited for the Buck Showalter garden gnomes giveaway. … Fans chose which jersey the Birmingham Barons will wear on their Star Wars night (from Phil). … For a moment yesterday it seemed that the UAB softball team was going to wear #FreeUAB helmets during a game last night in support of the school's football program, but it turned out to all be a hoax (from Phil). … A fan at Yankees Spring Training wore a No. 31 Derek Jeter shirt, because Jeter wore that number for the Tampa Yankees in Single-A ball (from Patrick O'Neill). … All the players on Tennessee wear stirrups (from Dustin Semore). … Amanda Punim found a very intriguing high school team photo that made the cover of the San Clemente Times. "All of the players went high-cuffed, but the hosiery was a variety of stirrups, and Nike, Under Armour, and logo-free socks," Amanda explains. "It's on the beach and they are wearing street shoes like Vans and Converse. The boy second from the front is holding a cane, pretending it is a bat. There is a memorial patch and it appears that some players are purposefully covering it up." So much going on, I love it.

NFL News: The Browns will unveil their new unis in a one-hour TV special on April 14 (from Phil). … 49ers LB Patrick Willis wore his tie in an interesting fashion at his retirement press conference yesterday. I'd say there's a 30 percent chance that this catches on with the youth of today (from Phil). … Lions fans are burning and burying their Ndamukong Suh jerseys (from Phil). … The USFL's LA Express wore dark facemasks in 1985, but kicker Tony Zendejas wore a white one in a game against the Breakers (from Chris Markham).

Basketball News: LeBron James lost his headband during the Cavs' game against the Suns on Saturday and continued to play without it last night. … Mavs F Chandler Parsons, who switched shoe brands after having ankle issues this season, will continue to wear taped-over Jordans until his custom-made Anta shoes arrive. … The Jazz gave away gorgeous striped socks last night. … New Adidas shoes for John Wall. "What's cool is that this is a rare case of non-charity-related pink in men's sports in the US," says Adam Hainsfurther. "What's double cool is that it's a great way of tying into local culture/events with the cherry blossoms blossoming in the next few weeks." … The Nets wore their "Stars and Stripes" sleeved alternates last night (from Phil). … New postseason uniforms for Cincinnati. … NBA commissioner Adam Silver says he's surprised no one paid any attention to the ads on the jerseys of NBA All-Star Saturday competitors. I'd counter that it's not a big talking point now because the NBA has been doing this since 2009 and, as Paul says, "There's a huge difference between what's worn in the slam dunk contest and what's worn in a game." "¦ Wisconsin wore their new color-blocked March Madness uniforms for a practice.

Grab Bag: Only one hockey item today: The Capitals will wear St. Patrick's Day warm up jerseys on Saturday (from Phil). … This company's slogan looks familiar (from Stephen Lemire). … Tiger Woods is launching a new restaurant, and he and his developer needed permission from Nike to use the name "Tiger Woods" (from Don Silsby). … Georgetown's lacrosse team has 18 uniform combinations (from Phil). "¦ Rugby referees in Uganda say it's hard to officiate some high school rugby games becomes some teams don't have uniforms.