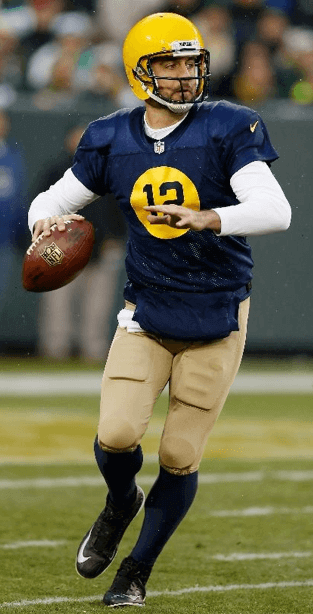 Fun game yesterday at Lambeau, as the Packers wore their Acme Packers throwbacks against the Eagles. I know some of you folks don't like this design, and some other folks liked it better with the brown helmet instead of the yellow helmet, but I think it's a great look. They even used old-timey graphics for the roster card at Lambeau. Looks like they didn't have throwback sideline capes, however. And they had at least three different colors of hand-warmers out there — green, blue, and white.
Meanwhile, here's an overlooked uni-notable development from that game: Everyone's been worked up over the color-matching snafu regarding the Eagles green jerseys, but their green pants have also been MIA all season long — until yesterday. Hey, it only took until Week 12 — good work, Nike!
In other developments from around the league yesterday:
• The Cardinals went full-bloodclot.
•  The Giants once again wore their white alternate pants.
• Very good-looking game in Kansas City, as the Chiefs wore their regular home uni and the Seahawks went white over blue. That's Seattle's best look by far — even the neon-green accents can't ruin it. Pair it up with KC's home look and you have a game that's very easy on the eyes.
• Speaking of the Seahawks, offensive lineman Russell Okung's nameplate was coming loose.
• The latest player to wear G.I. Joevember hosiery: Chargers wideout Keenan Allen.
• Here's something that I think used to be more common but you don't see it as much these days: 49ers running back Frank Gore had a loop of tape around his waist.
•  I don't know why back judge Scott Helverson keeps wearing a jersey with the old type font, but it has become a consistent thing with him. Do officials have lucky jerseys?
• I don't know why this never occurred to me before, but Bengals quarterback Andy Dalton's red hair meshes perfectly with the team's color scheme. There should be a rule — not just in the NFL but across all sports — that carrot-tops can only play for orange-clad teams.
• For the second consecutive week, not a single home team wore white.
• Finally, there's this: An Austrian TV station called Puls4 has been broadcasting NFL games in Austria. And if you think G.I. Joevember is big over here, look what the Puls4 broadcasters were wearing yesterday. "They explained that they wear the suits as a salute to Austrian armed forces as well as firefighters, the Red Cross, mountain rescue teams, and so on," says reader Stefan Schubert.
(My thanks to call contributors, including Alex Goldman, Mark Heggen, Rob Holecko, Don Schauf, and of course Phil.)
•  •  •  •  •
IMPORTANT "" membership update: Last week I announced that I might pull the plug on the Uni Watch membership program if the pace of enrollments doesn't pick up. That spurred a bunch of you into action, as we got a big spurt of new orders (thank you!). It remains to be seen whether this was a last gasp or a renewal of momentum for the project, but for now the membership program is off of life support, although it's still in the ICU.
One thing I hadn't anticipated is that bunch of you responded to my announcement by saying, "I'd happily sign up right now, but the design I want includes purple and you only allow purple orders Purple Amnesty Day, which is in May. Will you bend a little on that rule, so I can sign up before you kill the whole membership program?"
I initially responded to all of these requests by saying, "No. Purple Amnesty Day is just that — one day, and that day is May 17, the end." But after thinking a bit more about it, I've concluded that it was unfair to yell, "Last call!" to everyone else without including purple partisans. So I've decided that we'll have a Purple Amnesty Bonus Day, which will take place exactly six months after the usual date.
Which happens to be today.
So if you want a purple-inclusive design, today is the day to order it. I'll accept such orders until midnight Pacific Time tonight. (And of course non-purple orders are also welcome.)
•  •  •  •  •
What about non-Uni Watch membership cards? I've been thinking a bit lately about membership cards as a cultural phenomenon. Once upon a time, the term "card-carrying member of [whatever]" was a common phrase (it even became an issue in the 1988 presidential election), but what do physical membership cards mean in an increasingly digital world?
It's no accident that I gave Uni Watch its own membership card program, because I love membership cards and have quite a few of them (including the one shown above, which you can click to enlarge). For whatever reason, it had never occurred to me until a few days ago to seek out vintage membership cards, but I see there are quite a few of them available on eBay and Etsy. (Note to self: Those vintage cards would be good Permanent Record fodder.)
I'm thinking I may want to write about this, so I'm curious about what sorts of membership cards people currently have. I'm not talking about insurance cards or Social Security cards here (and despite American Express's "Membership has its privileges" campaign, I'd say credit cards don't qualify either) — I'm talking about membership cards, cards that identify your status within an exclusive club. If you have any that you're willing to share, please send scans or photos my way. Thanks.
•  •  •  •  •
Pinktober bleeds into November: My doctor's office is right around the corner from the place where I donate blood every two months. So last Friday I decided to go for a daily double: blood donation followed by a flu shot. Or to put it another way, one needle to take some stuff out of me and then another needle to put some stuff into me. (And yes, it's fine to do both of those on the same day, in either order — I checked.)
Anyway: After they take my blood, they always put a gauze pad over the needle site and secure it in place with some of that rubberized bandage wrap. The wrap comes in several colors, and I always ask for green. This time, however, I was told that only one design was available:
Sigh. So I had no choice but to become part of the pinkwashing phenomenon. Then I walked around the corner to my doctor's office, where I was assigned to a nurse who was going to give me the flu shot. She told me to roll up my sleeve, and I braced myself for what I knew was about to happen. "Oh," she said when she saw the bandage, "pink ribbons! Good for you!!" Double-sigh.
After giving me the flu shot, she put a zebra-patterned Band-Aid over the injection spot. Phew.
• • • • •
When I was in Wisconsin last month, I paid a visit to FAST Corp. (the acronym is short of "Fiberglass Animals, Shapes, and Trademarks"), the company that makes giant fiberglass cows, ice cream cones, ears of corn, Bob's Big Boy statues, and so on. My article about that visit is up now on the design website re:Form — I really like how it turned out, and I think you will too. Check it out here.
• • • • •

Baseball News: Here's one observer's fairly detailed take on the new Twins home uniform (from Michael Haas).

College and High School Football News: New helmet for Lehigh. "¦ Check this out: a fighter pilot from the Vietnam War with the Texas A&M logo on his helmet (from Matt Steinmetz). "¦ Blackout unis tomorrow night for Ohio. Here's a video. "¦ A Virginia county has decided not to use impact sensors in its football team's helmets, despite repeated requests from parents (from Tommy Turner). "¦ It was cold in Knoxville on Saturday, so Tennessee's Smokey mascot bundled up (from Adam Spangler).

Hockey News: Several players on the Penguins are opposed to the use of advertising patches on jerseys (from Jerry Wolper). "¦ Blackhawks C Andrew Shaw suffered a torn jersey during a fight yesterday (from Jen Hayden and Ben Michael). . Mike Slavonic notes that Sidney Crosby and Evgeni Malkin of the Penguins have altered the scoop-hem on their third jerseys — their hems are straight. "¦ Holy moly, check out this shot of former Canadiens great Guy LaPointe playing on the Habs softball team!

NBA News: GQ really likes the new Xmas jerseys (from Andrew Cosentino). "¦ Cross-dressing alert! Check out this mid-1990s shot of Junior Griffey in a SuperSonics T-shirt (from Seth Shaw).

College Hoops News: For reasons that aren't clear, at least to me, the "W" on Mercer G Jordan Strawberry's NOB is smaller than all the other letters (from Phil and Rob Montoya).

Soccer News: This is pretty cool: a soccer-themed office, complete with Astroturf (big thanks to my longtime pal Rob Walker). … "There have been two jersey unveilings so far for the 2015 MLS kits, and it seems that the American/Canadian flags have been dropped from the designs, which I find very disappointing," says Mike Aronson. "Do you know why this has been done?" Nope. Anyone else..? "¦ The Jaguars logo from last weekend's NFL game was still visible on the Wembley pitch during Saturday's England/Slovenia Euro 2016 qualifying match (from Yusuke Toyoda). "¦ Also from Yusuke: Wales debuted its yellow away kit and Northern Ireland did likewise with its green and white home kit.

Grab Bag: "Important new regulations regarding approved roller derby jersey numeral styles are summarized in this handy graphic," reports the Rev. Nørb.. … Great article, with really cool graphics, on an old college sports logo designer (big thanks to Susan Freeman). … A professional video game player (yes, that's a thing) named Matt Haag is being sponsored by Red Bull. "¦ News flash: Nike and Adidas have a bit of a rivalry (from Brinke). "¦ "Sports Logos" was the Final Jeopardy category on Nov. 7. This was the answer. Who knows the question? (Screen shot by Chris Flinn.) "¦ The Canberra Captials — that's an Australian women's basketball team — normally dress like this, but they wore camouflage for Remembrance Day. Interesting to see that their jerseys are untucked (from Joel Berry).