I recently received an email from reader Samuel Barrett, as follows:
Something I've been doing for more than a year now is writing letters to former MLB players, particularly those who played during the 1960's, which I (and likely many others) view as the golden age of baseball aesthetics. Today I received a letter in response from former Houston Astros catcher Johnny Edwards. I asked him a few questions about the Astrodome and about the team's 1971 uniforms, when they shifted their color scheme to make orange the primary color.
In case you're wondering, Johnny Edwards is now 84 years old. Samuel included a photo of the letter he received from him, which was actually the same letter he had sent to him, but with Edwards's responses written in: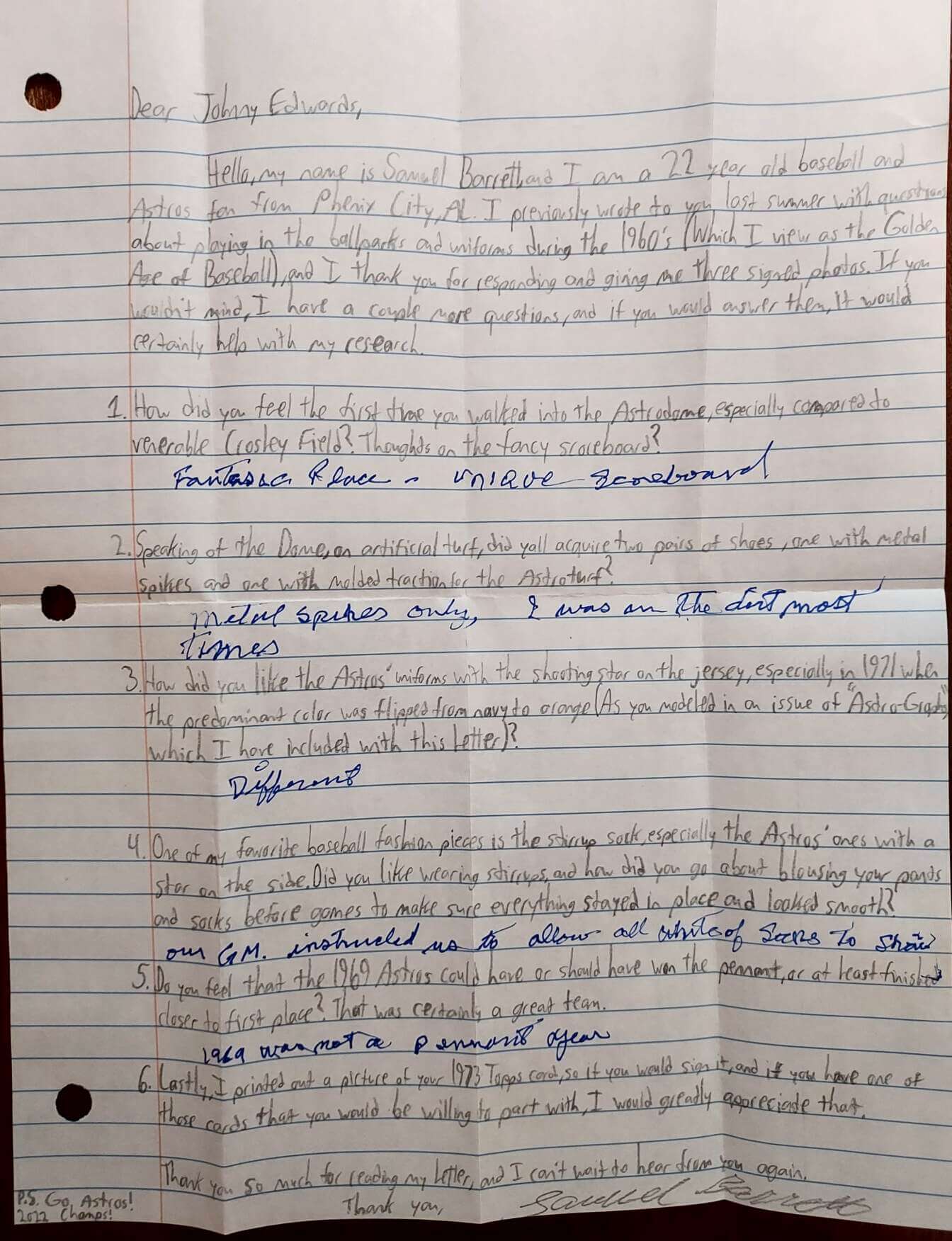 It's a little hard to read (especially if you're reading this blog entry on your phone), so here's a transcription:
Dear Johnny Edwards,

Hello, my name is Samuel Barrett, and I am a 22-year-old baseball and Astros fan from Phenix City, AL. I previously wrote to you last summer with questions about playing in the ballparks and uniforms of the 1960s (which I view as the Golden Age of Baseball), and I thank you for responding and giving me three signed photos. If you wouldn't mind, I have a couple more questions, and if you would answer them, it would certainly help with my research.

How did you feel when you first walked into the Astrodome especially compared to the venerable Crosley Field [where Edwards had previously played as a member of the Reds]? Thoughts on the fancy scoreboard? Edwards' response: "Fantastic place. Unique scoreboard."
Speaking of the Dome, on artificial turf, did y'all acquire two pairs of shoes, one with metal spikes and one with molded traction for the Astroturf? Edwards' response: "Metal spikes only. I was on the dirt most times [being a catcher]."
How did you like the Astros' uniforms with the shooting star on the jersey, especially in 1971, when the predominant color was flipped from navy to orange (as you modeled in an issue of "Astro-Graphs," which I have included in this letter)? Edwards' response: "Different."
One of my favorite baseball fashion pieces is the stirrup sock, especially the Astros' ones with a star on the side. Did you like wearing stirrups, and how did you go about blousing your pants and socks before games to make sure everything stayed in place and looked smooth? Edwards' response: "Our GM [presumably Spec Richardson] instructed us to allow all white of socks to show."
Do you feel that the 1969 Astros could have or should have won the pennant, or at least finished closer to first place? That was certainly a great team. Edwards' response: "1969 was not a pennant year."
Lastly, I have printed out a picture of your 1973 Topps card, so if you would sign it, and if you have one of those cards that you would be willing to part with, I would greatly appreciate that.

Thank you so much for reading my letter, and I can't wait to hear from you again.

Thank you,

Samuel Barrett

P.S. Go Astros! 2022 Champs!
Okay, so Johnny Edwards didn't exactly give the most expansive answers to Samuel's questions. Still, I'm impressed that he did respond, and we even learned a few uni-related details, like that he wore metal spikes on Astroturf and that the 'Stros GM was telling players how to wear their stirrups!
Big thanks to Samuel for sharing this with us.