Uni Watch membership card designer Scott M.X. Turner, knowing that I've been going through a stressful period, tried to cheer me up the other day, or at least distract me, by sending me links to several vintage jerseys being sold on eBay. In what I'm fairly sure is not a coincidence, two of the jerseys happen to be in Uni Watch colors, and they're real beauties, so I thought we'd take a look at them today.
Let's start with the Kratzerville jersey shown above (which is available here). How cool is that eagle in the center of the chest? Love it! Also love the word "Kratzerville," which apparently refers to a town in east-central Pennsylvania. If this were a pro team's jersey, I wouldn't like how the eagle's wings disrupt the letterspacing, but there's something kind of charming about it in this context.
As for the "Fishers Store" lettering on the back, the best I could come up with after some Googling was this Facebook page "about the Fisher Family and their offspring who lived in Kratzerville, Pennsylvania." I emailed the page administrator, told him about the jersey, and asked if it had any connection to his family, but I haven't yet heard back from him. Will advise.
Now let's look at the other jersey: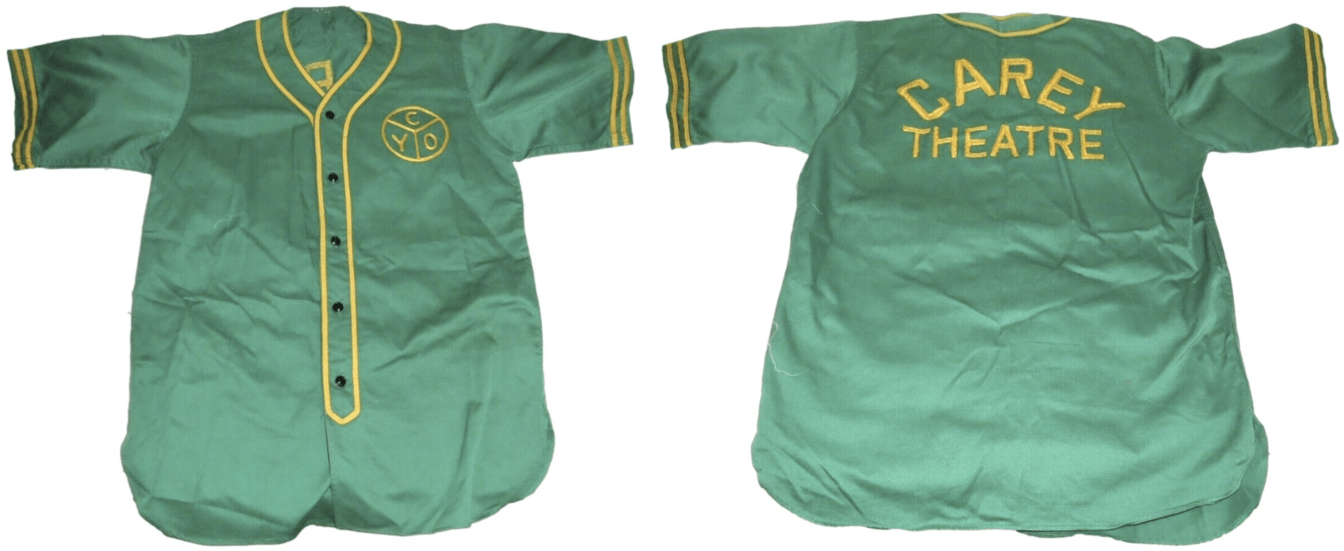 The big appeal to this one (which is available here) is that the CYO logo on the front and the lettering on the back are both chain-stitched (snazzier than the Kratzerville jersey, which has felt lettering). Here's a closer look: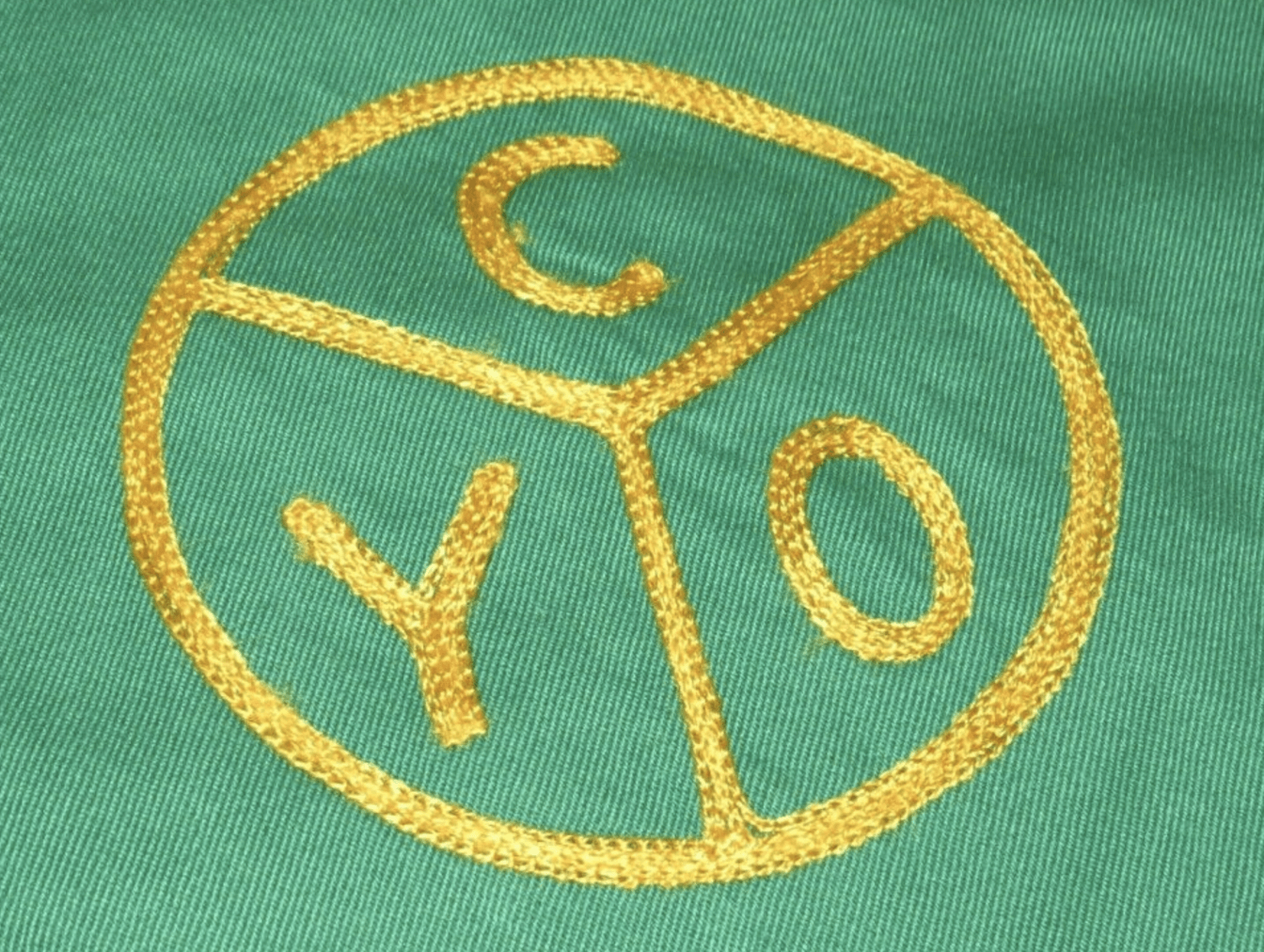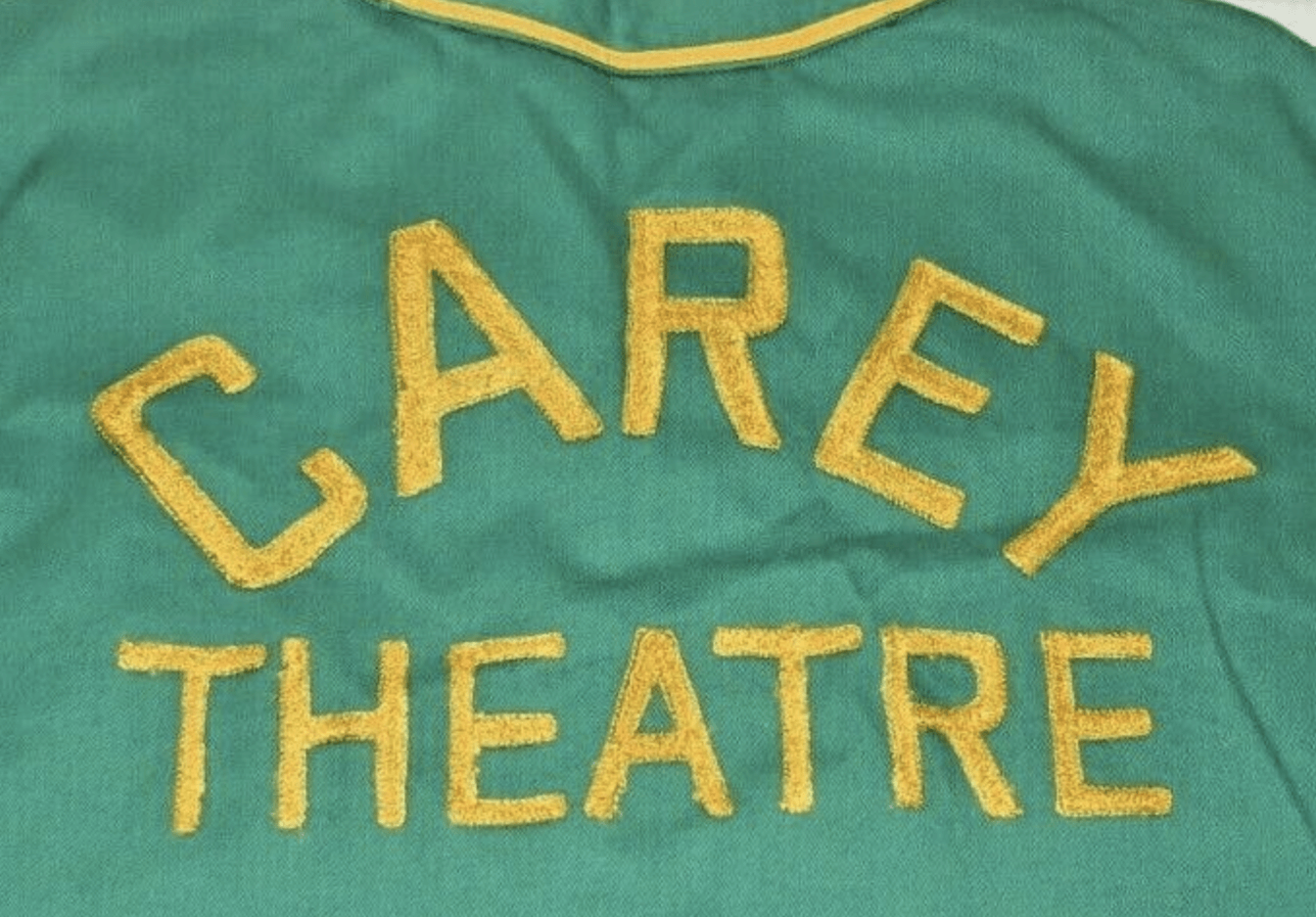 I'm not sure what "Carey Theatre" refers to. At first I thought it might refer to the theatre department at William Carey University in Mississippi, but WCU is affiliated with the Southern Baptist Convention and the Mississippi Baptist Convention, so I wonder if they would sponsor a Catholic/CYO-affiliated team. Perhaps the name simply refers to a now-defunct drama company.
A few other notes about these jerseys:
Both jerseys are made of cotton twill, not flannel. Personally, I love twill jerseys and wish there were more of them out there.
The Kratzerville jersey has raglan sleeves while the CYO jersey has set-in sleeves.
I love how the headspoons both terminate in a point at the bottom, instead of just running all the way to the shirttails.
Unfortunately, both jerseys are a little bit too large for me, so I won't be purchasing them. But I hope they end up in the hands of Uni Watch readers — not just because of their color scheme but because they're such nice items. Go for it!
(Bottomless thanks to Scott Turner for sharing these with me.)