The Maple Leafs today became the 10th NHL team to sell off space on their uniform, as they announced that Dairy Farmers of Ontario will be their uni advertiser for the upcoming season.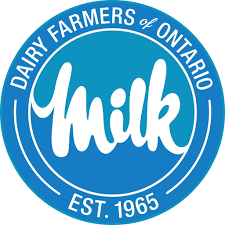 The thing is, DFO's logo isn't, you know, "DFO" — it's a stylized treatment of the word "Milk." So that's what will be appearing on the Leafs' jerseys. And that's sort of funny — like, there's something inherently amusing about rough, tough hockey players repping something so wholesome, right? (Yes, I know the Indy 500 winner traditionally enjoys a post-race bottle of milk, but it's hard to think of any other milk/sports crossovers.)
I have three questions about all this:
Will Leafs fans start throwing cartons of milk onto the ice when the team scores a goal? Or maybe cow plush toys?
Will the arena's beer vendors now be supplemented by milk vendors? "Hey, getcher milk heeyah!"
Will the arena's goal horn now go, "Moooooo"?
Oh wait, one other thing: If you click-to-enlarge the photo at the top of the page, you'll find that you can't see any edges to the ad patches. I'm pretty sure that's because they just Photoshopped the "Milk" logos onto a pair of ad-free jerseys. The real ad patches will likely look more patch-y (and thus more annoying). We'll find out for sure this Saturday, when the Leafs have their first preseason game.
Meanwhile, if you're keeping score at home, the other nine NHL teams to have announced uni advertisers so far are the Blue Jackets, Blues, Canadiens, Capitals, Coyotes, Golden Knights, Jets, Penguins, and Wild. A league exec has said that he expects about half of the league's 32 teams to go with uni ads this season.