The University of Miami today release a new alternate uniform. It's BFBS, and they're calling it "Miami Nights."
As the name implies, the uniform features a jersey with bright neon green numbers, outlined in black and neon orange. Sleeve caps appear to be anthracite, and have orange piping. That same bright orange piping is also found down the pants leg, which also has a thicker anthracite stripe and green piping on the opposite side (the same pattern found on the helmet).
Here's the hype video which accompanied the release.
Neon Lights. Miami Nights.

On sale 08.15.22@adidasFballus pic.twitter.com/3xjGaFnV9Y

— Canes Football (@CanesFootball) August 12, 2022
That gives us a 360 degree look (albeit quickly) of the uniform. It looks like NOB will be neon green, and the rear numbers receive the same treatment as the front. There is a pattern embedded into the anthracite sleeve caps.
The helmet is a black shell, featuring thin green and orange stripes on the outside, with thin black stripes in the middle, and what looks like a thicker anthracite center stripe. The nose bumper reads "Miami" in orange with a green drop shadow.
Here's another look at the uniform: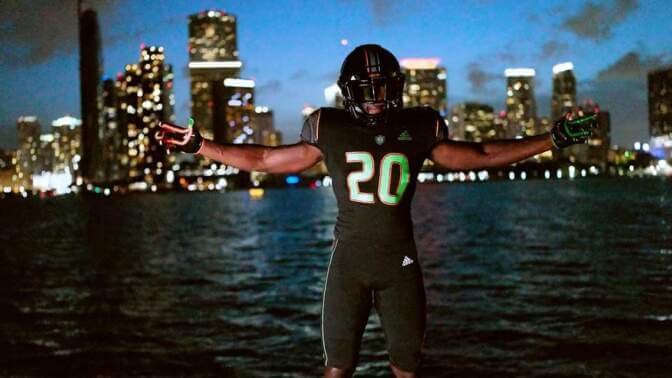 It's difficult to tell, but it appears the green and orange piping on the uniform is embedded with some sort of iridescent material which is reflective.
The team has not announced when these uniforms will be worn, but based on the name and features, it will likely be a night game.