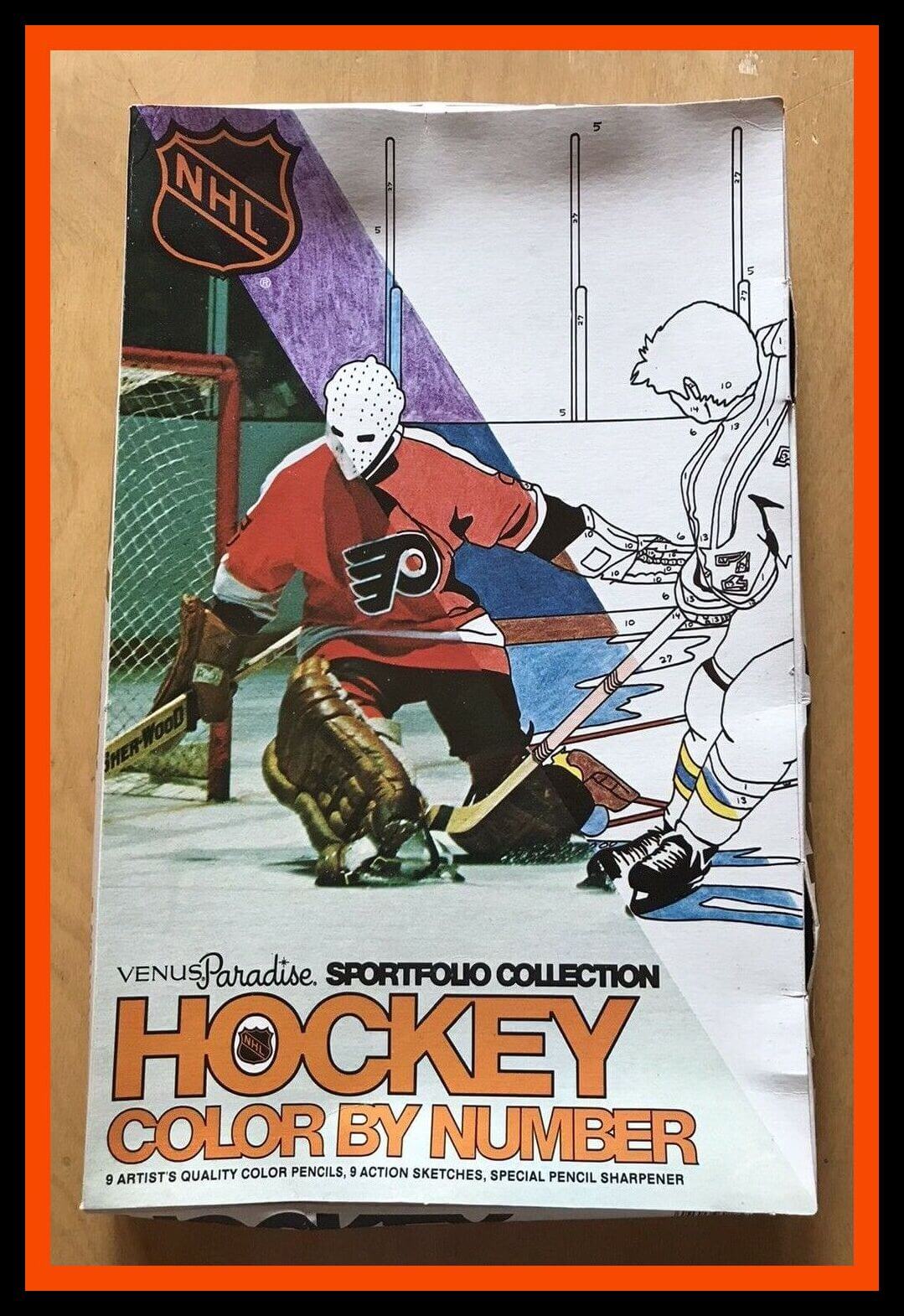 Last week, Paul ran an excellent story on his Bulletin page with Doug Murphy, Creative Services Director for the New York Giants. Doug mentions how he came to Get It™, and included this:
"There was a company that put out outlined illustrations of various teams, and it came with a set of colored pencils. And you used to color them in. So that's how I started. And for the life of me, I can't find that on eBay or anywhere."
Paul asked me if such a thing rang a bell, and it did! That auction has ended, but Paul showed that link to Doug and Doug replied, "That could be it! I don't remember that beautiful box, but it was many years ago."
Indeed it was. So let's start this week with a hockey version! This one is mid-1970s as opposed to the mid-to-late 1960s for the NFL, as it includes the Kansas City Scouts, who started in 1974. Here's an NBA version, too.
Now for the rest of this week's picks:
• RIP to NBA all time great Bill Russell, who passed away just two days ago. Here's a 1966 ad for "Bill Russell basketball shoes." High or low cut available in black or white with gold trim- just $7.95 a pair.
• Carl Yastrzemski and Pete Rose could hit a little bit, so they lent their signatures to this Louisville Slugger pen & pencil set.
• At one time, Minnesota Twins owner Carl Pohlad decided to Christmas-gift his team employees with this Twins onyx baseball. It comes in a furry red box and says "Genuine Onyx, Made In Pakistan" on the bottom.
• Here's a 1970 Ovaltine store sign for those great NFL helmet goalpost kits; just $1.50!
• Check out this terrific little domed replica of Fenway Pahk!
• This April 1963 New York Yankees program celebrates the 40th anniversary of Yankee Stadium. Click through the listing and see all the booze and cigarette ads!
• Once upon a time at The Friendly Confines, your Oscar Mayer Home Run Hot Dogs came in these wrappers; year unknown.
• The "Seamless Rubber Co." of New Haven, Ct. made this "Official Hockey Puck." Yep, that's a solid chunk o' rubber. Official, too!
• Remember newspaper boxes? Guess they've gone the way of phone booths and eight track players. Anyway, the Philadelphia Inquirer boxes used these cardboard signs to front their boxes; this one is for Phillies star Mike Schmidt.
• This 1996 NFL beach towel has all the team helmets of the period.
That'll do it for this edition of CC. See you back here next week!