In case you missed it, some great news came out of Rams camp this weekend when the team announced they have relegated the "bone" jerseys (which they usually pair with bone pants, but have also worn with the blue and yellow pants) to "alternate" status.
The white jersey, which was introduced last season and paired with yellow pants twice (blue pants once), now becomes the team's primary road jersey, although they will also wear it at home on occasion.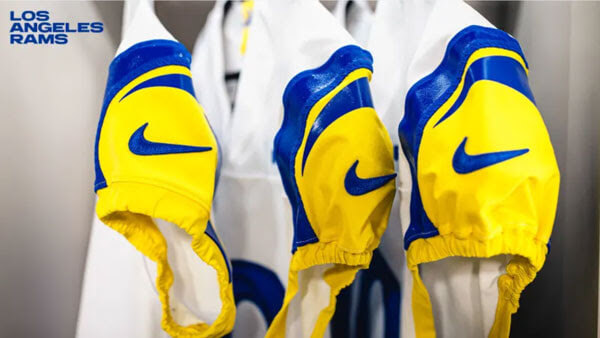 The royal blue jersey will be worn at home six times, and once on the road (against the Buccaneers in Week 9). The Rams will wear the white jersey at home twice, in weeks one and five (against the Bills and Cowboys, respectively), and in six road games. Weeks 2 and 3 will be the only two weeks the Rams will go with the dishwater — at home against the Falcons (Week 2) and on the road against the Cardinals (Week 3).
Of note is the week one game against the Bills, which is the "kickoff" special Thursday night game to open the NFL season. As defending NFL Champions, the Rams get to host the first game of the season. And they'll do it in front of the home fans wearing the same uniform in which they won the Super Bowl. Wearing white at home in week five against the Cowboys of course forces Dallas to wear their "bad luck" blue jerseys.
Here's the full jersey schedule for the Rams this season: