Aside from socks and underwear, the vast majority of my clothing is second-hand, picked up at thrift stores, vintage shops, and the like. At this point in my life, I have more shirts, sweaters, jackets, jeans, and jerseys than I could possibly need for the foreseeable future, but I keep visiting thrift stores anyway because I enjoy spending time in them. It's fun to see the things that other people choose to discard, each of them simultaneously mass-produced (at one point) and one-of-a-kind (at the thrift shop). It's like a museum of cultural rejects. Whenever Mary and I visit a thrift shop, there's almost always a moment when one of us grabs something off the rack and says to the other, "Hey, look at this" — not necessarily because it's beautiful or desirable, but just because it's interesting.
So I was amused and kind of thrilled when reader Kenneth Crookston got in touch on Saturday to show me what he'd discovered at a thrift shop in Akron, Ohio: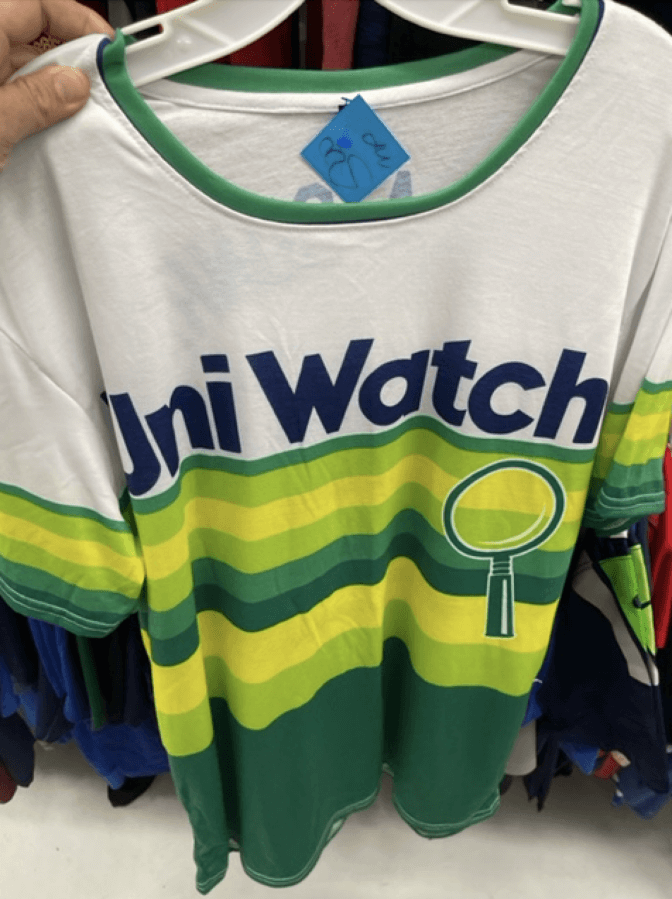 That, of course, is a Uni Watch Tequila Sunrise Deluxe shirt, currently available in our online shop
for $35.99
— but only five bucks at that Akron thrift shop! "And the blue tag was the half-off color today," says Kenneth, so he could have scored the shirt for only $2.50. "But I left it for someone else to find," he says.
Now, you might be thinking that I should be pissed off, or at least disappointed, to know that someone bought one of my shirts and then decided not to keep it. But I know the feeling of having too much stuff and periodically weeding things out. Sometimes I look at something and say to myself, "I've really enjoyed this — and now it's time to let someone else enjoy it." And as things cycle out of my closet and my life, that makes room for new things to cycle in. That's one thing I love about thrifting — you never really own something, you're just its current steward, one chapter in the object's life story.
More to the point, though, after all the fun times I've spent in thrift stores, and all the fun things I've found in them, it actually feels like an achievement for a Uni Watch shirt to end up in one of these spaces. Uni Watch is now part of the museum! I'd never really thought about it before, but now that it's happened, it feels like checking off an important box in my list of personal ambitions.
This reminds me of something I once wrote about on the Permanent Record blog, where an old art-school painting by friend Shane (who, like me, is a big thrifter) ended up in a thrift shop 30 years later.
Anyway: If the Ohio Uni Watch reader who originally bought this shirt wants to speak up, I'm all ears. If not, that's fine too. Either way, this kind of made my weekend. Big thanks to Kenneth Crookston for letting me know!