On Monday afternoon, I was listening to the Mets/Marlins on the radio while going on my daily bike ride through Prospect Park. At one point, Mets play-by-play man (and card-carrying Uni Watch member) Wayne Randazzo mentioned that shortstop Francisco Lindor was using an unusual bat, similar to the one used by teammate Jeff McNeil, so I made a mental note to look into it later on. I didn't find quite what Randazzo had described, but I did find something interesting nonetheless.
Let's start with McNeil. He uses a bat with no knob, which is always very apparent because he chokes up (additional info here and here; for these and all photos in this entry, you can click to enlarge):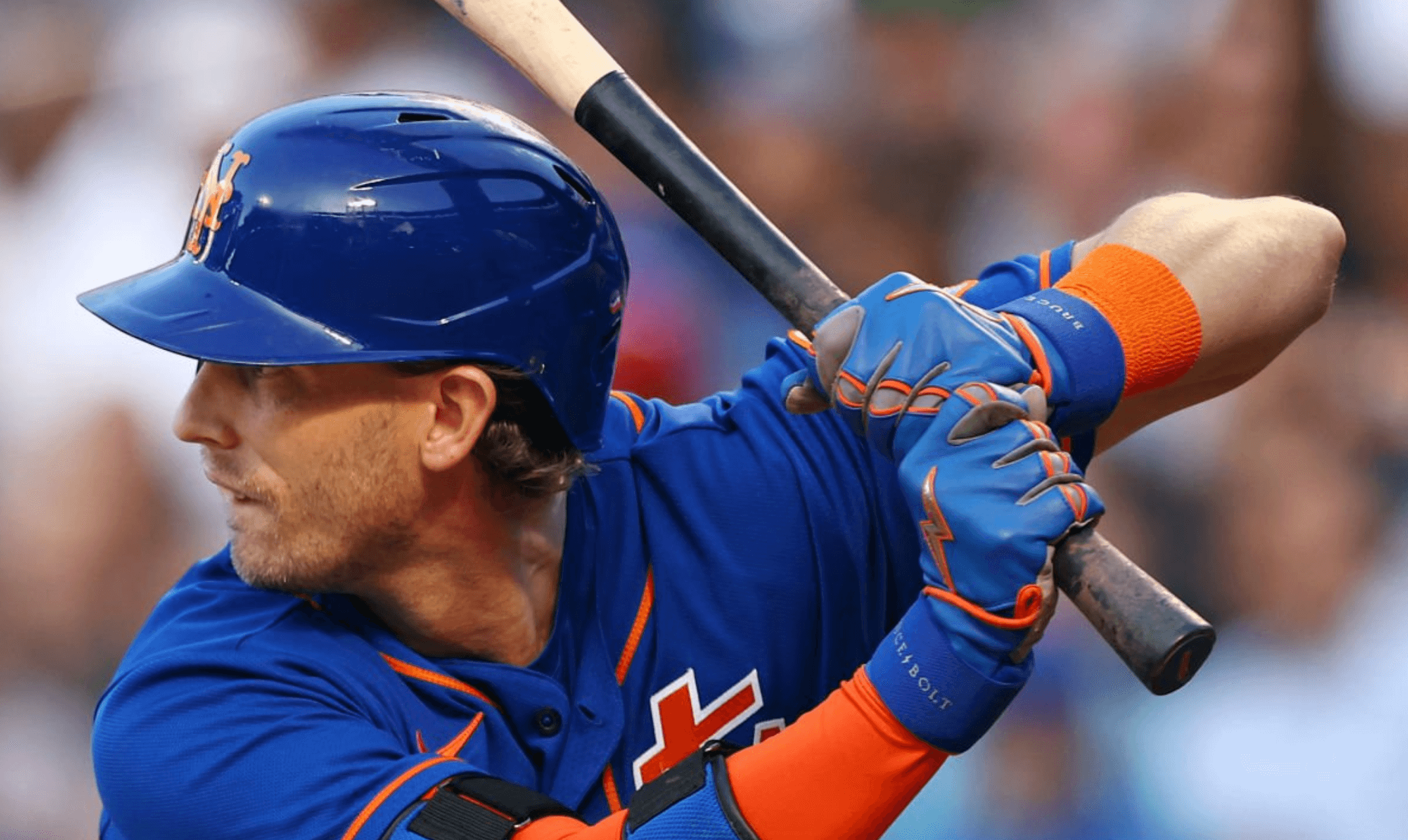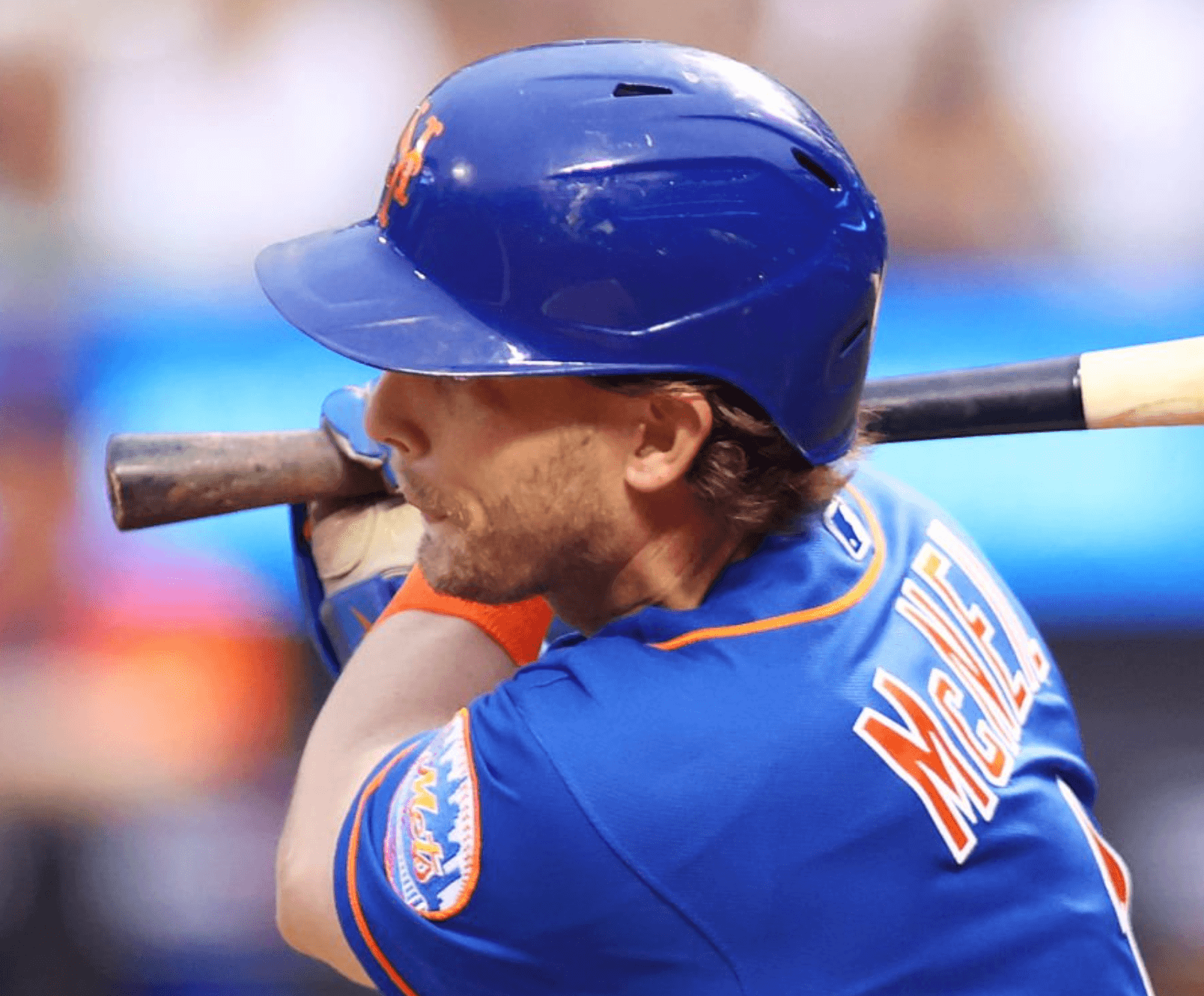 It's a pretty unique look. Is there anyone else in the bigs who currently uses this kind of bat? If so, I'm not aware of it.
So when Randazzo said Lindor had been trying something similar, I was intrigued — especially because Lindor doesn't usually choke up, so you'd think he'd want some kind of knob at the end of the bat.
I wanted to see what kind of bat Lindor had been using before he started using the McNeil-style design, so I went back to Opening Day. Lindor, like most switch-hitters, uses a different bat depending on whether he's batting lefty or righty. On Opening Day, both of his bats had standard knobs: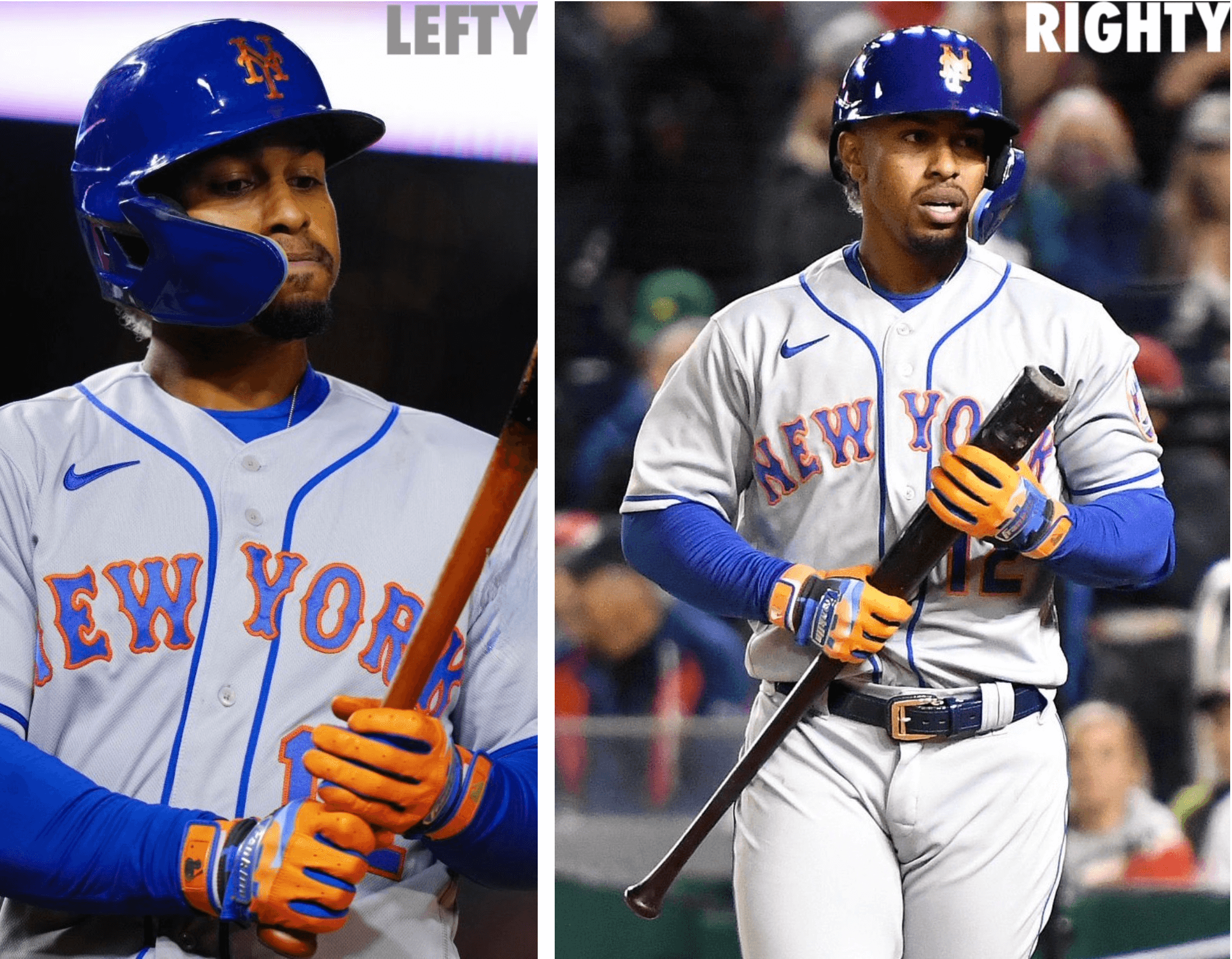 So that was our baseline. Had Lindor swapped one of those — or even both of them — for the knobless design, as Randazzo said?
Not exactly. Since early June, Lindor has sometimes used a newfangled bat when hitting left-handed — but it's not the knobless style. Instead he's been using a bat with a large, counterweighted knob that's often referred to as a "hockey puck":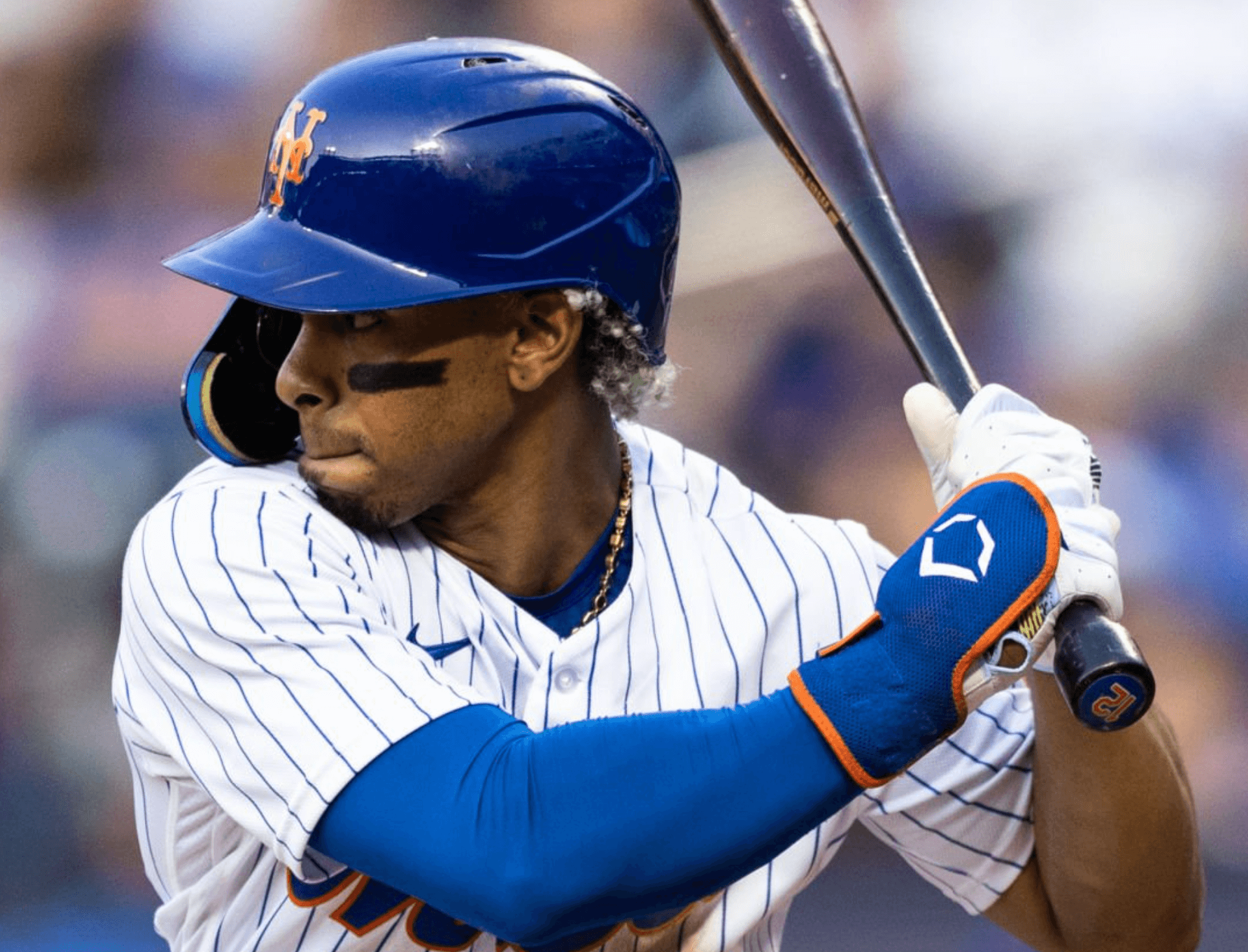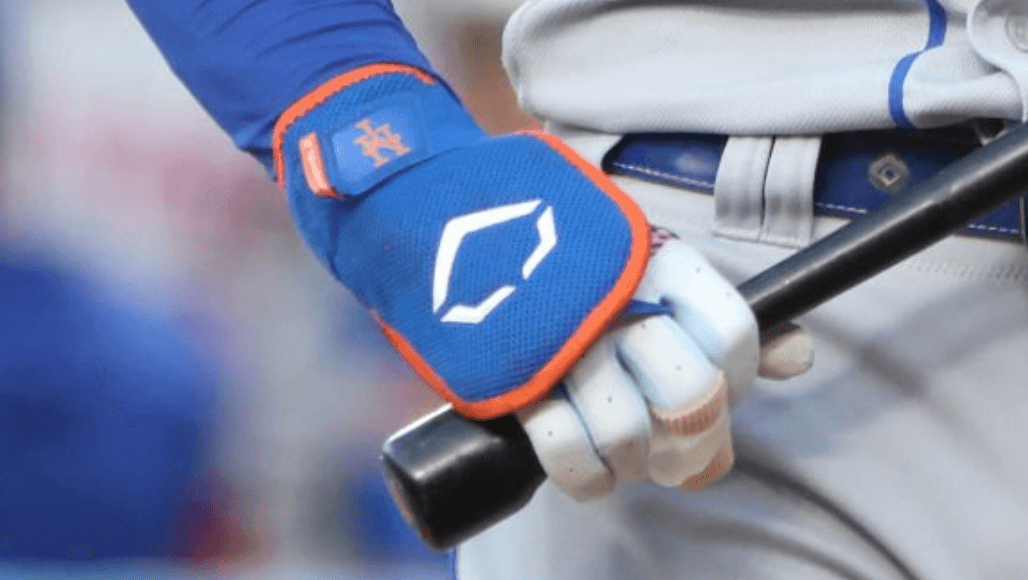 Lindor also used this style for one of his right-handed plate appearances on Monday, June 20, which was the day I heard Randazzo referring to Lindor's bat. I'm pretty sure this is the moment when Randazzo mistook the hockey puck style for the knobless style: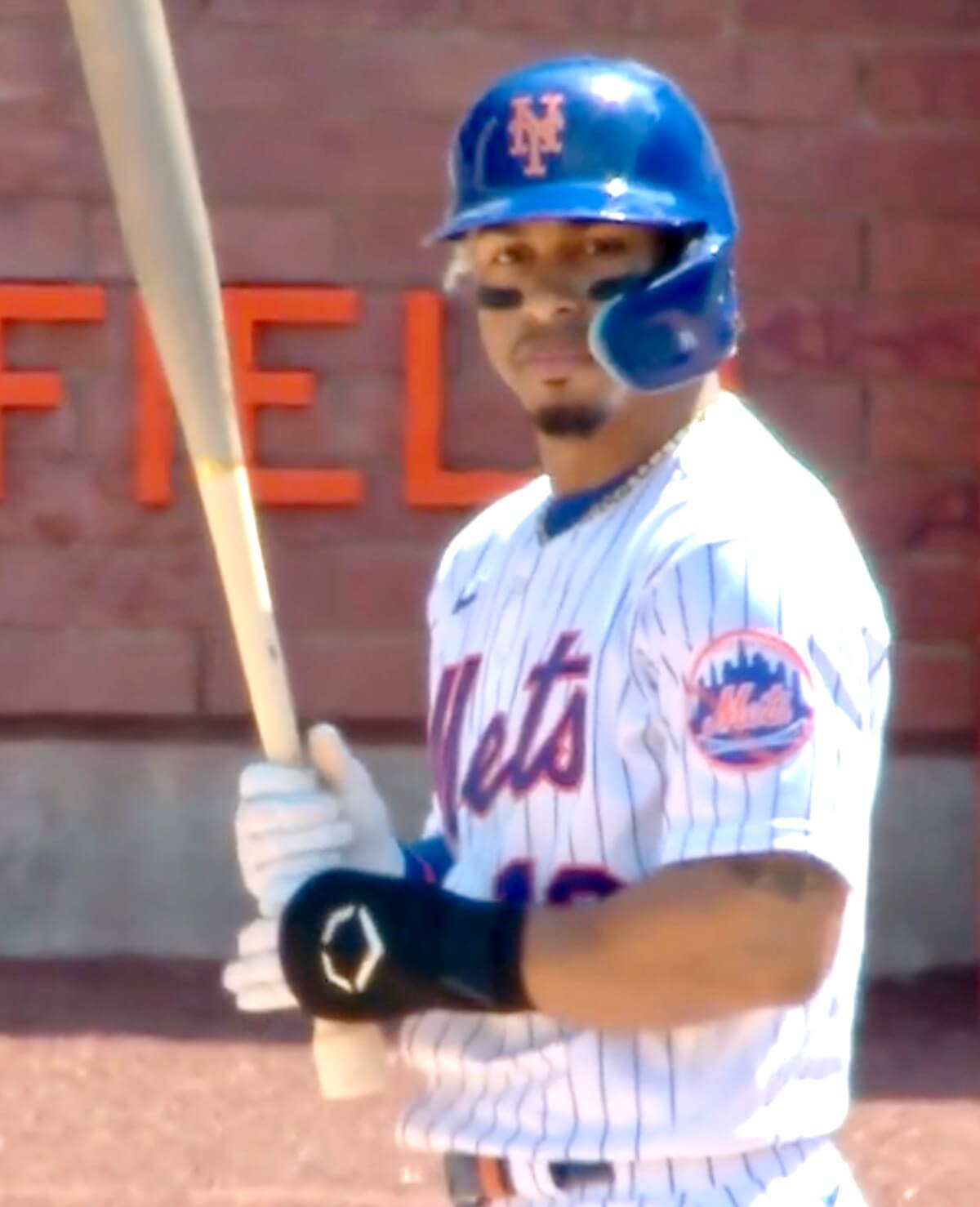 This hockey puck style has slowly been gaining favor with MLBers over the past couple of years. (Patrick Wisdom of the Cubs recently switched to it and promptly homered in four straight games.)
Sure enough, during the TV broadcast of the Mets' next game — Tuesday night in Houston — SNY roving reporter Steve Gelbs did a little segment on Lindor's bats. He said Lindor only uses the hockey puck style "against high-velocity pitchers or on days when he just doesn't feel that great," because it helps keep his swing balanced. They also showed a comparison of the bat knob styles:
The interesting thing about all this, at least to me, is that there are now at least four bat handle styles being used in the big leagues (and three of them are being used on the Mets):
• The traditional knob
• The hockey puck knob
• McNeil's knobless style
• The "axe handle" style (more info here)
Has there ever been a point in baseball history when so many different bat styles have been in use?
Update: Reader/commenter Lawrence points that the Mets first baseman Pete Alonso uses the axe handle style: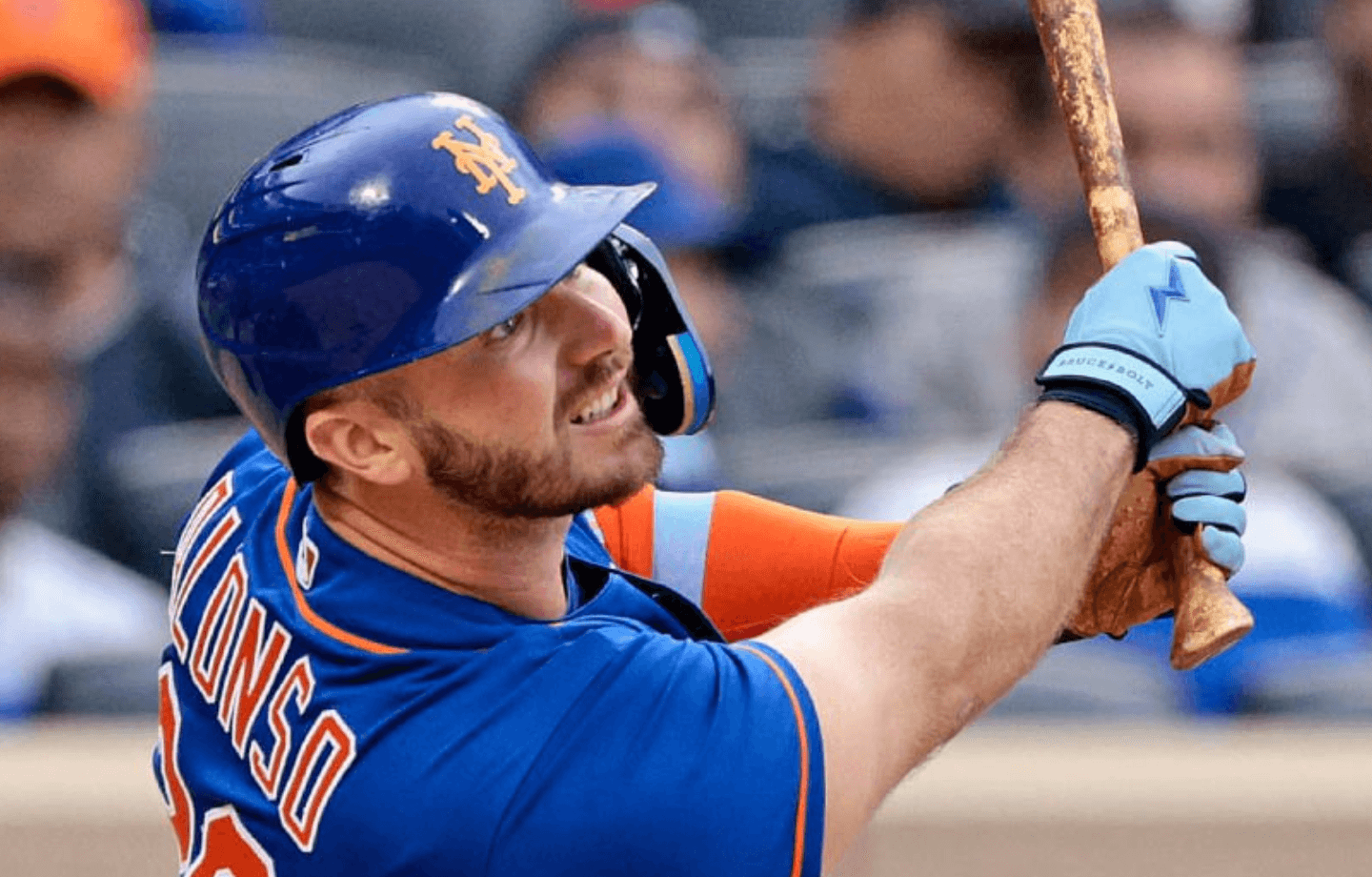 So the Mets are using all four of the styles I just listed!
• • • • •
• • • • •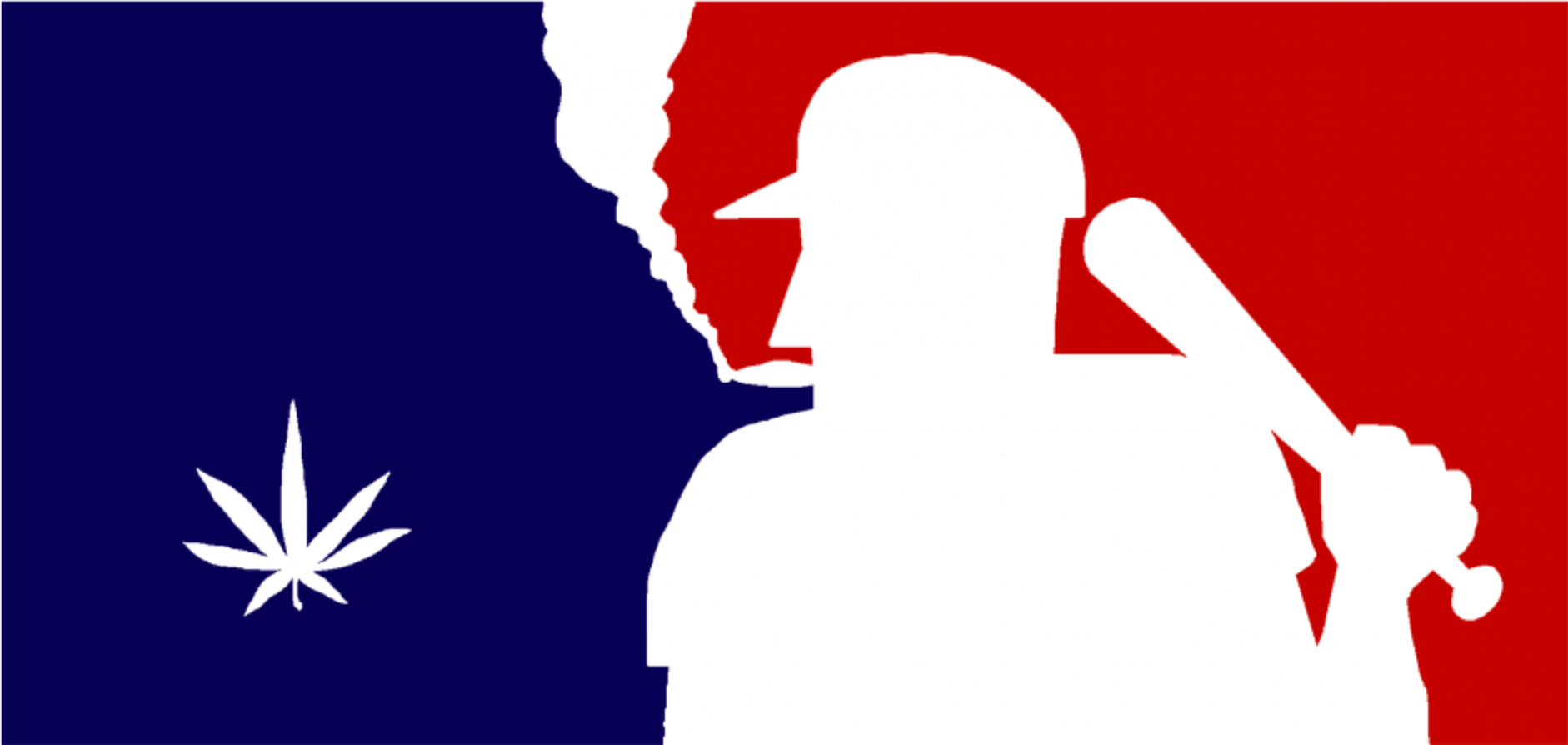 MLB x CBD: MLB yesterday announced that teams are now free to strike sponsorship deals with CBD brands. Key quote: "With MLB opening up team and league jersey patch sponsorships for the '23 season, CBD companies will now be among those allowed to strike such deals."
Let the wisecracks begin!
• • • • •
• • • • •
The Ticker
By Anthony Emerson

Baseball and Softball News: Marlins players have started to put a football helmet on each guy who hits a home run as they return to the dugout. They're also adding a decal for each player who wears the helmet (from Mike Chamernik). … Tom Seaver appeared on this magazine cover wearing a jersey he never wore on the field. That's the Mets' 1978-82 jersey — Seaver was traded to the Reds in 1977 and reacquired by the Mets prior to the 1983 season, when they began wearing their racing stripe unis (great find by George N.) … Athletes Unlimited softball players wore "IX" on their backs last night in honor of the 50th anniversary of the passing of Title IX (from our own Jamie Rathjen). … Inspired by yesterday's sublede about Jesse Winker's '80s-style stirrups, reader Tim Walsh shares that his son wears his stirrups the same way on his high school team. … The Mahoning Valley Scrappers of the MLB Draft League will wear Disabilities Awareness Night unis (thanks, Phil). … The Syracuse Mets wore their white "Salt Potatoes" jerseys with grey pants while in Rochester playing the Red Wings. The Red Wings were also wearing their "Plates" unis, so it was a full-on upstate New York food fest (from Shane Bua). … Brewers P Brandon Woodruff appeared for the Wisconsin Timber Rattlers on a rehab start, wearing his cream MLB pants and a pure white Timber Rattlers jersey (from Wayne Boardman).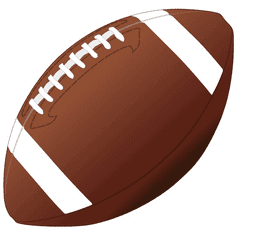 Football News: Reader Russell Lee spotted a license plate reading "NFL UMP" at a gas station. He inquired with the woman driving the car and learned that the car belongs to Carl Paganelli, who's worked four Super Bowls and has been officiating in the league since 1999. Russell says, "I told [the driver] that I thought the license plate was awesome, and she replied, 'I think it's obnoxious,' with a smile." … The 2022 logo for the Vanier Cup, the championship game of Canadian university football, has been released (from Wade Heidt).

Hockey News: Longtime Bruins goalie Tuukka Rask retired in the midst of last season. Yesterday he took part in a scrimmage with Boston Pride Hockey, an LGBTQ hockey club, wearing Patrice Bergeron's skates and using Charlie McAvoy's stick.

Hoops News: A maybe-legit retail site is selling what it claims to be the Celtics' City Edition jersey for 2022-23 (from Robert K. Jepsen). … Gross: The "pick is in" chime for last night's NBA draft was a corporate ad jingle (thanks to all who shared). … WNBA teams wore shooting shirts honoring Title IX last night, something that will continue today (thanks, Jamie). … Etienne Catalan's Twitter had a whole bunch of NBA rookie uni number updates last night.

Soccer News: The following are all from Kary Klismet: New crest for Cercle Brugge of Belgium (also from Ed Zelaski). … New kits for Mexican side Dorados de Sinaloa, Brazilian club America, Austrian club Sturm Graz, and Numancia of the Spanish third tier. … New keeper kits for Arsenal.

Grab Bag: Iberia Airlines is launching a program to recycle and donate old crew uniforms rather than send them to landfills (from Kary Klismet). … Also from Kary, new kits for Ireland's men's national rugby team. … Not uni-related, but here's an excellent article about how Chicago's manhole covers are manufactured (from Craig Maki). … The U.S. Army is easing its restrictions on tattoos (from Timmy Donahue). … Nike will make a full exit from the Russian market. It had already suspended operations there following the invasion of Ukraine.
• • • • •
That'll do it for this week. Stay well, enjoy Phil's weekend content, and I'll see you back here on Monday. Peace. — Paul