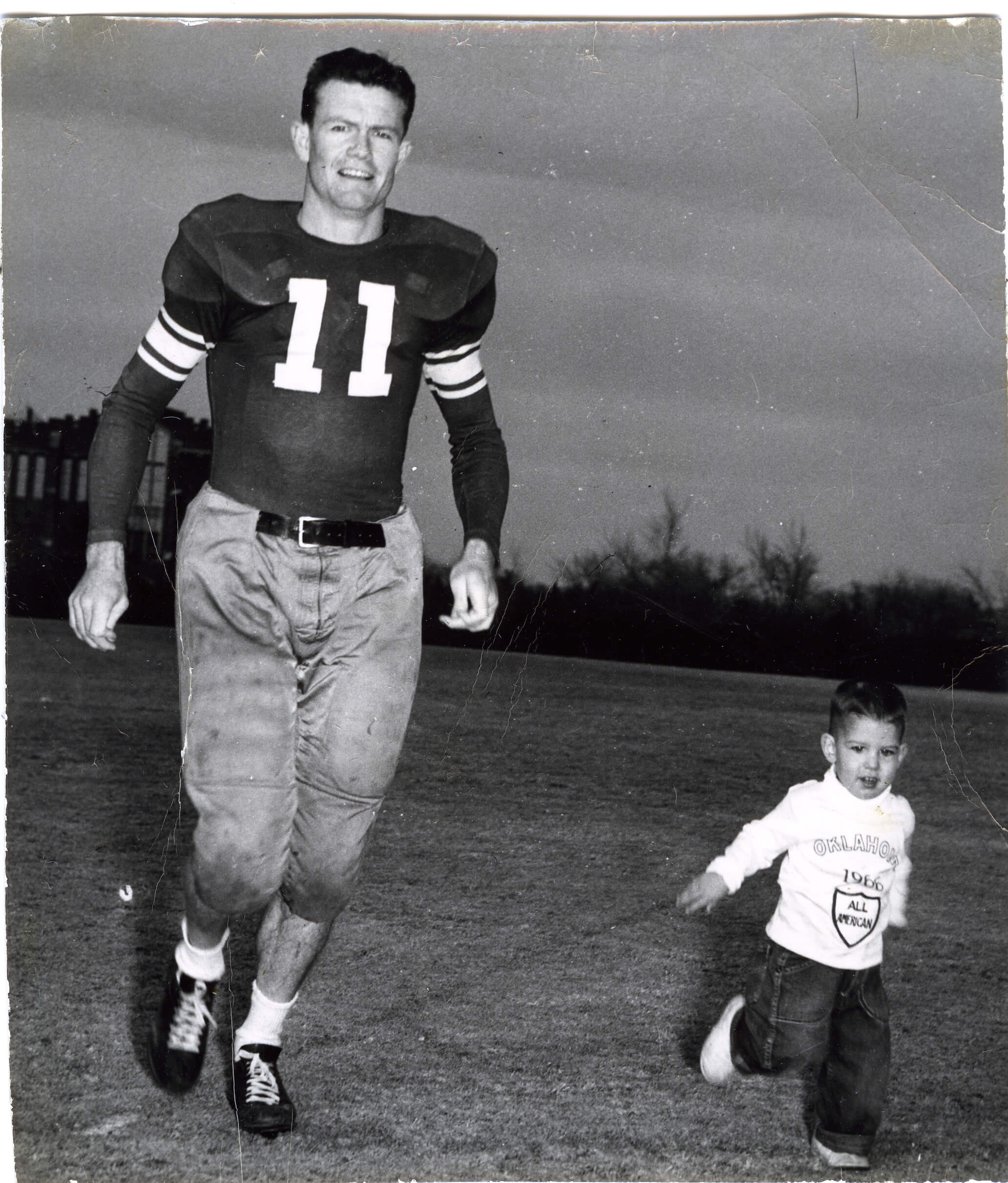 Click to enlarge
[Editor's Note: Phil is busy with a curling bonspiel this weekend, so we don't have a full Uni Watch entry today. But reader Kary Klismet has provided a nice little story in advance of Father's Day. Enjoy. — Paul]
By Kary Klismet
There's so much to love in this old photo of Texas Longhorns coaching legend Darrell Royal with his young son Mack, taken during Darrell's playing days at the University of Oklahoma. Royal enrolled at Oklahoma in 1946 as a 22-year-old married father after a three-year stint in the Army Air Corps during World War II and went on to an All-American career for the Sooners as a quarterback and defensive back.
 
Darrell looks great in OU's classic uniforms of the era, with the Northwestern stripes on the long-sleeved jersey and the cream/khaki canvas pants (if only the photo were colorized!). But the real star of the photo is little Mack's turtleneck with the radially-arched "Oklahoma" wordmark across the chest and the "1966 All-American" graphic on the torso.
 
Although the turtleneck's bold proclamation proved to be more aspirational than prophetic (Mack's eventual college experience focused more on chemistry than on football), the photo still feels like a little uni-centric Father's Day gift to all of us. Here's wishing everyone out there a happy and memorable Father's Day tomorrow.
———
Thanks for that, Kary!
Phil's annual "Dads in Uniforms" piece will run tomorrow, and I'll have full coverage of the Brewers and Jazz unveilings on Monday. Here's wishing a happy Father's Day and Juneteenth weekend to everyone. — Paul