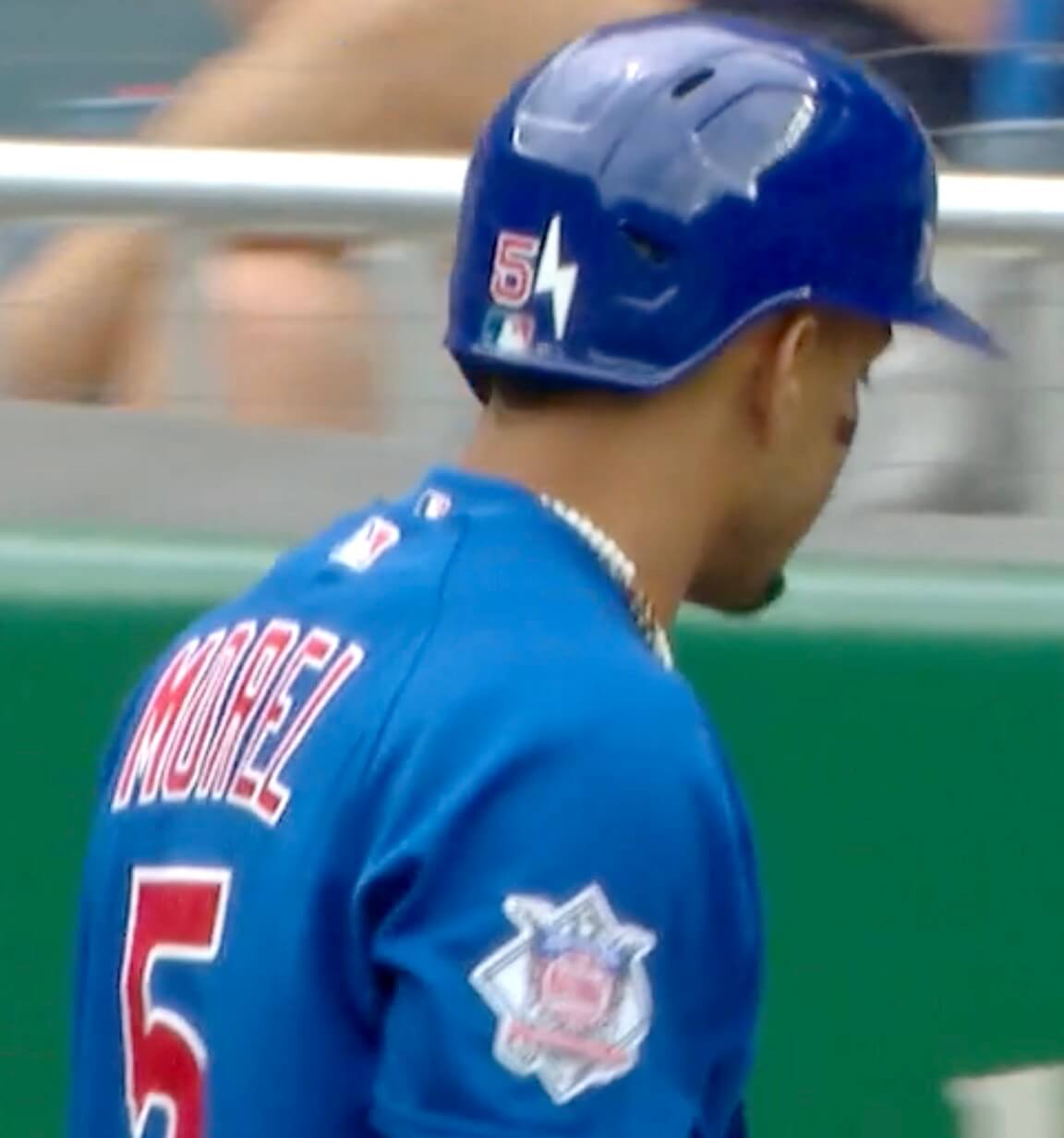 Click to enlarge
MLB players will sometimes add custom messages to their caps, wristbands, or other accessories. But it's extremely rare, maybe even unheard of, for a player to add logos or other messaging to his batting helmet. So I was surprised yesterday to see Cubs phenom Christopher Morel with a little lightning bolt icon on the back of his helmet during yesterday afternoon's game at Yankee Stadium.
How long had the bolt been there? Some quick video research revealed that Morel also wore the bolt on Saturday and Friday. The Cubs' last game before that was on Tuesday, June 7 (they were rained out on Wednesday and off on Thursday), and for that game Morel's helmet was bolt-free. So he apparently added the bolt on Friday, when the Cubs began their three-game series in the Bronx.
It's hard to be sure, but the bolt icon looks like the logo of Bruce Bolt, a batting glove brand that debuted a few years ago and has steadily been gaining MLB adherents. Unlike most batting gloves, Bruce Bolt gloves are made from real leather, not vinyl (and are premium-priced as a result). You can spot them by their distinctive lightning bolt logo, as seen here on Mets outfielder Brandon Nimmo: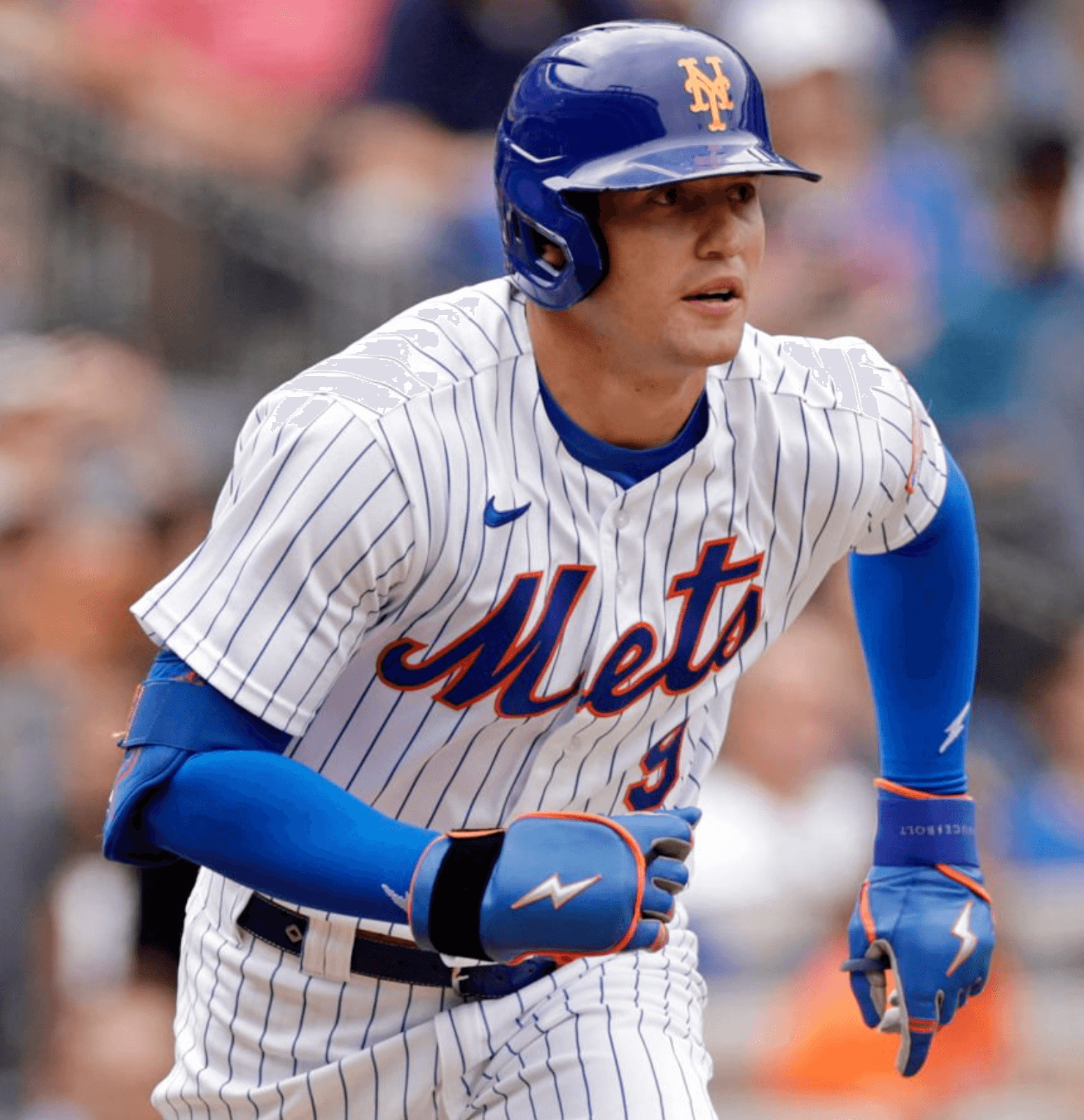 So did Morel put the Bruce Bolt logo on the back of his helmet? That was my first thought, but there's a serious flaw in that theory: Morel doesn't wear Bruce Bolt gloves. He wears Franklins: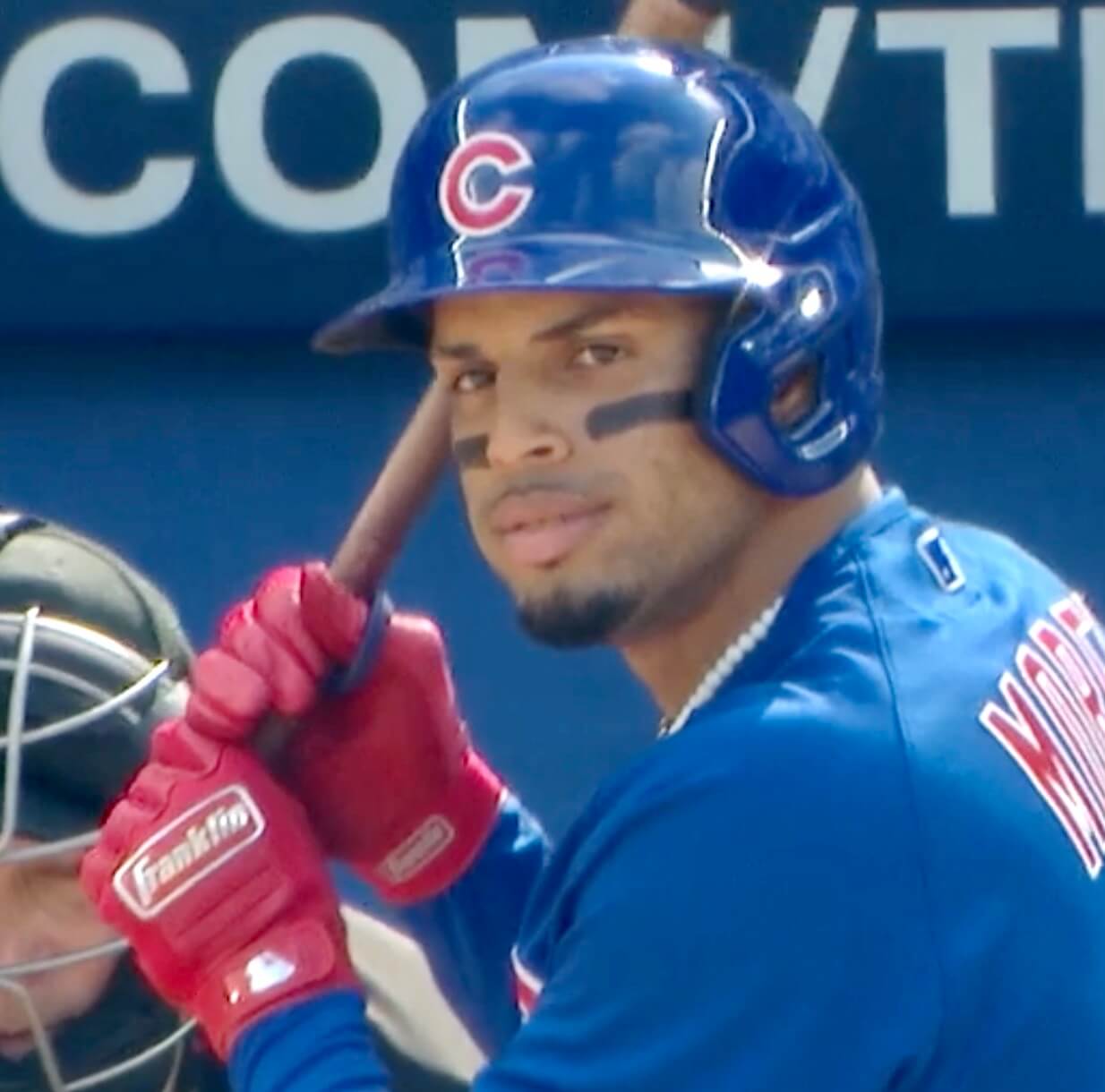 Interestingly, Cubs outfielder Ian Happ is one of Bruce Bolt's marquee players but doesn't have the decal on his helmet. Neither does any other MLB player I'm aware of.
Of course, lightning bolts all look pretty similar, so it's possible that the icon on Morel's helmet has some other meaning. I emailed the Cubs' PR guy, who said he'd check with Morel prior to tomorrow's game and get back to me. Also sent a note to Bruce Bolt — no response yet.
Whatever the explanation is, I'm pretty sure Morel will be told to remove the bolt decal, because players can't go adding random decorations to their headgear. Hell, even Rawlings, MLB's official helmet brand, isn't allowed to put its maker's mark on the helmets (except for the base coaches' lids). Stay tuned — I'll have a follow-up report tomorrow, I hope.
(My thanks to Twitter-er @JohnnyMaz7 for bringing this one to my attention.)
• • • • •
• • • • •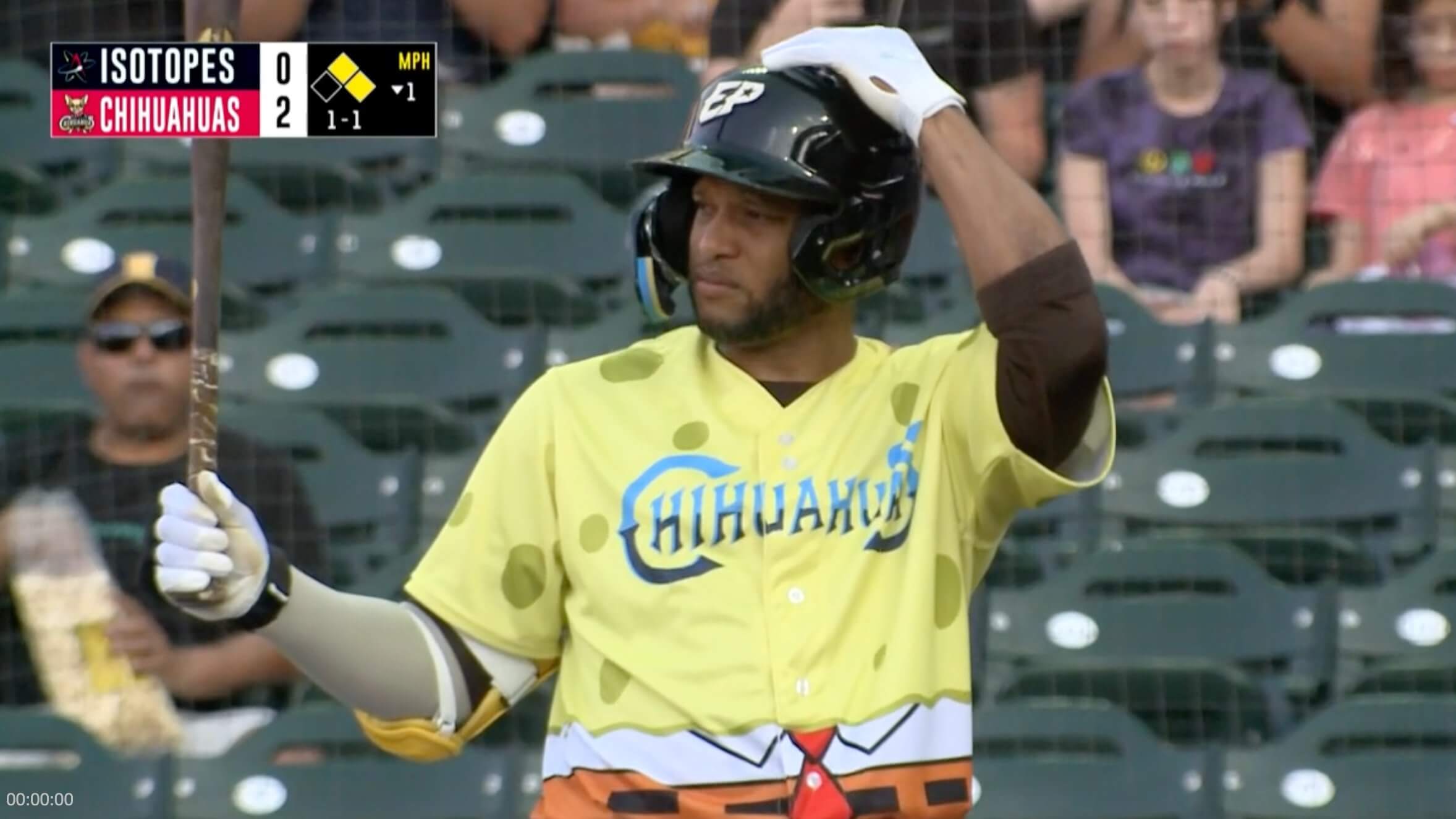 Click to enlarge
If you believe in yourself, and with a tiny pinch of PEDs, all your dreams can come true: Disgraced ex-MLBer Robinson Canó, who sat out all of last season after testing positive for PEDs for the second time in his career, and who's been released by two teams (so far) this season, suited up on Saturday for the El Paso Chihuahuas — his first non-rehab minor league game since 2005. In a nice coincidence, it also happened to be Spongebob Night for the Chihuahuas, so Canó had to wear a particularly humiliating jersey for his return to Triple-A.
Or to put it another way: It's a long fall from a Hall of Fame career to Bikini Bottom.
(My thanks to Tim DiMartino for making me aware of this one.)
• • • • •
• • • • •
The Ticker
By Jamie Rathjen

Baseball and Softball News: Reader Anthony Pyzikiewicz noticed that Mets OF Mark Canha was wearing Jackie Robinson Day gloves on Saturday, and apparently only on Saturday. "This hasn't been an ongoing thing," Paul says. … The jerseys the Cardinals apparently would have worn in the Field of Dreams Game have surfaced. They were supposed to participate in 2020 before it was postponed to 2021 because of Covid (from Eric Abneri). … Mariners SS had a maker's mark-less cap yesterday (from Eric Sanford). … An emailer going by Glenn tells us that Phillies broadcaster John Kruk, who played for the Padres in the late '80s, was talking on the air yesterday about a would-be San Diego uniform from that era designed by Steve Garvey. The uniform apparently would have had "pastel colors and a Padres wordmark that had a palm tree built into the 'P'," but it's not shown in Bill Henderson's guide and is otherwise unknown to us. Anyone know more? … Following up on Thursday's blog post about the "Cinn." abbreviation on the Fenway Park scoreboard, reader Brandon Fragomeni recently came across an old Reds fashion cap with the "Cinn" abbreviation. … "Rangers OF Adolis García uses a protective covering on his bottom hand when batting," says Mike Chamernik. "Maybe this is common but I've never seen it before!" … The next season of Athletes Unlimited's softball league starts today in San Diego, and they've teased new jerseys. … One of the umpires at college baseball's Chapel Hill Super Regional was wearing an MLB cap (from Austin John). … The Twins usually usually pair their powder blue uniforms with a navy cap, but yesterday they went with a red cap. … Here's a rarity: The Dayton Dragons and Great Lakes Loons went green vs. green yesterday (thanks to all who shared).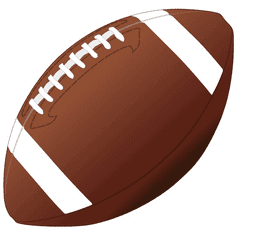 Football News: For the start of the 2022 CFL season, here's a piece on 50/50 raffles there and in other leagues.



Basketball News: Reader Karl Svatek tells us that Marquette men's G Tyler Kolek is to switch to No. 11 next season. The problem with that? Former men's coach Al McGuire retired the number in honor of the Apollo 11 crew after they visited Milwaukee in 1969. Karl also tells us, without a picture, that the 1970 NIT saw Marquette wear an Apollo 11 logo on their warm-up jackets. … According to this article on Hawks uniform history, the team used to petition the league for a new uni design every single year back in the 1990s (from David Murphy).

Soccer News: Spain's men's team wore their women's team shirt yesterday. Denmark's men's team is to do the same today. All the countries doing so recently are intending to promote the women's Euro 2022 in England. … The NWSL's Washington Spirit had rainbow corner flags on Saturday. … Meanwhile, the Spirit have a new sleeve ad. This one comes with an interesting story: Some people who bought this season's shirt have had it for a few weeks with this ad on it because the club shop mistakenly shipped some earlier than intended. Those people were apparently politely asked not to post pictures of the shirt online or wear it publicly because this ad hadn't been revealed yet. … In the same league, it was the Houston Dash's turn to wear rainbow numbers yesterday. … New first shirt for Scottish club Heart of Midlothian. … New home kit for men's fifth-tier English side Aldershot Town (from Ed Zelaski). … The Italian postal system has issued a gorgeous set of stamps featuring the national badges of some of the teams that competed in the 1990 World Cup, which was hosted by Italy (from Jeremy Brahm).

Grab Bag: Reader Jared Buccola, of the recent Premier Lacrosse League entry, checked in with this week's PLL color matchups. One of the games, Whipsnakes/Waterdogs, was color vs. color, and the other three, Redwoods/Chrome, Archers/Chaos, and Atlas/Cannons, weren't. … Former Devils PA announcer Kevin Clark, who's been featured on the site before, was announcing at this weekend's LPGA tournament in Galloway, N.J. "Love the fact that they still use the manual scoreboard at the Seaview Golf Club," he says. … A D.C. Circulator bus has a wrap for the district's Department of Transportation's 20th anniversary (from Bryan Martin Firvida). … The Japanese men's volleyball team that was run by FC Tokyo and sold to a group called Nature Lab has been renamed as the Tokyo Greatbears (from Jeremy Brahm). … Drivers in Michigan can now get digital license plates (from Max Weintraub).
• • • • •
Our latest raffle winner is Dave Lipnik, who's won himself a complimentary one-year subscription to my Bulletin content. Congrats to him, and thanks to all who entered. — Paul