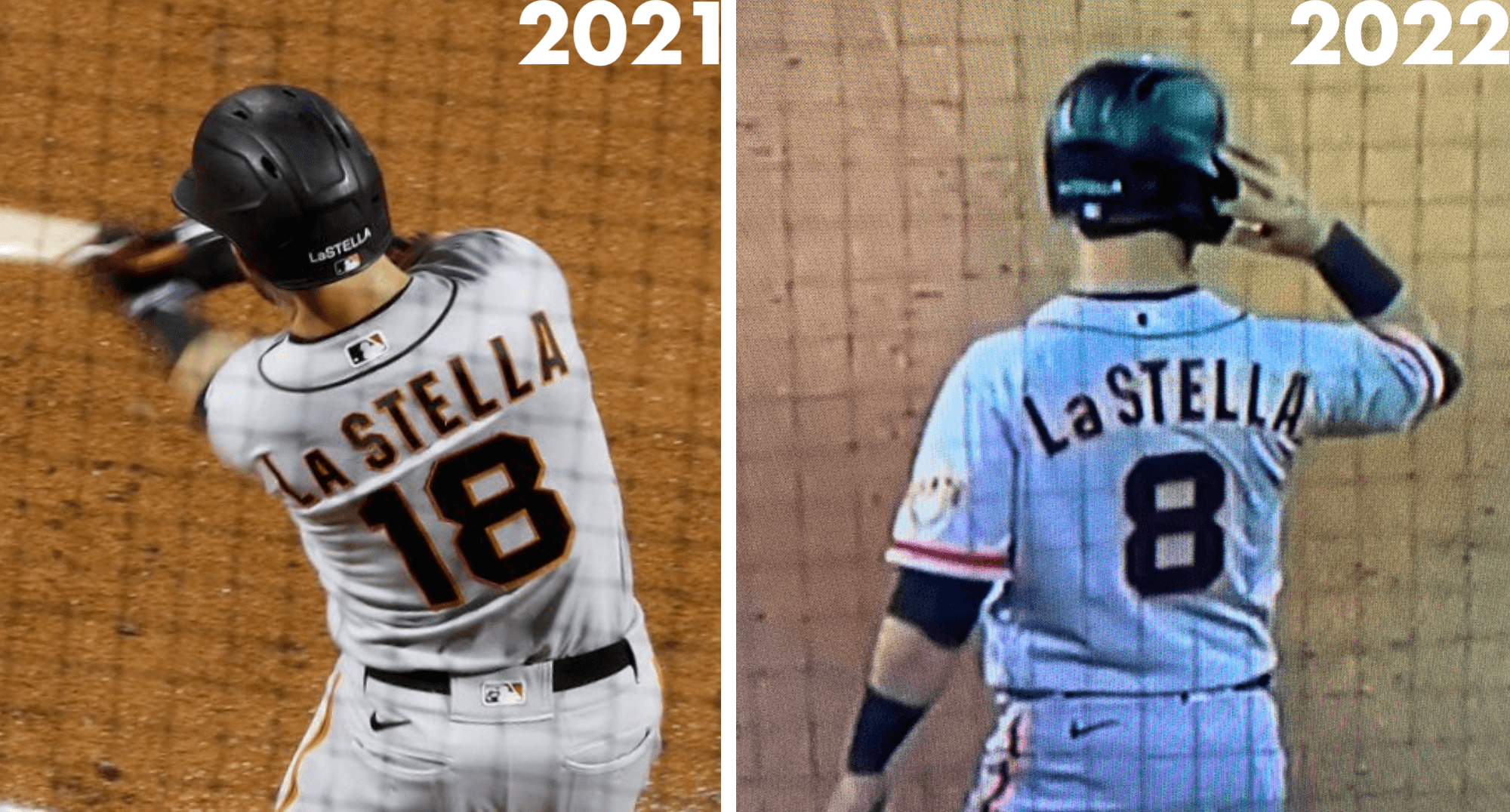 Click to enlarge
Greetings from northern Colorado, where I'm currently spending a few days doing outdoorsy stuff (but may have to high-tail it due to an approaching storm — we'll see).
Anyway: While a bunch of us were watching the Giants/Rockies game at Coors Field on Tuesday night, we were so busy being purple-sociable that we missed an important uni detail: Giants infielder Tommy La Stella now has a lowercase "a" on his NOB! (He actually made his season debut on Monday, but nobody noticed it then either.)
His official surname includes a space between the "La" and the "Stella," but the NOB doesn't appear to have a full space — it's more like a hint of a space, like they're trying to have it both ways. Hmmmm.
Amusingly, La Stella has always had the lowercase "a" (without the space) on the back of his Giants batting helmet: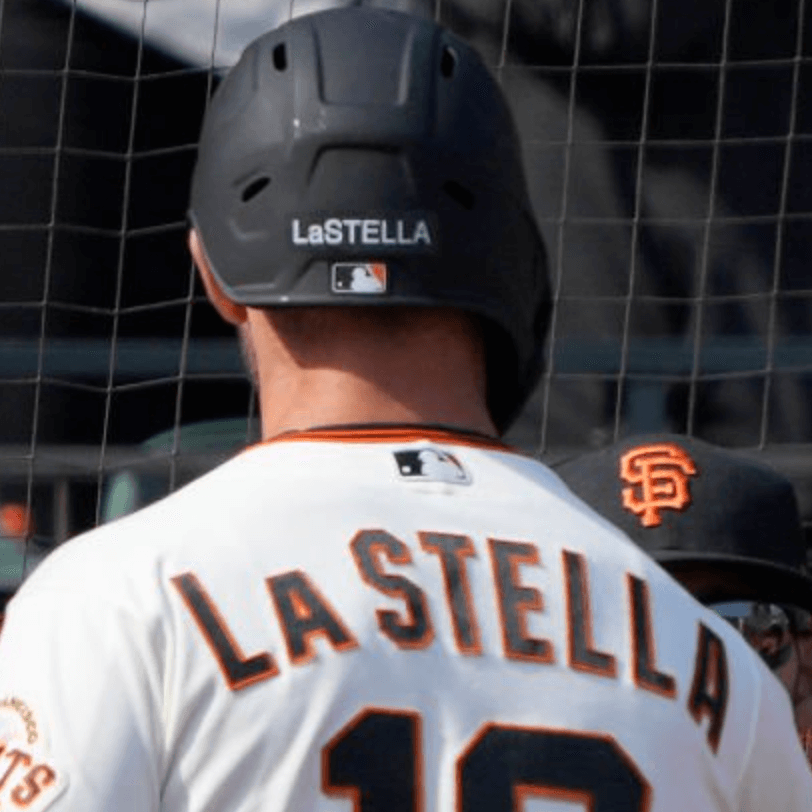 Up until now, La Stella has always worn a small-cap "A" on the back of his jersey — not just with the Giants, but also during his stints with the A's, Angels, Cubs, and Atlanta. The spacing was variable (often it varied even more within a given team's assorted jerseys):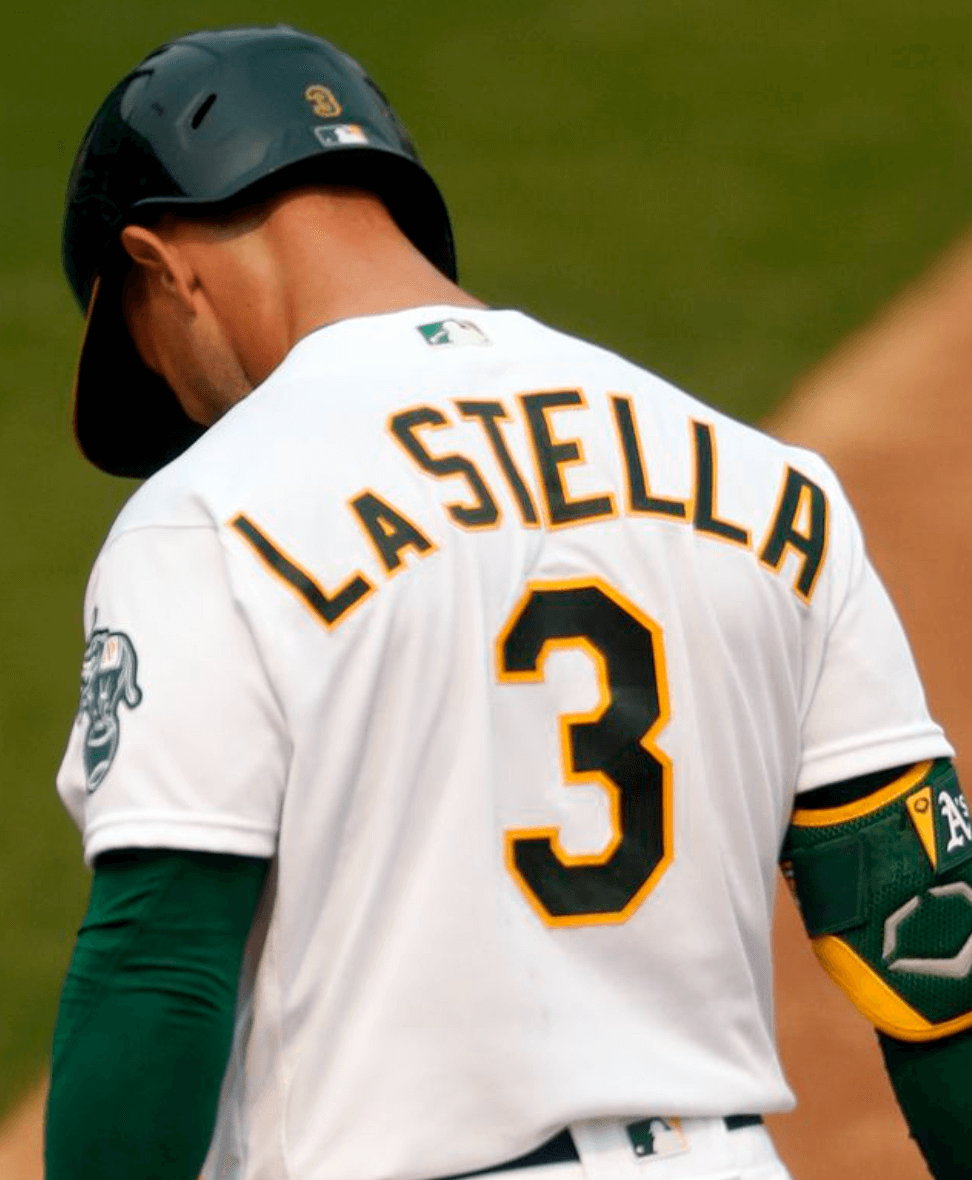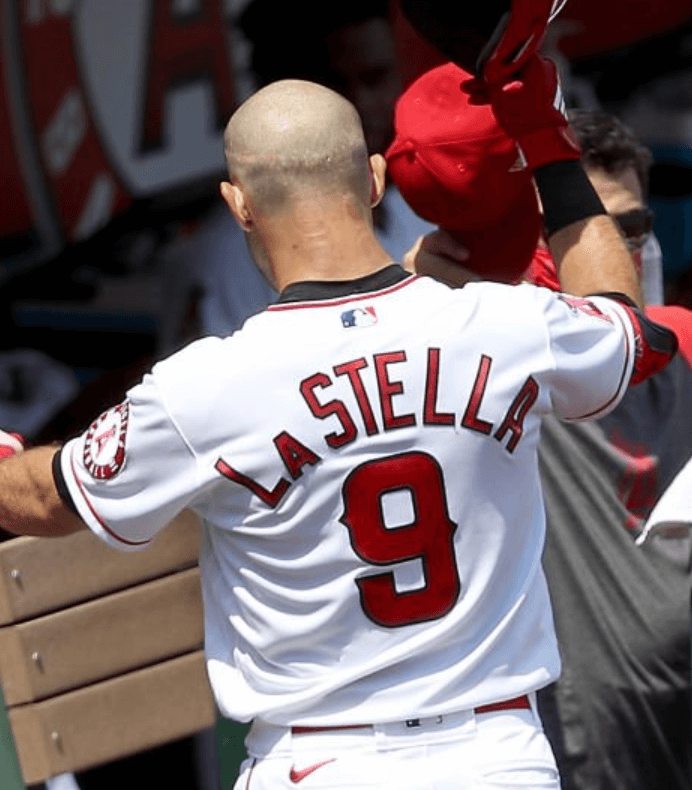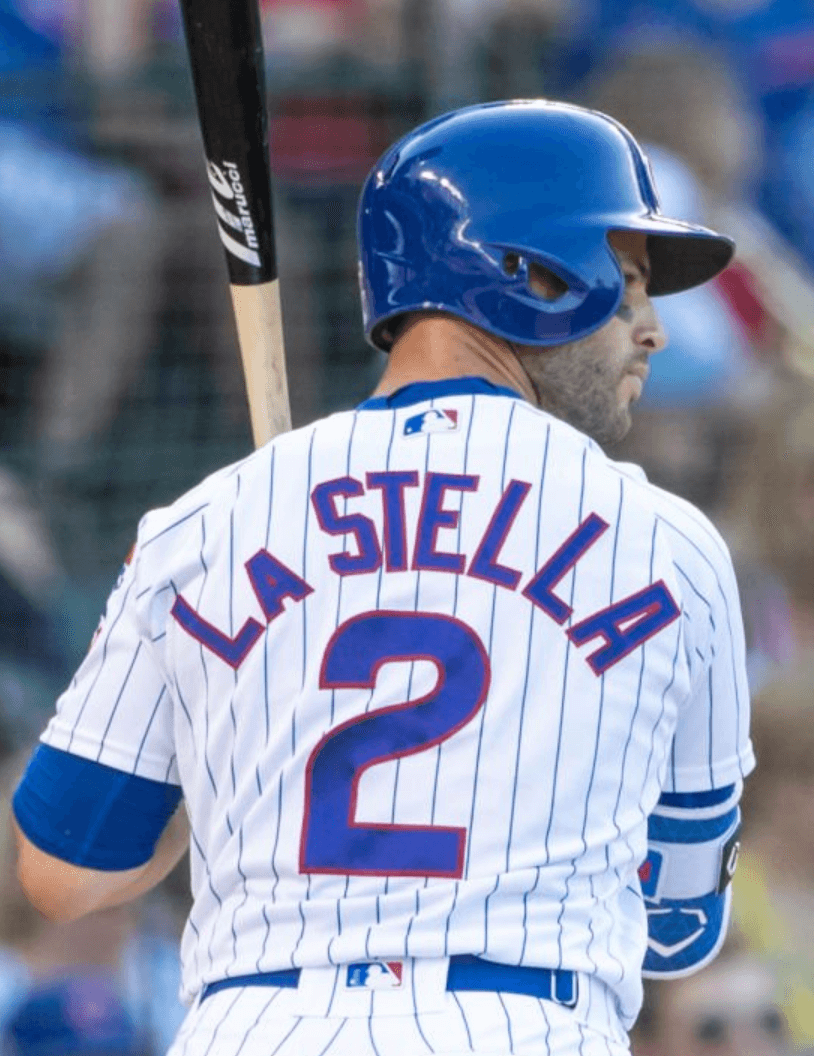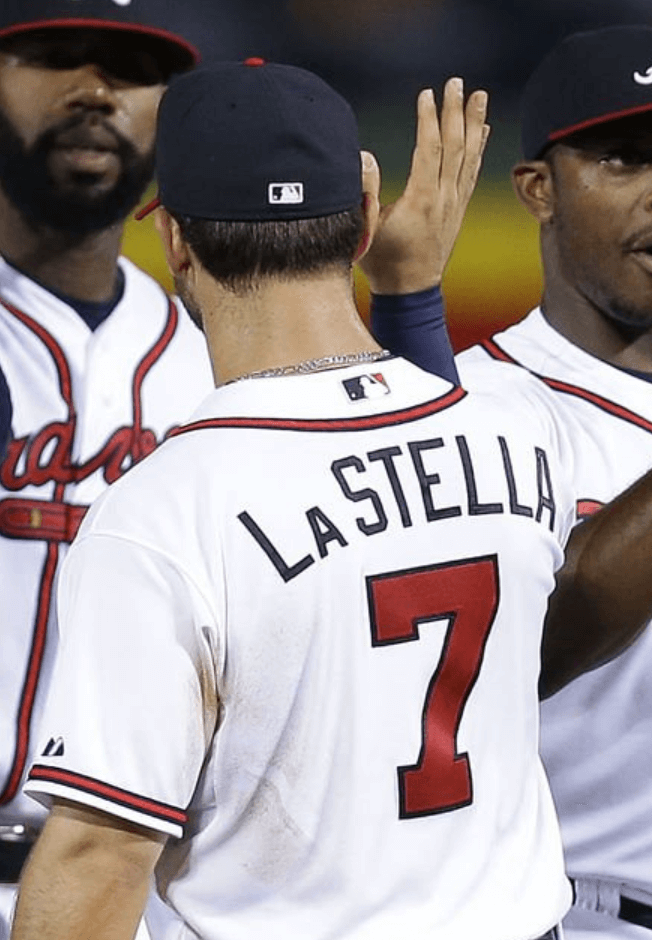 I'm trying to decide whether I prefer the lowercase "a" or the small-cap "A," and I'm thinking I don't like either of them. What I'd really like to see is a slightly larger small-cap, so it doesn't look quite so diminutive. Maybe someone could Photoshop that for us?
(My thanks to Sean Presley and Twitter-er @ABL_LoSox for letting me know about La Stella's new NOB.)
• • • • •
• • • • •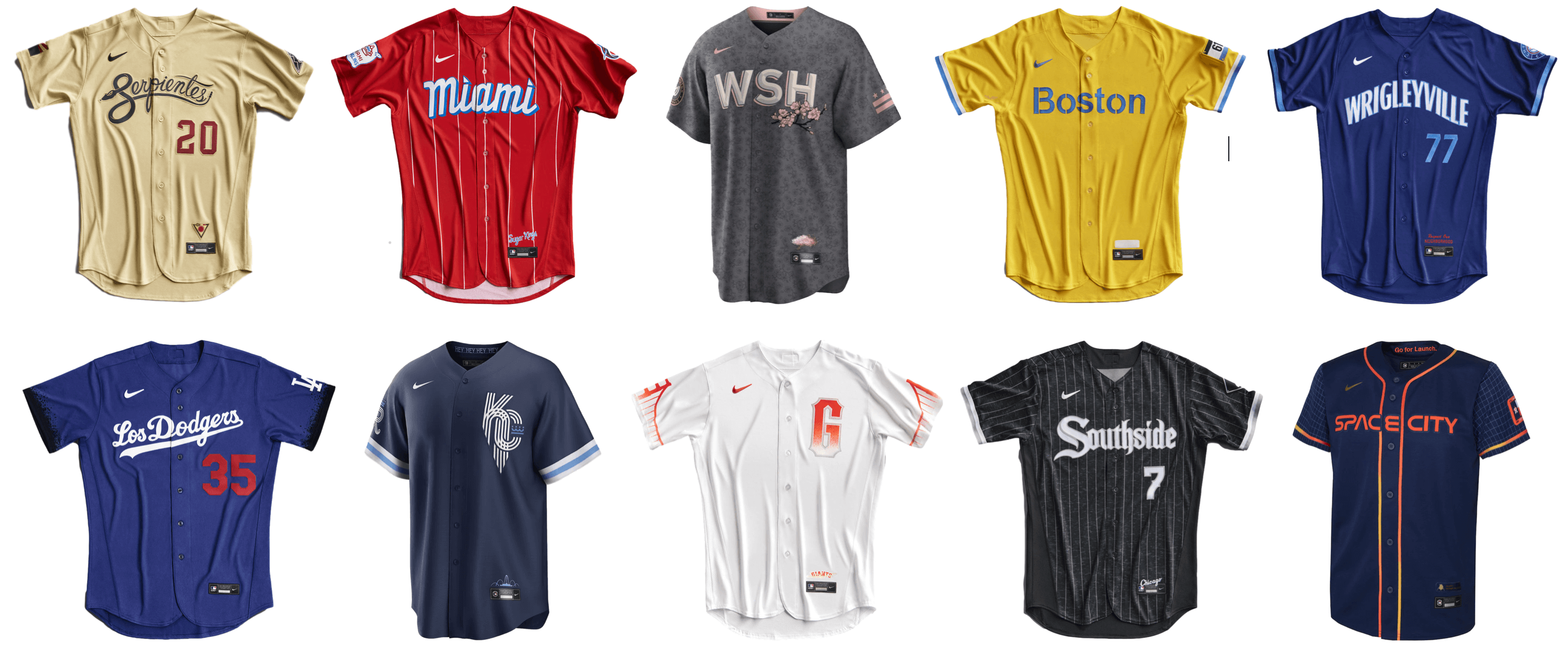 ITEM! City Connect Power Rankings: For my latest piece on Bulletin, I've done a worst-to-first ranking of the 10 MLB City Connect uniforms that have been released so far.
My premium subscribers can read the article here. If you haven't yet subscribed, you can do that here (you'll need a Facebook account in order to pay). Don't have or want a Facebook account? Email me for workaround info. Thanks!
• • • • •
• • • • •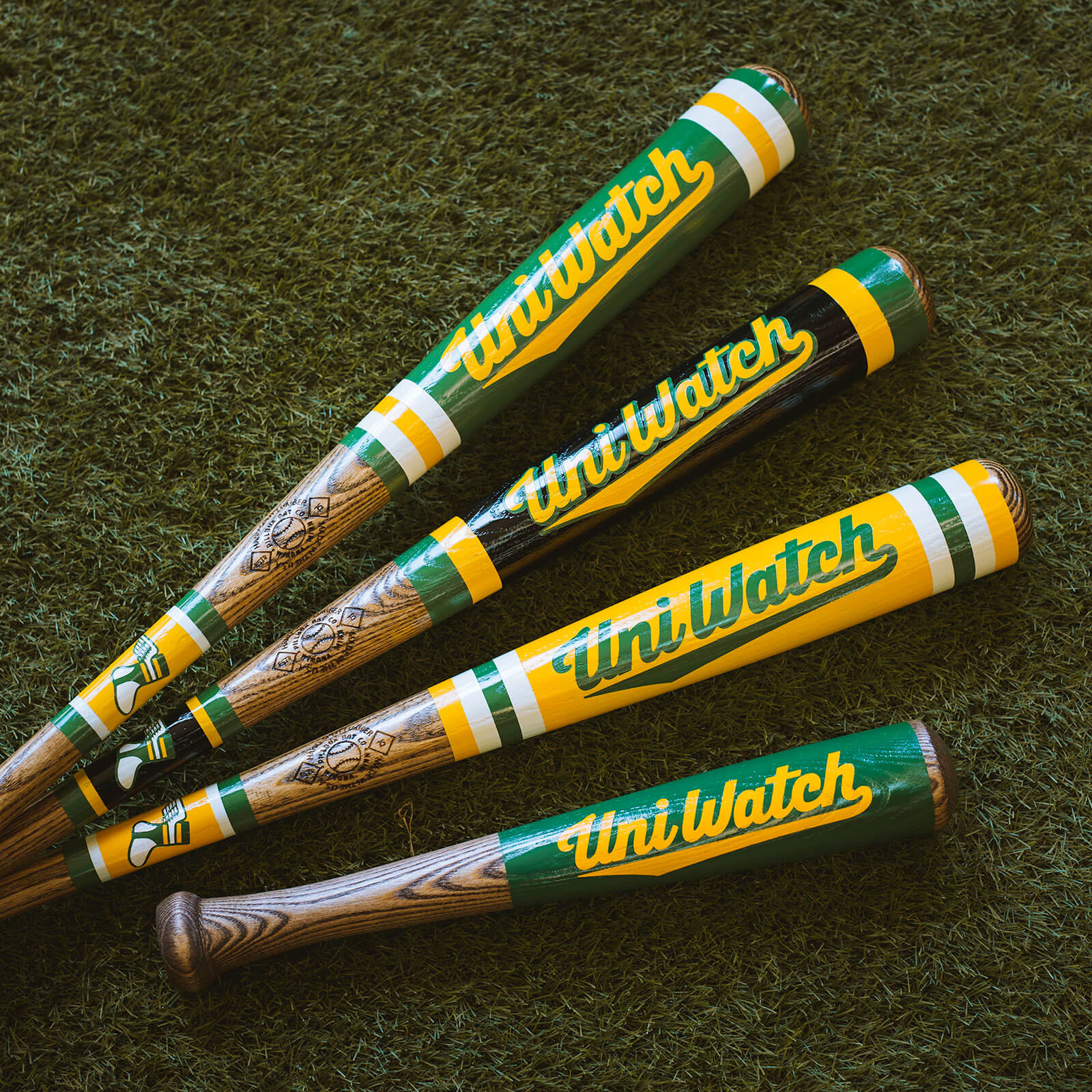 Father's Day deadline reminder: In case you missed this news earlier in the week, the folks at the Pillbox Bat Co. tell me that if you want one of the custom-painted Uni Watch bats in time for Father's Day, you must get your order in by next Monday, May 23, so I wanted to pass that info along.
• • • • •
• • • • •
The Ticker
By Lloyd Alaban

Baseball News: A throw last night by Astros SS Jeremy Peña to first base tore through teammate 1B Yuli Gurriel's glove. The play was scored as an error on Peña (from Mike Chamernik). … Twins SS Carlos Correa had his last name misspelled on the A's scoreboard yesterday (from Bill Vaughn). … The next few items are from our own Phil Hecken: The Astros will give out a series of moon rover-themed bobbleheads this month. … The Fort Wayne TinCaps, affiliate of the Padres, are using a promotional night of jersey sales to raise funds to support a monument to the All-American Girls Professional Baseball League.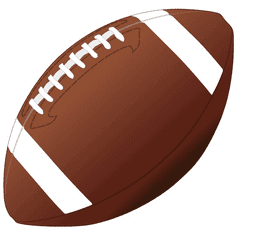 Football News: Ravens QB Lamar Jackson has filed for a couple of trademarks —presumably for an upcoming restaurant (from Marcus Hall). … Here's a sportswriter's ranking of Washington State's uniforms (from our own Phil Hecken). … Also from Phil: Here's the entire 2022 NFL schedule – all 272 games — in one graphic.

Hockey News: After some initial reports that the Coyotes would not be allowed to put their logo on the ice while playing "home" games at Arizona State for the next few seasons, it now turns out that the Yotes logo and the ASU logo will both appear on the ice. … A statue of former Blackhawks C Fred Sasakamoose, who spent decades helping develop Indigenous hockey players and reconciliation efforts, was unveiled yesterday outside the Sasktel Centre in Saskatoon, Saskatchewan (from Wade Heidt).

Basketball News: F Paolo Banchero might have given us a first look at the NBA's upcoming draft caps (from Donald Wine II). … The NBA Draft Lottery took place yesterday. Some interesting tidbits about how teams are actually chosen are in this ESPN article. For example, the NBA has a backup lottery machine in case the first one fails, and a backup in case power fails: a literal basketball with a hole cut out of the top. Yesterday morning before the lottery took place, the league went to get its hole-in-the-ball lottery machine, but they noticed it was a Spalding ball, which was problematic because the league switched from Spalding to Wilson for this season, so officials had to find a Wilson ball and cut a hole in that one (from Mike Chamernik). … Reader Dario Moretti found a picture circa 1994 of Hawks PF Danny Manning wearing a jersey with no front number.

Grab Bag: Under Armour president and CEO Patrik Frisk will step down from his post next month (from our own Phil Hecken). … The U.S. Air Force could soon allow airmen to have mustaches that extend a quarter-inch past each corner of their lips, for an extra half-inch of hair in total (from Timmy Donahue). … Also from Timmy: U.S. Space Force recruits will be allowed to have neck tattoos.