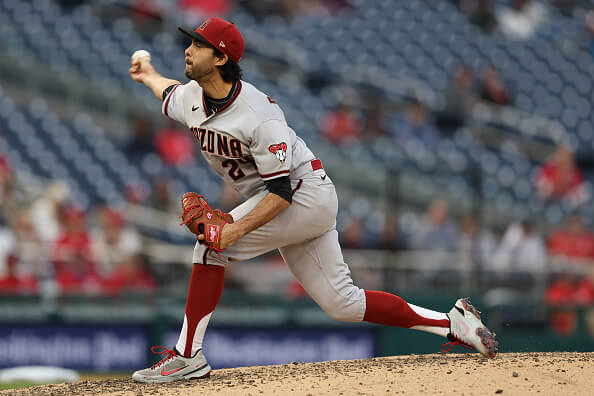 Good morning! Hope everyone had a good weekend, especially those of you who were observing Orthodox Easter.
Now then: Phil mentioned in yesterday's Ticker that Diamondbacks reliever Noé Ramirez has been wearing some pretty sweet stirrups lately. As it happens, Ramirez's hosiery stylings were the subject of some chatter between Mets broadcasters Gary Cohen and Ron Darling during the top of the sixth inning of Saturday night's Mets/D-backs game. Here's how it unfolded:
Gary Cohen: Noé Ramirez going with the traditional stirrups.
Ron Darling: I saw that last night. [At this point the camera obligingly focuses on Ramirez's shins.]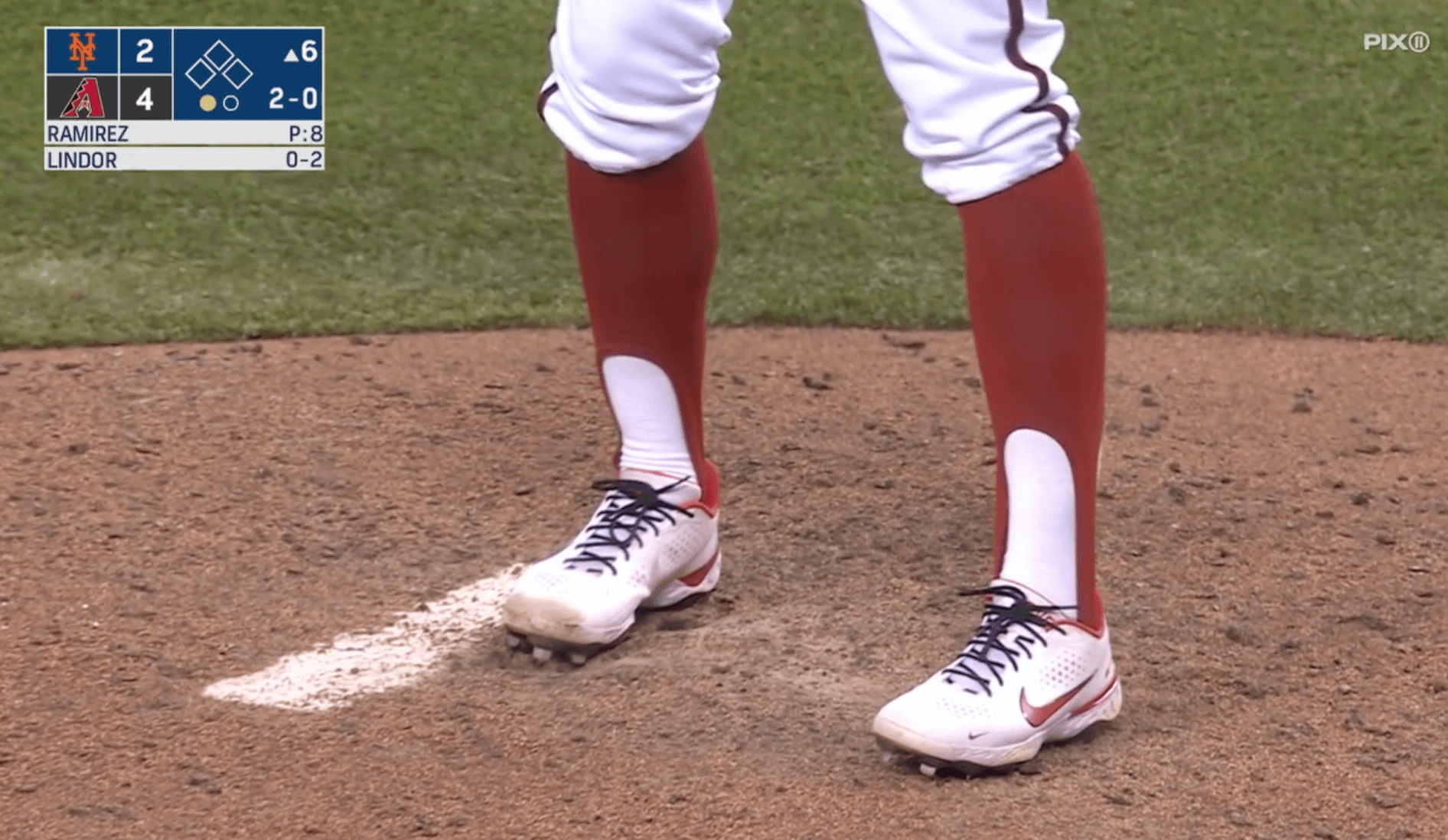 Cohen: The Sean Gilmartin look. [This is a fairly obscure reference to journeyman pitcher Sean Gilmartin, who last pitched for the Mets in 2017. He did wear stirrups, but much lower-cut than Ramirez's. — PL]
Darling [not understanding the difference between knitting and painting]: Yeah, and they really are stirrups because we've seen guys that have socks that are kind of painted to look like the stirrups.
Cohen [trying but failing to recall the term "two-in-one"]: Well, remember when the socks came out — because guys started wearing the stirrups high, so that you didn't see any of the top of the stirrup, you only saw the line along the side of the white.
Darling [uttering his two favorite words]: That's right.
Cohen: And then they started making the socks that just have the lines on the side.
Darling [again giving his blessing to what Cohen just said]: You're right. So the stirrup — and I used to wear stirrups — the lower part goes in the front, the higher part goes in the back. And then there's a couple of different ways to keep them up. You can fold them under the pant. Some guys use tape. So a lot of different ways to do it. It looks like Ramirez probably uses tape, because you can see the bottom of his pants over the sock. There was a whole way that older players would teach you how to put those socks up correctly.
Cohen: Of course, the sanitary sock came into being in the early days of baseball, because the colored socks had dye in it [sic], which was poisonous. So if you got spiked, the dye could go into your skin and you could, you know, you could get serious illness or die. So they put the sanitary socks into the mix to keep the dye from getting into your leg. But the whole thing about the stirrup being low in the front, high in the back, that's one of the first things they teach you in Little League. [Camera now shows D-backs second baseman Katel Marte, who's going high-cuffed with red socks.]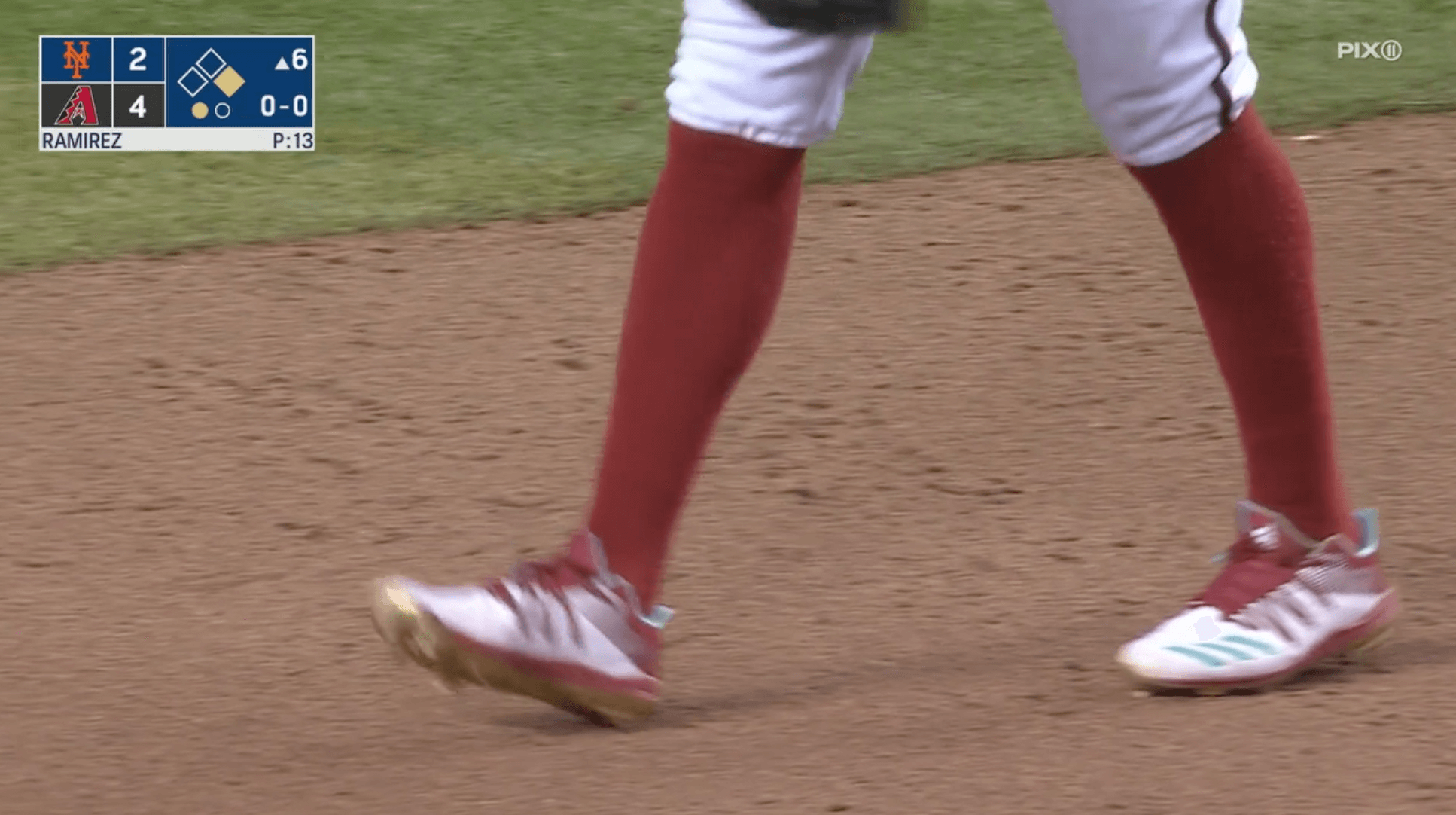 Darling [inaccurately]: And then you could be like Katel Marte — I think he goes with the stirrups, but all the way down.
———
And that was that. Despite a few bits of awkward phrasing (Cohen twice said "lines" when he really meant stripes, and he said the dye could get into a player's "skin," when the real problem was blood poisoning), that was some pretty good on-air stirrup banter. Good to see my favorite uni element being the subject of some chatter!
One thing: Was everyone really taught in Little League to wear the smaller stirrup opening in the front? I don't think I was — I just figured it out by watching big-leaguers. What about you folks?
Meanwhile, speaking of Ramirez: He's played for three teams since making his MLB debut in 2015 — the Red Sox, Angels, and D-backs — and has always worn stirrups, but until now he'd almost always gone with the low-cut variety, or what I think of as "Why even bother?" stirrups. I mean, it's better than nothing, but not by much: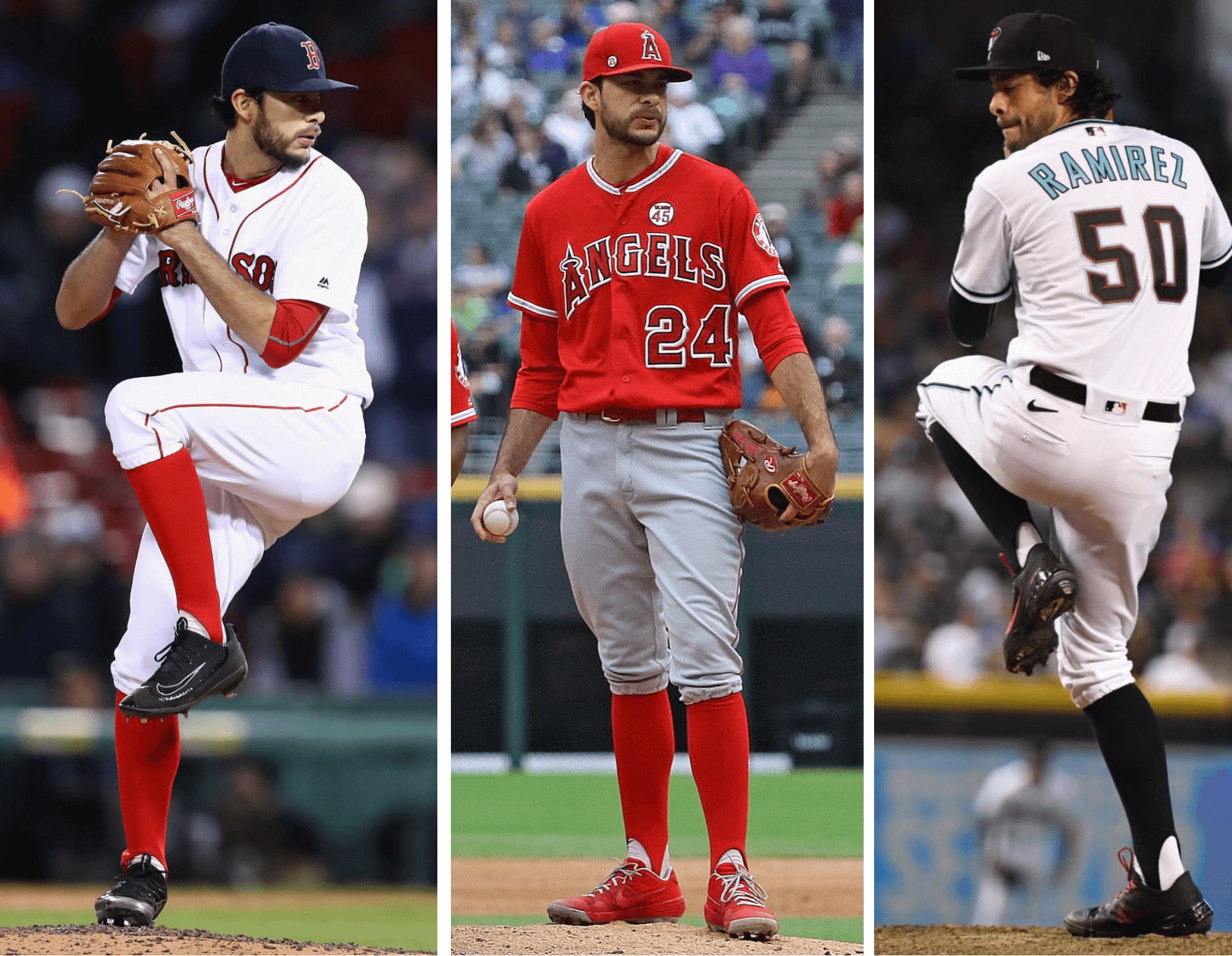 The only exception I could find, at least prior to the last few days, was a 2018 throwback game when he was with the Angels. For that game, he went with high-cut stirrups: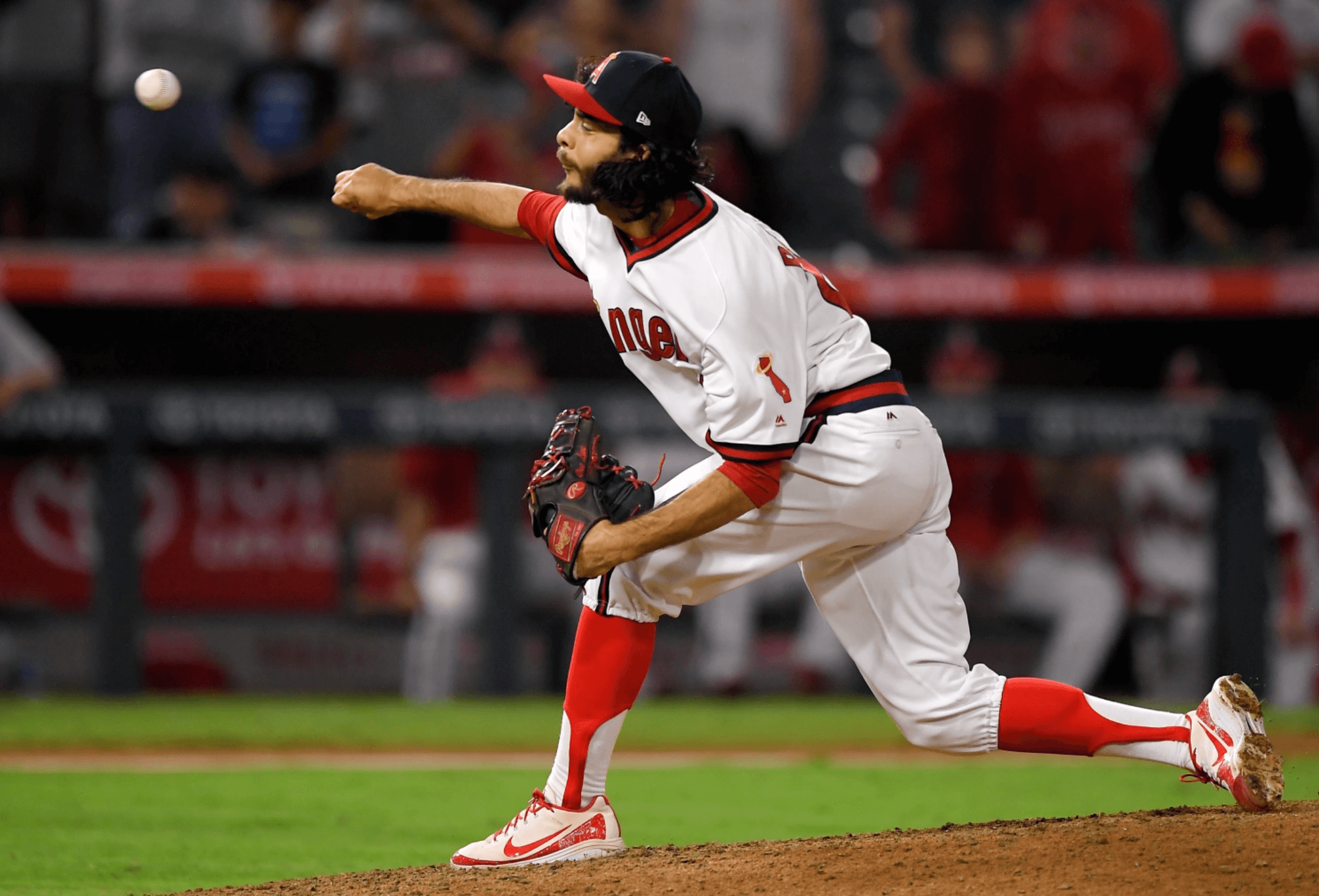 Aside from that, he always wore low-cuts, even for his first five appearances of this season, until switching to high-cuts on April 21. He's now gone three consecutive appearances with the high-cuts. I strongly approve of this move — Ramirez is our latest Uni Watch hosiery hero!
• • • • •
• • • • •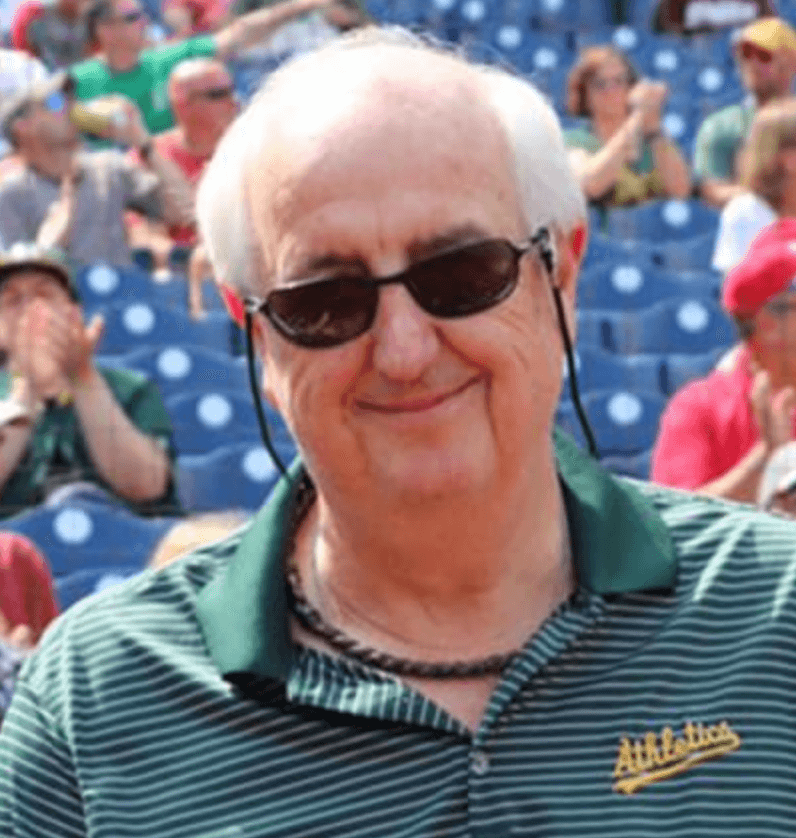 On a serious note: Kayla Vucinich, daughter of longtime A's equipment manager Steve Vucinich, announced yesterday that her dad suffered a heart attack on Saturday but was recovering in the hospital and doing well. I spoke to someone else close to the family yesterday afternoon and was told that Vuc should be okay. Phew!
Vuc, who's been a good friend to Uni Watch for many years (and was the subject of a lengthy Uni Watch interview last summer), had just retired at the end of spring training. Clearly, being away from the game does not agree with him! That said, I hope he'll be back home soon and will get to enjoy the next chapter in his life. Vuc, if you're reading this, hang in there — big hugs from Uni Watch to you, buddy.
• • • • •
• • • • •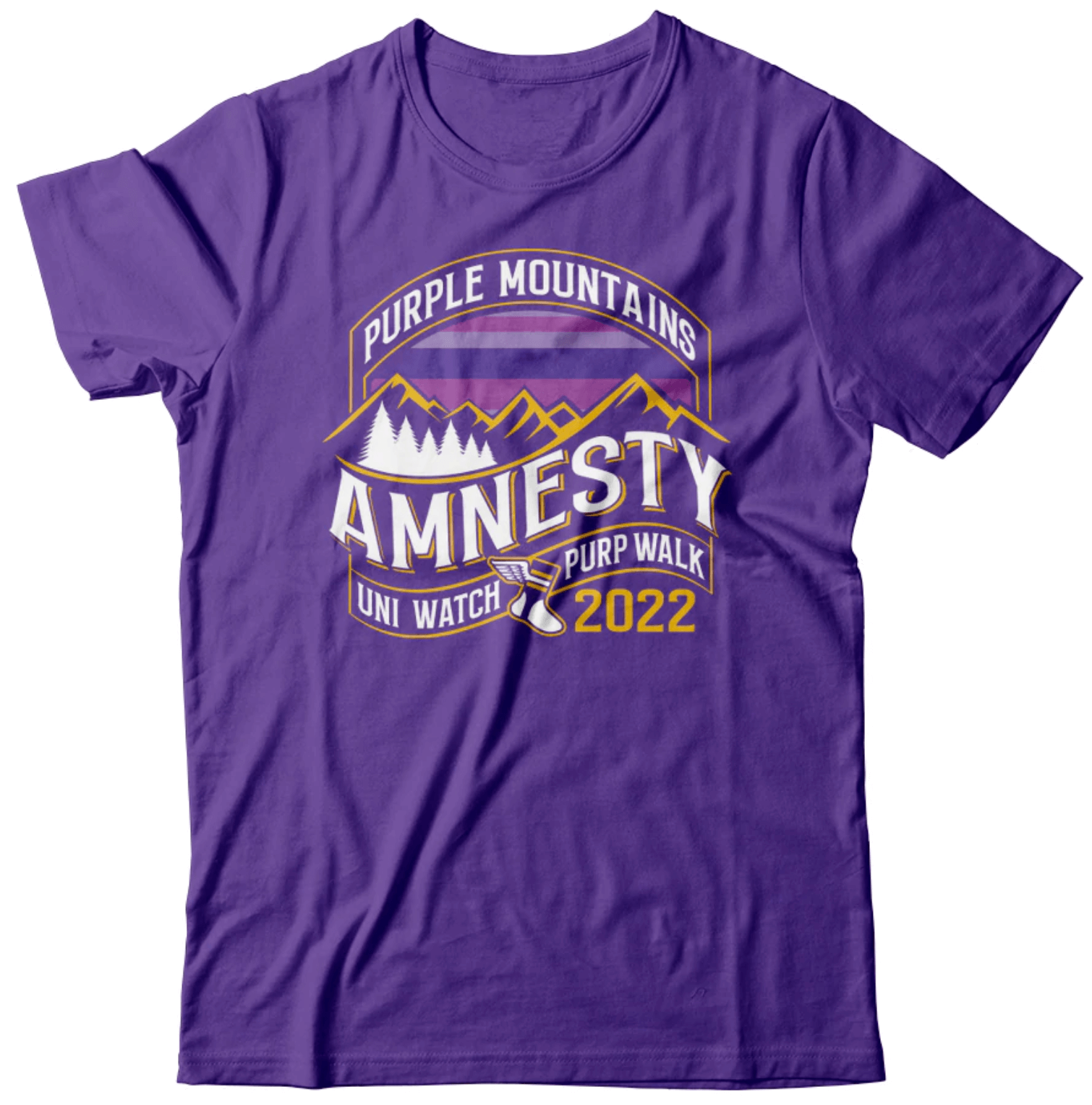 Click for the full horrific effect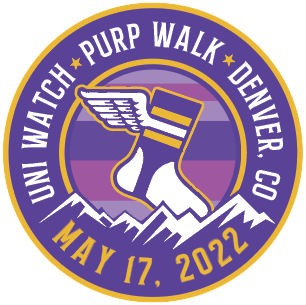 Purp Walk reminder: Remember, if you plan to attend the Purple Amnesty Day party in Denver next month and want to receive a T-shirt with the bonus logo on the back, you must pre-order your shirt by this Thursday, April 28.
Meanwhile, thanks to everyone who entered the raffle for the free purple-row tickets. If you didn't win a free ticket and want to buy your own tix so you can join us at the ballgame, we'll be in Section 342, Row 20 (but feel free to get Rows 19 or 21, which will probably make things easier for chatting and socializing).
If you have no idea what any of this is referring to, you can get the full scoop on Purp Walk 2022 here.
• • • • •
• • • • •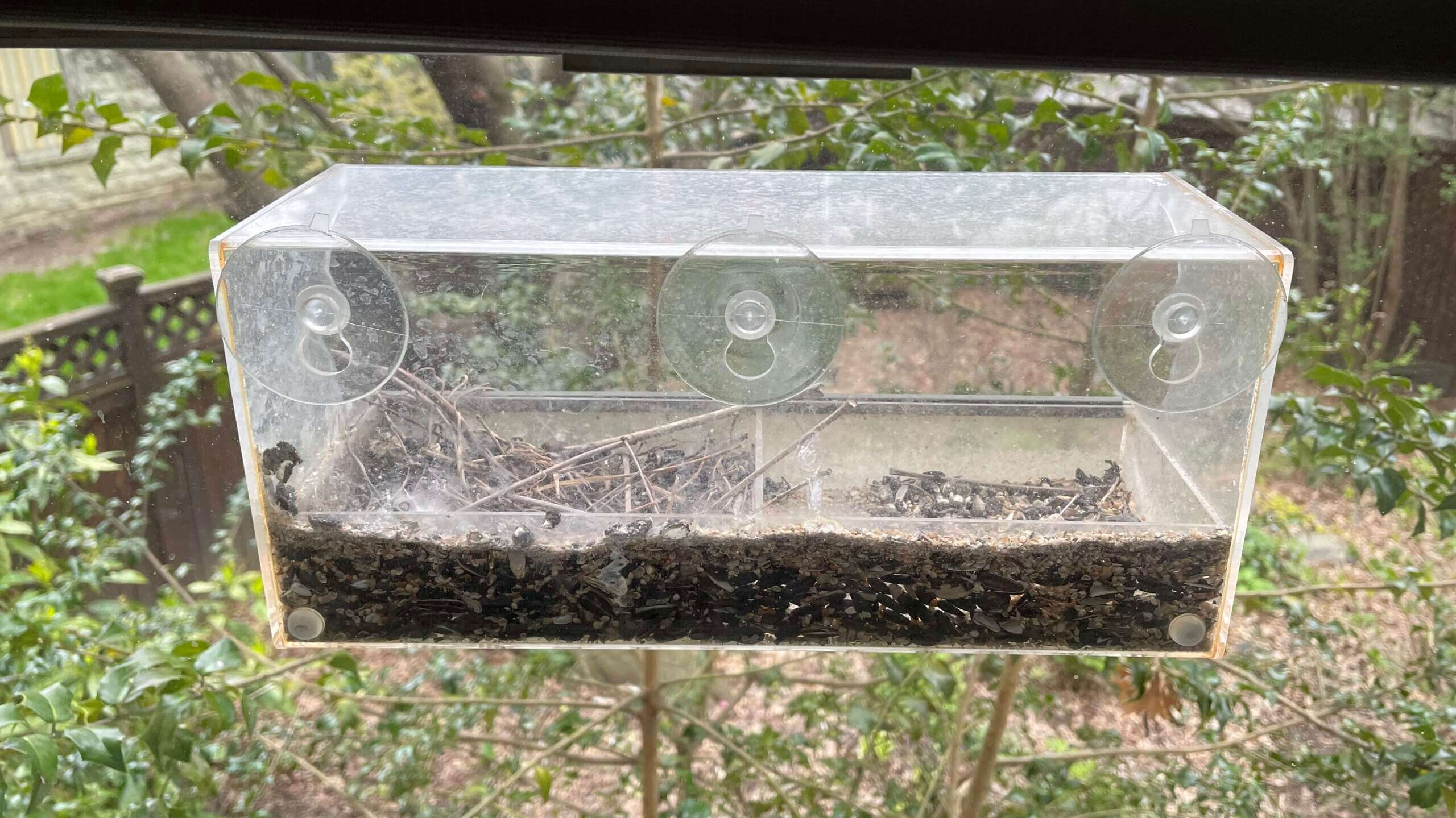 And just like that … they're gone: We awoke on Saturday morning to find that the dove family had left the nest. We knew this would happen at some point, but we were hoping we might get to witness the babies' first flight. Dang.
I grew very emotionally attached to the doves over the past month, and it's sad not to have them as part of our extended family anymore. Empty nest syndrome indeed.
According to what we've read, the same two adult doves, if left to their own devices, will return to this nest and have two or three more broods. That might be fun, but we've decided that we'd like the feeder to be a feeder for all the other birds again, so we've taken it down for now and will put it back up sometime next month, by which time we figure the doves will have found a new nesting spot.
Thanks for all the interest in the dove saga. It's been fun sharing it with you.
• • • • •
• • • • •
The Ticker
By Jamie Rathjen

Baseball News: Yankees P Nestor Cortés ended up with the rare dirty jersey on Saturday when he dove to make a putout (from @maybeifollowyou). … We mentioned a few months ago that the Triple-A Worcester Red Sox were planning to wear jerseys with "WooSox" written in American Sign Language for a promotion this season. That promotion is coming this Friday (thanks, Phil). … The Single-A Vancouver Canadians wore throwbacks yesterday (from Wade Heidt). … After Texas baseball assistant coach Sean Allen was hit by a foul ball last week, the team borrowed a football helmet for him but ended up not needing it, so players used it for home run celebrations instead (from Kary Klismet). … Oklahoma wore their home whites for a road game at Kansas (from Derek House). … Angels DH Shohei Ohtani wore red stirrups over red sanitaries yesterday (from @dikpose). …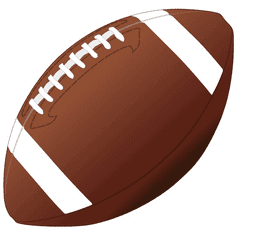 Football News: Two FCS teams received championship rings this weekend: North Dakota State for winning the division's championship and South Carolina State for becoming the HBCU national champion (from Kary Klismet).

Hockey News: The Golden Knights announced a jersey ad yesterday, but what is probably more interesting to many of you is that the article introducing it uses the team's gold alternate jersey to model it, not the grey primary, which could indicate that the team plans to redesignate the gold design as its home jersey next season (from multiple readers). … Ducks players all wore retiring captain Ryan Getzlaf's No. 15 in warm-ups yesterday (from Wade Heidt). … The Canadiens went without board ads as part of their Guy Lafleur tribute yesterday (from @ColHapablap).

Basketball News: A YouTube video posted yesterday shows some Spurs players wearing silver masks in 1997 to protect against facial injuries (from Mike Chamernik). … The protester who disrupted the Timberwolves' game on Saturday was wearing a lookalike NBA referee jersey that was numbered 5.3, which reader Dan Kennedy partially got a picture of. … The trailer for the new Apple TV+ documentary on Magic Johnson shows him wearing the Lakers' mismatched purple uniforms from the '80s (from Kary Klismet).

Soccer News: In the Bundesliga yesterday, both Hertha BSC and VfB Stuttgart wore their second kits apparently to avoid a color clash, which was a bit odd because there wouldn't have been a clash between Hertha's first kit, which is white and blue, and Stuttgart's second, which is the red one shown there (from Ed Żelaski). … Two teams playing each other in England's Women's Super League, Birmingham City and Brighton and Hove Albion, wore warm-up shirts supporting Amnesty International's Football Welcomes Refugees campaign. … In the NWSL, Washington Spirit coach Kris Ward wore a T-shirt saying "Invest in women. Pay women. Hire women" for Saturday's game on national TV. He explained afterwards it represented a push for equality. … Meanwhile, the Spirit apparently are revealing the design of their 2021 championship rings today. … Chile's Universidad Católica's men's team wore an 85th anniversary shirt yesterday (from Kary Klismet). … Olympique Lyonnais/Iceland midfielder Sara Björk Gunnarsdóttir criticized last week the choice of Manchester City's Academy Stadium as one of the venues for the women's Euro 2022 in England. City's women's team does play there but it's much smaller than most of the other venues being used.

Grab Bag: W Series driver Alice Powell has a new helmet for this season. … In English field hockey, the Women's Premier Division's Loughbourough Students added a sleeve patch for a charity founded in memory of former reserve team coach Andy Gibson. … These two are from Kary Klismet: Adidas apparently tweaked its logo recently. … Here are a design site's choices for the worst new logos of 2022 so far.