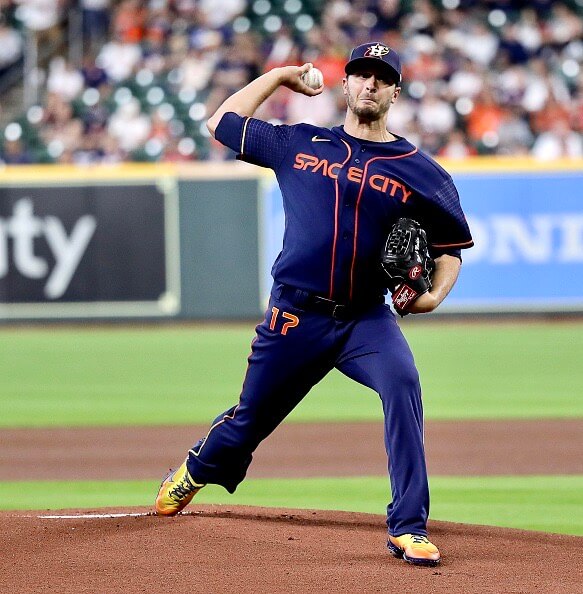 For most photos, you can click to enlarge
After an uniform unveiling, I often qualify my reaction to the new design by saying, "But let's see how they look on the field," because sometimes a uniform looks different in a game than it does in the carefully controlled environment of a photo shoot. And that turns out to be the case with the Astros' "Space City" uniforms, which made their on-field debut last night.
The unveiling photos for this uniform mostly featured dark backgrounds. But on the field last night, in good lighting and with lighter, contrasting backgrounds, the uniform looked really bad, at least to me. The mono-navy design looked super-pajama-y, and the straight-line chest lettering looked plain and isolated instead of space-age and snazzy: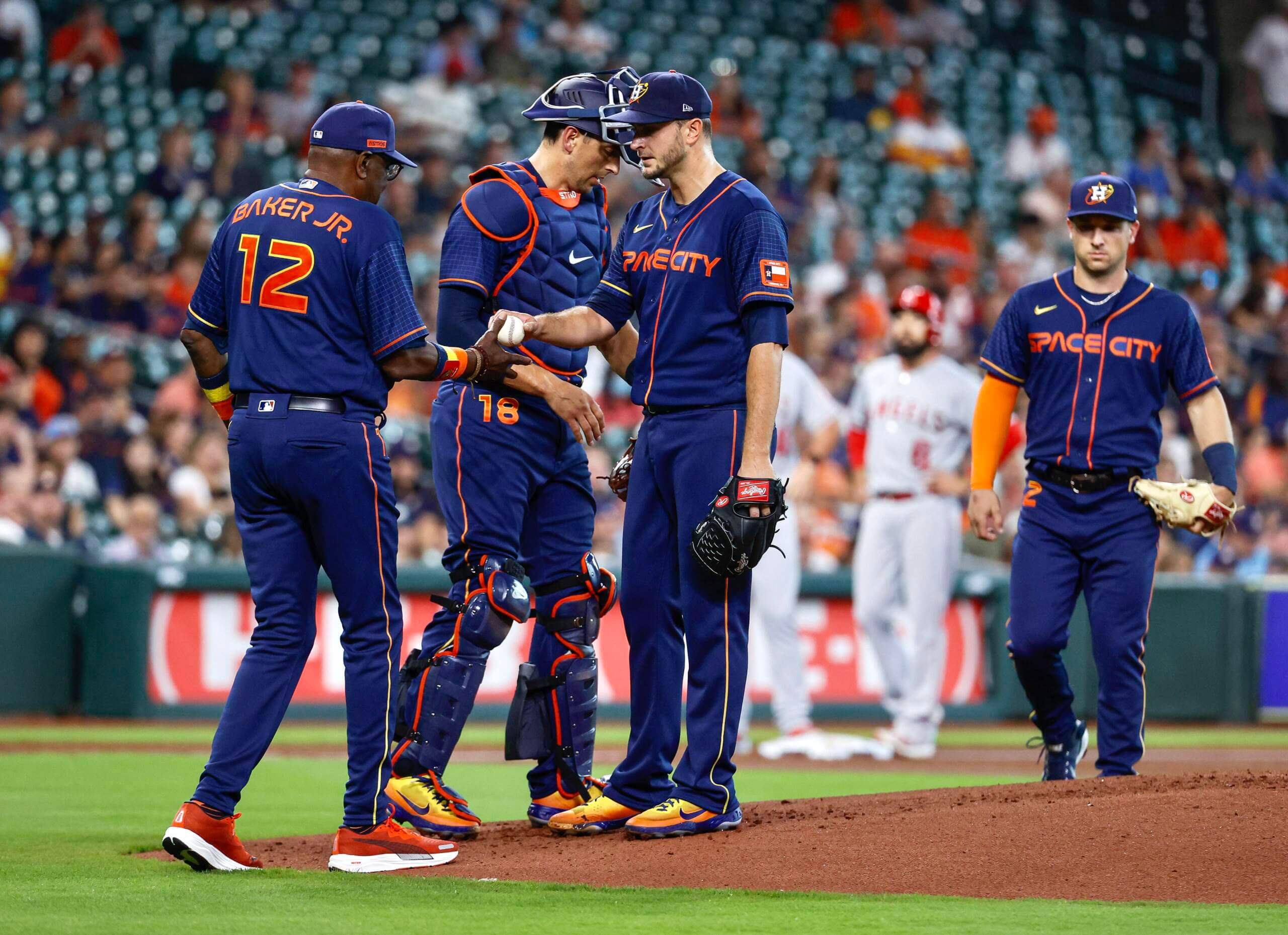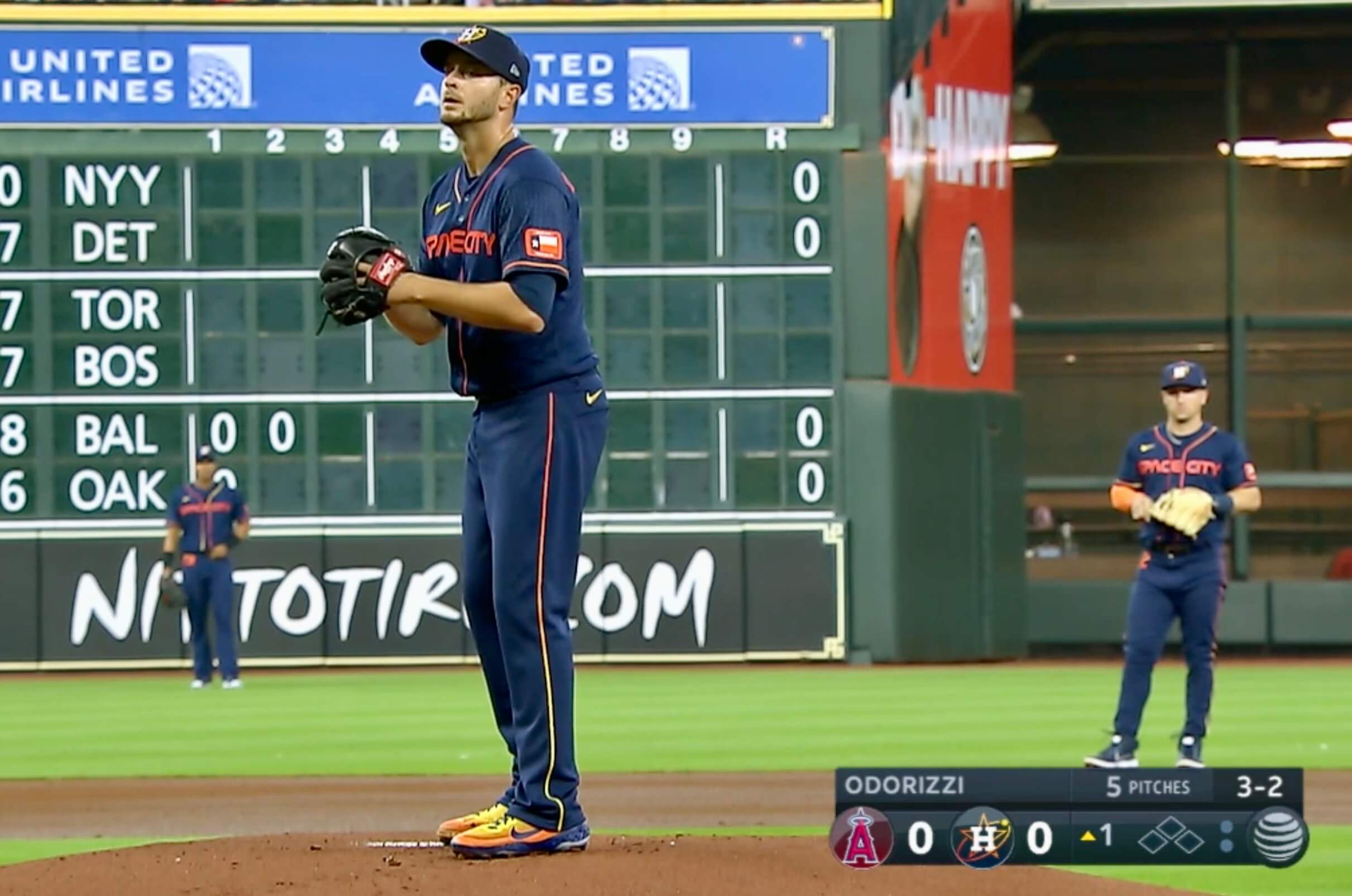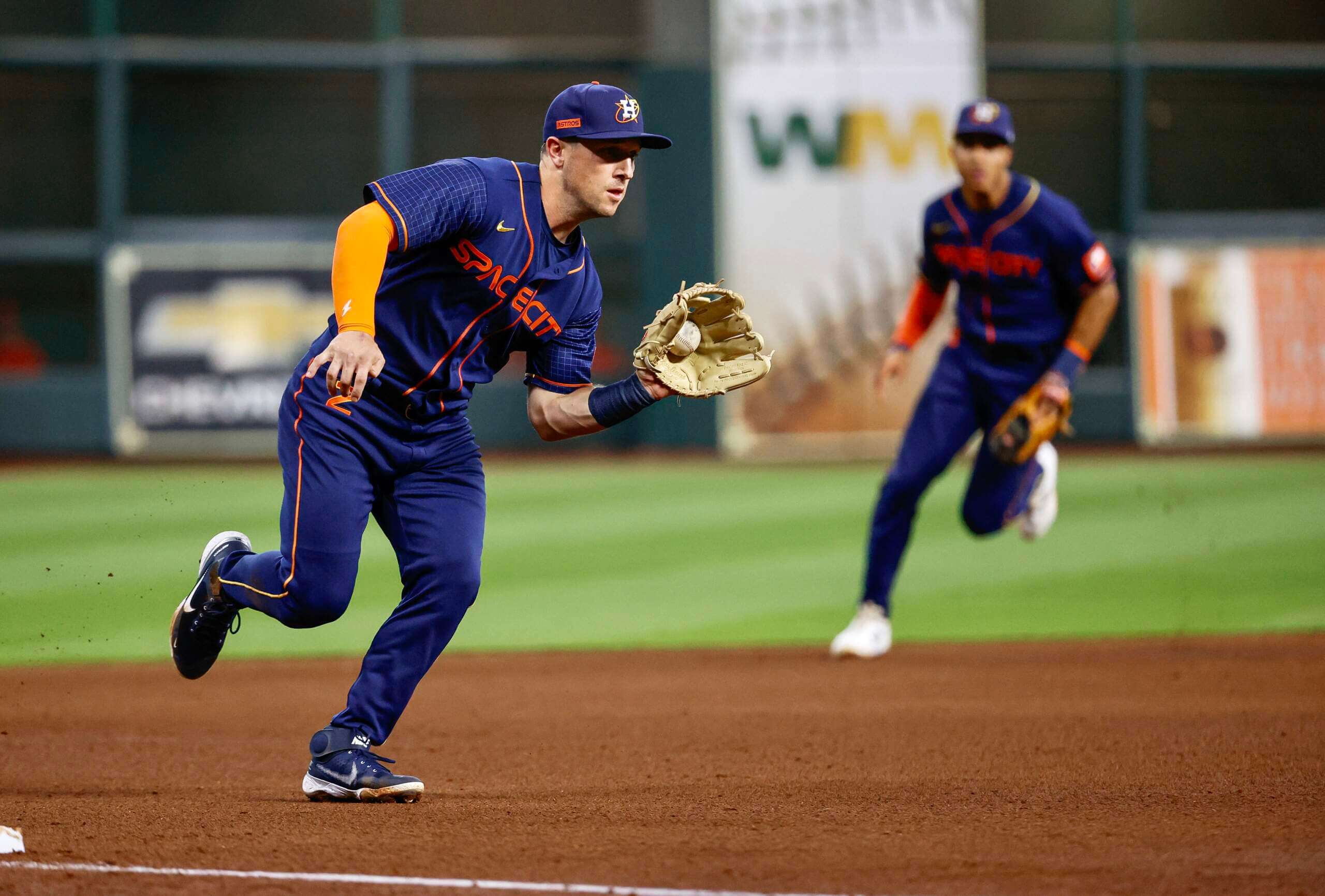 Players who went high-cuffed looked better, because the contrasting socks broke up mono-navy tedium. But I noticed only two players went high-cuffed — outfielder Jose Siri and reliever Cristian Javier: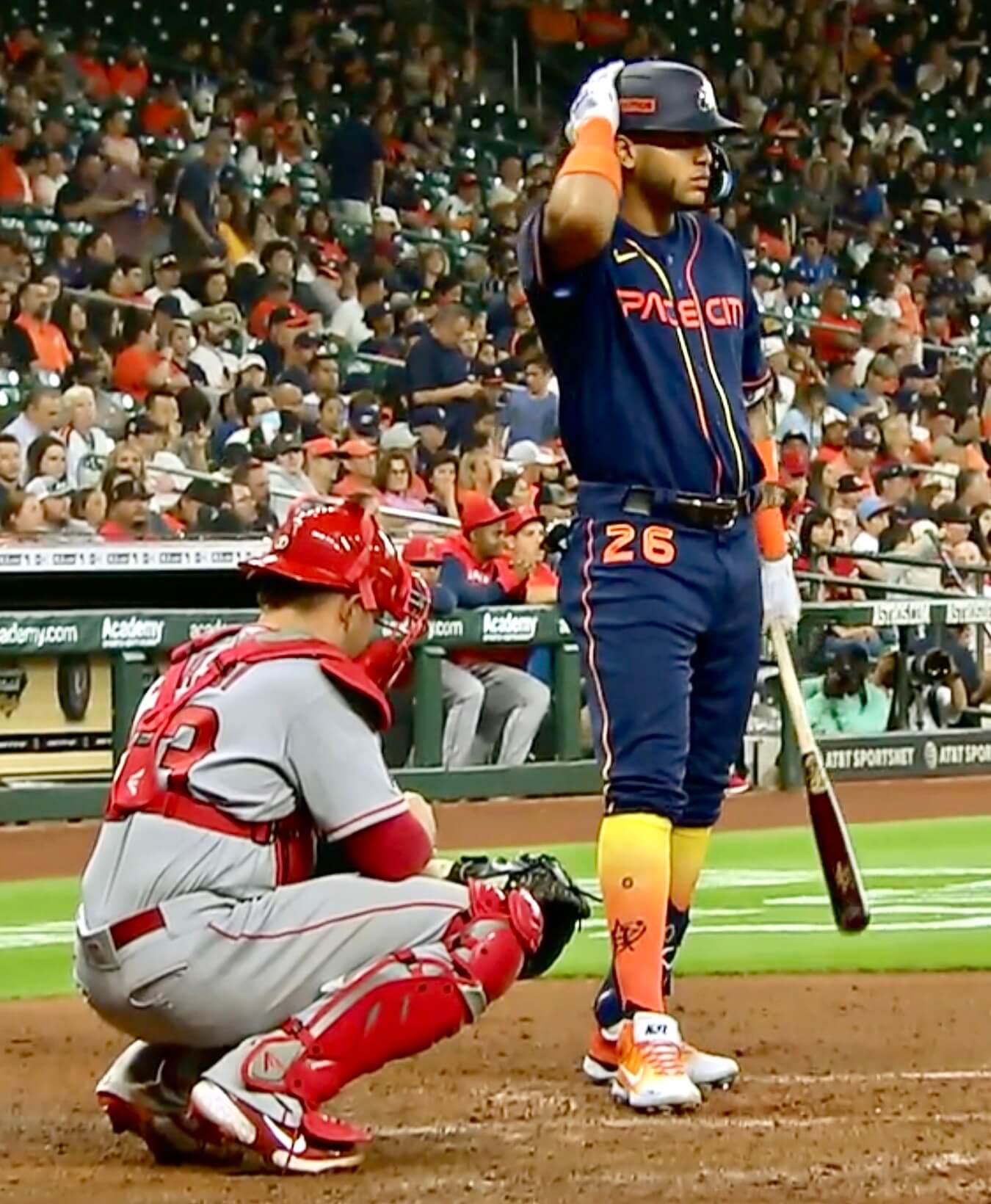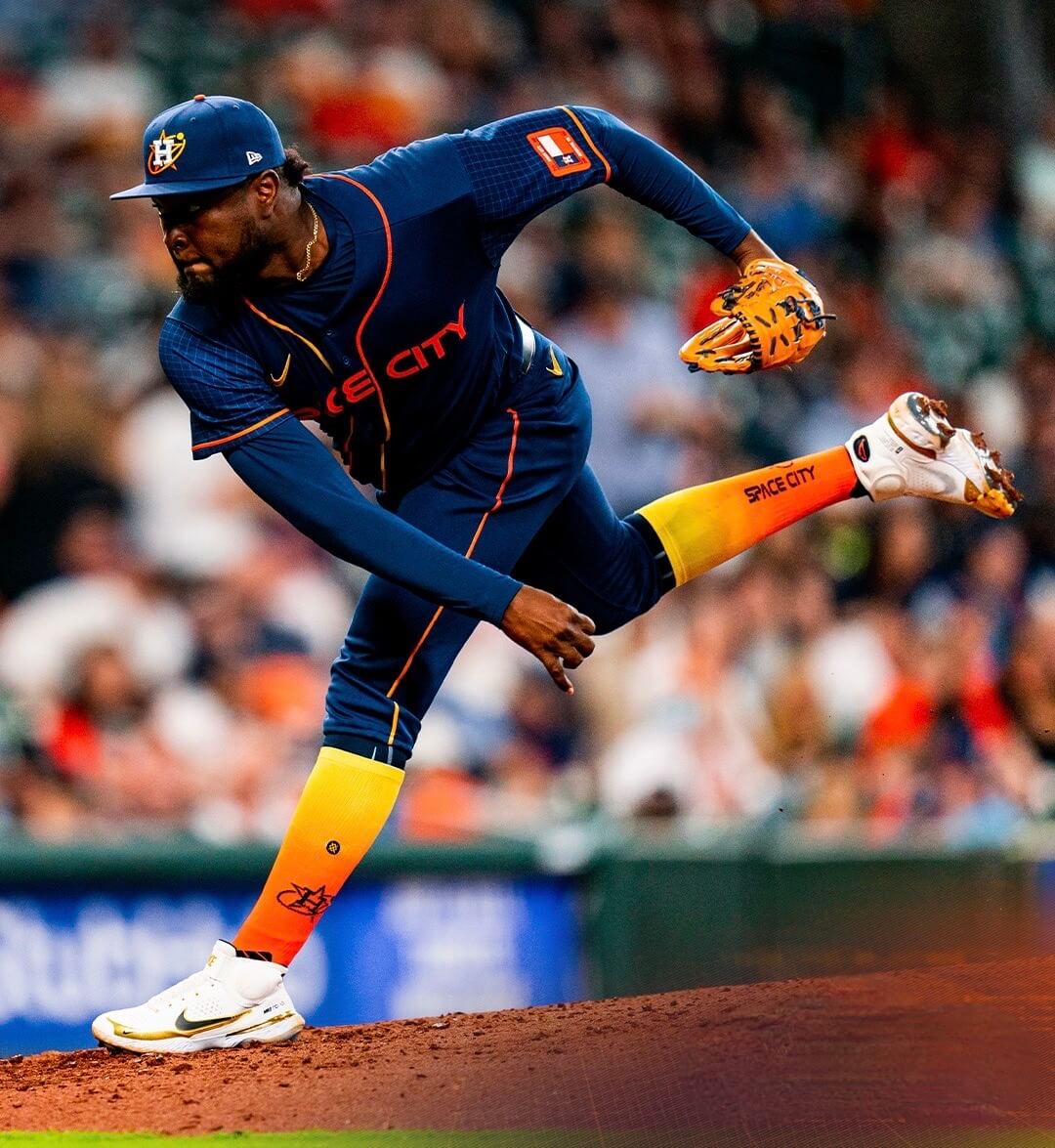 As an aside, I noticed that first base coach Omar Lopez also went high-cuffed — a rarity for a coach! He doesn't normally do that, but maybe he likes the Space City socks: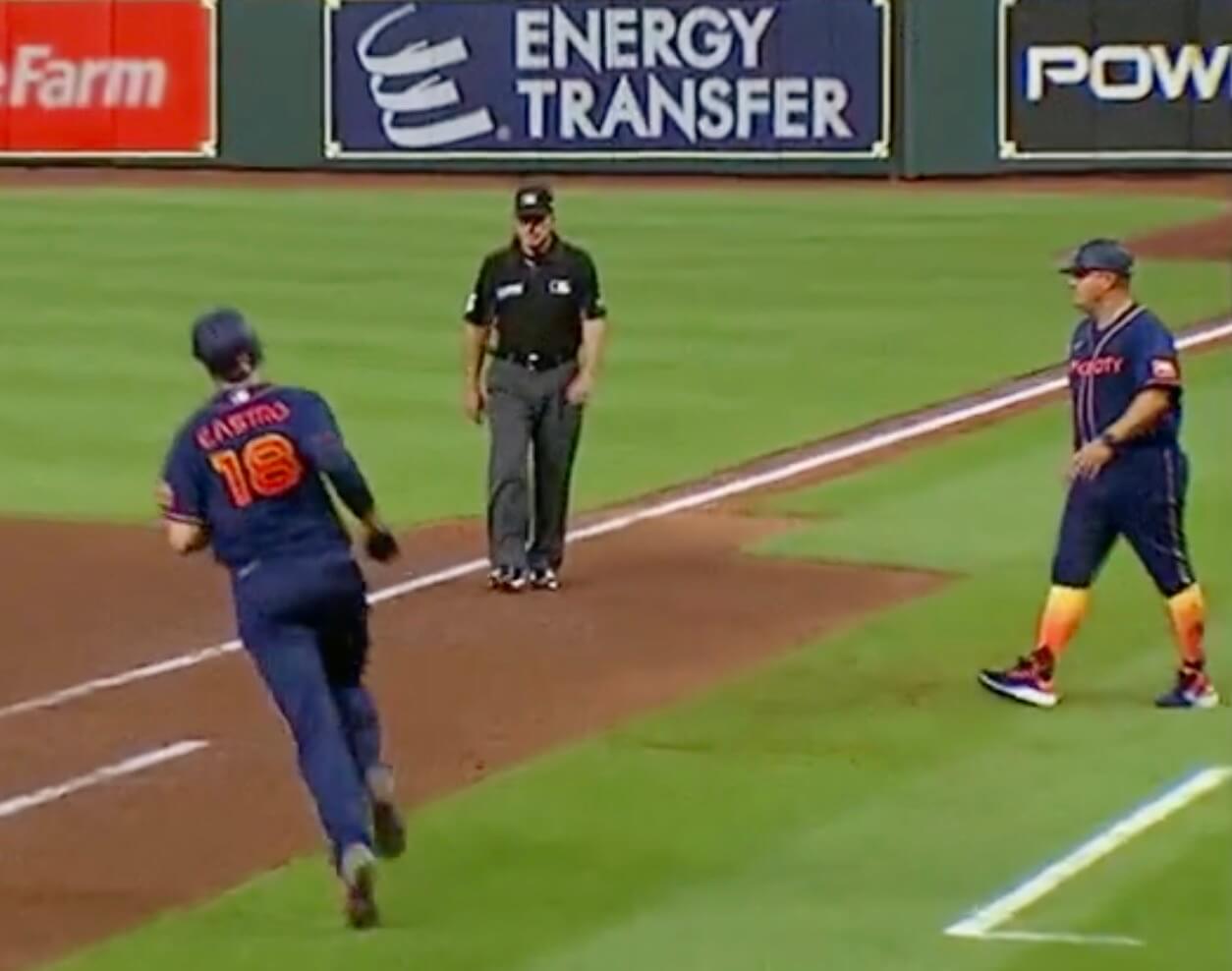 Anyway: Not a good uniform overall, although I still love the cap.
One final note: It's ironic, and also pathetic, that the Astros celebrated Houston's heritage of space travel while plastering the mound with an ad for a much more Earthbound mode of transportation: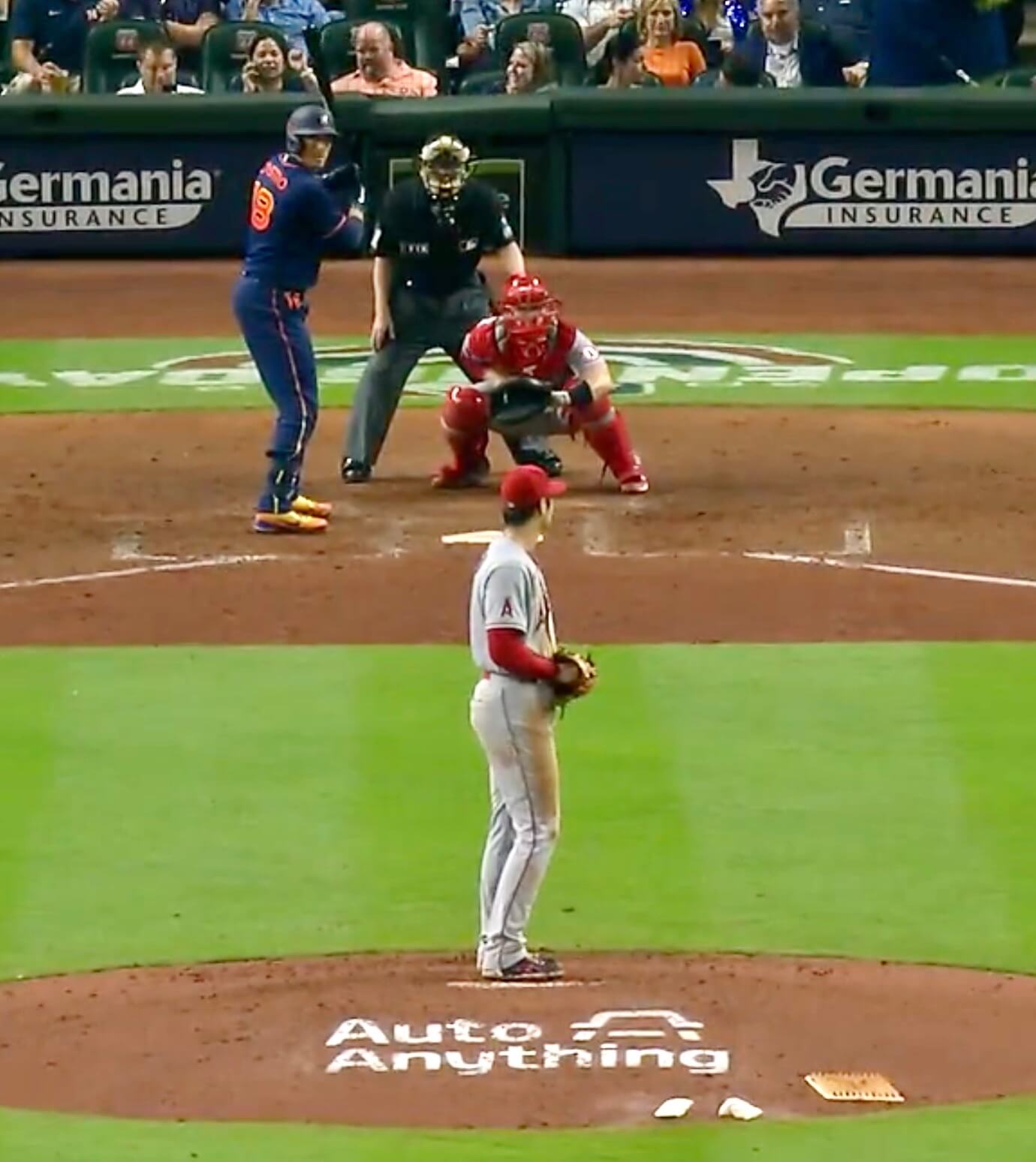 • • • • •
• • • • •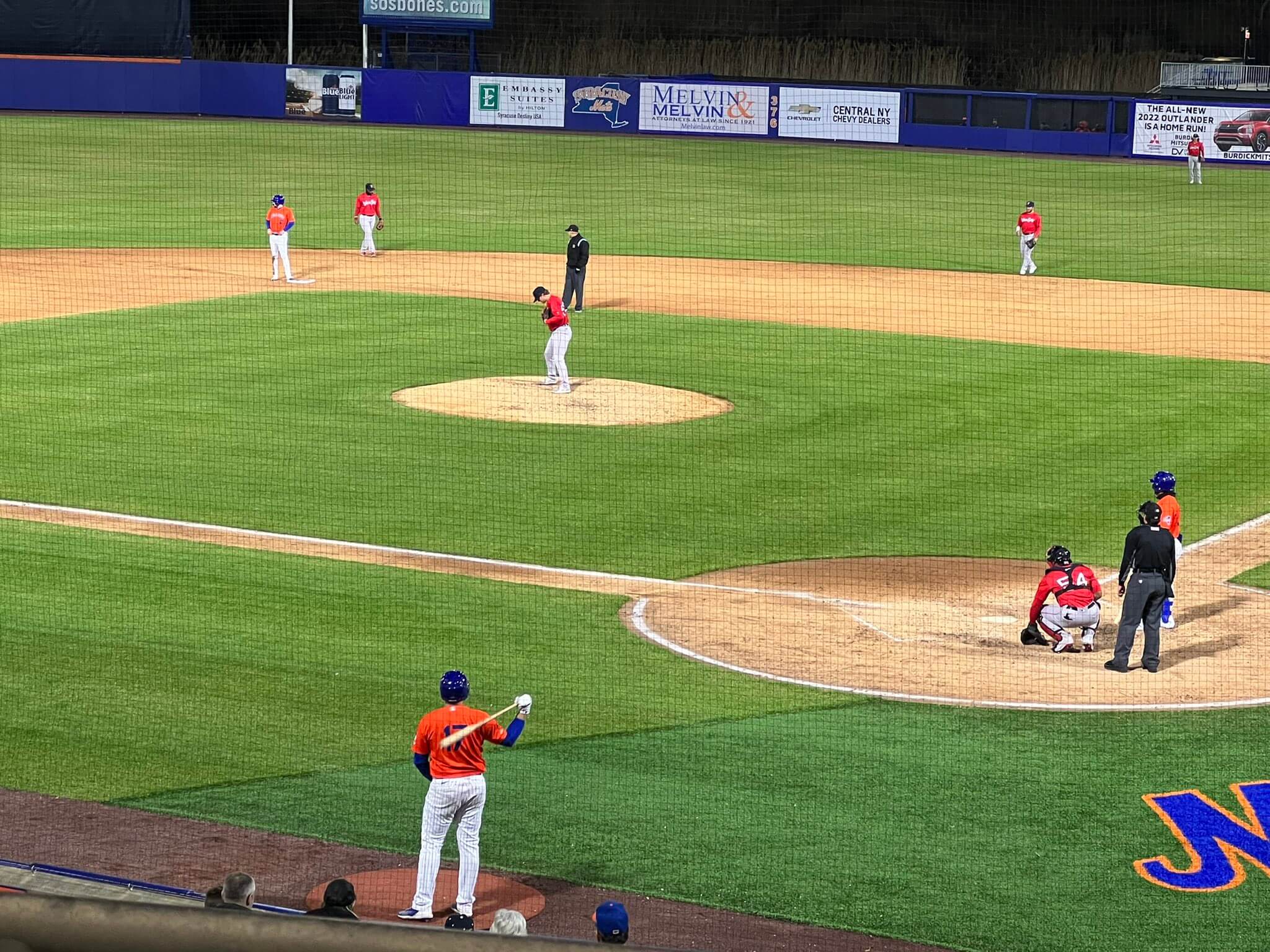 Click to enlarge
Where's that Spider-Man gif? Rough game last night in Syracuse, as the Worcester Red Sox and Syracuse Mets went red vs. orange in the second game of a doubleheader (after going navy vs. white in the first game).
Here's how it looked in action:
Nick Meyer's double brings home an insurance run!
4-2 US pic.twitter.com/1LqCJWkLP8

— Syracuse Mets (@SyracuseMets) April 21, 2022
• • • • •
• • • • •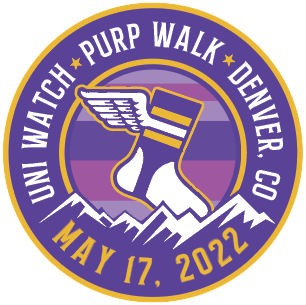 Purp Walk update: In case you missed Wednesday's and/or Tuesday's posts, big plans are afoot for this year's Purple Amnesty Day. I've consolidated all of the info onto this page, so start there if you need to get up to speed.
Remember, if you'll be attending the party at Blake Street Tavern and want to enter the raffle for the free Rockies/Giants tickets, send an email to the raffle in-box by 8pm Eastern tomorrow. One email per person, and indicate in your email if you want one ticket or two tickets. (Sorry, no more than two.) Please do not enter this raffle unless you will be attending the party! I'll notify the winners this weekend, and I'll also notify the non-winners so they can buy tickets if they want.
Also, if you'll be attending the party and want to pre-order the shirt with the bonus logo on the back, you can do that here. Again, don't do that unless you plan to attend the party, because that's where you'll receive the shirt. We will not be mailing them or holding them for later pickup.
Yesterday I booked my flight for this trip. Excited for what's sure to be the best Purp Walk ever!
• • • • •
• • • • •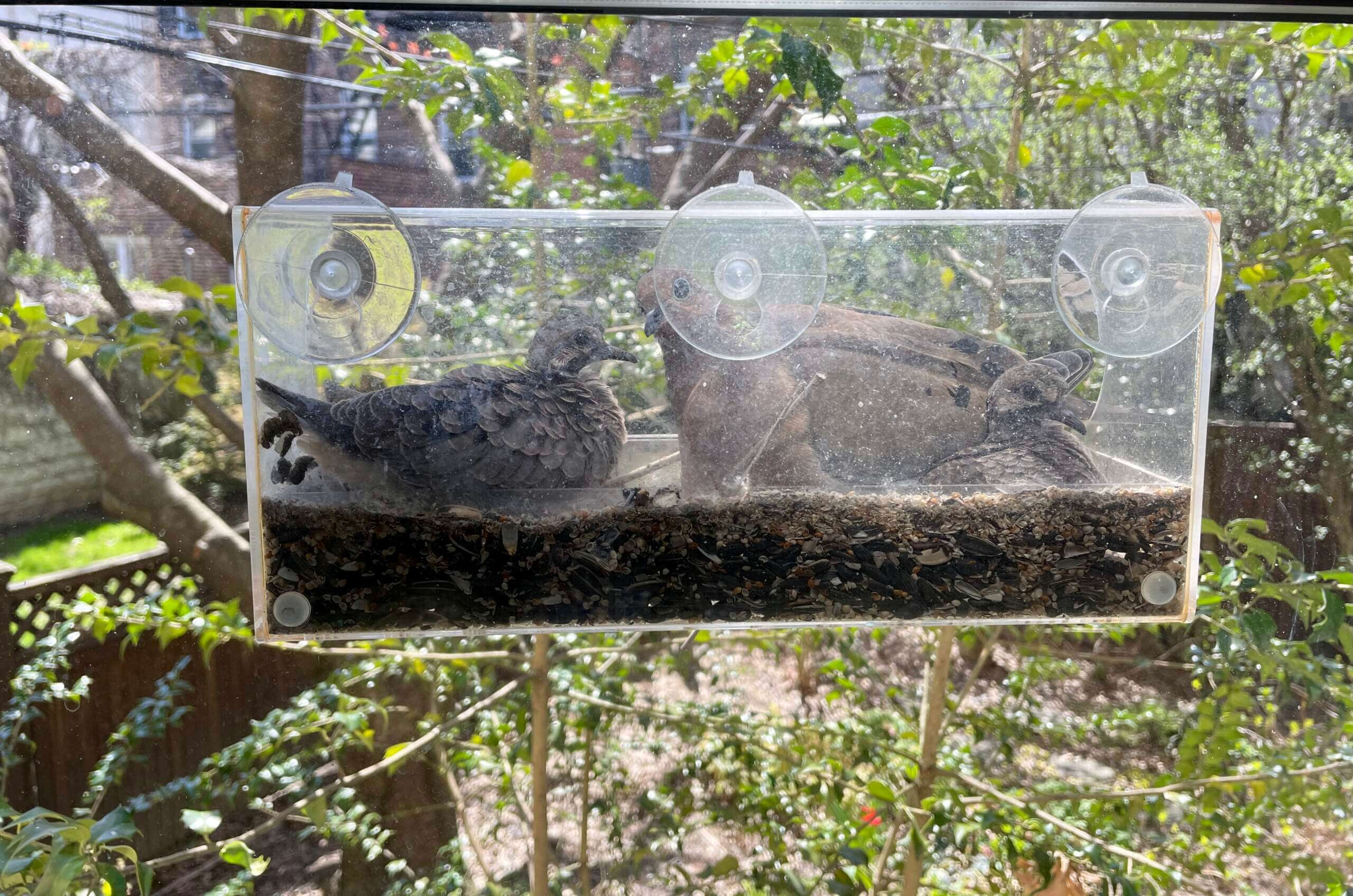 Click to enlarge
Dove update: The babies are now so big that the family no longer fits in the left-side compartment of the feeder and has spilled out into the adjacent compartment. The babies should be ready to leave the nest in another day or three!
• • • • •
• • • • •
The Ticker
By Paul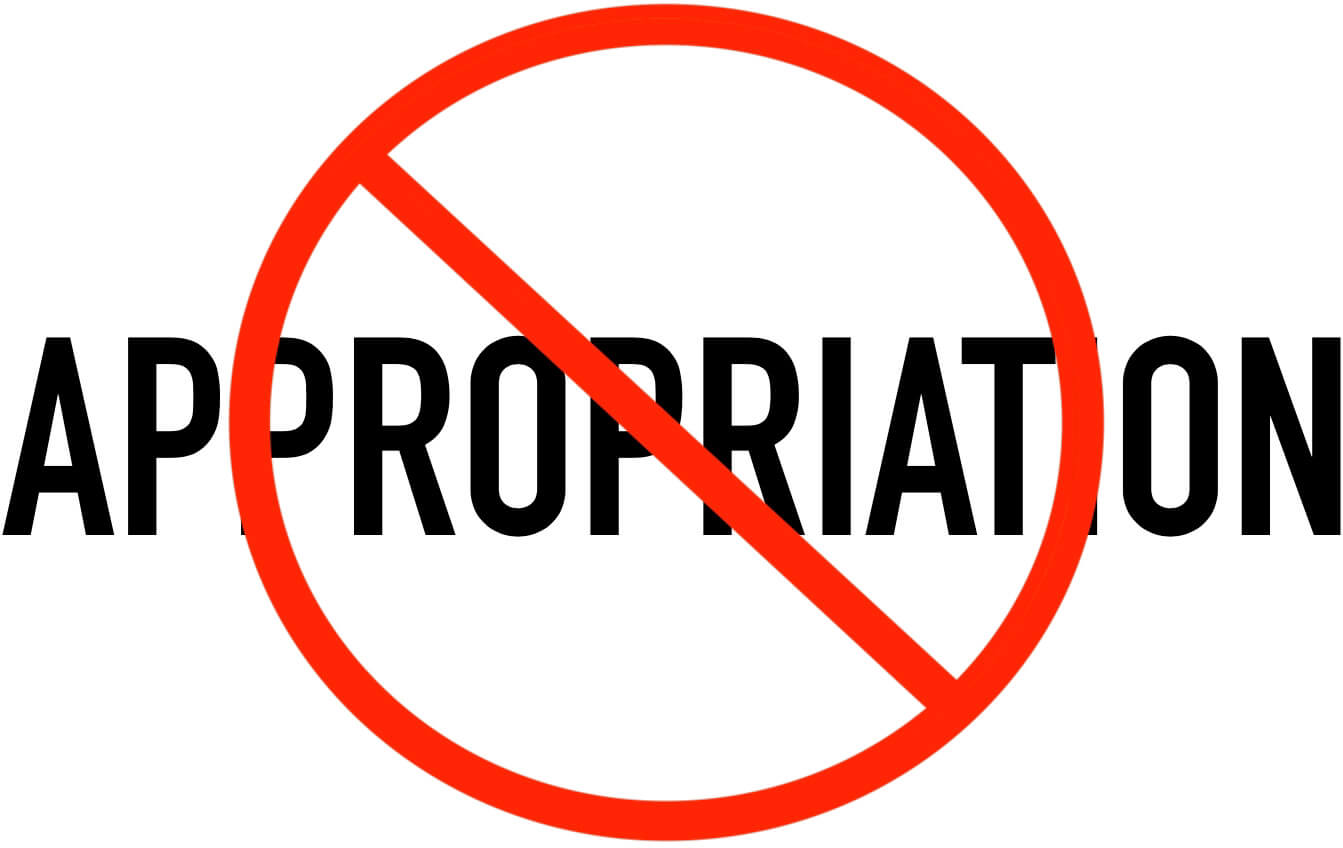 Indigenous Appropriation News: All of these are from Kary Klismet: The American Indian Community Center, an indigenous advocacy organization in Spokane, Wash., has donated $35,000 to the city's North Central High School for new sports team uniforms after the school dropped its Native-themed team name. … A Colorado state commission has added "Thunderbirds" to the list of team names that schools can no longer use because of its ties to Native American culture. … Sandusky High School in Michigan will no longer call its teams the Redskins (also from Scott Crocker). … After two high schools in West Hartford, Conn., voted to drop their Native American team names earlier this year, some parents in the school district have filed a petition to reconsider that move, citing support for the names from the chief of the local Schaghticoke Tribal Nation.

Baseball News: New tequila sunrise-style jerseys for the Single-A Fayetteville Woodpeckers (from Ignacio Salazar). … Former Twins 1B Kent Hrbek's autobio has some fun uni-related anecdotes (from Trevor Williams). … Among all his other distinctions, Angels P Shohei Ohtani is the rare pitcher with a dirty uniform. … Oops: A pregame parachute promotion at Nats Park prompted an evacuation of the U.S. Capitol. … I'm not 100% sure, but I'm guessing that a pitcher tackling a guy who's circling the bases after hitting a home run probably violates one of those "unwritten rules" we're always hearing about. … I love to see a manager going high-cuffed and a pitcher wearing stirrups, but I'd love them both a lot more if their stripes matched. … Hmmm, this is concerning: Hosiery hero Chris Paddack always wore stirrups for the Padres and also wore them last week for his first start with the Twins, but last night he just wore socks, not stirrups.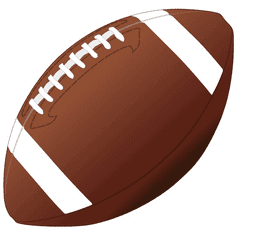 Football News: The NFL is keeping an eye on the USFL's use of technology for things like ball spotting and first down measurements. … Here's a shot of Joe Namath and Mr. T in uniform while shooting an episode of The A-Team (from Brad Eenhuis). … Some new uni number assignments for the Ravens (from Marcus Hall and Andrew Cosentino).

Hockey News: I'm quoted in this article about the brave new world of NHL jersey ads.



Basketball News: Here's a cool video of the Colorado State floor being repainted (from Chris Ruebel). … New court for the WNBA's Connecticut Sun (from Trevor Williams).

Soccer News: New "hypno-themed" pre-match shirt for USL League One's Forward Madison FC. … Here's a look at the ball that will be used in England's FA Cup Final on May 14 (from Kary Klismet). … Here's a video showing some of the best men's World Cup kits through the years (thanks, Phil). … The charity United to Prevent Suicide has secured the naming rights for Scotland's men's fifth-tier Lowland League Cup (thanks, Jamie). … Also from Jamie: "The Afghanistan women's team is about to restart playing post-Taliban in Australia in one of Victoria's state leagues, Women's State League 4 West, with the support of Melbourne Victory. They have red shirts with Victory's crest. On the back, they're using an "AWT" NOB, for 'Afghan Women's Team,' with an Afghan flag above that."

Grab Bag: This is pretty cool: classic rock album covers rendered in Lego (from Jason Hillyer). … Ace Frehley's original hand-drawn logo design for the band Kiss is being auctioned off. … The rest of these are from the indefatigable Kary Klismet: After an online poll, Valencia College in Florida has chosen the puma as its new mascot. … Western Connecticut State University has chosen "Wolves" as its new team name. … Organizers of the Rugby League World Cup 2021 (postponed until October of this year due to the pandemic) are holding a contest to create a mascot for the event. … New BFBS uniforms for Harvard lacrosse.