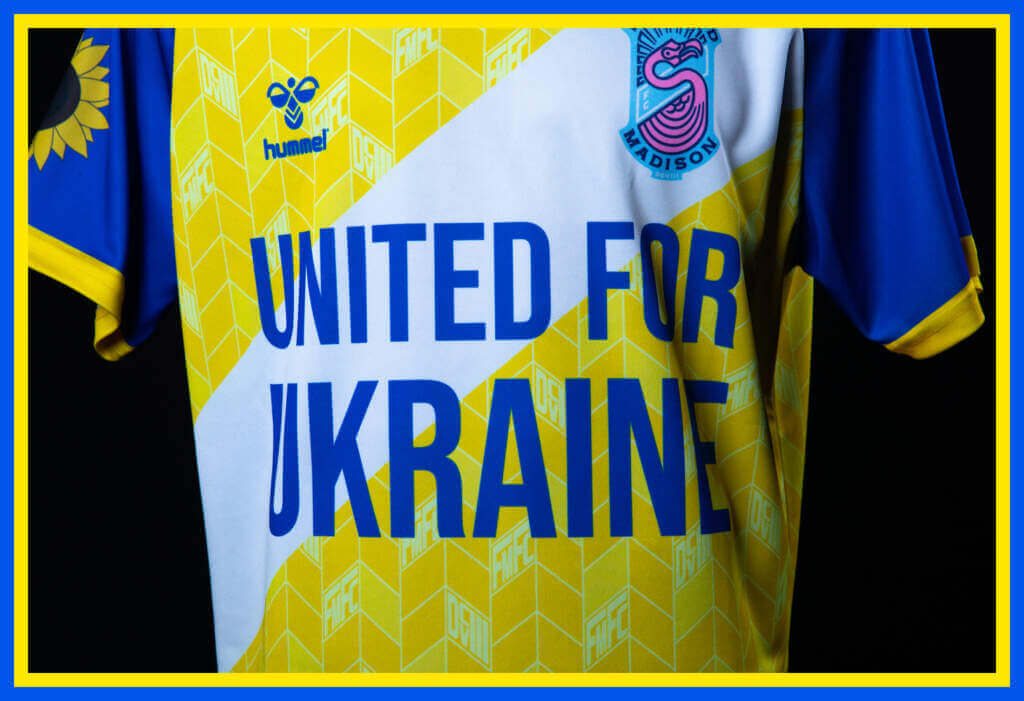 By Phil Hecken
Follow @PhilHecken

Good Saturday morning, Uni Watch gang. I hope everyone has had a pleasant week.
Yesterday morning, Forward Madison FC (a third-tier USL soccer franchise, based in Madison, Wisconsin) announced the team would be wearing special "United For Ukraine" kits today against Union Omaha.
Now, readers know I'm not a big soccer guy, and I know almost nothing about the USL, but I do know Forward Madison, FC, which was founded in 2018 and played their first game in 2019, because of their distinctive crest and standout uniforms. I'm sure I've tweeted out several of their alternates over the years, and I absolutely LOVE the team's badge, with its pink flamingo and sky blue colors: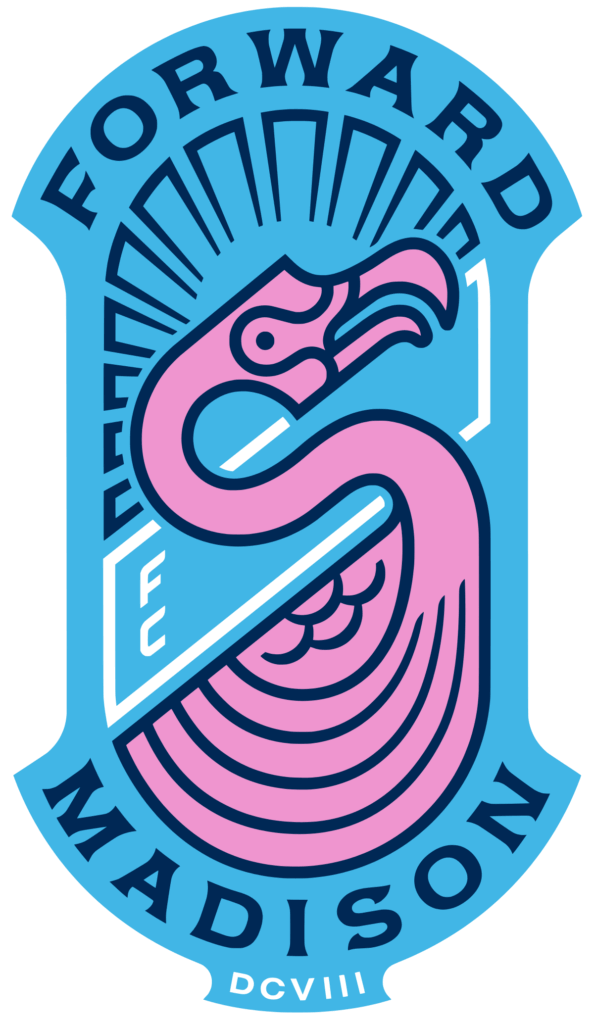 The team has always seemed progressive and socially conscious (perhaps lending to the "Forward" in Forward Madison), and have had some truly awesome jerseys and kits in their short existence. Yesterday, the team took another step forward in the uni-sphere by rolling out their newest kit, with "United For Ukraine" emblazoned on the chest, and featuring the yellow/blue colorscheme of the Ukraine flag.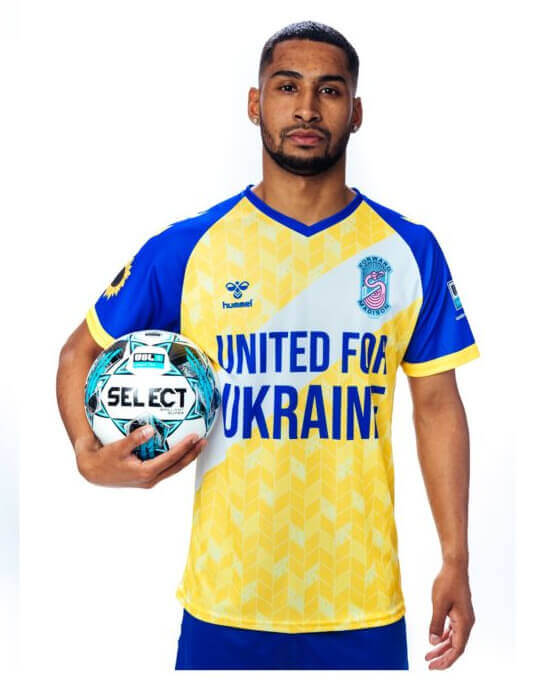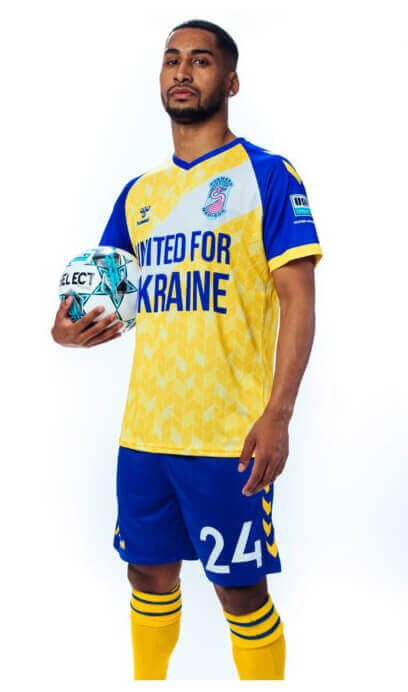 According to the club,
The war and destruction in Ukraine has been heartbreaking to watch. Since this war started, we have wanted to do something to show our support and try to help the people of Ukraine. Our Club speaks through our kits and it was clear that our best way to raise money for Ukrainian relief was through a unique kit. We were able to work with our designers and suppliers to quickly develop a kit that will have a small impact on the relief efforts.
If only Nike could turn around kit designs this quickly.
As you can see, the shirt is blue and yellow — the colors of the Ukraine flag — and contain the words United for Ukraine across on the chest. A sunflower on the sleeve highlights a popular Ukranian national symbol.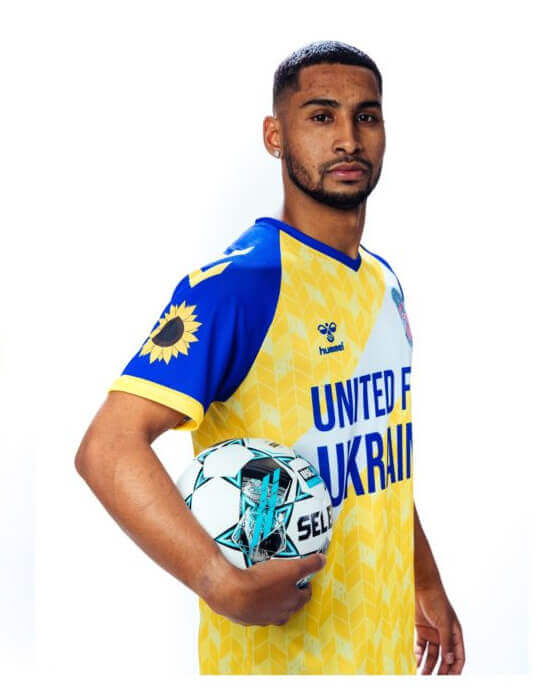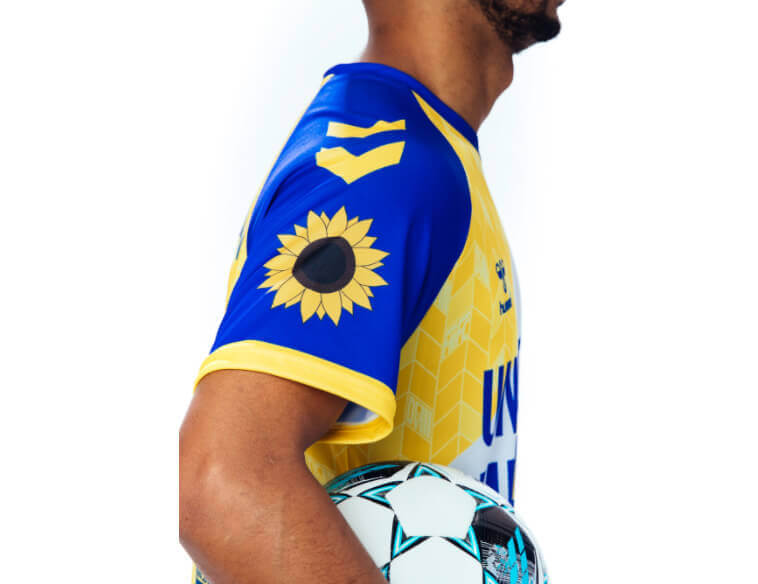 In an especially pleasing move, the team's sponsors advertisers, Dairyland Insurance and Just Coffee Cooperative (on the jersey front and sleeve, respectively), wanted the jersey to be free of their advertising. So props go out to them as well as Forward Madison for this special jersey.
The team is dubbing the uniform the "Ukranian Relief Kit." And putting its money where its proverbial mouth is: the shirt will be for sale for $90 at the team store and the team's website, and signed game-worn jerseys will be available via online auction from noon on April 9 until noon April 10. All proceeds from both shirt sales and online auction will be donated to UNICEF's Ukrainian relief effort, the club said. The club has not set an end date for the sale of these jerseys.
Not only is this an awesome gesture designed to help the people of Ukraine in their war against Russia, it's a pretty good looking kit, too! If you are interested in purchasing one, you can do so here.
As I mentioned earlier, I've really loved some of the team's alternate (and regular) kits. Below are just some of the alternate outfits and jerseys they have worn in their existence. I love their use of light blue and pink — a color combination that really works well together, and I wish more teams (besides the Miami Heat) would embrace: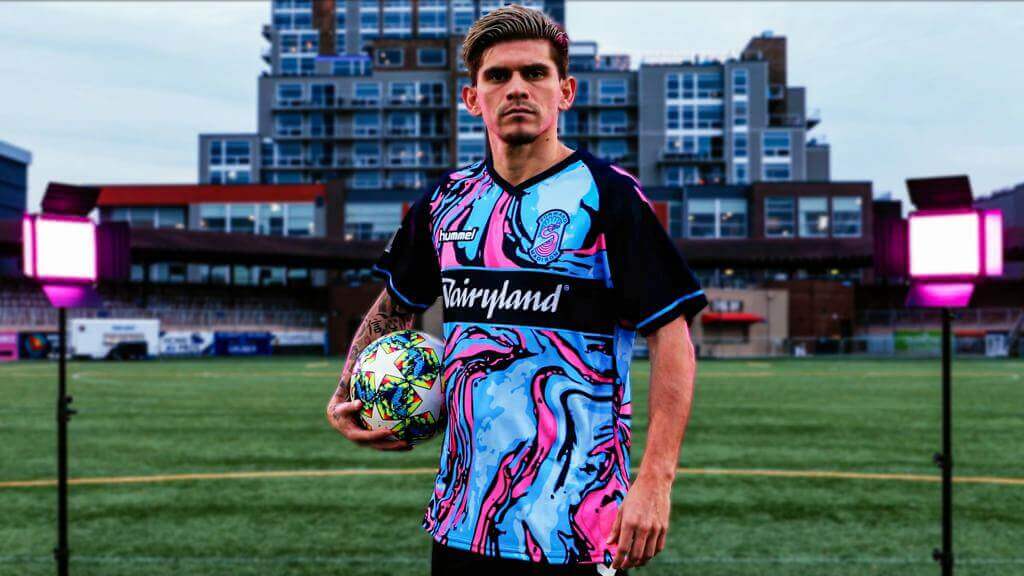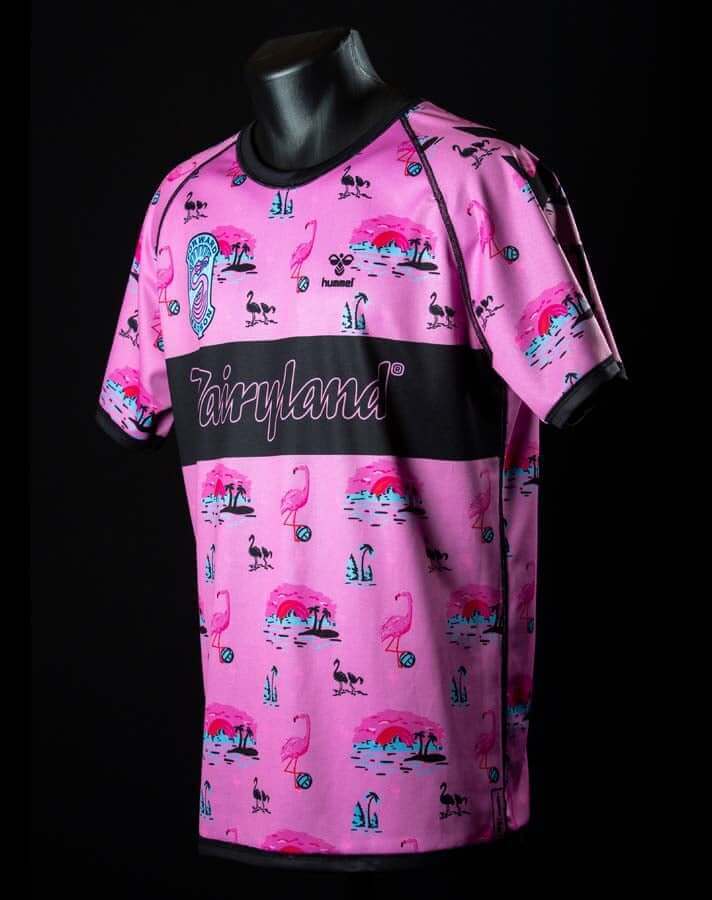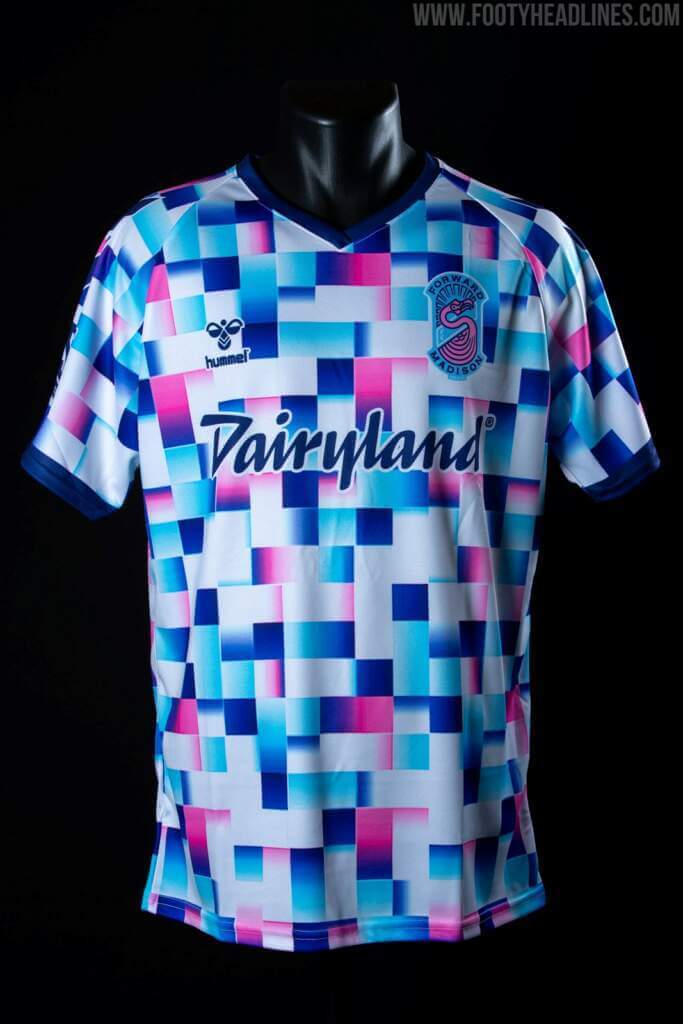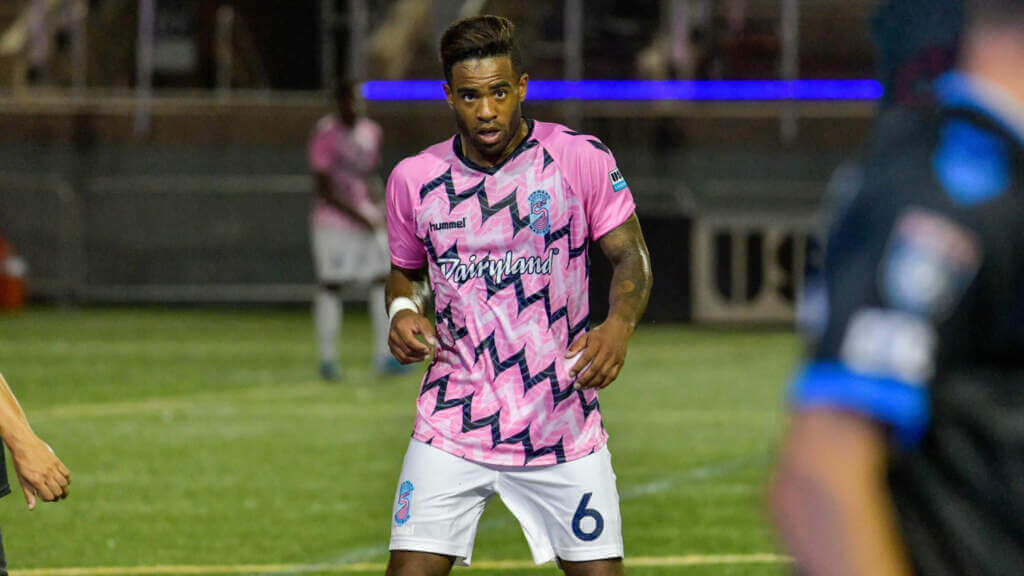 I love these new uniforms. Not only are they a handsome looking kit, they are for a good cause. In a world where most uni news of late has been on the depressing side, this is a proverbial ray of sunshine and a good day for unis. I know several sports clubs across the globe have shown their support for Ukraine (uni and other-wise), but this one (so far) tops them all. Go Go Flamingos!
I'd love to hear your thoughts on these.


Texas To Throwback 50 Years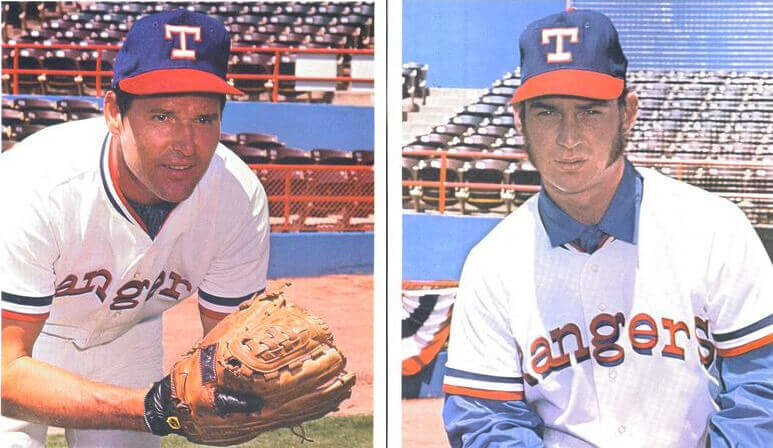 ICYMI, on Thursday, the Texas Rangers announced they will be wearing 1972 throwback uniforms five times during the 2022 season. The team is celebrating the 50th Anniversary of their move from Washington D.C. (as the second incarnation of the Washington Senators) this season.
The five dates the unis will be worn are as follows:
Saturday, April 30 (Atlanta Braves)
Saturday, June 25 (Washington Nationals)
Saturday, August 13 (Seattle Mariners)
Sunday, September 25 (Cleveland Guardians)
Wednesday, October 5 (New York Yankees)
During their 40th Anniversary season in 2012, the team also wore their original home white uniform as a throwback: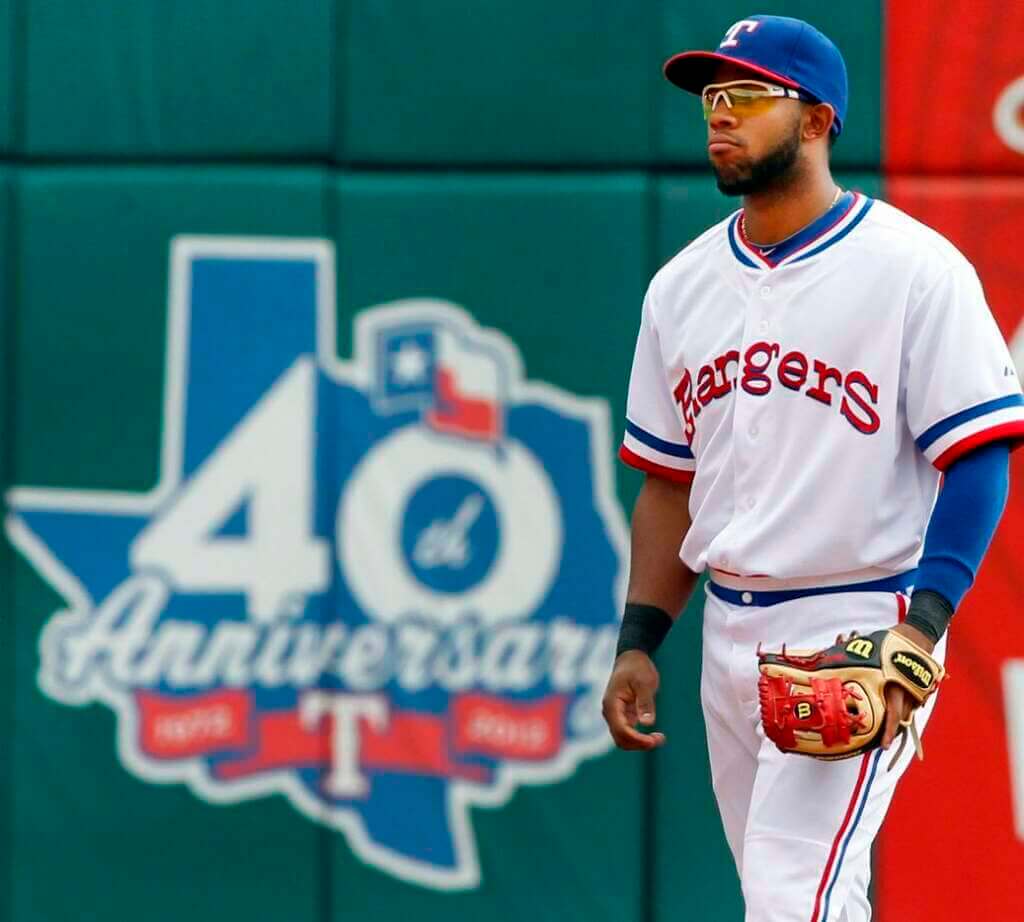 That season, the team actually wore a total of four throwbacks, which also included the "script" Rangers (which debuted in 1984), their all-powder blue roadies, and their 1994 home whites. It remains to be seen if any of those uniforms will also be worn this season. Two of those dates stand out — the June 25th game against the Washington Nationals may present an opportunity for the Rangers to outfit the Nationals in throwback Senators gear (even though the Nationals franchise has no ties to either previous Washington team) and October 5 against the Yankees. If that date sounds "late" — that's the scheduled last day of the 2022 regular season. I'm not sure a team has ever worn a throwback on the last day of the season. If the Rangers are not in post-season contention, they will wear a throwback for their final game of 2022.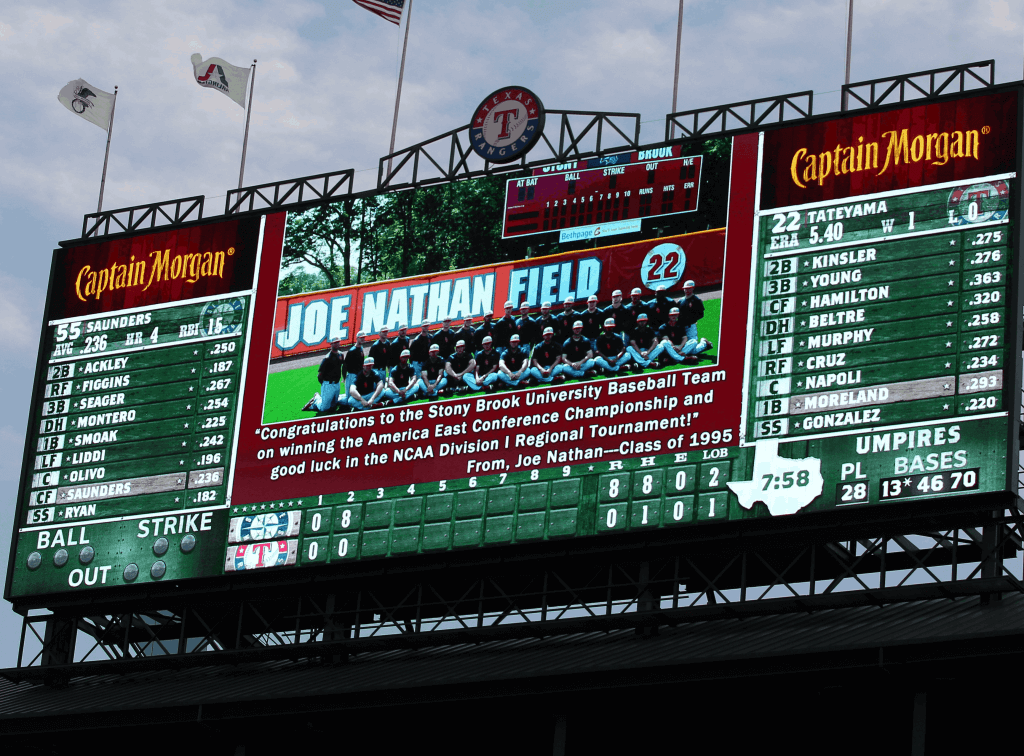 Guess The Game…
from the scoreboard
Today's scoreboard comes from Louis Griffel.
The premise of the game (GTGFTS) is simple: I'll post a scoreboard and you guys simply identify the game depicted. In the past, I don't know if I've ever completely stumped you (some are easier than others).
Here's the Scoreboard. In the comments below, try to identify the game (date & location, as well as final score). If anything noteworthy occurred during the game, please add that in (and if you were AT the game, well bonus points for you!):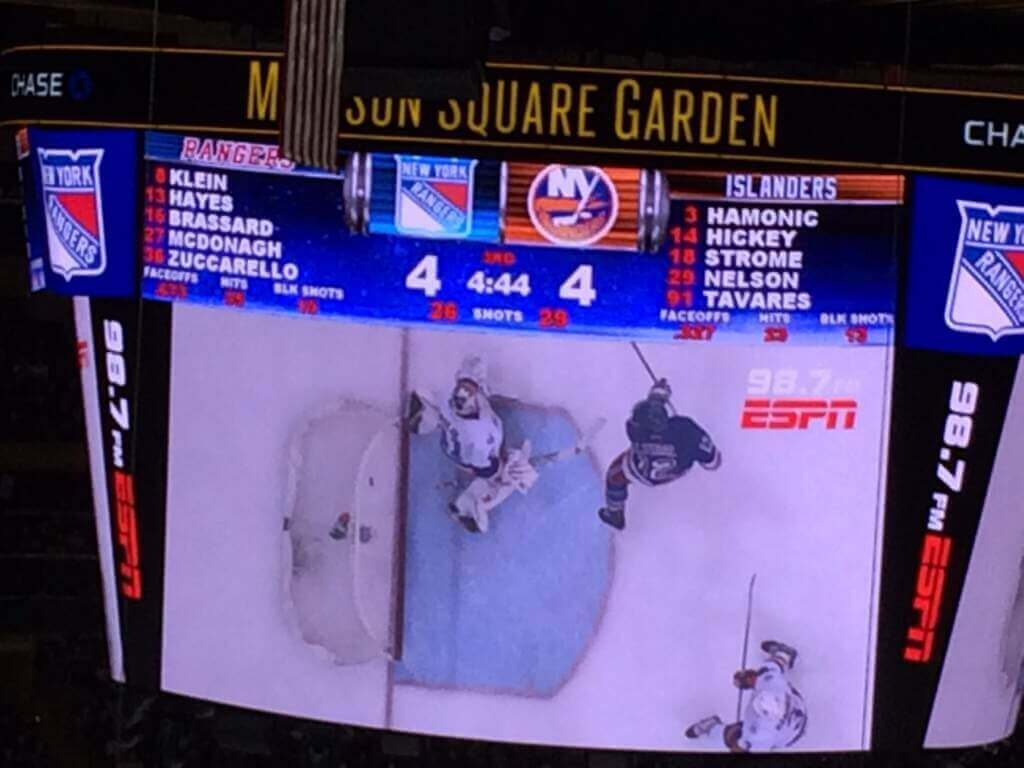 Please continue sending these in! You're welcome to send me any scoreboard photos (with answers please), and I'll keep running them.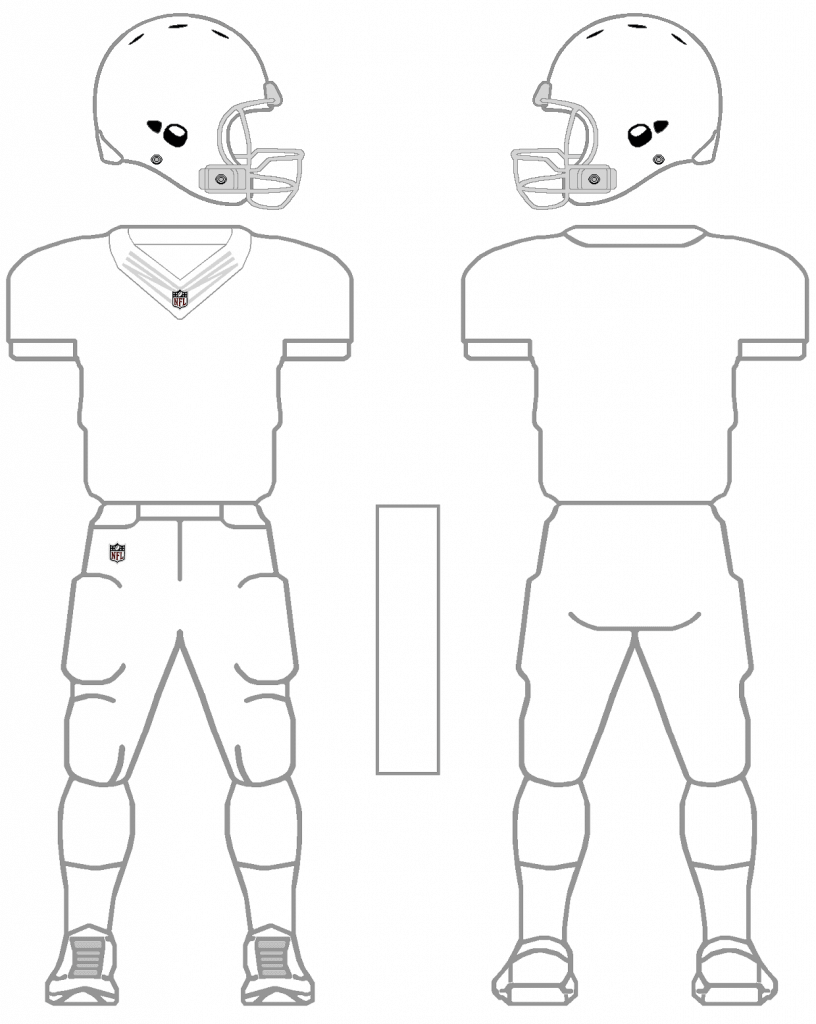 Uni Concepts & Tweaks
Time for more Uni Tweaks from the UW readership.
I hope you guys like this feature and will want to continue to submit your concepts and tweaks to me. If you do, Shoot me an E-mail (Phil (dot) Hecken (at) gmail (dot) com).
• • • • •
Today's concepts come from Greg Lamm:
Hi Phil,

Paul made a comment not long ago about mint green and how it is underused. I tend to agree with that. I think that it's a great color and more teams should use it (if they already have green in their color palette). So with that, I came up with a redesign for the Eagles.

The Eagles uniforms are not bad (as long as they don't over use black). I think they are a good candidate for mint, since they used to use silver quite a bit. I based my redesign on their uniforms from that era. I'm not talking about using neon at all, like the Seahawks lime green uniforms, or even what Michigan State did with their alts, which were widely panned (but I kind of liked). I'm thinking more of the Cowboys metallic blue pants but in green.

Thanks,

Greg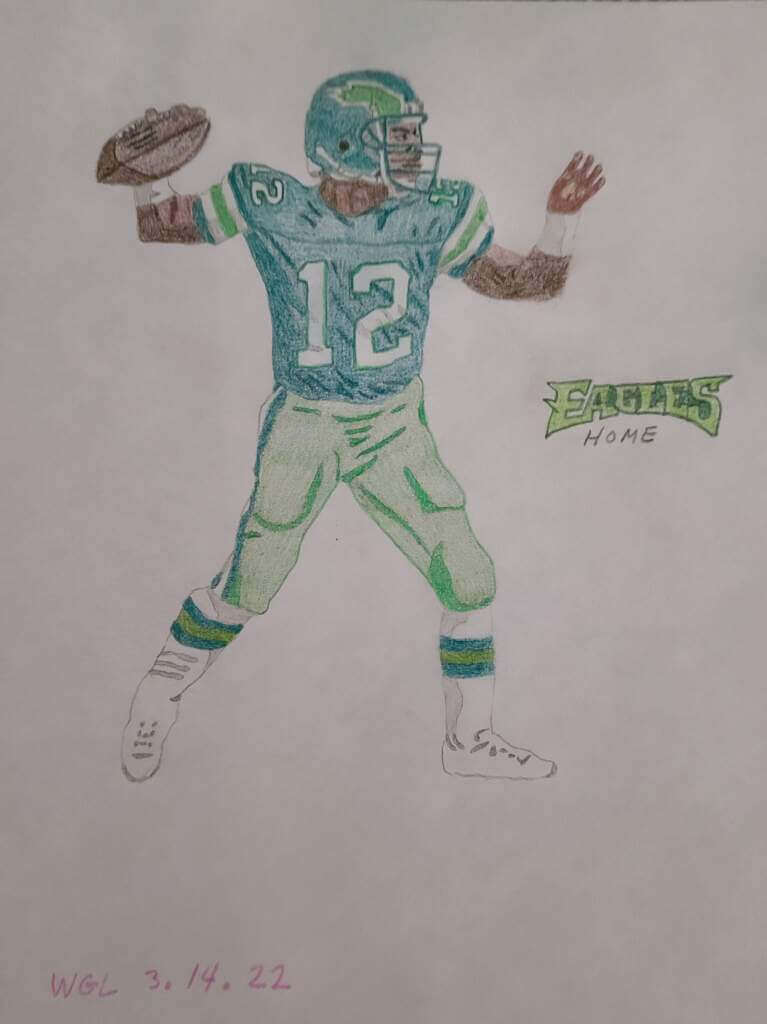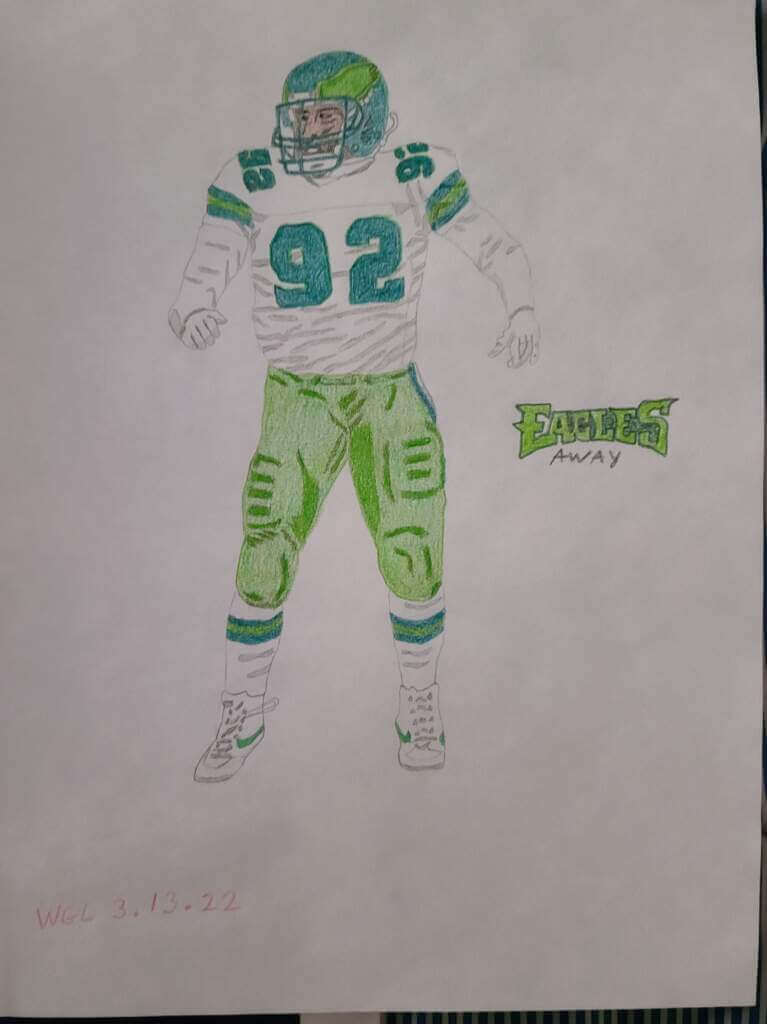 • • • • •
OK readers (and concepters). If you have some tweaks or concepts, shoot 'em my way with a brief description of your creation and I'll run 'em here.


The Ticker
By Anthony Emerson


Baseball News: The Astros' City Connect jerseys have leaked (from Ignacio Salazar). … The Reds wore their batting practice jerseys in-game against the Braves last night (from multiple readers). … Giants 1B Brandon Belt wore a homemade captain's C on his jersey, in addition to other shenanigans, during the Giants home opener (from multiple readers). … Here's a close look at the Tigers' Kimera Bartee memorial patch (from David Raglin). … Sticking with the Tigers, Detroit native Jack White performed the national anthem ahead of their home opener, and in an interview afterwards he called the stadium "Tiger Stadium." Jack White Gets It™ (from Jonas Feit). … Don't expect to see the A's in their kelly green alternates until at least the first homestand — Nike hasn't gotten them to the team yet (from A.C. Meyer). … Not the greatest image in the world, but Yankees utility man Marwin González wears No. 14, but was wearing batting helmet No. 41 when he entered as a ghost runner in extra innings against the Red Sox. In case you're wondering, No. 41 is worn by Miguel Andújar, who's on the 60-day IL (from a reader who prefers to remain anonymous). … New scorebug for NBC regional MLB broadcasts (from Adam Brunnquell). … The Smithsonian's Museum of African American History will display Jackie Robinson's Brooklyn Dodgers jersey to commemorate the 75th anniversary of his breaking Major League Baseball's color barrier (from multiple readers). … The Atlanta Braves weren't the only Braves to win a title last year — their Double-A affiliates, the Mississippi Braves, won the Southern League. Here are their championship rings (from David Kerr). … Meanwhile, the Charleston RiverDogs, Single-A affiliates of the Rays and Single-A East Champions last year, have added a champions patch (from @willchitty4). … The Columbus Clippers, Triple-A affiliates of the Guardians, have unveiled a new BFBS alternate (from @_BigMatt). … . … New road unis for the Lethbridge Bulls of the WCBL, as well as a WCBL champions patch on the cap (from Wade Heidt). … The Mohawk Valley DiamondDawgs of the Perfect Game Collegiate Baseball League have unveiled new uniforms (from Kary Klismet). … Former Padres hurler Chris Paddack, now with the Twins, apparently wasn't a fan of the Friars' unis (thanks, Phil).

Pro Football News: Also posted in the hockey section: the Hurricanes wore Panthers-inspired warmup sweaters last night (from Nicklaus Wallmeyer). … Megan Rapinoe is threatening the new XFL with a lawsuit over the league's new logo, which she claims infringes on the logo of Togethxr, a clothing and lifestyle brand founded by several prominent female professional athletes (from Kary Klismet).

Hockey News: Cross-posted from the pro football section: the Hurricanes wore Panthers-inspired warmup sweaters last night (from Nicklaus Wallmeyer). … The Canucks will wear "community heroes" warmup sweaters tonight (from Wade Heidt). … Devils G Andrew Hammond was traded from the Habs to the Devils a couple weeks ago. Rather than getting a whole new mask, he appears to have just applied a Devils logo decal over the Habs logo (from @1ARsoul). … The Utica Comets, AHL affiliates of the Devils, have unveiled fauxback "Roaring '20s" sweaters (thanks, Phil).

NBA News: Check out actor Wood Harris in the background of this behind-the-scenes shot of Winning Time, HBO's dramatization of the Showtime Lakers. Harris, playing Spencer Haywood, is wearing Nike-branded platforms! (from Mandy Lopez).

College/High School Hoops News: San José State is letting the public vote on a new floor design (from Scott Winters).


Soccer News: Bundesliga side Arminia Bielefeld will wear a sustainability kit on April 30th to raise money to fight deforestation of the Teutoburg Forest (from Kary Klismet).


Grab Bag: New T20 cricket kits for England (from @artofscorebug). … Alfa Romeo F1 driver Valtteri Bottas will wear a special helmet in honor of his girlfriend, Australian pro cyclist Tiffany Cromwell, for this weekend's Australian Grand Prix (from Kary Klismet). … Rhode Island has solicited the public for a new license plate design, and has released the entries. The selection committee ultimately went with this one (from Jon Vieira). … Serious kit clash in this Heineken Cup rugby match between Leinster and Connacht — you can't even tell who's who (from @Stumpy7780). … Gary Player has sparked controversy by wearing a Saudi-branded sweater at the Masters (thanks, Brinke). … Italian curler Amos Mosaner wore a baseball cap but had the logo taped over during the Men's World Championships yesterday (from L.J. Sparvero).


Uni Tweet of the Day
Not my favorite Cards uniform ever (that would be this), that 1922 script with birds on bat was fantastic…
100 years ago today this appeared in the St. Louis Post Dispatch as fans in St. Louis were set to be greeted by new uniforms in the Spring. Quite frankly it is the best uniform in all of sports. #STLCards pic.twitter.com/0FXCuMb0bY

— Wade F⚾️rrester (@CardinalHistory) April 7, 2022


And finally… that will do it for today. Everyone enjoy Opening Weekend and the Masters (Go Tiger!), and I'll catch you back here tomorrow.
Peace,
PH