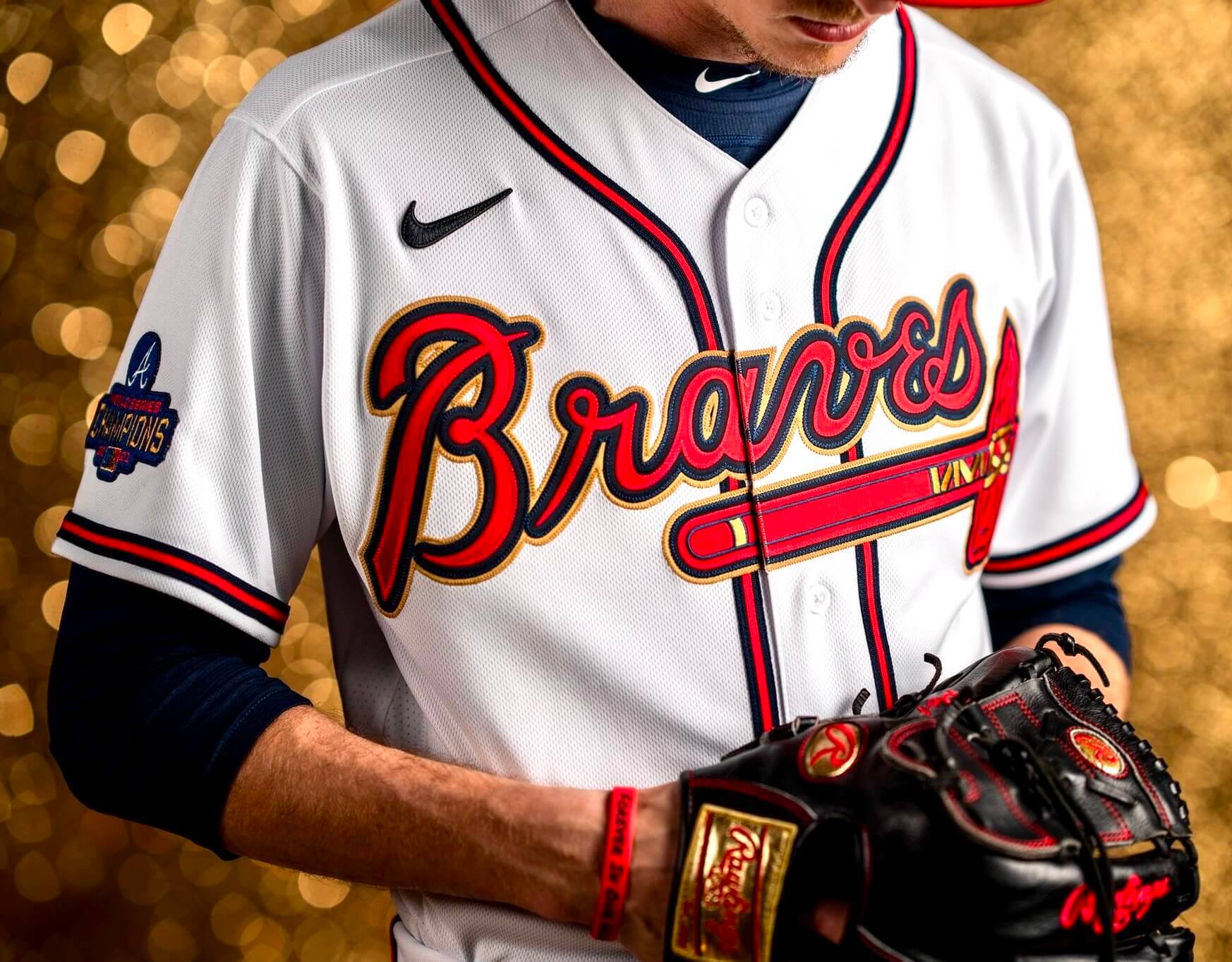 For all photos, click to enlarge
As expected, Atlanta unveiled its gold-trimmed championship uniform yesterday. From a strictly aesthetic standpoint, leaving aside the club's questionable team name and iconography, it's one of the better gold-trimmed designs, since the gold tones mesh well with the team's colors, plus the tomahawk already has gold trim.
Here's a closer look at that championship sleeve patch: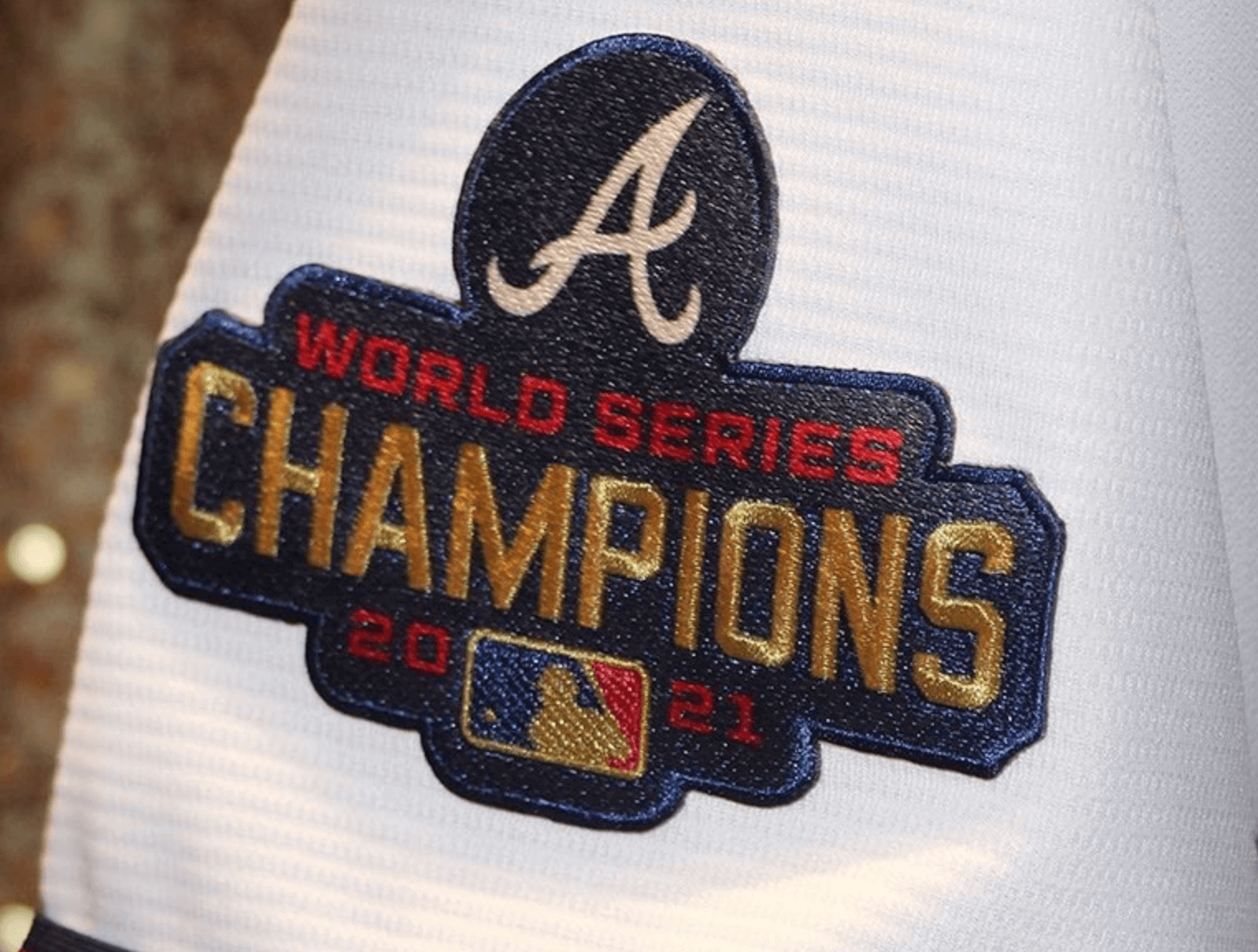 I was wondering if they might be planning to put that patch on all of their jerseys this season, but a team rep tells me that it will appear only on the gold-trimmed jersey.
The other sleeve has a star and the Roman number IV, indicating the four championships that the franchise has won throughout its history in Boston (1914), Milwaukee (1957), and Atlanta (1995 and 2021):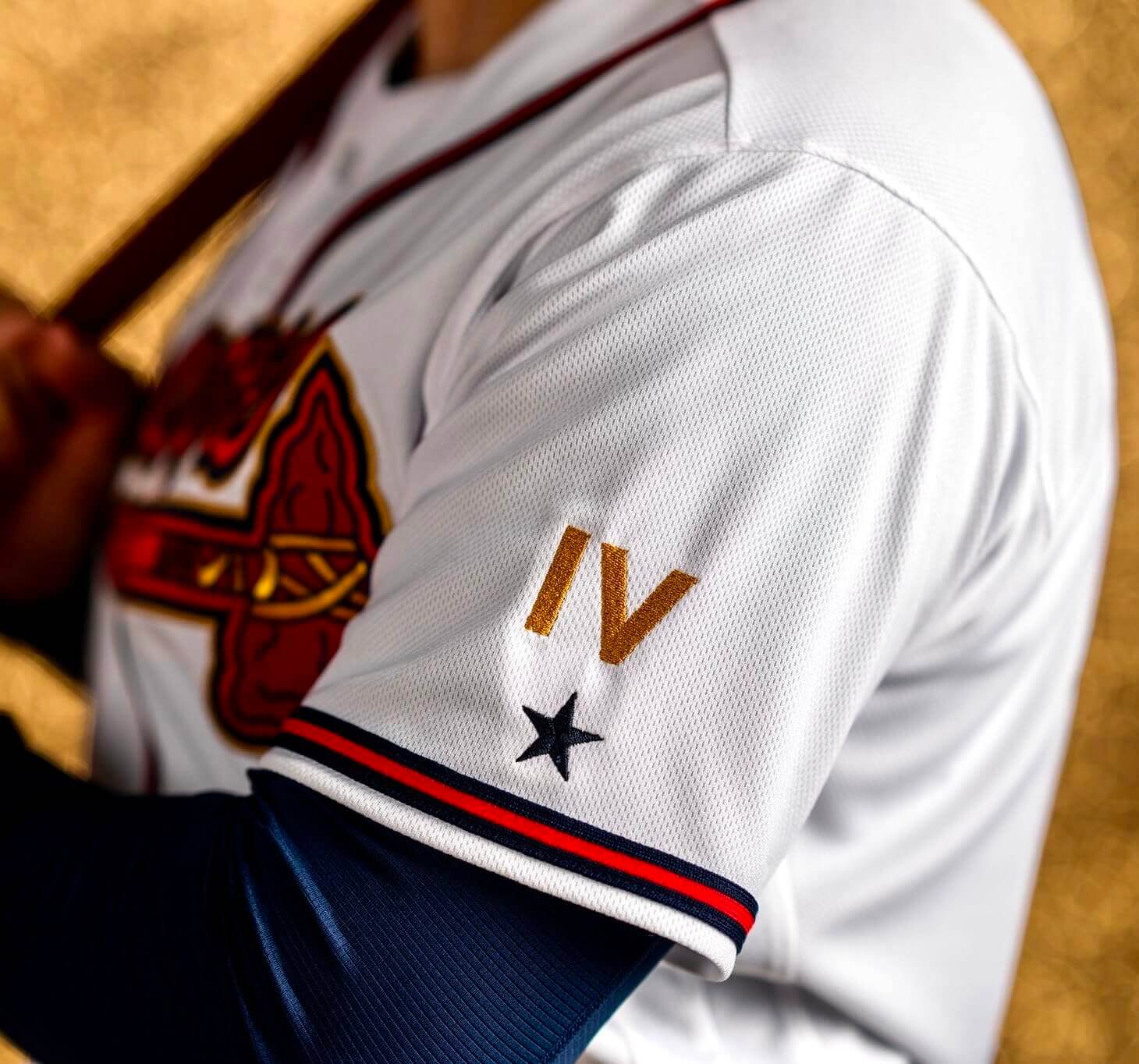 As you may recall, the Dodgers had the same Roman numeral element on their gold design last year, so I guess that's now officially a thing. I'm not a big fan of this approach — feels a bit hubristic, plus Roman numerals are too closely associated with the Super Bowl and don't feel right for MLB — but whaddaya gonna do.
The gold trim has also been applied to the rear uni numbers and the MLB logo on the rear collar: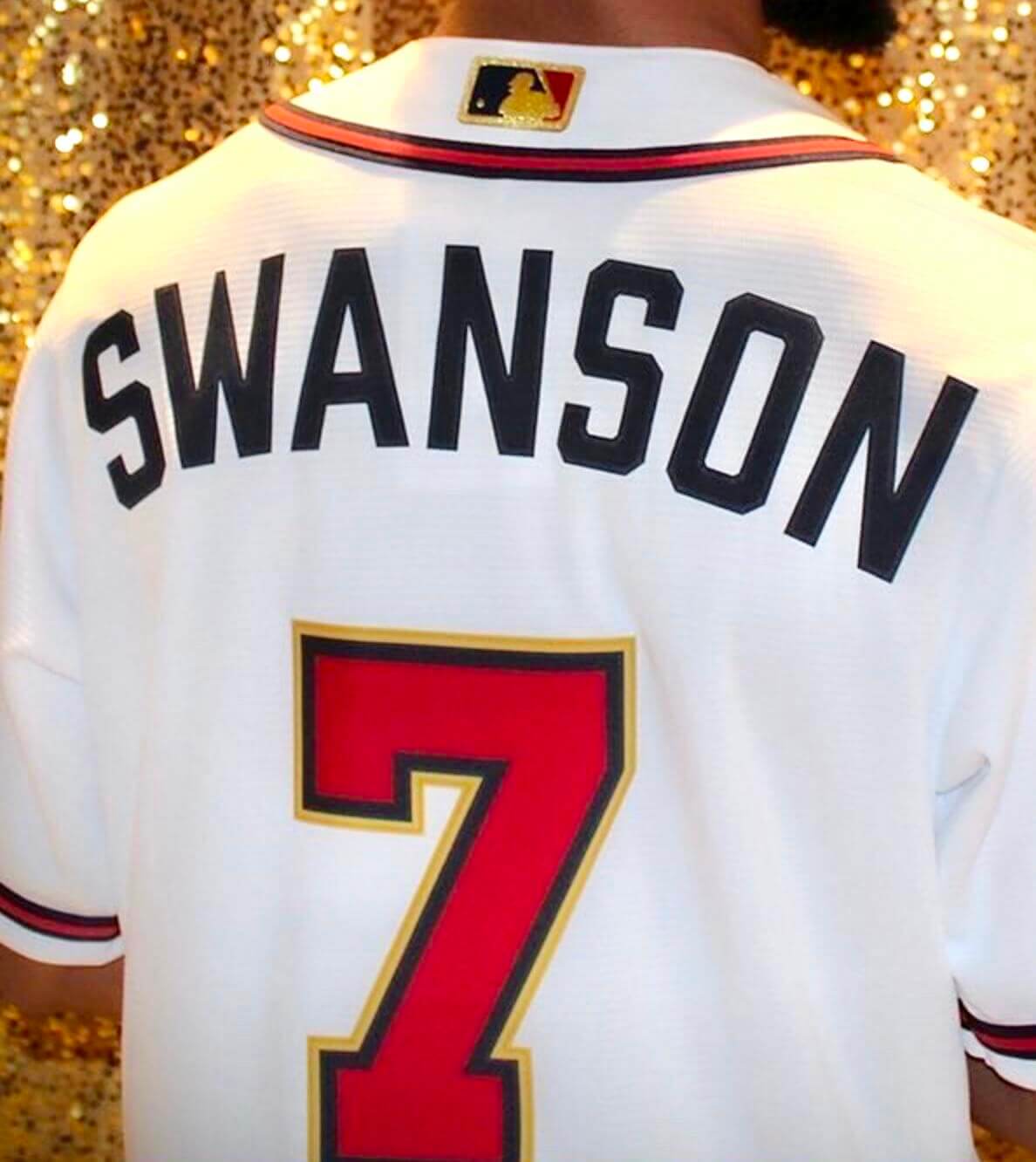 And as you'd expect, there's also a gold-trimmed cap: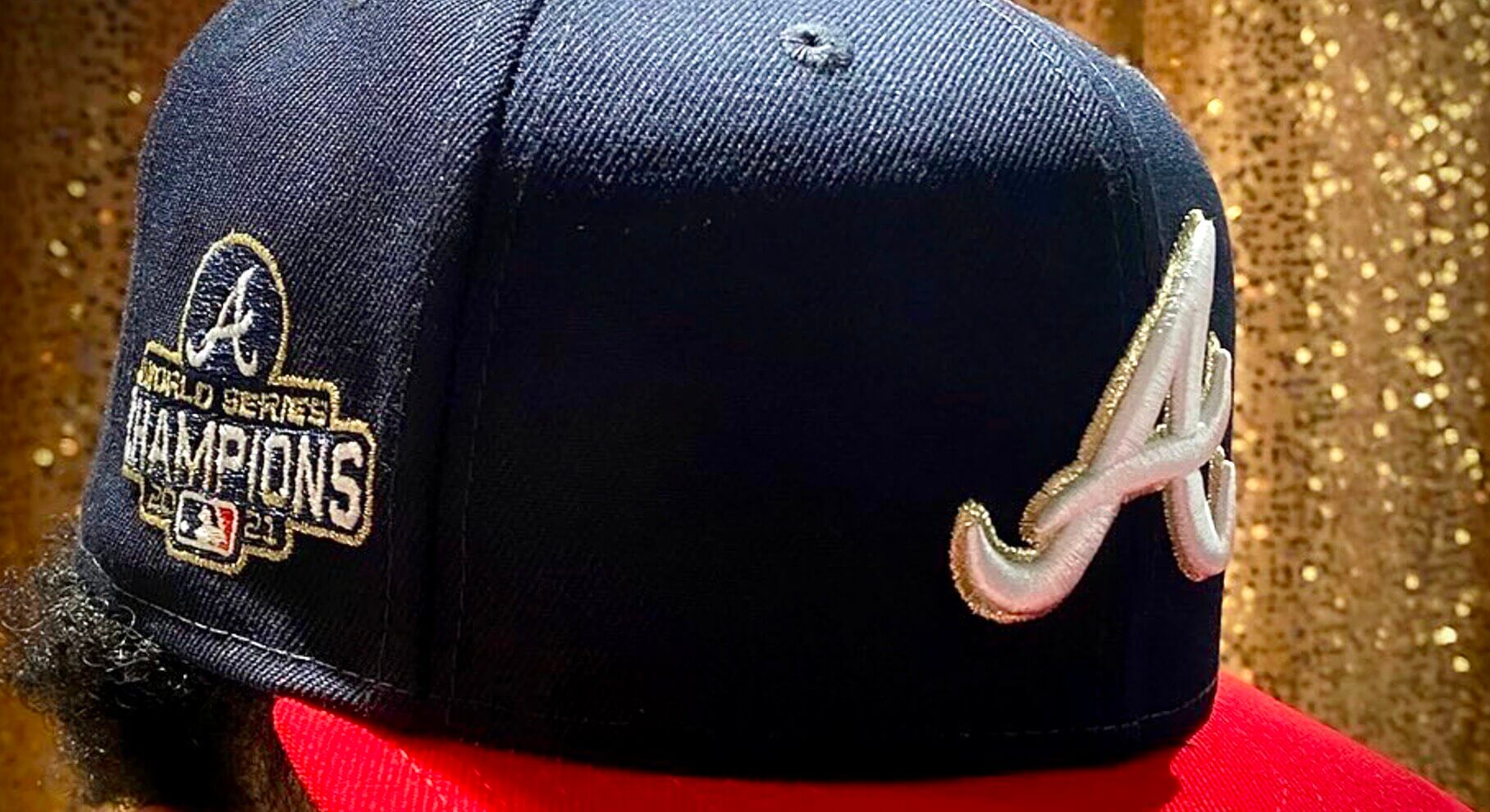 This uniform will be worn for Atlanta's first homestand of the season (April 7-13). A team rep tells me it will likely appear "a couple of other times" later in the year, but no details yet on that.
• • • • •
• • • • •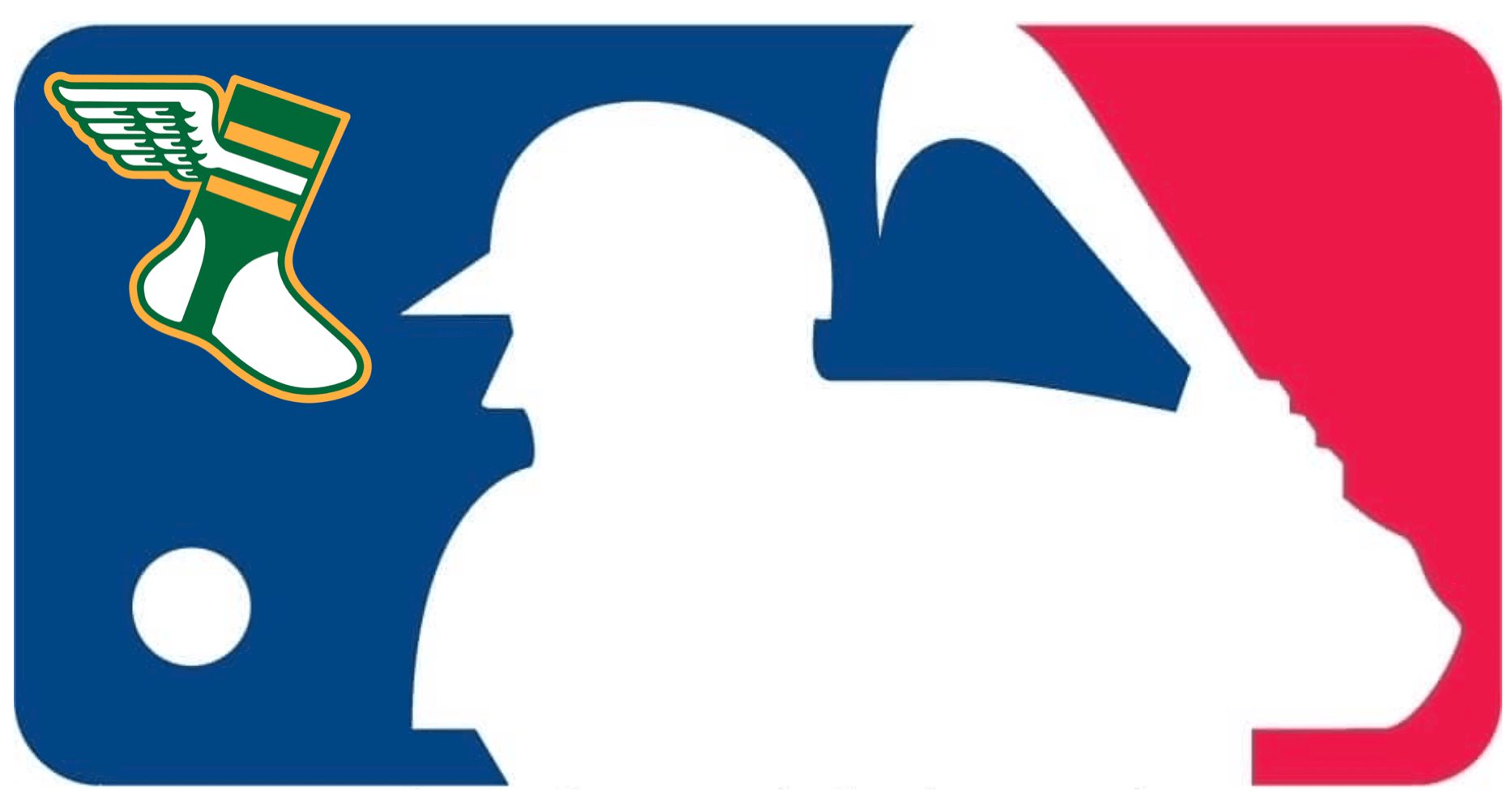 MLB Preview reminder: In case you missed it yesterday, the 24th annual Uni Watch MLB Season Preview is the biggest and arguably best article in Uni Watch history! Overflowing with tons of uni-related info ranging from the straightforward to the super-obscure, it's an epic compendium that's by far the most obsessively completist document I've ever produced — really!
The MLB Preview is available to my Premium Subscribers here. If you've been waiting for the "right time" to subscribe, believe me when I say the time is now (Facebook account required). Don't have or want a Facebook account? Email me for workaround info. Thanks!
• • • • •
• • • • •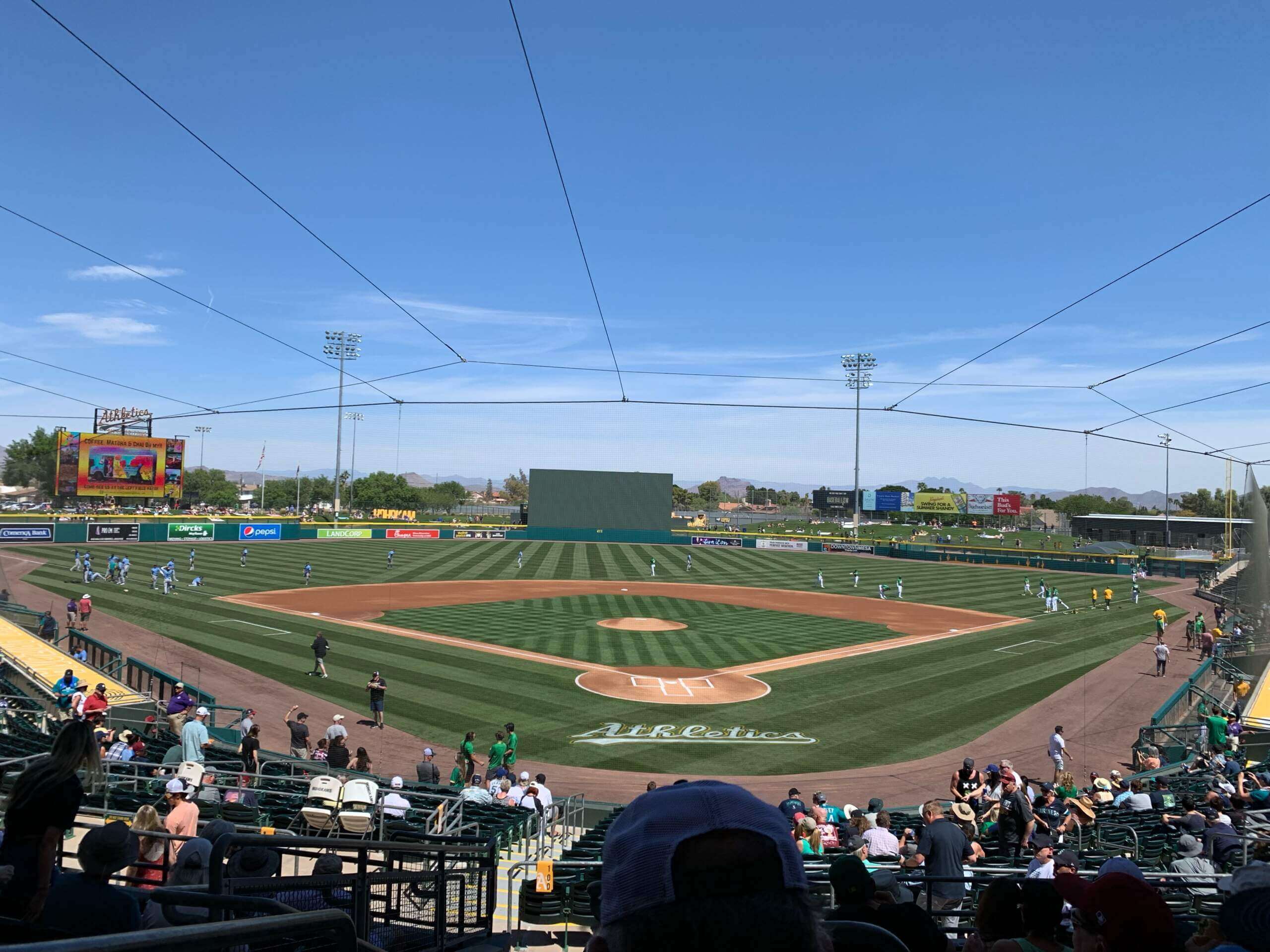 Click to enlarge
What's wrong with this picture?: Reader Joel Horn recently attended a Cactus League game at the A's spring ballpark and took this photo. Notice anything amiss?
Answer: There are no on-deck circles! No dirt cutouts, no chalk circles, no circular synthetic mats — nothing.
Joel found that the same was true at the Angels' spring ballpark: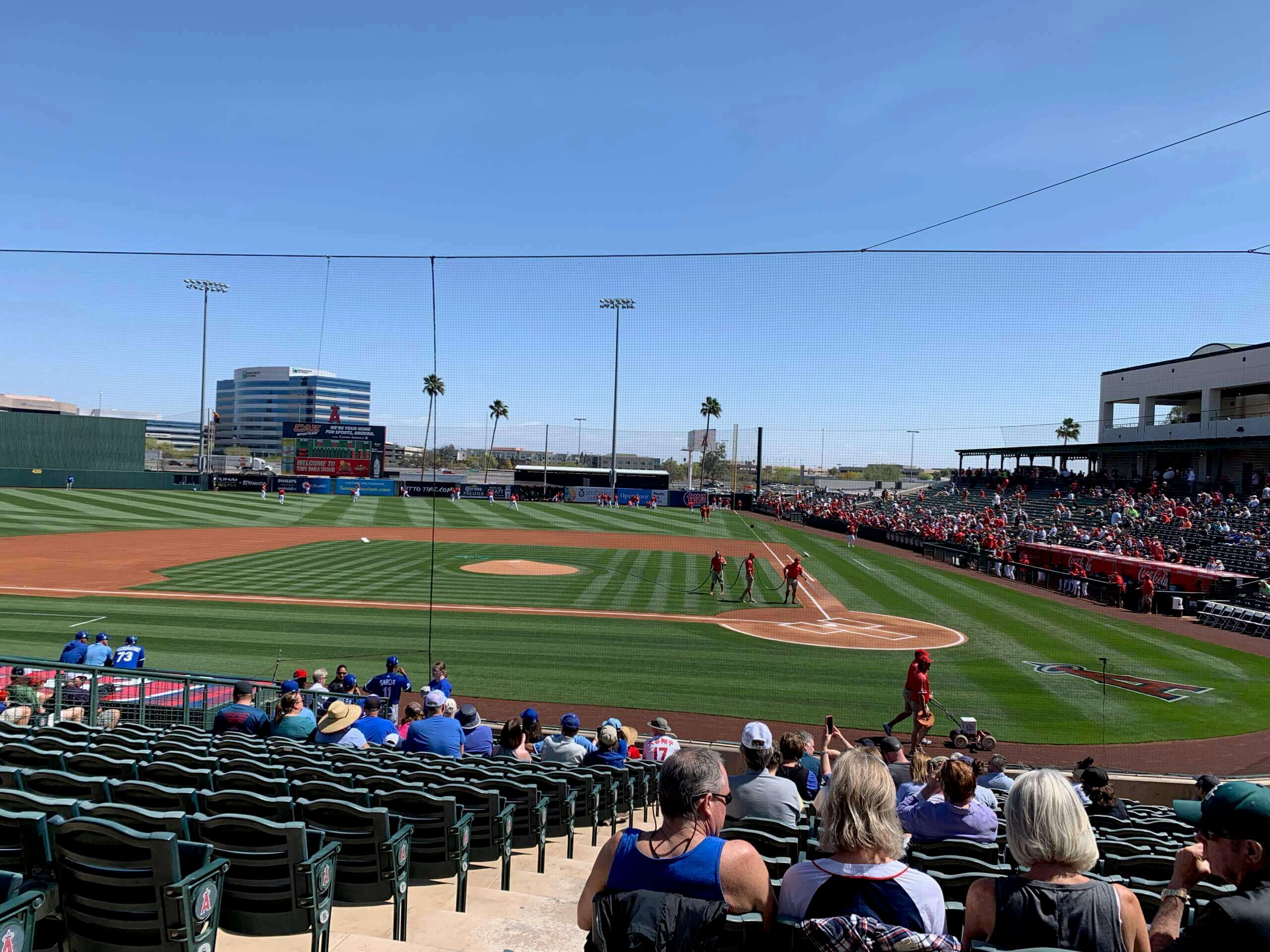 And at the Reds' spring ballpark: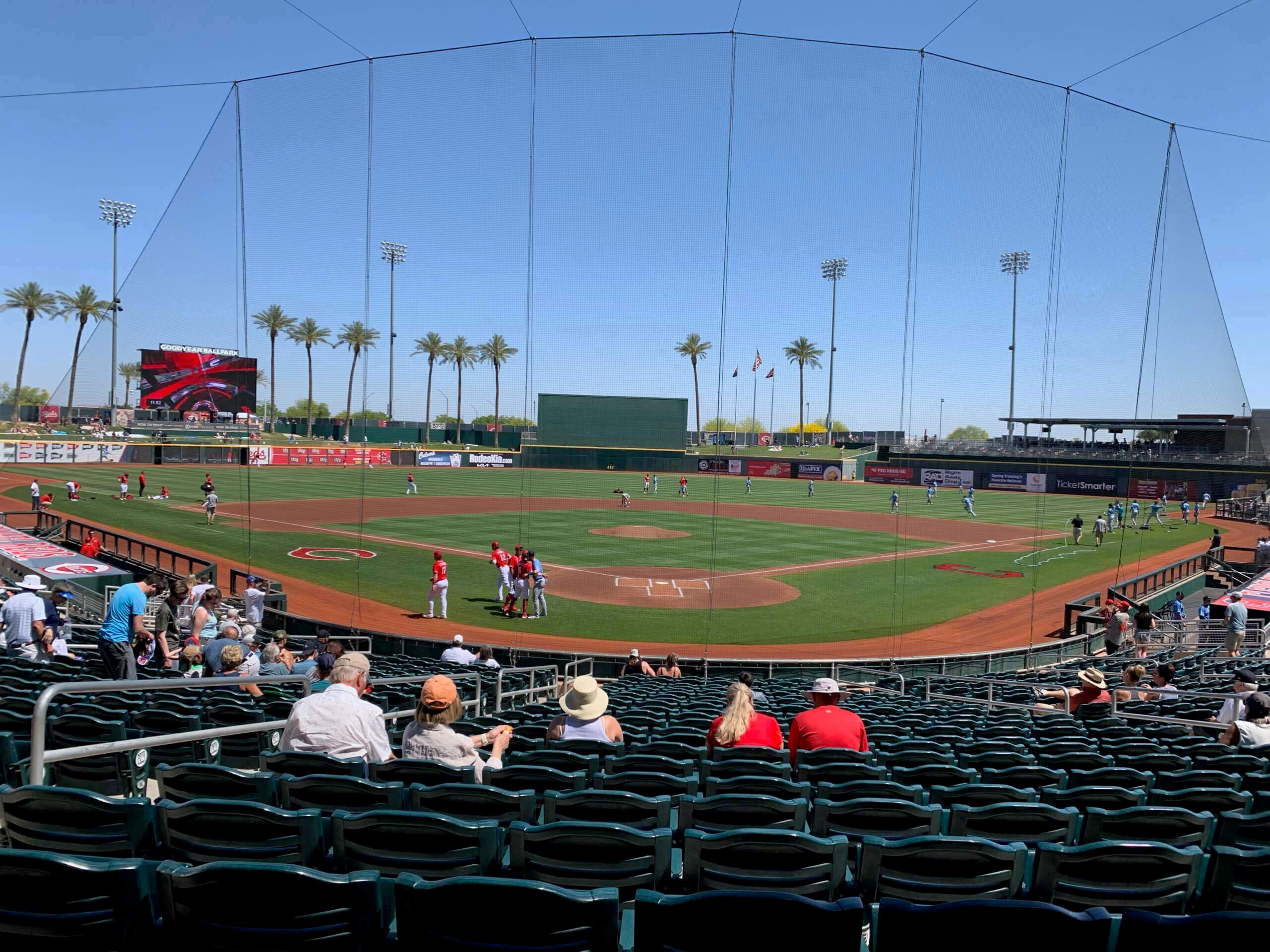 And at Arizona State: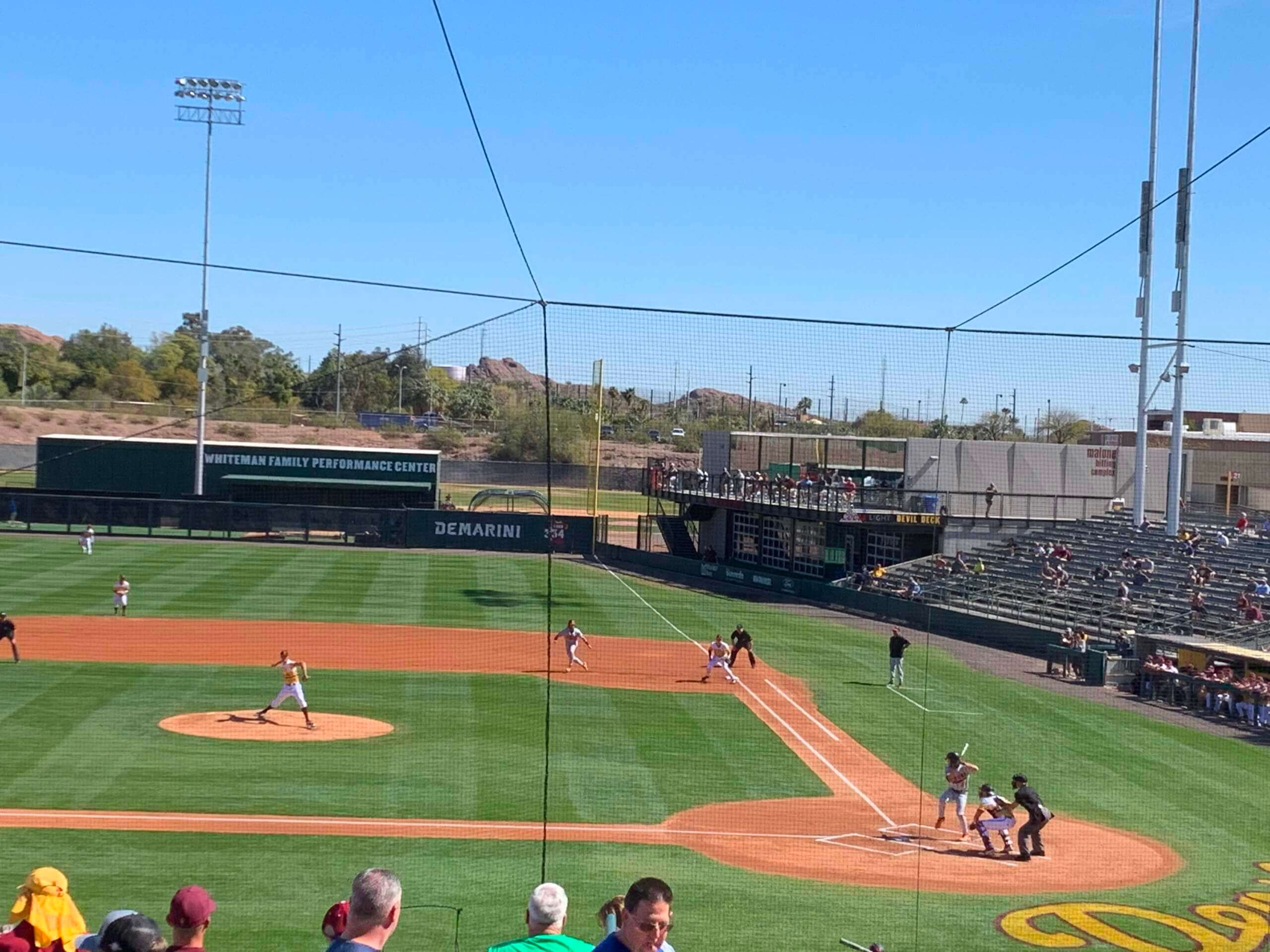 I realize most players awaiting their turn at bat rarely stay within the confines of the on-deck circle anyway, but it's strange to see so many fields without even the semblance of a specified on-deck area. Is this a thing now?
• • • • •
• • • • •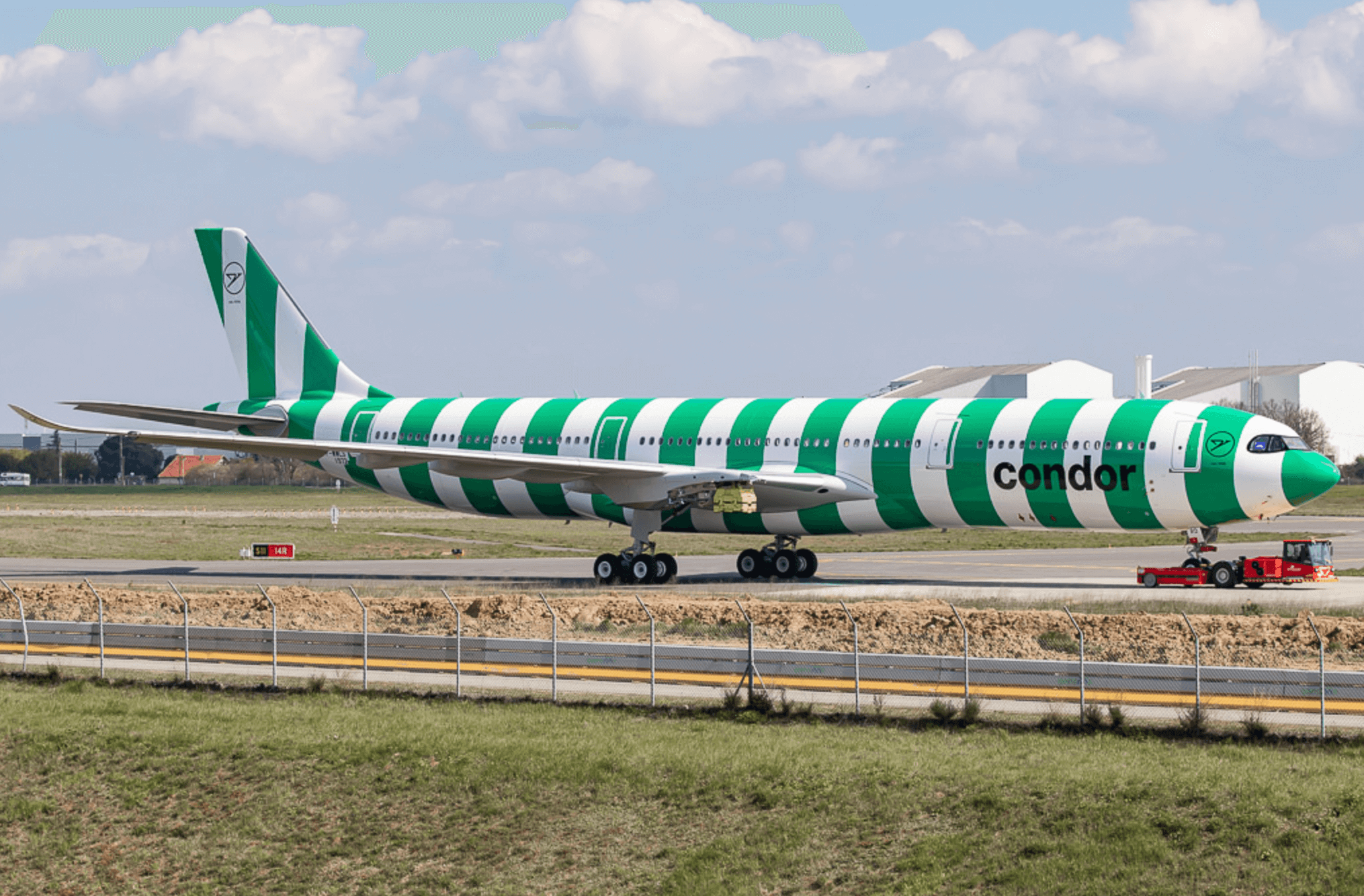 Click to enlarge
The friendly skies: I never knew how badly I wanted to fly in a green candy-striped jet until the other day, when I learned that the German airliner Condor had unveiled this design as one of their new liveries. They have other colors as well. Additional info here.
(Big thanks to Christian M. Zummer for this one.)
• • • • •
• • • • •
The Ticker
By Lloyd Alaban

Baseball News: MLB has approved the use of catchers' electronic signal-calling devices for the regular season. … Mets 1B Pete Alonso somehow didn't have his cleats for a recent spring training game, so he had to make an emergency run to Dick's Sporting Goods. … New jersey color for the Jacksonville Jumbo Shrimp, affiliate of the Marlins (from our own Phil Hecken). … Here's a good look at the baseball uniforms in the new Broadway revival of Take Me Out (from Kenneth Traisman). … Both Air Force and Abilene Christian wore military-themed uniforms when they played each other last night. Air Force's uniforms were C-17-themed, while ACU's honored nearby Dyess Air Force Base (from Brandon McAuliffe). … Here's a ranking of minor league team names (from John Vieira).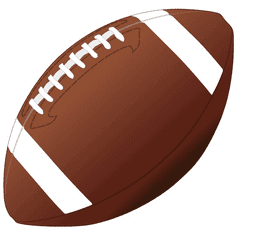 Football News: Some new uni number assignments for the Cowboys and Bears. … Texas LB DeMarvion Overshown is wearing a ridiculous number of sweatbands in this photo (from @joshuaexline). … Here's a ranking of the 18 uniforms BYU has worn since becoming an independent. … New logo for the XFL.

Hockey News: The Hurricanes wore black pants and gloves on the road last night, instead of their usual red (from multiple readers). … Green warm-ups tonight for the Capitals in support of an environmentalist campaign (from our own Jamie Rathjen). … The Canadiens wore warm-ups with a childlike version of their crest last night to honor the Canadiens Children Foundation (from Wade Heidt). … Here's an article about the evolution of hockey equipment (from our own Phil Hecken).

Basketball News: Black vs. black last night for the New York Police and Fire Departments in their annual basketball game (from @Brevity_Wit).


Soccer News: New shirts for the Sweden women's national team. The shirts include a guide on "How to Stop Sweden." … The Vancouver Whitecaps have released a logo to celebrate Vaisakhi, the Sikh New Year celebration (from Wade Heidt and John Flory). … Also from Wade: New ball for the Canadian Premier League. The design is inspired by the Northern Lights. … Here are all the J3 League's second shirts (from Jeremy Brahm).

Grab Bag: A radio commentator says she was fired for comparing Vice President Kamala Harris's brown suit to a UPS uniform and quipping, "What can brown do for you?"