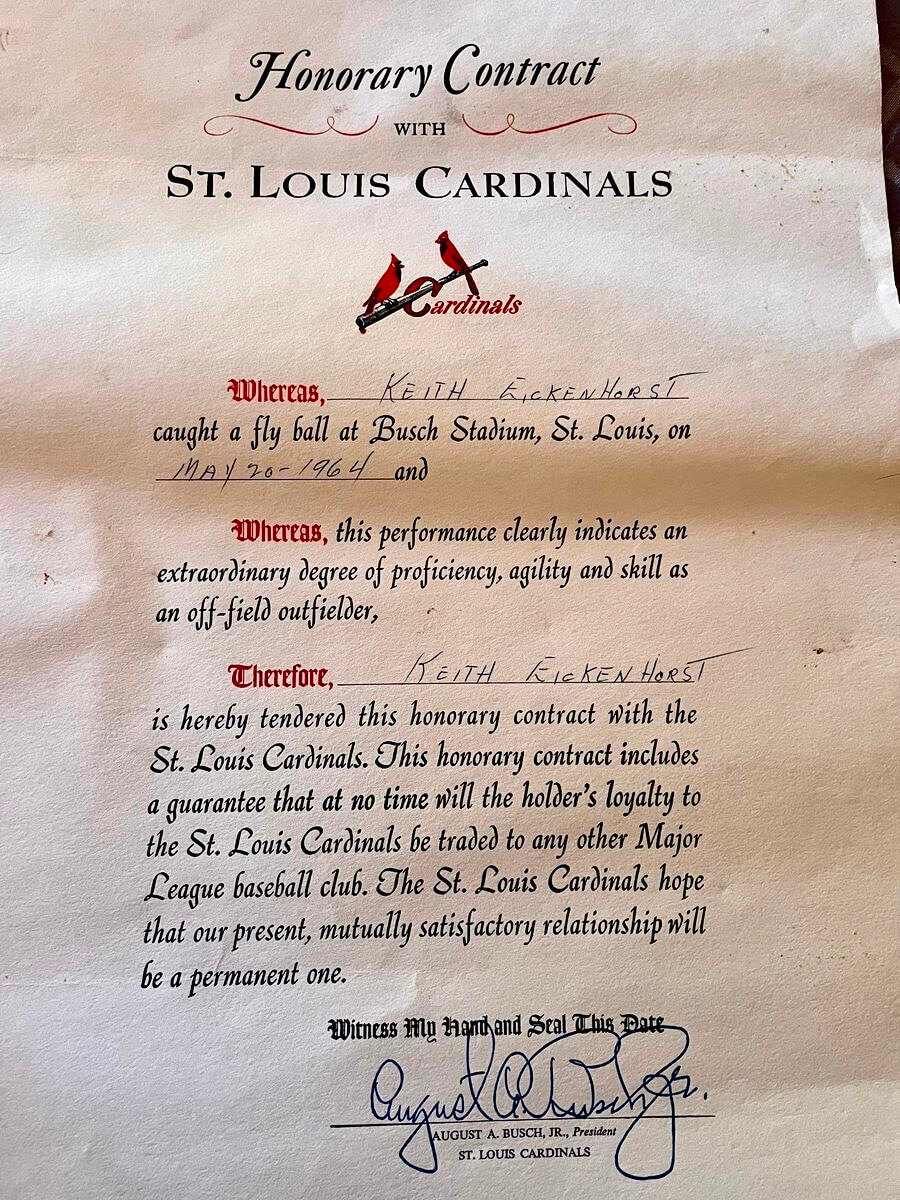 Click to enlarge
On May 20, 1964, a Cardinals fan named Keith Eickenhorst attended this ballgame — a complete-game shutout by Bob Gibson — and apparently caught a ball in the stands. It's not clear whether this was a foul ball, a home run ball, a BP ball, or what. But whatever it was, the Cardinals rewarded Keith with an "Honorary Contract," signed by owner Gussie Busch himself!
I learned about this when Keith's daughter-in-law, Danni Eickenhorst, tweeted about finding the contract during a household "dejunking" purge and Twitter-er @LosingSideOf25 brought it to my attention. I'd never seen or heard anything like this and thought it was pretty much the greatest thing ever. Like, did the Cardinals just seek out people who caught foul balls and present them with these souvenir contracts? How totally excellent!
To my surprise, I found that the Cardinals did this for decades (and are maybe still doing it..?). Here's one of the honorary contracts from 1955; here's one from 1969; and here's a blog post from a fan who says he got one for catching a foul ball in 2014! (Search on "honorary" for details.) The contracts even show up sometimes on eBay and other auction platforms.
As explained in this blog post (and echoed in a few other places), the contracts were given out by ushers, who would approach a fan who made a good catch. (This page says the fan had to give up the ball in exchange for the contract, but I haven't seen that detail repeated anywhere else and I'm somewhat skeptical of it.)
How had I never heard about this before? And it's not just the Cardinals:
• The Tulsa Oilers — a Cards farm team — also gave out honorary contracts.
• Here's an account of the Reds giving an honorary contract to a fan who caught a foul ball in 1963.
• According to the 2007 book The Ultimate Minor League Baseball Road Trip, the Cedar Rapids Kernels gave a contract to any fan who brought their ball to the Guest Services Center.
• The Diamondbacks apparently give out contracts to fans who catch foul balls. Here's a sequence from 2015 where the catch and the contract presentation were both captured during a TV broadcast:
A few months later, the D-backs gave another contract to a fan who unsuccessfully tried to catch a foul ball and was instead hit in the face. A consolation contract, you might say.
I've been a big baseball fan for half a century now and had zero idea that this was a thing. I can tell you for sure that the Mets have never done this at any of their ballparks, so that partially explains my ignorance, but I'm surprised these contracts never came across my radar before. Did everyone else know about them? Has anyone out there ever received one? Has anyone ever been an usher who bestowed one?
I can tell you this much: I have never caught a foul ball, and I really hope that changes one day. But now I hope even more that I catch one at a ballpark where I'm rewarded with a contract.
(My thanks to @LosingSideOf25 for sending me down this very rewarding rabbit hole.)
• • • • •
• • • • •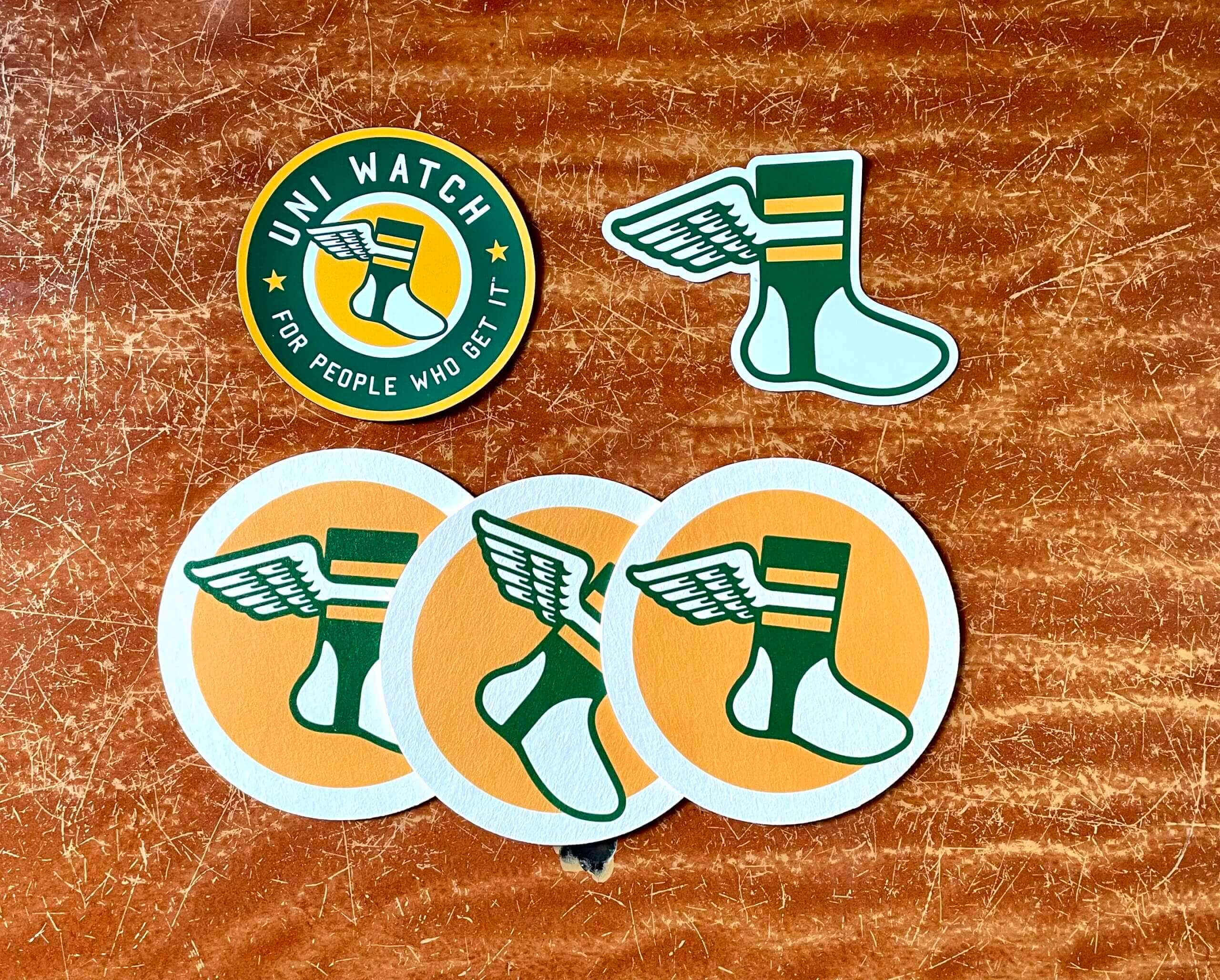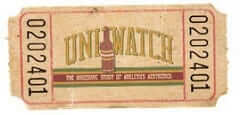 ITEM! Coaster/magnet raffle: Reader Chris Hickey has generously provided funds for me to raffle off a set of three coasters and a set of two magnets, so that's what we're going to do today.
This will be a one-day raffle. No entry restrictions, but you're not in the USA and end up winning the raffle, I may ask you to cover the difference between USA shipping and foreign shipping. To enter, send an email with your mailing address to the raffle in-box to the raffle in-box by 10pm Eastern tonight. I'll announce the winner tomorrow. Good luck!
• • • • •
• • • • •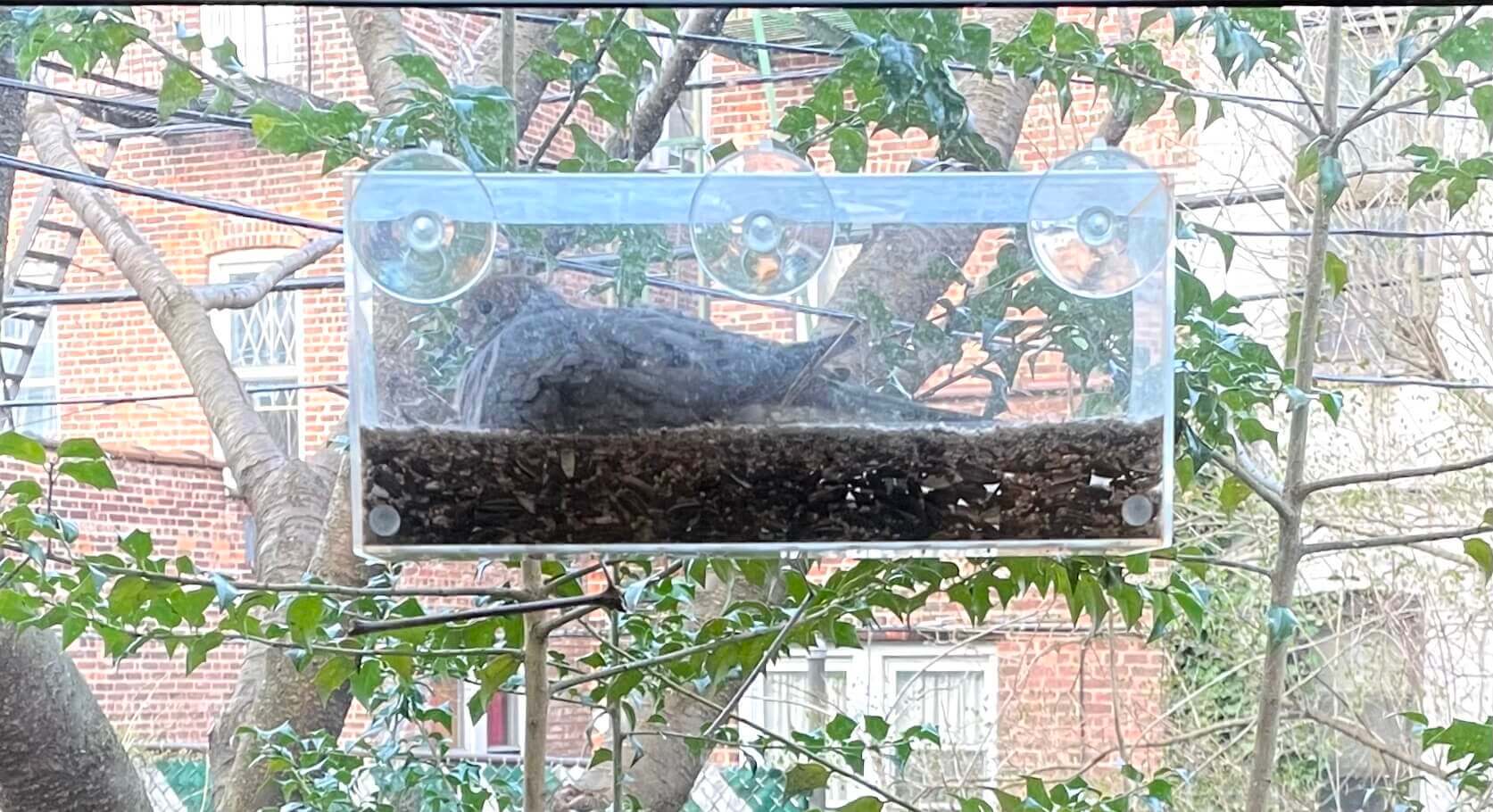 Dove update: All seems to be going fine with the dove nest. Mama and Papa continue to take turns sitting on the eggs (we've now witnessed the "changing of the guard" a few times), and the other birds seem to be leaving them alone.
We're not sure exactly when the eggs were laid. But based on when the doves "moved in" and a bit of research on how long it usually takes for dove eggs to gestate, we think there's a decent chance that the eggs could hatch next Thursday. That also happens to be the first day of the MLB season, so it could give a whole new meaning to Opening Day.
• • • • •
• • • • •
The Ticker
By Paul

Baseball News: Longtime reader Jason Lefkowitz likes his son Josh's high school baseball uni and low-cut stirrups. … The Japanese soccer team Yokohama F. Marinos have unveiled kits modeled after the jerseys worn by the Yokohama Bay Stars of Nippon Professional Baseball's Central League (from Kary Klismet). … New powder blues for the U. of Illinois (from Jacob Rajlich). … We all know spring training uni numbers can get a little weird, but Cubs prospect Ed Howard has worn three different numbers in the past two weeks!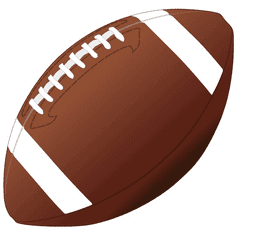 Football News: A Lego version of the Rams' and Chargers' stadium is the largest Lego stadium ever built (from Anthony Nuccio). … Newly acquired KC RB Ronald Jones is asking fans to help him choose his new uni number. … Here's a ranking of SEC jerseys.

Hockey News: The Wild wore pregame Pride jerseys on Tuesday, the OHL's Oshawa Generals had Pride stick tape and helmet decals that same night, and Edmonton Oil Kings D Luke Prokop had Pride skates last night (all from Wade Heidt). … Lots of good pics of last night's Canucks First Nations pregame jerseys here.

Pro Basketball News: Cavs F Lamar Stevens was wearing an upside-down 8 last night (from Jay Mazzone). … Pride uniforms tonight for the G League's Iowa Wolves. … A Las Vegas group is trying to lure an NBA expansion team by building a new arena (thanks, Brinke).

College and High School Hoops News: Missouri apparently gave new coach Denis Gates an old jersey with a cover-up nameplate at his introductory presser, instead of making a new jersey for him (from Logan Stiles). … Here's a story about the process of installing the basketball court for the men's Final Four (from Kary Klismet). … Also from Kary: Socastee (S.C.) High School is renaming its basketball court in honor of former boys' basketball coach Dan D'Antoni.

Soccer News: Cross-listed from the baseball section: The J1 League's Yokohama F. Marinos have unveiled kits modeled after the jerseys worn by the Yokohama Bay Stars of Nippon Professional Baseball's Central League (from Kary Klismet).

Ukraine News: Ukrainian designers are asking brands to drop the letter "z" from their logos because of its links to support for Russia's invasion of Ukraine (from Kary Klismet).


Grab Bag: Here's a very entertaining podcast clip in which an evolutionary biologist explains that the U. of Minnesota's costumed mascot, Goldy Gopher, isn't actually a gopher after all (from Jeff Ash). … The city of North Charleston, S.C., has selected 10 finalists for a new municipal flag design and is requesting public feedback on them (from @BBRayRay1). … Four Boston police uniforms were stolen from a supply shop over the weekend. … A police officer in Georgia has resigned after being caught on video receiving a blowjob while in uniform. … Jordan Brand has recruited 33 women to redefine the jumpman logo. … Puma has partnered with White Castle to produce burger-themed sneakers (from Jason Hillyer). … Prefer your sneakers custom-painted? Here's a video clip of a really good Canadian artist who does that (from Ted Arnold). … Whoa, check out this wild Nike video billboard in Japan (from Michael Rich). … The mascot for the multi-sport 2022 European Championships in Munich is a cartoon squirrel designed by an eight-year-old German girl (from Kary Klismet). … Also from Kary: D2 school Catawba College in North Carolina will unveil new athletics logos on April 26.