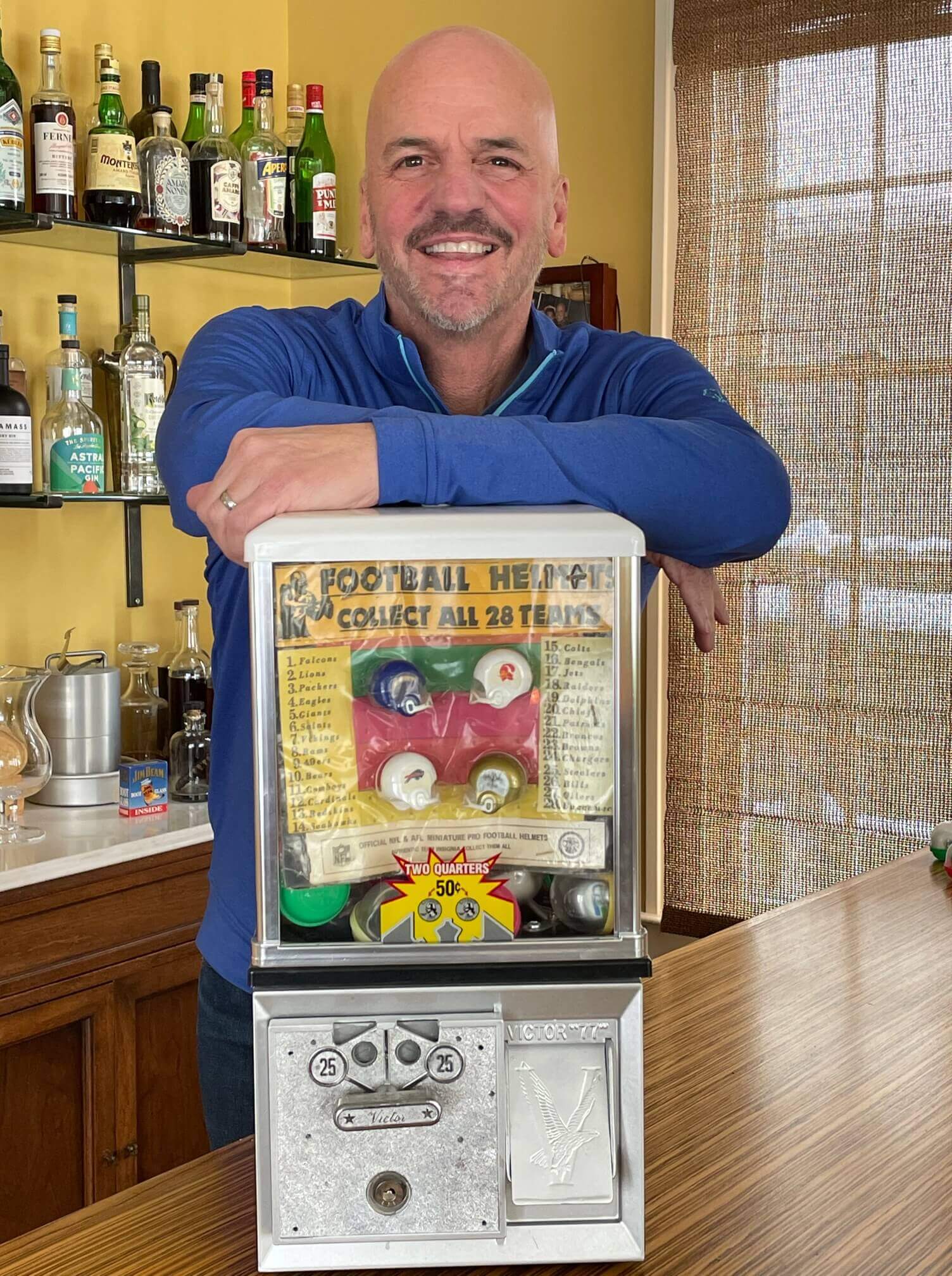 For all photos, click to enlarge
[Editor's Note: Today we have a guest entry from reader Michael Rosenau, who's going to tell us about a sensational project he's been working on. I know you'll like this one — enjoy. — PL]
By Michael Rosenau
One of my passions as a kid was collecting gumbail helmets. Whether it was convincing my parents to take me to IHOP for their weekly helmet releases or emptying my piggy bank of quarters to drain the local vending machine, I had to have my helmets.
I'm 56 now and I still have my helmets. For a long time they were sitting in a box in my basement and I wanted to bring them back to life, so I bought an old Victor 77 gumball machine on eBay. Here's how it looked when I bought it: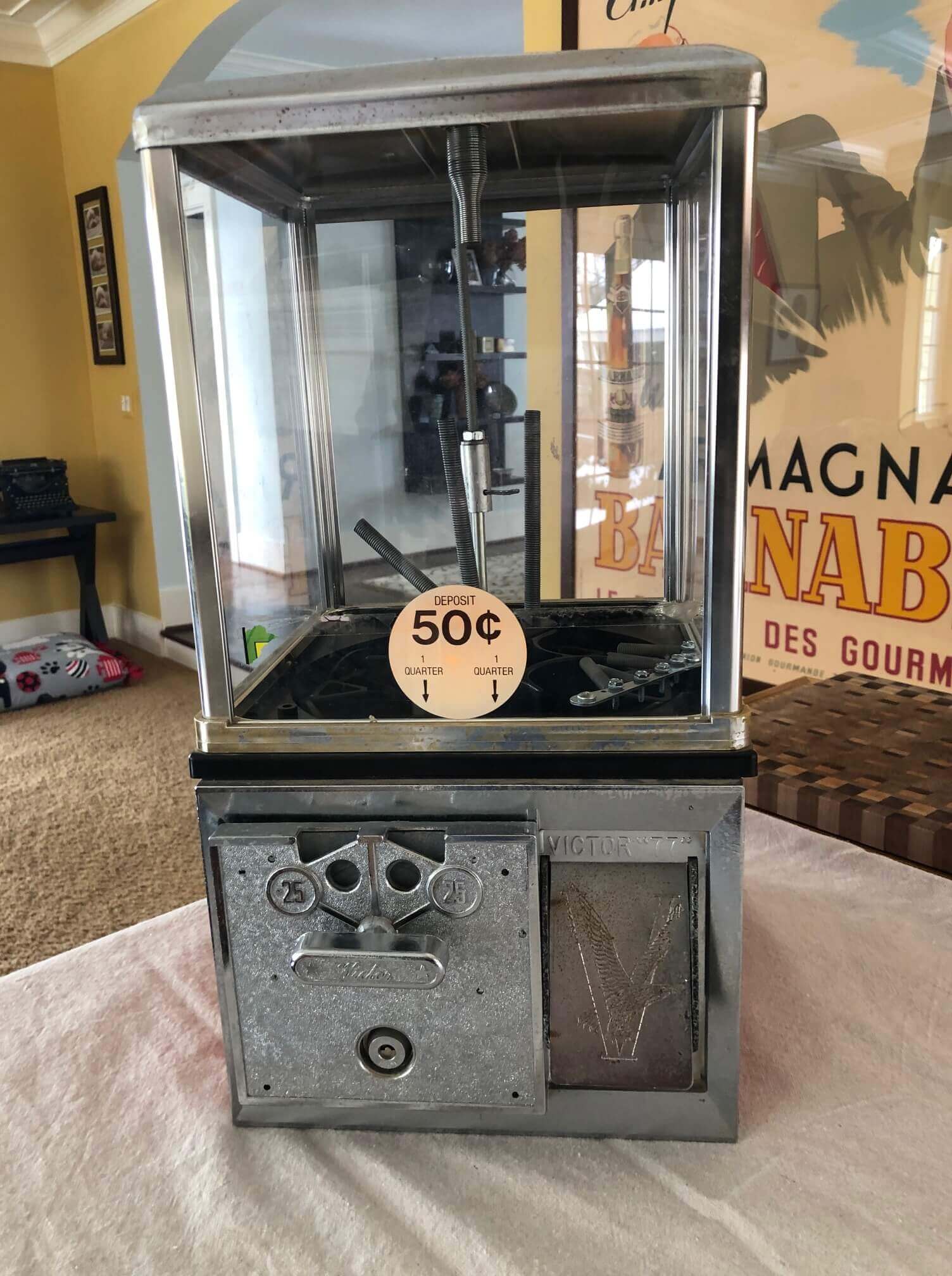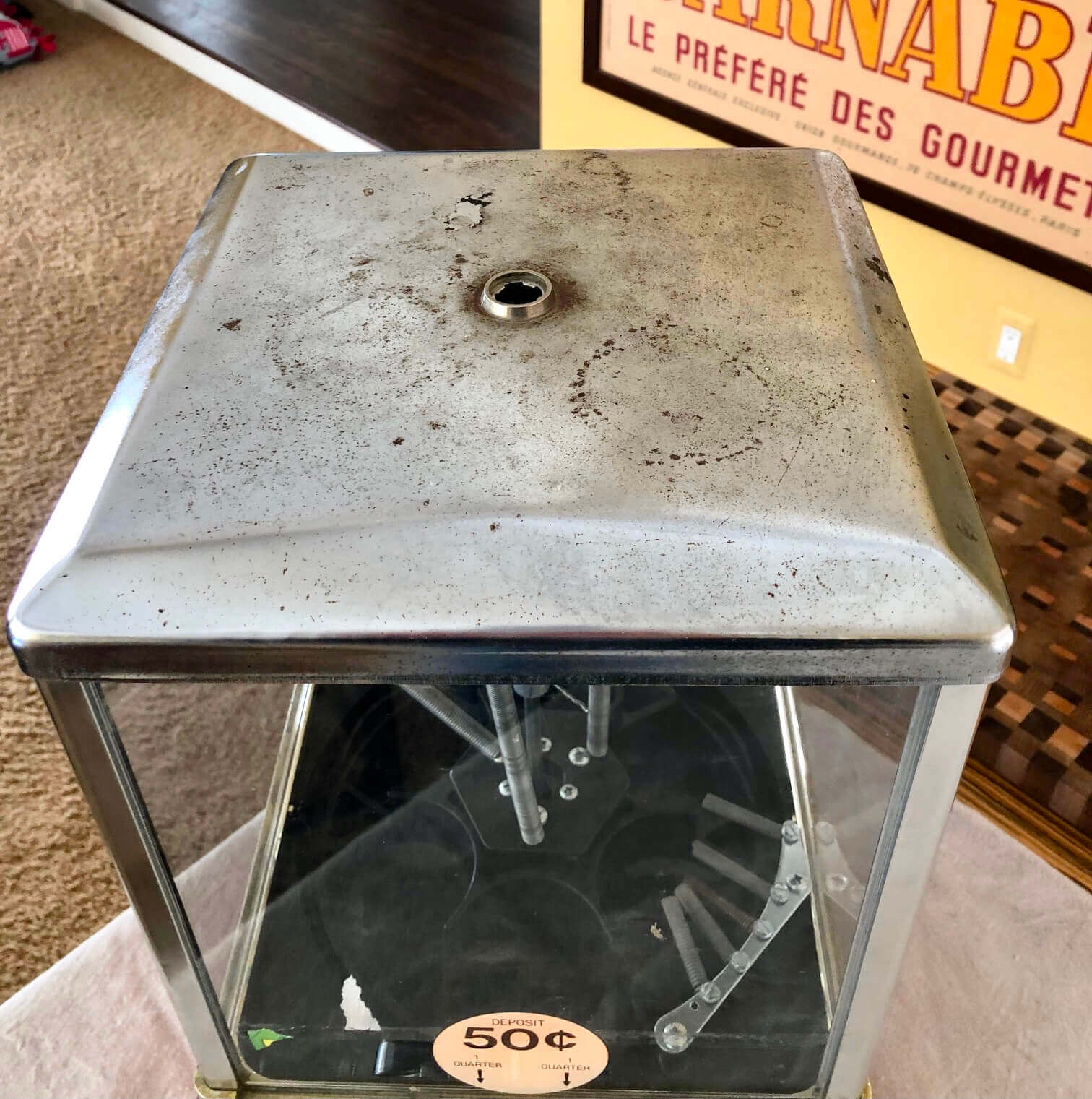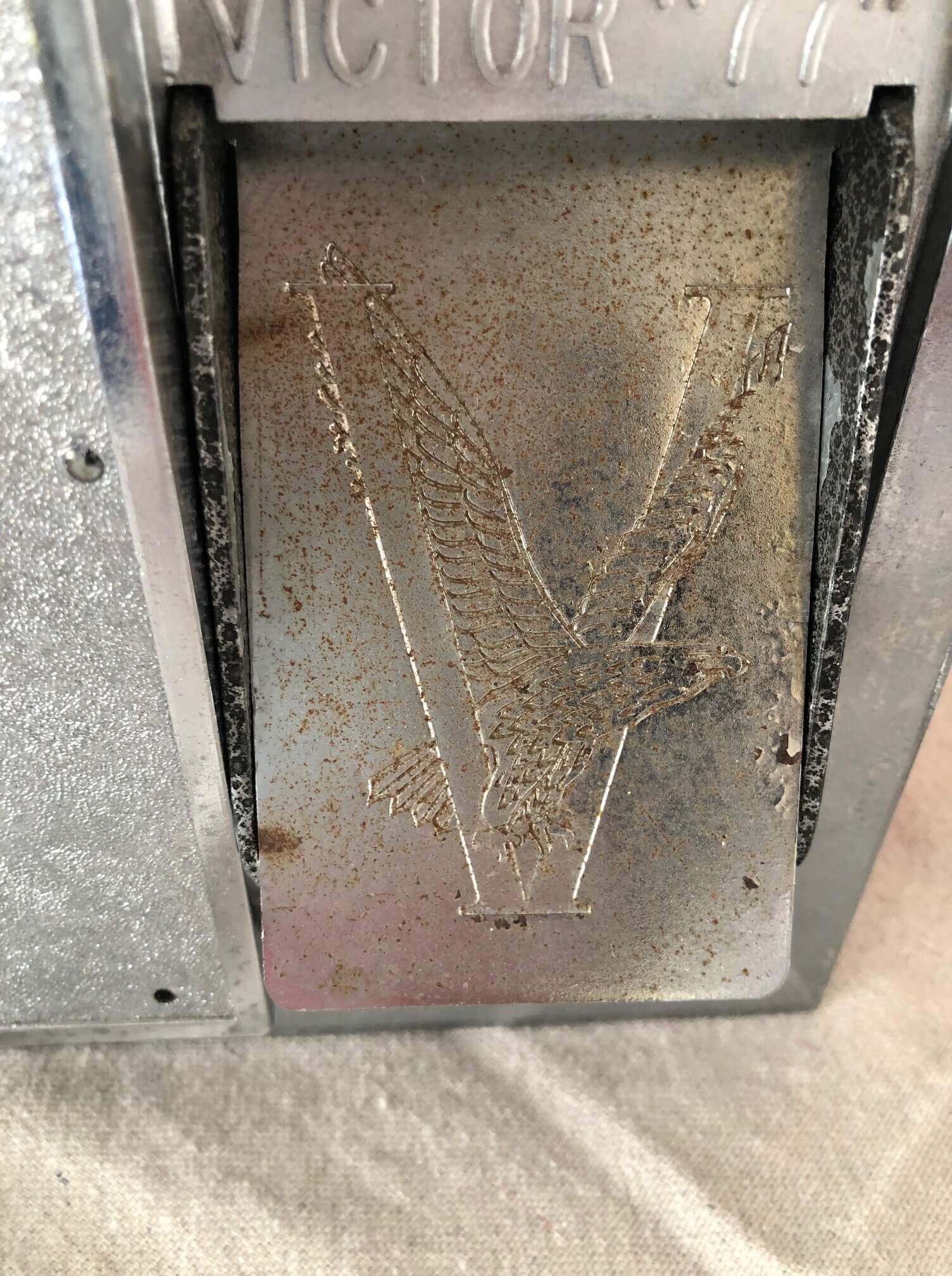 I refurbed it, which involved stripping all the paint and repainting it, removing rust and tarnish from all metallic parts, and replacing the plastic windows with glass. (Unfortunately, I didn't take many photos showing the refurb process.) I also got an original "50 Cents" sticker on eBay and found a guy who was willing to part with an old display card. Then I loaded it up with my helmets: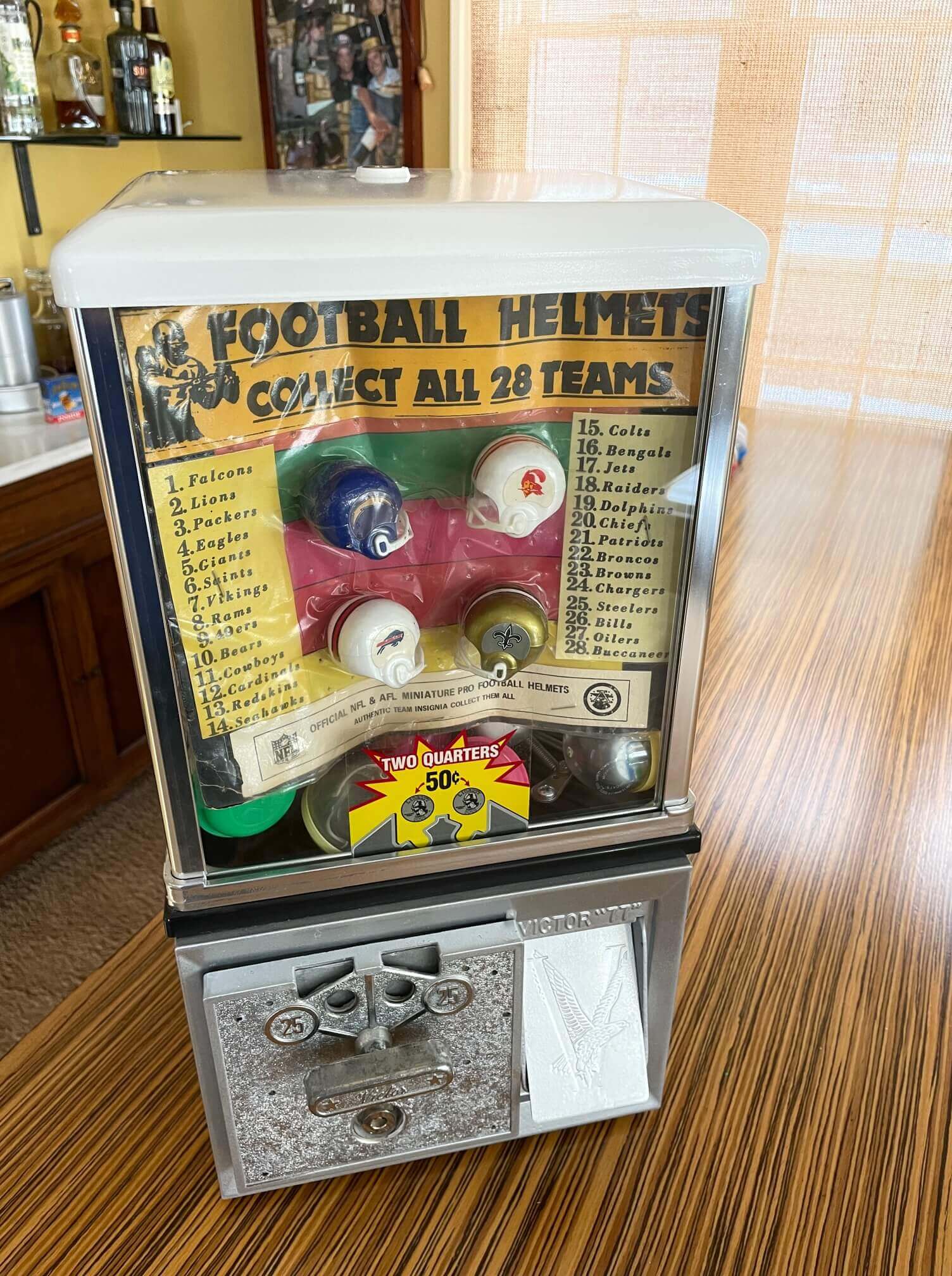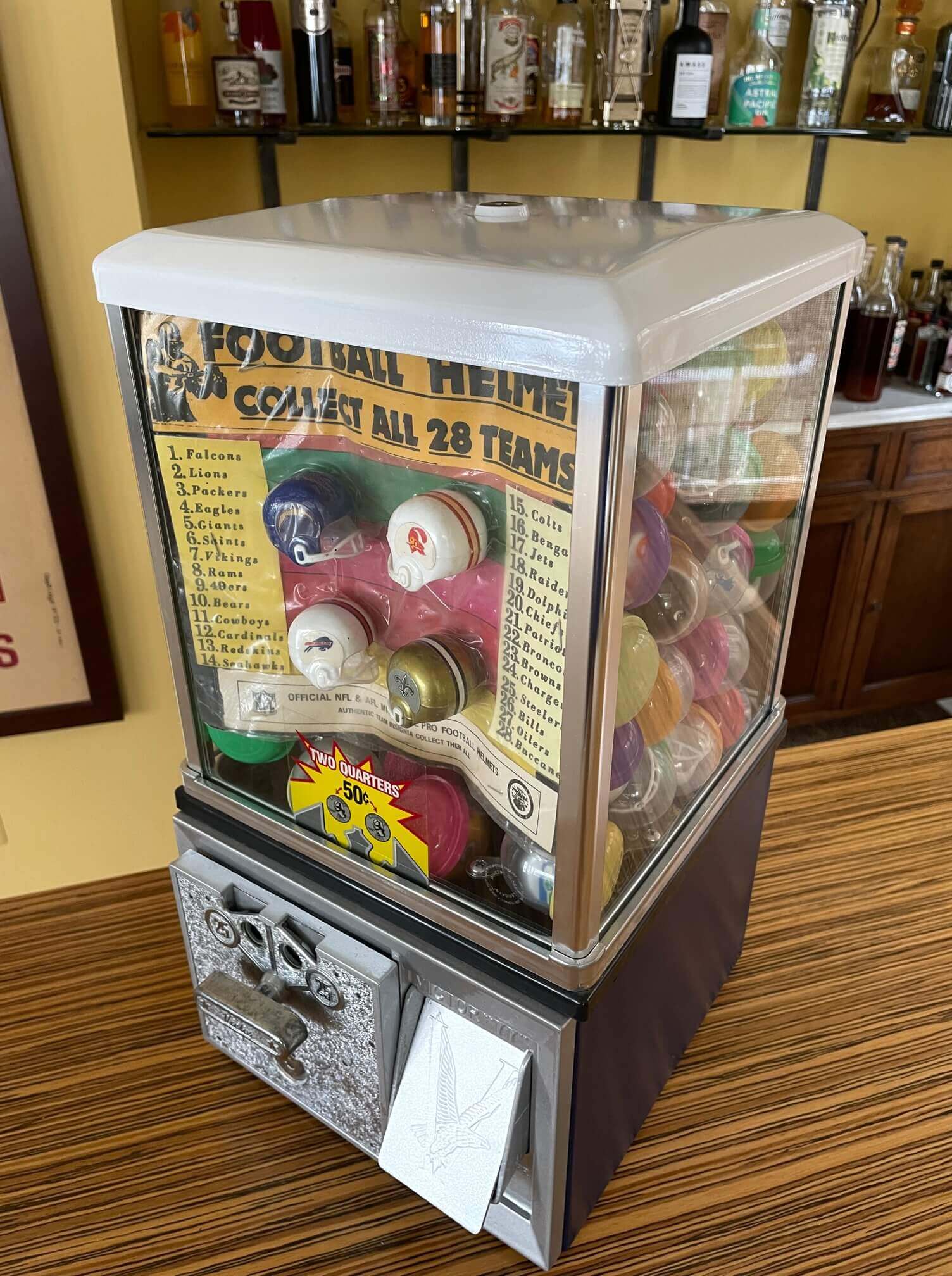 The gumball machine now sits on my bar. When people come over, they can take a helmet (as long as they have 50 cents). Rather then hold onto them, I thought it would be more meaningful if my friends experienced some of the joy I did every time I went to the supermarket.
This isn't the first time I've had a project related to my gumball helmets. Back when I was a kid, I wanted to display the helmets on a standings board that I could adjust every week, so my dad and I used one of my mom's baking sheets as the board then glued magnets on the sides of the helmets: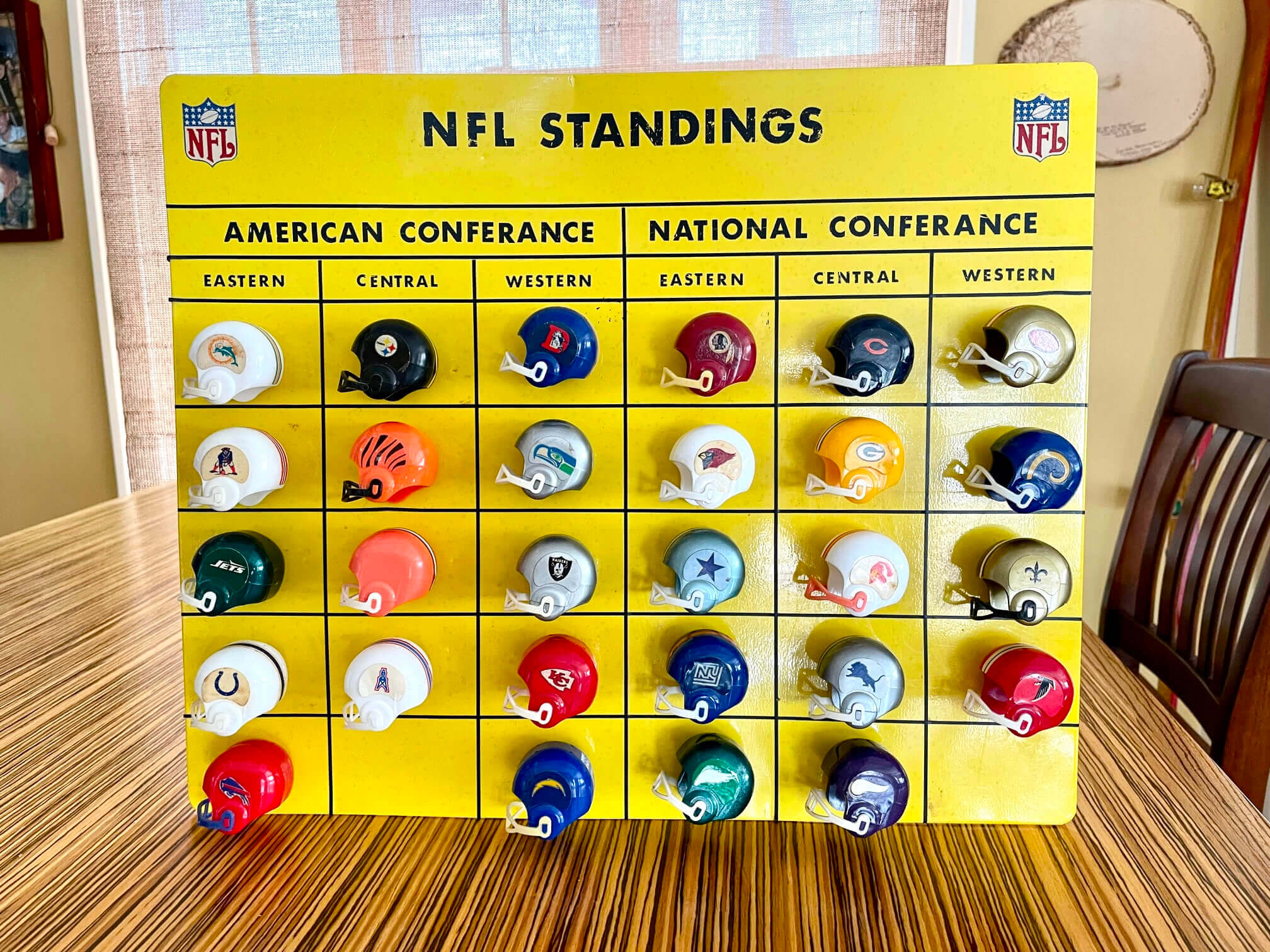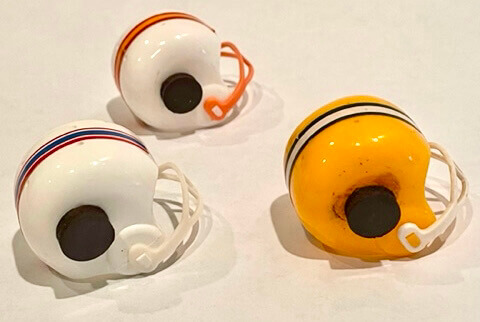 This was a true father/son project. We covered the baking sheet with contact paper. The lines are pinstripe tape from an auto parts store and the lettering is rub-on Letraset lettering from a crafts store. (This was circa 1974, so the options were limited!) It hung in our kitchen during football season from about 1975 until 1984, when I went away to college. I would update it as helmets changed. It has held up amazingly well over the decades and now hangs in my office.
———
Paul here. Man, what sensational stuff! Big thanks to Mike for sharing it with us.
• • • • •
• • • • •

Axiom reminder: In case you missed it on Thursday, my latest Bulletin article is a deep dive on Riddell's new Axiom helmet, which launched last month and is being touted as the latest leap in football helmet engineering. I tried to get beyond the press release hype by doing a lengthy interview with some of the higher-ups at Riddell. I learned a lot along the way and I think you will too.
My premium subscribers can read the article here. If you haven't yet subscribed, you can do that here (you'll need a Facebook account in order to pay). If you want more info on what you'll get for your money, you can find that here. And if the Facebook requirement is a dealbreaker, email me and I'll let you know about non-Facebook payment options and possible workarounds. Thanks!
• • • • •
• • • • •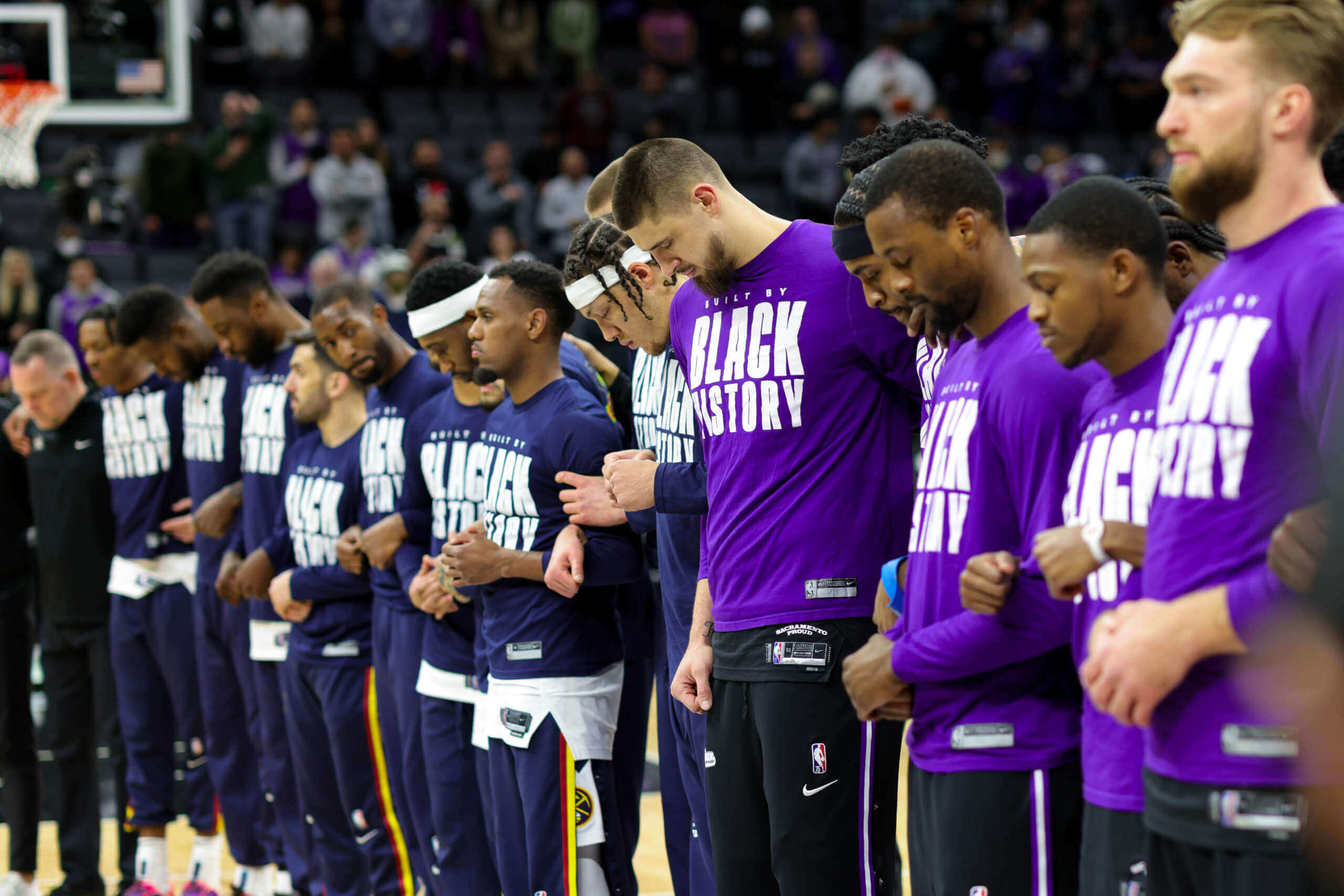 Photo by Sergio Estrada, USA Today Sports; click to enlarge
Echoes of war: In the aftermath of yesterday's Russian invasion of Ukraine, all members of the Nuggets and Kings locked arms for a moment of silence prior to their game last night as a gesture of solidarity with Kings center Alex Len (that's him in the center of the photo above), who's one of two Ukrainian players in the NBA. Len and the league's other Ukrainian player, Raptors guard Svi Mykhailiuk, issued a statement earlier in the day condemning the Russian aggression in their homeland. (The Raptors did not play last night but are scheduled to play tonight in Charlotte, so perhaps there will be a similar pregame gesture for Mykhailiuk.)
That was one of several ways in which the Russian invasion of Ukraine sent ripples across the sports world yesterday. Some of the developments weren't really uni-related or visual, so I'm going to skip those, but here are some items that definitely fall under Uni Watch's purview:
Soccer
• Manchester United terminated a sponsorship deal with the Russian airline Aeroflot.
• The second-tier German club FC Schalke 04, whose main shirt advertiser is the Russian state-owned energy firm Gazprom, announced that they are removing the ad from their kits.
• Barcelona and Napoli players posed with a "Stop War" banner before their Europa League game: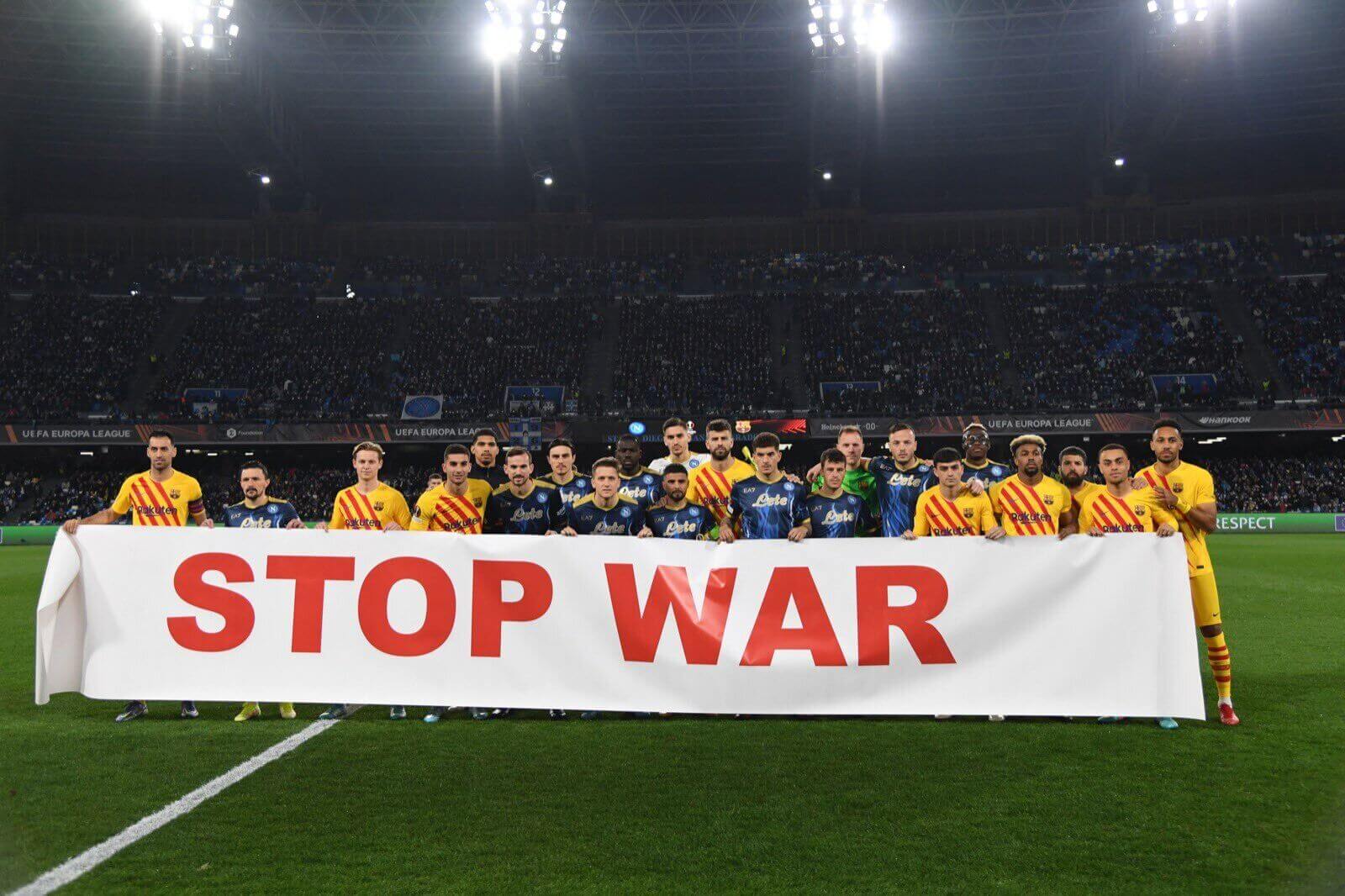 • Fans of the Norwegian club Bodø/Glimt held up Ukrainian flag placards during the team's Europa Conference League match against Celtic: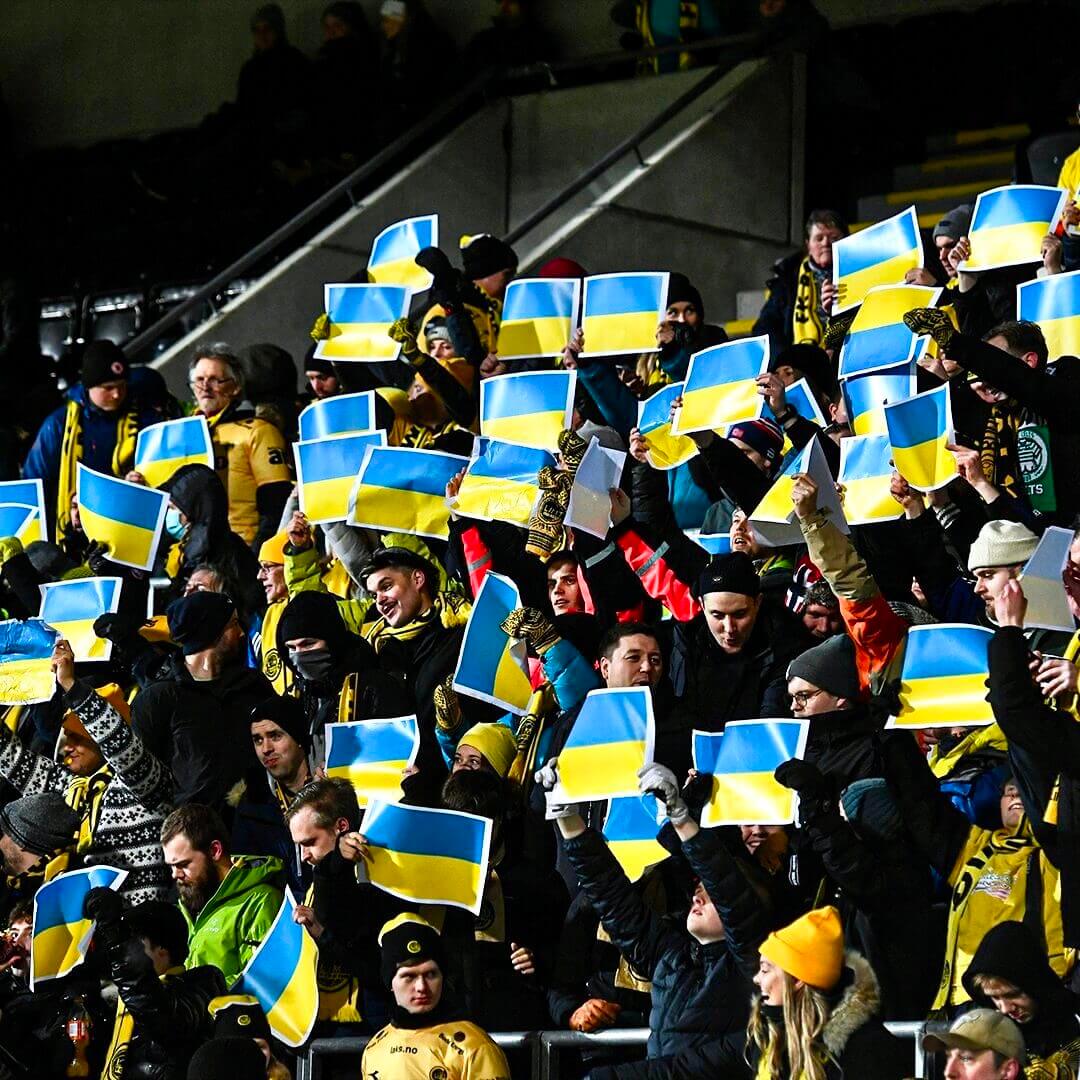 • Midfielder Ruslan Malinovskyi, who plays for the Italian Serie A team Atalanta, is Ukrainian. After scoring a goal yesterday, he pulled up his jersey to reveal a "No War in Ukraine" message on his undershirt: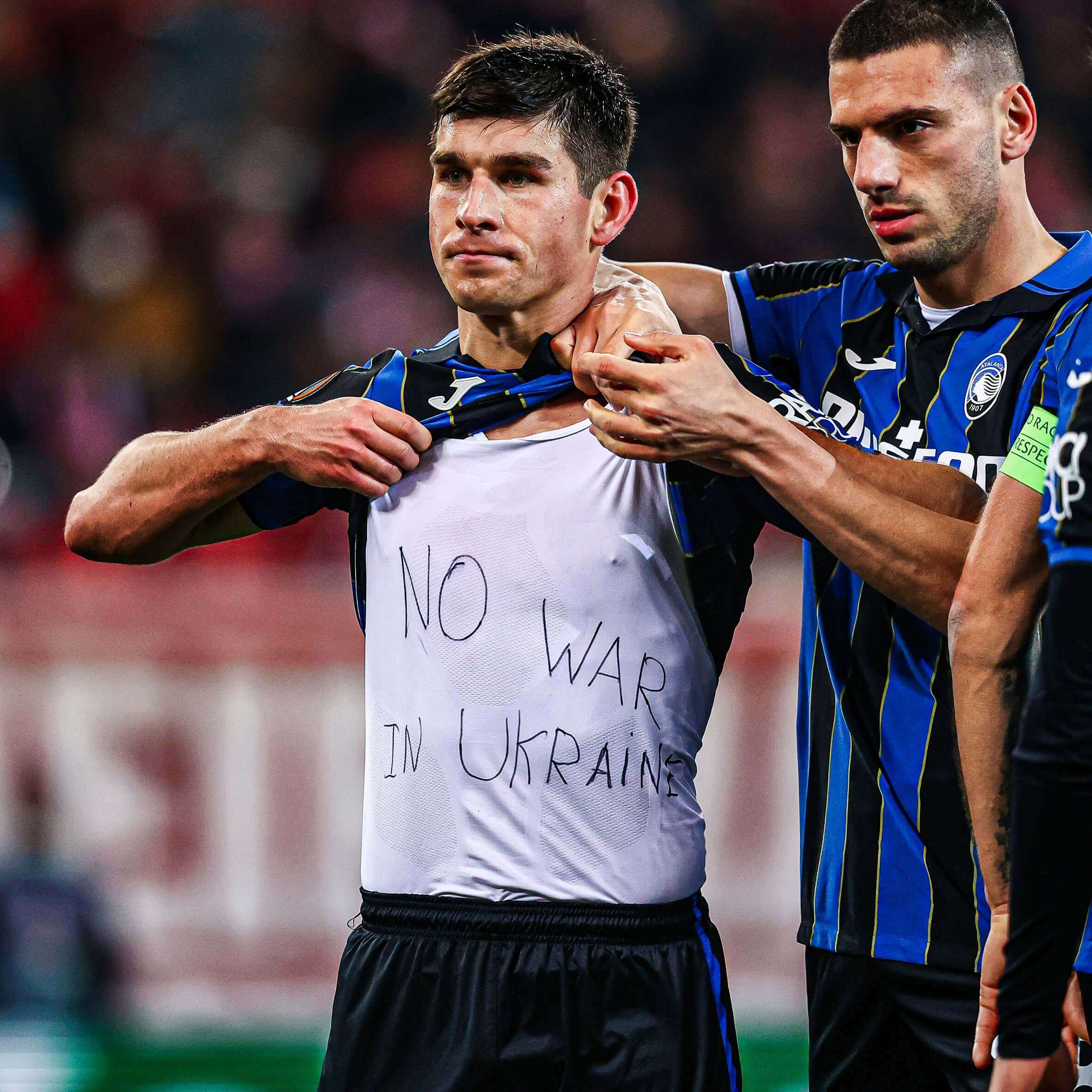 • Players for Czech side Slavia Prague wore "We Stand with Ukraine" pregame T-shirts: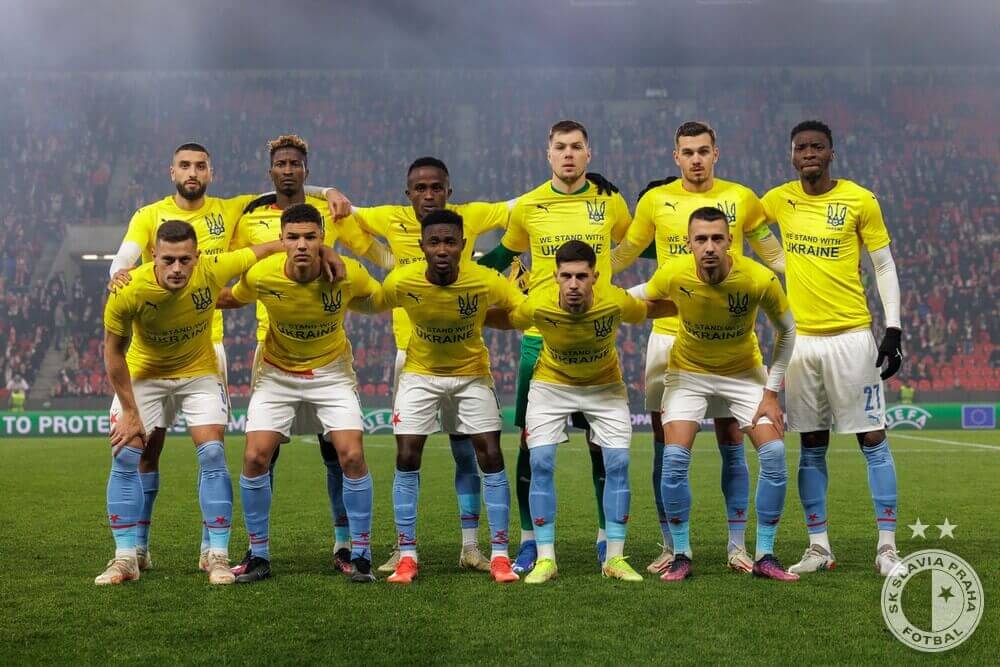 ———
Volleyball
• The Polish men's club Aluron CMC Warta Zawiercie, whose colors are usually green and yellow (!), showed support for Ukraine by rendering their crest in blue and yellow, the colors of the Ukrainian flag:
Tutaj miały być dzisiaj śmieszne obrazki z pączkami, ale nie będzie.

Wspieramy całym sercem naszych Sąsiadów, Ukraińców, w związku z bandycką napaścią na ich państwo 🇺🇦

Ten akt agresji nie mieści się w ramach cywilizowanego świata i nie może znaleźć usprawiedliwienia! pic.twitter.com/N2gyIZblLe

— Aluron CMC Warta Zawiercie (@AluronCMC) February 24, 2022
• The Polish women's team KS DevelopRes Rzeszow, whose color scheme is usually dominated by red, also switched to the Ukrainian colors:
#NoweZdjecieProfilowe pic.twitter.com/LliAqBI7Ls

— KS DevelopRes Rzeszów S.A. (@KSDevelopres) February 24, 2022
———
Formula 1
• The American-owned Haas team, whose paint scheme is usually patterned after the Russian flag and includes the logo of the Russian fertilizer company Uralkali, announced that it will run a plain white livery for today's final test session at the Circuit de Barcelona-Catalunya.
———
We'll continue to report on uni-related responses to the war as events warrant.
(My thanks to Jeremy Brahm, Ed Zelaski, and our own Jamie Rathjen and Anthony Emerson for their contributions to this section.)
• • • • •
• • • • •
Double-zero: Former NFL wide receiver Kenny Burrough died yesterday. He was the last NFL player to wear No. 00 — the league outlawed that number in 1973, but Burrough and Raiders center Jim Otto were grandfathered. Otto retired following the 1974 season, leaving Burrough as the sole double-zero standard-bearer until his own retirement in 1981. R.I.P.
• • • • •
• • • • •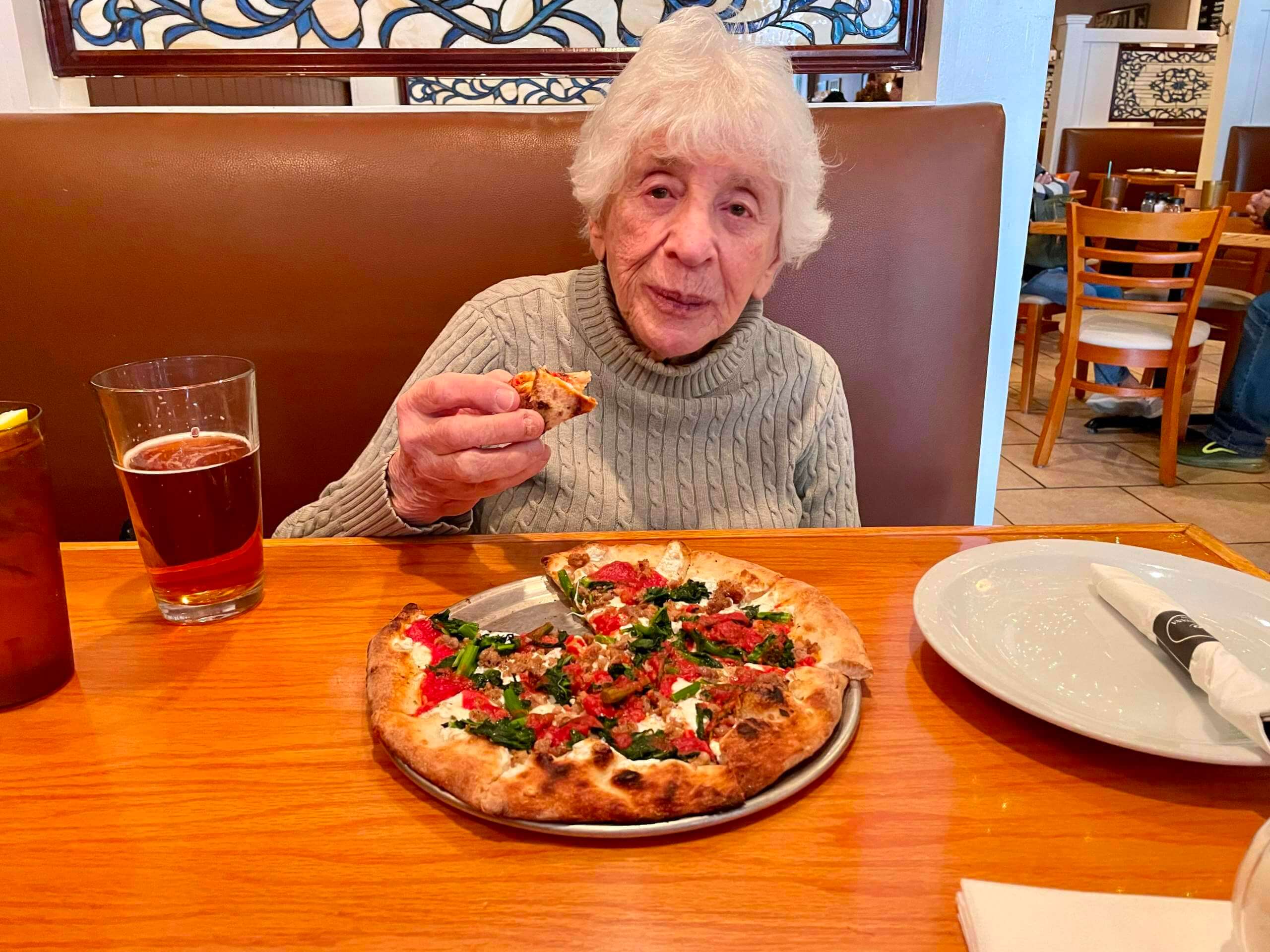 The best medicine: I went out to Long Island yesterday to see my mom. She's turning 98 in about six weeks and it's hitting her pretty hard. "It feels really old — much older than 97," she said. I told her I feel the same way about turning 58 next month. We're just a couple of fossils!
So we cheered ourselves up by going out for pizza and beer. Very restorative!
• • • • •
• • • • •
The Ticker
By Anthony Emerson

Baseball News: In his 2002 Topps rookie card, Rays outfielder Carl Crawford posed in his home white jersey but road grey pants (from Joe Varao). … Liberty University launched new powder blue unis yesterday with a Celine Dion-inspired video (from multiple readers).

Hockey News: Two new NHL memorial decals: "E.F." for the Rangers, for former coach Emile Francis, who died last Saturday, and "ED" for the Canucks, for Ernie Dougherty, the last surviving member of the original Pacific Coast Hockey League Canucks (from @brianspeaksnow and Wade Heidt, respectively). … Speaking of the Canucks, they also wore Black History Month pregame jerseys and flying skate throwbacks last night. … The Kraken also wore Black History Month pregame jerseys last night (from Wade Heidt). … The Predators retired longtime goalie Pekka Rinne's No. 35 last night (thanks, Phil). … The WHA's Minnesota Fighting Saints had an interesting way of displaying league history in their 1976 media guide. Note that folded teams' trees end with "R.I.P." (from Jimmy Lonetti). … The ECHL's Cincinnati Cyclones will celebrate National Chili Day on March 11 by rebranding as the Cincinnati Coneys (from K.C. Kless). … The WHL's Brandon Wheat Kings wore pinkwashed unis with with a ribbon-inspired crest for cancer awareness on Thursday night (from Wade Heidt). … Also from Wade: The WHL's Calgary Hitmen will wear one-off unis to honor team co-founder Bret Hart. Yes, that Bret Hart. … The NAHL's St. Cloud Norsemen have unveiled a GFGS third jersey.

College/High School Hoops News: Indiana men wore Honoring Black Excellence uniforms for last night's game against Maryland (thanks, Phil). … Iowa State men wore warmup shirts earlier this week to honor John Crawford, the team's first Black player (from Kary Klismet). … Also from Kary, Keyano College in Alberta, Canada, has new uniforms designed by a First Nations artist to reflect the region's Indigenous heritage.

Soccer News: FootyHeadlines has a rendering of what Manchester United's 2022-23 third kit will look like. … The following are all from Kary Klismet: New third kit for Paraguayan side Club Olimpia. … New uniforms for the Rio Grande Valley FC Toros of the USL Championship. … ESPN has created a "power ranking" of MLS jerseys.

Grab Bag: Our own Jamie Rathjen sends along another AFL Women Indigenous design, for Melbourne. … Here's Ferrari Formula 1 driver Charles Leclerc's 2022 helmet (from Kary Klismet).
• • • • •
And that'll do it for this week. Enjoy Phil's weekend content and I'll see you back here on Monday. Oh, and happy early birthday to Todd Radom, who'll be celebrating another trip around the sun on Sunday! — Paul