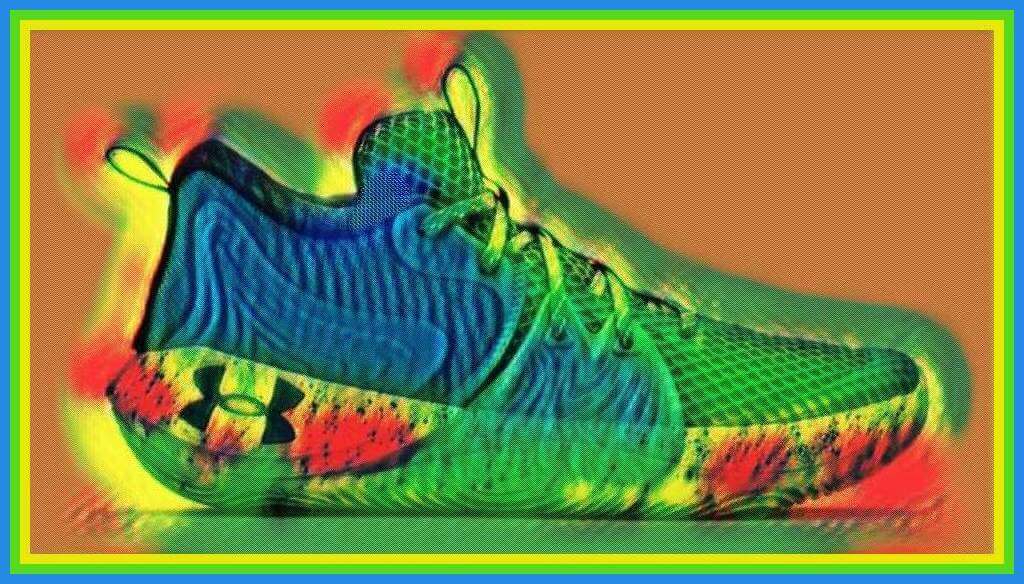 By Phil Hecken, with Matthew Weidner
Follow @PhilHecken

Good Sunday morning, Uni Watch readers. Hope all is well with one and all.
The NBA All-Star Game is tonight. And if you haven't been paying attention, this year, the uniforms really suck. More and more, though, it's not about the unis — it's about the footwear the stars will be wearing, so it's time to see the shoes the NBA All Stars will be wearing for the big game. As most of you are probably aware, I'm not a "sneaker" guy, but a LOT of you out there are, and I've been doing (always with the assistance of a sneakerhead) the NBA All-Star Game sneaker preview since 2009.
This year I am again joined by Matthew Weidner, whose back for his fourth year bringing you his p/review of the sneakerpalooza. Matt took up the mantle of ASG shoe reviewer after the erstwhile Matt Powers retired a few years back.
This may be out of my wheelhouse — but it's definitely in the sweet spot for Matt. So, without further ado, here's Matt and your …
• • • • •
NBA All-Star Game Sneaker Preview
by Matt Weidner
Hello, fellow Uni Watchers! I am back with my annual look at the sneakers being trotted out for the NBA All-Star Game. The ASG (along with Christmas Day) is a showcase for the brands to put out special product for their biggest stars.
This year's affair comes to us from Cleveland, though you wouldn't have been able to guess that from the abysmally generic uniforms. The Cavs have such an eclectic uniform history that surely Nike and the league could have come up with something better than what we got. If their number one priority is the consuming public buying merch (which it is), then why put out a product that no one wants?
I'm not here to worry about the uniforms, though. Paul and Phil do a much better job than I ever could covering those. Let's get into the sneakers that we will see on court come Sunday night's ballyhooed exhibition game.
__________
Team LeBron Starters
Captain – LeBron James — Los Angeles Lakers
Nike LeBron XIX "Chosen 1"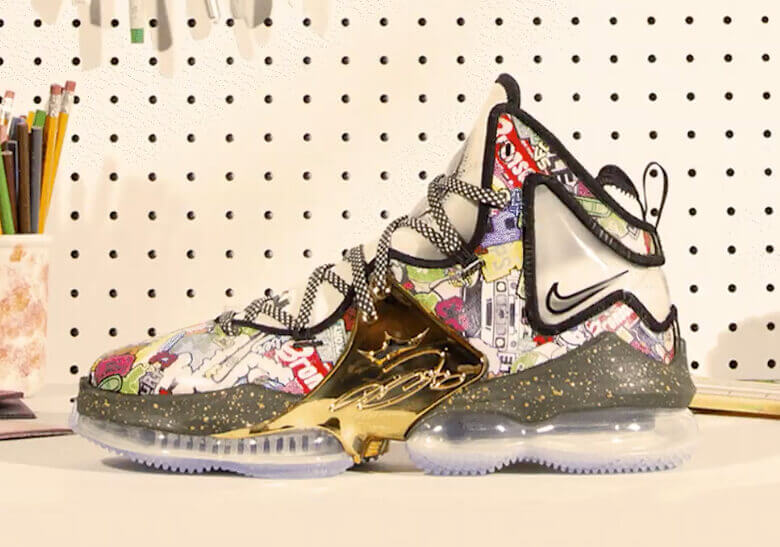 Once again LeBron James is a captain for the All-Star Game. He will wear his newest signature sneaker, the Nike LeBron XIX "Chosen 1", for this year's game. The sneaker features a synthetic upper that will wear away with use showcasing the multicolored graphics beneath. The colorway is meant to commemorate LeBron's return to Cleveland for the ASG.
_____
Giannis Antetokounmpo –- Milwaukee Bucks
Nike Zoom Freak 3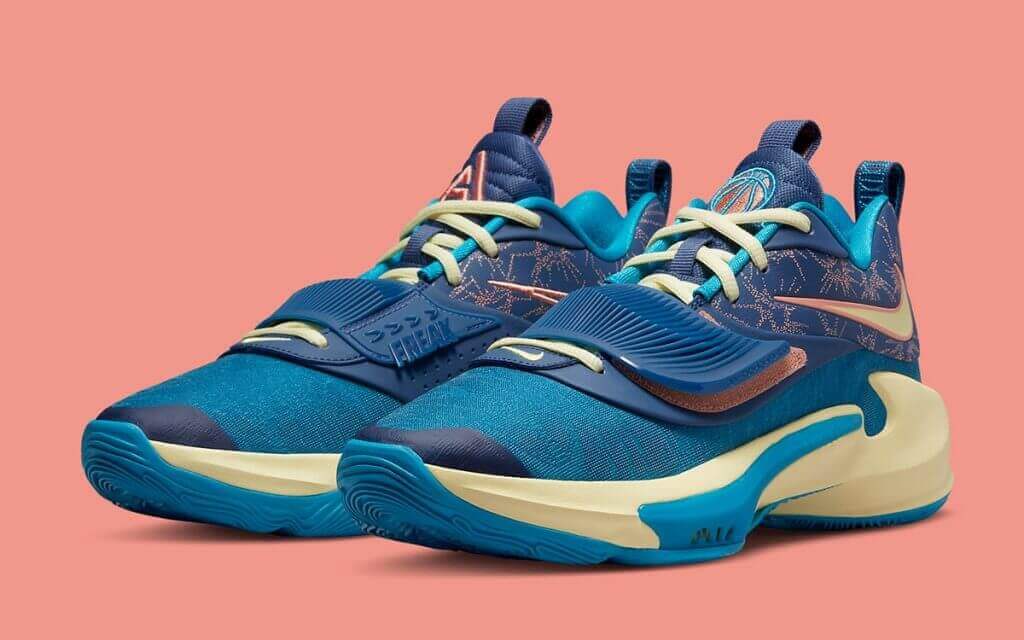 Giannis will be lacing up his third signature sneaker, the Nike Zoom Freak 3, for his trip to Cleveland for ASG 2022.
_____
Stephen Curry -– Golden State Warriors
Curry Flow 9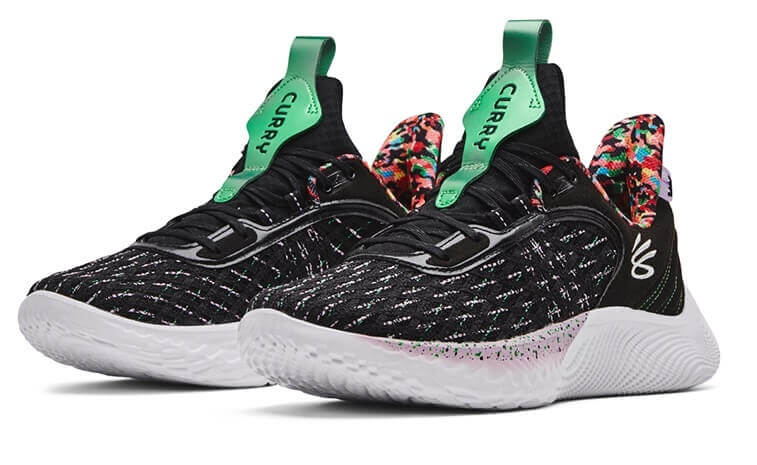 Steph is on his ninth signature sneaker with Under Armour. This is the second model since UA bestowed Curry with his own "brand" and removed their own branding from his sneakers.
_____
DeMar DeRozan -– Chicago Bulls
Nike Kobe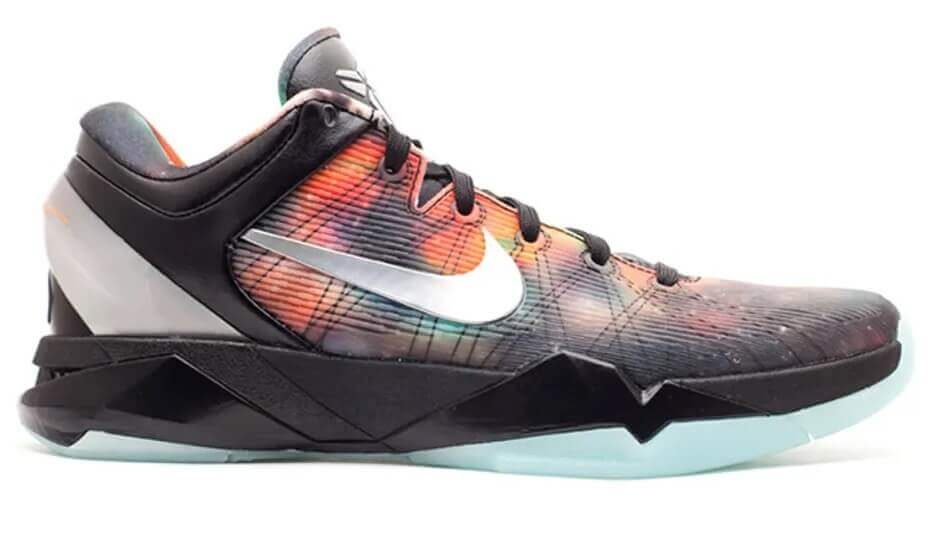 DeRozan has been wearing sneakers from the Nike Kobe line since he came into the league in 2009. Many players have stopped wearing Kobe models since his estate severed ties with Nike last year, but DeRozan continues to do so. The brand is not creating new retail versions of Kobe's sneakers, but that doesn't mean certain players can't get their own colorways. If I were a betting man, I'd say DeRozan pulls out the Nike Kobe 7 "Galaxy" that Bryant wore in 2012.
_____
Nikola Jokić -– Denver Nuggets
Nike Air Zoom GT Jump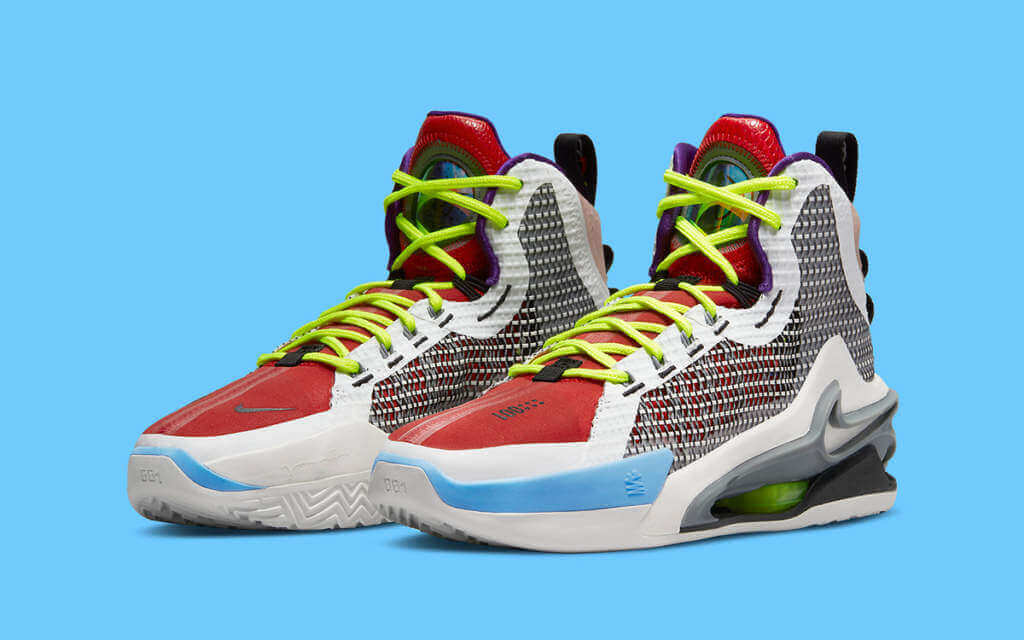 This is a new tech-heavy model that Nike has released recently. Jokić has been wearing them of late, so expect them to be on foot for the All-Star Game.
__________
Team LeBron Reserves
Team LeBron's reserves are comprised of some familiar faces and some newcomers who are working their way up the food chain. First up is Mavs guard Luka Dončić who was a starter in the 2021 game. He is under contract with Jordan Brand and will lace up the Jordan Zoom Separate. Also, under the Jordan banner is All-Star Game stalwart Chris Paul of the Phoenix Suns. CP will wear an ASG colorway of the Jordan CP3.XII.
Two members of the hometown Cleveland Cavaliers will also be members of Team LeBron — guard Darius Garland and center Jarret Allen. Both Garland and Allen wear sneakers from the Nike Kyrie line. Expect Garland to lace up the newest version, the Nike Kyrie 8, in the All-Star Game/Valentine's Day colorway since Irving himself won't be making the trip to Cleveland. Allen has been wearing the Nike Kyrie 3 for years now, so I wouldn't anticipate that changing for his ASG debut.
Both Heat forward Jimmy Butler and Raptor's guard Fred VanVleet are signed to sneaker contracts with Chinese brand Li-Ning. Butler wears the Li-Ning Yu Shuai 14, and FVV primarily plays in the Li-Ning Speed 8.
Rounding out the team are two adidas signature athletes. First is Utah guard Donovan Mitchell who will be wearing his third signature sneaker with the brand — the DON Issue #3. The last member of the team is new 76ers guard James Harden, who will not be suiting up due to injury. He would have worn the adidas Harden Vol. 6.
+ + + + + + + + + +
Team Durant Starters
Captain – Kevin Durant — Brooklyn Nets – OUT
Nike KD 14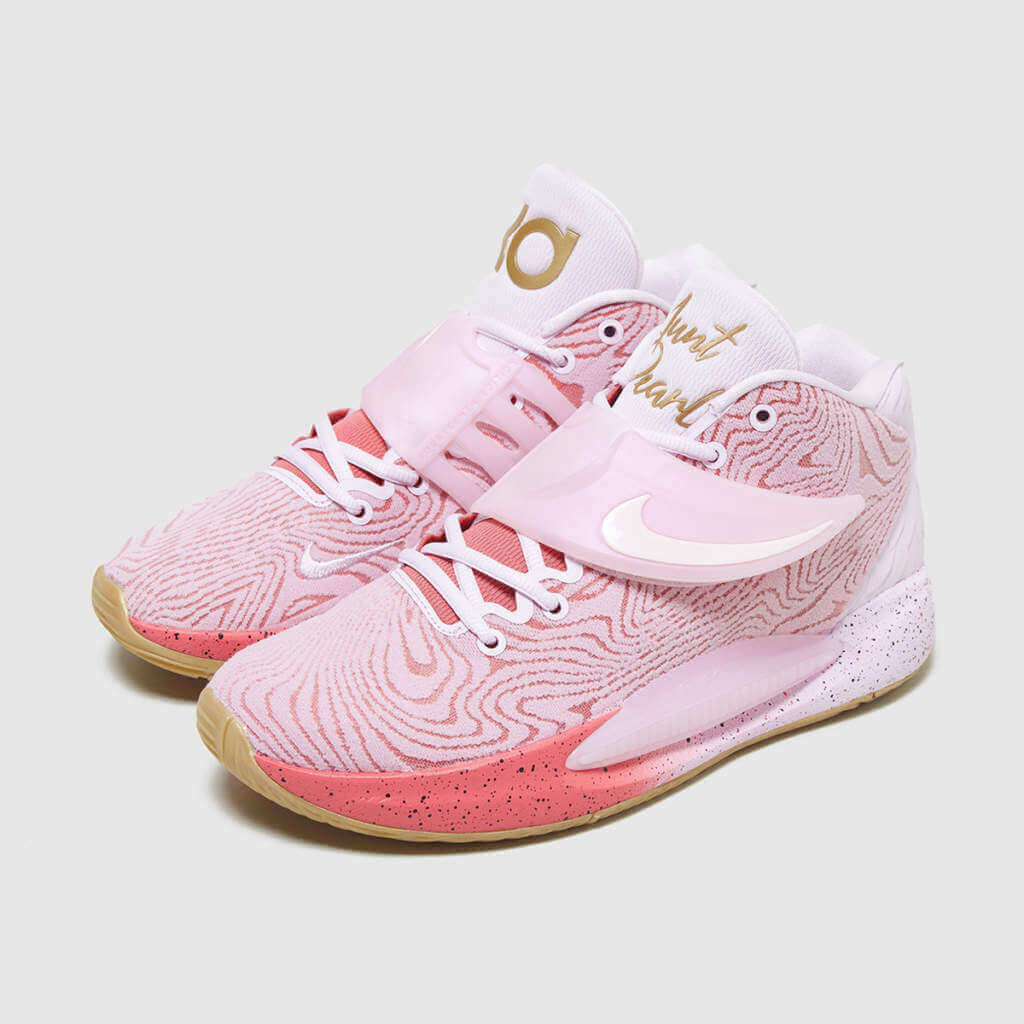 Durant was tabbed a team captain as the Eastern Conference's leading vote getter, but he has opted out of the game due to injury for the second year in a row. Though he will not be playing, there will be an ASG colorway of his signature Nike KD 14.
_____
Ja Morant — Memphis Grizzlies
Nike KD 4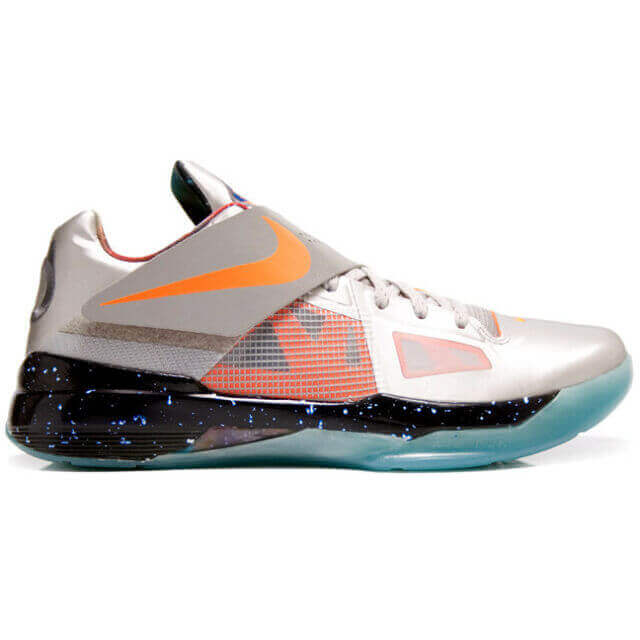 Morant has worn assorted Nike models throughout the season. Recently he has primarily been playing in the Nike KD 4. It would be apropos for him to wear the KD 4 "Galaxy" that Durant wore 10 years ago.
_____
Joel Embiid — Philadelphia 76ers
Under Armour Embiid 1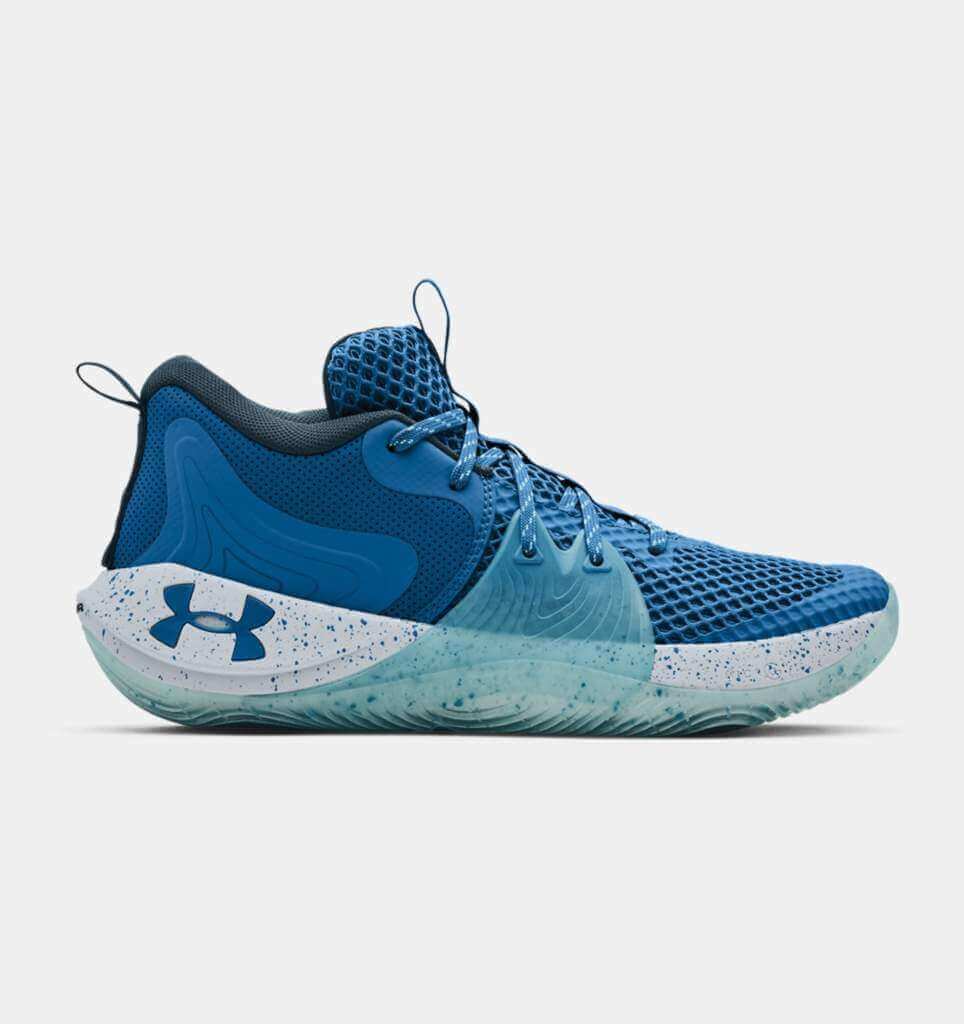 My favorite player has been wearing his first signature sneaker since its debut in September 2020. Unfortunately for Sixers' fans, it appears that the Under Armour Embiid 1 will be his first and last signature sneaker with the brand. There were leaks of a potential Embiid 2 that surfaced in 2021, but that shoe has been released as the UA HOVR Havoc 4. Expect Joel to lace up a pair of Embiid 1s for the second year in a row.
_____
Jayson Tatum — Boston Celtics
Air Jordan XXXVI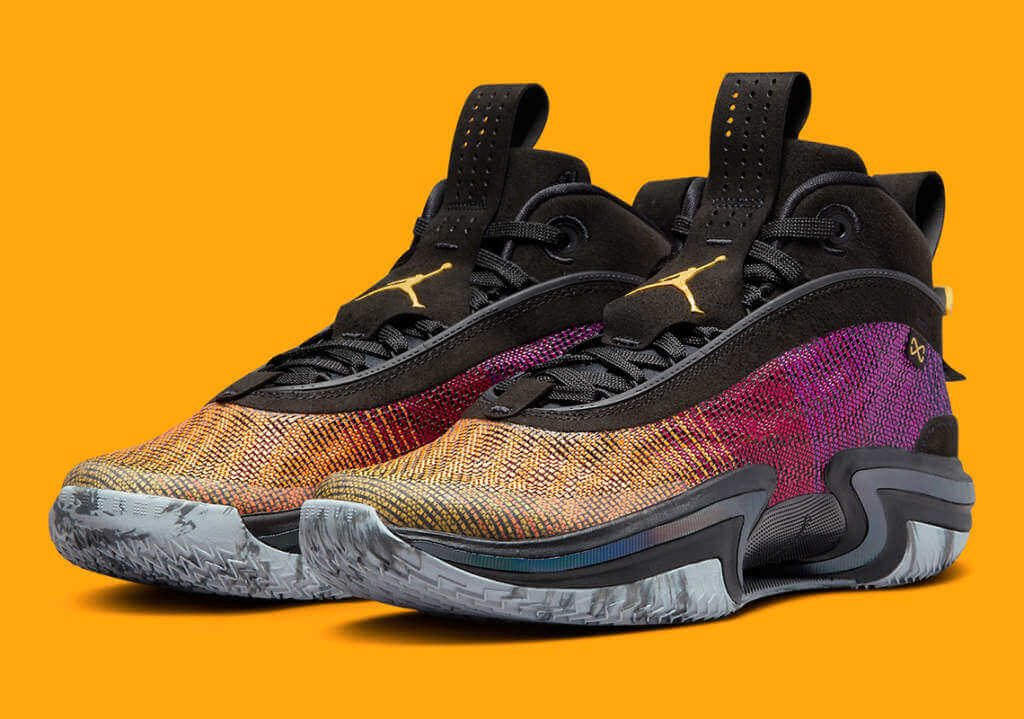 Tatum was chosen to replace Durant in the starting lineup on Sunday night. He will be wearing an All-Star Game make-up of the Air Jordan XXXVI (36).
_____
Trae Young — Atlanta Hawks
adidas Trae Young 1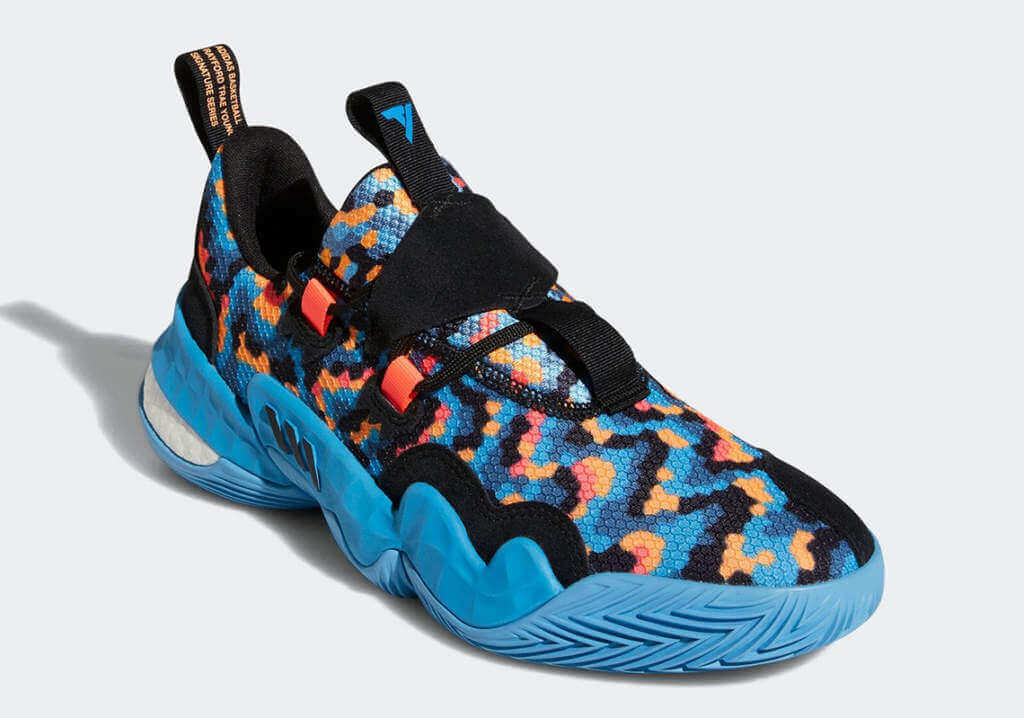 Young will making his first ASG start in his first signature sneaker. He joins fellow All-Stars Donovan Mitchell and James Harden with his own signature adidas shoe.
_____
Andrew Wiggins — Golden State Warriors
PEAK-Taichi Andrew Wiggins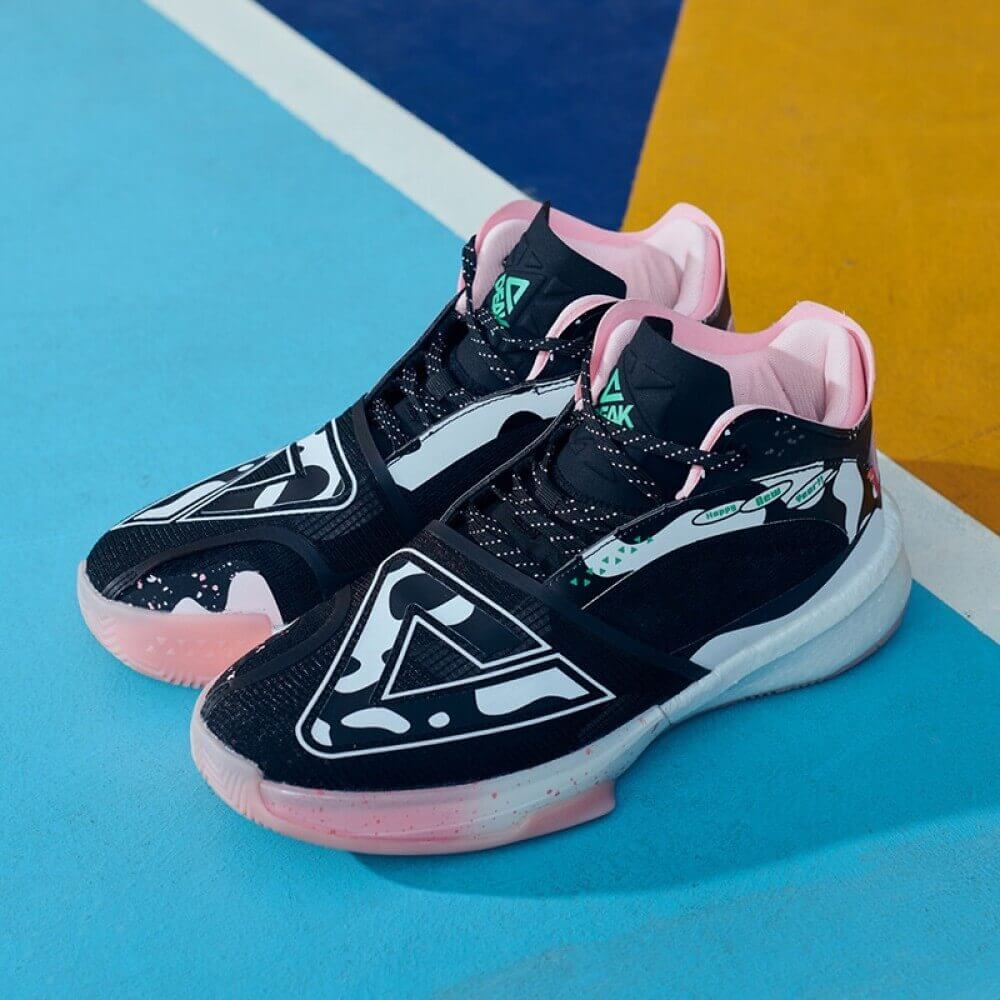 Like Butler and VanVleet above, Wiggins has a contract with a Chinese sneaker brand. Unlike them, he is signed with PEAK as opposed to Li-Ning. He will lace up an All-Star version of the PEAK-Taichi in his first ASG appearance.
__________
Team Durant Reserves
The only reserve on Team Durant with his own signature sneaker is Charlotte guard LeMelo Ball. He will be wearing the Puma MB.01 in this mis-match colorway inspired by the cartoon Rick and Morty.
Suns' guard Devin Booker, like DeRozan, wears solely Nike Kobe models. As I mentioned previously, I would anticipate the Nike Kobe 7 "Galaxy" that Bryant wore in the 2012 ASG to make an appearance.
New Balance will be represented on court this year by at least one participant. First time All-Star Dejounte Murray of the San Antonio Spurs will be wearing the New Balance Two Wxy 2. He may be joined in NBs by Bulls guard Zach LaVine, who became a sneaker free agent when his adidas deal expired in October 2021. He has been wearing New Balance recently but has worn a litany of different sneakers and brands throughout the season. Reebok is releasing a new model All-Star weekend dubbed the Instapump Fury Zone. They could easily throw some money at him to wear them in the game. Your guess is as good as mine when it comes to what LaVine will have on foot come Sunday.
The remaining players for Team Durant all wear Nike. Bucks guard Khris Middleton plays in the Nike Air Zoom GT Cut. The two big men on the roster — Minnesota's Karl-Anthony Towns and Utah's Rudy Gobert — both wear older Nike models that they've grown accustomed to. Towns wears the Nike Hyperdunk X which was released in 2018, while Gobert laces up the Nike Zoom Rize from 2019.
Warriors' forward Draymond Green was selected to play but had to opt out due to injury. He would have been the lone player wearing classic basketball brand Converse on court, as he would have played in the Converse All Star BB Jet.
__________
This year's rundown was tougher than most since the brands released very little information heading into the game. My guess is that they had limited inventory due to the dreaded "supply chain issues" and didn't want to roll out sneakers that couldn't be immediately purchased with our hard-earned cash.
As always, much thanks to Phil and Paul for the space to do my thing – and their hard work making everything run smoothly on a day-to-day basis. If you're into sneakers or the Sixers or both, I would appreciate a follow on Twitter at @SixersSneakers. See ya next year!
• • • • •
Thanks, Matt! Nice rundown as always. OK readers, if you're a sneakerhead (or even if you're not) — what's your verdict on this year's specialty kicks? I believe the great Michael Jordan (or maybe it was Spike Lee) once said, "It's gotta be the shoes." Did the sneaker companies deliver this time around?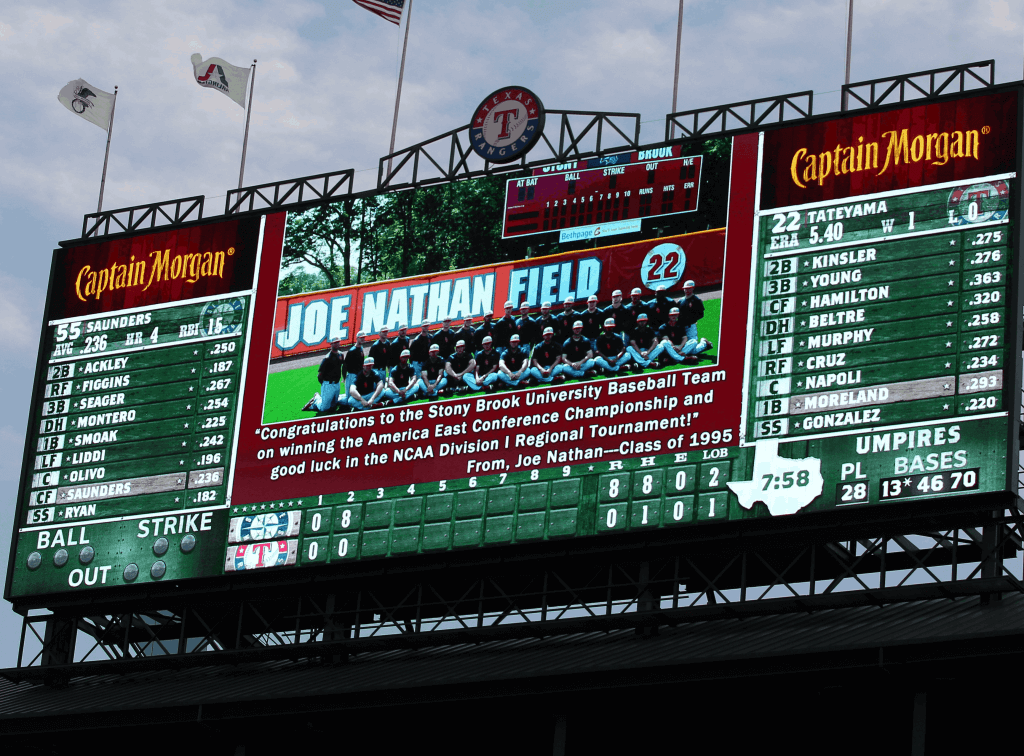 Guess The Game…
from the scoreboard
Today's scoreboard comes from Angus MacRory.
The premise of the game (GTGFTS) is simple: I'll post a scoreboard and you guys simply identify the game depicted. In the past, I don't know if I've ever completely stumped you (some are easier than others).
Here's the Scoreboard. In the comments below, try to identify the game (date & location, as well as final score). If anything noteworthy occurred during the game, please add that in (and if you were AT the game, well bonus points for you!):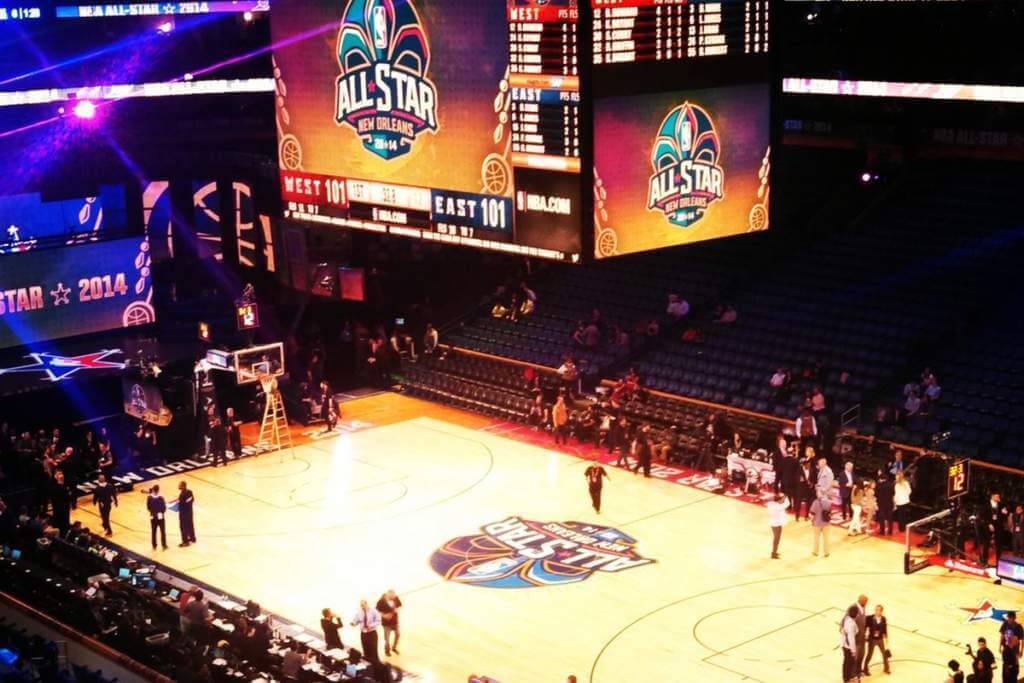 Please continue sending these in! You're welcome to send me any scoreboard photos (with answers please), and I'll keep running them.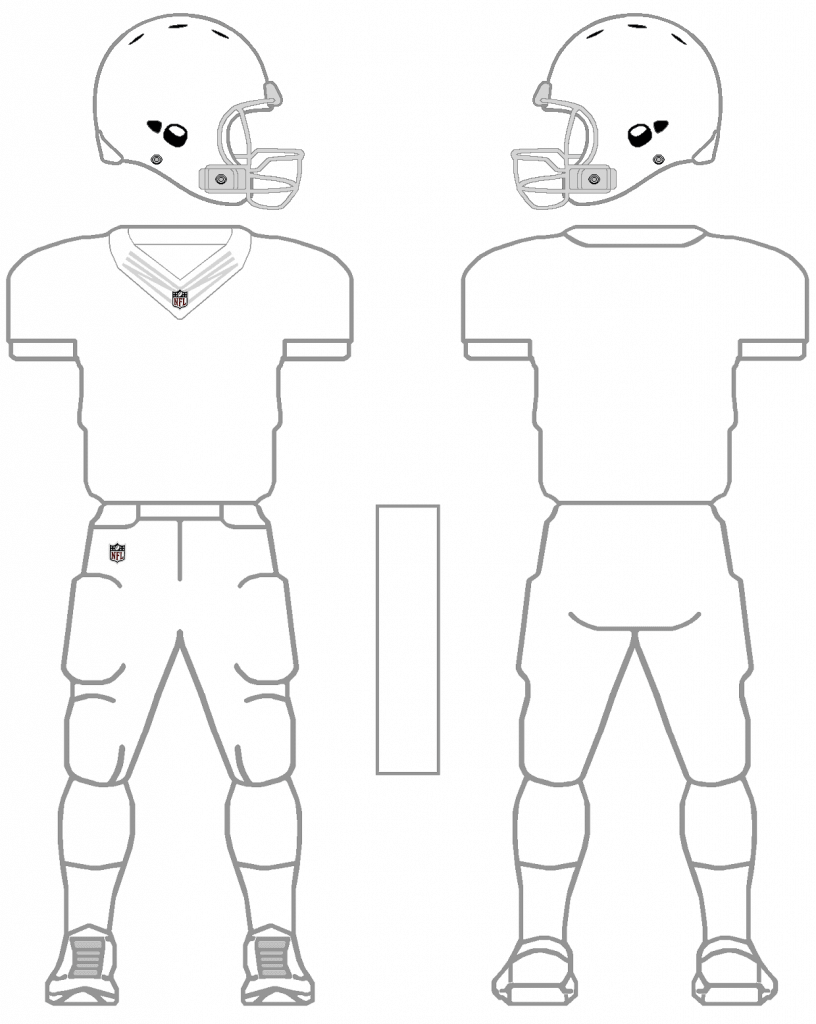 Uni Concepts & Tweaks
Time for more Uni Tweaks from the UW readership.
I hope you guys like this feature and will want to continue to submit your concepts and tweaks to me. If you do, Shoot me an E-mail (Phil (dot) Hecken (at) gmail (dot) com).
• • • • •
Today's concepts come from Greg Seher:
Hi Phil,

Just throwing a Commanders concept your way for the weekend entries. Coming up with something better for the logo; a military style roundel with a stencil W. The double red stripes of the DC flag with the thin middle stripe are in there, as well as the three stars. That stripe pattern is reflected on the jersey, pants, and socks. The (I think) fan favorite yellow pants return. Those pants along with the yellow numbers on jersey clearly say Washington football, but are a strong enough departure from their most recently look to be considered a fresh start for the team.

-Greg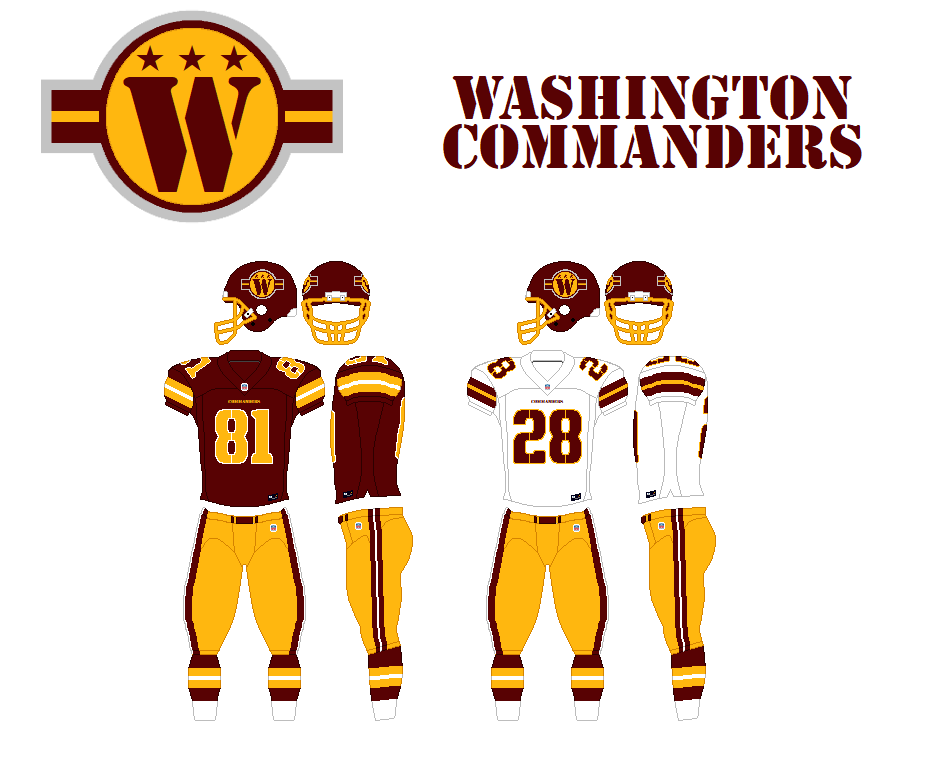 • • • • •
OK readers (and concepters). If you have some tweaks or concepts, shoot 'em my way with a brief description of your creation and I'll run 'em here.


NBA All-Star rankings reminder: Paul here. With the NBA All-Star Game taking place on Sunday night (they'll be wearing the designs shown above), my Bulletin article this week is a ranking of the 10 best and 10 worst uniforms in NBA All-Star history.
My premium subscribers can read the article here. If you haven't yet subscribed, you can do that here (you'll need a Facebook account in order to pay). If you want more info on what you'll get for your money, you can find that here. And if the Facebook requirement is a dealbreaker, email me and I'll let you know about non-Facebook payment options and possible workarounds.
That's it for me. Now back to Phil!


Fifth Time's a Charm…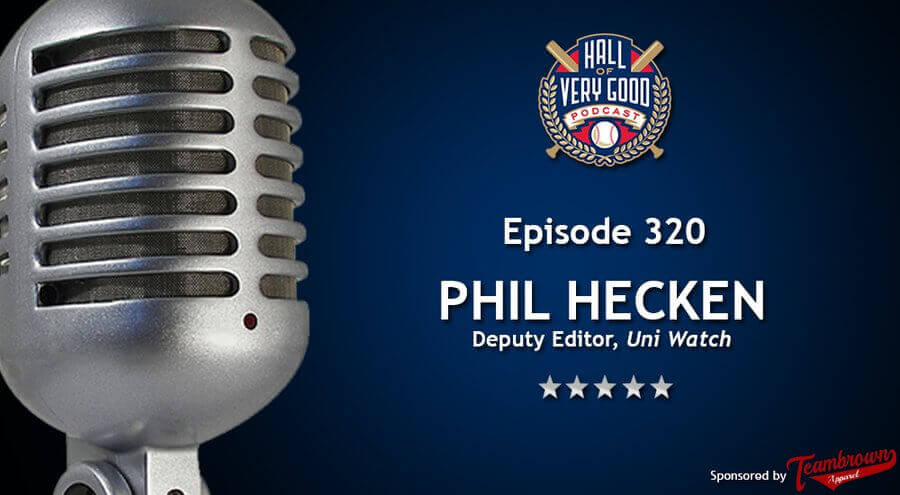 A little over a week ago, I was a guest (my fifth appearance!) on the Shawn Anderson — and his trusty sidekick Lou Olsen — podcast, "Hall of the Very Good." I'd previously done two solo appearances, and the past two were with the great Todd Radom.
The boys usually have a specific topic they'd like me to discuss, but this time around they went with the "AMA" (Ask Me Anything) format where folks from the Twittersphere would ask me questions — on ANY topic — to be answered on the show. As expected, most of the topics involved uniforms in some way, but there were a couple where uniforms were certainly NOT the topic of discussion. I had a really fun time and I thought the show went well.
Topics addressed included, but were not limited to, what I thought the best logo(s) in sports are, will the Arizona Cardinals get new unis this season, why Rob Manfred hates baseball and is the worst commissioner ever, and of course, why a hot dog is NOT a sandwich. I also give my opinion on the new uniforms for the Washington Commanders (first time I've ever expressed those views publicly) and much more.
So please, if you have a bit of spare time, give it a listen! I'd love to hear your thoughts on some of the things we discussed.
Link to listen is below:


Uni Watch News Ticker
By Phil

Baseball News: MLB.com has a feature exploring the ins and outs of Ripken Stadium, home of the Aberdeen (Md.) IronBirds, the Baltimore Orioles' High-A affiliate (from Kary Klismet). … Cool story from Paul Carr: "I found someone online selling what I initially thought were Padres 2015 St. Patrick's Day caps but quickly realized they were newer. However, the Padres haven't worn all green caps that look like this since St. Patrick's Day 2015. After talking to some other collectors, the consensus is that these were made for St. Patrick's Day 2020, since the Padres had abandoned the "swastika" logo caps early in spring training. New Era must have had their Miami-area 'assembly plant' quickly put these together. Since spring training was cancelled before St. Patrick's Day, these caps never got to be used." … Yeesh. Not a terribly good looking uniform matchup for Tennessee/UCF softball yesterday (from VictoryCB). … The Orioles shared a photo of a Paul McCartney jersey since he is stopping this Summer in Baltimore. If you look at the orange jersey you can see the 30th anniversary OPACY patch on the sleeve (from Austin R.). … New uniforms for BYU (from Josh Hjelmstad).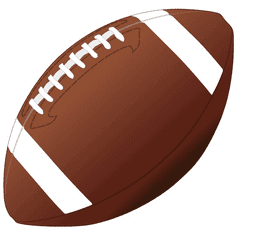 Football News: A researcher at Michigan State has discovered a process for creating reusable liquid nanofoam padding for helmets (from Kary Klismet. … Here's a "reserved parking" vanity sign that didn't have much of a shelf life (from Thak). … Holy Shit, check out how huge the front helmet numbers on the 1969 New York Giants were (and it looks like the "8" is upside down too). From John Turney. … Oops (from Arturo Carlos). … Deadspin has ranked every USFL team based on their jerseys uniforms. … Not to be outdone, the XFL (!) has also ranked the USFL's new uniforms.

Hockey News: It's always fun to see time-lapse videos of outdoor venues being prepared for the NHL's Stadium Series. Here's one for next weekend's game in Nashville. … And here's what the finished product will look like (both submissions from Kary Klismet). … The Metropolitan Riveters, a professional women's hockey team, have released a "Black Riveters" jersey. Additional photos here, here and here (from Anya Packer). … The Wenatchee Wild went camo with their Military Appreciation uniforms on Friday night (from Wade Heidt). … The Dubuque Fighting Saints went with 1980 Miracle on Ice-themed jerseys (from Kyle Campbell). … Dean Morton just refereed his 1,000th game, and for the occasion, he was given a sweater with #1000 on back (from Wade Heidt). … The Vancouver Canucks have unveiled a Black History Month jersey.

NBA/Pro/College Hoops News: New uniforms for the Lebanon (Ind.) Leprechauns of the semi-pro The Basketball League (from Kary Klismet). … Also from Kary: ESPN has a piece on the history of NBA All-Star uniforms. … Texas A&M is naming its basketball court after longtime women's coach Gary Blair (Kary again). … One more from Kary: Arizona State's men's team has unveiled special uniforms for Black History Month. … Throwback uniforms for Bradley Basketball (via Paul). … With the All-Star Game today, we again ask the question: Should the NBA logo be changed to reflect diversity? … More than 75 years after the disbandment of the SPARs, the US Coast Guard Academy women's basketball team is honoring the legacy of their predecessors when they host Emerson College in their final regular season game. The team will be sporting a special uniform paying tribute to the SPARs (via Paul).

Soccer News: New gold jerseys for the Columbus Crew (from Kary Klismet). … Nashville have unveiled their new primary kits. … Atlanta United FC have released "The Forest Kit" (from Brian Flatley). … Inter Miami have released their "Heartbeat Kit". … Here's the new kit for Toronto FC. … And the San Jose Earthquakes have unveiled their "Creator Kit". … Check out the period-correct World Cup soccer ball in this scene from Die Hard with a Vengeance (from Brandan in Jersey).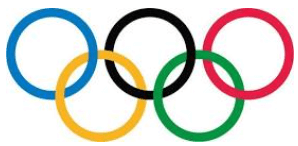 Olympics News: There've been several features on the history of Olympic mascots over the last couple of weeks, but submitter Kary Klismet says, "This one is the most comprehensive and has the best images of any I've seen."

Grab Bag: These first three all come from Kary Klismet: New logos for Bethlehem Central High School in Delmar, N.Y. Here's the old logo for comparison. … Australia has a new logo for its "Australia Made" campaign. … The decision to redesign its mascot logo has created a debate involving racial inclusion and traditionalism at Manhattan's exclusive Collegiate School (New York Times link). … Here's a great Sporcle quiz for everyone but Paul (from Stephen Lucas).


Uni Tweet of the Day
THIS is the throwback uniform the Eagles deserve…
As we've been talking about gorgeous uniforms…🥰 pic.twitter.com/6ovQGli1m4

— Art of Dan Tearle (@VintageGamerArt) February 19, 2022


And finally… that's gonna do it for today. Big thanks to Matt for that neat NBA ASG kicks review! We'll see you again next year, Matt.
Everyone have a great Sunday and a better week (and Prexydents Day Monday!), and I will see you again next Saturday. Until that time…
Peace,
PH