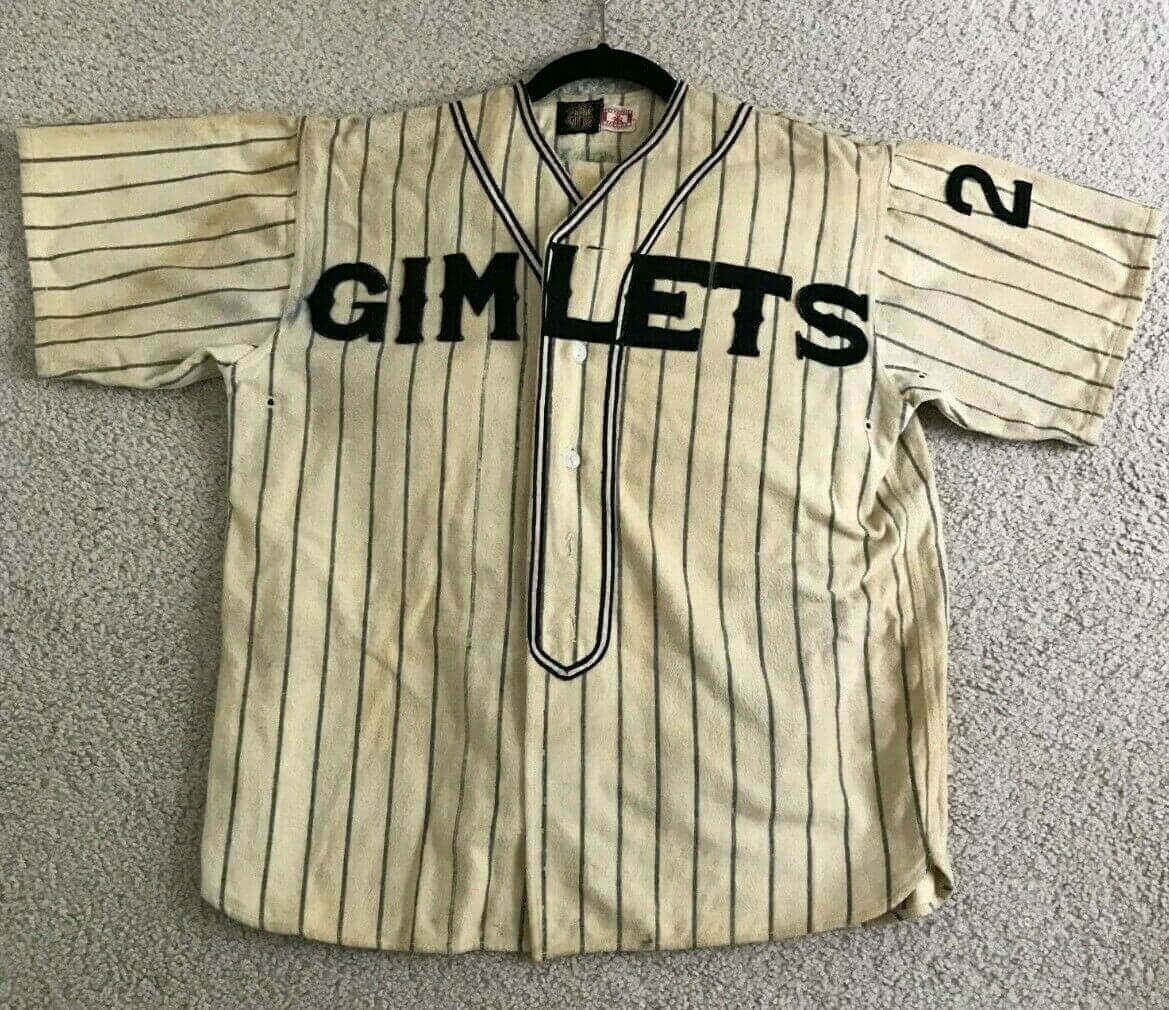 Click to enlarge
Remember when the Tugboat Captain and I were having daily cocktail sessions on our porch? This jersey would have been perfect for that project — we could drink gimlets while wearing a Gimlets jersey!
I spotted that uniform on eBay. It's part of a uniform that's unusual in several respects. First, there's the sort of fisheye effect on the chest lettering (which I love). Second, the uni number is rendered in a font I'm not sure I've ever seen before. Check out the "1":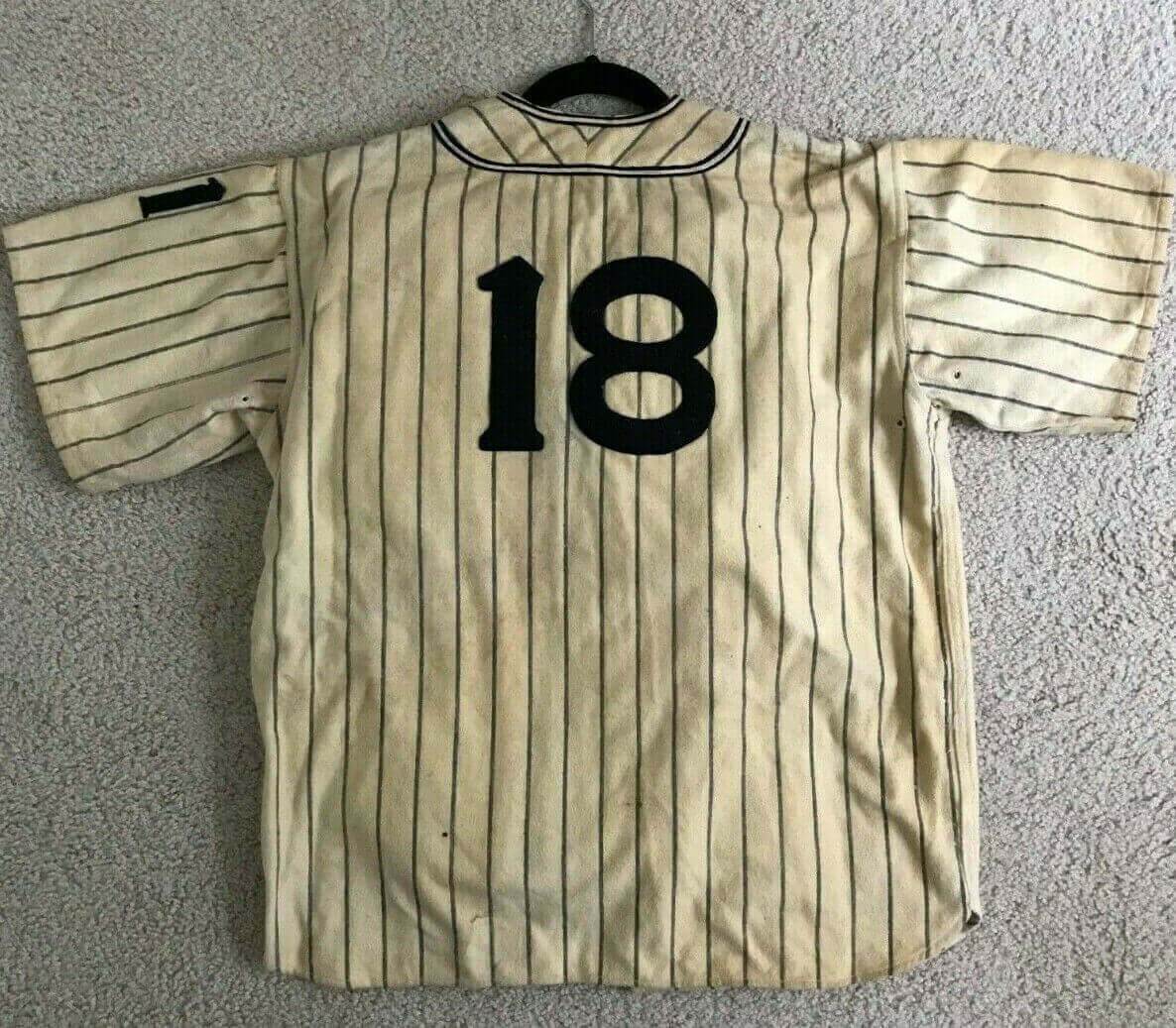 Third, the number on the sleeve doesn't match the one on the back: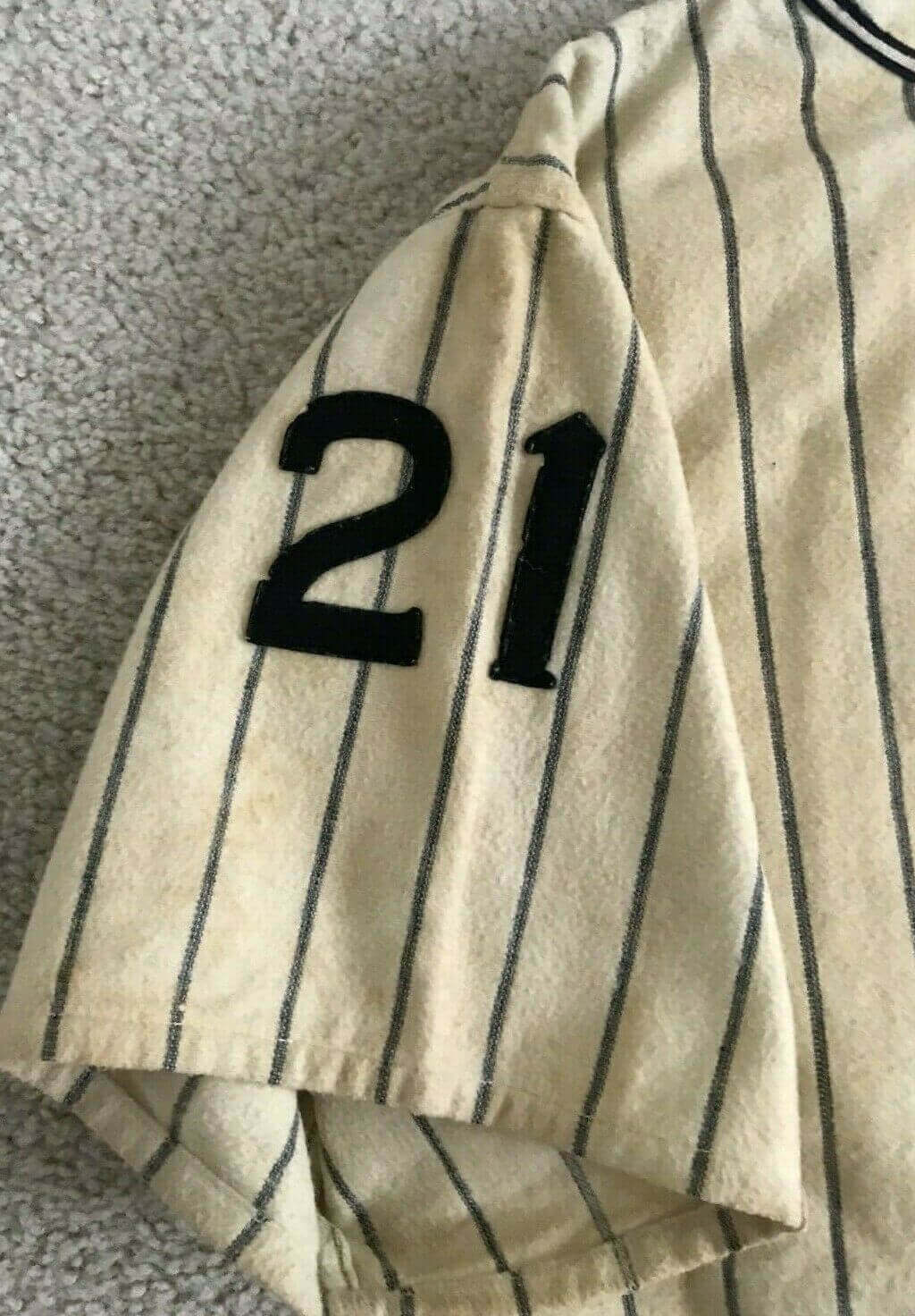 Fourth, the pinstriping on the front and back belt tunnels runs horizontally (something I'm pretty sure I've never seen before), while the single belt loop near the button has a vertical pinstripe: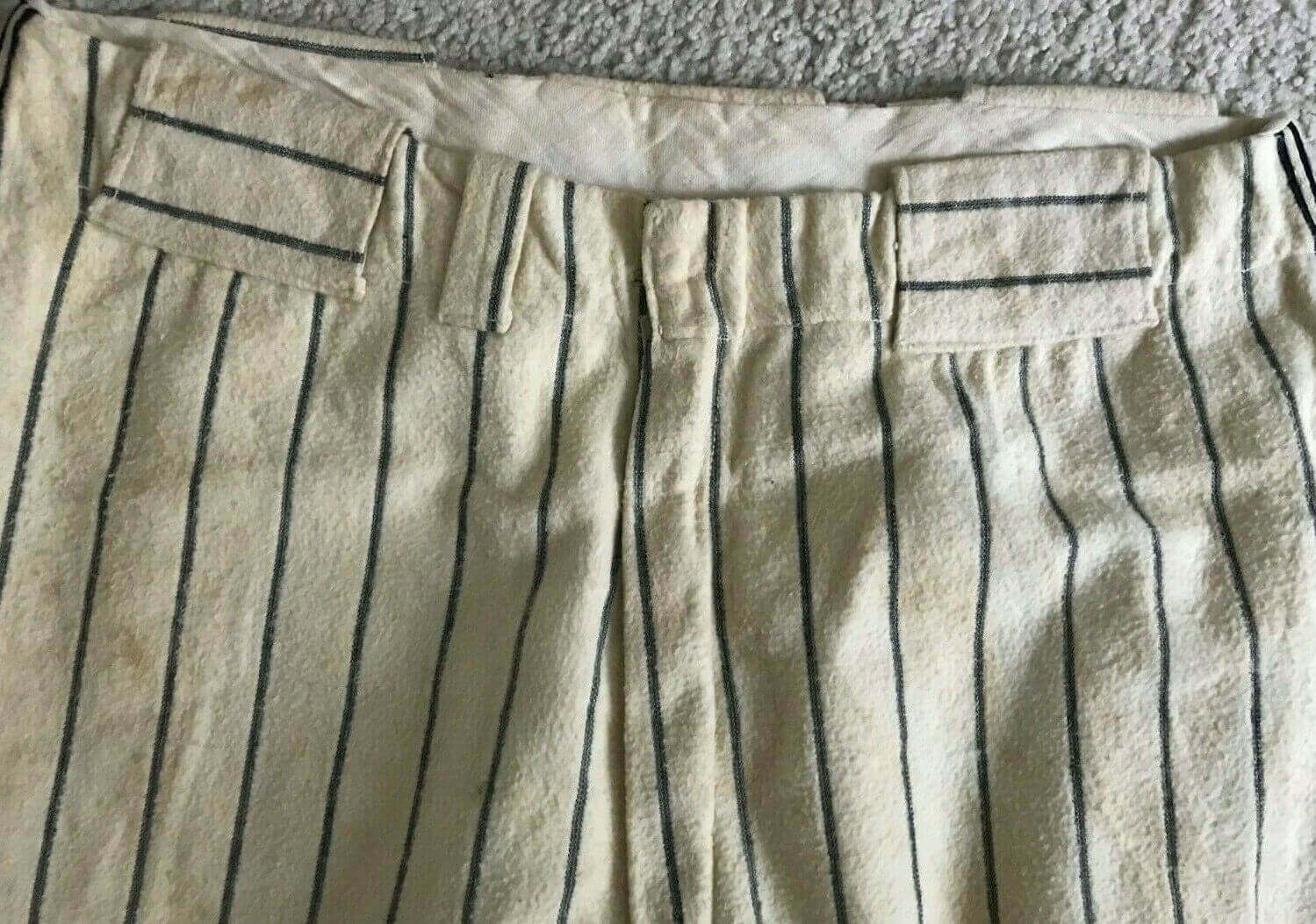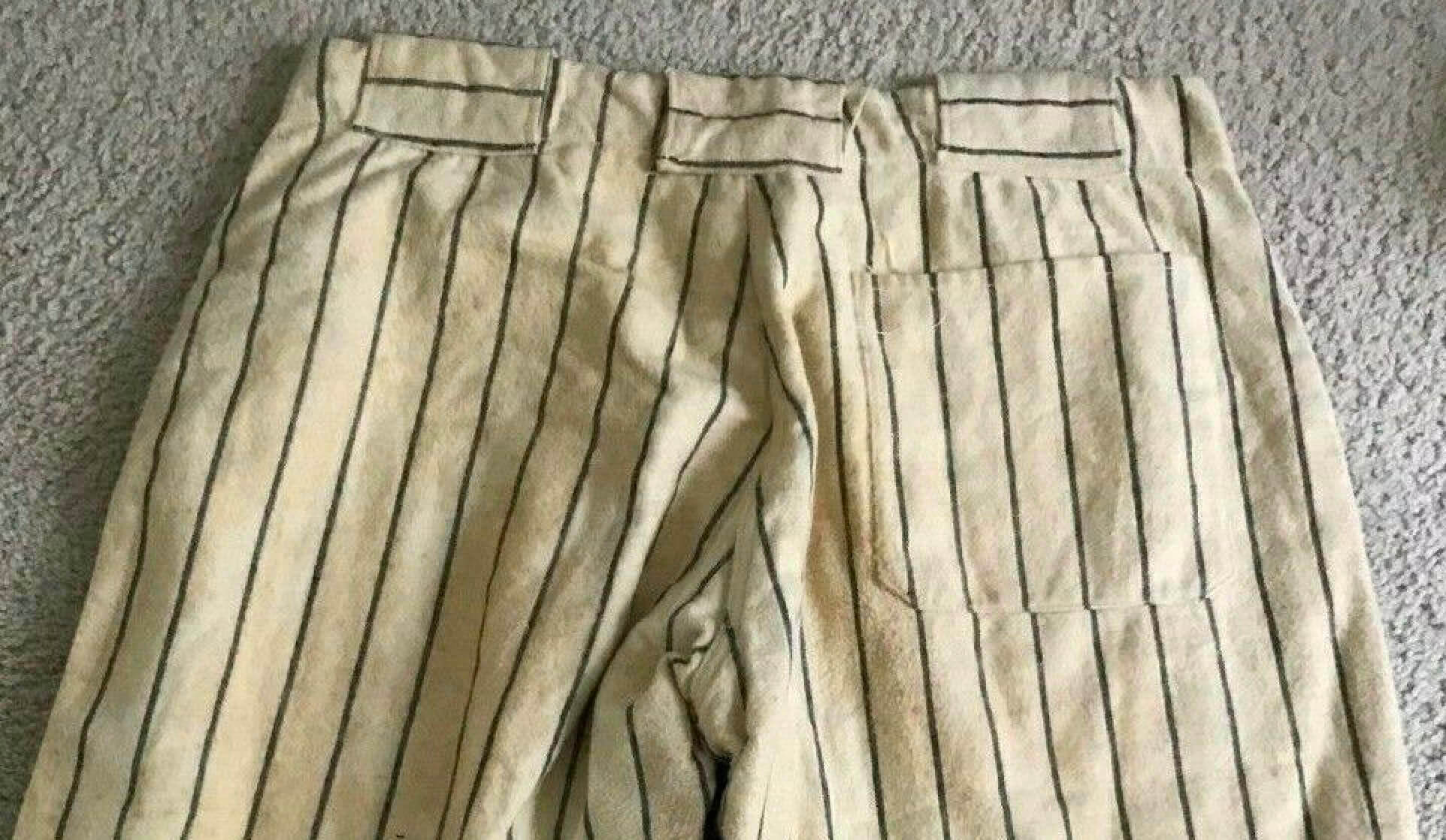 ———
So what's the story behind this uniform? The U.S. Army's 21st Infantry Regiment is known by the nickname "Gimlet" (there's even a Gimlet Association for the regiment's veterans), so this uniform is probably connected to them in some way. That would explain the "21" on the sleeve, even though it doesn't match the number on the back.
I did a bit of Googling and turned up a publication called Wartime Baseball in Hawaii: 1941 —Calm Before the Storm, which has a few photos of a 21st Infantry Regiment baseball team with "Gimlets" on the jersey chest — but not in the same design as the eBay uniform: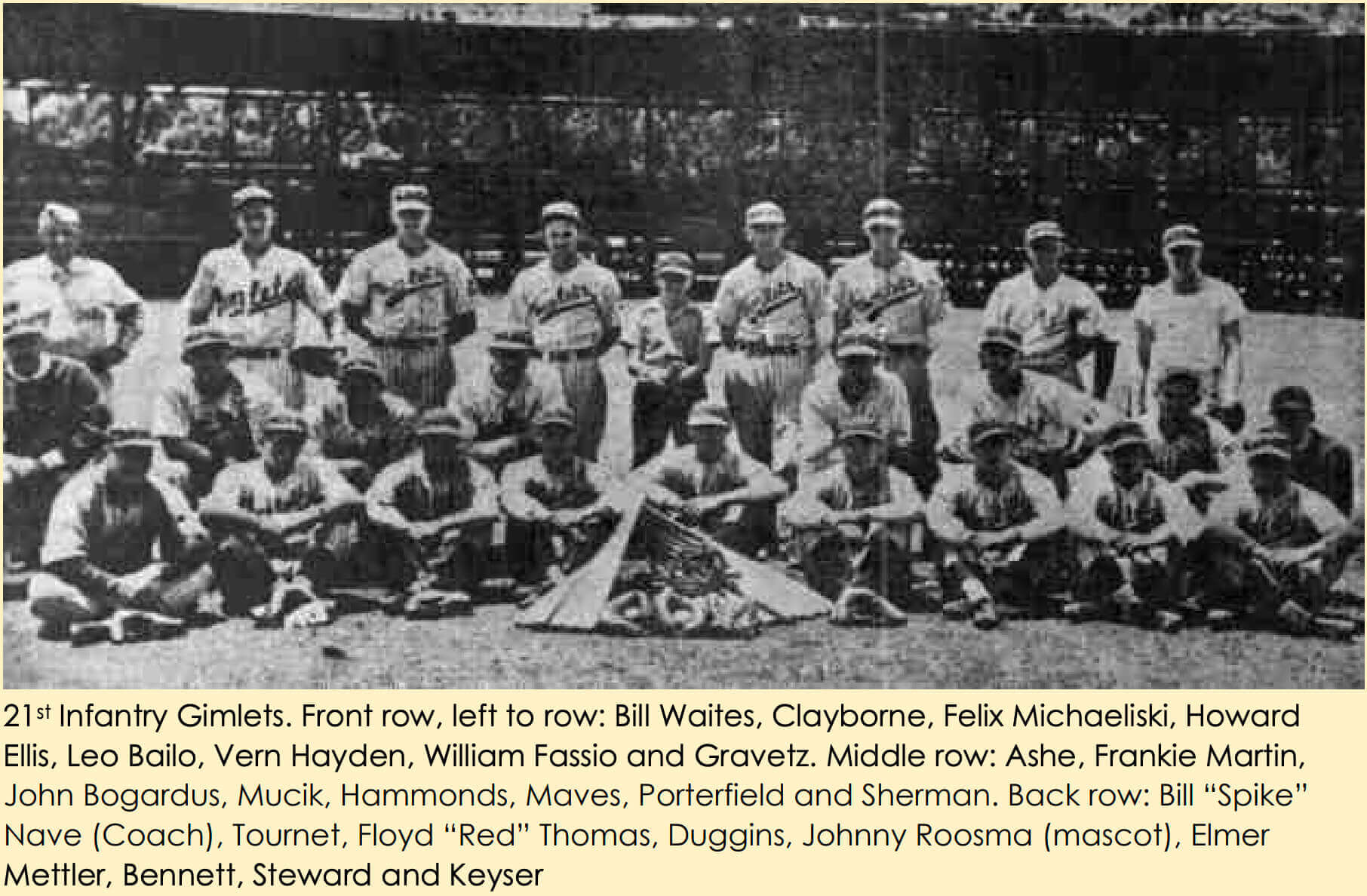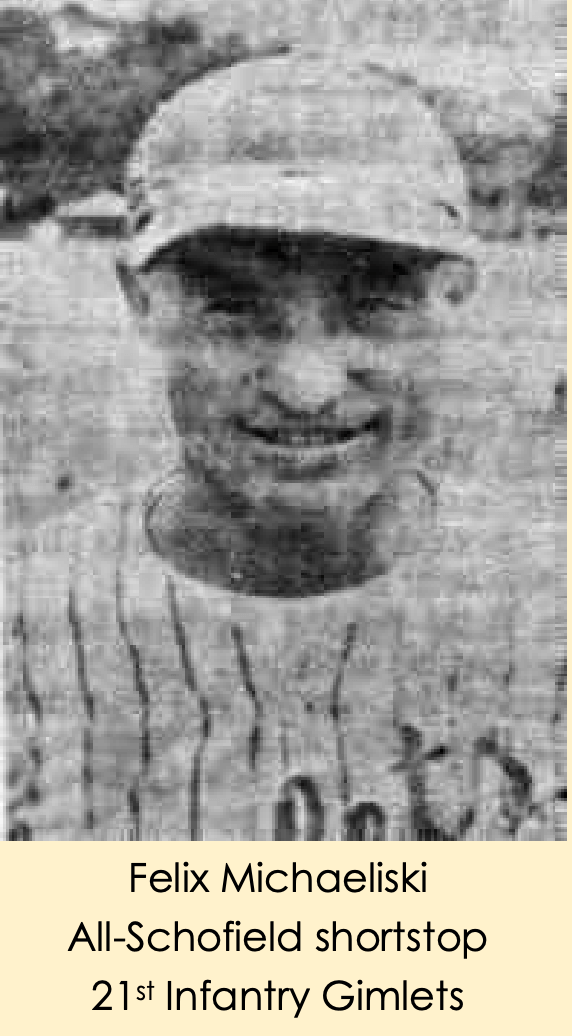 I also contacted the Gimlet Association to see if they knew more about the eBay uniform. No response yet.
(The eBay listing says the uniform may also be connected in some way to Alaska, apparently because there was once an Alaskan team called the Roaring Gimlets. But the mismatched "21" on the sleeve makes me pretty confident that this uni is from the 21st Infantry Regiment, not the Last Frontier.)
I love this uni so much — the chest lettering, number font, all of it! (Well, not the horizontally striped belt tunnels, but at least that detail is interesting.) If anyone knows more, please speak up. Thanks!
• • • • •
• • • • •
Click to enlarge
A different kind of uniform: I received a note yesterday from reader Tim Bangert, as follows:
My daughter was selected to sing last week in the Illinois Music Education Association All-State Chorus in Peoria. The chorale was a feast for the eyes, as singers from all over the state donned their school robes. It reminded me of a proper MLB All-Star game and made it much easier to pick out the singers from our high school.
I love that. Thanks so much for sharing, Tim, and congrats to your daughter on her achievement!
• • • • •
• • • • •
Click to enlarge
Collector's Corner
By Brinke Guthrie
Follow @brinkeguthrie
Congratulations to the Cincinnati Bengals, who will face the Los Angeles Rams in the Super Bowl. To commemorate the big Bengals win, check out this 1970s vinyl tote bag and thermos set! 
As for the Rams, how about this late 1960s-early 1970s Topps foldout mini-poster of Rams tackle Bob Brown. No team logos on these, though!
And now for the rest of this week's picks:
• Here's a menu from Larry Bird's Boston Connection hotel-restaurant-lounge of Terre Haute, Indiana. 
• A 1994 Baltimore Colts CFL T-shirt? Yep! The "Baltimore CFL Colts" were also referred to as the "Baltimore Football Club" (sounds familiar) before settling on  Stallions as their team name.
• Speaking of the Colts, whether you're from Indy or Baltimore you'll like this two-pack of 14 vintage Colts helmet push-pins.
• This eBay seller offers a variety of 1971 NFL team belt buckles from Lee Jeans.
• As you probably know, Detroit Red Wings fans like to toss octopi on the ice, so this mid-1990s hockey puck shows the team's unofficial octopus, Al the Octopus, saying "I want Stanley (Cup)."  
• Check out how they did the wings on the helmet of this Philadelphia Eagles bobblehead. Contrary to the seller's listing, this probably isn't from 1962, since the Eagles didn't start wearing white helmets until 1969 (but only on the road, alternating with green for home, which I never knew).
• Take a look at the Detroit Tigers logo on the side of this set of three original seats from Briggs/Tiger Stadium.
• Notice the three different helmets portrayed on this Green Bay Packers Hall of Fame patch.
• This bumper sticker commemorates the closing of Philadelphia's old Connie Mack Stadium Oct. 1, 1970, after a 61-year run. 
• And one more for the Phils: This seller is offering a large grab bag of merch that includes a promotional radio.
• • • • •
• • • • •

Click to enlarge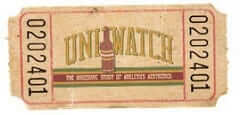 ITEM! New raffle: Reader Zach Hoover won one of last week's raffles and is paying it forward by letting me raffle off this Pirates batboy jersey. "It was a gift years ago, purported to be team-issued and game-used, although I've never confirmed that," he says.
This will be a one-day raffle. USA mailing addresses only. To enter, send an email with your mailing address to the raffle in-box by 8pm Eastern tonight. One entry per person. I'll announce the winner tomorrow. Big thanks to Zach for doing this!
• • • • •
• • • • •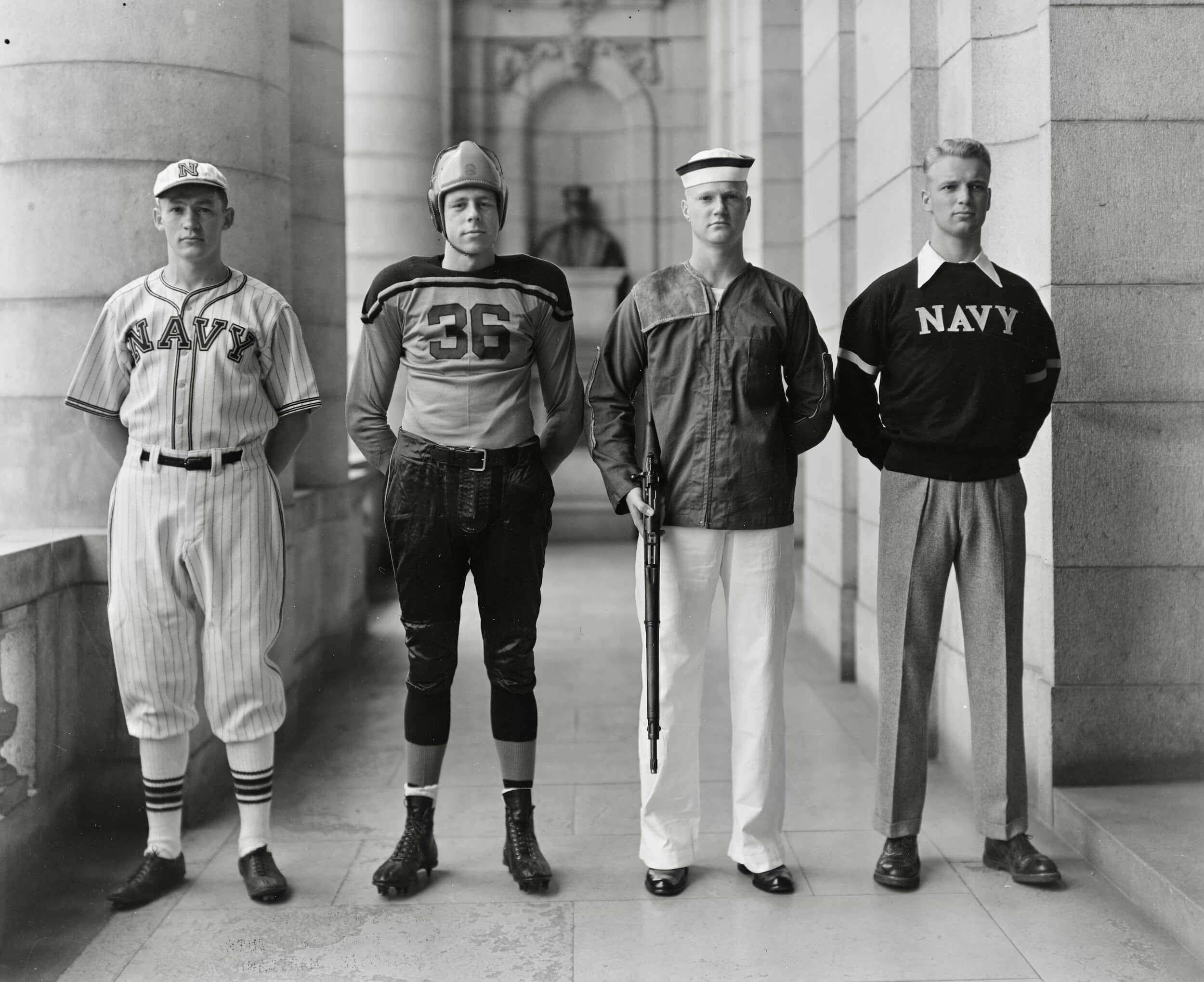 Click to enlarge
Too good for the Ticker: Love this 1936 photo of Naval Academy midshipmen modeling a new set of uniforms. Man, look how high off the floor those football cleats are! But ugh, someone get that baseball player to center his placket.
This one might be a fun candidate for colorization, no?
(My thanks to L.J. Sparvero for this one.)
• • • • •
• • • • •
The Ticker
By Paul, pinch-hitting today for Alex Hider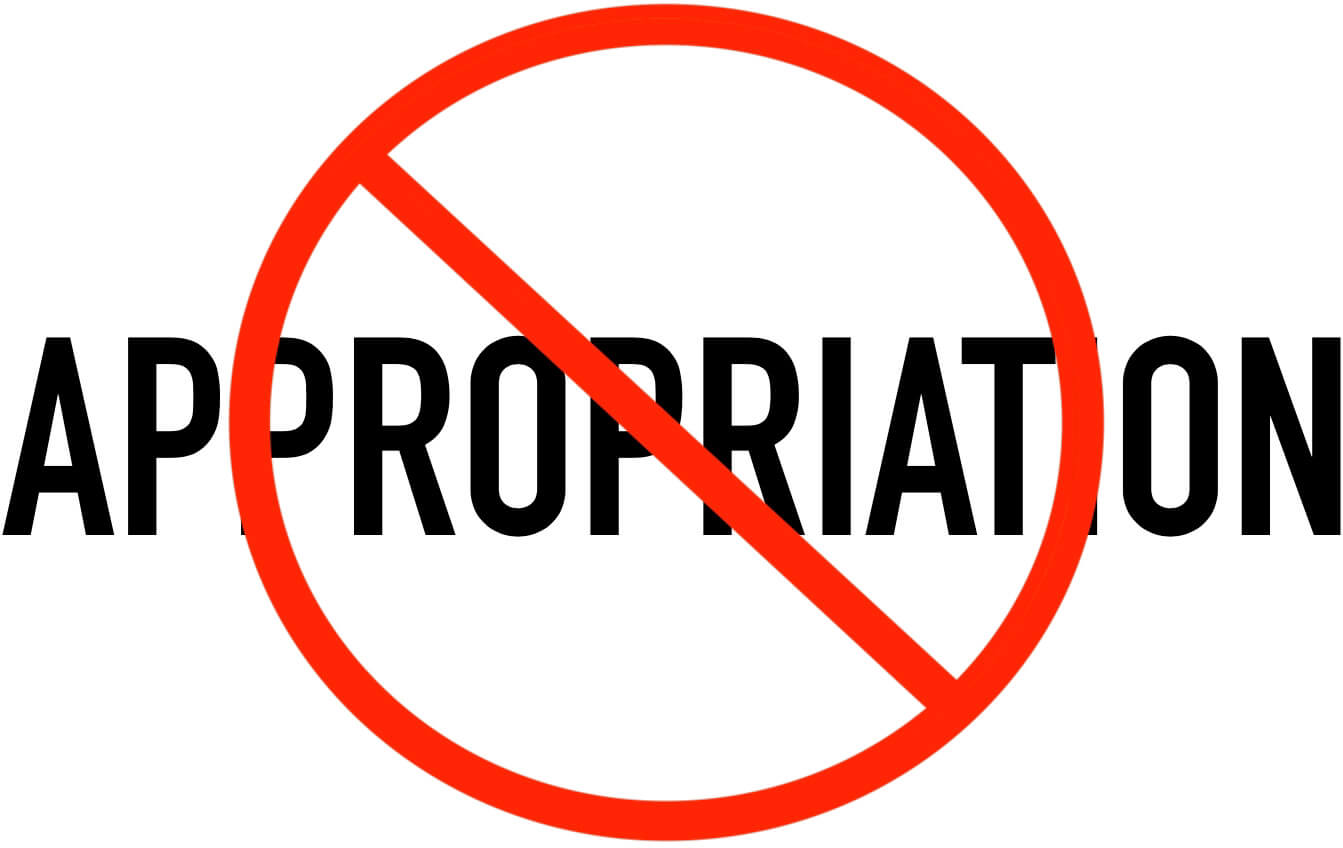 Indigenous Appropriation News: UK rugby union club Exeter Chiefs are scrapping their Native American iconography (thanks to all who shared). … Here's a detailed look at the back-and-forth fight to scrap or retain the "Indians" team name in one upstate New York town.

Baseball News: The Orioles have unveiled their promotional schedule (from Andrew Cosentino). … A plaque outside Jackie Robinson's birthplace that was recently vandalized with gunfire will be displayed at the Negro Leagues Museum in KC. … Dallas brewery Vector Brewing just came out with some baseball-themed cans for their Bullpen Lager (from Chris Patterson). … Some A's fans have created a T-shirt congratulating longtime equipment manager Steve Vucinich on his retirement (from Mike Ortman).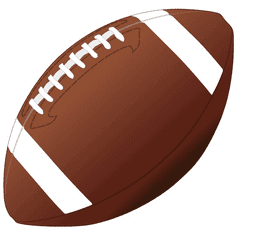 Football News: Remember Bucs WR Antonio Brown's recent sideline tantrum when he pulled off his jersey, threw his gloves into the stands, and then walked off the field? One of the gloves is now up for auction — and it has a blacked-out Raiders logo, so it's apparently an old glove that Brown kept from his time with the Raiders.. … Syracuse tweeted a graphic for their 2022 home tickets going on sale with an apostrophe catastrophe (from James Gilbert).

Hockey News: Canisius College is bringing back its old-school griffin crest (from @scaryfriar). … Capitals players and coaches wore hoodies supporting a local youth program, Fort Dupont Ice Hockey Club, during yesterday's practice (thanks, Jamie). … The AHL's Milwaukee Admirals will be wearing Special Olympics jerseys on Friday and Saturday (thanks, Brinke).

College Hoops News: Wyoming's colors are brown and yellow, but their men's team wore a new red/white/blue design, with "One Wyoming" as the team-wide NOB, for last night's "Border War" game against Colorado State. The "One Wyoming" phrase also appeared on T-shirts (from Gabe Cornwall). … Wichita State men's will wear throwbacks tonight (from J. Paul Walker).

Soccer News: The Philadelphia Union's new home kit has leaked (from Trevor Williams). … And so has Charlotte FC's second shirt (from Scott Trembly).

Grab Bag: The Smithsonian has a new exhibit on uniformed women in World War I (from Max Weintraub). … Lucknow Super Giants, a new Twenty20 cricket team in the Indian Premier League, have unveiled their new logo. … New uniforms for police officers in Northern Ireland. … D2 school Florida Southern is now being outfitted by Under Armour. … Lots of mass transit systems all over the world are called the Metro, which creates a design challenge: What's the best way to do an "M"-based logo? (Big thanks to Mardi Davie.)
• • • • •
• • • • •
For all photos click to enlarge

What Paul did last night: Sometimes NYC can still deliver the good for a unique cultural experience. That was the case last night at the Rockefeller Center skating rink, as the performance artist Laurie Anderson hosted and DJ'd an ice skating birthday party for the avant-garde composer Philip Glass's 85th birthday.
Honestly, I've never been a huge Glass fan, but I've always been a big Laurie fan (and an avid skater), so it was a total hoot to go to one of the city's most tourist-y spots and skate to very un-tourist-y music being DJ'd by one of my heroes.
Laurie was a completely charming host, peppering her music selections with fun DJ patter, bopping her head to the tunes, and basically being very enthusiastic. At one point she gave me a thumbs-up as I skated by! (I returned the gesture.) Here is likely the only photo of me that will ever include her in the background:
Laurie was also joined by various singers and musicians for brief live performances, most of which were either Philip Glass compositions or some variation on "Happy Birthday":
Oh, and we each got a birthday cupcake:
It was all silly and wonderful and special, which is what birthdays should be — and what NYC can still be, sometimes, even during the pandemic. I really needed a night like this.
• • • • •
Happy Lunar New Year to all who are observing!
Tomorrow: I usually try to publish each day's blog post before 9am Eastern, but the Washington Football Team is going to announce its new identity on the Today show around 9am tomorrow morning, so I'll wait until they do that before publishing. You can all have fun discussing the new team name and uniforms tomorrow, and then I'll have my say on Thursday over on Bulletin. — Paul