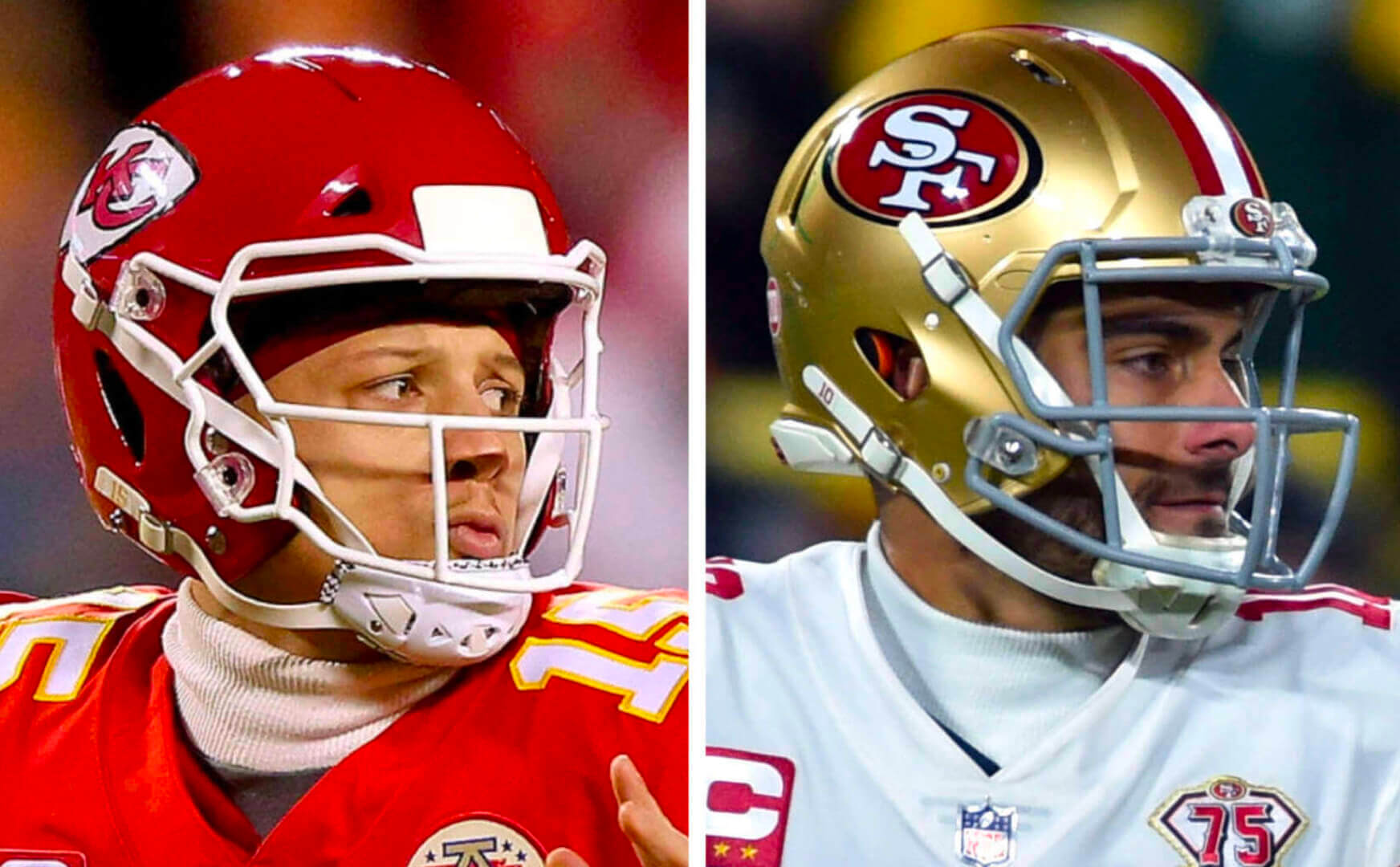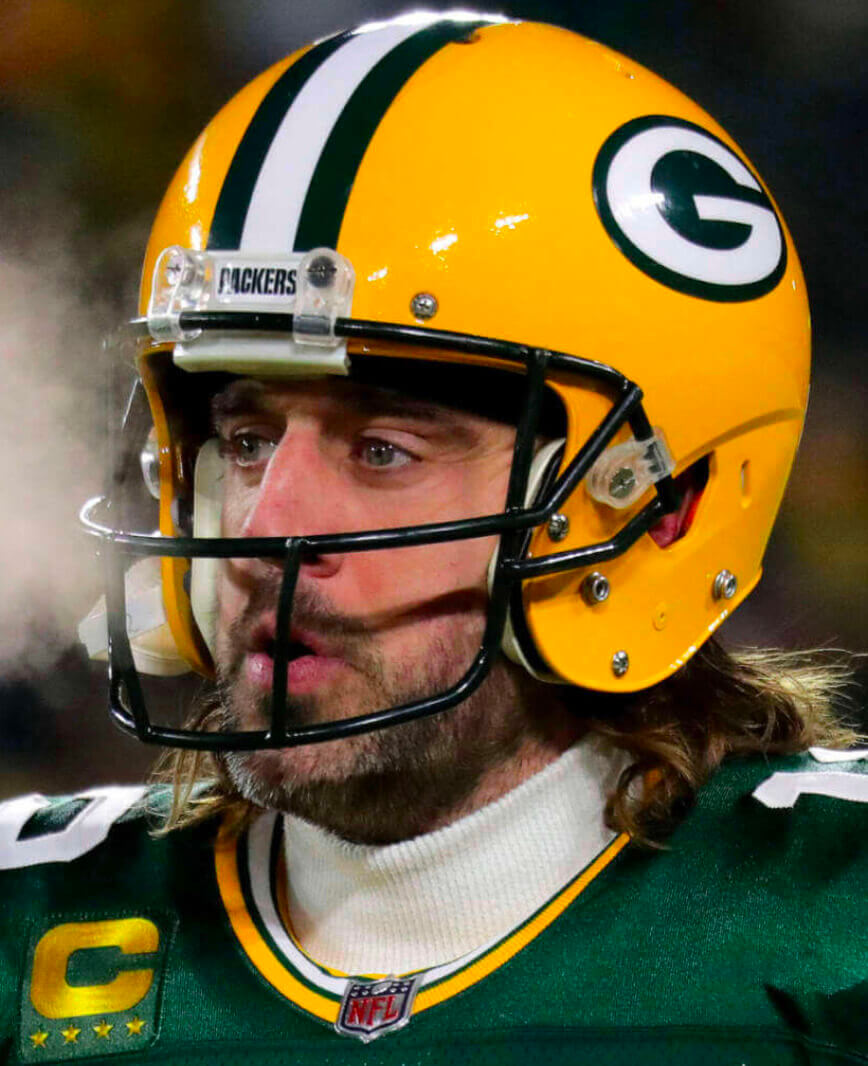 As part of yesterday's entry, I mentioned that NFL quarterbacks Patrick Mahomes, Jimmy Garoppolo, and Aaron Rodgers all appeared to have the same ribbed mock-turtleneck collar peeking out from under their pads during Sunday's playoff games. I was able to determine that this garment was made by a Minnesota company called WSI Sports, but I wasn't sure if it was a full-length undershirt or a dickey, nor could I locate the item on WSI's website, so I sent a few communiqués to WSI and asked if they could tell me more.
After yesterday's post went up, I heard back from WSI marketing guy Evan Wise, who explained that the item being worn by the NFL quarterbacks on Sunday was a custom sleeveless top with a ribbed collar (click to enlarge):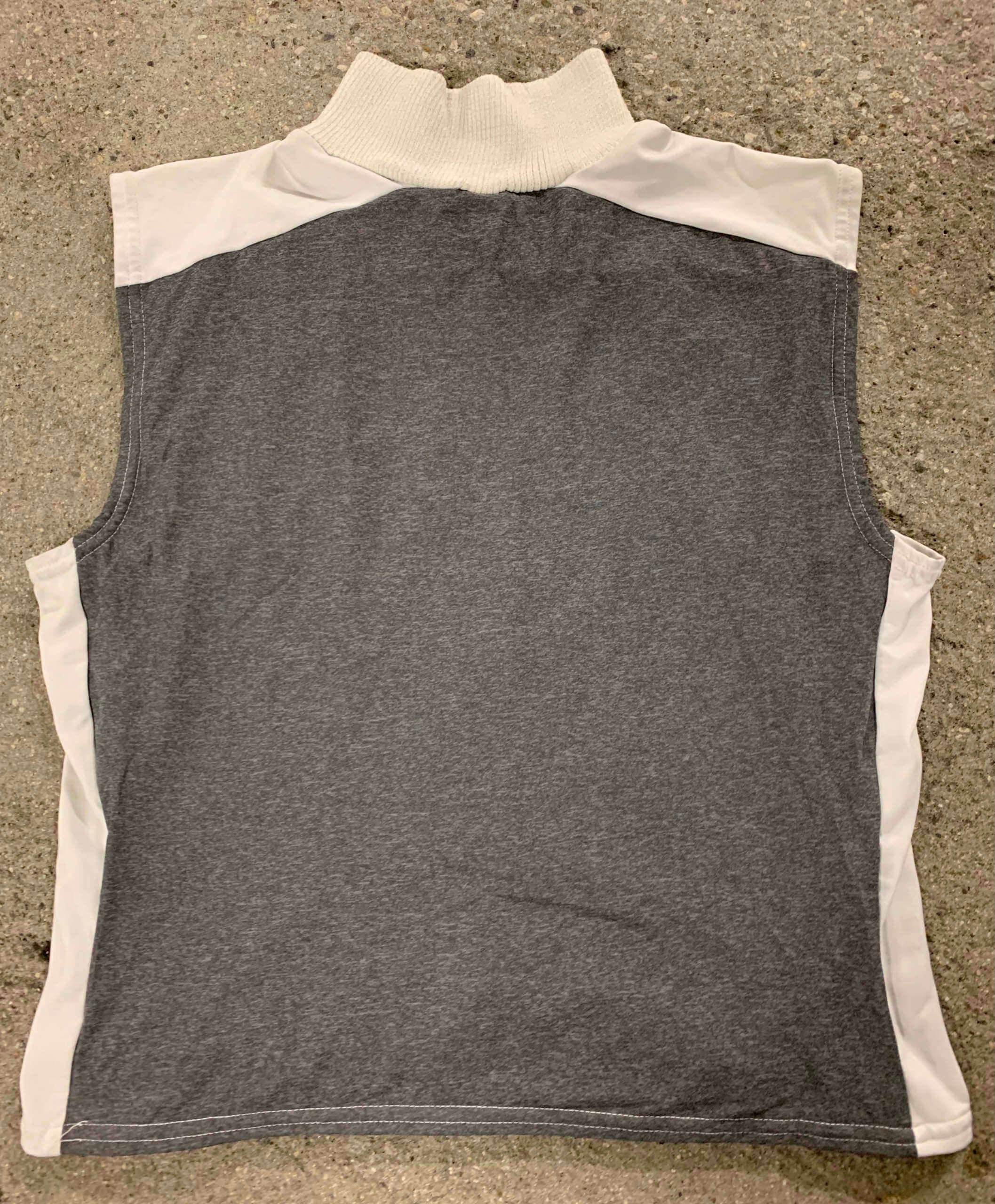 Sure enough, you can clearly see that charcoal fabric below the collar in some of the photos, like these shots of Mahomes and Rodgers.
Wise put me in touch with WSI's founder and CEO, Joel Wiens, so I made arrangements to speak with him yesterday afternoon. Here's a transcript of our phone conversation, edited for length and clarity:
Uni Watch: I have to admit, I had not heard of you guys until now, which I'm sure says more about me than it does about you. So please tell me, what does "WSI" stand for, and what do you folks do?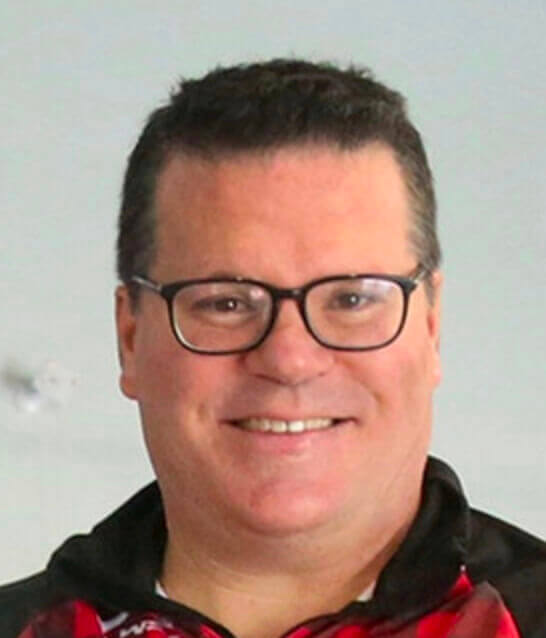 Joel Wiens [shown at right]: "WSI" stands for Wiens Sports International. I've been at this for 30 years — started out of my basement. Had $3,000, mom and grandma started sewing, and here we are today.
We've become known as cold-weather experts, but I really started more in the protective realm. My first introduction to the NFL was with the Green Bay Packers 20 years ago, when one of their kick returners had a rib injury and didn't want to wear any of the rib protection that was out there. The flak jackets, all that stuff, it was just too thick. So I developed a super-thin protective undershirt that he loved. Over the years, we've done different types of protective products for rib injuries, shoulder injuries, things like that. We just keep it thinner, lighter, faster, stronger, and so we got our name dialed in around that.
UW: Any other good stories about specific players, like that Green Bay situation?
JW: Years ago, Kobe Bryant had a shoulder injury. The trainer called me and said, "Hey, I heard you're really well-known for making thin, protective underwear." So I met up with Kobe and we made a special protective undershirt for him. And he said, "I got back playing quicker because of the Underwear Doctor," so now that's my nickname — the Underwear Doctor.
I also make Tom Brady's custom cold-weather clothing. And we were part of the third-coldest game NFL history — that Vikings/Seahawks game a few years ago — and we had everybody on the field wearing our product. Today, we deal with over 75% of the NFL, Major League Baseball, college teams. A lot of it's the cold-weather application, and we also do a lot of custom things.
UW: Speaking of which, the product that the NFL quarterbacks were wearing on Sunday, that was a custom item, right?
JW: Yeah, we developed a really super-thin film that's used in that shirt to help keep it warm. So it's a thermal shirt with a wind-stop waterproof application, so it's almost like a scuba — very thin and light. And then we got a special ribbed collar material that we use to keep the neck warm.
UW: I saw the tweet where one of your employees was delivering the shirts to Lambeau Field on Sunday. What's the backstory for how that came about? Like, the Packers obviously play in cold weather all the time, and it sounds like you already have a longstanding relationship with them, so wouldn't they already have a lot of winter gear on hand?
Like #GHOSTBUSTERS WHO YA GONNA CALL! When #packers #49ers need special #coldgwear made up overnight and delivered game day we love it! Thank you @ewise01 for braving the elements to deliver the gear! #proudlymadeinusa pic.twitter.com/Awmbuqm3Ee

— WSI Sports (@WSISports) January 23, 2022
JW: Well, a lot of teams do wait until the last minute, because they get extra money for playoffs. So that's part of it — "Hey, we got some extra money here, we'd like to beef up." So that comes into play. And part of it, you know, is that we love a challenge. So it's like, "Okay, yeah, we'll get it done overnight." And [Packers equipment manager] Red Batty, he's always coming up with stuff, like, "Hey, Joel, can we tweak this a little bit? I think we could take this material and do this with it and change up this design a little bit. And Joel, can I have it tomorrow?"
In this case, one of my guys happened to be going to the game, so we hand-delivered it to both teams. We actually shipped more stuff to the 49ers for that game than we did for the Packers, so I'm maybe gonna take a little credit there [for their win].
UW: How many of those shirts did you supply for each team?
JW: For this game? It was probably a lot. I know the 49ers' bill was over 10 grand.
UW: What's the price for one of those?
JW: Close to 100 bucks.
UW: So lots of players were wearing them, even though it was more apparent on the quarterbacks because the camera zooms in on them more than on other players.
JW: Yep, exactly.
UW: We all know Nike has the NFL apparel deal. Do you guys need to get special permission or anything like that, or is it okay as long as you don't put your logo in a visible spot? How does all of that work?
JW: Yeah, it's fine as long as we don't have any visible logos. In fact, we don't put any logos on there, just so we don't get ourselves or the equipment guys in trouble. And that's fine with us.
UW: The ribbed collars look so old-school, like something from the days of wool and cotton. Is that intentional for them to look that way, or is it just the best design for cold weather?
JW: Yeah, I agree, it's got that old-school feel. It actually has such an amazing stretch, that type of knit, so it really forms nice. It doesn't feel constrictive on the neck, but it just gives you that nice cozy feel.
UW: One of this Sunday's games will be in Los Angeles, so they presumably won't need to stay warm there, and the other game is in Kansas City, where it looks like the temperature is going to be in the 40s. And then the Super Bowl, obviously, is in Los Angeles as well. Does that mean we've seen the last of WSI on the field for this season?
JW: I know we just did a rush order for the Bengals, and they've been wearing our stuff throughout the playoffs. So I think some guys are kind of getting accustomed to wearing this stuff. You know, some of my really extreme cold-weather stuff was worn by Brady and [Bucs coach] Bruce Arians this past weekend. I mean, I know it was a little chilly down there, but I was laughing. But you know, these guys are like, "Hey, I wore it last time and we won, so I'm gonna wear that thing again." So I think you'll see some guys still wearing it this weekend.
———
And there you have it. Wiens also talked a lot about how proud he is that all WSI products are made in the USA. You can learn more about him and WSI here, and on the WSI website.
Two people deserve special thanks for today's entry: First, reader Evan Miller was the one who spotted the three QBs wearing the same collar — if not for him, today's entry wouldn't have happened. And second, our own Alex Hider was on Ticker duty when Evan sent in his observation as a Ticker submission. Alex could have just Ticked it and that probably would have been the end of it, but he had the foresight to send Evan's email to me because he thought I might be interested in investigating further — and he was right! I'm grateful to both of these guys for laying the groundwork for today's piece.
• • • • •
• • • • •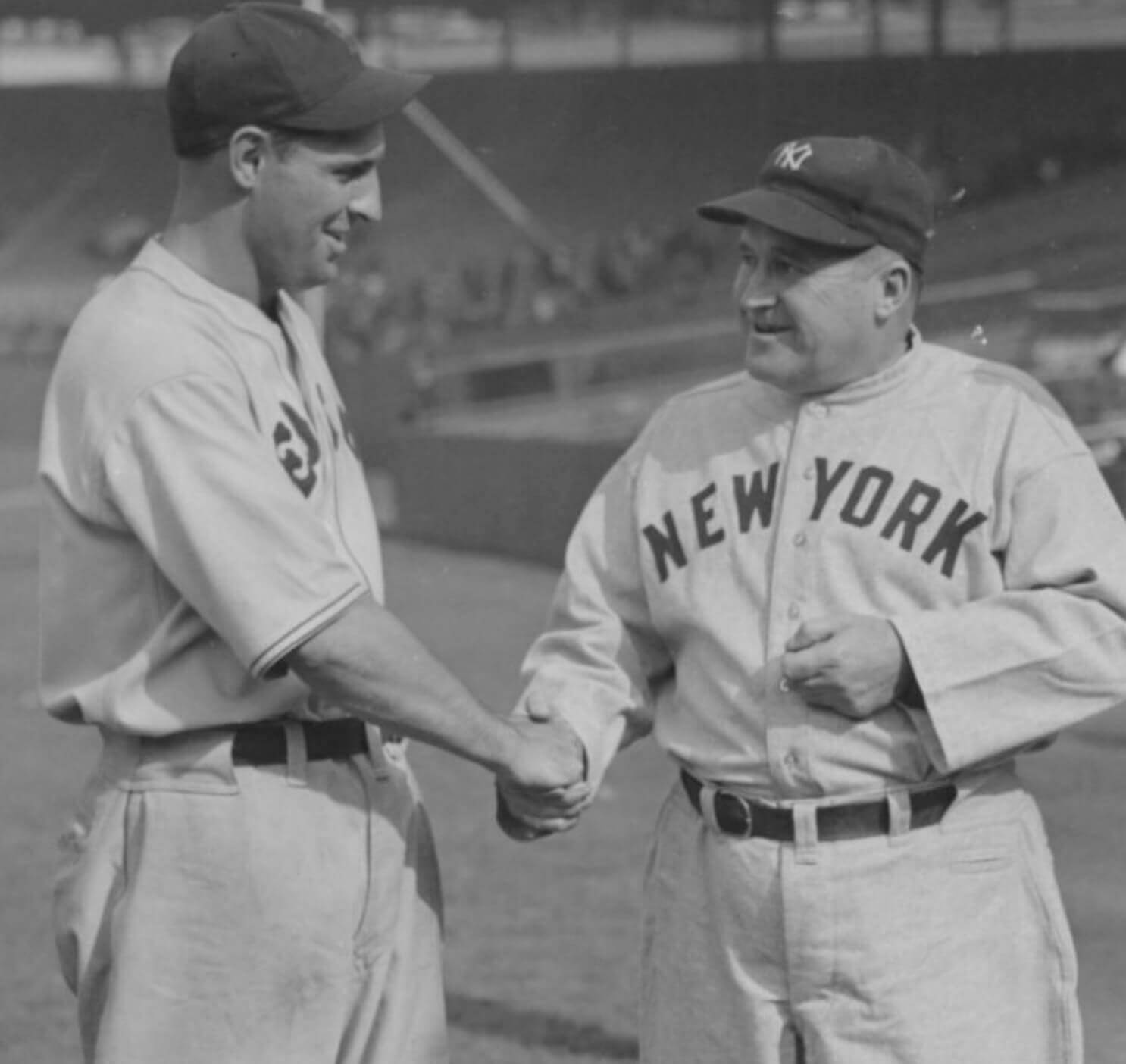 Click to enlarge
Big pocket news: Reader Chris Hickey, probably the only person more obsessed with MLB pants pockets than I am, has made a major discovery: As you can see above, Yankees manager Joe McCarthy had his front pocket on the left side in 1937. That's the first time we've seen the pocket on that side — a new sub-niche!
Chris also found photos of several new additions to our roster of pants-pocketed MLB skippers (all wearing the pocket on the right side): Cookie Lavagetto (Senators, 1957), Pinky Higgins (Red Sox, 1956), Paul Richards (Orioles, 1958), and Fred Haney (Braves, 1958).
"Still haven't found a player wearing the pocket," says Chris. "Not hopeful I'll find one, but I'll keep looking." Now that's dedication!
• • • • •
• • • • •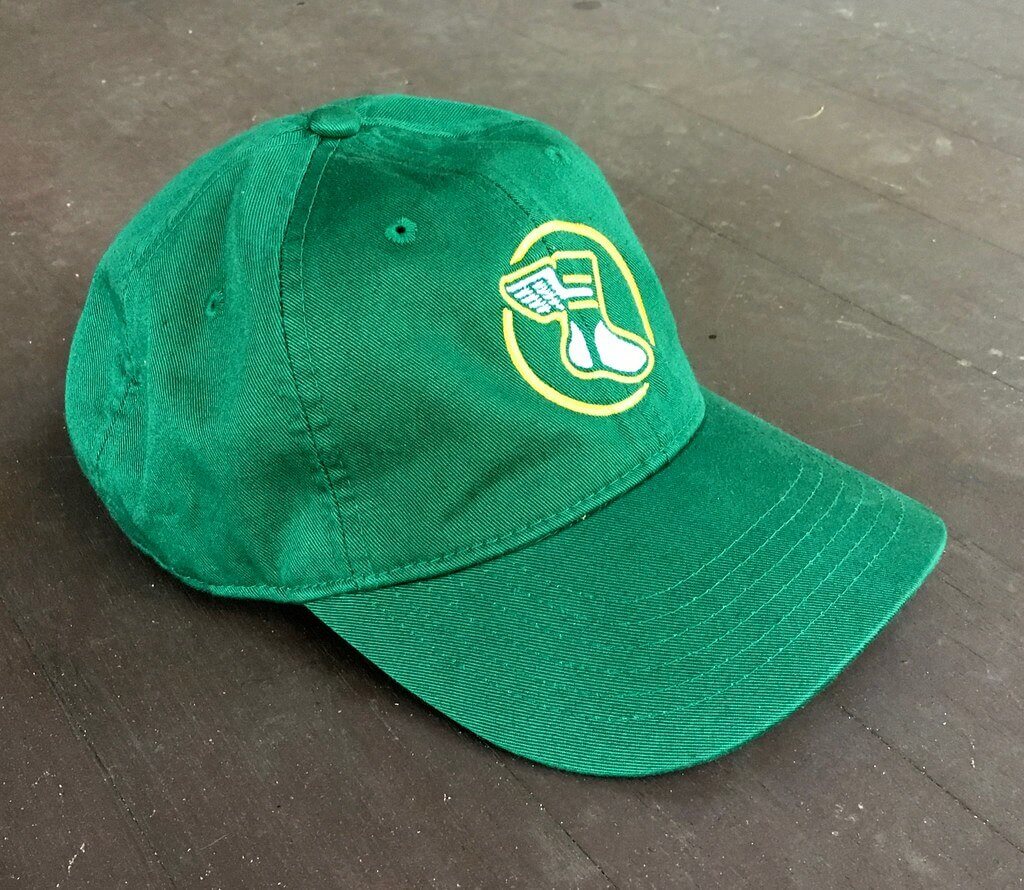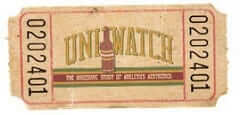 ITEM! Gold Circle cap raffle: Reader Tim Bullis has a Uni Watch "Gold Circle" strapback cap that he's never worn and is generously offering it to a lucky reader, so I'm going to raffle it off today.
This will be a one-day raffle. USA mailing addresses only. To enter, send an email with your mailing address to the raffle in-box by 8pm Eastern tonight. One entry per person. I'll announce the winner tomorrow. Big thanks to Tim for making this one possible!
Meanwhile, the five winners of the pennant raffle are John Benal, Karl Newkirk, Ed Baker, Josh Herndon, and George Peter. Congrats to them, and thanks again to the great people at Oxford Pennant for making this one possible.
• • • • •
• • • • •
The Ticker
By Lloyd Alaban

Baseball News: UConn received their Big East championship rings last night (from Timmy Donahue). … The Hanshin Tigers have revealed the alternate uniforms that they'll wear against the Yomiuri Giants (July 12-14) and Chunichi Dragons (July 15-17) (from Jeremy Brahm). … New uniforms for Boston College — their first set from new outfitter New Balance (from Bradley Smart).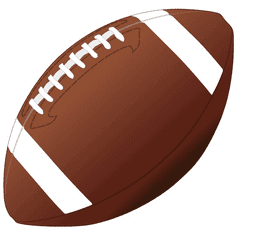 Football News: Tons of uni inaccuracies in this TSN graphic showing how Aaron Rodgers might look as a Bear, Bronco, or Raider (from multiple readers). … Mono-white for the Bengals this Sunday (from our own Phil Hecken). … Antonio Brown, now a free agent after being released by the Bucs a few weeks ago, posted a picture of himself in a Ravens uniform (from our own Phil Hecken). … Here's Oklahoma QB Dillon Gabriel getting fitted for a Riddell Axiom helmet (from @PaytonGlen). … New helmet for the Birmingham Stallions of the USFL (from @BenOnSports).

Hockey News: The Hurricanes wore helmet decals and had green tape on their sticks last night to raise mental health awareness through the NHL's Hockey Talks program. … Golden Knights G Robin Lehner had to change masks after taking a hard slapshot to the face on Monday night (from multiple readers). … Here's a brief history on the OHL's Sudbury Wolves' goal celebration (from Andreas Papadopoulos). … The WHL's Regina Pats wore Clark Gillies memorial decals last night. Gillies, who played junior hockey for the Pats before moving on to the NHL, died last week (from Wade Heidt).

Basketball News: Men's college basketball coaches used to wear sneakers with their suits during a designated week to support the American Cancer Society. But since most of them stopped wearing suits during the pandemic and are therefore wearing sneakers all the time, they now wear branded pullovers for the anti-cancer initiative (from our own Jamie Rathjen). … BFBS tonight for Illinois State men's (from Brad Gschwendtner). … The Rupp Arena logos on Kentucky's court are annoyingly misaligned (from Tim Johnson).

Soccer News: Minnesota Women's Soccer — the latest team in the USLW — will unveil its team name and logo on Thursday. … New kit manufacturer for the Charleston Battery of the USL Championship (from Ed Zelaski).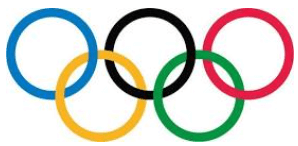 Olympics News: Canada's bobsled and skeleton teams will race in sleds painted like Royal Canadian Navy ships (from Wade Heidt).


Grab Bag: The Scotties Tournament of Hearts, a curling tournament, starts this Friday. Here's a look at some of the shirts being worn (from Wade Heidt). … NASCAR driver Cody Ware will have one livery for day races and another for night races (from @AVKingJames). … Here are some of the NASCAR paint schemes from Team Mobil 1 (from Shawn Hairston). … Tons of local sports team logo references in this Twitter thread of labor union logos (from @Greg1MB). … New uniforms for the Utsunomiya Blitzen cycling team (from Jeremy Brahm). … Australia's government has bought the copyright for the Australian Aboriginal flag, making it free for display. Before it was purchased by the government, the flag couldn't always be displayed at sports or other public events, which led to AFL men's and women's teams protesting by wearing "Free the Flag" warm-up shirts (from our own Jamie Rathjen).