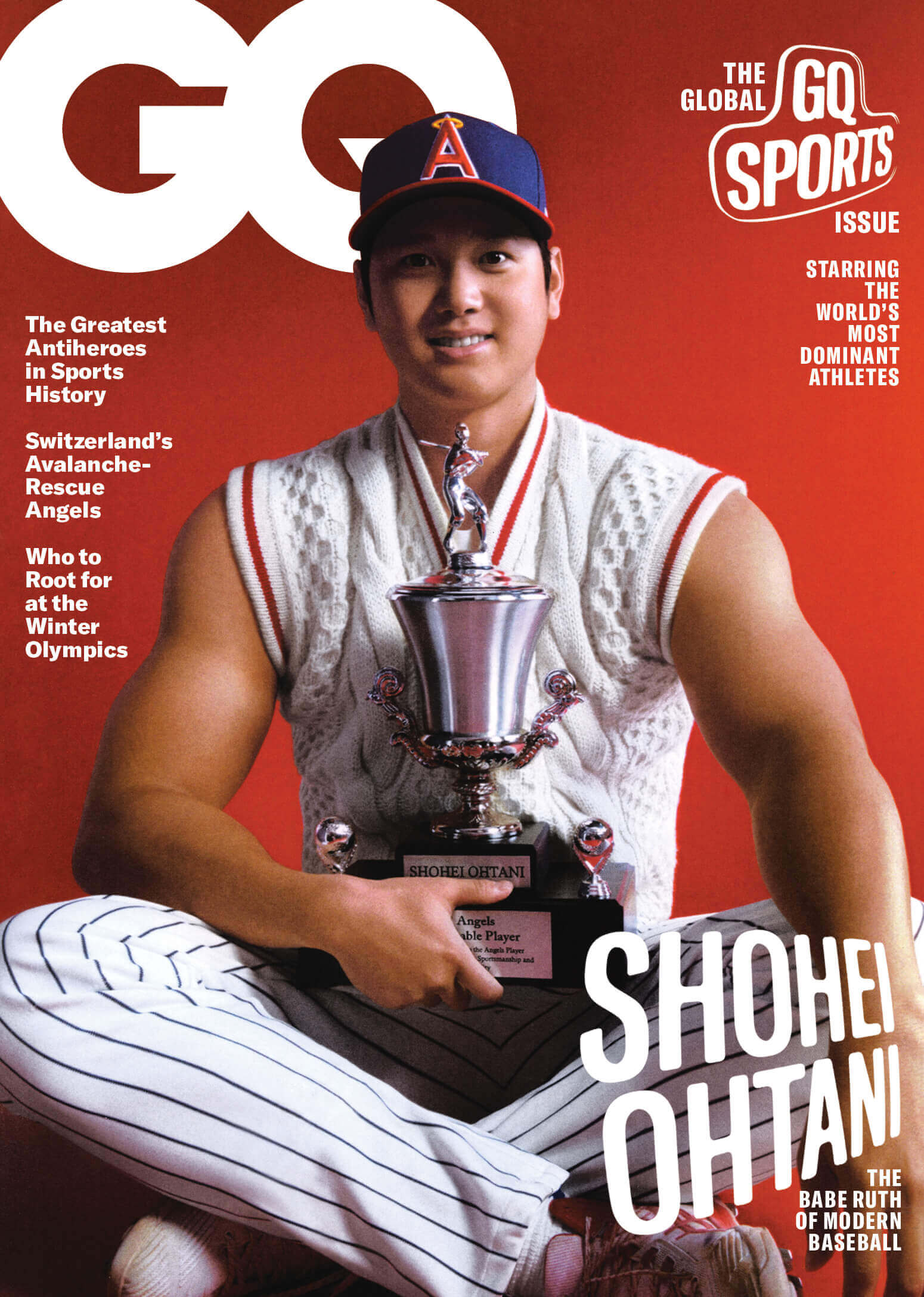 Click to enlarge
MLB uni news has mostly been on pause due to the lockout, but GQ magazine may have given us a hint with its current cover photo of Angels pitcher/DH Shohei Ohtani posing with his 2021 American League MVP trophy.
As you can see above, Ohtani's wearing an Angels throwback cap that matches what the team wore from 1972 through 1992. He's also wearing what appears to be navy-pinstriped pants, which the team wore from 1997 through 2001. (And yes, he's also wearing a sweater vest, but whatever.)
Does this mean the Angels will be rolling out a series of throwbacks this season? Not necessarily — but it's something to keep an eye on. And at the very least, it's an interesting bit of mix-and-match photo styling.
(My thanks to Twitter-er @duckisgod for bringing this photo to my attention.)
• • • • •
• • • • •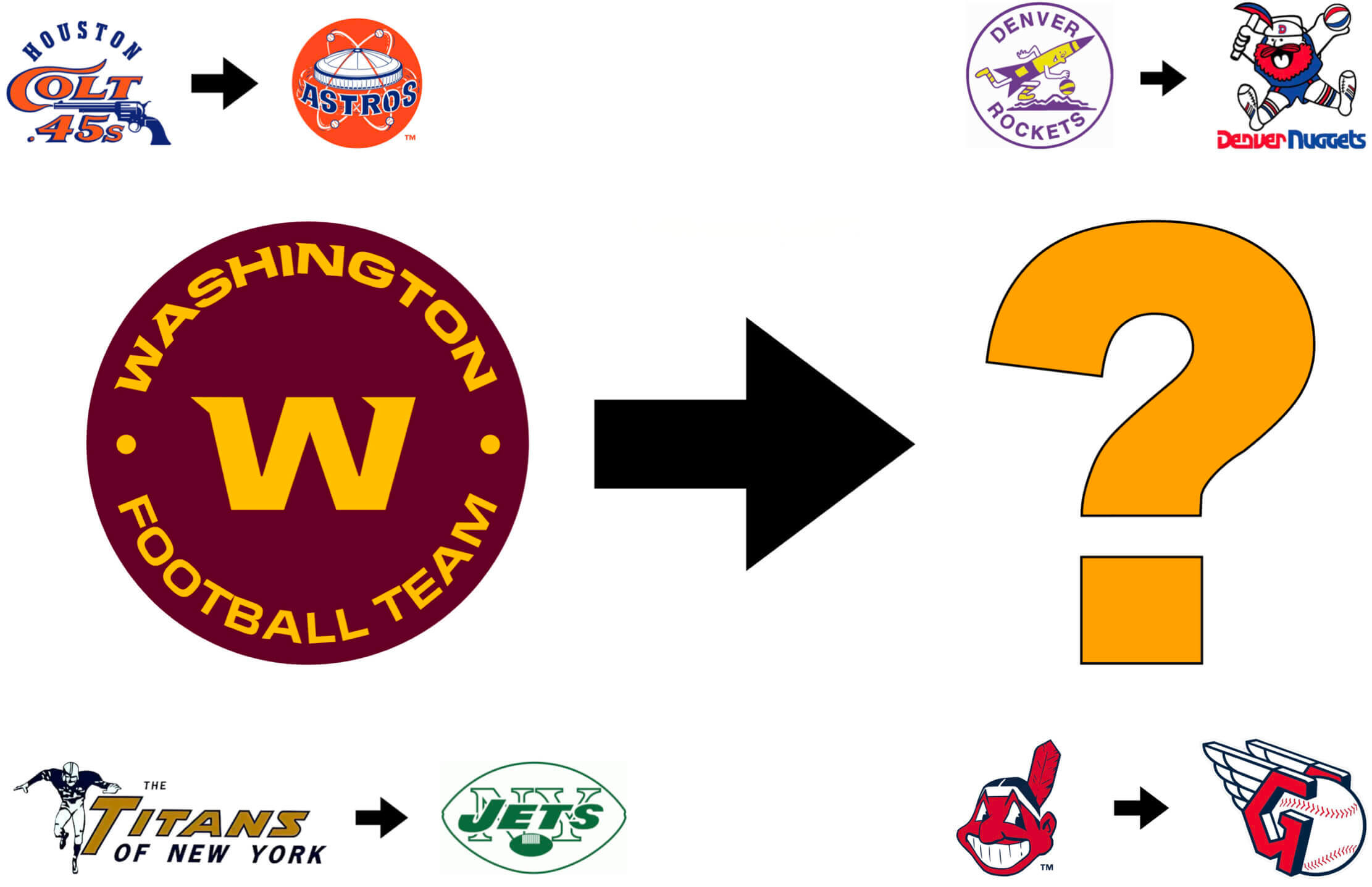 Today's real lede: With the Washington Football Team scheduled to announce its new name in a few weeks, I decided to grade the previous pro sports team renamings. It was a fun exercise, and you can check it out now on Bulletin.
As always, you can also subscribe to receive my Bulletin articles via email.
• • • • •
• • • • •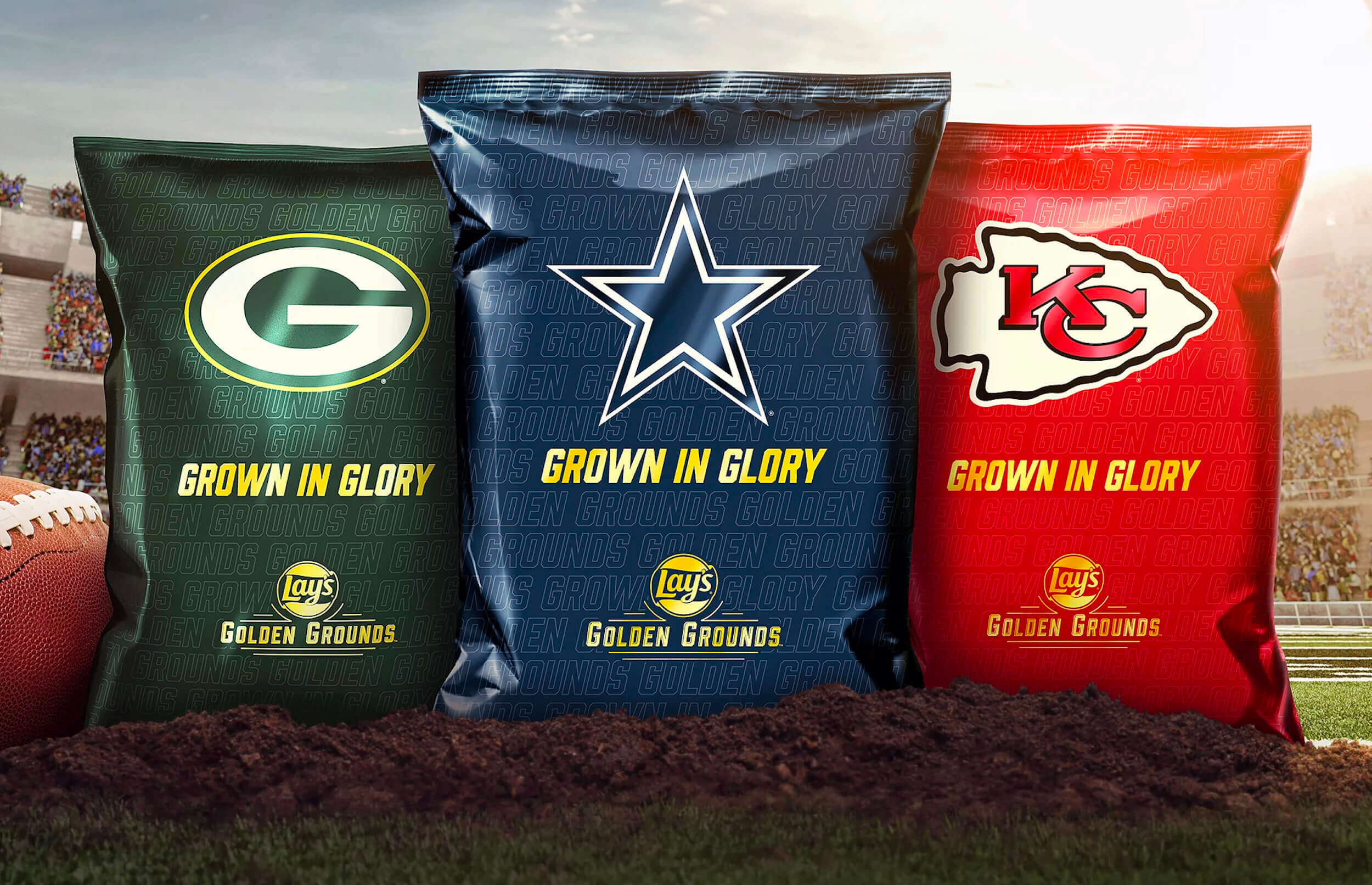 Click to enlarge
Rubber pellets not included (hopefully): Just in time for the NFL postseason, Frito-Lay is producing a limited-edition line of potato chips made from spuds "grown in fields mixed with soil from NFL home grounds," whatever that means (especially for teams that play on artificial turf). If nothing else, this means the longstanding joke about how the 'Skins should have renamed themselves after redskin potatoes has finally sorta-kinda come to fruition. Full details on the chips here.
All 32 teams are represented except the Bengals, Browns, and Broncos. Oddly, all three of those teams have orange as their main team color — is that just a coincidence, or did Frito-Lay have trouble producing orange chip bags? Hmmmm.
(My thanks to William Yurasko for this one.)
• • • • •
• • • • •
Showtime: Elston Howard became the first Black player in Yankees history on April 14, 1955. But four days prior to that, he had arguably an even bigger platform, as he was one of eight big leaguers who appeared — in uniform! — on The Ed Sullivan Show. The others were Vic Wertz (Cleveland); Dusty Rhodes and Willie Mays (Giants); Warren Spahn (Milwaukee); Robin Roberts (Phillies); Pee Wee Reese (Dodgers); and Jerry Coleman (Yankees).
(Big thanks to Dan Cichalski for this one.)
• • • • •
• • • • •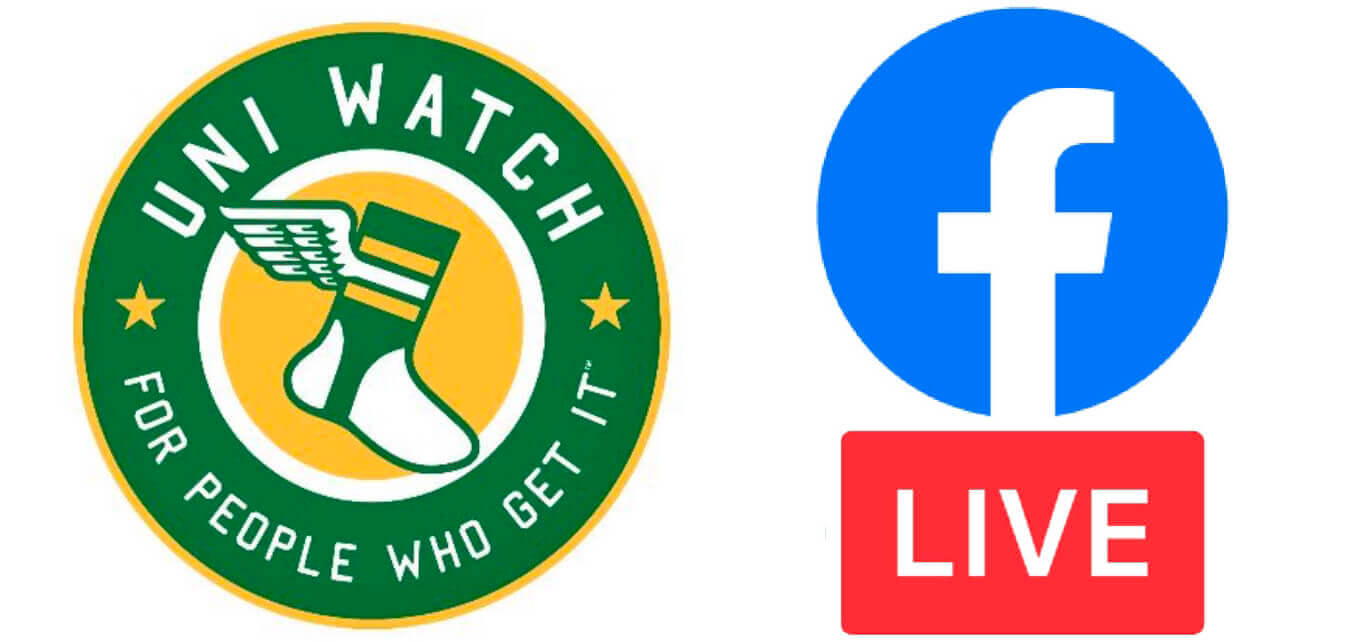 Facebook Live TONIGHT: Okay, so we all know that tonight's real can't-miss event is the Station Eleven finale. But while you're waiting for that, why not stop in for my first-ever Facebook Live event at 7pm Eastern? I'll respond to questions that people post in the comments and will also show-and-tell a few items from my vintage jersey collection. I've never done one of these before, so we'll see how it goes, but I'm hoping it will be a nice little comm-uni-ty event.
The event will livestream on my Facebook page (assuming I don't screw up and click the wrong button or something like that). Anyone can view it, even if you don't have a Facebook account, but you do need an account if you want to post a comment or question.
See you tonight!
• • • • •
• • • • •
Uni Watch Hit Parade: Sometimes I hear a piece of music and it hits my brain so squarely, so perfectly, that all other music melts away. There is no other music, there has never been any other music, because how could any other music exist besides this music that's playing right now?
That's how I felt when I recently heard "Uptight Tonight," a 1966 single by an obscure Memphis garage band called Flash and the Memphis Casuals. The sound is totally copped from the mid-'60s Stones, right down to the Mick-alike vocals, but the execution is so good that it makes the Stones sound like the imitators instead of the other way around. Two minutes and 12 seconds of house-rocking perfection — enjoy.
• • • • •
• • • • •
The Ticker
By Paul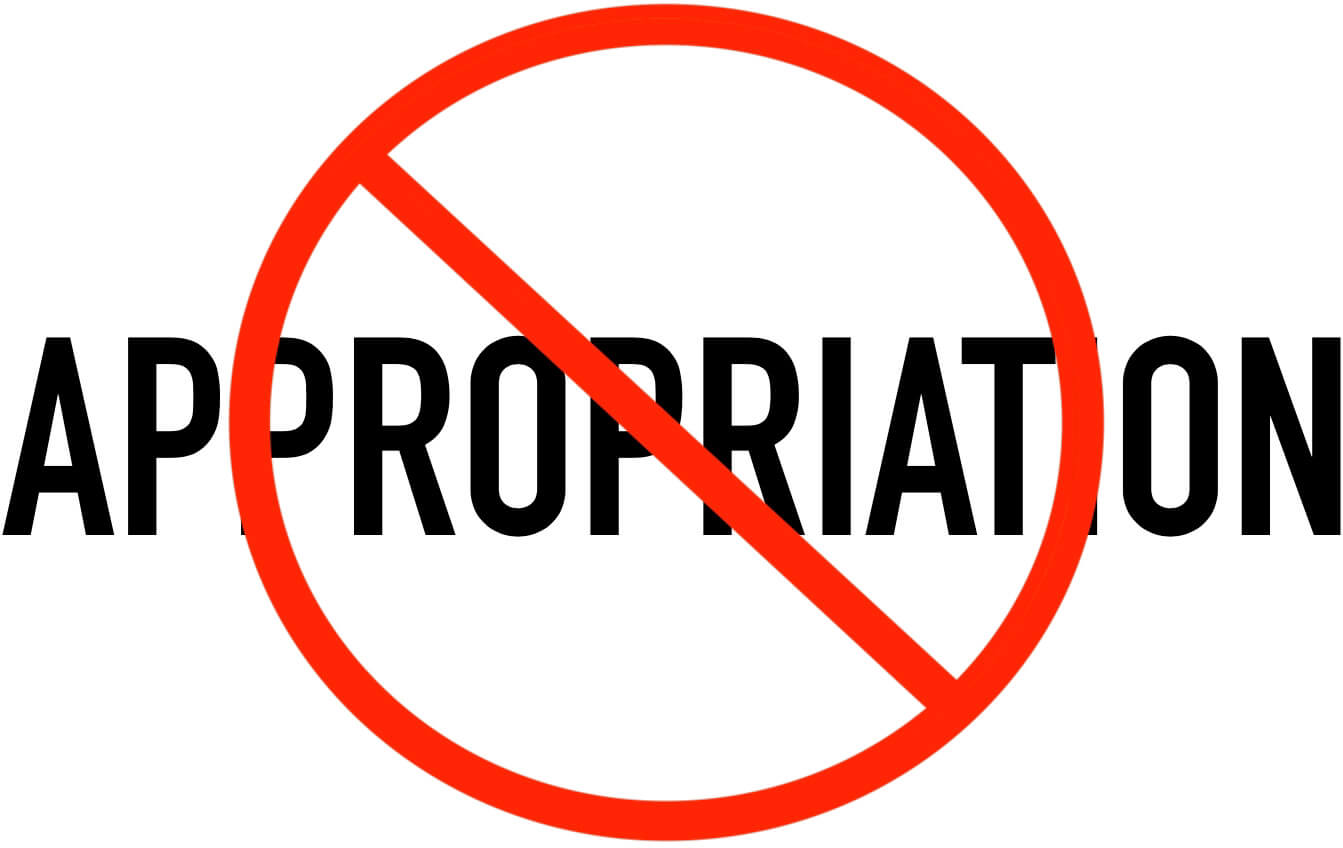 Indigenous Appropriation News: Ohio's seventh-largest city, Parma, has decided to keep its school's "Redmen" team name and associated Native imagery (from Mary Lynn Delfino). … Longtime Native American activist Clyde Bellecourt, who was leading anti-"Redskins" protests back in the early 1990s, has died (from Barry Brite). … The school board in Rutland, Vt., voted in 2020 to change the local high school's team name from Raiders to Ravens and to retire the school's red arrowhead logo. Now the board has reversed that decision, with the board chairman saying he prefers a city referendum to address the issue instead (from Chris Costello and Keith Carlton). … These last three items are from Kary Klismet: The Savannah (Mo.) school district is asking students and parents to vote on a new team name to replace "Savages" and its accompanying Native American imagery. … Morris High School in Illinois will no longer call its teams the Redskins. … A rural Colorado elementary school is in danger of being fined despite having dropped its "Apaches" team name, highlighting the bureaucratic complexities of implementing the state's new law banning Native American team names and imagery.

Baseball News: The Twins announced that they will retire Jim Kaat's No. 36 this summer (from R. Scott Rogers). … Former MLBer Eddie Basinski has died at the age of 99. A classically trained violinist, he played for the Dodgers, Pirates, and the Buffalo Symphony Orchestra. Here's a shot of him playing the fiddle while in uniform (from Trevor Williams). … Pirates 2B Bill Mazeroski wore No. 9 throughout his career, but here's a 1970 photo showing him wearing No. 6. Maybe they accidentally sewed his regular number upside-down..? … Longtime New York Post columnist Joel Sherman says it's time for the Yankees to scrap their beard and hair-length policies. … The Double-A Tennessee Smokies will become the Knoxville Smokies. The change in geographic descriptors comes as the team prepares to move into a new stadium (from David Clemons). … Reprinted from last night's comments: A game-used Angels spring training jersey from 2019 has an upside-down 8 (from Mark in Shiga). … New uniforms for the Japanese national team (from Jeremy Brahm). … I had a dream last night about stirrups — really!

NFL News: Here's a look at this season's records, as broken down by uni combo, for the Titans and Jags (thanks, Phil). … Here's Jason Von Stein's uni/mascot-themed illustration for the Wild Card Weekend matchups.

Hockey News: The Canucks have a really cool Lunar New Year jersey, which they'll wear for pregame activities in a few weeks (from @daveyboy604). … Here are the goalie pads for Team Canada women's Olympic goalie Kristen Campbell (from Wade Heidt). … The PHF has moved its all-star game from Toronto to Buffalo due to Covid, so the game now has a new logo. But the jersey designs, which are based on street maps of Toronto, are remaining the same (thanks, Jamie). … The Lightning will wear pregame jerseys celebrating the Gasparilla Pirate Festival — an annual event in Tampa — on Jan. 29 (from Mike Chamernik).

Basketball News: Suns G Devin Booker is pissed off at the Raptors' costumed mascot, which tried to distract him during a recent game (from Andreas Papadopoulos). … The Grizzlies have a new promotion that will allow kids to swap an opposing player's jersey for a Griz jersey and a pair of tickets (from @danstarceski). … New yellow uniforms for Wichita State men's (from Cameron Schneider). … I've long known that UNC once used uni-numbered socks, but I didn't know until now that they had "C"-logo socks back in the 1940s.

Soccer News: No photo, but @aracauna_man reports that the goalkeeper for Odisha FC in the Indian Super League had black tape on his chest and across his nameplate yesterday. … New stadium in the works for men's third-tier English side Oxford United (from Kary Klismet).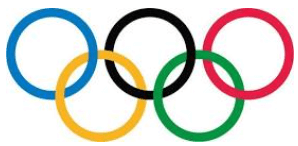 Olympics News: A bipartisan group of U.S. lawmakers has asked the IOC to confirm that the uniforms for the upcoming Beijing games are not linked to slave labor. … Cross-listed from the hockey section: Here are the goalie pads for Team Canada women's hockey goalie Kristen Campbell (from Wade Heidt).

Grab Bag: New 75th-anniversary logo for the CIA (from Shaun McNamara). … New municipal logo for Amesbury, Mass. … If you live in the DC area and are interested in trying your hand at curling, you can do that here. Click on the "Details" link for the full list of dates and times (from Max Weintraub). … Good story on how color-vs.-color matchups can be hard on colorblind fans (from @shwrth). … Gotta love some of these Michigan Dept. of Transportation snow plow names (from Timmy Donahue).