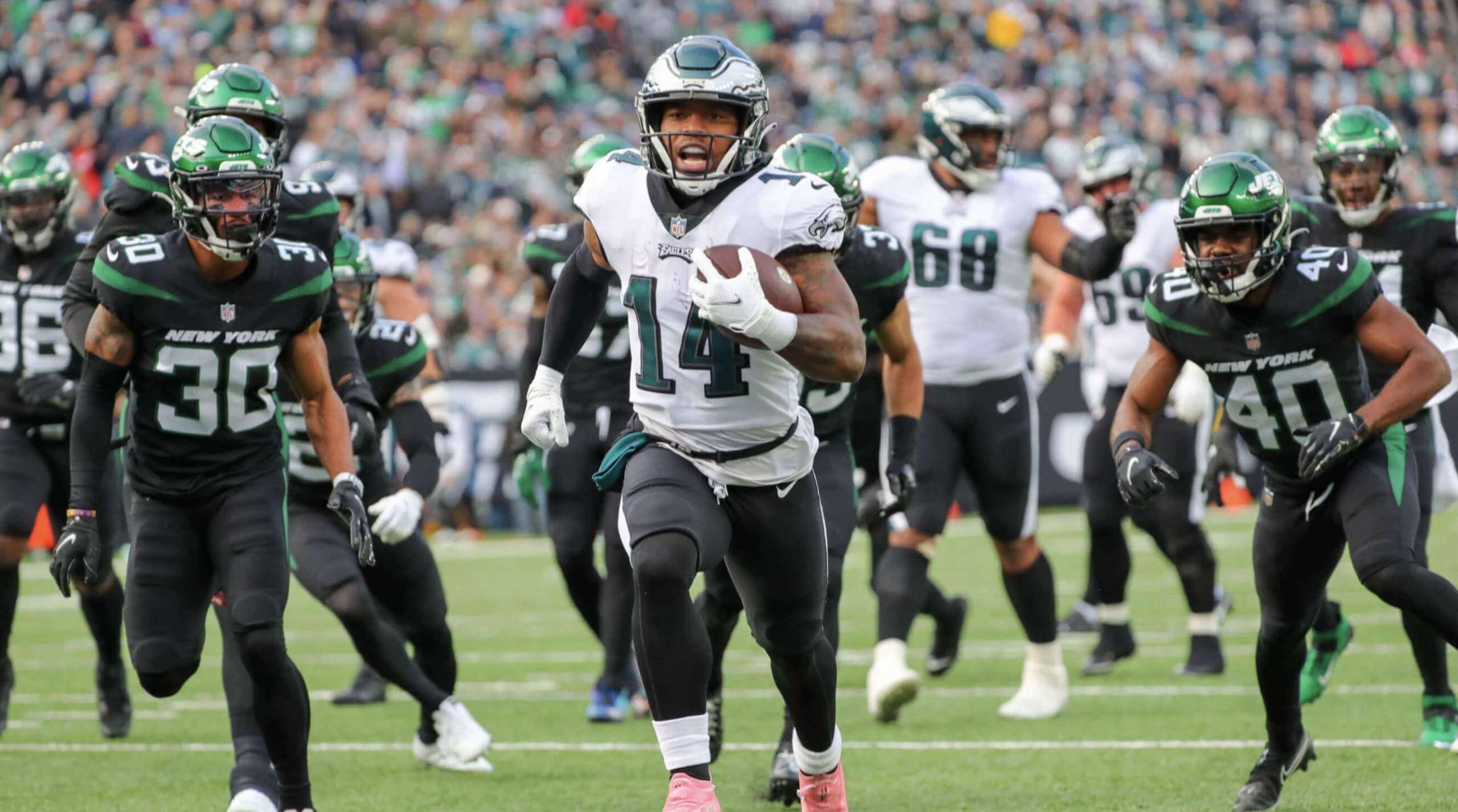 For all photos, click to enlarge
In theory, an Eagles/Jets game should be eye candy for me, since both teams' primary color is green. But yesterday's matchup was more of an eyesore, with both teams trotting out BFBS elements. What a mess!
Here's how ridiculous it looked in action (with a BFBS end zone for good measure):
.@goedert33 didn't come to mess around!#PHIvsNYJ | #FlyEaglesFly pic.twitter.com/MZSkmvZOgu

— Philadelphia Eagles (@Eagles) December 5, 2021
In other news from around the league yesterday:
• For the first time ever, the Seahawks wore navy over grey at home:
According to the Gridiron Uniform Database, the Seahawks wore this uni combo seven previous times since adopting their current uniform set in 2012, but always on the road.
• As you can also see in that Seahawks/49ers photo, the Niners wore their white throwbacks. Here's a better look: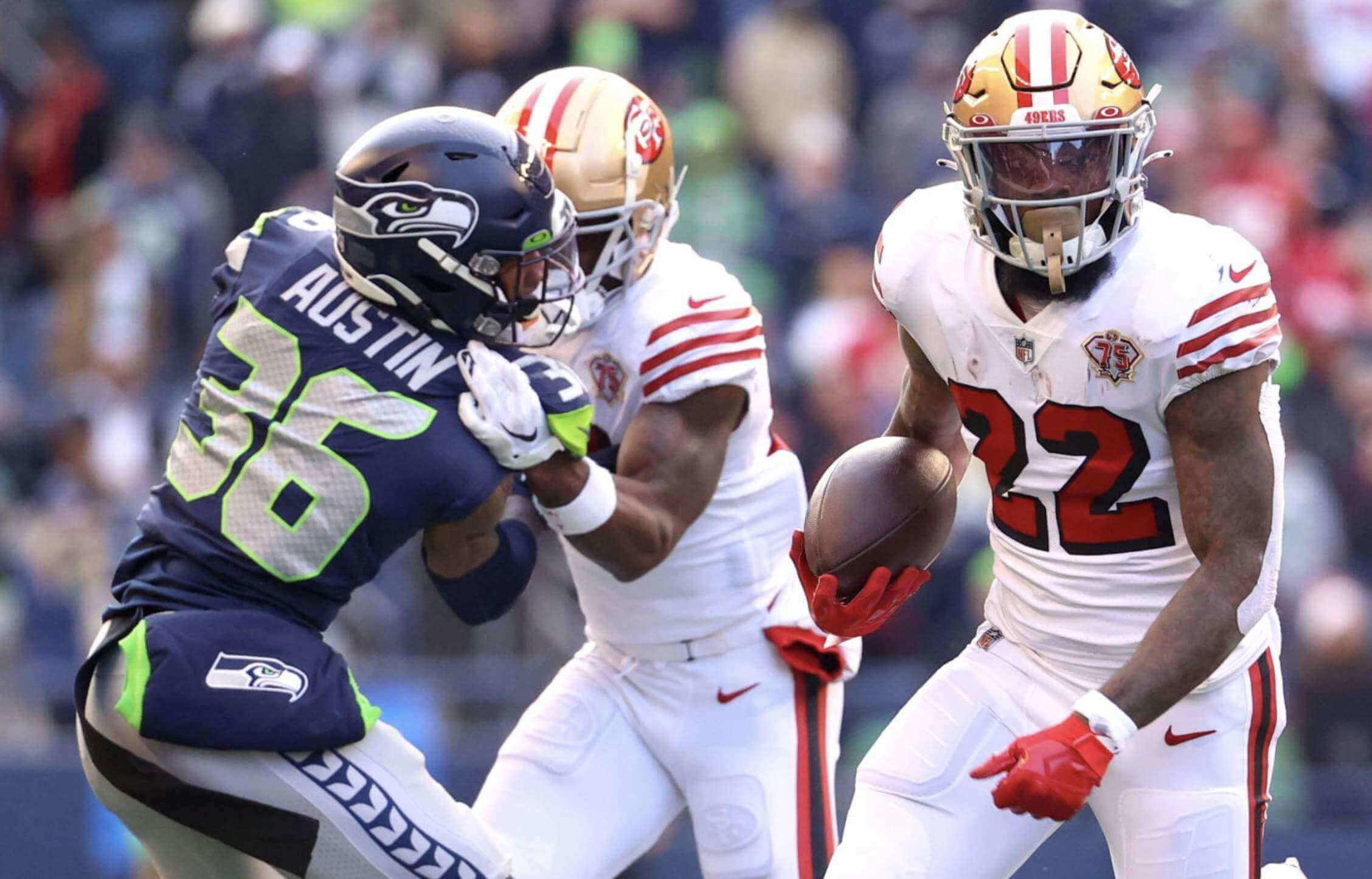 The Niners will wear these white throwbacks one more time this season (Dec. 23 against the Titans), and will also wear their home throwbacks one more time (Dec. 19 against the Falcons).
• The Bears wore their orange alternates: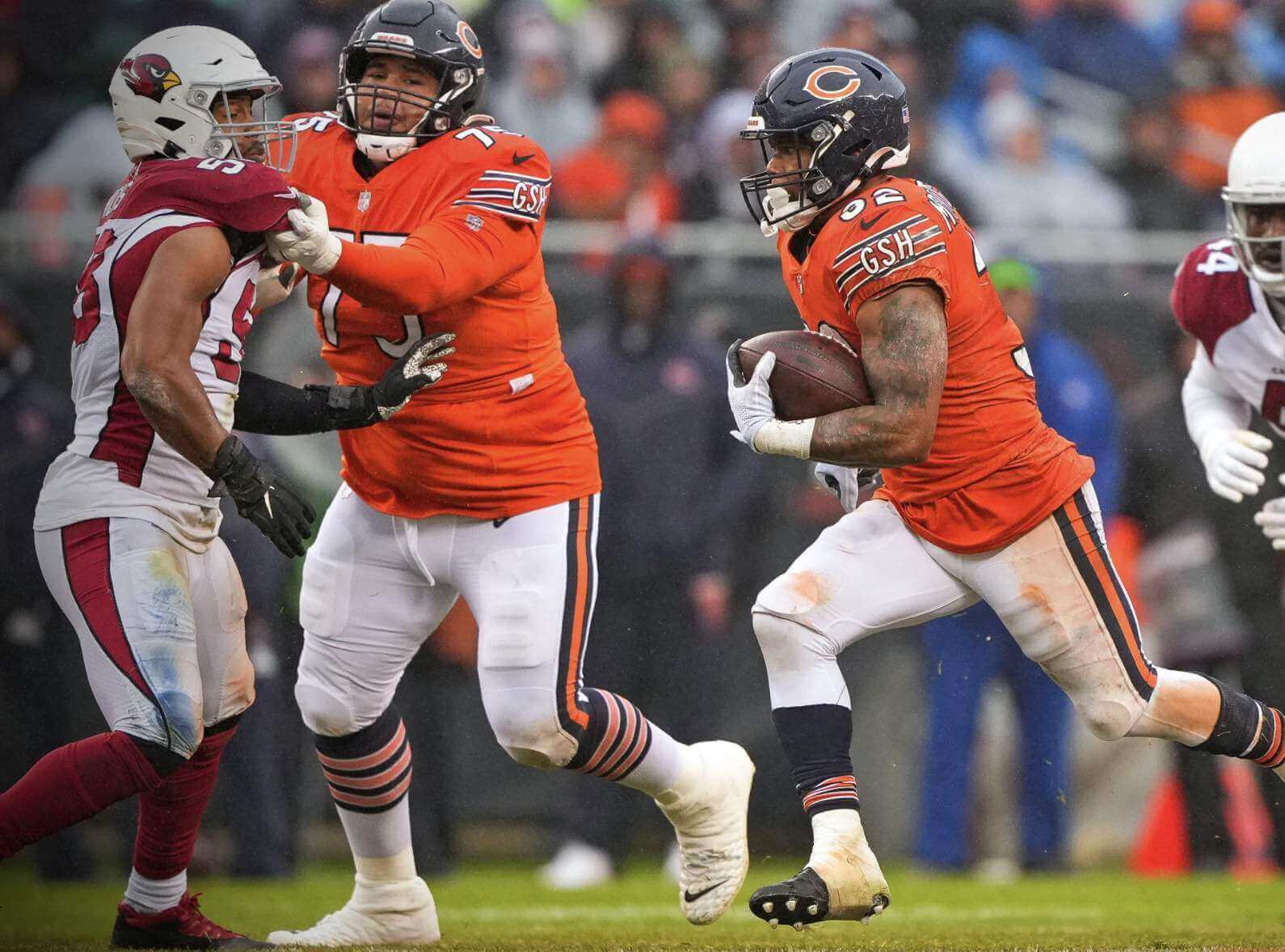 • For the first time this season, the Bengals wore their black jerseys with the white pants with the black/white tiger striping: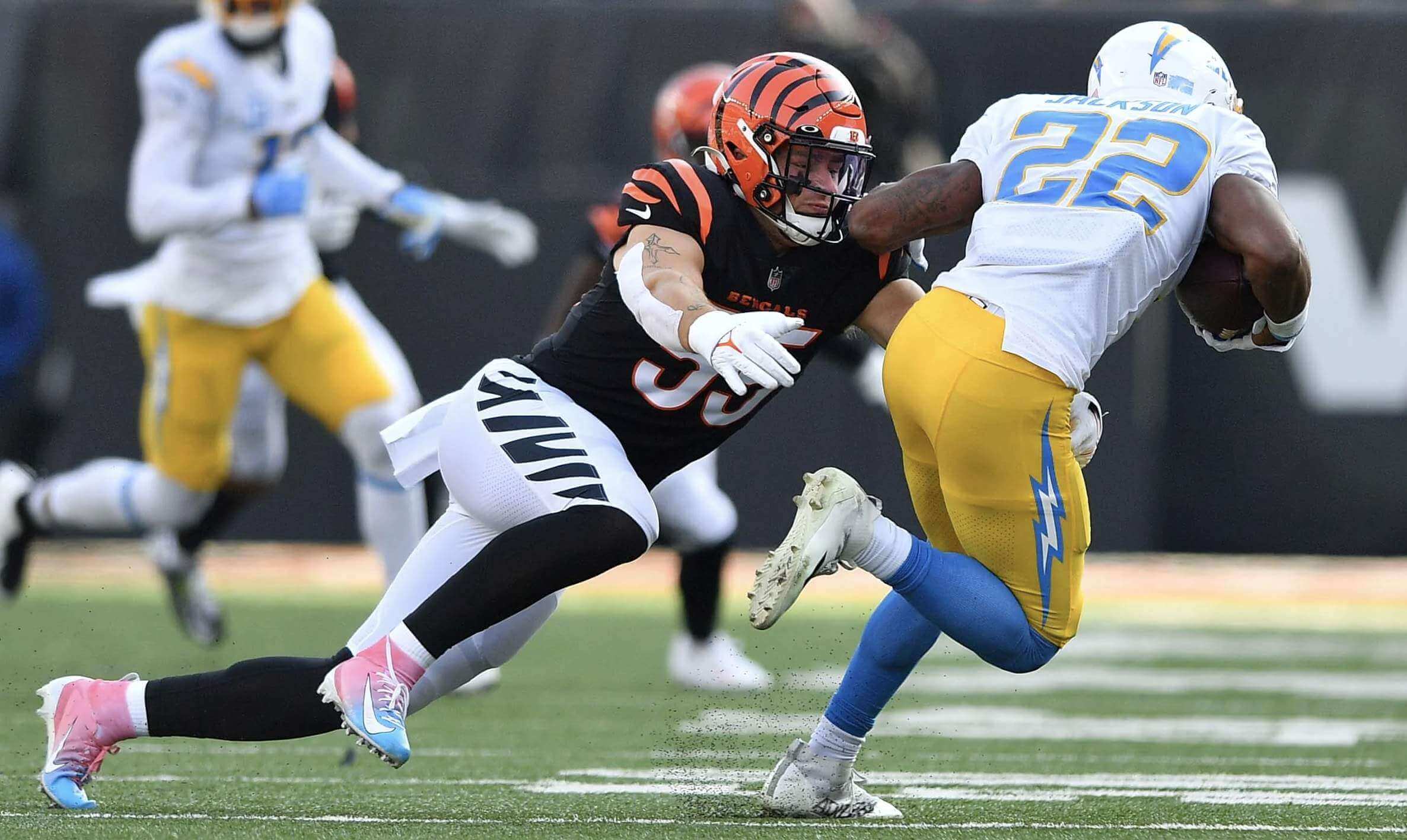 They had previously worn black over white in Week Five against Green Bay, but that was with the orange-striped pants: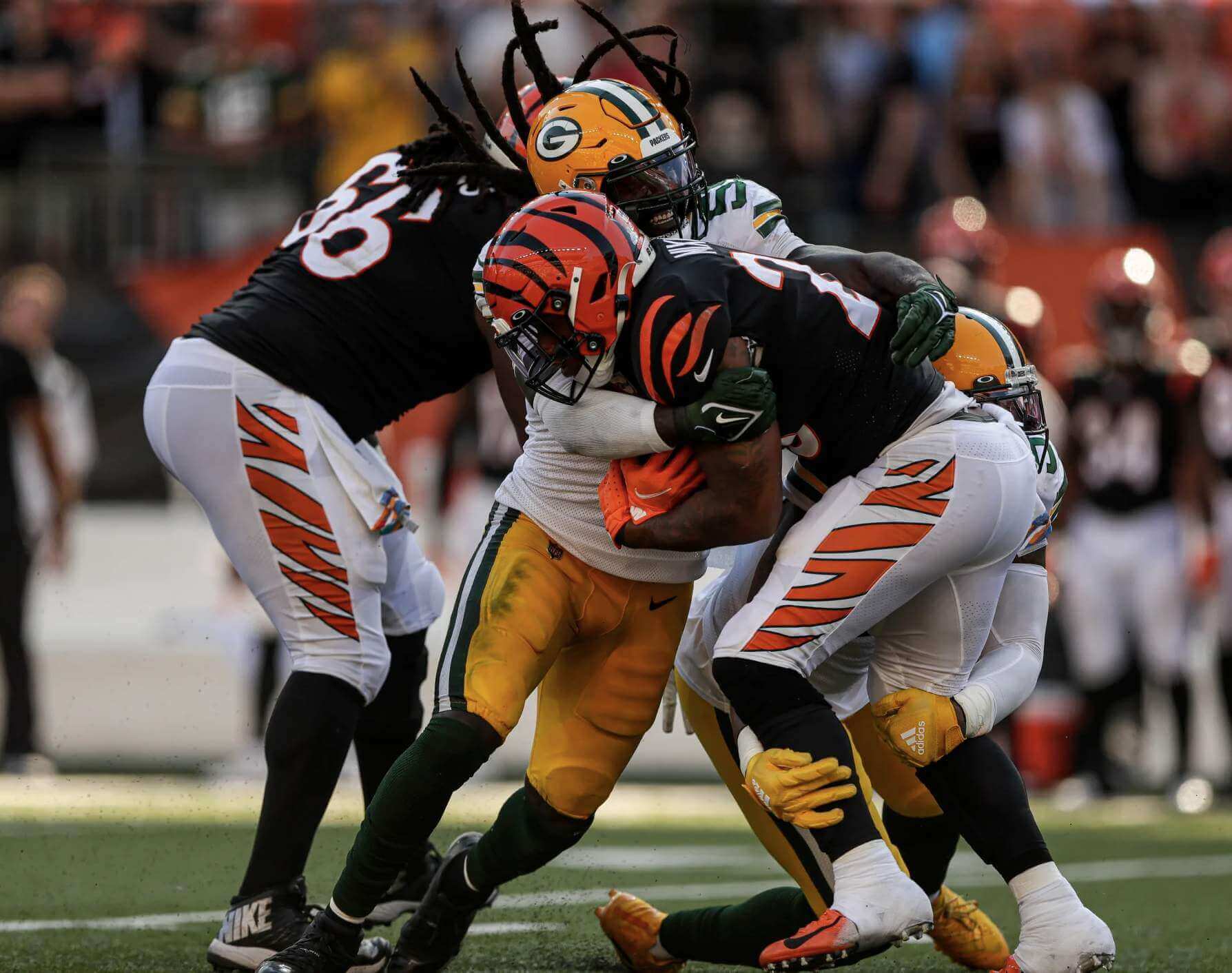 I think I prefer the version they wore yesterday.
• The Lions wore their brutal mono-GFGS alternates — woof: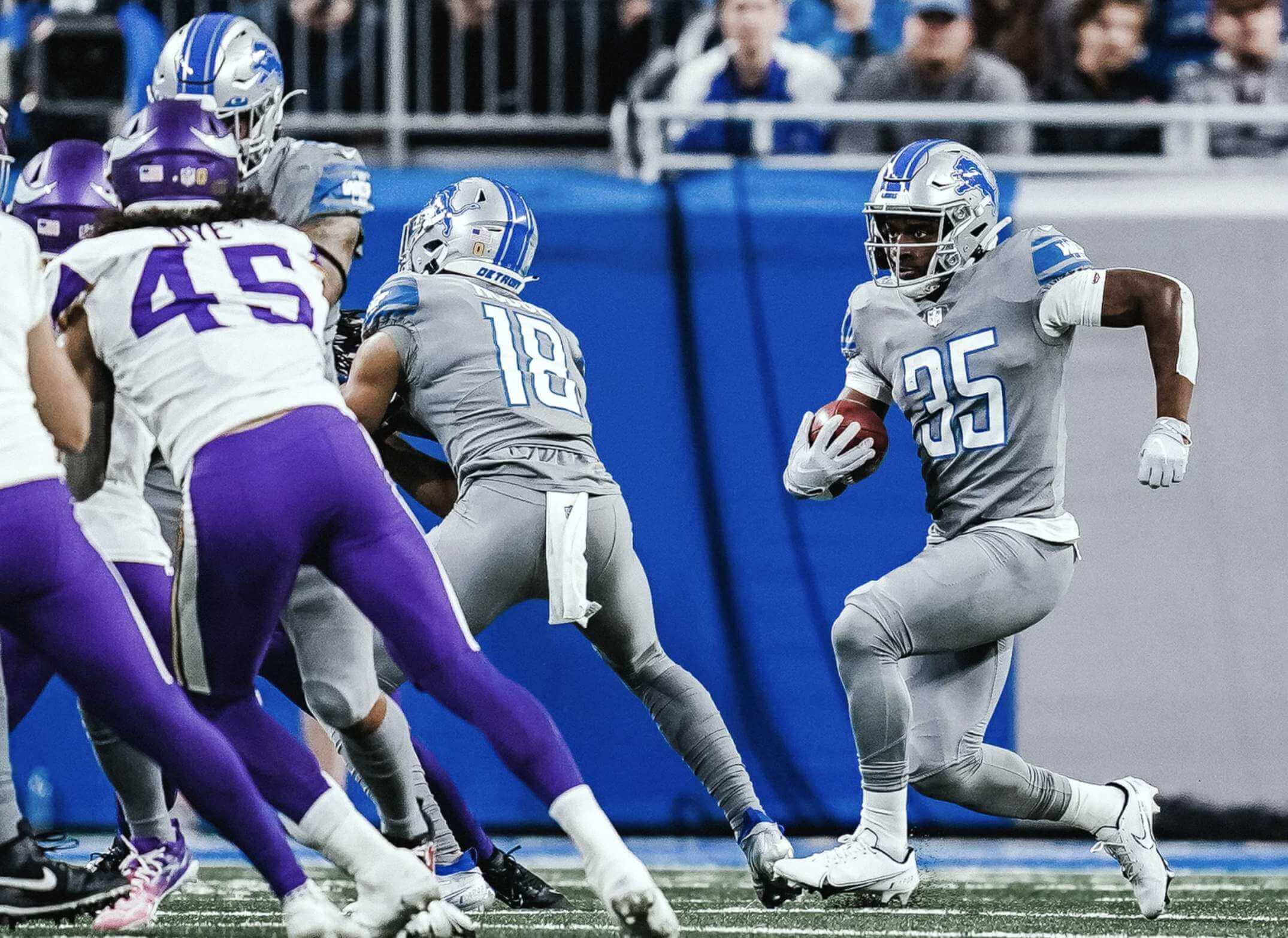 Happily, this might be the final time we see this uniform, as the team is reportedly considering a uni change for next season.
• In that Lions/Vikings game, both teams wore the logo of Oxford High School, site of our nation's latest mass school shooting: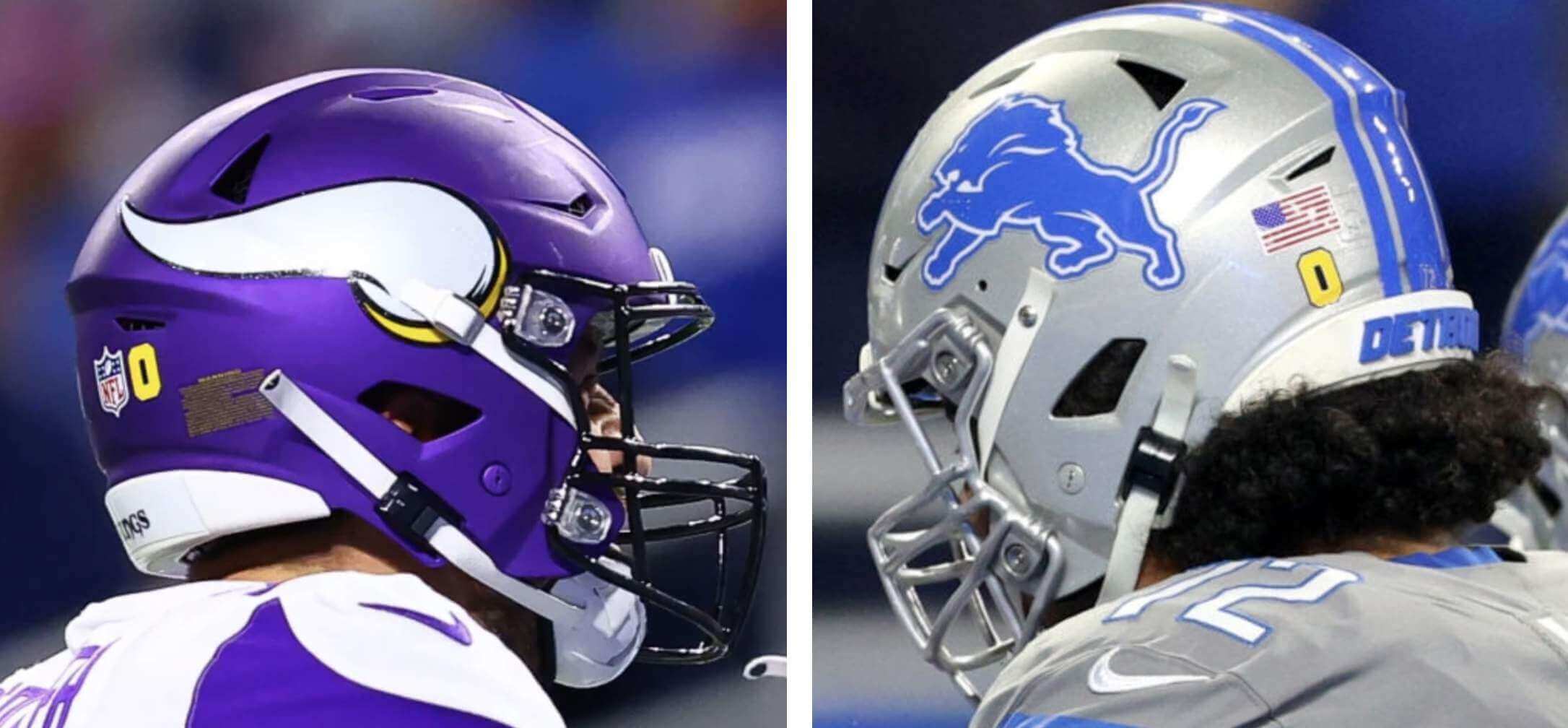 • In addition, Lions personnel wore Oxford T-shirts and caps during pregame activities, and head coach Dan Campbell wore the cap during the game: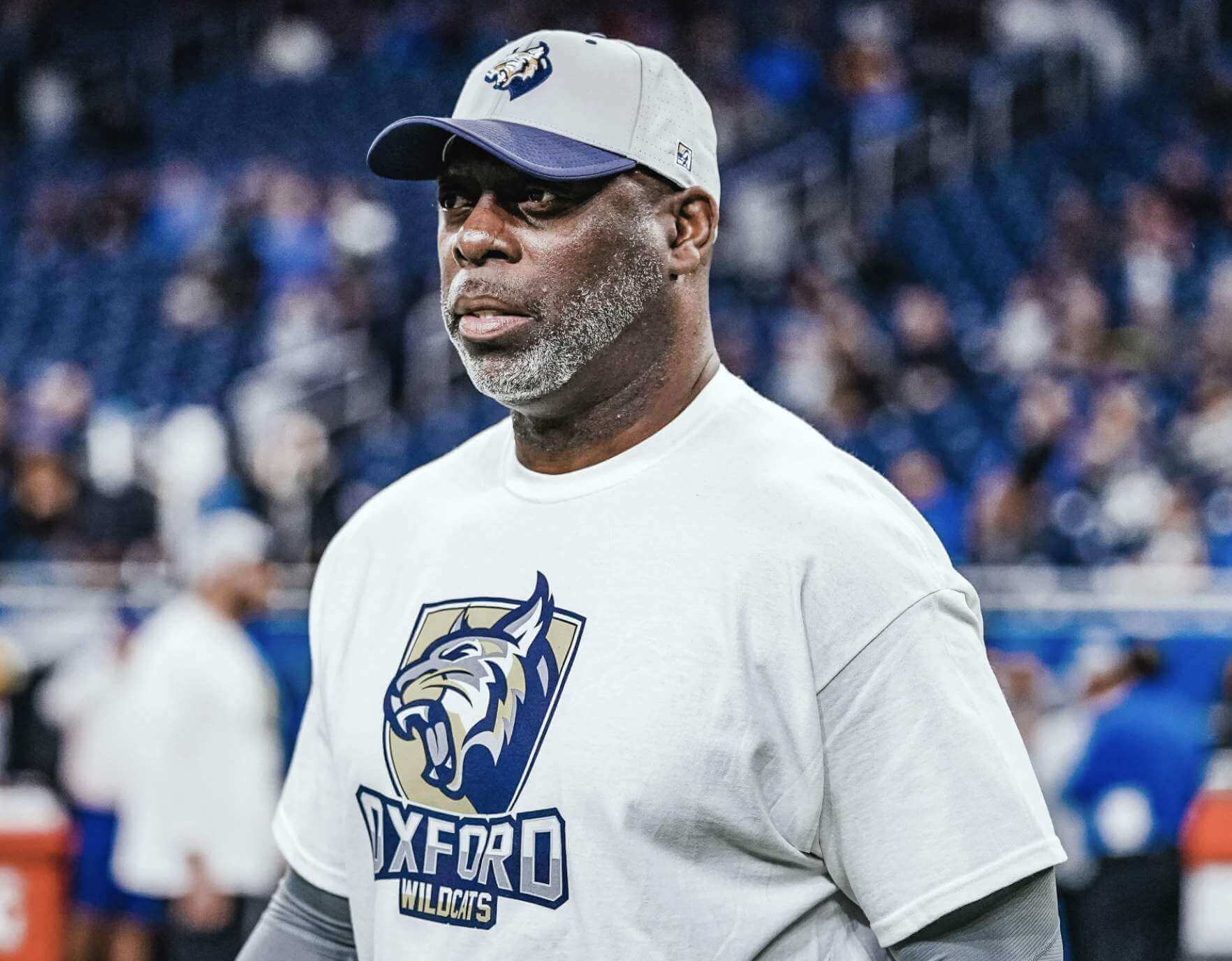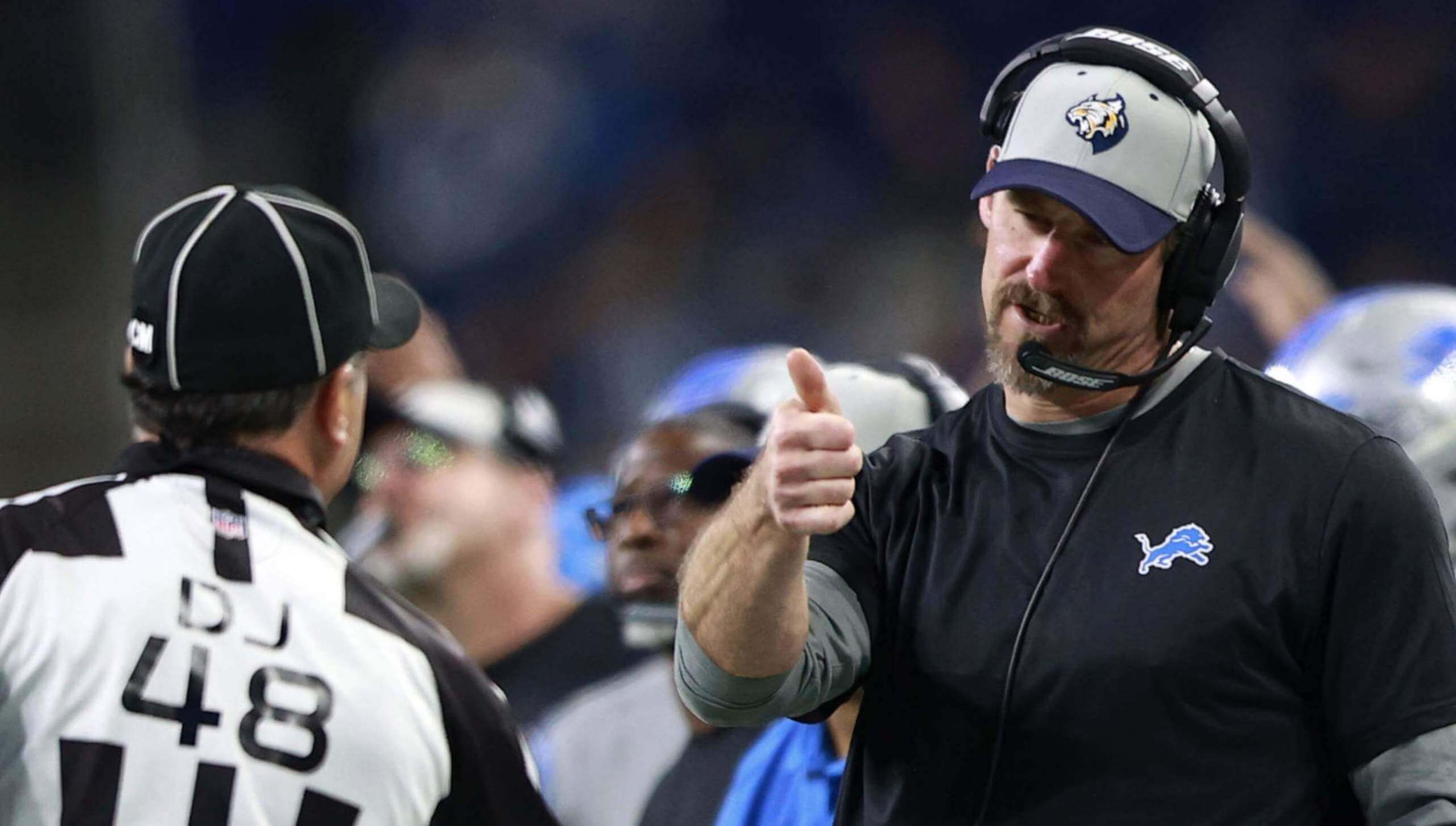 • The Texans wore their red alternates: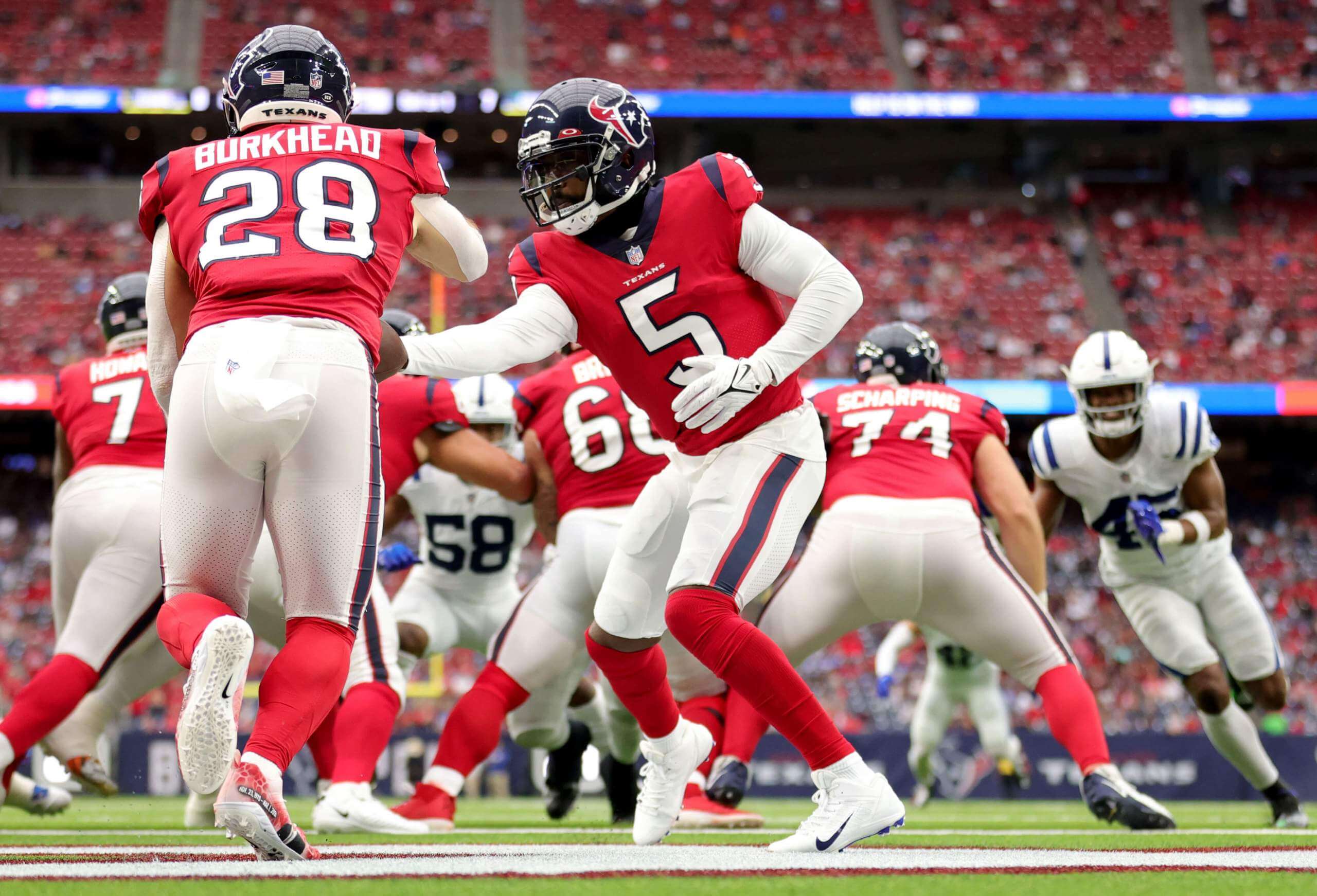 • G.I. Joevember is over, but Giants coach Joe Judge was still playing military dress-up: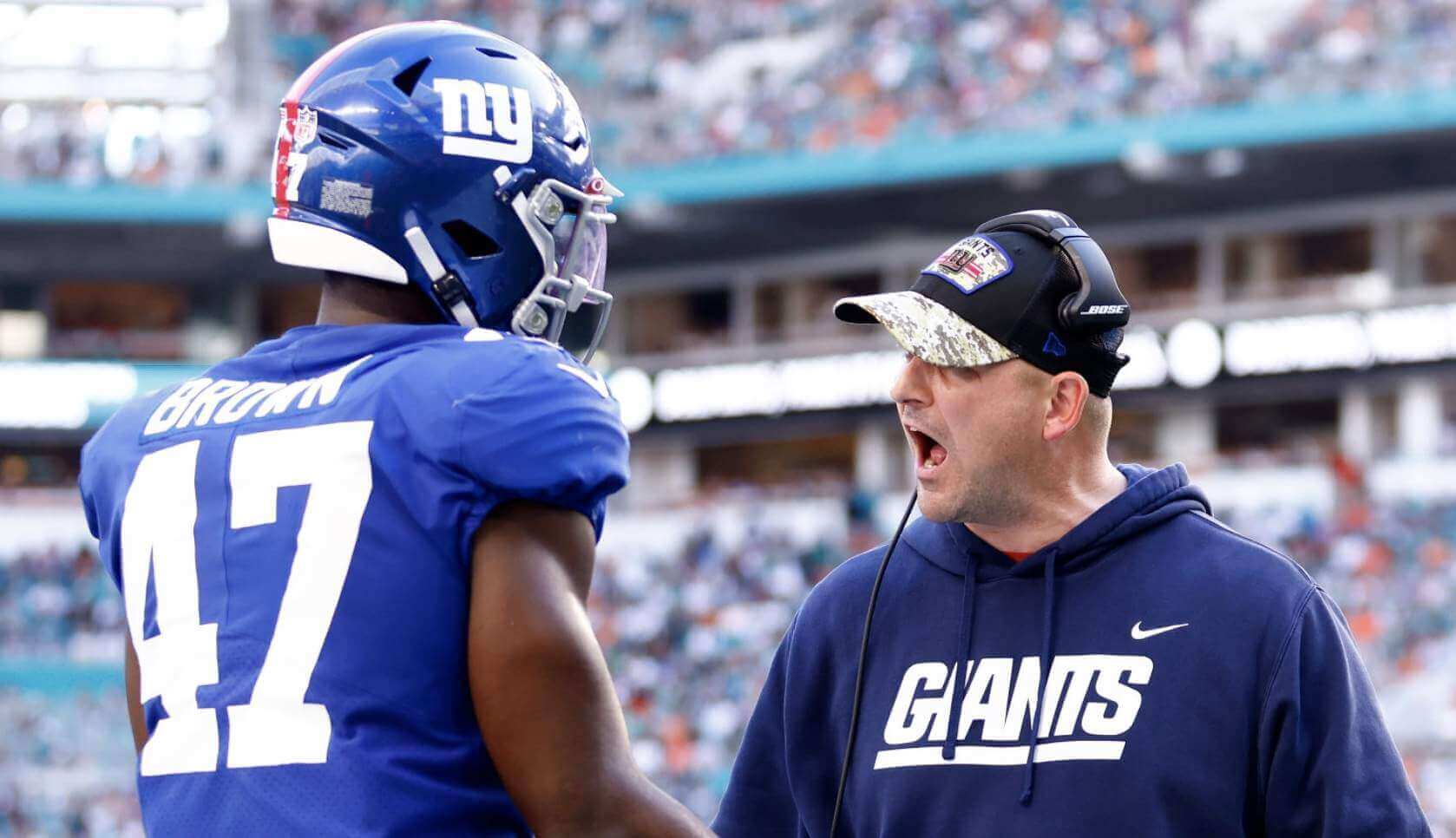 • As you can see in some of the photos from today's post, lots of players were wearing new footwear designs for the annual "My Cause, My Cleats" promotion. (There's more info here, and most teams have photos of their players' cleats on their websites.) Interestingly, the "My Cause, My Cleats" lettering on end zone back lines was rendered inconsistently from stadium to stadium — sometimes all-caps, sometimes a mix of upper- and lowercase; sometimes spread out, sometimes compressed: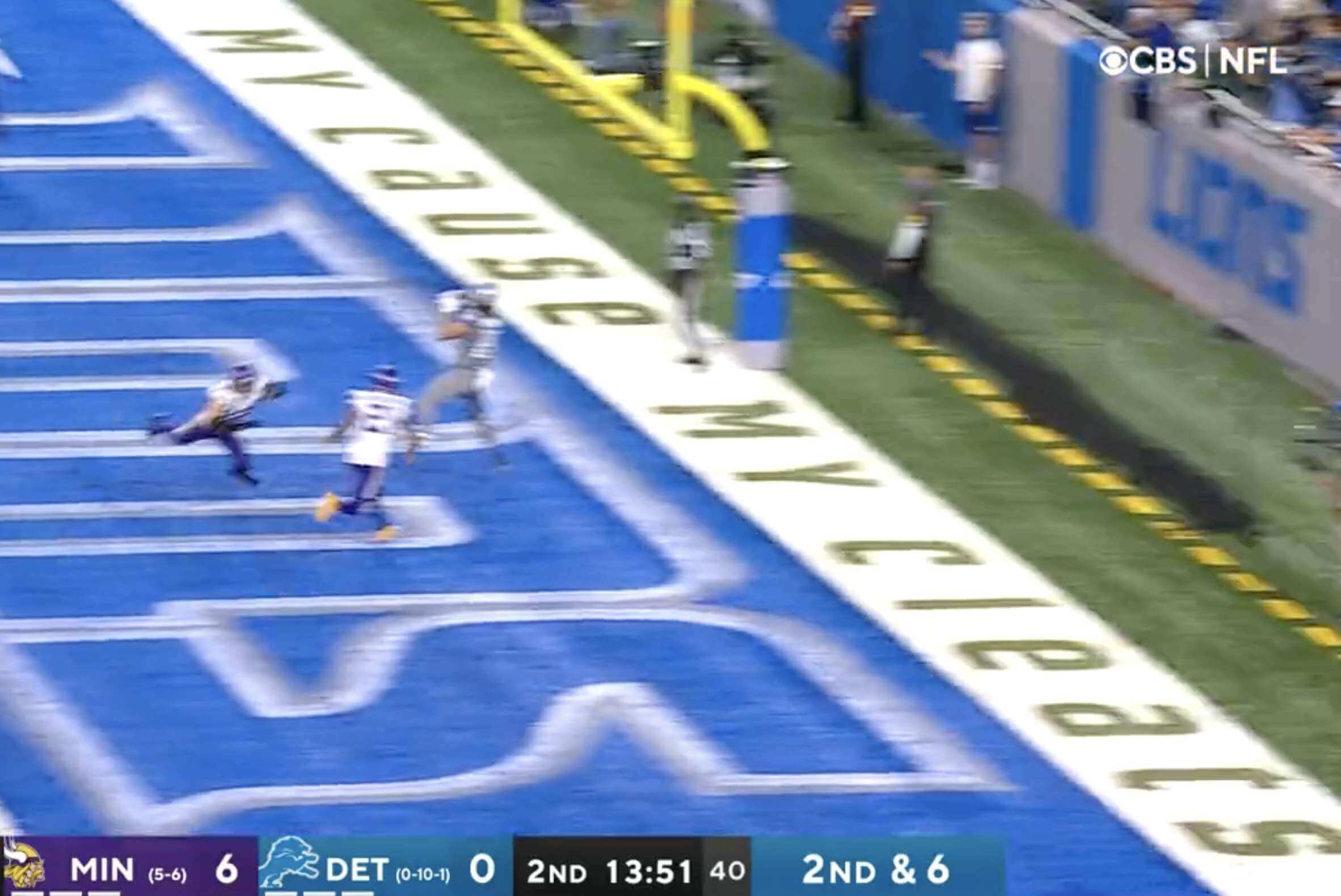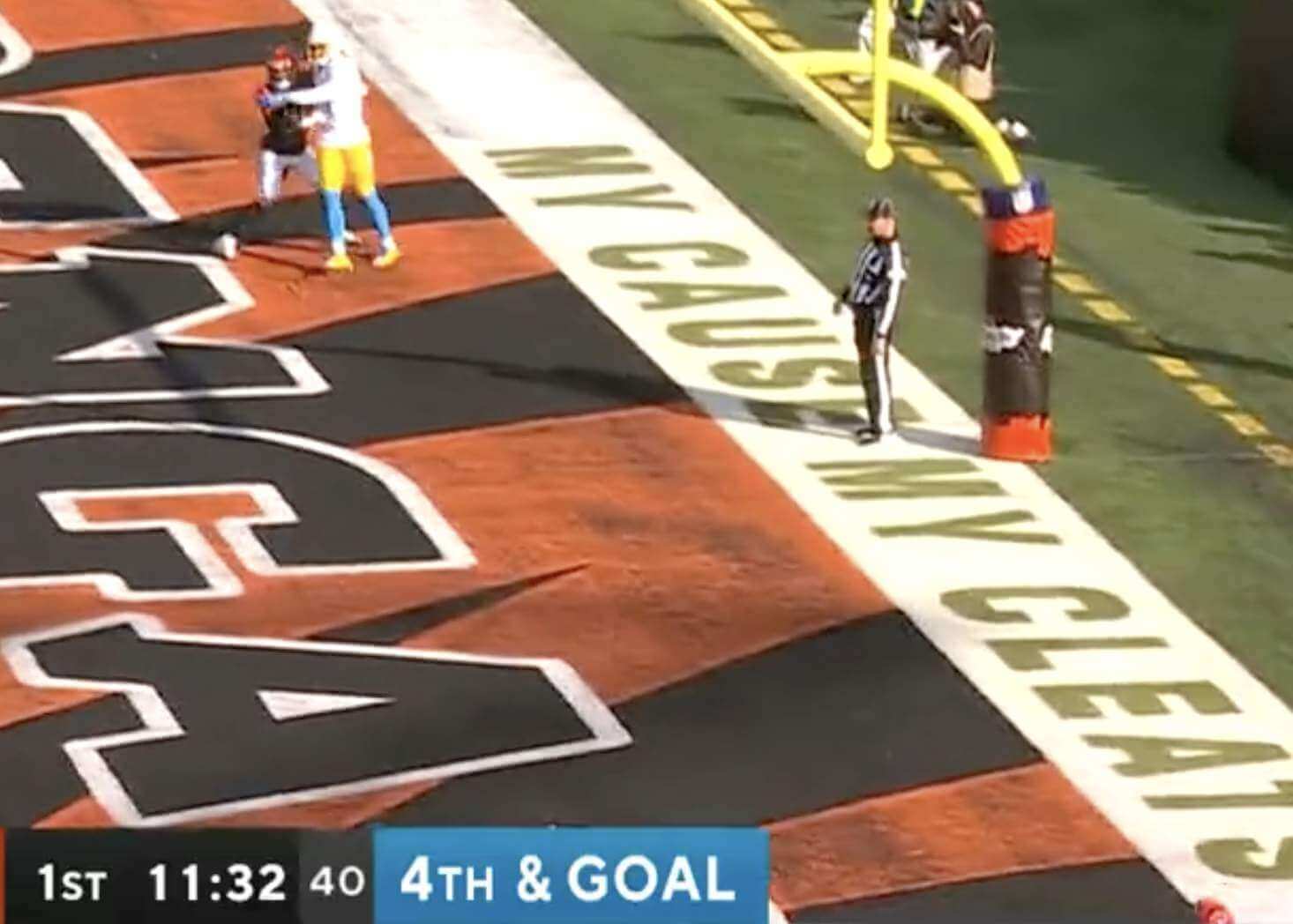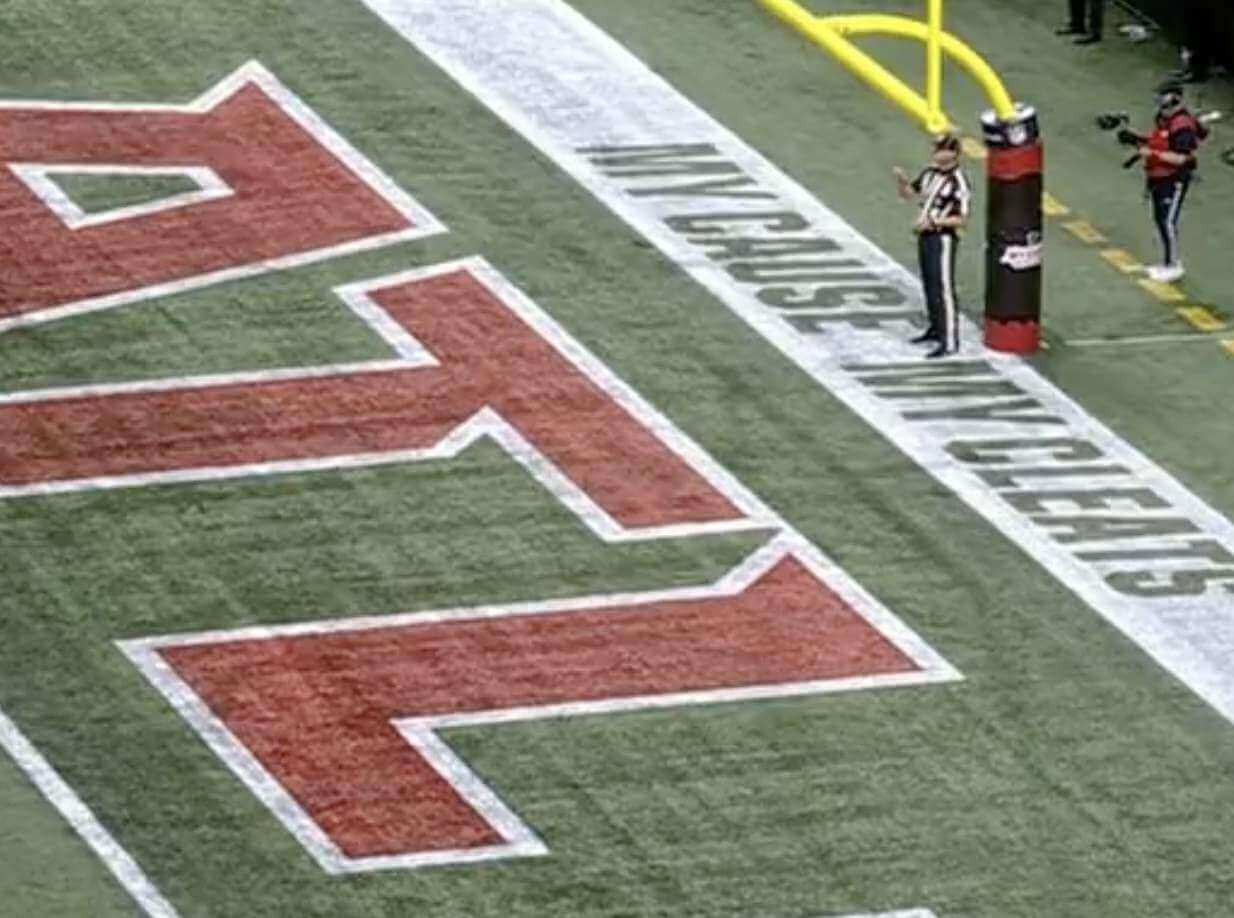 There's nothing wrong with those inconsistencies, of course. It's just surprising to see it in the NFL, which is usually so rigorous about consistent messaging.
• Just one team wore white at home: the Dolphins.
Looking ahead: Tonight we'll see white over blue vs. blue over white.
(My thanks to our own Jerry Wolper for sending me down the end zone lettering rabbit hole.)
• • • • •
• • • • •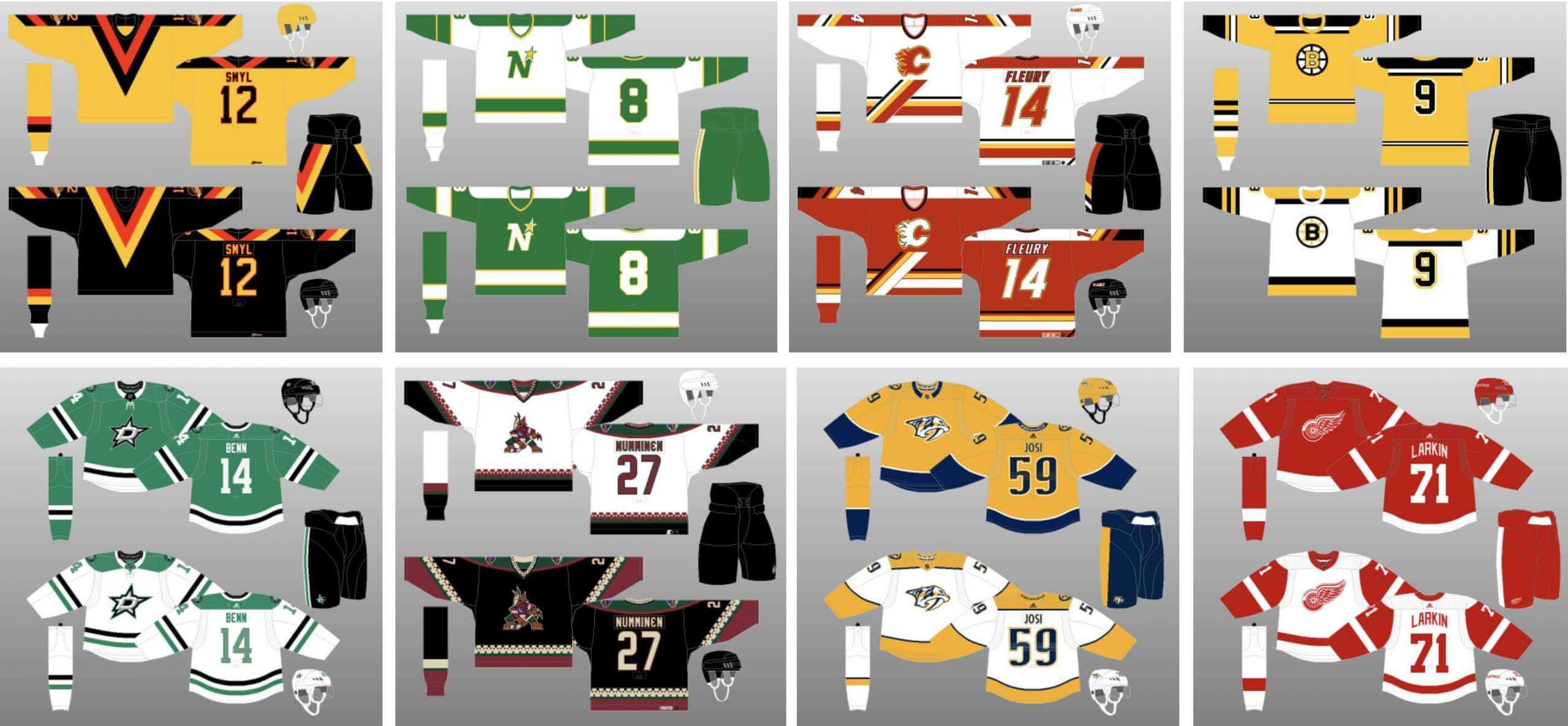 ITEM! New Bulletin article: Andrew Greenstein, who maintains the essential NHL Uniform Database, is one of the uni-verse's unsung heroes. For my latest Bulletin piece (which was actually published midday on Friday, but too late to be mentioned/linked in that day's blog post), I interviewed him. You can check it out here. Enjoy!
• • • • •
• • • • •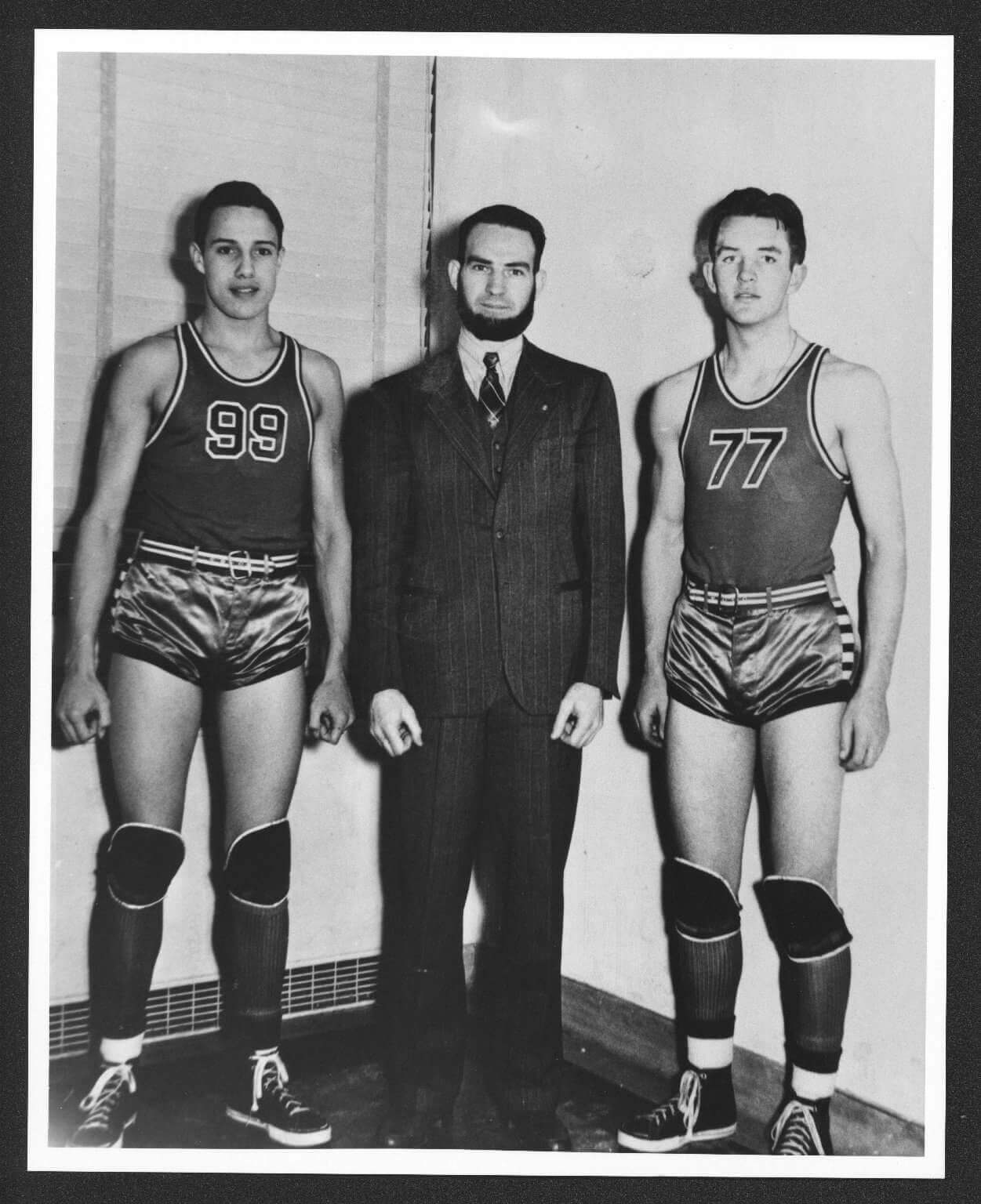 For most of these photos, you can click to enlarge
An American life: Who's that wearing No. 99 in the photo above? None other than Bob Dole, who would go on the be the Republican Party's nominee for Vice President (1976) and President (1996). He died yesterday at the age of 98.
The photo above was taken when Dole was in high school. He went on to play basketball at the University of Kansas — you can see him in the back row, third from the left, in this team photo: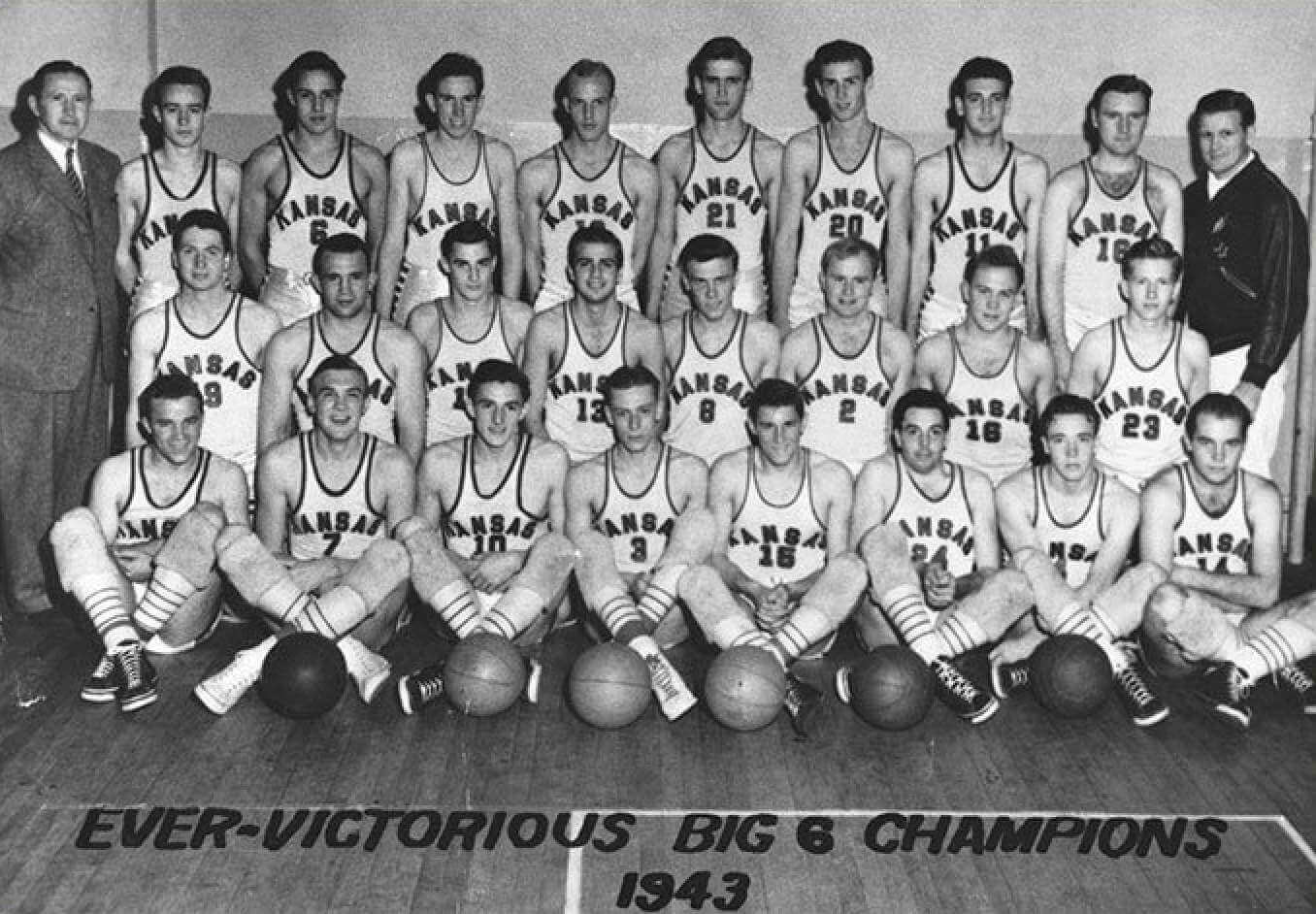 Dole also ran track at KU. That's him on the right in this next photo: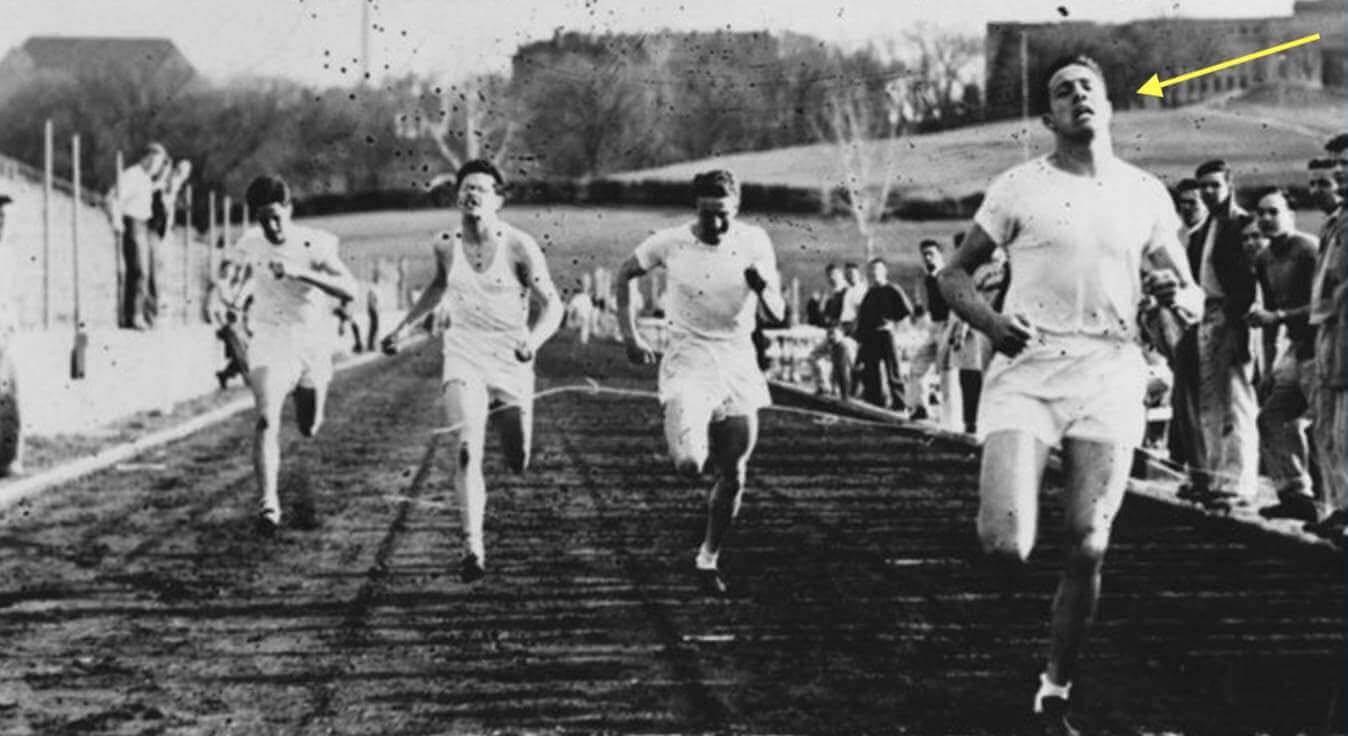 Multiple sources say this next photo shows Dole playing high school football, although you can't make out very much: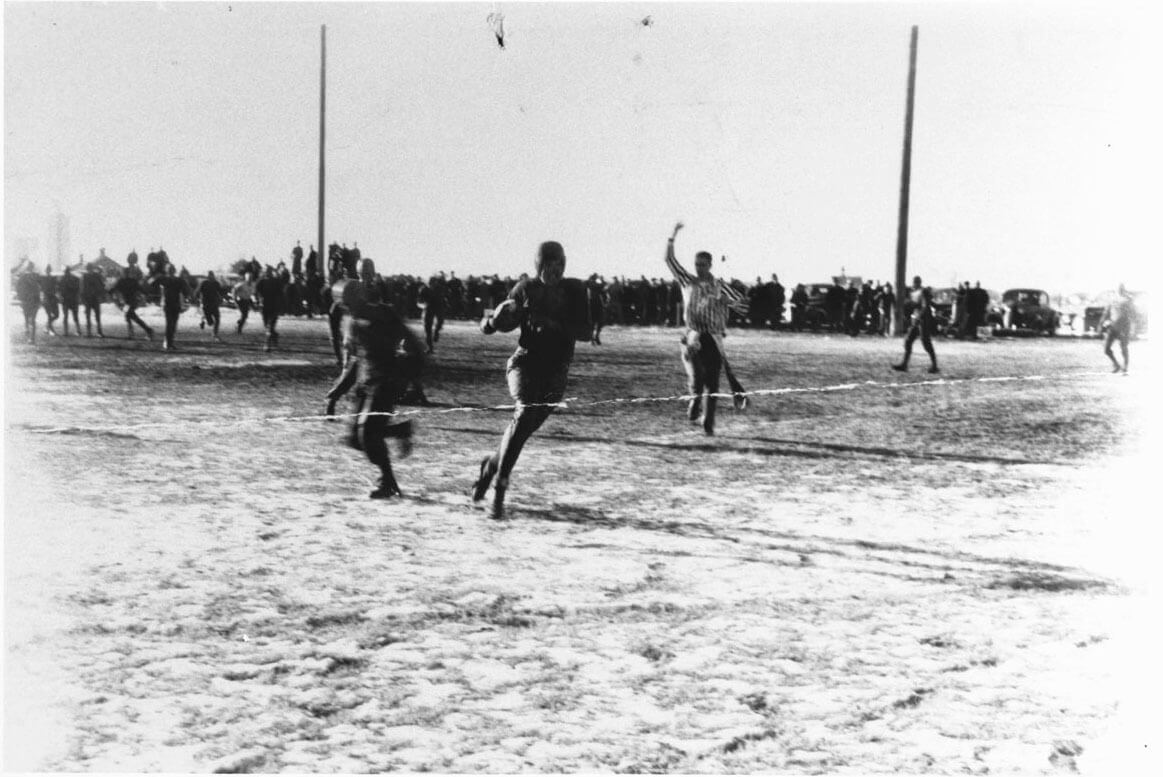 There are also plenty of photos of Dole posing with uniformed athletes. Like a lot of Washington politicians, he sometimes showed up at Washington Senators games, as shown here in 1963 (not sure why one player is in a home uni and the other is road greys):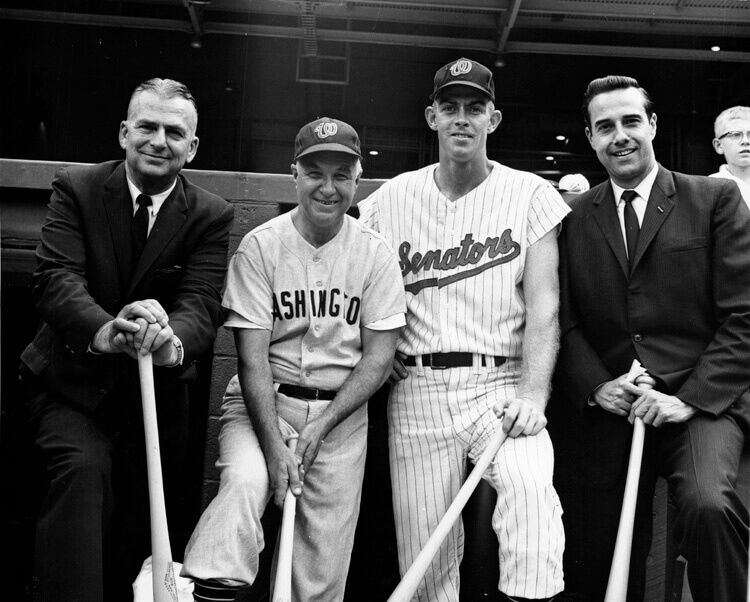 And here's Dole with a pair of Kansas City Royals during the team's first spring training camp in 1969: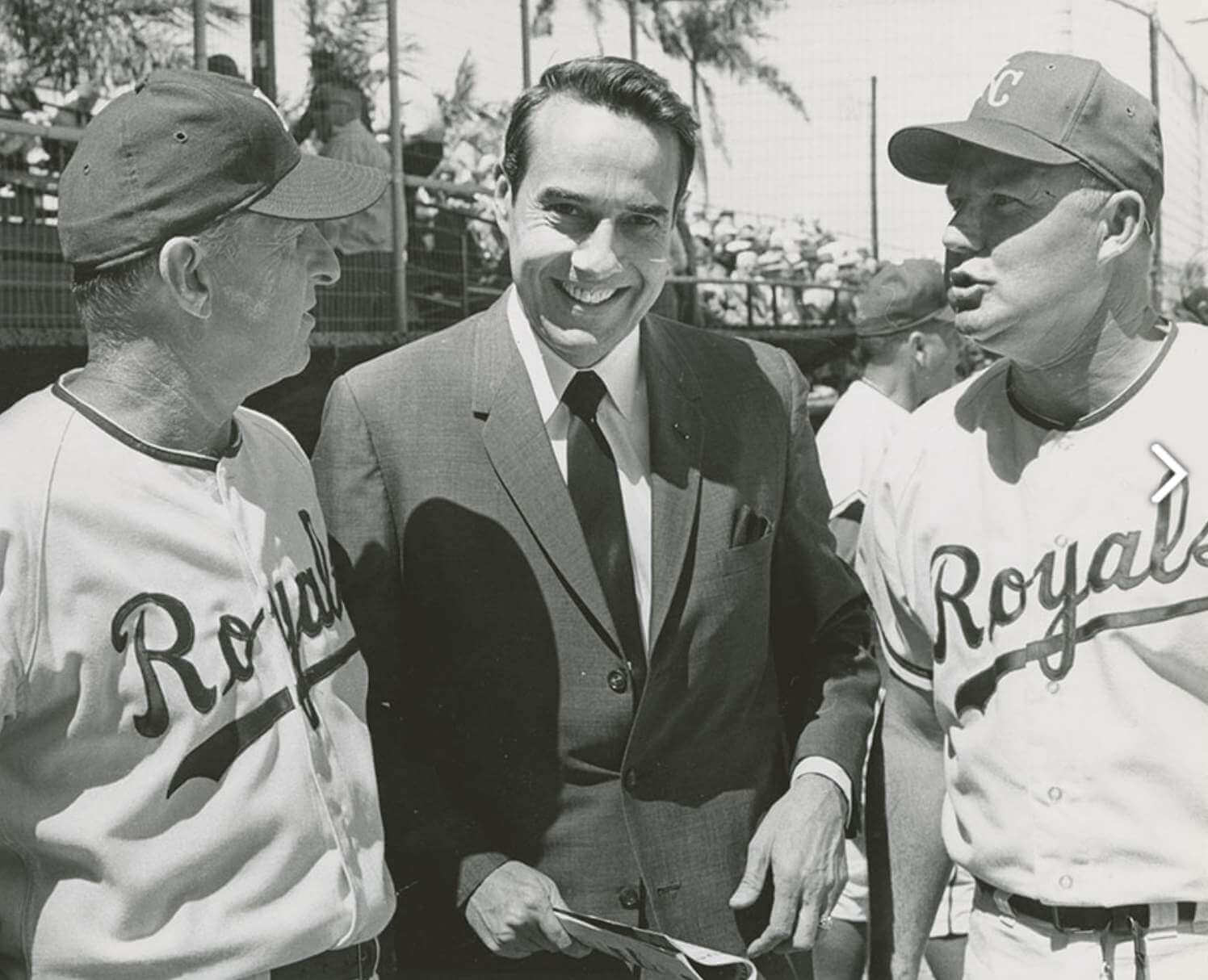 When the Royals faced the Cardinals in the 1985 World Series, setting up an all-Missouri Fall Classic, Dole, who was then a senator from Kansas, had some fun pretending — and insisting — that that the Royals' stadium was actually in Kansas: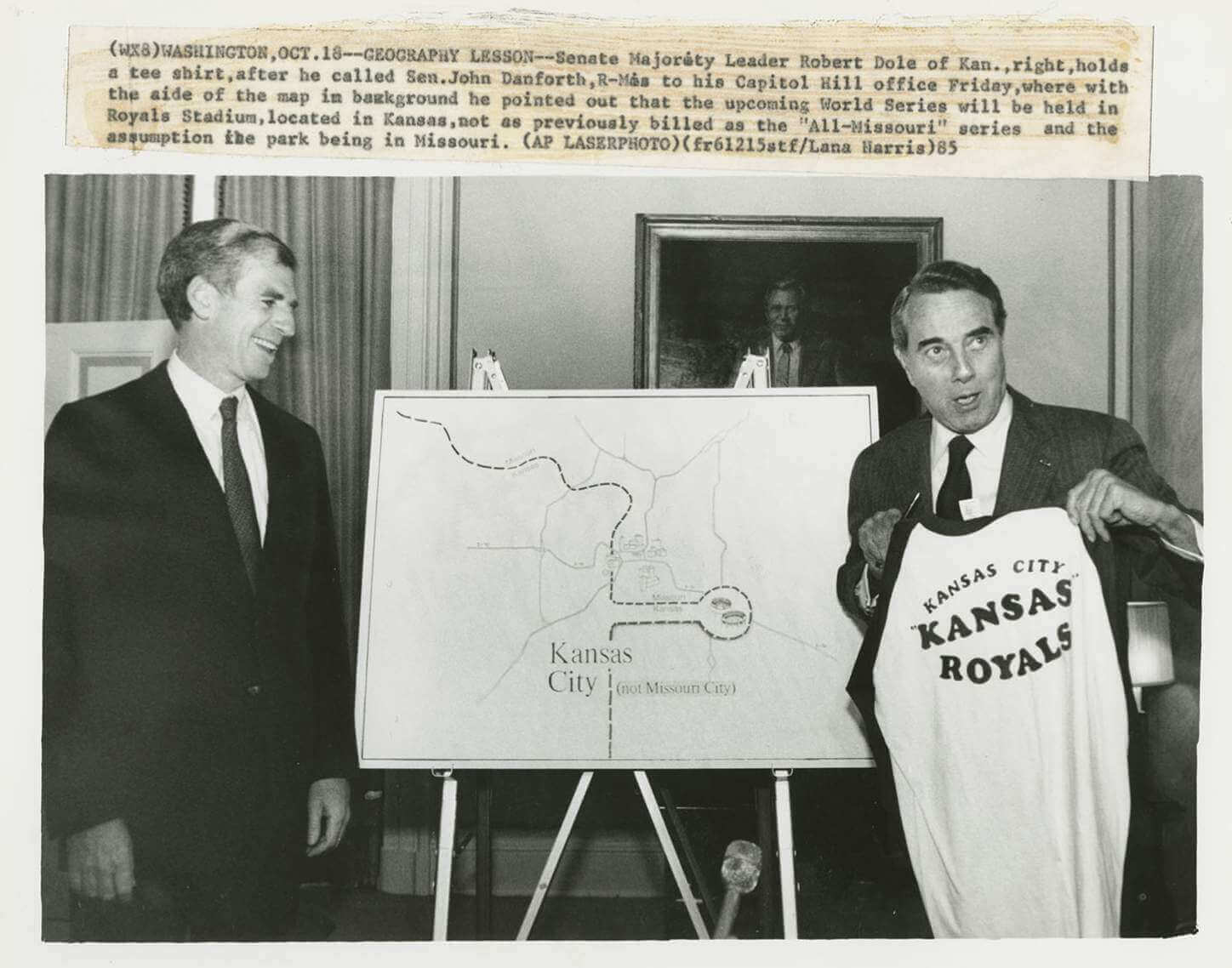 Dole occasionally incorporated uniforms into his political operations, as shown in this shot of him holding a "Dole 96" jersey during his 1996 presidential campaign: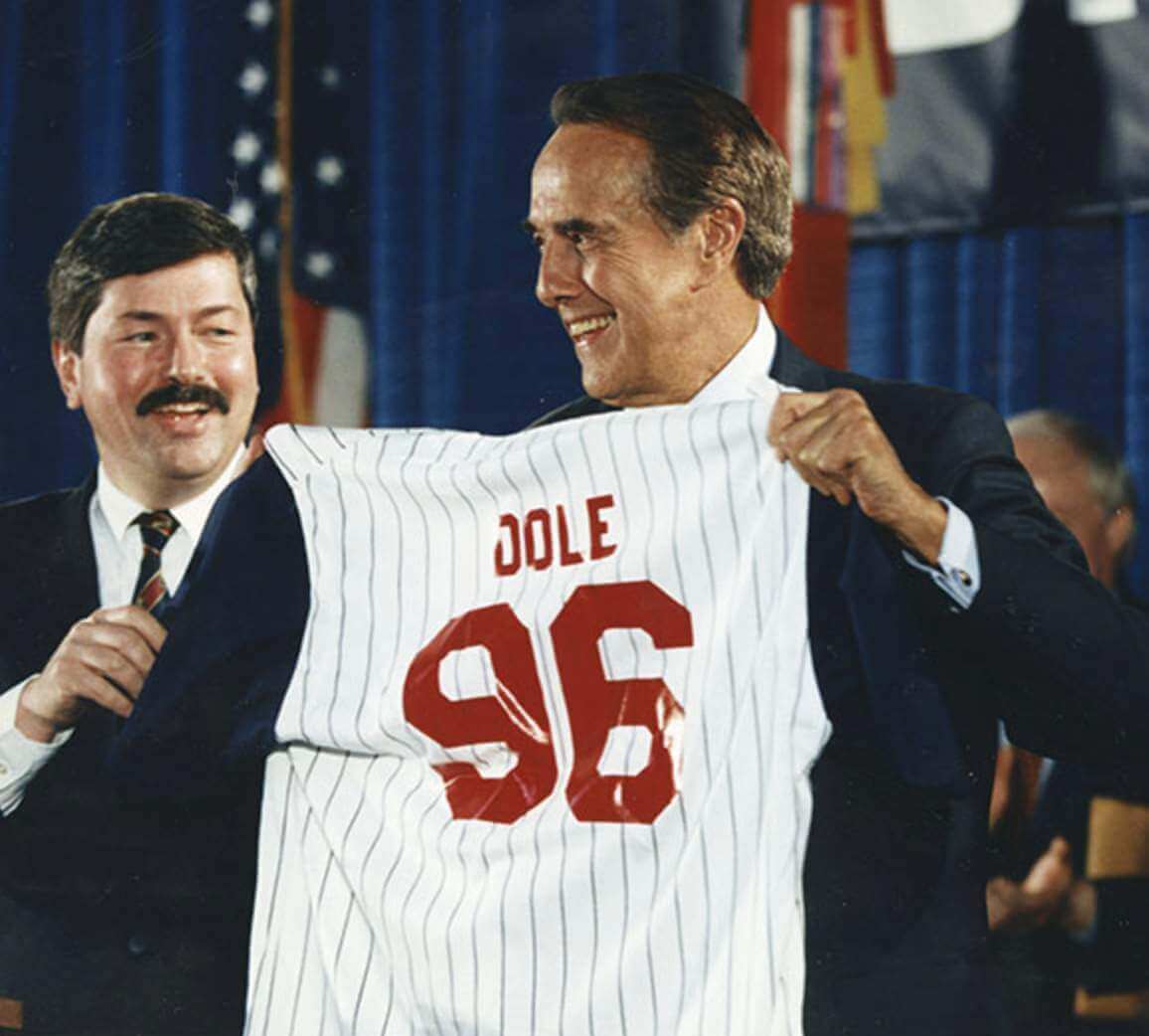 Of course, the most notable uniform in Dole's life was the one he wore as a member of the U.S. Army. Here he is as a second lieutenant: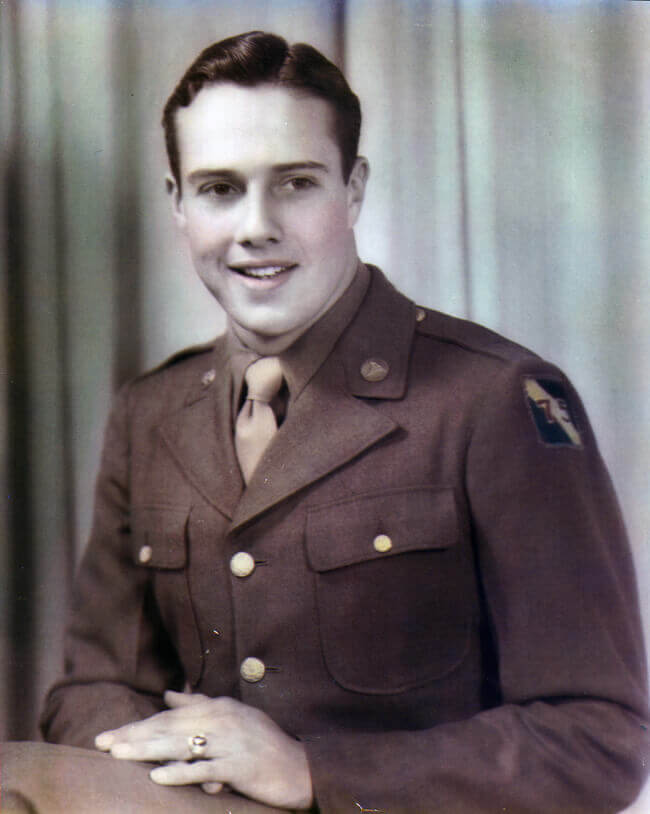 Dole died in his sleep. We should all be so lucky. R.I.P.
• • • • •
• • • • •
For all photos, click to enlarge
Game of shadows: On Saturday evening, the Tugboat Captain and I were walking along a fairly desolate Brooklyn street and passed the scene shown above. I noticed that the three beams of light showing through the gate — left, center, and right — looked like the classic striping that appears on NFL helmets and pants. Here they are, from left to right:
Isn't that cool? #Alwaysuniwatching
• • • • •
• • • • •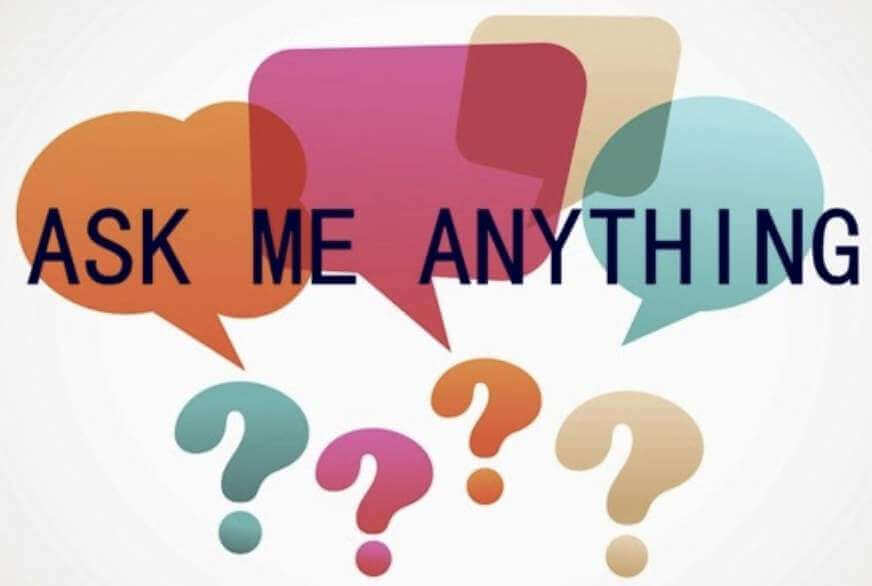 "Ask Me Anything" reminder: In case you missed it on Friday, I'm planning another "Ask Me Anything" post over on Bulletin. You can ask me a question about Uni Watch, about uniforms, about sports, or just about me. No question is out of bounds (it never hurts to ask!), but I reserve the right not to answer questions that I feel are too personal or otherwise inappropriate. Send your questions here (note that this is not the usual Uni Watch email address), and please stick to just one question per person. Thanks!
• • • • •
• • • • •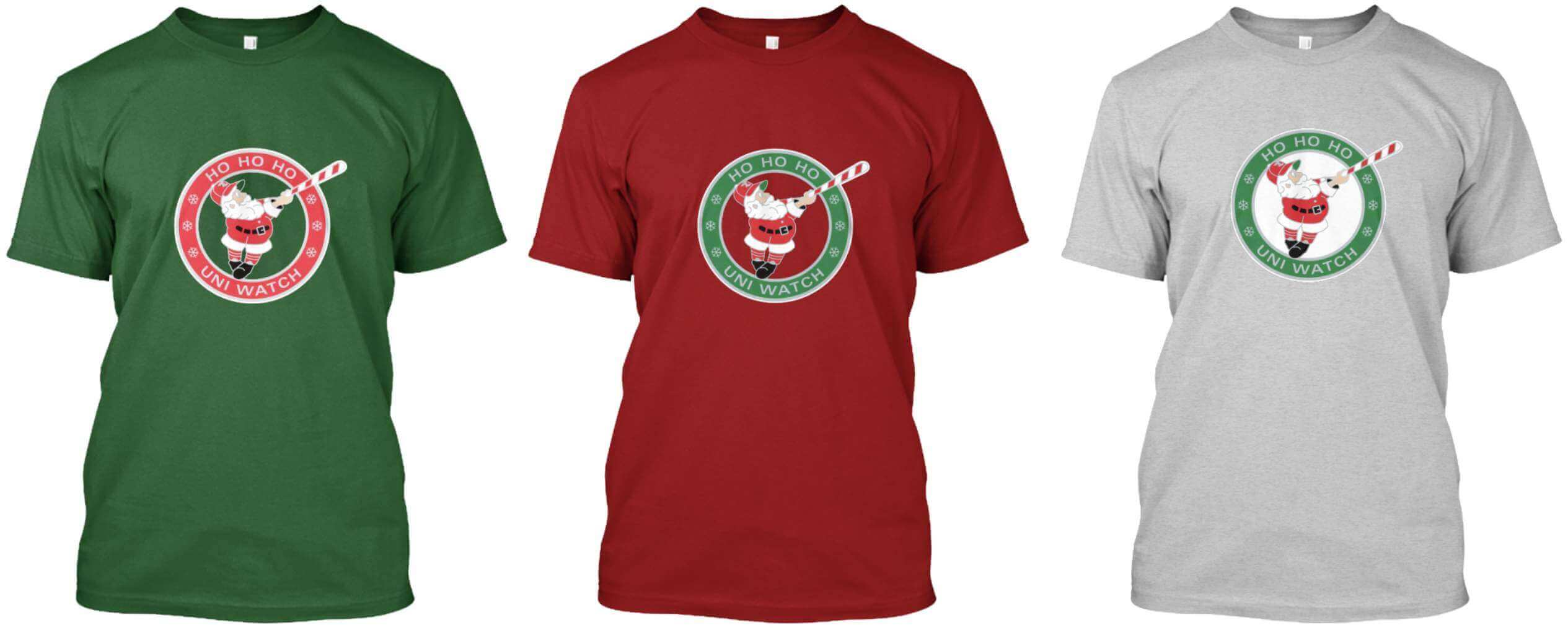 Click to enlarge
ITEM! By popular demand: Quite a few of you suggested that our December "Swinging Santa" pin, designed by Todd Radom, would look good on a T-shirt, so we've made it so!
In addition to the basic tees shown above, we also have long-sleeved T-shirts and hoodies (click to enlarge):


Here's where you can order these in green, red, and grey.
If there are any other products you'd like to see with this design (pint glasses, prints, etc.), let me know.
Speaking of Swinging Santa: As of this morning, we were down the very last December pin — just one remaining! Who wants it? Now sold out!
Meanwhile, if you're looking for Christmas-themed merch, don't forget our ugly sweater design and our red/green Color Remix tee.
• • • • •
• • • • •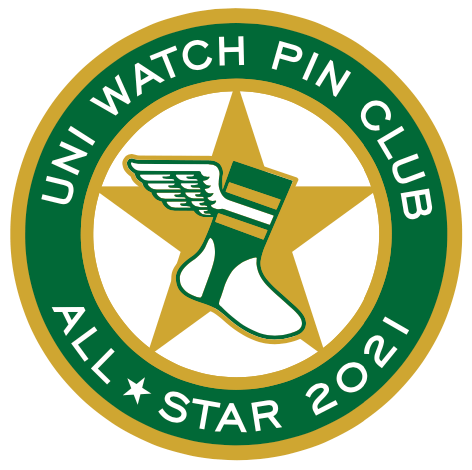 IMPORTANT — "Collected 'Em All" reminder: If you purchased all 12 of this year's monthly pins, you're eligible to receive the bonus pin shown here (the background will be knocked out). We need to know how many of these pins to make, so if you've collected 'em all, please email me ASAP with (a) your name and address, and (b) proof that you've collected all of this year's pins. The proof can include photos of the pins themselves and/or order-confirmation emails from Teespring.
The bonus pins will ship out early next year. Thanks for your support of the pin project!
• • • • •
• • • • •
Click to enlarge
And there will be leftovers: As most of you know, the Tugboat Captain was still stuck in the Covid sanitarium on Thanksgiving (plus she didn't have her full senses of taste/smell). Now that she's back home and feeling good again, we had our own Thanksgiving (Observed) feast last night. We both prefer dark meat, so we got a pair of massive turkey thighs and also made mashed potatoes, Brussels sprouts with bacon, stuffing (Mary's dad's recipe, with Jimmy Dean breakfast sausage), gravy, and hard cider. It was all sooooooo good:
Later on, there was pie:
It was worth the wait. We have a lot to be thankful for.
• • • • •
• • • • •
The Ticker
By Jamie Rathjen

Baseball News: Former MLB 2B Matt Antonelli now has a YouTube channel and on Saturday posted a video on "how uniforms and numbers work" in MLB (from Mike Chamernik). … Outside the Mariners' visitors' locker room is a chart showing which combos of varying alternate colors can and can't be worn together (from @PburghNo1). … Two new alternates for Japan's Central League's Tokyo Yakult Swallows (from Jeremy Brahm).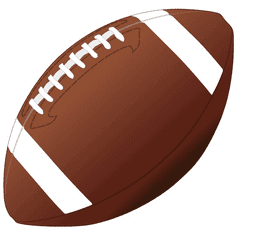 Football News: The Patriots' Hall of Fame said on Friday that the team is bringing back the red throwback jerseys next season (thanks to all who shared). … The Raiders sent RB Bo Jackson's jersey from his last NFL game to the Baseball Hall of Fame, and it was recently rediscovered by curator Tom Shieber (from Trevor Williams). … The Browns promoted their upcoming game against the Ravens with a graphic showing both teams' helmets with old-school two-bar facemasks — even though the Ravens didn't exist during the two-bar era (from @TorontoDawg).

Hockey News: For Jets RW Blake Wheeler's 1000th NHL game yesterday, the team wore his NOB and No. 26 in warm-ups and also gave him a No. 1000 jersey (from multiple readers). … The Kraken are wearing Indigenous-designed warm-up jerseys prior to tonight's game (from Moe Khan). … The Wisconsin/Minnesota women's game on Friday was color vs. color (from Nicole Haase). … The next three items are also from Wade Heidt: The WHL's Winnipeg Ice wore their winner of the CHL's Leave Your Mark Design a Jersey contest. … The Junior A British Columbia Hockey League's Chilliwack wore their "BCHL 60th-anniversary throwback-inspired uniforms" on Saturday and so did their opponents, the Langley Thunder. Separately, the Victoria Grizzlies wore their throwback-inspired uniforms for the first time. … New home jersey for St. Lawrence's men's team (from John Muir).

Basketball News: A marketing firm asked fans to rank the NBA's costumed mascots. Here are the results. … Virginia men's coach Tony Bennett gave the recently retired long-serving UVa sports writer for the Roanoke Times, Doug Doughty, a framed jersey after Friday's game. The jersey is in the pre-2020 style, which last year's men's seniors also got, and was numbered 45 for Doughty's years of service (from my brother Nate Rathjen). … This is weird: Bryant's men's team has numbers of varying width. … Division III Illinois Wesleyan's men's team has been wearing grey alternates for every home game because their white uniforms hadn't arrived yet, but the home whites finally did arrive this weekend (from Bob Quillman).

Soccer News: USL League One's Greenville Triumph are starting a USL W League team but want to give them a separate name and crest. They're down to five name finalists. … German club 1. FC Nürnberg wore "Christmas shirts" in the 2. Bundesliga yesterday. Despite the designation, the shirts are not Christmas-themed and instead are based on their look from the '60s. … New shirts for Japan's Kyoto Sanga and Ventforet Kofu (from Jeremy Brahm). … Olympique Lyonnais midfielder Amandine Henry got a No. 200 shirt yesterday for 200 appearances in France's Division 1 Féminine. … The Scottish Football Museum has a new exhibit on Rutherglen Ladies, a tartan-clad women's team that played from 1921 to 1939 despite their founding year coinciding with the women's game being banned from stadiums of Football Association and Scottish Football Association clubs. The ban started 100 years ago yesterday and lasted, at least in England, until 1971. … For yesterday's Women's FA Cup final, the steps up to the royal box at Wembley Stadium were decorated with the names of previous winning captains. … Norwegian side Tromsø IL has released what it claims to be the first shirt with a QR code (from Jeremy Brahm).

Grab Bag: Reprinted from Friday's comments: Cycling's Ineos Grenadiers released their kit for next year (from commenter Phil P). … Scotland's netball team has a new kit. … This video has an overview of next season's Formula E liveries. … A New York high school boys' volleyball team, Eastport-South Manor, has shirts that are quite clearly based off of the woodblock print The Great Wave off Kanagawa, by the Japanese artist Hokusai (from Gordon Blau). … The next two are from Jeremy Brahm: The Italian men's volleyball team Power Volley Milano wore a shirt on Saturday for the start of the opera venue La Scala's season, which is Dec. 7. … Another Italian men's team, Lube Civitanova, has new kits for the Men's Club World Championship. … CBS Sunday Morning recently did a story on a Kentucky woman who found Army uniforms in a dumpster and successfully returned them to the owner's family (from John Chapman). … The five teams in New Zealand's upcoming Super Rugby Pacific competition have revealed their kits (from Sy Hart). … This week's F1 race was in Saudi Arabia. Since alcohol is banned there, Scuderia Ferrari blacked out their Estrella Galicia 0.0 advertisements, even though it's a non-alcoholic beer (from Omar Jalife).