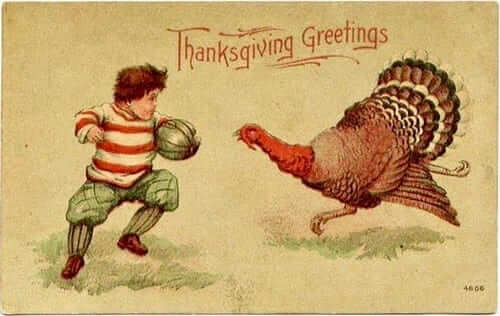 It's a very weird Thanksgiving here at Uni Watch HQ, what with the Tugboat Captain still stuck in the sanitarium (she'll be coming back home tomorrow). The only good thing about this is that my brother and I can spend the day with our mom, who's allowed to have only two visitors at a time at her assisted-living facility. So that's what I'll be doing today.
Yesterday on Bulletin I wrote about things in the uni-verse that I'm thankful for. Today, as I do every year on Thanksgiving, I'd like to give thanks to all the people who continue to make this website possible, including Ticker assistants Lloyd Alaban, Anthony Emerson, Alex Hider, and Jamie Rathjen; "Collector's Corner" columnist and Facebook editor Brinke Guthrie; membership card designer Scott M.X. Turner; weekend contributors Terry Duroncelet Jr., Jim Vilk, Rex Henry, Dennis Bolt, Ethan Dimitroff, and Kyle Acker; webmaster John Ekdahl; proofreader Jerry Wolper; cap fulfillment manager Mark LaFountain; and, especially, deputy editor Phil Hecken, the world's hardest-working bench coach.
Big thanks also to Zac Neubauer, who provided the vintage postcard image that I've been featuring on these Thanksgiving posts for more than a decade now.
If you're traveling today, travel safe. If you're working today, thanks for keeping the world spinning while the rest of us enjoy the holiday. Stay well, and I'll see you back here tomorrow. Peace. — Paul