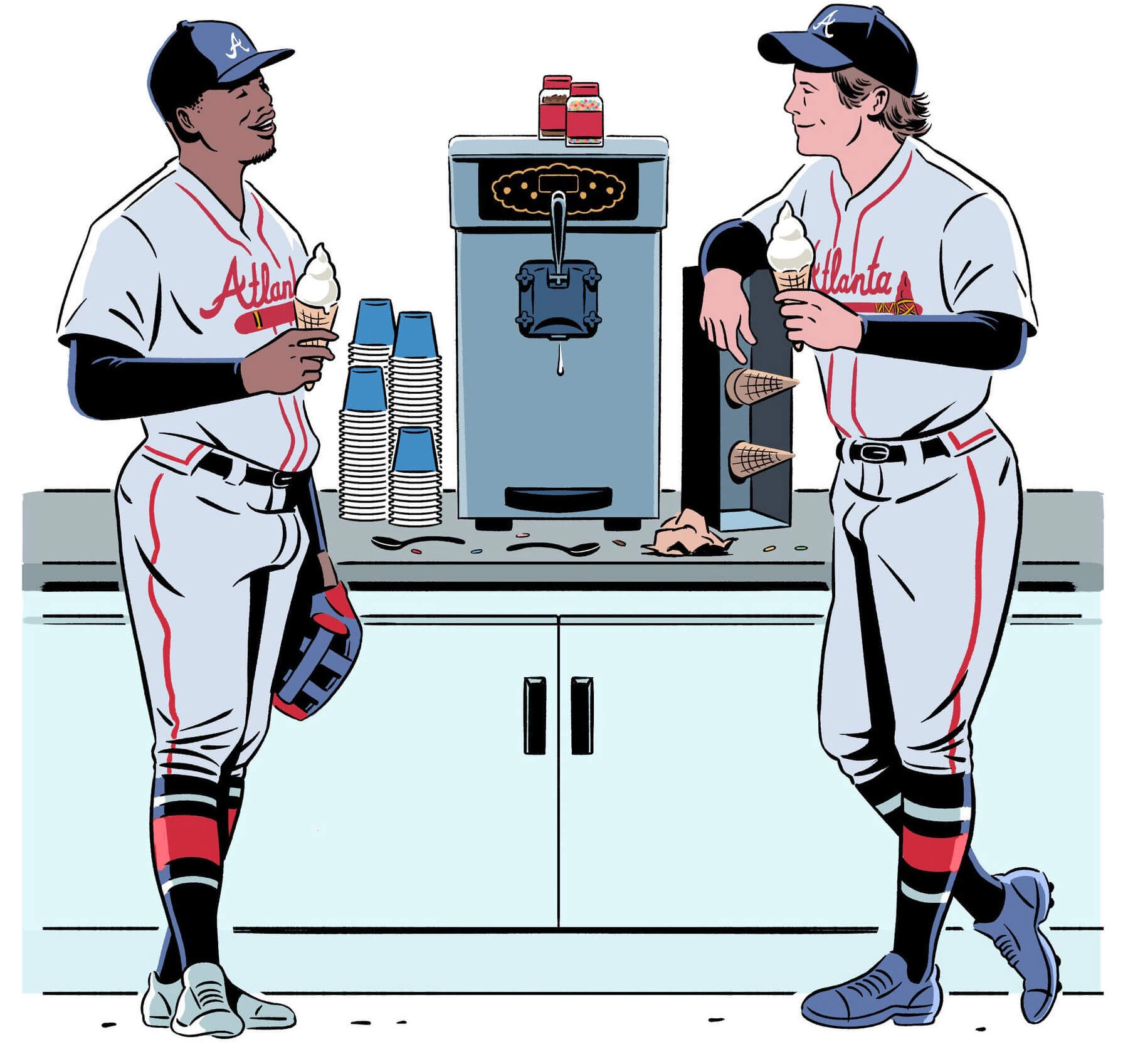 Illustration by Madison Ketcham; click to enlarge
The New York Times had a fun story yesterday about how Atlanta has a soft-serve ice cream machine in the clubhouse at their ballpark. The article was accompanied by the illustration shown above, which features some very nice uniform renderings (I particularly like the striped socks). But as you can see, the two players are depicted wearing their road greys — which they would never be wearing in their home clubhouse!
One possible explanation is that this was the illustrator's (or maybe the art director's) way of boycotting the team's name, due to the Native American factor. But if that's the case, why would they show the tomahawk on the jersey of the player on the right, especially when it would be so easy to move the player's arm up a bit to obscure the tomahawk? So maybe this was just an arbitrary uniform choice on the illustrator's part, and nobody thought much about the incongruity of having the road greys in the home clubhouse..?
The illustration was credited to Madison Ketcham. I'd never heard of her, but a quick check of her website reveals that she does a lot of sports-related work with lots of uniforms (including this cool design for an Ebbets Field Flannels T-shirt). Her Instagram avatar even shows her wearing a Knicks jersey. So she seems pretty uni-aware.
I emailed her last night to ask about all of this. When I woke up this morning, this reply was waiting for me:
Wow Paul! Great question.

It's pretty simple and there are two parts to it. The first was that the Times asked me not to use "Braves" because they were referring to the team as "Atlanta" in the article, so they wanted consistency.

The second reason was that I liked the uniform! I do try and coordinate uniforms accordingly when I draw sports figures. In this piece, however, I really liked the grey uniform aesthetically and it also said "Atlanta," which conformed to the Times's request. I figured if anyone challenged me I would go back to the drawing board, but everyone approved and so it went ahead.
I thanked Ketcham for her reply but also pointed out that the article does indeed include the team name several times (it's in the very first sentence, in fact!). Her reply:
Interesting! I didn't have a chance to read the final [version of the article] yet. When I get the prompt to start drawing, they usually only have a draft for me to read, and it tends to morph between that moment and publication. They told me they were sticking with "Atlanta" at that point and asked that I do the same.
Curiouser and curiouser! In any case, it's a fun story and a great illo!
(My thanks to Charlie Santo for bringing this illo to my attention.)
• • • • •
• • • • •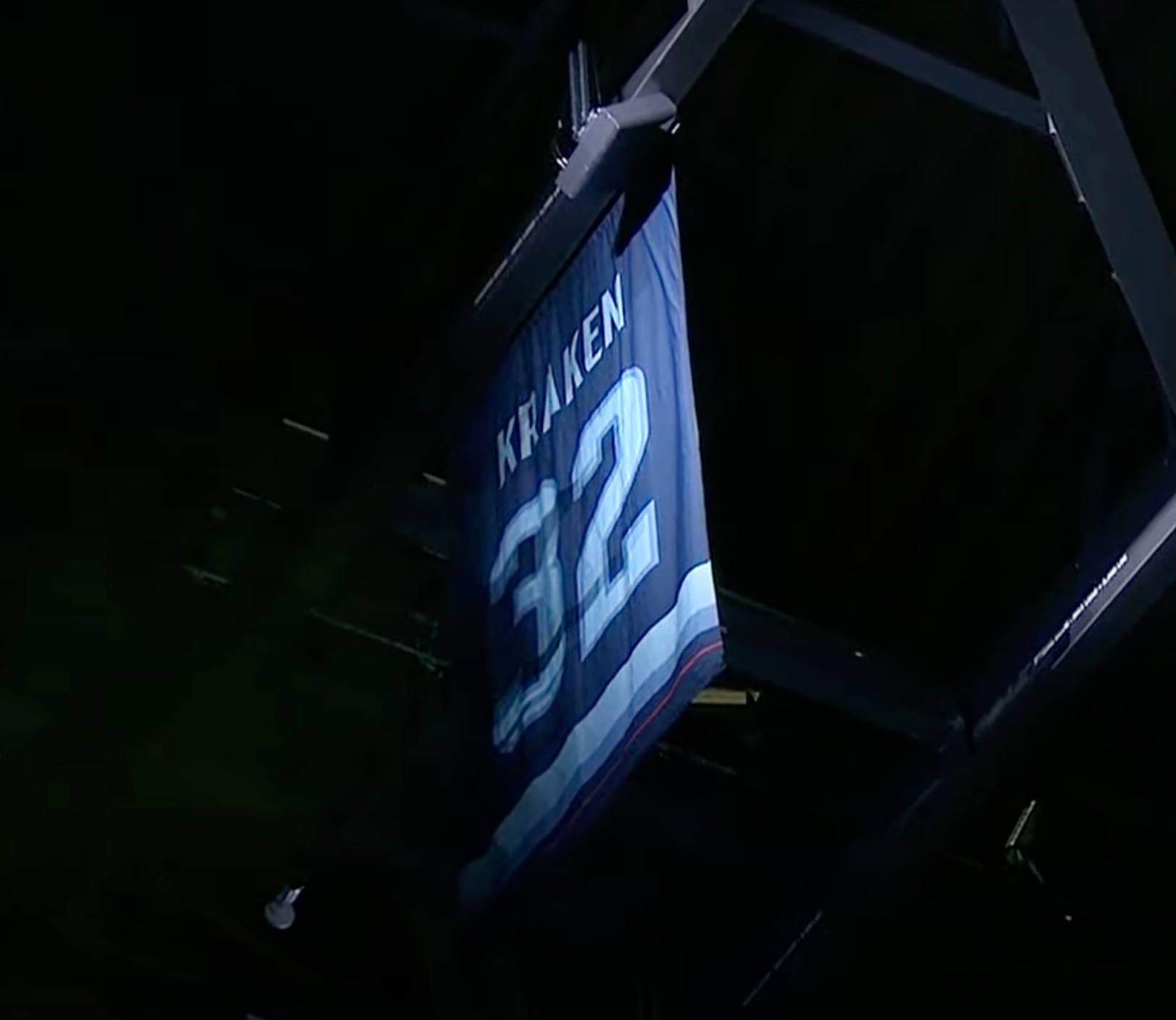 ITEM! Two new Bulletin articles: My latest article for Bulletin is a think piece about "conceptual" number retirements (like the Kraken's recent retirement of No. 32 because they're the 32nd NHL franchise, shown above), including a league-by-league rundown of them and what I think about them.
Those of you who've subscribed to receive my Bulletin content via email should already be seeing this piece in your in-boxes. Everyone else can read it on my Bulletin page. Enjoy!
But wait — there's more! Remember last week's Bulletin piece, in which I interviewed an ad industry veteran about the language of uni ads? A sports advertising exec sent me lots of really interesting feedback and insights in response to that piece, so I've created a bonus column in which the exec annotates the original interview. You can check that out here.
• • • • •
• • • • •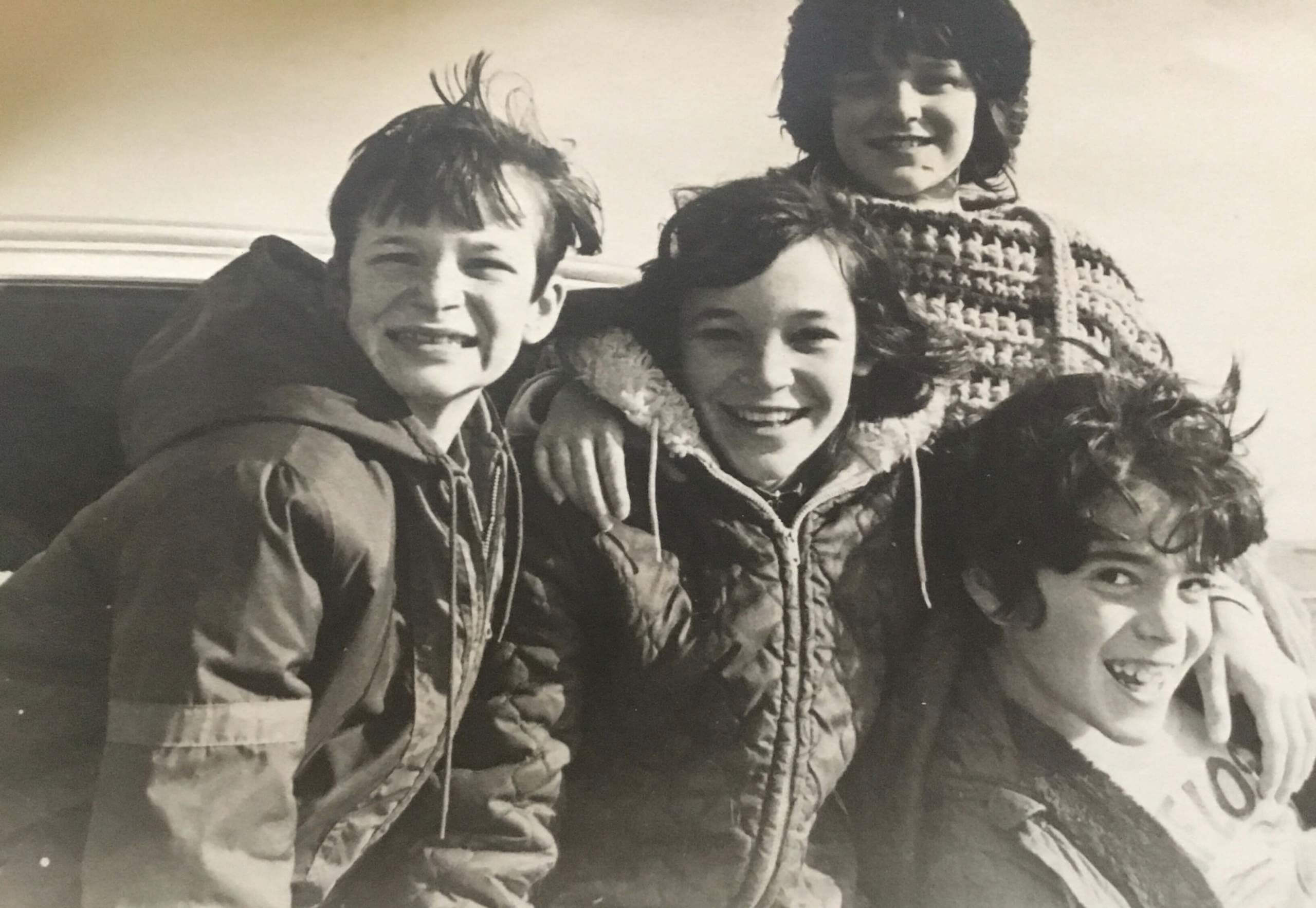 Click to enlarge
Blast from my past: I remember this day — my father took the photo, I think in 1972 or '73, when I was eight or nine years old. That's me at lower-right. The other kids all lived next door. Their mother, who I'm still in touch with on social media, recently found the photo (my father had given them a copy) and sent it to me.
It's a nice memory, but I'm puzzled by what was printed on my shirt. Anyone..?
• • • • •
• • • • •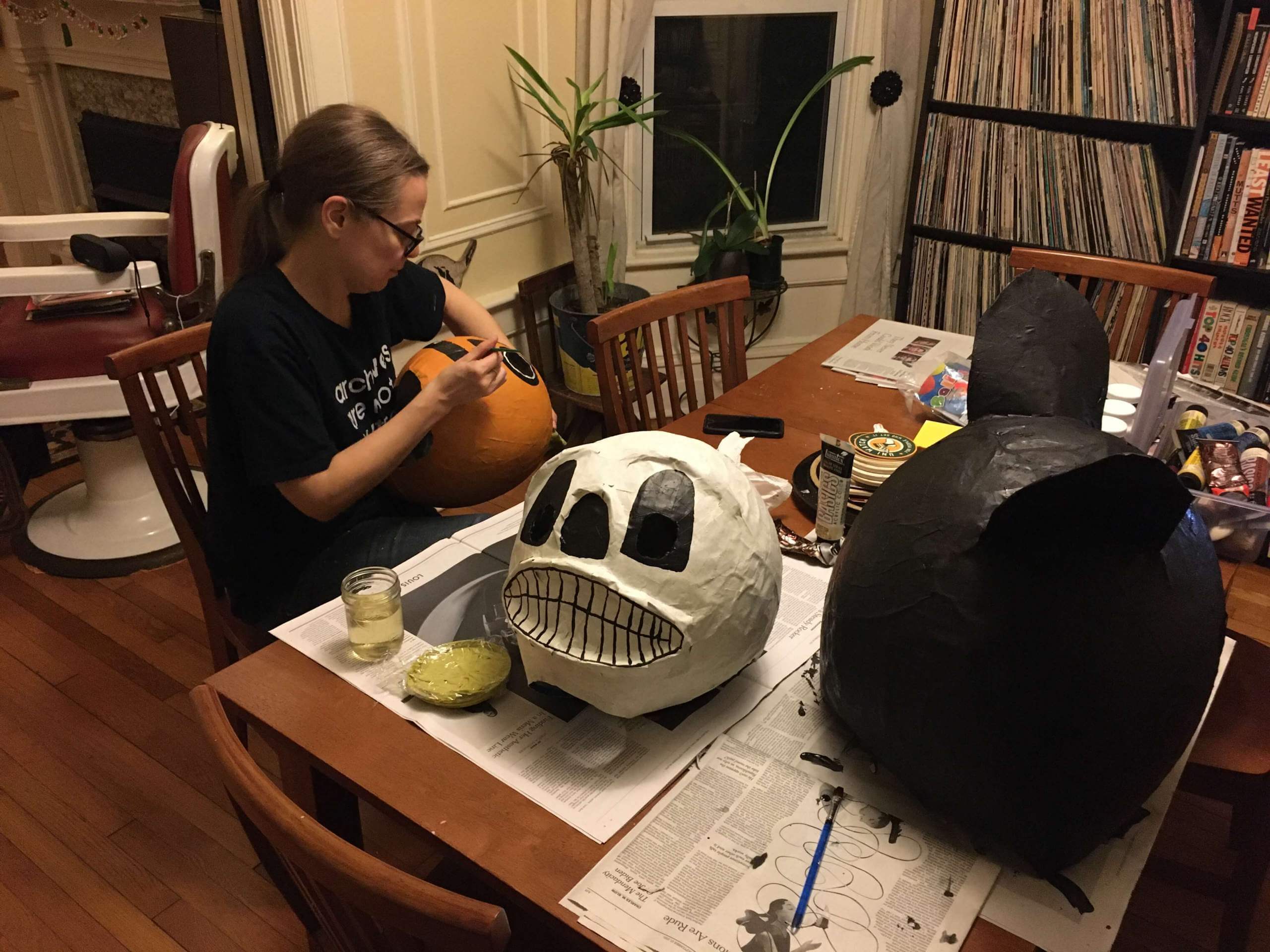 Click to enlarge
Spooooky (and crafty): For the past week or so, the Tugboat Captain's been working on a series of papier-mâché Halloween masks. She began by blowing up big balloons, then applied the paper strips and popped the balloons after the paper had dried and hardened. Now she's in the painting phase.
She's much more artistic/crafty than I am. It's so cool to watch, and very inspiring!
• • • • •
• • • • •
The Ticker
By Anthony Emerson

Baseball News: The Nationals released renderings of an upgraded club-level concourse space yesterday, but reader Neal Dorfman noticed something in the background of one of the renderings: It's not Nationals Park. In fact, it's Yankee Stadium. Take a look out the windows behind the bar — looks pretty Bronx-y to me! … OU is getting a new, albeit corporate-named, softball stadium (from Griffin Smith). … The justices of the Georgia Supreme Court accessorized their usual robes with pearls and Braves caps to support the home team in the World Series (from Andreas Papadopoulos).

NFL News: Reader Andrew, who didn't share his last name, spotted a whole bunch of Reebok Colts jerseys at a TJ Maxx, and all but one are throwback-style. Guess someone found a case of old jerseys in the warehouse. … Jets owner Woody Johnson says the team will be going BFBS for Halloween (thanks Phil).

College Football News: DB Jalen Stroman will wear Frank Beamer's No. 25 for Virginia Tech this weekend (from Andrew Cosentino). … Here are this weekend's uni combos for UNC, TCU, Texas State, Georgia Tech, Rice, Oregon State, Oregon, ECU, Mizzou, Purdue, Villanova, UNLV, Virginia, West Virginia, Mississippi State, Syracuse, Florida, Ole Miss, FAMU, and Boise State (thanks to all who shared).

Hockey News: Statues of Guy Lafleur and Real Cloutier have been unveiled in Quebec City (link in French from Wade Heidt). … The Kraken's "three stars of the game" postgame ritual features the three players tossing toy salmon to fans, a riff on Seattle's famous Pike Place Market fish toss (from Geoff Poole). … Air Force will take the ice in one-off Linebacker II uniforms tonight (from Marcial Guajardo). … The Henderson Silver Knights, AHL affiliates of the Golden Knights, will wear Nevada state flag-themed jerseys today (from Dan Kober).

NBA News: Looks like the Sixers will have a Spectrum-themed floor design to go with their previously leaked Spectrum-themed City alternate (from multiple readers). … Bulls C Nikola Vučević's jersey didn't have the gold championship collar tag during last night's game against the Knicks (from John Reynolds). … The Kings are the latest team to have their City Edition unis leak by way of retail merch.

Soccer News: The men and women's teams for German side FC Carl Zeiss Jena will wear pink jerseys this weekend for breast cancer awareness (from Ed Zelaski). … Also from Ed, the Syracuse team in the National Independent Soccer Association will be called the Pulse. … The logo for the 2023 Women's World Cup in Australia and New Zealand has been revealed (thanks, Jamie). … Oh man, check out this gorgeous tag from an unidentified Bukta kit from the middle of the 20th century — depicting a turtle to indicate that its colors won't run! Bukta is still around as a fashion brand, but in the middle of the 20th century they provided kits for dozens of teams in the UK, as well as Ajax in the Netherlands and some clubs in the NASL (from @ACC_Tracker).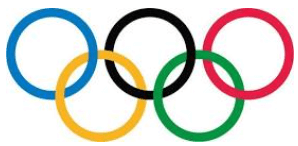 Olympic News: Ralph Lauren has revealed Team USA's closing ceremony attire for Beijing (thanks, Phil). … The Canadian Curling Pre-Trials — the event to determine the Canadian curling teams for the 2022 Olympics — are underway in Liverpool, Nova Scotia, and here's the logo (from Wade Heidt).

Grab Bag: The German satirical website Der Postillon just reposted this article from 2018 about a (fake) constitutional court decision requiring politicians to wear the logos of their "sponsors" — i.e., corporate donors (thanks, Jamie). … NYC Mayor Bill de Blasio, a self-proclaimed Trekkie, wore a blue Star Trek uniform during a press conference but mistakenly said it was a Captain Kirk uniform. Kirk, of course, wore yellow, not blue (from Casey, who didn't give their last name).
• • • • •
• • • • •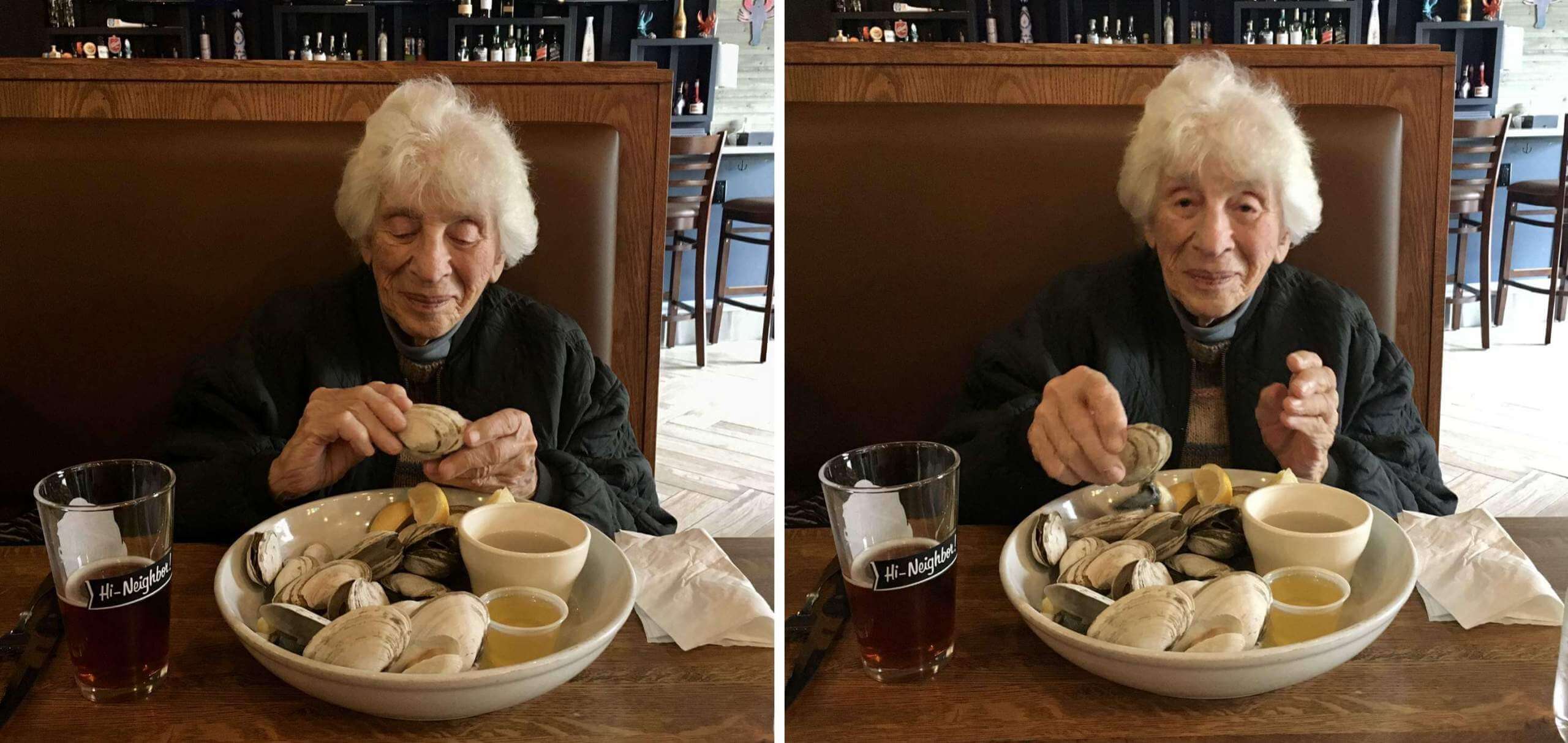 Click to enlarge

What Paul did last night yesterday: My 97-year-old mom had to spend eight days in the hospital earlier this month (non-Covid). Every time we face a situation like this, I think, "Oy, this is it — she's finally used up the last of her nine lives."
But then she always bounces back and it's like nothing ever happened. She got out of the hospital last Friday, and today we had a really nice lunch at a seafood restaurant near the assisted-living facility where she lives. As she worked her way through a big plate of steamers and a pint of Blue Point Pumpkin Ale, she was as chatty and engaged as I've seen her in a long time.
She still has all her marbles, but she's pretty frail now and her battery is definitely running down, so I know this can't go on forever. But it's still pretty amazing, and I'm enjoying it while I can.
• • • • •
And that's a wrap for this week. Enjoy Phil's weekend content, have a fun and safe Halloween, and I'll see you back here on Monday with MMUW. Peace. — Paul