The World Series begins tonight, with the Astros making their third Series appearance in five years. Their uniforms haven't changed during that time, but something else has — they're now being skippered by Dusty Baker, one of the most aesthetically interesting managers in the game. Here are some of the things that set him apart from his peers, at least from a visual standpoint (for all photos, you can click to enlarge):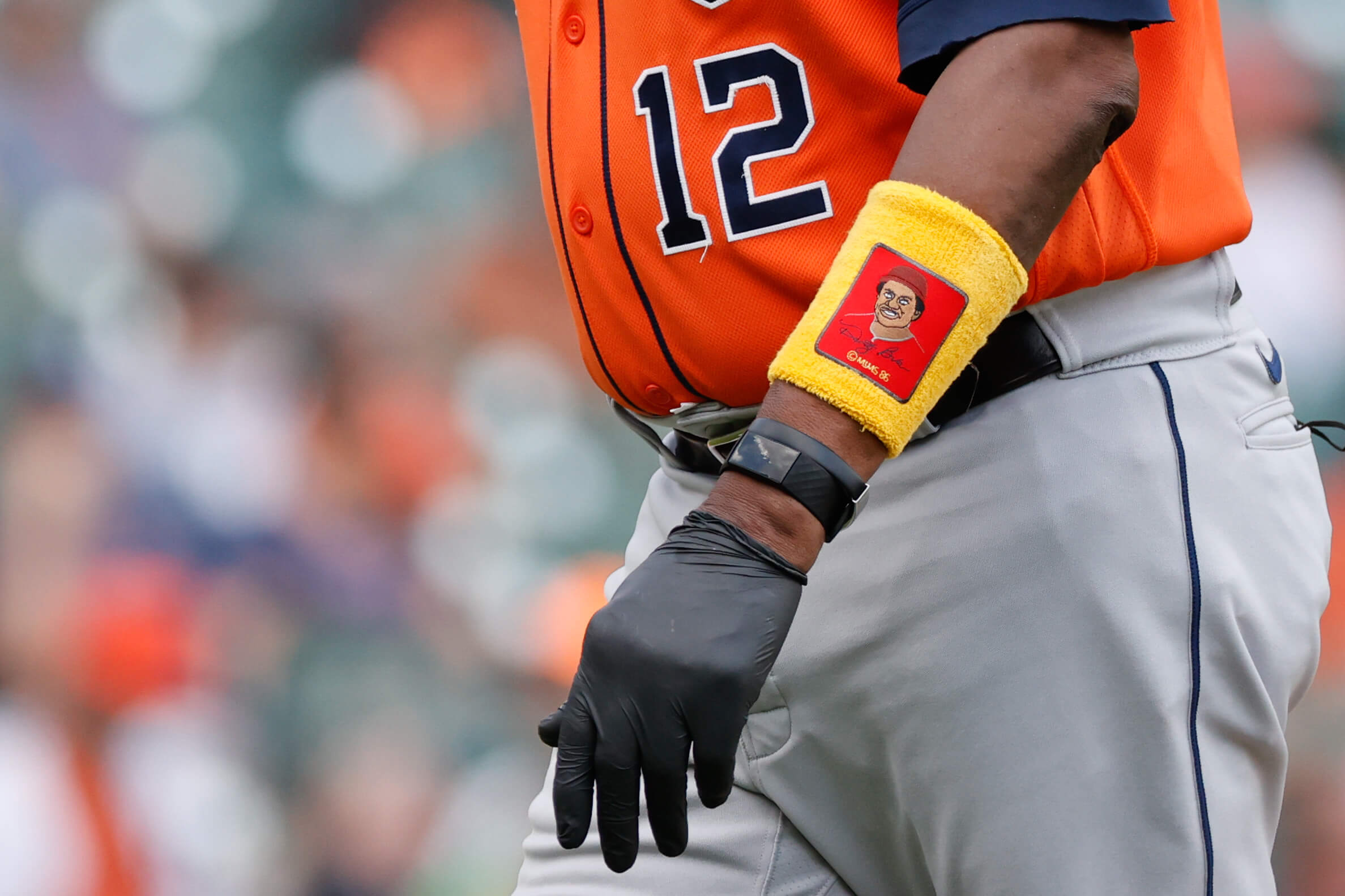 The Wristbands

Baker famously wears 1980s-style Mimsbandz wristbands with his own portrait, although he occasionally varies them up for special occasions. He's worn Jackie Robinson wristbands for Jackie Day, for example, and has also worn Josh Gibson wristbands to mark the 100th anniversary of the Negro Leagues.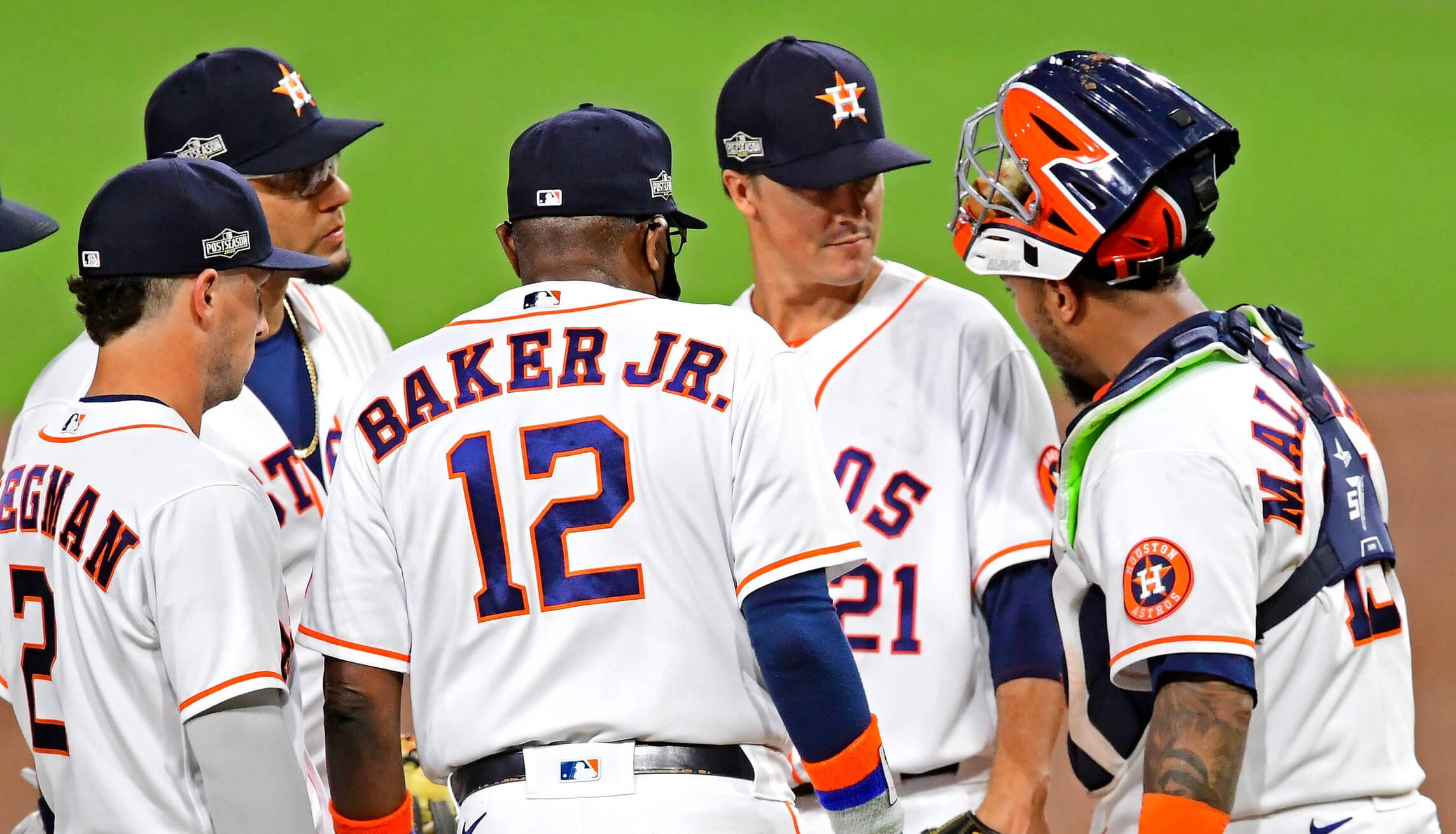 The JrOB

When Baker signed on with the Astros, he added "Jr." to his NOB — something he'd never worn before, either as a player or a manager. I believe he was the first MLB manager to wear a generational suffix and I'm certain he'll be the first manager to do so in the World Series. (In the 2002 Series, he just wore "Baker.")
Yes, I know generational suffixes don't belong on NOBs. I'm not celebrating Baker's use of this format — just noting it.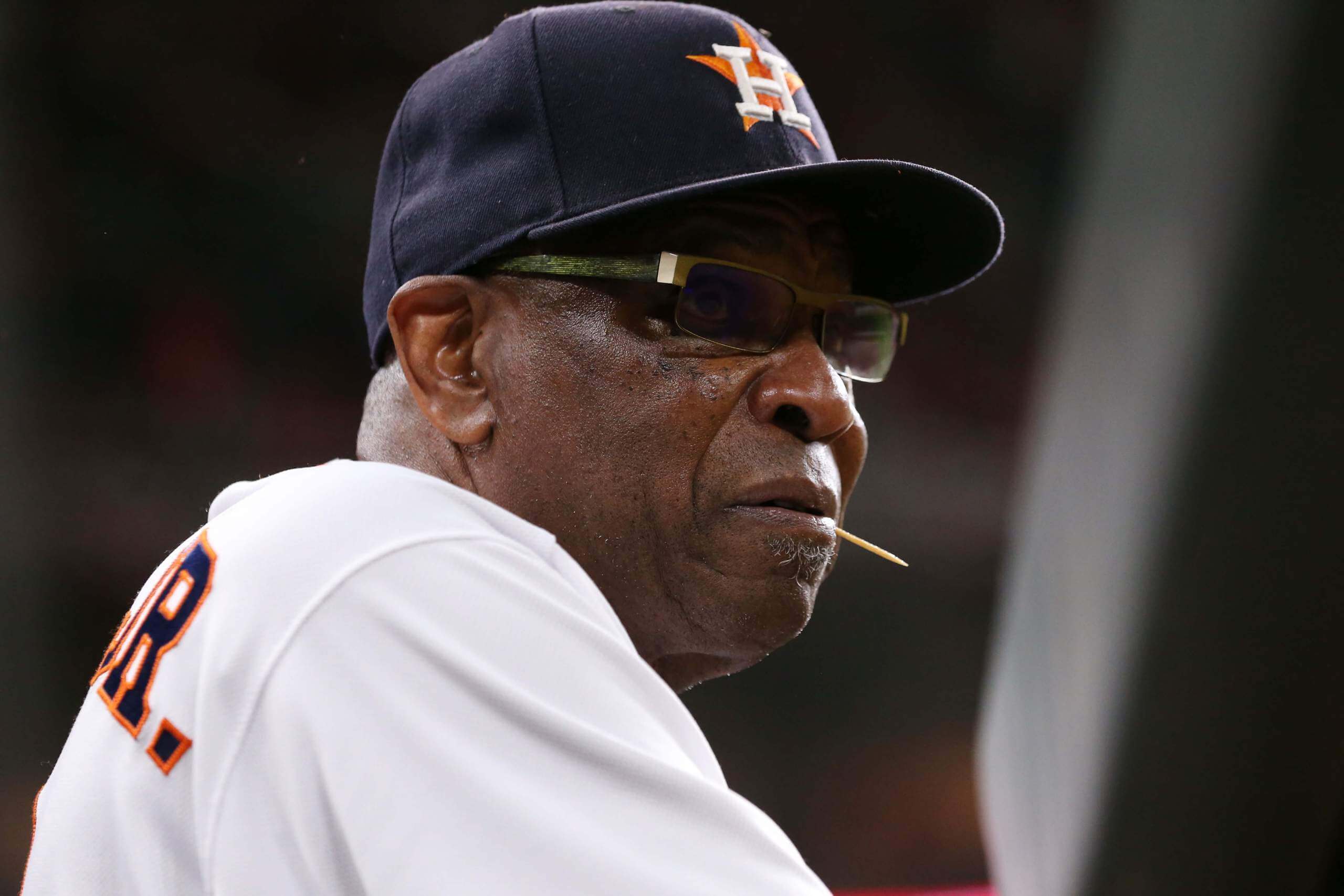 The Toothpick

Baker's been chomping on toothpicks for much of his managerial career. One of his bobbleheads even came with a toothpick and toothpick holder! If you want a really deep-cut stat, someone at MLB once tried to figure out how many toothpicks Baker has gone through during his career.
Baker had to cut back on the habit due to the pandemic (hard to do the toothpick thing while wearing a mask), but he's been back at it lately, and I for one couldn't be happier — it lends him a certain air of charisma and panache.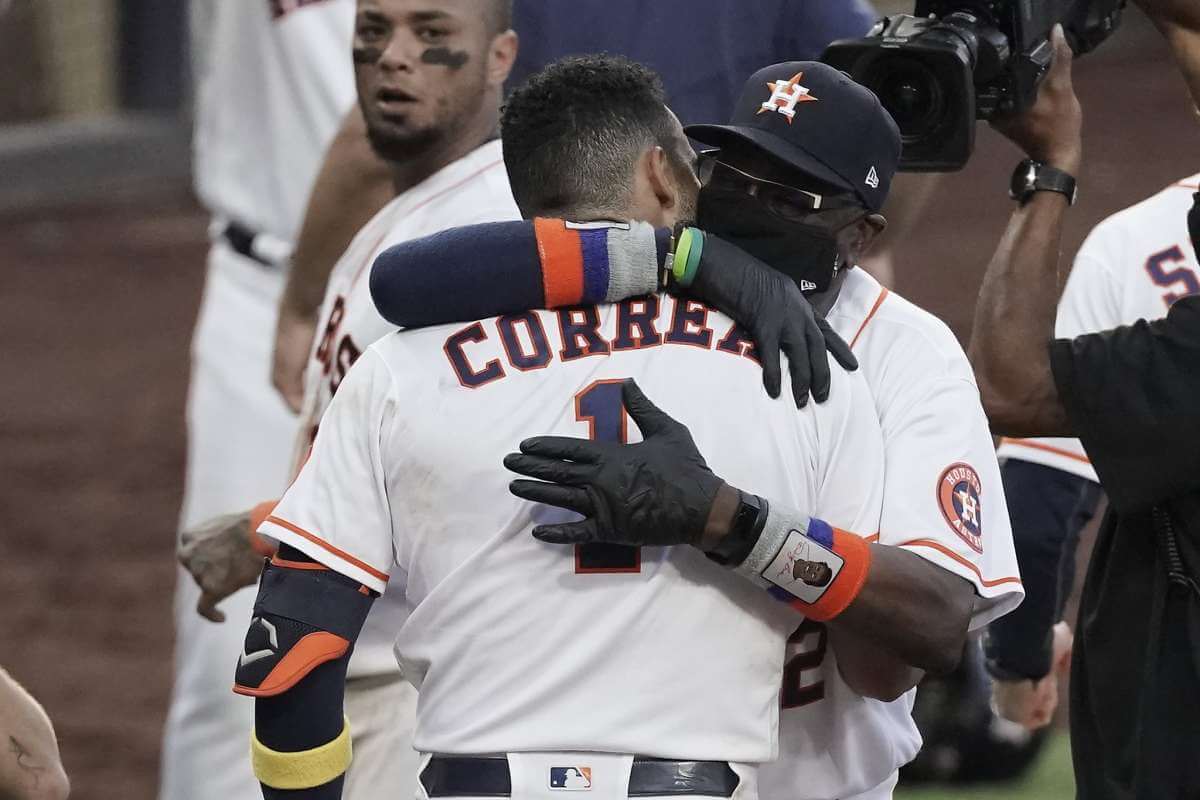 The Gloves

Baker often (but not always) wears gloves during games. Often they're black, but he's also worn other colors. This appears to be something he started doing last year, apparently as a pandemic-related precaution. According to this link, it's because "he was diagnosed with cancer 20 years ago and had a stroke seven years ago."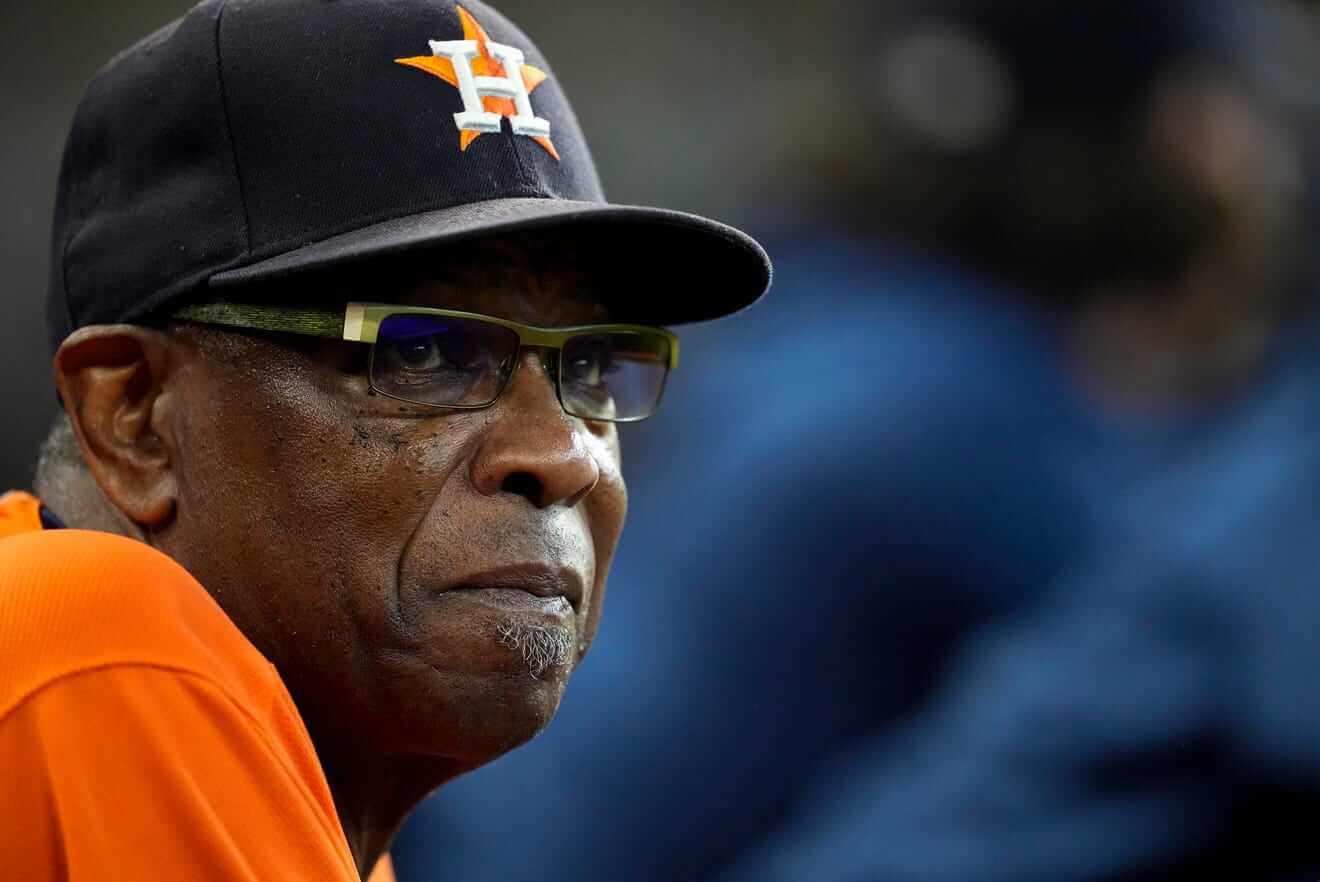 The Glasses

Baker has worn a variety of eyeglass frames over the years. I love his current set — very cool, very suave.
———
It would be nice if Baker went high-cuffed, but at least he wears the full uniform and has all these little idiosyncrasies. An interesting character!
• • • • •
• • • • •
🚨 VAZOU!

Trago para vocês a primeira imagem da nova camisa City Edition do TORONTO RAPTORS! #NBA75

O dino voltou! Agora vestindo um uniforme muito conhecido pela torcida.

Vou te mostrar nos próximos tweets as primeiras referências que notei. pic.twitter.com/KQwpDv9IsY

— Camisas da NBA (@camisasdanba) October 25, 2021
Vazou! More NBA leaks: NBA leakmeister Igor Coelho is at it again. What you see above is apparently the Raptors' new City alternate, which takes the team's "Barney" mascot, flips him in the opposite direction (here's the original), dresses him in a "We the North" chevron jersey, and renders the whole thing the Drake-era color scheme.
I'm not sure I'd call this "good," but it's definitely an interesting way to incorporate various elements from the team's visual history.
Meanwhile, Coelho also has something for the Knicks:
🚨 VAZOU!

Temos uma imagem do novo uniforme City Edition do NEW YORK KNICKS.

🖼️ Publicada pelo @LetsTalkKnicks. Enviada a mim pelo @TheMeccaMSG. Obrigado!

Posso confirmar que a camisa realmente é essa. 👍

Vou mostrar alguns detalhes… pic.twitter.com/yRSmavHHfC

— Camisas da NBA (@camisasdanba) October 23, 2021
Can't really assess that one without the numbers or the rear view.
NBA City uniforms will start appearing on-court in early November, so we'll presumably see more leaks and all the official unveilings soon.
(My thanks to Phil for making sure I didn't miss these.)
• • • • •
• • • • •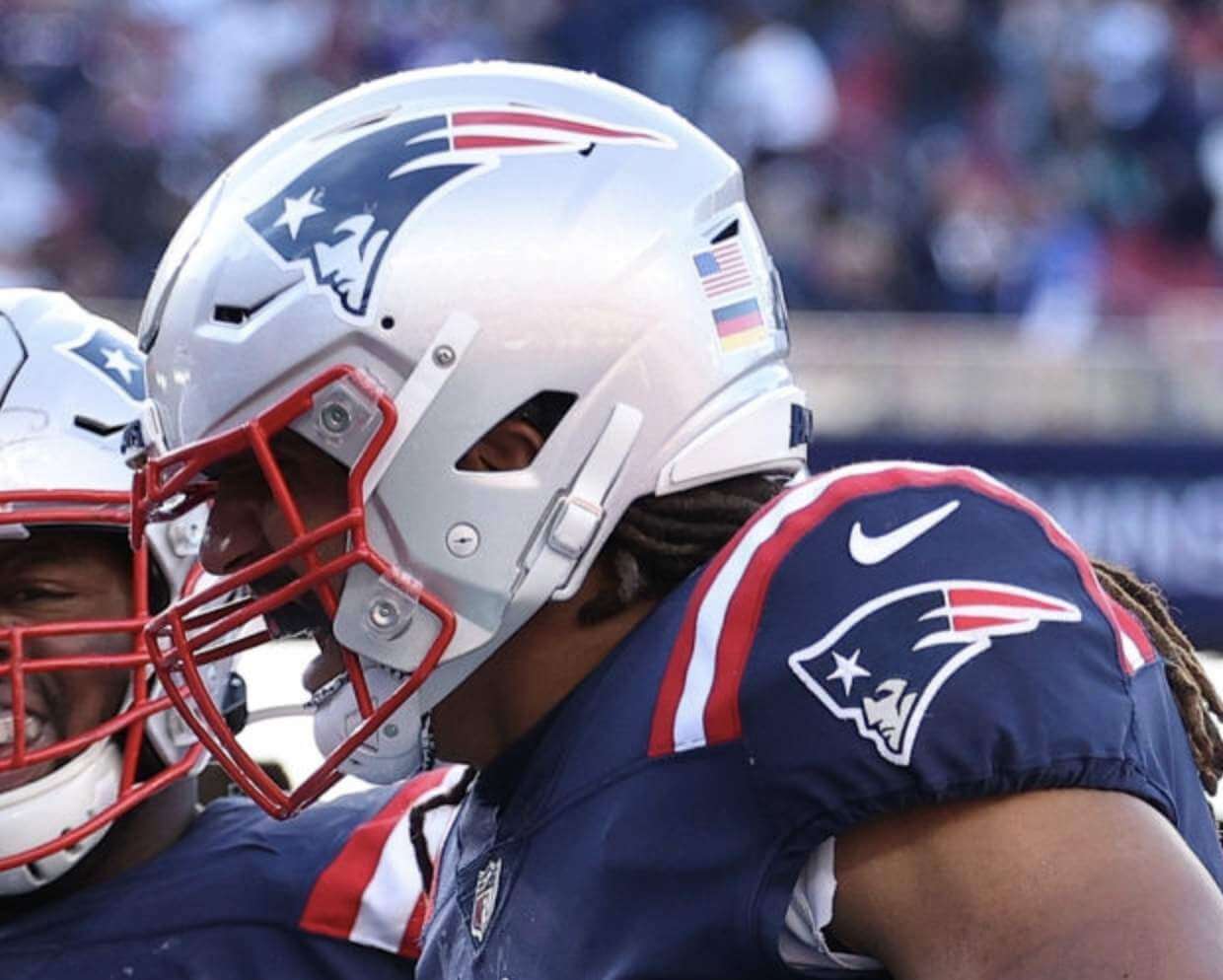 Click to enlarge
Flag-waving: In yesterday's comments, reader Nate mentioned that he'd seen Pats fullback Jakob Johnson wearing a German flag decal underneath his American flag decal during Sunday's game against the Jets. Nate didn't have a photo, but I found the one shown above.
The NFL allowed non-American players to wear the flags of their home countries during the preseason (sure enough, Johnson did it back then), but the program was supposed to end once the regular season started.
Has Johnson been wearing the German flag all along, and we just hadn't noticed? Like most fullbacks, he rarely handles the ball, so there aren't that many photos of him floating around, but I did find this shot from New England's Oct. 17 game against Dallas. If you blow up the image, you can see that he definitely had the German flag on his helmet. So while we can't say for sure, it seems reasonable to conclude that he's been wearing it all season long.
(Big thanks to Nate for spotting this one.)
• • • • •
• • • • •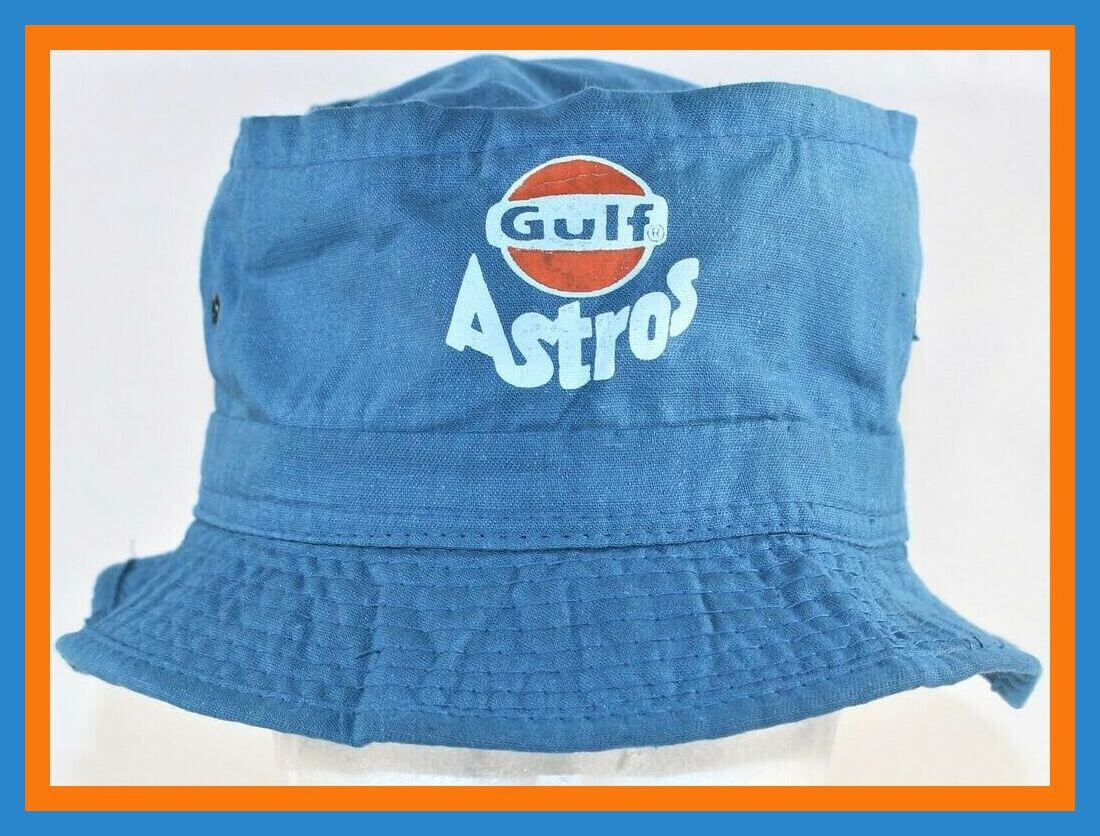 Click to enlarge
Collector's Corner
By Brinke Guthrie
Follow @brinkeguthrie    
The World Series begins tonight, so we're starting off this week's Collector's Corner with an item from one of the Fall Classic participants. This (probably) 1960s Houston Astros denim-look bucket hat was perfect for games at the Astrodome, brought to you by your friendly neighborhood Gulf dealers.  
Now for the rest of this week's picks:
• Staying with the Series, there's a really nice-looking collage effect on this 1976 Reds/Yankees program (which I had one of!).
• Fred Carter and Steve Mix of the Philadelphia 76ers are shown on these 1970s McDonald's promo stand-up cards. Too bad they didn't coordinate the socks, though!
• The Kansas City Kings' logo is nicely emblazoned across this 1970s 8″ smoked glass dish. 
• A variety of NHL logos are shown on this stylish tie of unknown vintage. (Definitely not from the 1970s as the seller states, I know that much.)
• How about this official (says so right there) 1970s solid bronze Philadelphia Flyers collector's medallion! The team logo is on one side, with "Body Check" on the other. ("Each medal illustrates an authentic action play.") Eighteen exclusive designs, too.
• Here's a NHL 50 highlights LP from Fleetwood. The album text mentions the "early seventies" and a team in Atlanta (the Flames started in 1972), but the NHL's first season was in 1917, making the 50th season around 1967, right? Hmmm.
• Here's a 1993 MLB All-Star Game ballot. The artist used a basic Orioles-style orange/black uni design, as the game was at Camden Yards.
• For the avid Denver Broncos fan, here we have a case of 250-500 (the seller is unsure of the exact number) NFL player stamps from Albertsons.
• One more for the Broncos — an awkwardly titled  "Denver's Broncos Superteam XX" team poster from the 1980s. And yes, they added the apostrophe-s after "Denver."
• For all you Los Angeles Rams fans who pine for the pre-dishwater days, I offer this 1987 Rams team poster from Starline, featuring all the Rams heroes of the day.
• • • • •
• • • • •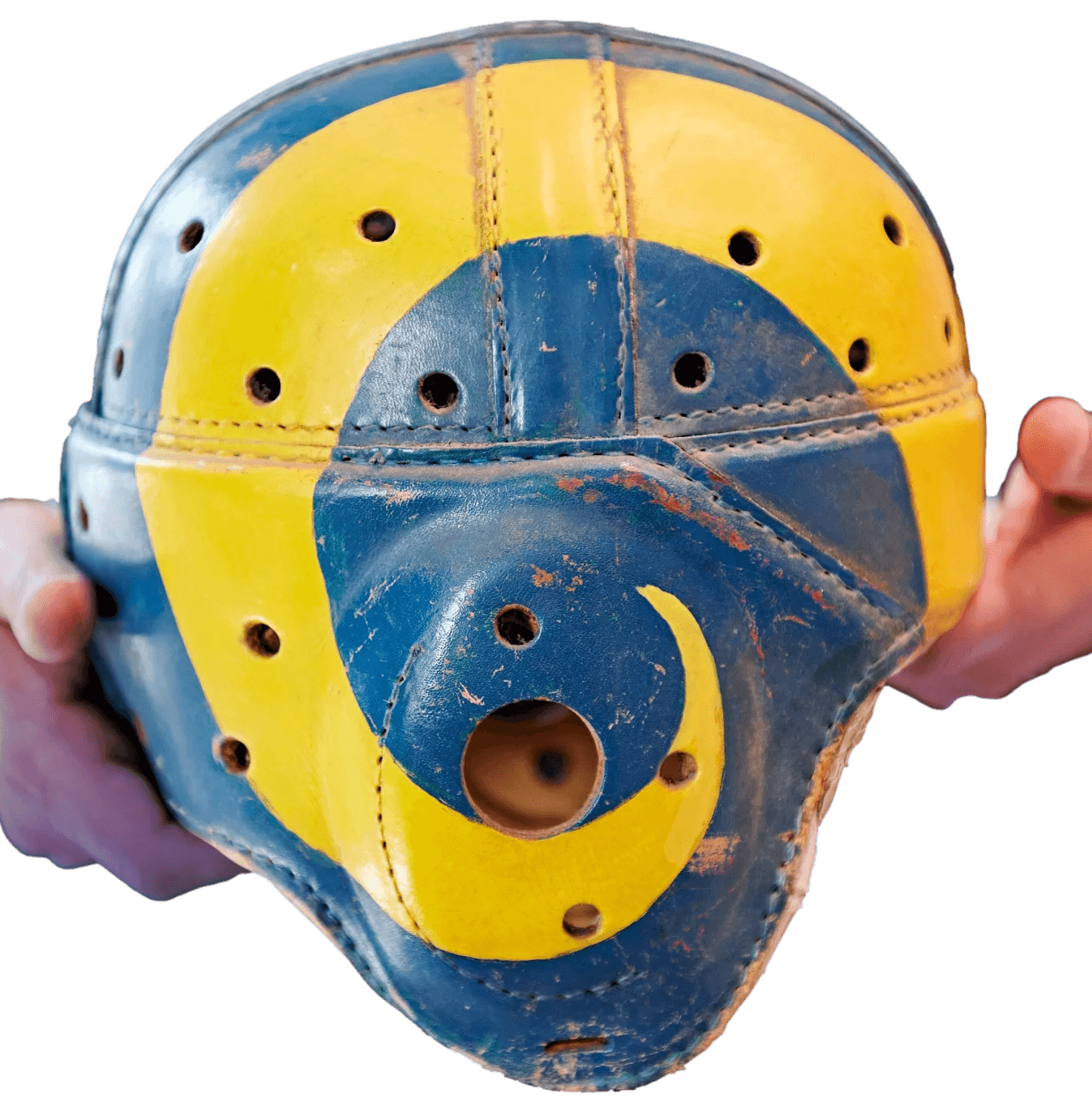 Photo by Kohjiro Kinno/Sports Illustrated; click to enlarge
Way too good for the Ticker: Sports Illustrated is a mostly a shell of its former self these days, but every now and then they can still hit a home run. That's the case with an article they published yesterday, written by veteran sports scribe Greg Bishop, about an old Rams helmet, discovered at an estate sale, that might be the original prototype painted in the late 1940s by Rams running back Fred Gehrke — the father of modern helmet design.
What makes Bishop's article so compelling is that it's not just a story about a helmet, or about football history — it's also about his own reporting and pursuit of the story, providing a behind-the-scenes look at how the story developed. I might enjoy seeing that more than the average person, because I'm a journalist myself, but I think you folks will appreciate it too. Don't miss.
• • • • •
• • • • •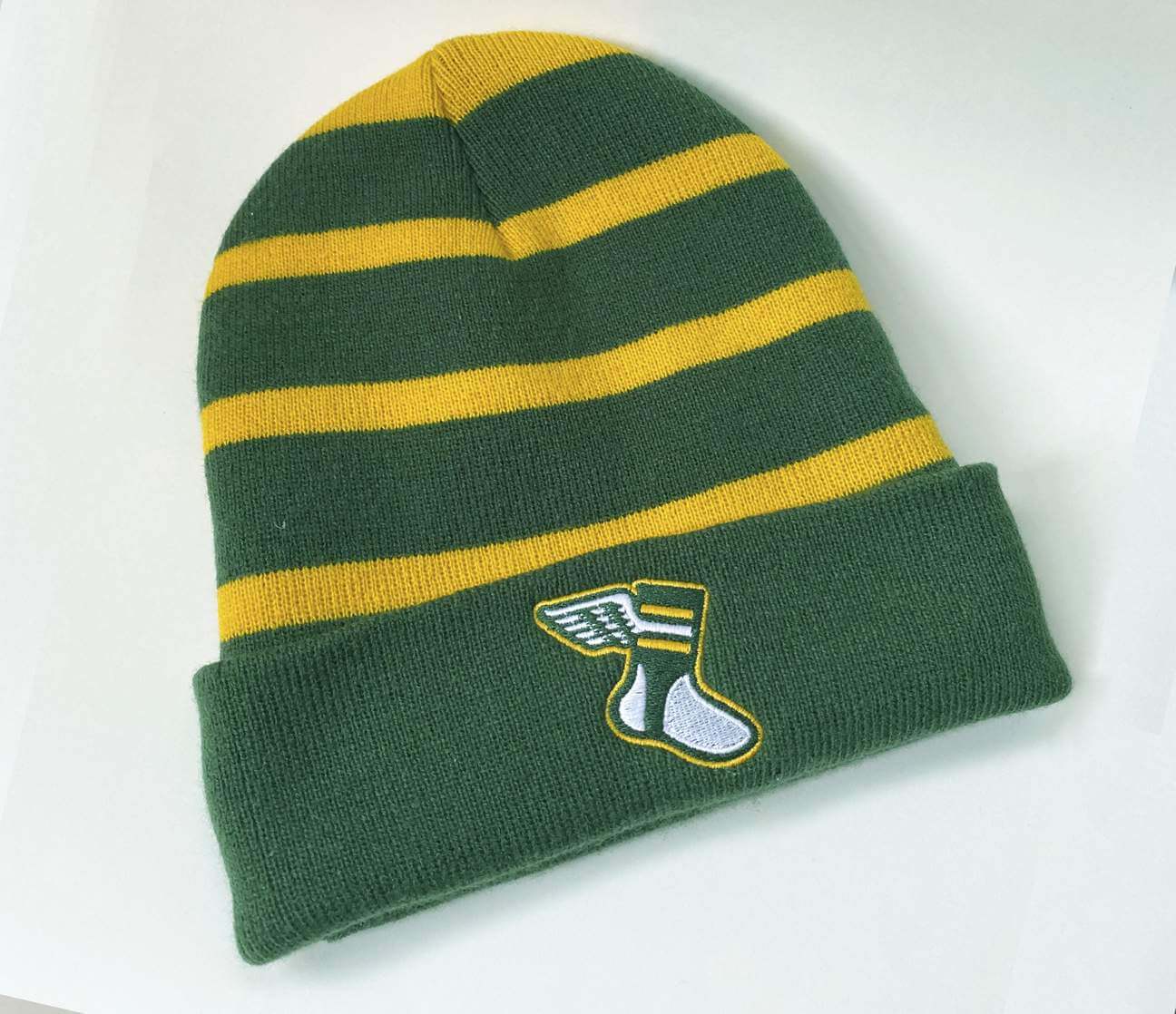 Toque reminder: In case you missed it on Monday, the Uni Watch Toque (or beanie, or ski cap, or whatever you'd like to call it) is available once again.
You can order the hat here. We'll fill the orders in batches as they come in, probably every five days or so. If you want to receive the hat in time for Christmas, be sure to get your order in by Black Friday — Nov. 26.
Also: By popular demand, the newly revived "Hit Sign, Win Stirrups" design, created by the great Todd Radom, is now available as a hoodie.
This design was originally available as a limited edition in February of 2017, as part of the Uni Watch Artist's Series. Lately I've had a few requests for it, so I've decided to make it available once again.
Short- and long-sleeved versions are available here, and the hoodie is here. Here's a closer look at the design (click to enlarge):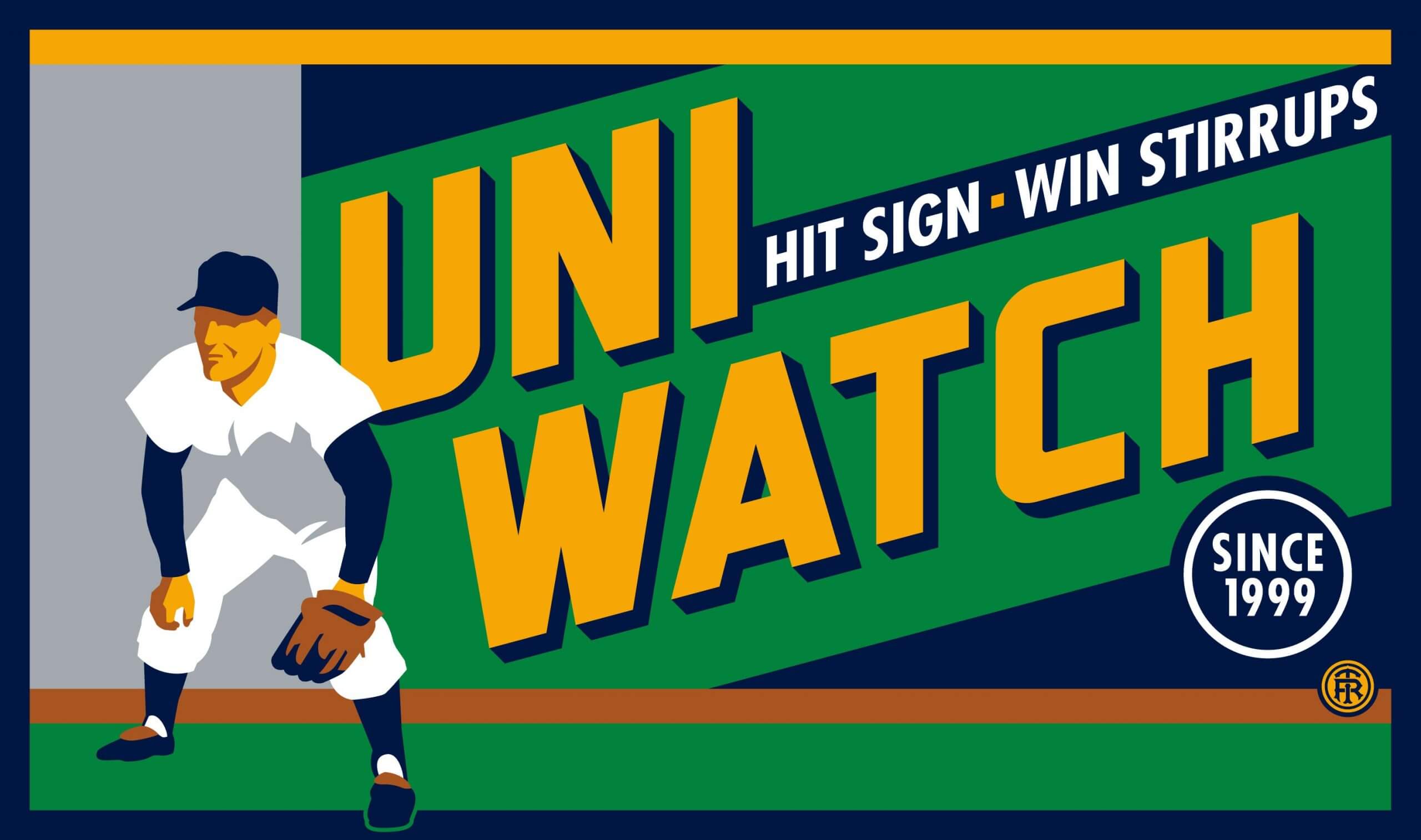 Again, the shirt is available here. My thanks, as always, for your consideration of our products.
• • • • •
• • • • •
The Ticker
By Alex Hider

Baseball News: Unfortunately, the World Series tonight in Houston will feature plenty of ads on the field (from @Jon_Star). … Speaking of the Fall Classic, the teams will apparently not be wearing World Series jersey patches (thanks to all who shared). … Teams often put the players' uni numbers on their batting helmets, usually either on the brim or the back. But I never knew that the late-'70s Padres put them on top of the crown, so players knew which one to grab when they hung on the wall (from Brice Wallace). … MLB posted an Instagram photo of Atlanta OF Joc Pederson posing with Yankees 1B Anthony Rizzo's bat. Pederson presumably acquired the bat from Rizzo when both of them were with the Cubs earlier this year (from Brandon Rudolph).

NFL News: Here's another one of those power rankings of the NFL's all-time best uniforms (from Phil). … Also from Phil: According to the Chargers' uni schedule, Sunday marks the only time this season that the team will wear its mono-navy alts. …  Nice attention to detail by the Browns, who did not apply a logo to the left side of the Steelers' helmet in this graphic (from Joseph A. Bailey). … Bucs QB Tom Brady tweeted a video yesterday that used the team's old alarm clock font (from @JayJayDean). … Speaking of Brady, he threw his 600th TD pass on Sunday, but WR Mike Evans mistakenly gave the ball to a fan in the stands. The team was able to recover the ball by offering the fan "two signed jerseys and a helmet from Brady, a signed Mike Evans jersey and his game cleats, a $1,000 credit at the team store, and two season passes for the remainder of this season as well as next season" (from Brinke). … The league has granted about a half-million dollars to a company based in Montreal to advance a new helmet model that they believe is safer (from Brian Smith).

College and High School Football News: BYU will be wearing royal blue helmets and jerseys along with white pants on Saturday against Virginia (from Phil). … Hawaii has retired No. 15 to honor former QB Colt Brennan, who died earlier this year. …  The University of Alberta Golden Bears wore alternate white helmets for the second time this season on Sunday, but this time, they used new decals that included TV numbers on one side and heavy use of yellow (from Wade Heidt). … Baldwin High School in Hawaii had hoped to debut new light blue uniforms in 2020, but the pandemic wiped out the season. After nearly two years of waiting, the team finally broke them out during a recent game (from Timmy Donahue).

Hockey News: After the Caps' T.J. Oshie recorded a hat trick last night, one fan, instead of throwing a cap, went a step further and threw a bra (from James T. Paterson). … Flyers players are using a vintage Starter jacket as their "Player of the Game" trophy this season (from Mario M. Carr). … Speaking of the Flyers, a fan made an anime-inspired video for the team's mascot, Gritty (from Andreas Papadopoulos). … The Charlotte Checkers of the AHL have made some changes to their uniforms this season (from John Muir).

NBA News: There were some ad patch inconsistencies for the Nets on Sunday. Guard Patty Mills had a square patch, while G Kevin Durant's patch was shaped like the ad logo itself (from Christophe Davy). … A pair of game-worn sneakers from Michael Jordan's rookie season sold for a record $1.47 million (from Brinke). .. Bucks C Brook Lopez was spotted wearing an Orlando City SC soccer shirt on the sidelines during last night's game in Indianapolis (from Andrew). … Here's a good look at how the Mavs' new sideline design features the names of every player in team history.

College and High School Hoops: New red uniforms for the Troy women's team (from Ben Whitehead). … New uniforms for the girls' team at Northeast Dubois High School in Indiana (from Jason Merkel).

Soccer News: These are the uniforms that Egyptian club Al Ahly SC will be wearing this upcoming season (from Phil). … In this classic NASL clip from 1979, New York Cosmos announcer Jim Karvellas complains about the Philadelphia Fury's uniforms, noting that the numbers are difficult to read (from Matthew Algeo). … Reposted from the basketball section: Brook Lopez of the NBA's Milwaukee Bucks was spotted wearing an Orlando City shirt on the sidelines during last night's game in Indianapolis (from Andrew).

Grab Bag: A Minnesota resident is challenging the use of a city logo on a campaign mailer. The resident claims the use of the logo implies the town is endorsing the candidates shown on the mailer. … After Ohio's new license plate design was criticized last week for including a backward version of the Wright Flyer, the Bureau of Motor Vehicles has announced it has fixed the error (from K.C. Kless). … A bill proposed by a bipartisan group of lawmakers seeks to end the "pink tax" — the out-of-pocket costs many servicewomen face in buying military uniforms (from Timmy Donahue).
• • • • •
• • • • •
For all pics, click to enlarge

What Paul did last night on Sunday: Our friend Michael hosted a big pumpkin-carving party on Sunday, so we went over and spent a fun few hours getting crafty with a bunch of gourds. The photo above shows the amazing design created by my friend Gabrielle (which another party attendee jokingly dubbed "the King Crimson design"). Most people, though, took a simpler approach, going for some variation on the classic jack-o-lantern. That included the Tugboat Captain, who created a really good toothy grin for hers (plus her pumpkin had absolutely the best stem/handle of the bunch):
I decided to do a cat. The design was not exactly based on Uni Watch girl mascot Caitlin, but it's not exactly not based on her either:
The squirrel down toward the bottom of this next photo ended up winning "Best in Show":
We took our pumpkins home, so they're now on display out on Uni Watch HQ's front porch. We'll light them up on Sunday night, assuming they haven't already rotted by then.
Anyway: Pumpkins, alcohol, sharp cutting implements — fun! You can see more photos here.