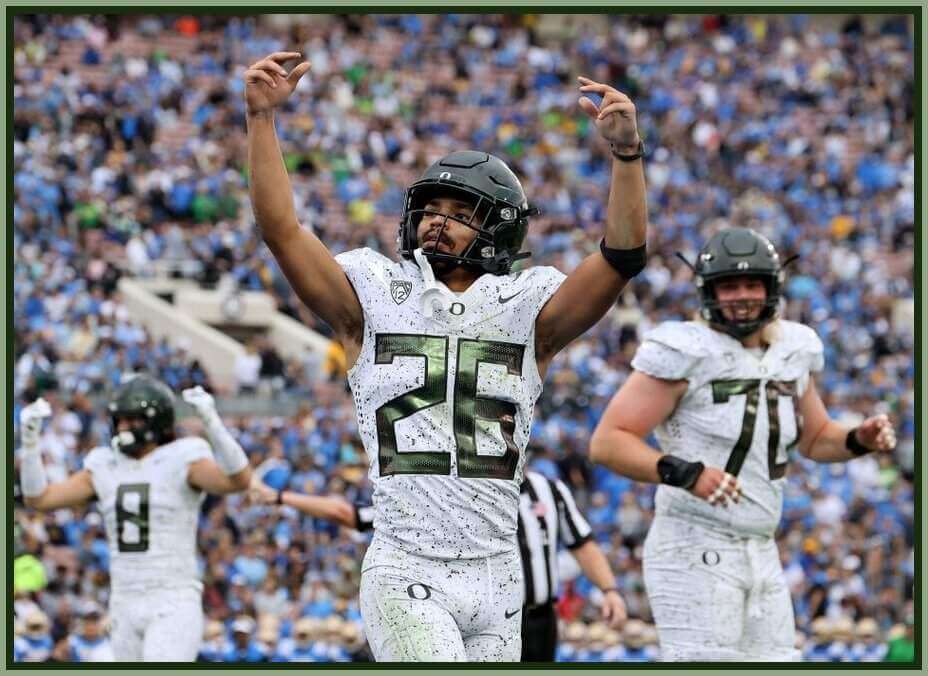 By Phil Hecken & the SMUW Crew
Follow @PhilHecken

Greetings and good Sunday Morning Uni Watchers. I hope everyone had a good Saturday.
You all know I have a love/hate relationship with the Mighty Ducks of Oregon, and I've probably accused the team of "jumping the shark" — uniform-wise — a half-dozen times over the past decade-plus. And every time I think they can't pull out anything more outrageous, more ridiculous than anything they've worn before, they continue to say, "HOLD MY BEER."
Yesterday, the team debuted what they are calling their "egg shell" uniforms. Obviously, they're meant to mimic a duck's egg (shell), and from a certain aesthetic standpoint, I guess you could say they "succeeded."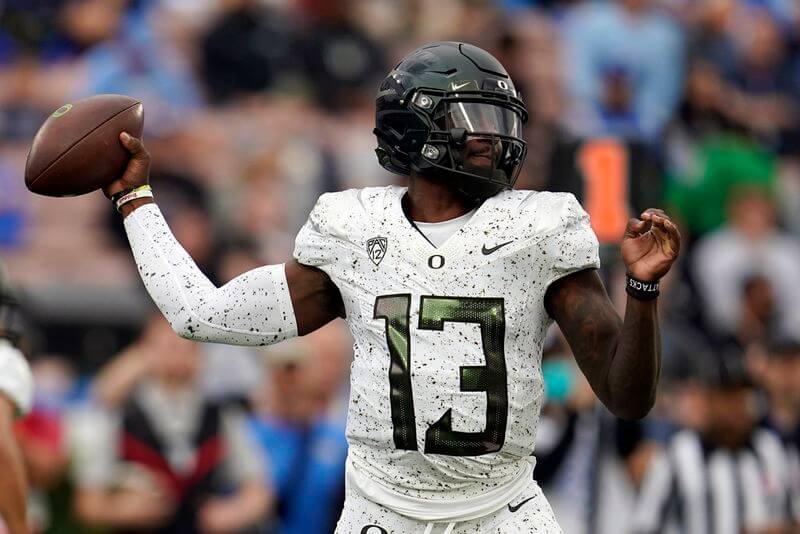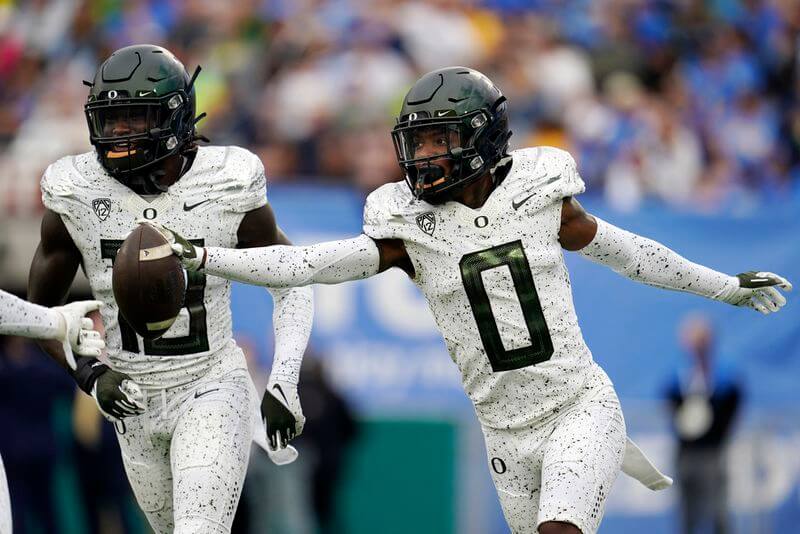 As soon as these uniforms were revealed on social media, the epithets were flying — I heard everything from paint splatter to duck (or bird) shit, with a few "this is what my shirt looks like when I ride my bike through a puddle" and even, "Oh, the Jackson Pollack uniforms!" If your goal, and I have to assume it is, is to attract recruits, is that really how you want your uniforms described? It probably doesn't matter — I'm sure these were designed by a student/athlete a few years ago, as a departing gift to the underclassmen who would one day don them.
Honestly though? I didn't hate them. It's not something I ever want to see on a gridiron again, but for a one time deal (if they are indeed one-and-done), it was fun to see once. And unless you were watching the game from the sideline, you barely noticed the splatter at distance.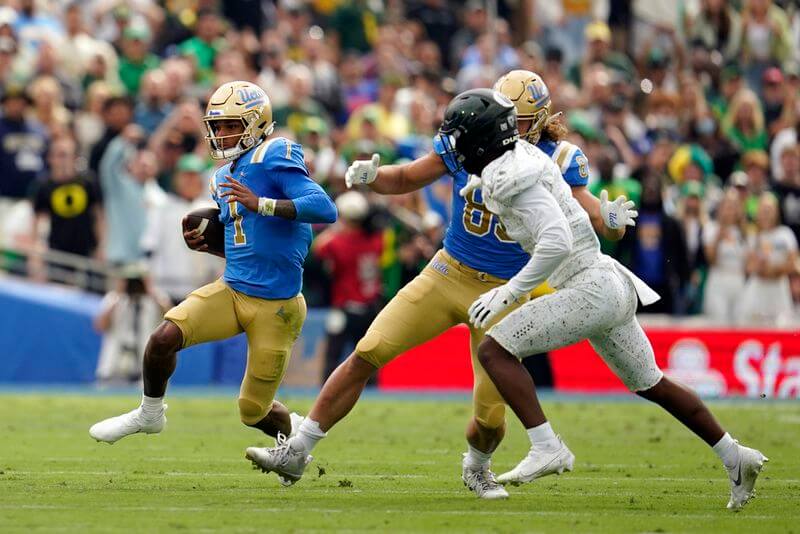 If anything, it looked like the uniforms had some grass or dirt stains. And, as has been their wont for more than a few games this season, the team held on to win a close game they should have won quacking away. If you watched the game (or even if you didn't), what do you think about the uniforms? While you ponder that, I'll turn the rest of the SMUW opening over to TJ and your…
• • • • •
Sunday Morning Uni Watch
by Terry Duroncelet, Jr.
Call Week 8 "Giant Killers Week", because a handful of Top 25 teams went down, and while others won, it didn't come easy.
From Wednesday:
• Sweet helmets from Coastal Carolina, I just hope the results of Wednesday night's game doesn't give them the mothball sentence. Also, Appalachian State wore Pinktober decals.
From Thursday:
• Pinktober accessories for Charlotte.
From Friday:
• UCF wore the 5th edition (I think) of their Citronauts uniforms against Memphis (who didn't look too bad themselves, I may add). This season's offering is known as the "Mission V" uniform, and pays homage to the 40th anniversary of the Space Shuttle program (I'm probably getting the details wrong, but I believe it's specifically referencing the year of the first crewed flight, which was April 12th, 1981). You can read up on the full lore here. Probably the only case in which chrome is the way to go. Also, "'Nauts" WR Stephen Martin has a special connection with these unis. Rather than type a bunch of word salad, I'll just link the video, and then the story.
• One of the few exciting all-white looks from a team formerly known as the Aggies in their game against a team currently known as the Aggies.
From Saturday:
• Oklahoma brought out their Woody Boi alternates against Kansas.
• Cadet grey alts for Army West Point.
• Dave Moravcik Jr. writes: "Not sure if I've ever seen anything like this before, but Kent State LB has a unique NOB. His last name is Lawrence-Burke, and as you can see, he has an abbreviated version of L-Burke.". Here's what that looks like in the uniforms that they actually wore in yesterday's game against Ohio, but still good to note. As an aside, Kent State should bring out a throwback uniform and call it a FlashBack. The amount of sorry I am is none.
• Color me stimulated, Part II. With one of the same teams, at that! This really just verifies what I said literally a week ago: the SEC has what might be the best color palette amongst its member teams in college football. I thought I would prefer this, but I could honestly go with either-or. Also, I have NEVER, in all of my years of, well, existing, seen a program honor someone in any capacity by putting that person's last name in the endzones (video). For those not in the know, Ole Miss did this as part of Eli Manning's jersey retirement. The closest that I've seen to an NIE (Name In Endzone) treatment is the Baltimore Ravens, who contrasted the 'MO' in BALTIMORE in honor and memory of Ravens superfan Mossila Kingsley "Mo" Gaba, who passed away last year.
• Another contender for a beautifully-colorful conference is the ACC, a good example being Clemson vs Pitt. Clamp isn't even wearing their orange trou, and this game still looked fantastic!
• #7 Penn State did their best Blue Bama impression (hate to break it to ya, but Georgia Southern's got you beat) with their Generations of Greatness uniforms against Illinois. Ironically, they fell to Illinois after 9 overtimes. I also dug their endzones.
• FIU wore a modified version (H/T Blaise D'Sylva) of their old decals from when they first started their football program back in 2002 against Western Kentucky.
• Throwback uniforms for Virginia Tech against Syracuse.
• UAB wore their Children's Harbor uniforms against Rice. If this is your first time seeing these (or need a refresher), you can read up on the lore here. They've even added a handy player name breakdown!
• Minnesota looking like the Grey Gophers (at least the alliteration still works here) against Maryland. At least when Army and UAB do it, it actually serves a purpose.
• HOLY TOLEDO, the Rockets looked bad against Western Michigan.
• Pinktober decals and stripes for South Alabama.
• For a BFBS costume, it's OKAY. It ain't bad. And I'll forgive them for wearing it a week early before Halloween weekend, since their game against Pitt next week is on the road (closer look at the helmet, via Blaise).
That'll do it for Week 8 (how is it Week 8 already? Time isn't real). As always, a huge shoutout goes to Blaise D'Sylva for all of the helmet tips (and PLEASE check out his website if you haven't already). Tune in next week for the one Saturday of the year where it's perfectly-acceptable for teams to go ABSOLUTELY FERAL with their uniforms. See you next week!
• • • • •
Thanks, TJ. And now for the rest of your SMUW, starting with Jimmer's 5 & 1.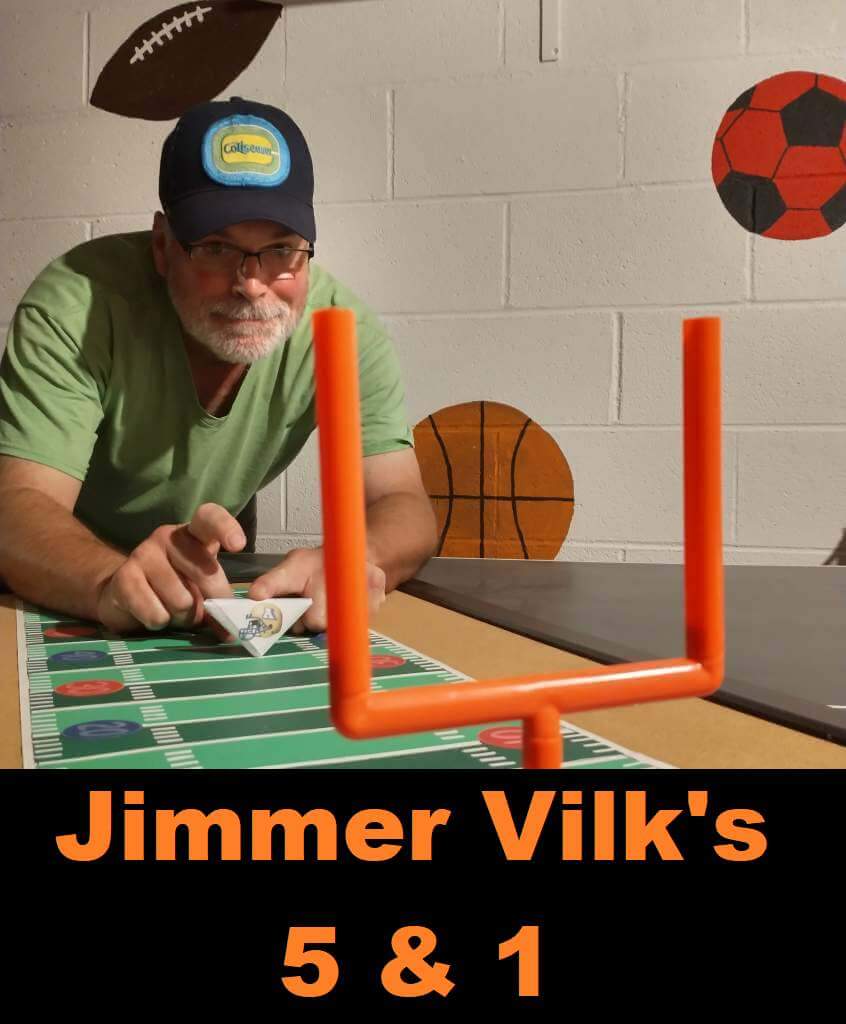 Jimmer Vilk's 5 & 1
After more than a decade in hiatus, the original "5 & 1" decider, Jim Vilk, has returned! Jim began doing the 5 & 1 many years ago, followed Catherine Ryan, Joe Ringham, Michael "Memal" Malinowski, and several guest pickers. Once again, Jim will pick HIS 5 best looking/1 awful matchup, and occasionally have some honorable mentions (both good and bad). You may agree and you may disagree — these are, after all, just opinions and everyone has one. Feel free to let him know what you think in the comments section.
If you have a game you feel is "worthy" of consideration for the 5 & 1, please either post it in the comments below or tweet Mr. Vilk @JVfromOhio.
Here's today's 5 & 1:
• • • • •
I put on my Patriot League hoodie yesterday…the first time since early Spring. Welcome to the unofficial start to the Most Wonderful Time of the Year (which officially begins when we get back to Standard Time). It was a cool cloudy day in Ohio, which means it's finally football weather!
__________
Honorable Mentions to
East Carolina/Houston
Colorful, but you need to beef up your jersey numbers, Pirates.
__________
Utah/Oregon State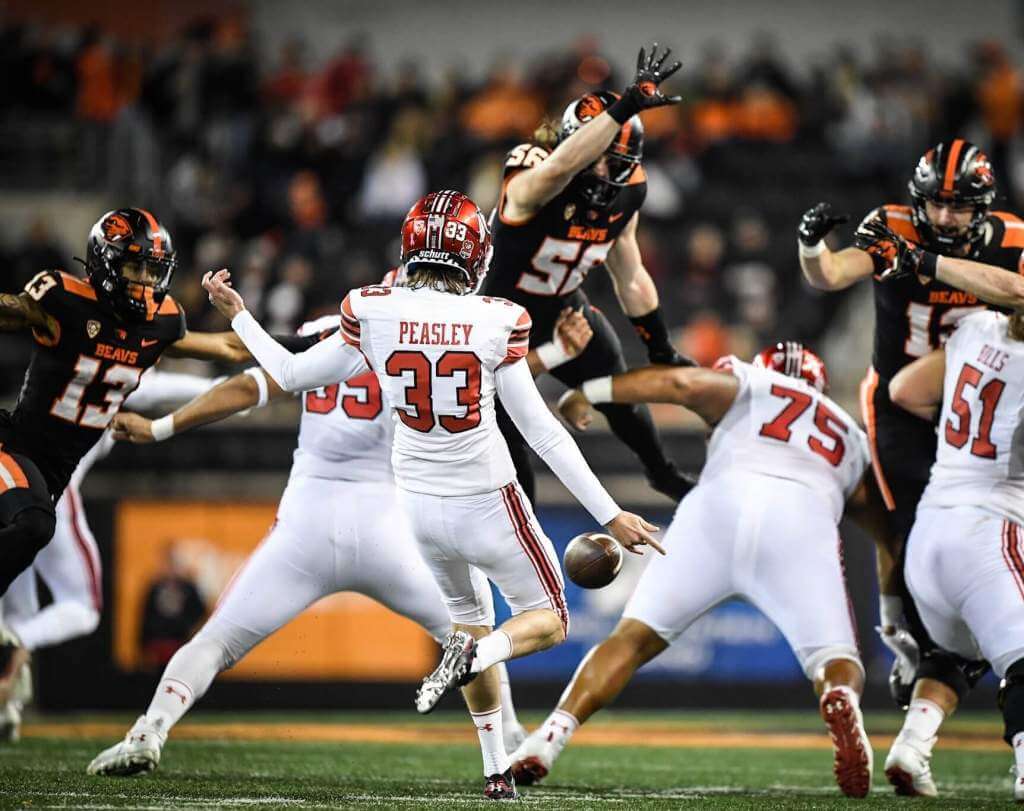 White vs black does work, with readable numbers and interesting striping.
__________
5. UMass/Florida State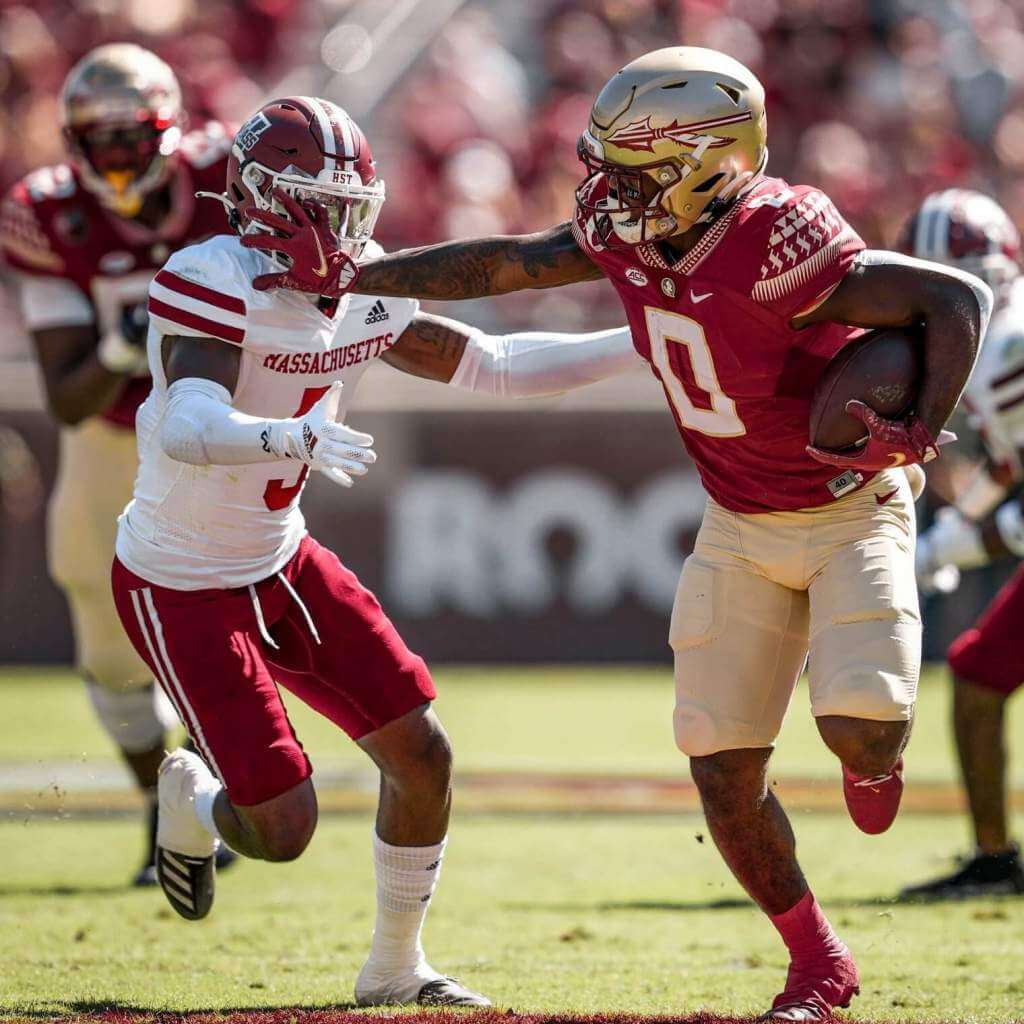 Somewhere between Very Good and Optimal on the contrast scale, even with similar-ish colors.
__________
4. Tulane/SMU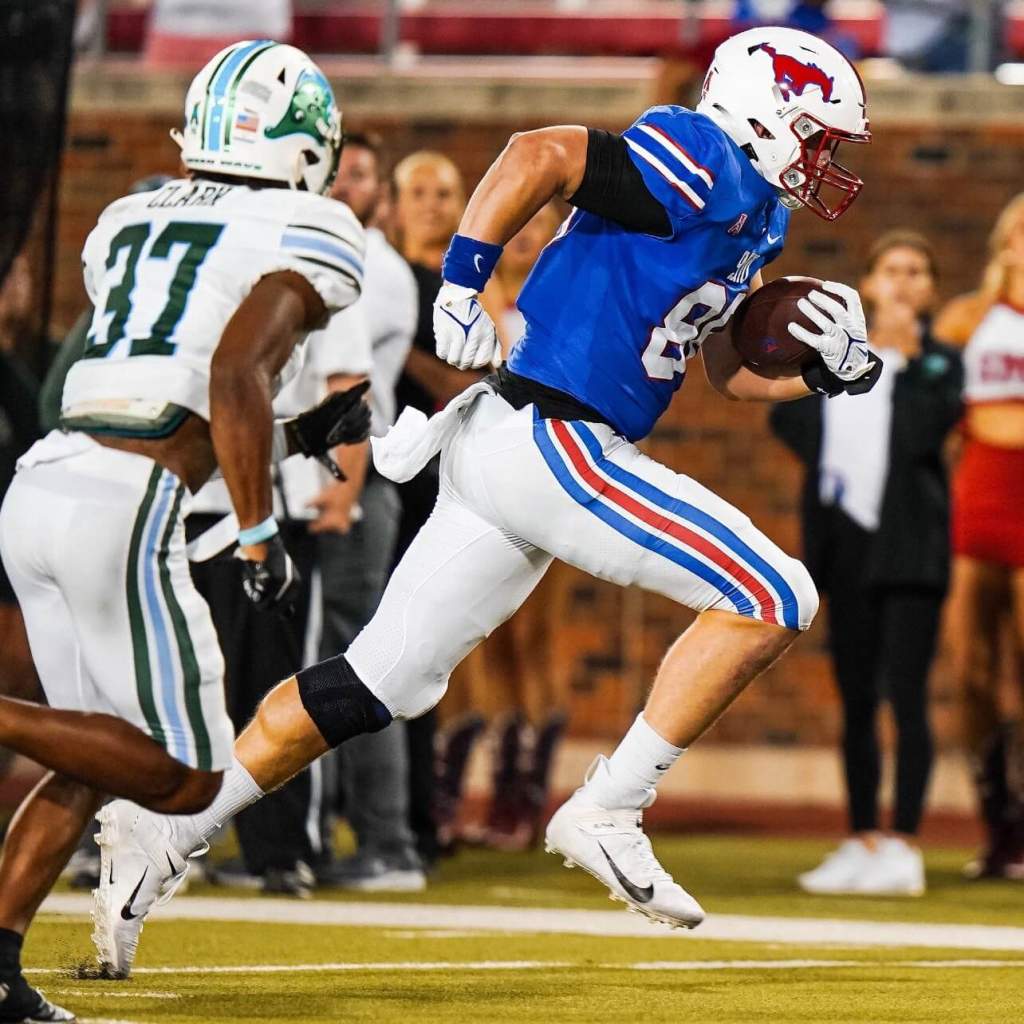 I can handle this much white during a night game, and the stripes really help.
__________
3. USC/Notre Dame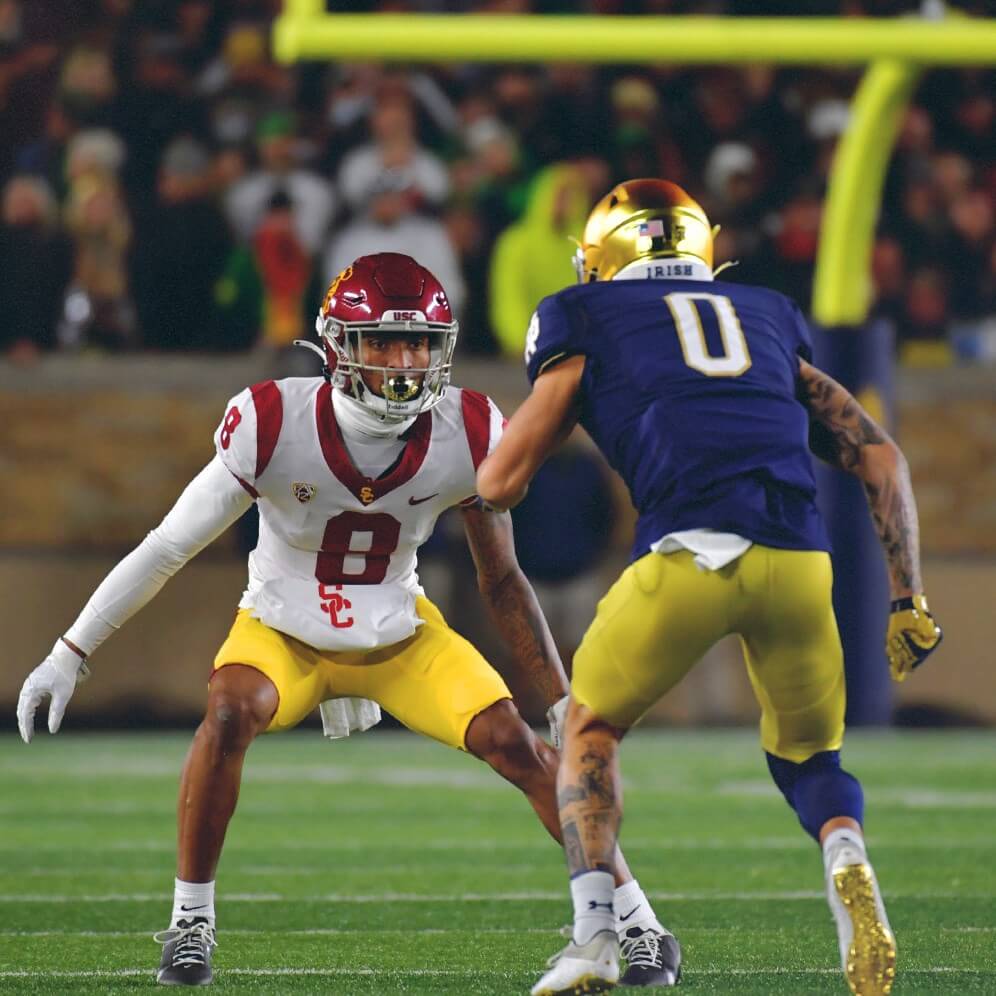 This classic would have ranked higher if the Irish didn't have such small numbers.
__________
2. Cincinnati/Navy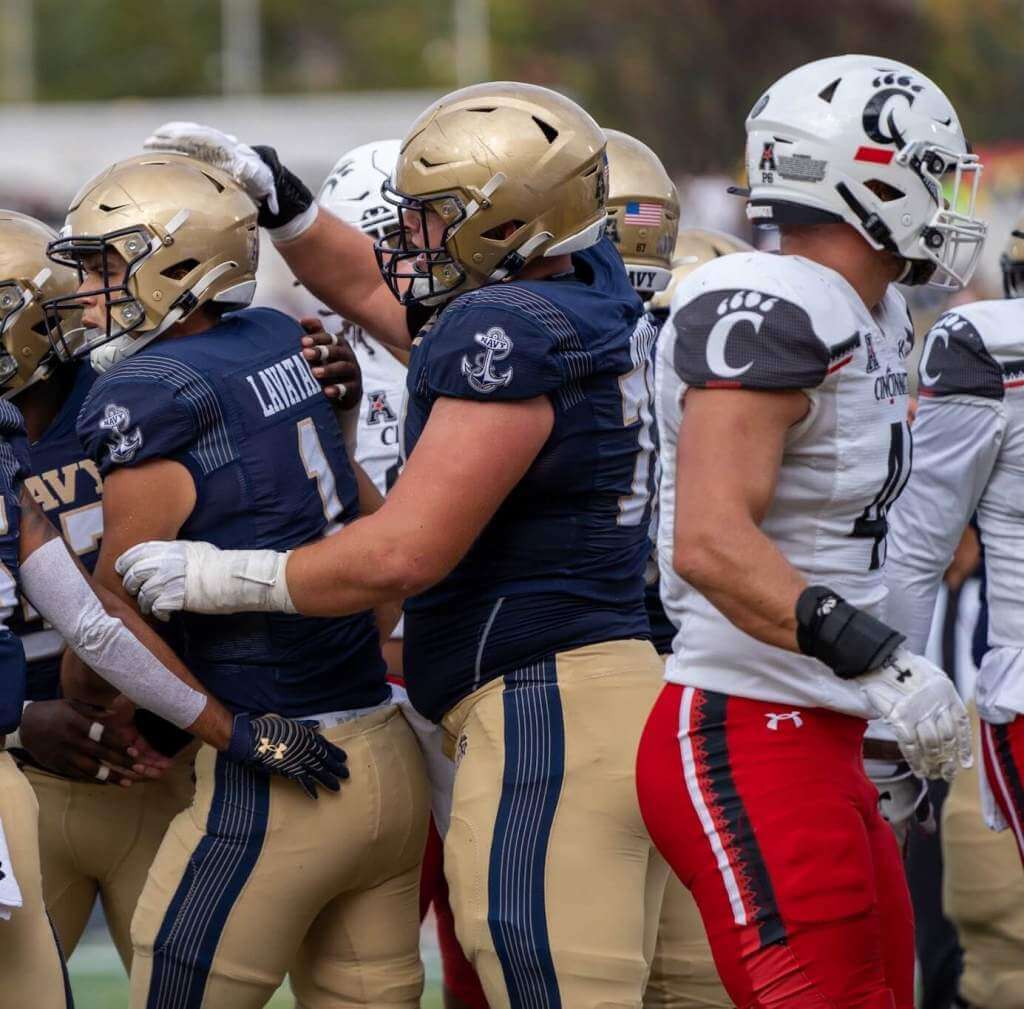 My third choice of helmet for the Bearcats, but the sleeves and pants made up for it.
__________
1. Illinois/Penn State/Those beautiful retro end zones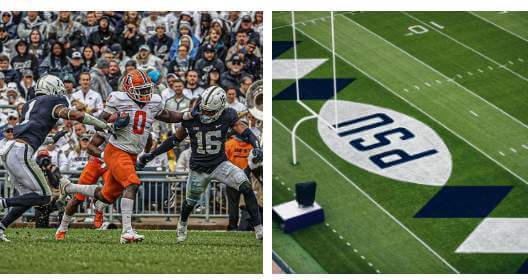 Even though the Lions didn't bring back the white collars, I'd still be happy if they stayed with this look.
__________
A … slightly less than honorable mention to
BYU/Washington State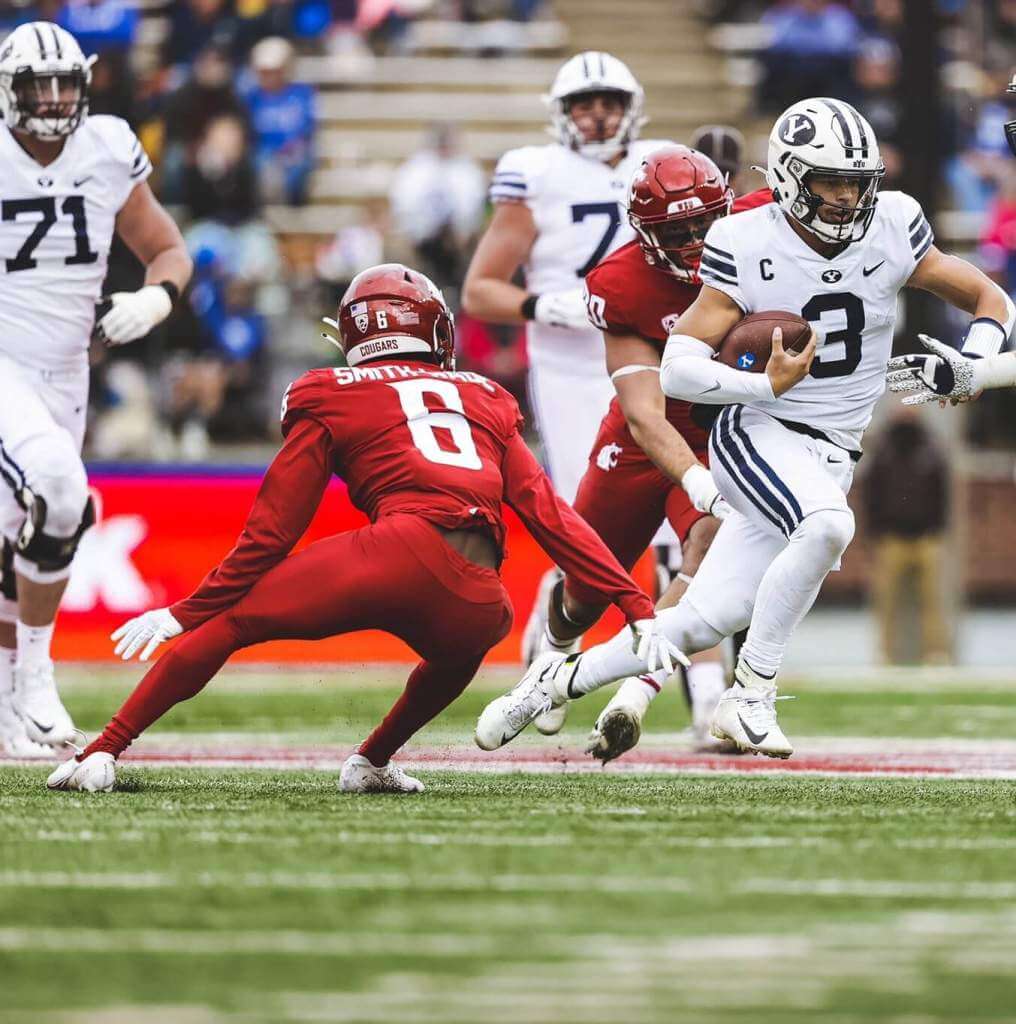 Apparently it was Cheapo Electric Football Night in Pullman.
__________
&1. Rice/UAB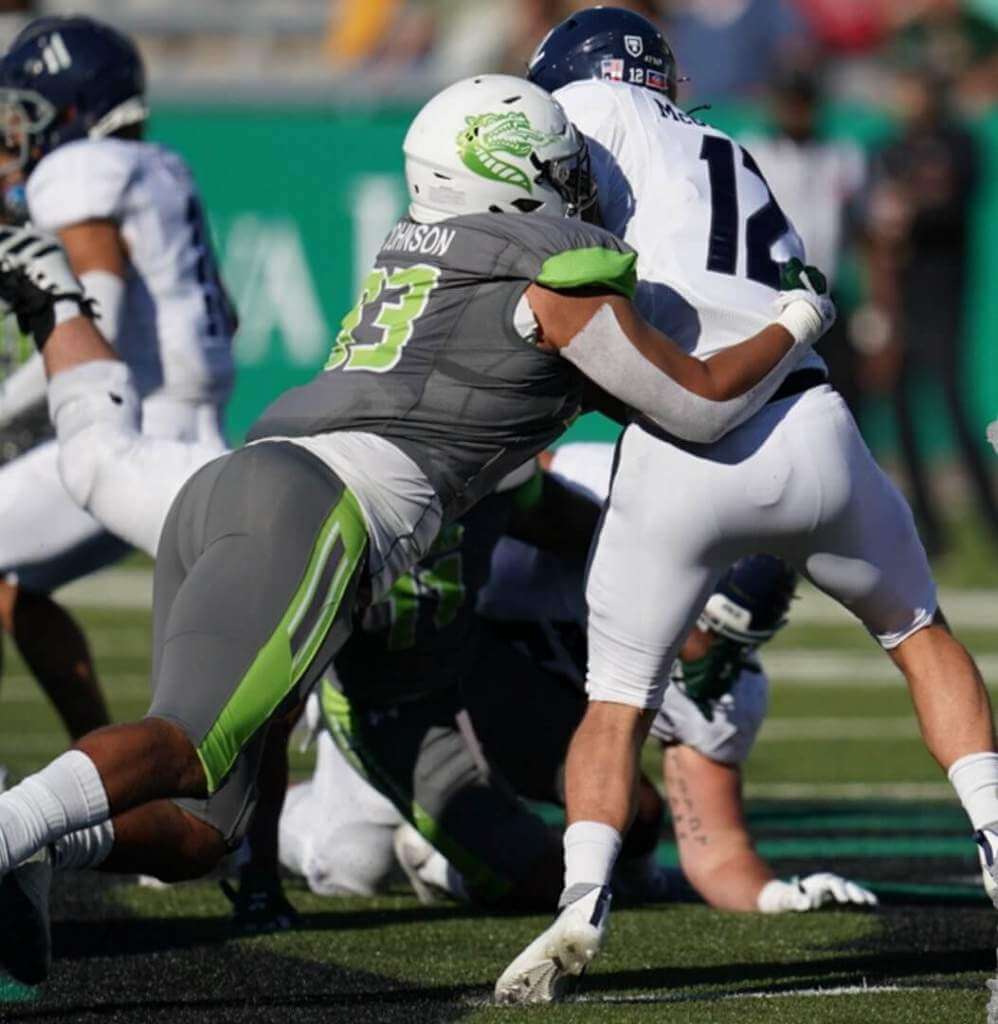 Hey Blazers, the Pro Bowl called and they want their unis back…wait…no, they said keep them.
__________
Find a sincere looking pumpkin patch, and I'll meet you there next week.
• • • • •
Thanks, Jim! OK readers? What say you? Agree or disagree with Jimmer's selections? Let him know in the comments below.


NCAA Uni Tracking
Uni Watch will again track the uniform combinations worn by the "Power 5" conferences. All of the 2020 trackers are back!
We've got Rex Henry (tracking the ACC), Dennis Bolt (tracking the PAC-12), Kyle Acker (tracking the B1G), and Ethan Dimitroff (tracking the Big XII AND the SEC). Rex, Dennis, and Kyle and are all returning from 2015, and Ethan is back after joining the NCAA Uni Tracking a couple seasons ago. Ethan will continue to track the SEC, and has swapped the B1G for Big XII (with Kyle).
Here are the Uni Trackers for the Power 5 Conferences (along with each tracker's info):
+ + + + + + + + + +
Rex is up first today (ACC):
• • •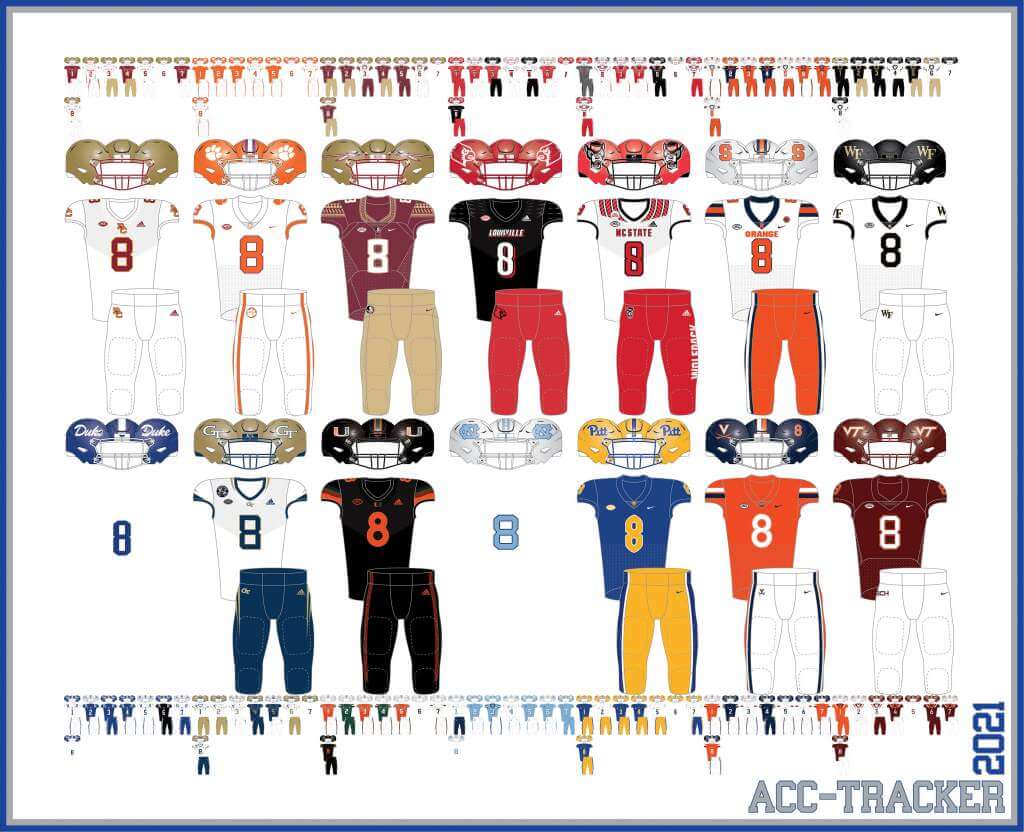 ACC

More Here.
Follow Rex on Twitter here.
• • •
And now, here's Dennis with the PAC-12: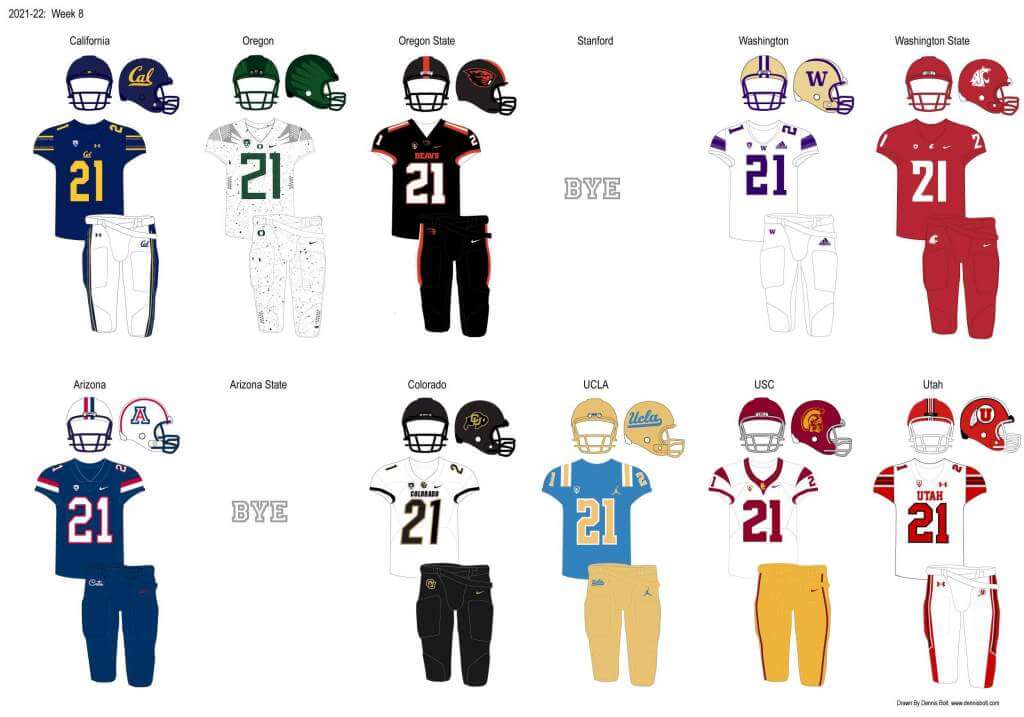 PAC-12

More here.
Follow Dennis on Twitter here.
• • •
And here is Ethan, with the SEC: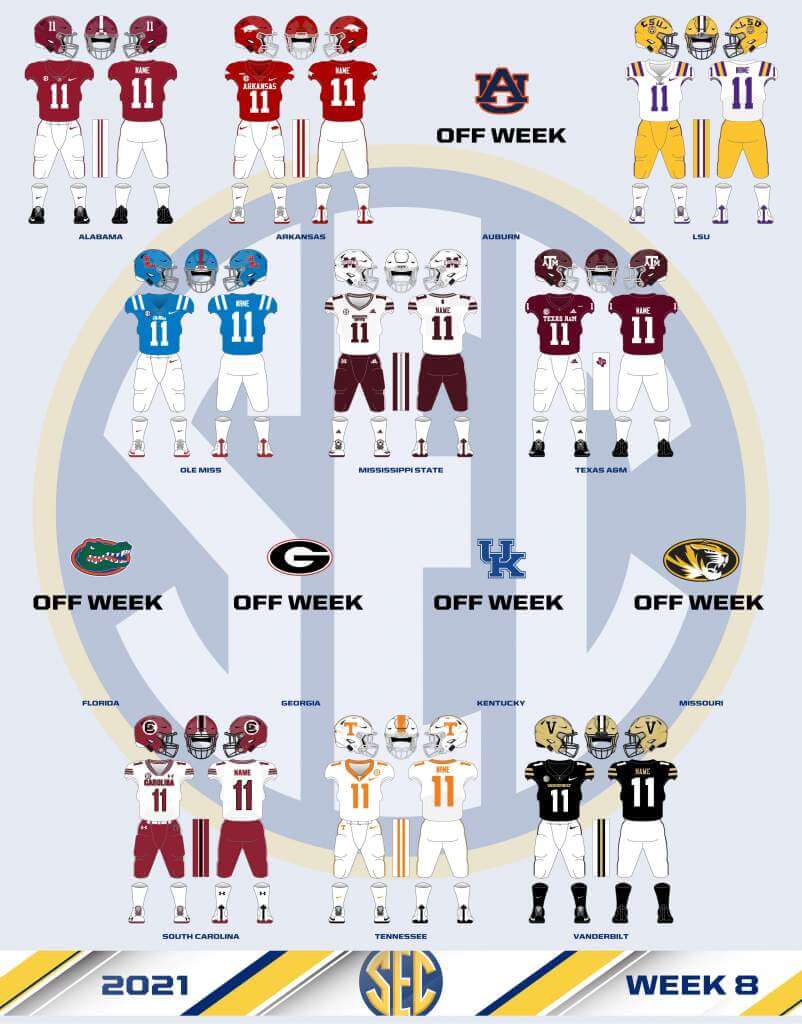 SEC

And be sure to check out Ethan's WVU Mountaineer Tracker.
Follow Ethan on Twitter here.
• • •
And here is Kyle with the B1G: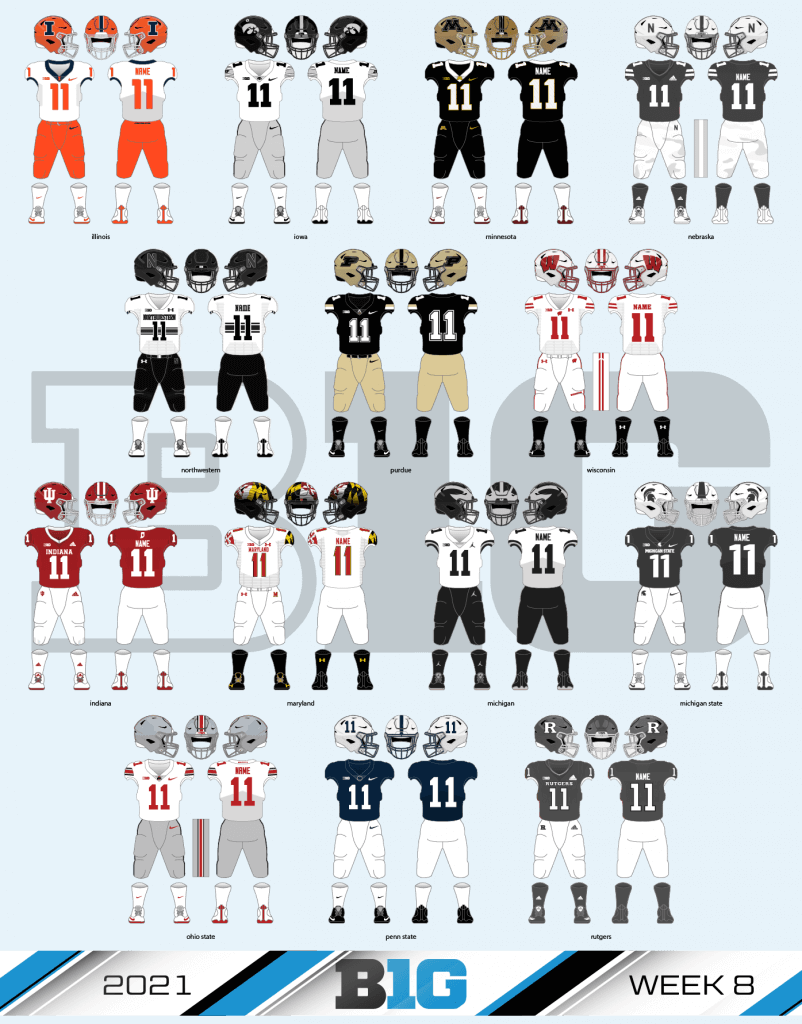 B1G

Follow Kyle on Twitter here.
• • •
And here's Ethan with the Big XII: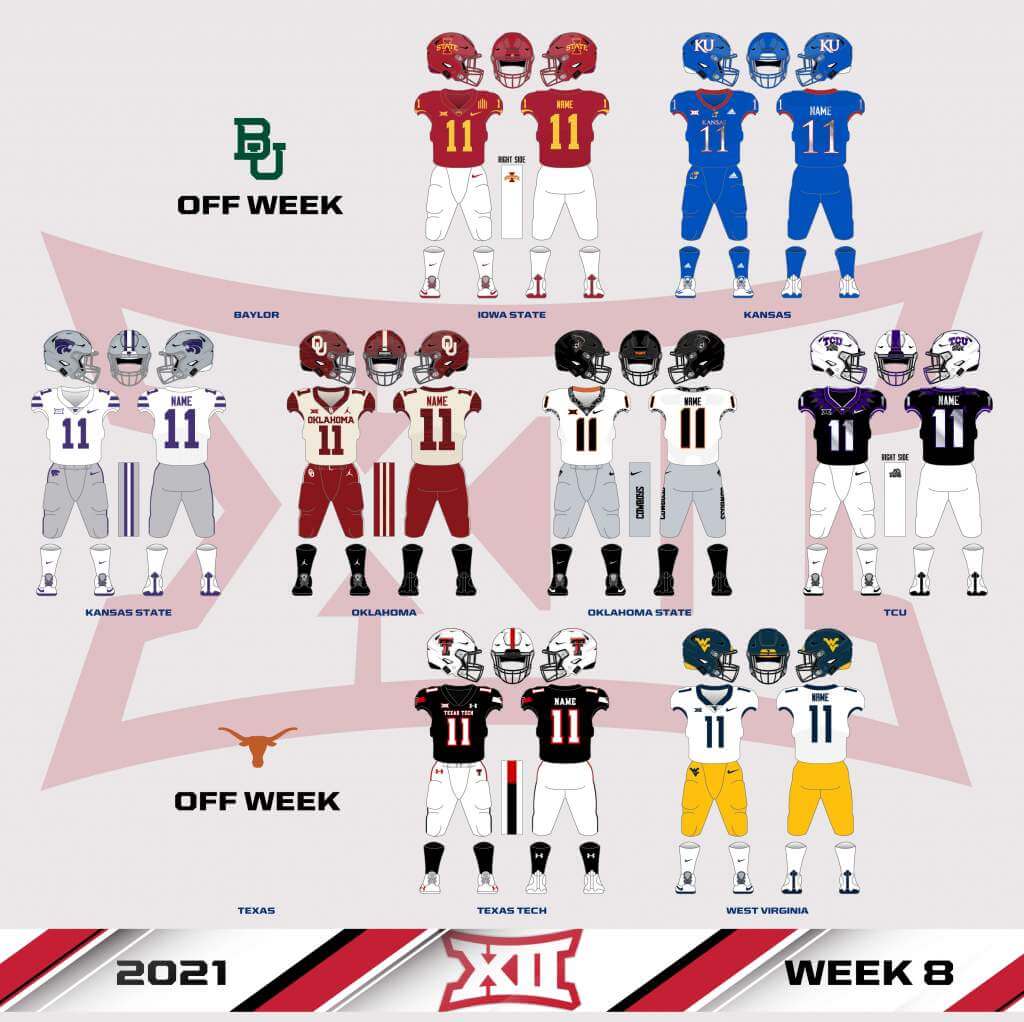 Big XII




Welcome to the 2021 Oregon Ducks Uni Tracker. This little project was originally begun way back in 2008-09 by Michael Princip, who retired after several seasons, whereupon the project was continued by Tim E. O'Brien. He, too, retired from the tracking, but the project has been ably kept up by the man who also tracks the Pac12, Dennis Bolt.
Here's this week's Uniform Combo for the Ducks (you can click to enlarge):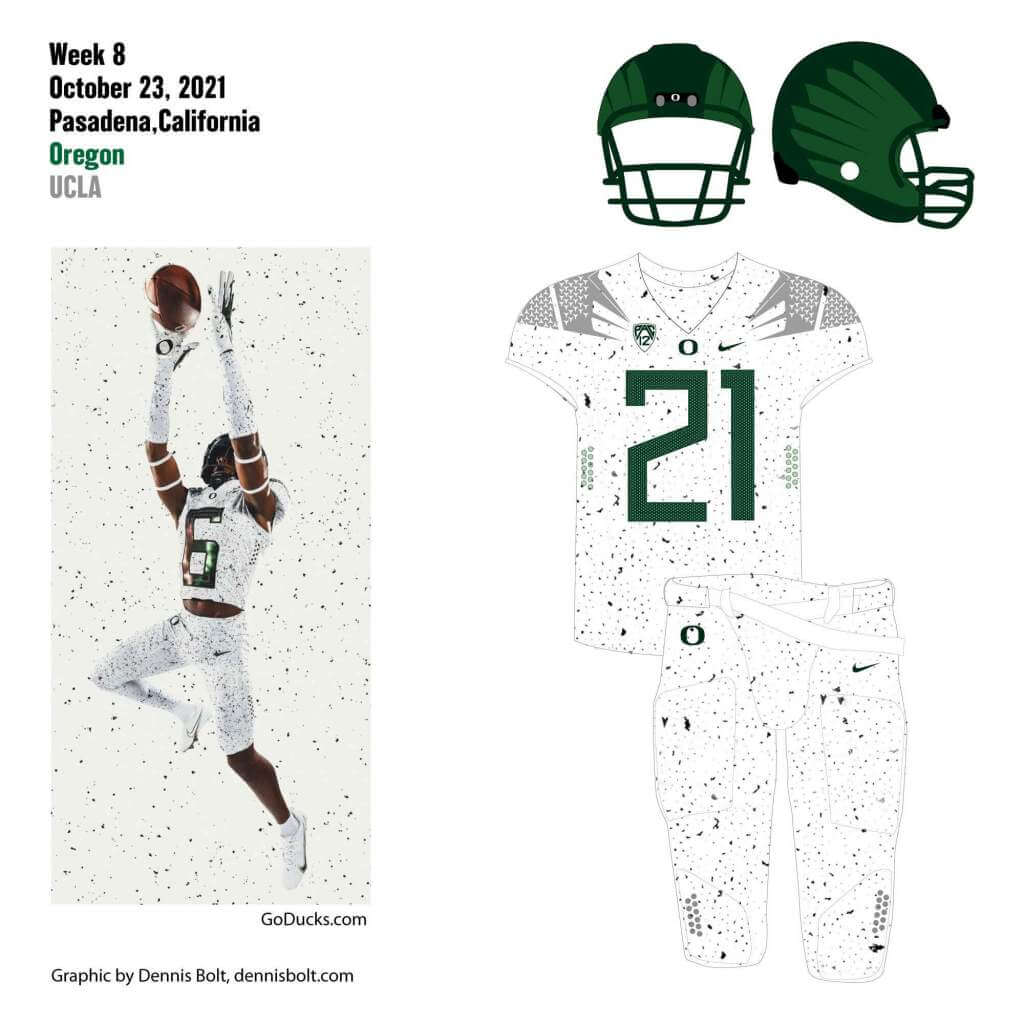 You can read about this uniform, and MUCH MORE, by checking out the Duck Tracker here and the color combo spreadsheet here!
Thanks Dennis!


MLB Playoff Uni Tracking
It's BAAAAACK.Alex Rocklein has been tracking the jerseys of all the teams involved in the MLB Post Season for the past several seasons. The World Series is now set: Atlanta vs. Houston, with Atlanta defeating LA last night to close out their NLCS in six games. Although he sent me this graphic before the Dodgers/Atlanta game was completed, the graphic is correct for the jerseys worn (see full tracker). One small change: any team that has a front number on their jersey shows the number of the starting pitcher from that game (previously it was all #21).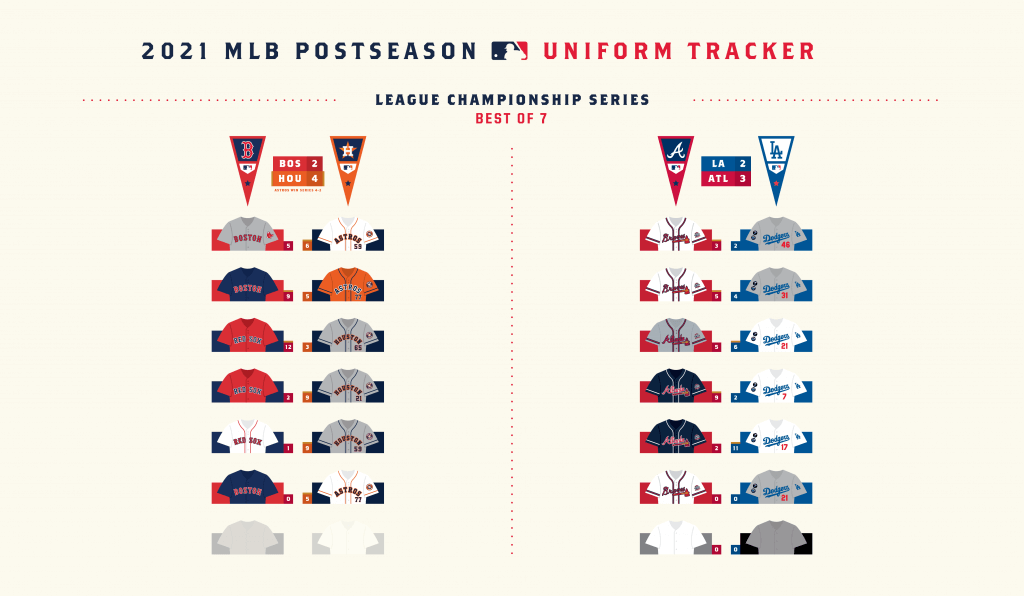 Here's the full tracker (which will get filled in as we go through the NLDS/ALDS, NLCS/ALCS and World Series):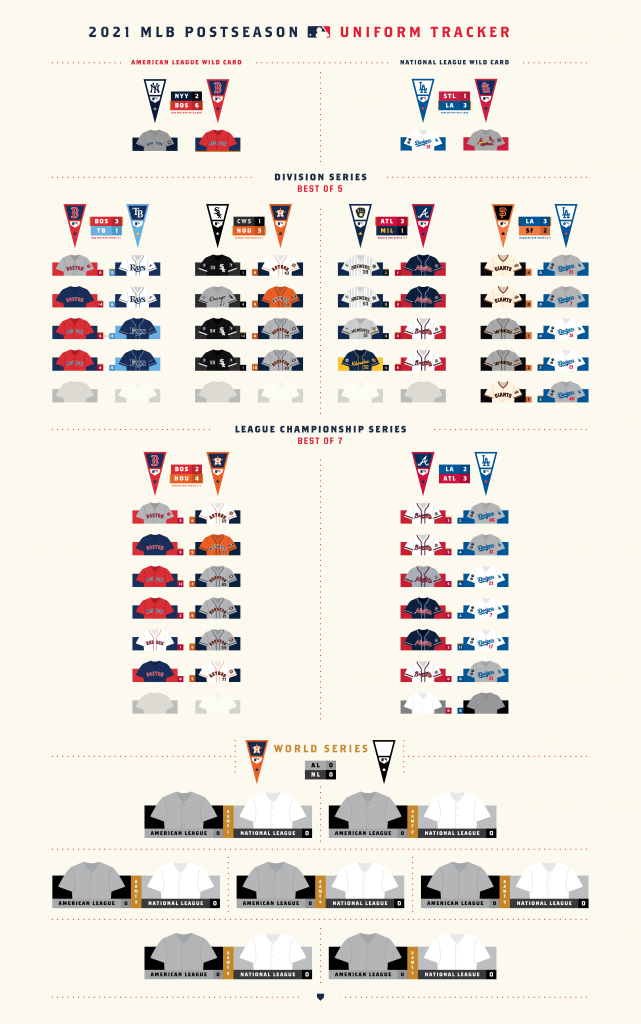 I hope you guys enjoy this annual feature and you'll thank Alex for all his effort with a quick "Thanks" in the comments below! Look for this feature every weekend until the World Series is complete!



Bulletin reminder: Paul here. As most of you know, it really bugs me that teams and leagues never refer to their uniform ads as "ads," or to their uni advertisers as "advertisers" (instead using terms like "branding partner" or "helmet entitlement partner").
One person who disagrees with me on this is Ben Thoma, a longtime Uni Watch reader who also happens to be a longtime veteran of the advertising industry. For my latest article on Bulletin, I interviewed Thoma about the language of advertising, and about whether a company's logo on an NBA jersey is or isn't an ad. You can check it out on my Bulletin page. Enjoy!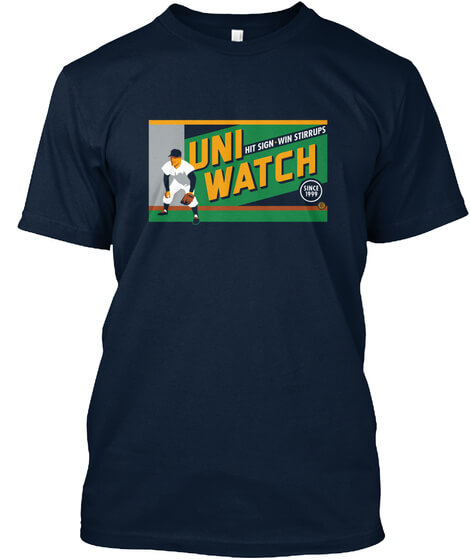 Also: In case you missed it on Friday, I've revived this awesome "Hit Sign, Win Stirrups" T-shirt, designed by the great Todd Radom. It was originally available as a limited edition in February of 2017. Lately I've had a few requests for it (apparently some of the originals have gotten a bit ratty over the past four and a half years), so I've decided to make it available once again.
Short- and long-sleeved versions are available here. If you want any other formats (women's, kids', hoodie, V-neck, etc.), drop me a line and I'll hook you up.
Here's a closer look at the design (click to enlarge):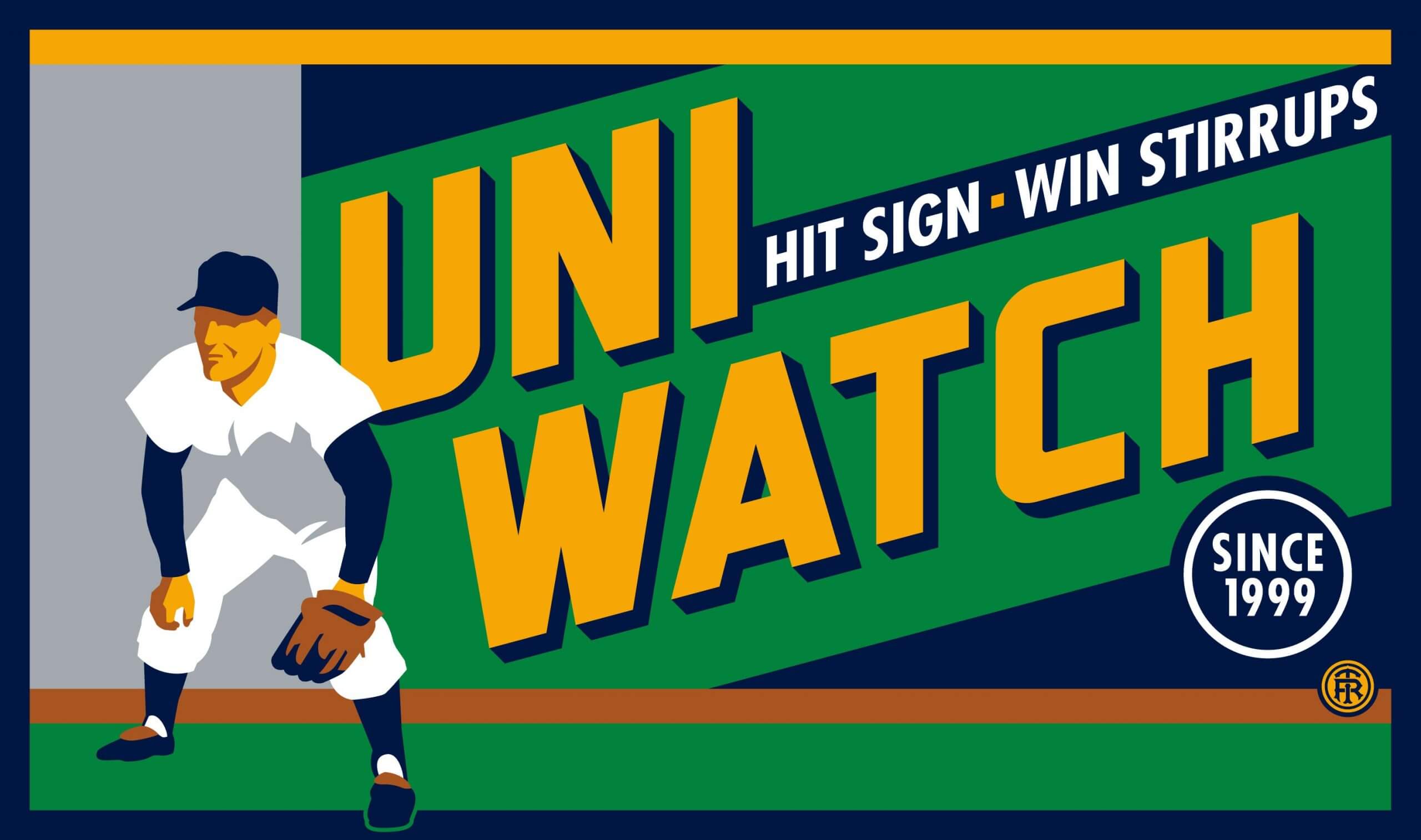 Again, the shirt is available here. My thanks, as always, for your consideration of our products.


Uni Watch News Ticker
By Phil

NFL News: Hmmm. Despite what Jets owner Woody Johnson tweeted a few days ago, it looks like the New York Jets will be wearing green/white/white vs. New England today (from Ace Fuller). … You're probably all aware, but just in case: the Packers will wear their 1950s-inspired throwbacks today against the Football Team. … The Saints are going gold/white/black tomorrow night in Seattle. … Mike Malnicof was "Randomly watching old NFL Primetime highlights of Raiders at Chargers Week 8 2004 & the Chargers had a jack-o-lantern painted at their 20 yard line"

College Football News: Our own Alex Hider tweets, "Rough day for this ESPN crew. The Findlay Bearcats?" If you read the replies to that, you'll see a few other geographical mistakes. … That comes on the heels of this earlier spelling mistake (also from Alex).

Hockey News: The Vancouver Canucks brought back their wildly-popular "Flying Skate" look for their 50th anniversary season, and it was supposed to be "one-and-done". But that may not be the case for long. … Throwbacks were worn by the QMJHL's Drummondville Voltigeurs on Friday night. The Q has a history of interesting logos (from Wade Heidt). … Also from Wade, QMJHL's Cape Breton Eagles wore pink sweaters and socks for breast cancer night on Friday. … The Maine Mariners threw it back on Friday night. Submitter Wade Heidt calls it "A look reminiscent of the old AHL Mariners. Wearing their old logo with the black and yellow. A nod to their new affiliation with the Boston Bruins." … One more from Wade: 10th anniversary logo for the Sherbrooke Phoenix. … This is pretty cool — the Seattle Kraken have anchors on their red line (from Alison L.). … "King Crimson drummer Bill Bruford was pretty well known for wearing Boston Bruins apparel during the bands heyday," writes Ed Hahn. "But I never say this set of overalls with the logo before." … Check out this close-up of the Utah Grizzlies spooky season jerseys (from mr. big corona).

NBA News: ICYMI, Paul's most recent Bulletin article focuses on the language of uniform ads (highly recommended). In a similar vein, this piece argues that "jersey sponsors represent a wide range of business interests that are, in many cases, interestingly congruent with the city and team the company has chosen to represent," and refers to advertisers as "sponsors." … New York Knicks superfan Spike Lee wore an interesting suit for the Knicks home opener (from Jason Tierney).

Soccer News: "Fascinating cultural appropriation scenario happening at Newcastle in England," writes K.C.Kless.


Grab Bag: LKS Commercecon Lodz with team logo on the sides of their socks in Poland's TauronLiga volleyball (from Jeremy Brahm). … Reader Max Weintraub writes, "After seeing the UniWatch piece on Paul Deaver and the different badge options his Department permits, I was pleased to see an Alexandria (Virginia) Sheriff Deputy wearing a pink Breast Cancer Awareness badge (yesterday) morning. She confirmed the Department permitted deputies to purchase them online."


And finally… that's a wrap for the weekend! Big thanks, as always, to the entire SMUW crew for all their efforts, and for Alex for his work on the MLB Playoffs uni tracking.
Everyone have a great week, and I'll catch you here next Saturday.
Peace,
PH