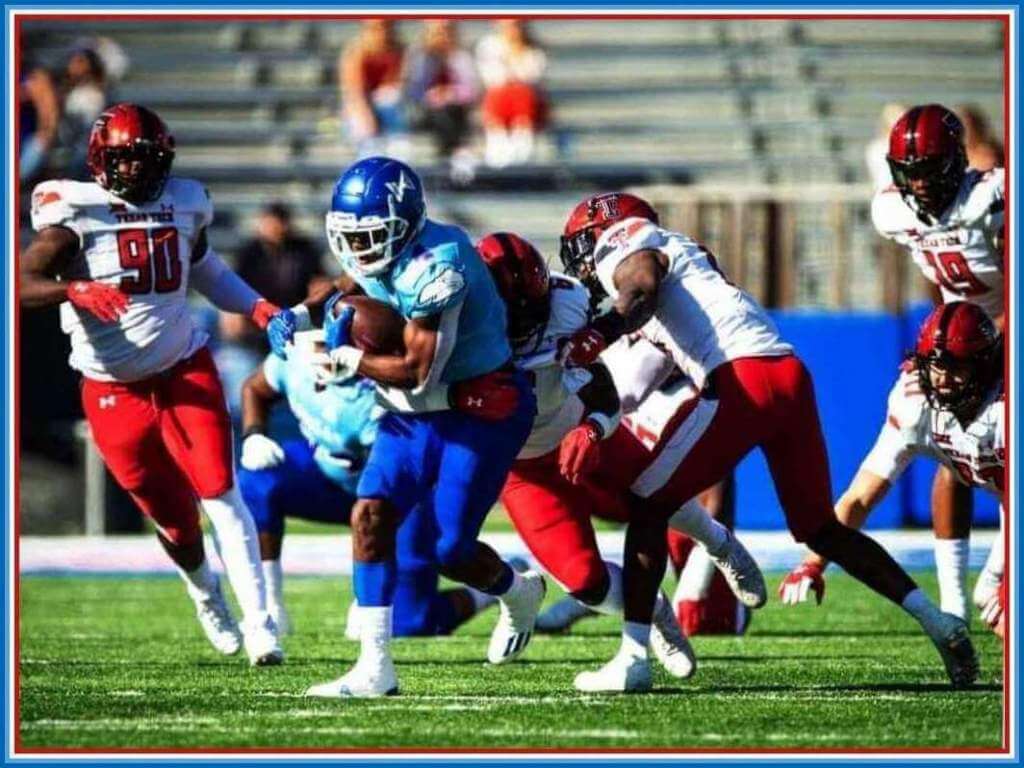 By Phil Hecken & the SMUW Crew
Follow @PhilHecken

Good Sunday Morning everyone. Hope you had a great Saturday and a better Sunday. Early NFL action again today, as the Jaguars take on the Dolphins across the pond, so if you're into pro football, today's another big day for you.
Now then, even though I appreciate (and laud) teams like Alabama and USC for always having just two uniforms (home and road), I'm also well aware … and no longer an old man screaming at clouds … that a good chunk of College teams are going to wear multiple unis throughout the season, and a small, but still sizeable chunk, will introduce "special" one-game unis. They could be throwbacks, fauxbacks or unique unis (e.g. the Notre Dame "Shamrock Series" uni, the Army or Navy duds for their end-of-season game, or next weekend's UCF "Citronauts" uni). These usually hold the most interest for me. So way back at the end of August, when adidas announced "reverse retro" uniforms, my interest was particularly piqued.
Adidas unveils reverse retro college football jerseys for ASU, Indiana, Kansas, Miss St, NC State, Nebraska and Washington. pic.twitter.com/e0fAfufAO2

— Darren Rovell (@darrenrovell) September 1, 2021
Of those seven, I was most interested in the ASU jersey and particularly interested in the powder blue Kansas jersey. Shortly thereafter, KU announced the uniform would be worn for homecoming and was throwback inspired.
And no unveiling would be complete without the obligatory hype video:
Despite my belief that royal and powder don't pair well together, I was smitten. But rarely do hype videos and studio stills do a uniform justice once it sees the actual field. Plus, before I knew what they'd be wearing, I knew Kansas was playing Texas Tech, a school with almost as many potential uniform combinations as Oregon, and I was worried their choice of threads might otherwise clash or take away from that KU kit. But it did not. I was most pleasantly surprised how great the game itself looked, and Rock Chalk's royal/powder did not disappoint. Check it out: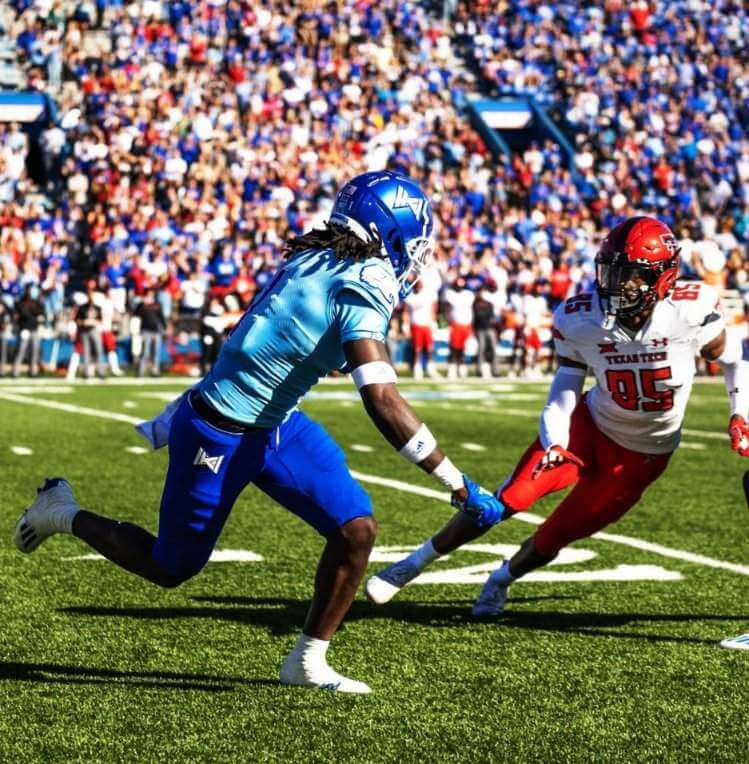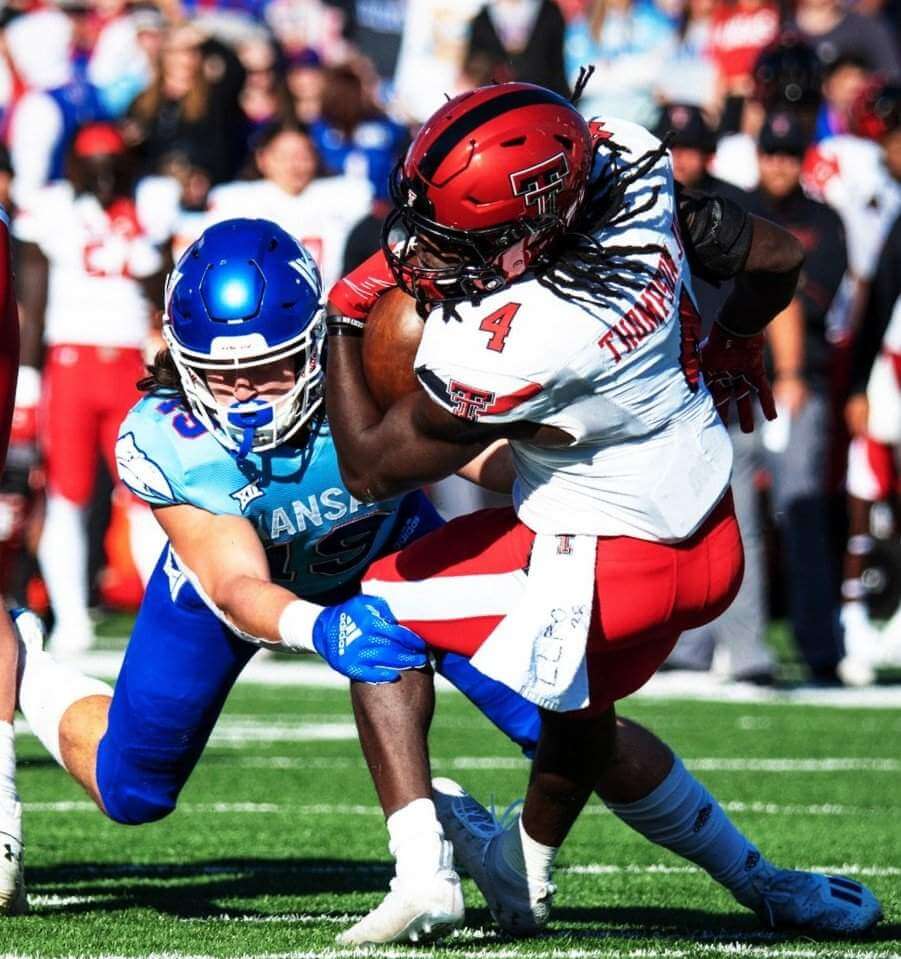 Even in long shots with a wide exposure, the combination of royal/powder/royal against red/white/red looked splendid!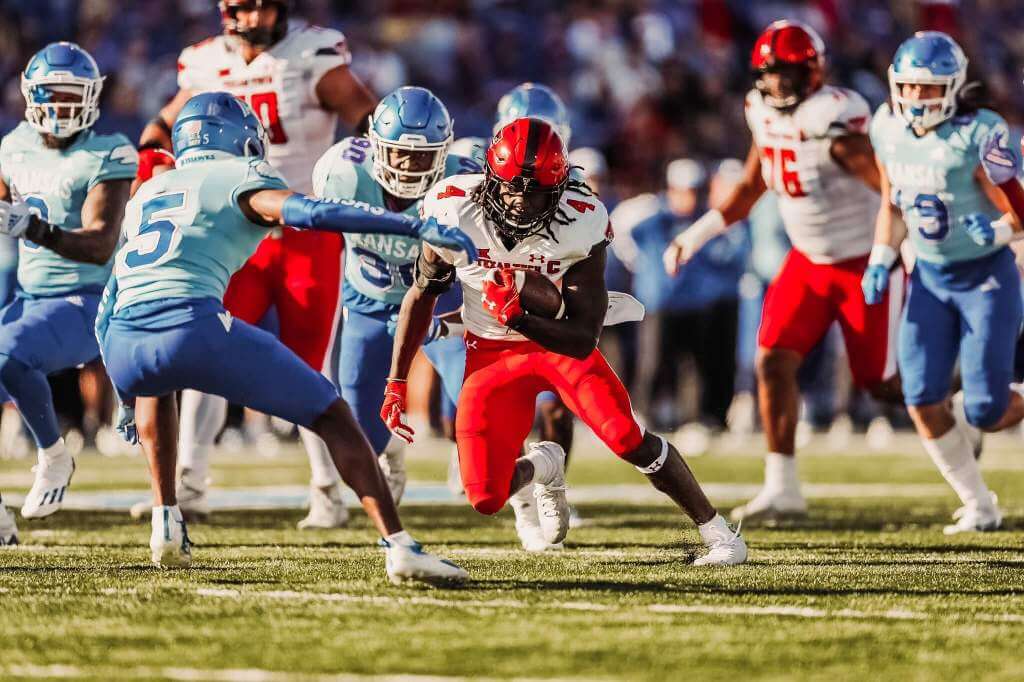 Nice right? It's not often Jimmer and I agree on a #1 (or any) in the 5 & 1, but this one was a layup. Well done KU (and TT). Now, here's TJ with the rest of your…
• • • • •
Sunday Morning Uni Watch
by Terry Duroncelet, Jr.
From Tuesday:
• Contrast Matters: New Orleans Bowl Edition.
From Friday:
• Sometimes, the truth isn't so black-and-white. Sometimes, there's a little green thrown in, as a treat.
From Saturday:
•(((to the tune))) Fighting Baylor by moonlight, beat BYU by daylight, both programs wore sailor decals, the winners were the Sailor Baylor Bears — Also: Old mate looks like he Meesed Y'all.
• Color me stimulated. This shouldn't come as a surprise, but the SEC has probably the most diverse school color palette in college football IMO. Can't say the same for their team names though, with two Bulldogs, THREE Tigers, and — while unrelated — … this whole business.
• I don't know why, but this game has "Vintage 90s CFB Vibes" written all over it, and I'm 100% here for it.
• Sometimes, the truth really is black-and-white.
• Washington wore their (almost) throwbacks (helmet decal notwithstanding) to commemorate the 1991 National Championship team against UCLA.
• No decent pics on my end, but Tom Cotter writes: "Noticed something tonight. Army decided to display 101st Airborne insignia on their helmets tonight. The eagle on the patch is based on Old Abe, an eagle that was the mascot of a Wisconsin Civil War regiment. Camp Randall the stadium is on the site of Camp Randall CW training ground. An entrance has an arch that includes a carving of Old Abe at the top. Someone at West Point knew their history."
• Utah wore these rad helmets against Arizona State.
• And of course, for the most complete and up-to-date news and photos of NCAA helmets, be sure to check the great Blaise D'Sylva helmet history website.
• • • • •
Thanks (as always) TJ! Now onto the 5 & 1 and then the rest of your SMUW.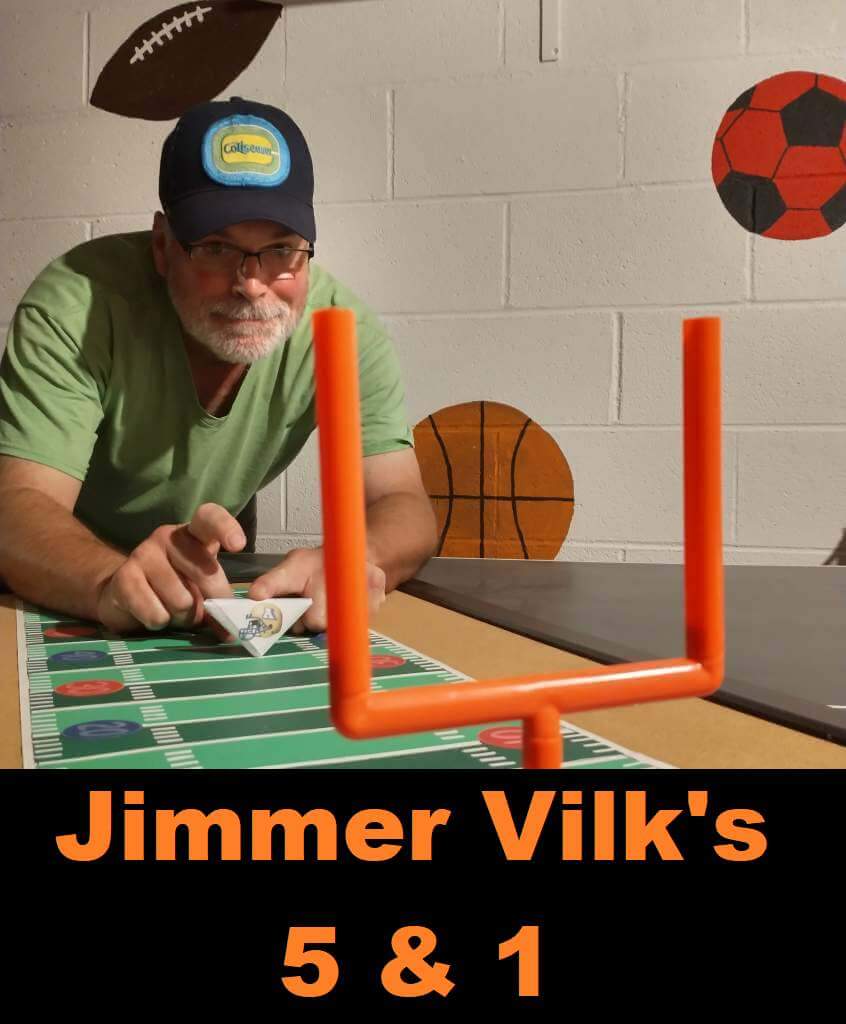 Jimmer Vilk's 5 & 1
After more than a decade in hiatus, the original "5 & 1" decider, Jim Vilk, has returned! Jim began doing the 5 & 1 many years ago, followed Catherine Ryan, Joe Ringham, Michael "Memal" Malinowski, and several guest pickers. Once again, Jim will pick HIS 5 best looking/1 awful matchup, and occasionally have some honorable mentions (both good and bad). You may agree and you may disagree — these are, after all, just opinions and everyone has one. Feel free to let him know what you think in the comments section.
If you have a game you feel is "worthy" of consideration for the 5 & 1, please either post it in the comments below or tweet Mr. Vilk @JVfromOhio.
Here's today's 5 & 1:
• • • • •
First time in over a month I haven't had to work on this list from out of state, and the cool Fall weather has arrived, so I'm in a good mood. I've even been agreeing a lot with Phil this weekend!
Honorable Mentions to
Nebraska/Minnesota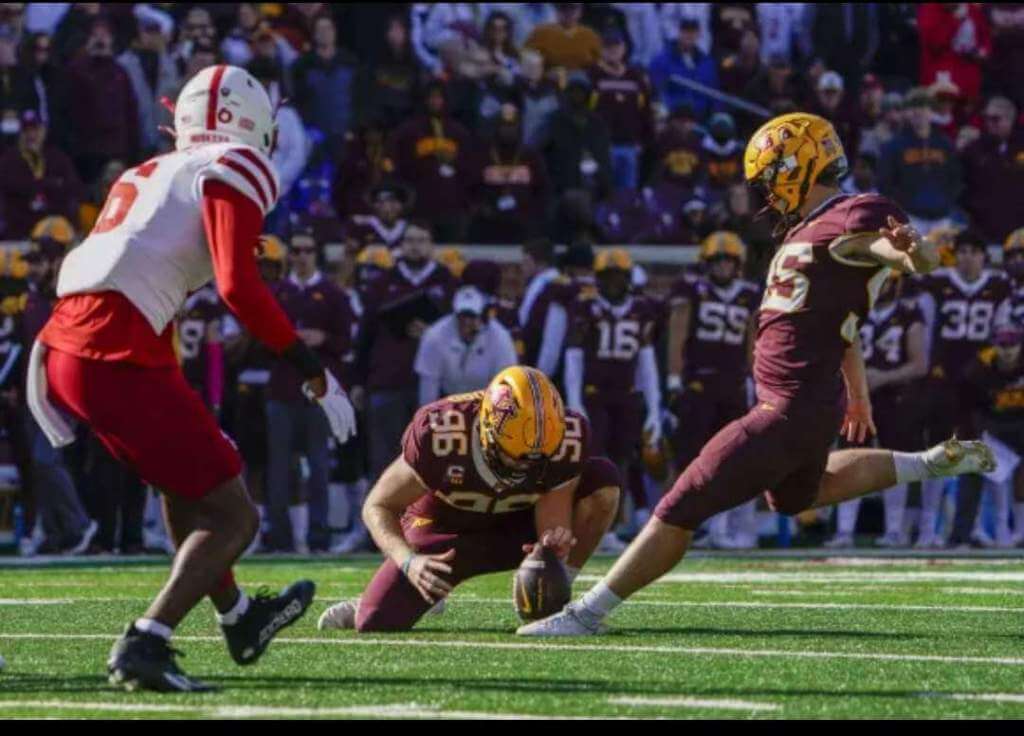 I can gopher … er, go for this almost-mono uni.
__________
Iowa State/Kansas State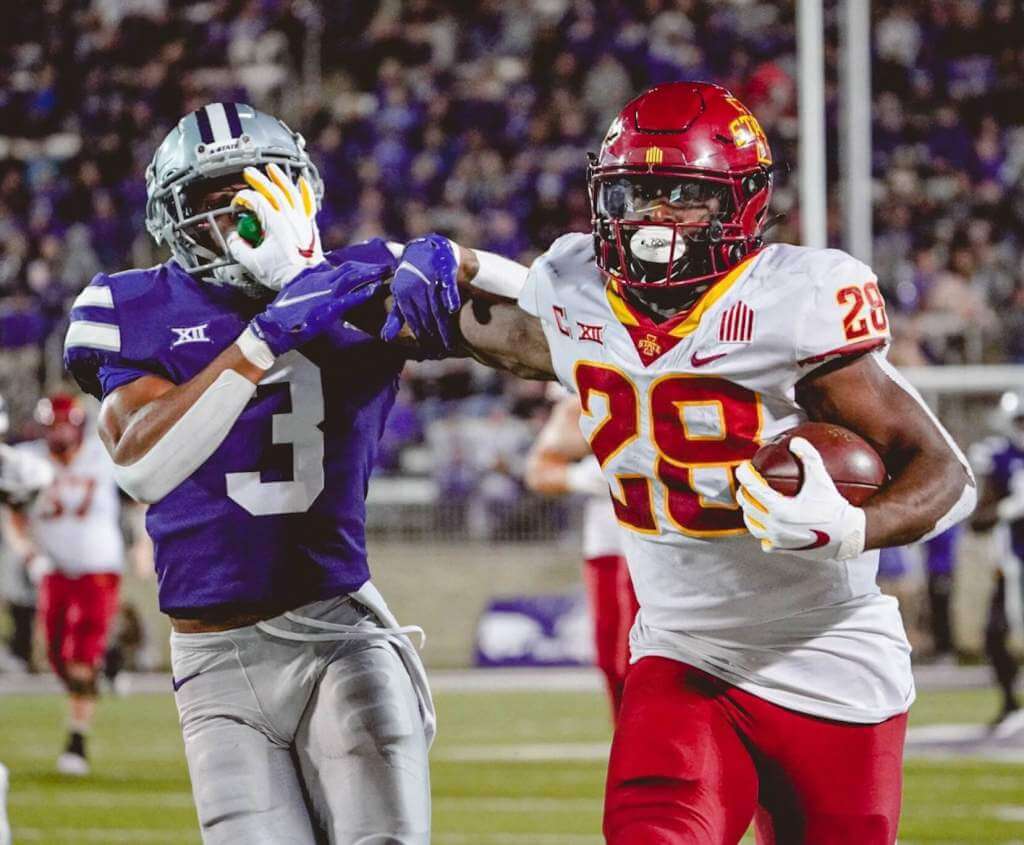 Bit of a weird number font on the cyclones, but at least it's readable.
__________
5. Florida/LSU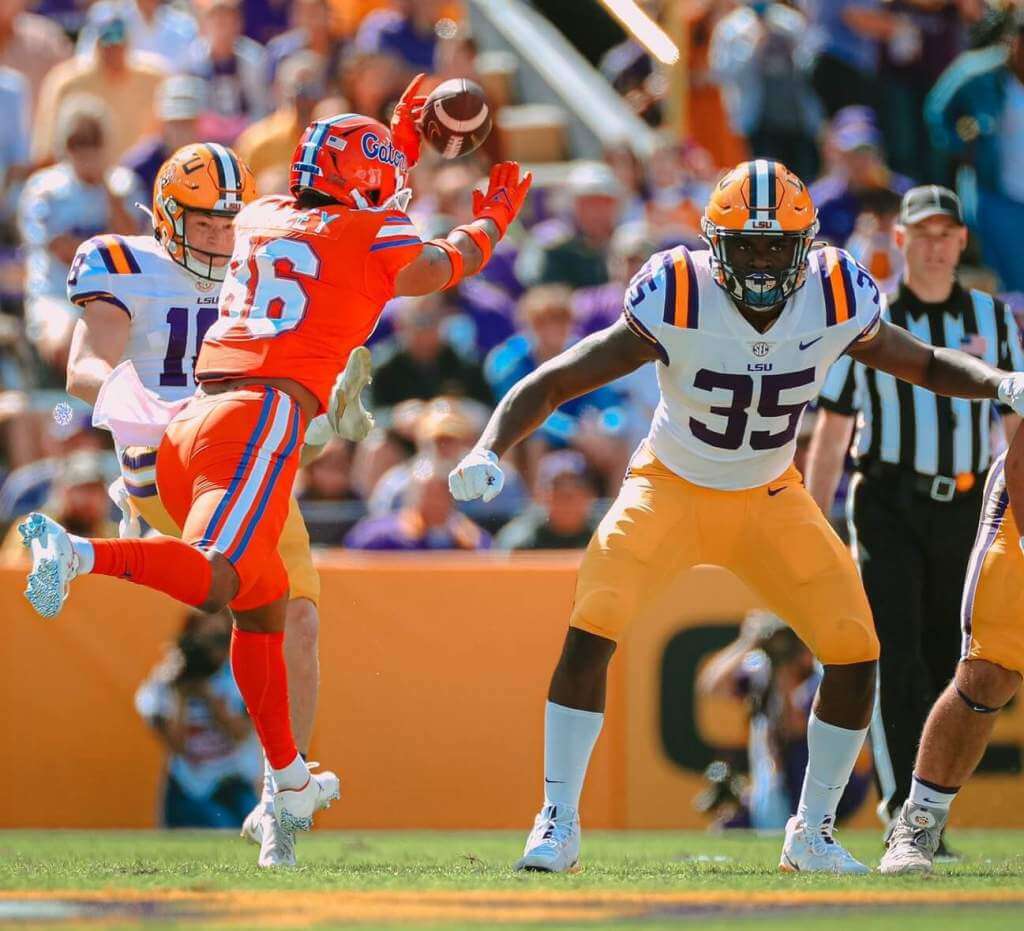 So citrusy they should have played the game in Orlando.
__________
4. Louisiana Tech/UTEP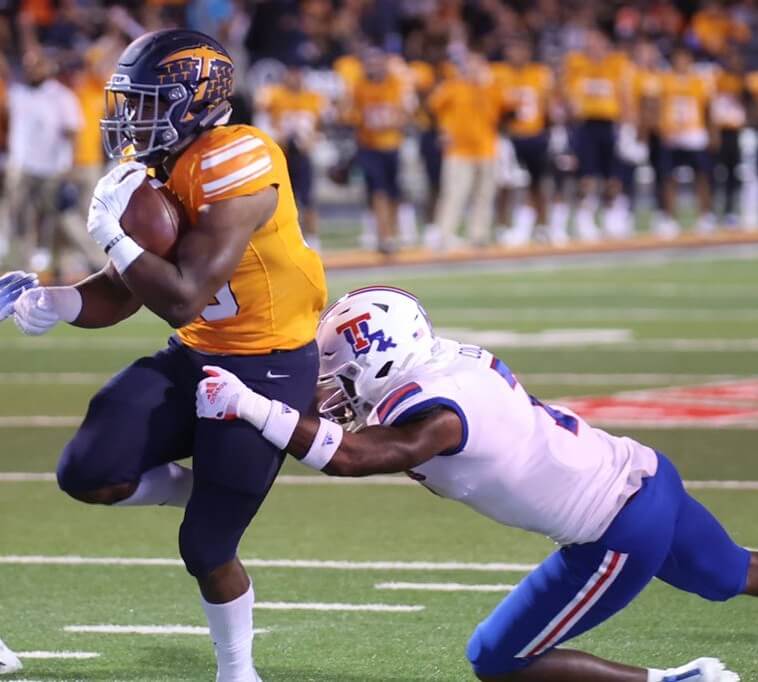 If you axe me, that's a nice looking helmet, Miners.
__________
3. Fresno State/Wyoming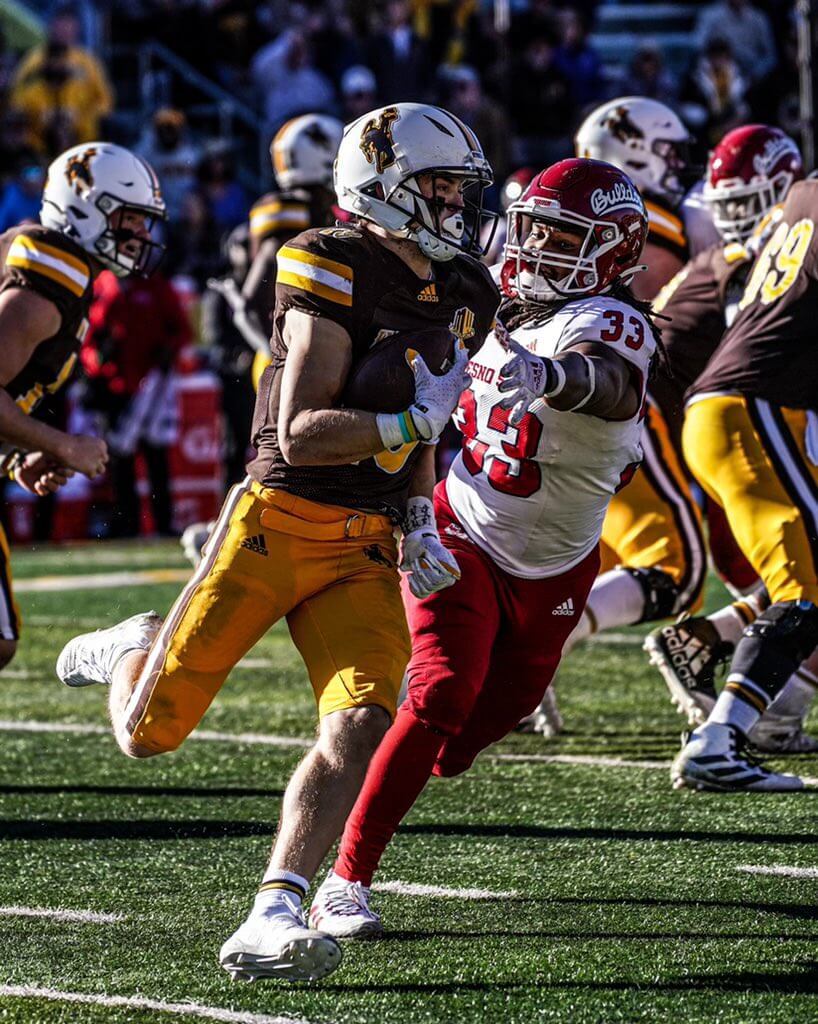 First time I get to show off the Cowboys in their home jerseys.
__________
2. Duke/Virginia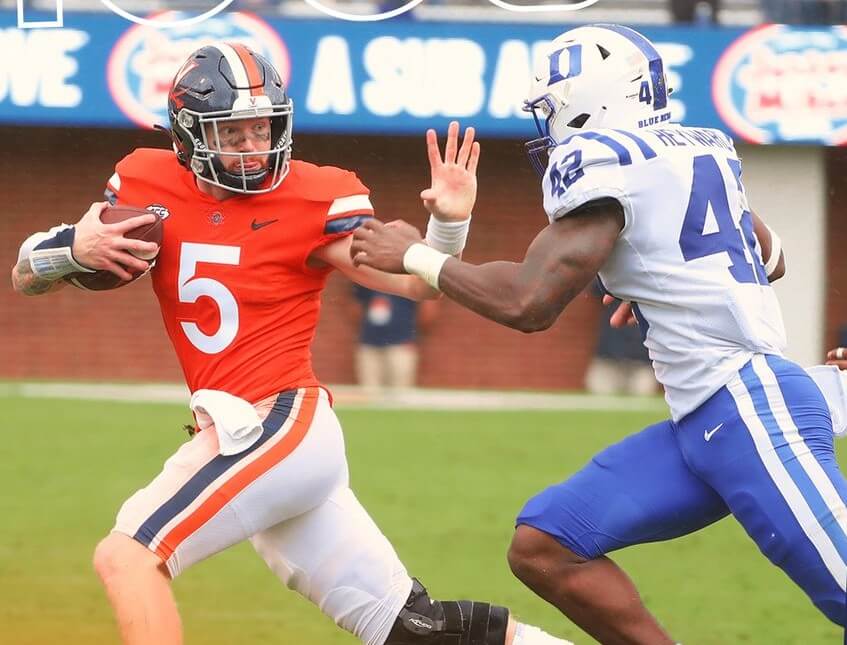 Like a Colts/Broncos game, only way better!
__________
1. Texas Tech/Kansas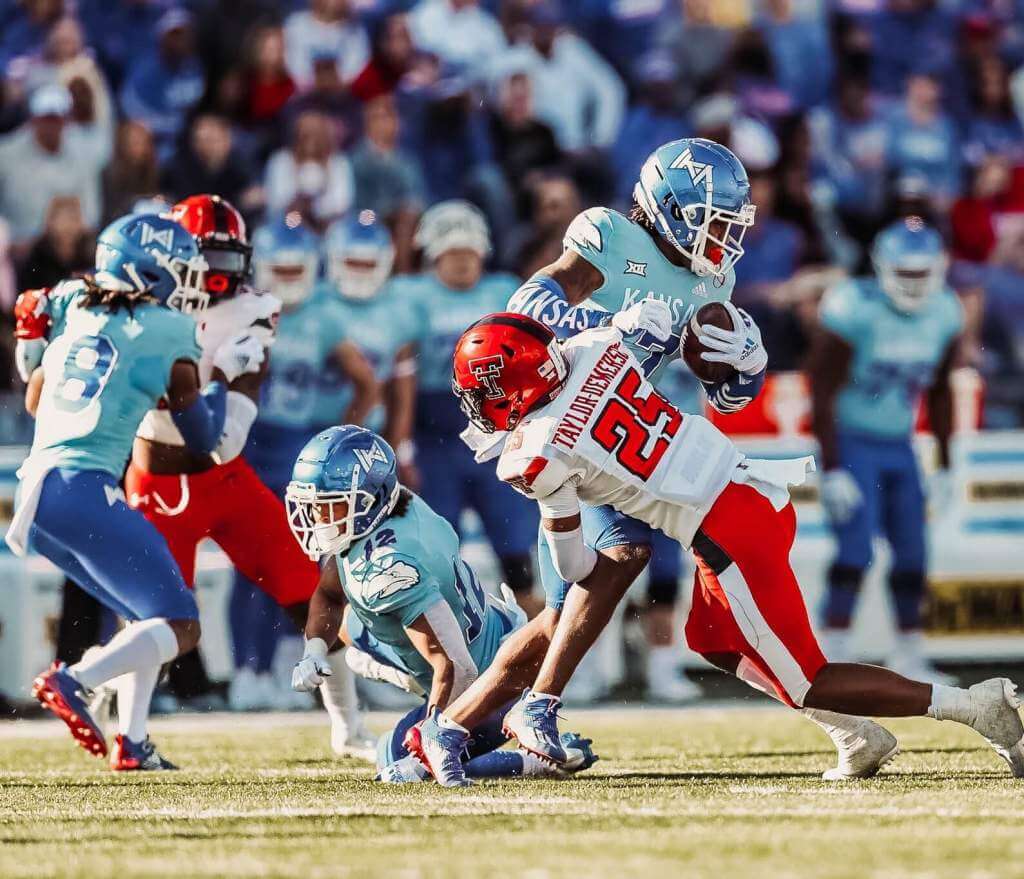 An instant (uni) classic, worthy of being instantly added to my paper football collection.
__________
Dishonorable Mention to
Marshall/North Texas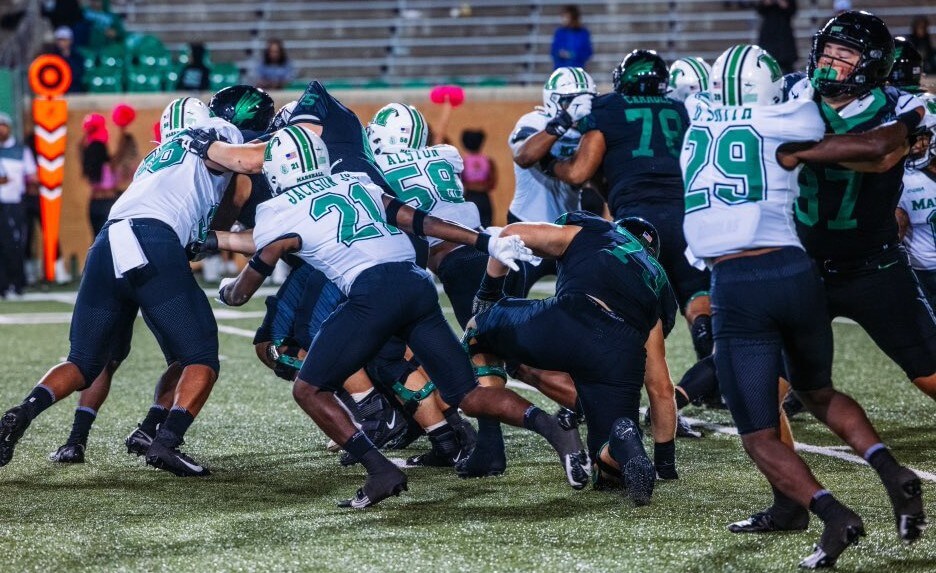 The mean thing about your green is that you used so little of it.
__________
&1. UAB/Southern Miss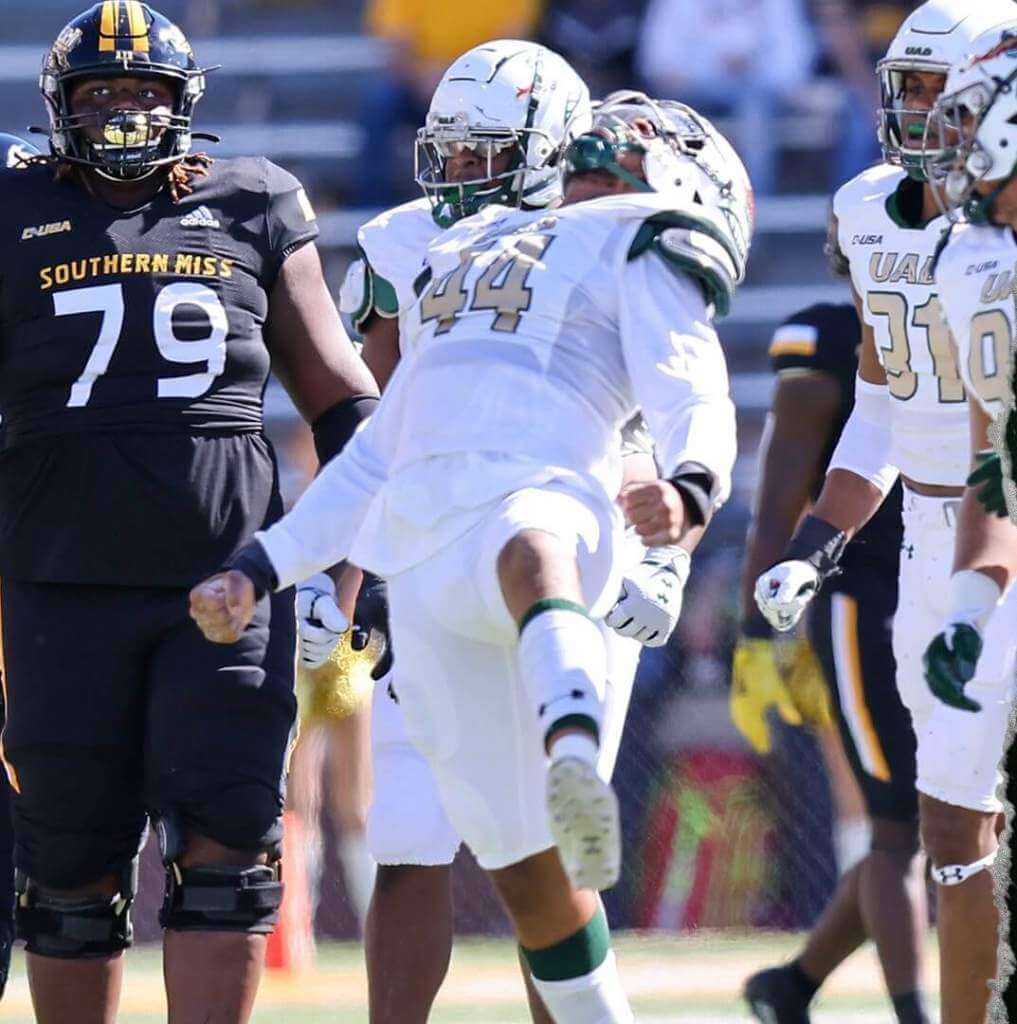 Oh look, it's the Manfred Mann vs Soundgarden Bowl.
• • • • •
Thanks, Jim! OK readers? What say you? Agree or disagree with Jimmer's selections? Let him know in the comments below.


NCAA Uni Tracking
Uni Watch will again track the uniform combinations worn by the "Power 5" conferences. All of the 2020 trackers are back!
We've got Rex Henry (tracking the ACC), Dennis Bolt (tracking the PAC-12), Kyle Acker (tracking the B1G), and Ethan Dimitroff (tracking the Big XII AND the SEC). Rex, Dennis, and Kyle and are all returning from 2015, and Ethan is back after joining the NCAA Uni Tracking a couple seasons ago. Ethan will continue to track the SEC, and has swapped the B1G for Big XII (with Kyle).
Here are the Uni Trackers for the Power 5 Conferences (along with each tracker's info):
+ + + + + + + + + +
Rex is up first today (ACC):
• • •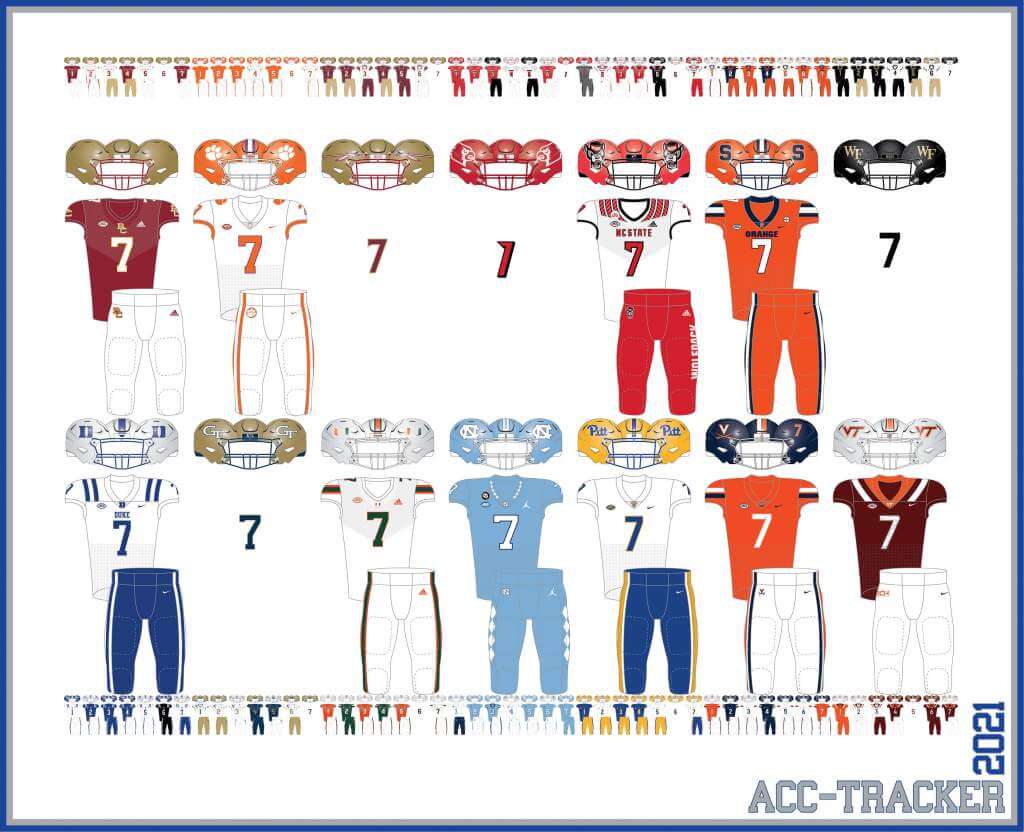 ACC

More Here.
Follow Rex on Twitter here.
• • •
And now, here's Dennis with the PAC-12: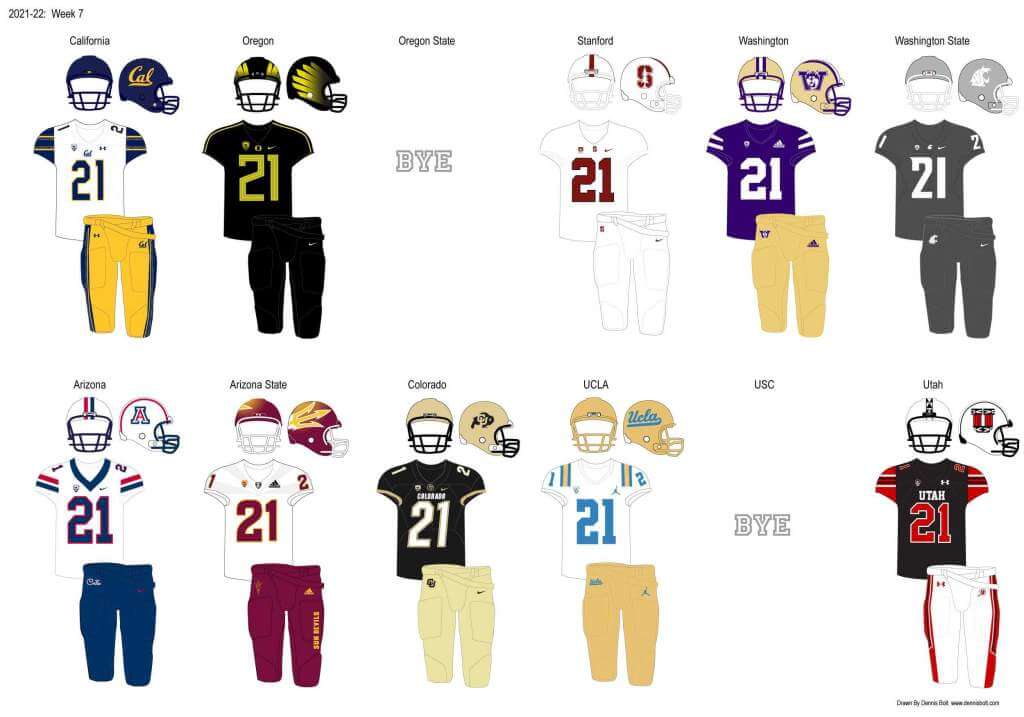 PAC-12

More here.
Follow Dennis on Twitter here.
• • •
And here is Ethan, with the SEC: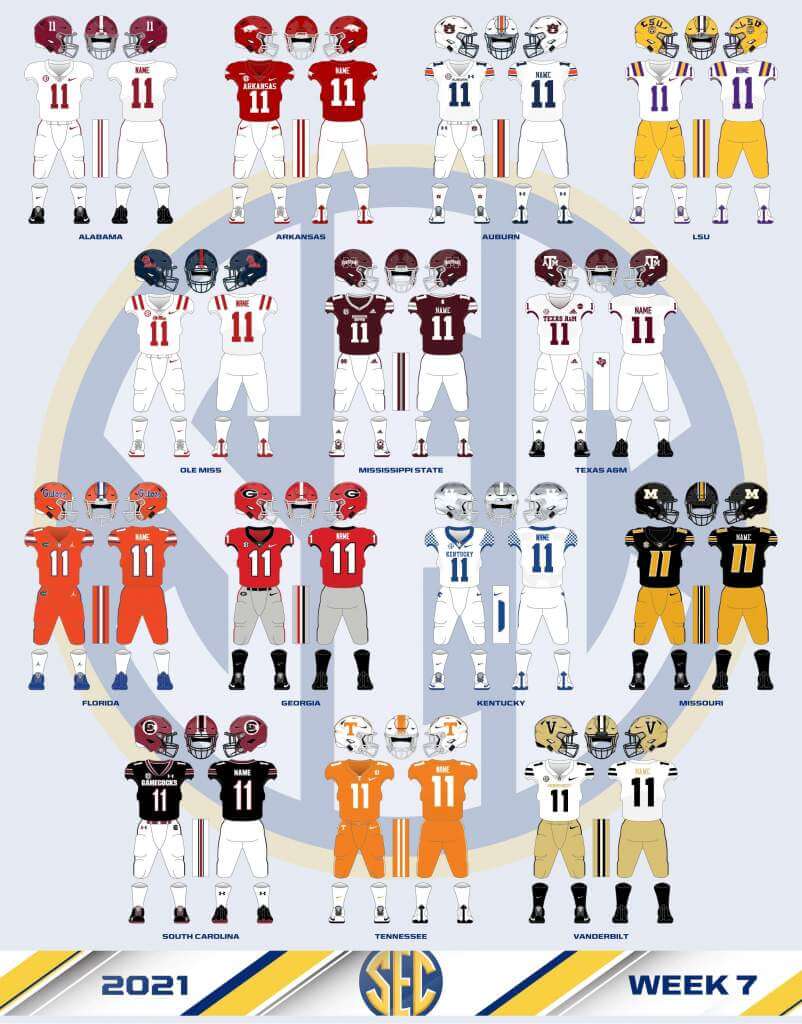 SEC

And be sure to check out Ethan's WVU Mountaineer Tracker.
Follow Ethan on Twitter here.
• • •
And here is Kyle with the B1G: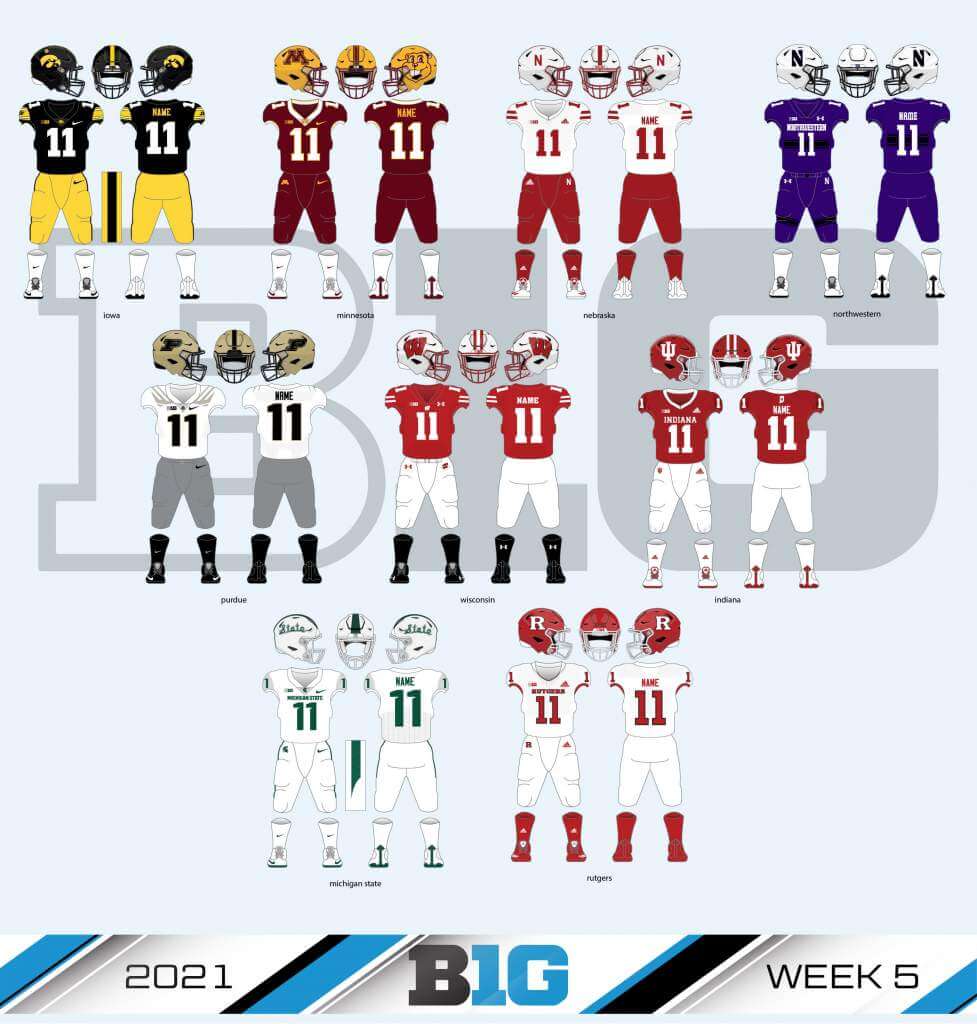 B1G

Follow Kyle on Twitter here.
• • •
And here's Ethan with the Big XII: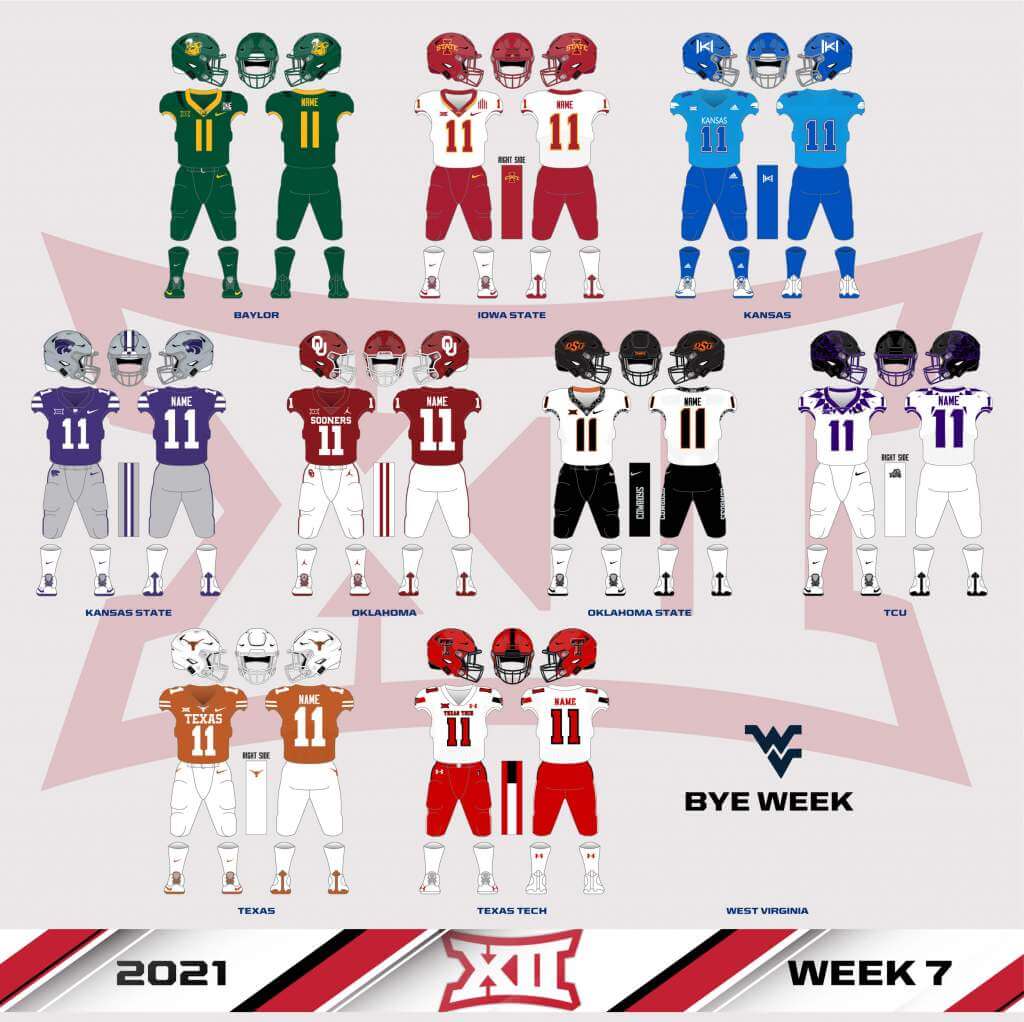 Big XII




Welcome to the 2021 Oregon Ducks Uni Tracker. This little project was originally begun way back in 2008-09 by Michael Princip, who retired after several seasons, whereupon the project was continued by Tim E. O'Brien. He, too, retired from the tracking, but the project has been ably kept up by the man who also tracks the Pac12, Dennis Bolt.
Here's this week's Uniform Combo for the Ducks (you can click to enlarge):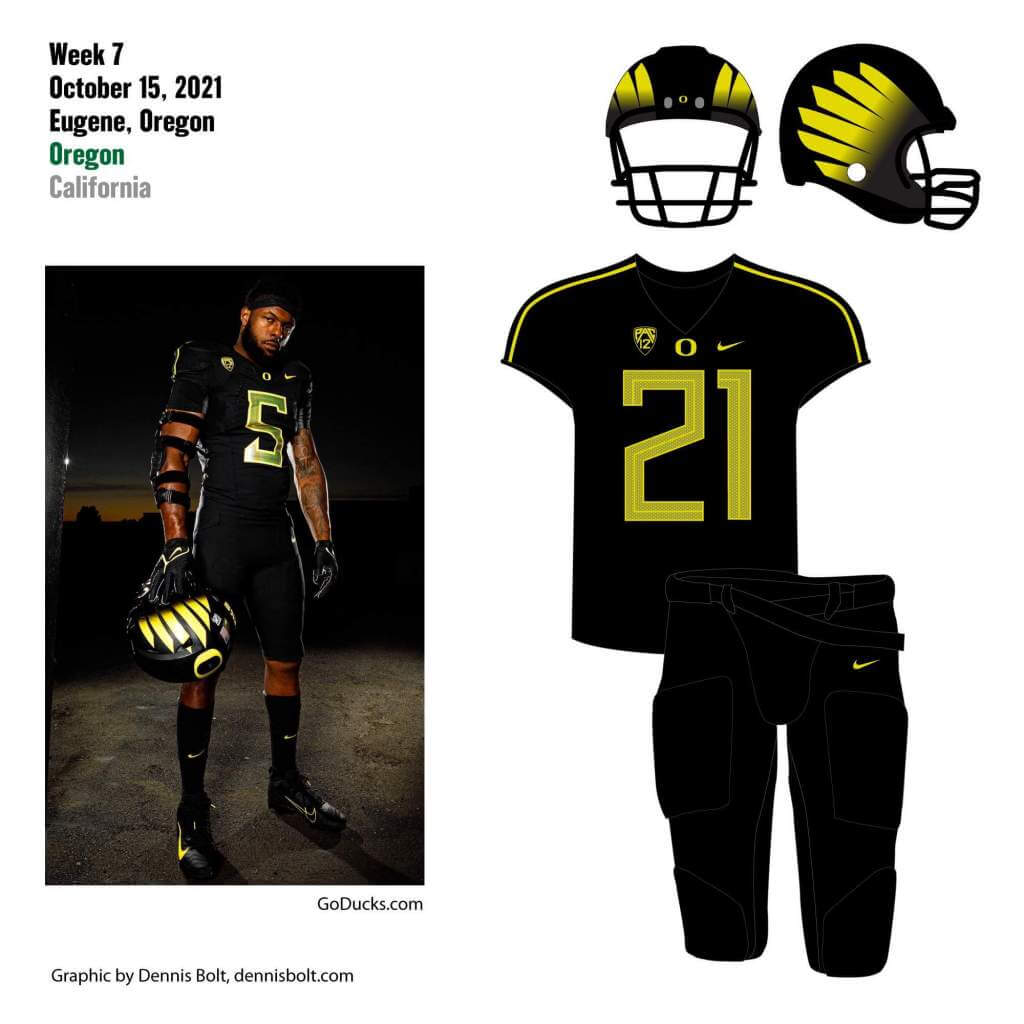 You can read about this uniform, and MUCH MORE, by checking out the Duck Tracker here and the color combo spreadsheet here!
Thanks Dennis!


MLB Playoff Uni Tracking
It's BAAAAACK.Alex Rocklein has been tracking the jerseys of all the teams involved in the MLB Post Season for the past several seasons. We've now concluded the Wild Card and Divisional Series' and have moved on to the ALCS, with the Sox & Astros knotted up at 1 apiece, and LA/Atlanta playing a nail-biter last night, which Atlanta won in the bottom of the ninth. Although he sent me this graphic before the Dodgers/Atlanta game was completed, the graphic is correct for the jerseys worn (see full tracker). One small change: any team that has a front number on their jersey shows the number of the starting pitcher from that game (previously it was all #21).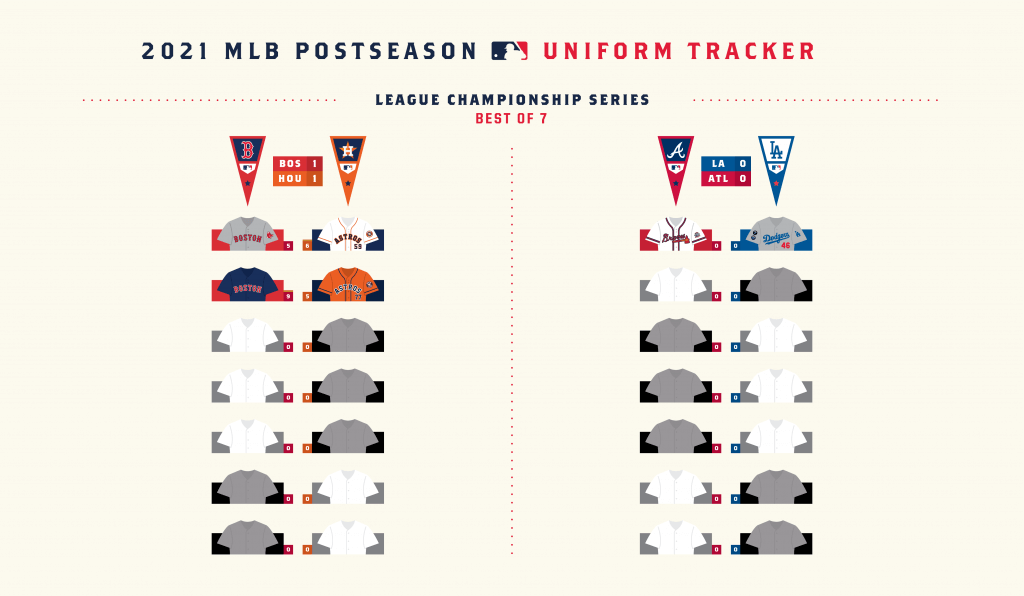 Here's the full tracker (which will get filled in as we go through the NLDS/ALDS, NLCS/ALCS and World Series):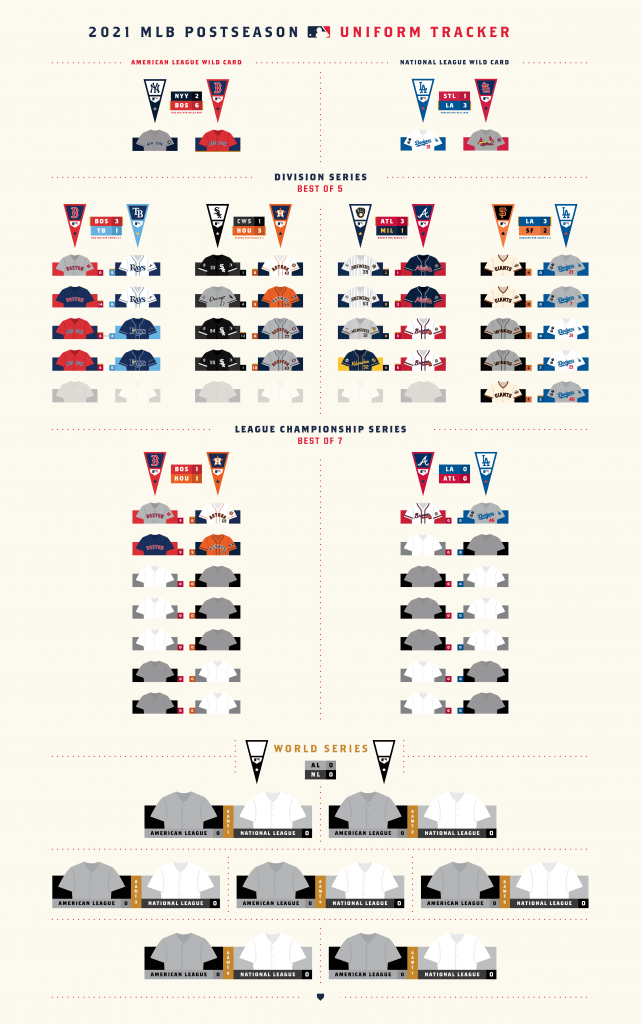 I hope you guys enjoy this annual feature and you'll thank Alex for all his effort with a quick "Thanks" in the comments below! Look for this feature every weekend until the World Series is complete!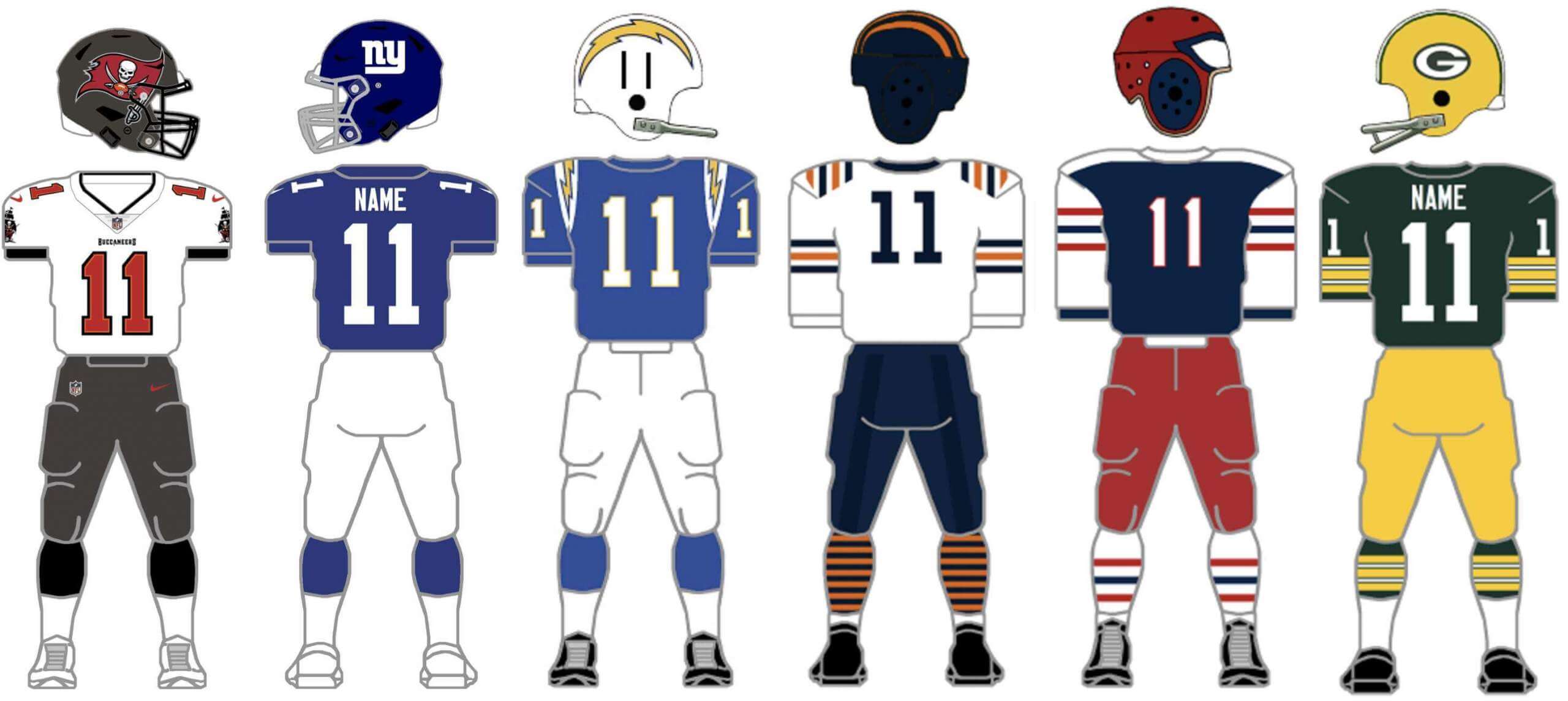 Bulletin reminder: Paul here. In case you missed it on Friday, my latest article on Bulletin is an interview with football uniform historian Bill Schaefer, who creates all of the uniform mock-ups that appear on the amazing Gridiron Uniform Database website. We talked about how the GUD got started, he research methods, his "white whale," his goals for the site's future, and a lot more. I hope you'll check it out on my Bulletin page. Enjoy!


Uni Watch News Ticker
By Phil

Baseball News: Fifty-two years ago yesterday, the Amazin' New York Mets won the 1969 World Series, completing their "Miracle" season by defeating the heavily favored Baltimore Orioles (from Bruce Menard). … When you think of Reggie Jackson ("Mr. October"), the first team to come to mind probably isn't the Houston Astros (from Ignacio Salazar). … New logos unveiled for two new Alternative Baseball (authentic baseball experience for teens/adults with disabilities) teams. The Tri-State Continentals and Meridian Red Hots (from Bill Fenbers). … For you scorebug fans: FOX pulled a mid-first inning scorebug color change, flipping colors to match the jersey tops (from Jason Yellin).

College/High School Football News: Ohio Stadium is getting new turf next season and Ohio State wants its fans to help them decide what it looks like (from Munch Suchland). … University of Louisville legend Lamar Jackson will have his No. 8 jersey number retired on Nov. 13 during a ceremony at the Cardinals' home game versus Syracuse. … What do you do when the ref forgets the coin for the opening toss? You improvise, of course (from MrMichael). … Purdue will be wearing some form of Neon Yellow/Volt helmet Stickers next weekend (from Boiler Unis).

Hockey News: The Coquitlam Express had their home opener on Oct 15, their first home game in their home arena in 593 days. Wade Heidt notes, "The Express still have the same black uniforms. However, they have new white uniforms. More yellow trim and less black trim in their new white uniforms compared to the old ones. A photo gallery can be found here in this article." … The BC Hockey League unveiled its retro jersey designs yesterday in celebration of the league's 60th Anniversary season. The designs range from retro-inspired versions of current uniforms to throwbacks to a previous look. … Check out the he new Abbotsford Canucks jerseys (from Wade Heidt). … Check out this CBC Radio with a story about goalie-mask art (from Jeremy Brahm). … WHL G Drew Sim was recently traded from the Vancouver Giants to the Regina Pats. Here he is in uniform for the Regina Pats still wearing his gloves and pads he had with the Vancouver Giants (from Wade Heidt).

Soccer News: For yesterday's Watford-Liverpool match, it appears that the accent mark on Cucho Hernández's jersey has been applied backwards (À vs. Á) — but, in the second half, it looks like they fixed it (from Michael). … Tweeter Ben Hoskins says, "This wouldn't be allowed in my daughter's U12 club matches. But in the @SMUSoccerM match against @UCFKnights mens soccer, the UCF keeper is wearing an undershirt and not a jersey. No numbers or crest."

Grab Bag: Reader Kraig Bishop "came across this totem pole at an antique store in Martinsburg, WV and immediately thought of Uni-Watch. If only I had space for it." … And finally, reader Chris Plasencia writes, "Not sports-related but check out this "Songs About Buildings" video tour of the TWA Hotel at Kennedy Airport. Great detail of flight attendants' uniforms, including an embroidered design at 3:10 that I don't think I have ever seen. Link is part of Open House New York's largely virtual offerings this year."


And finally… that's all for today folks. Thanks to the SMUW Crew of Terry, Rex, Jimmer, Dennis, Kyle & Ethan. Another bang up job guys.
Sending special good thoughts out to Paul today. He knows why.
Everyone have a good Sunday and week ahead, and I'll catch you back here again next Saturday.
Peace,
PH