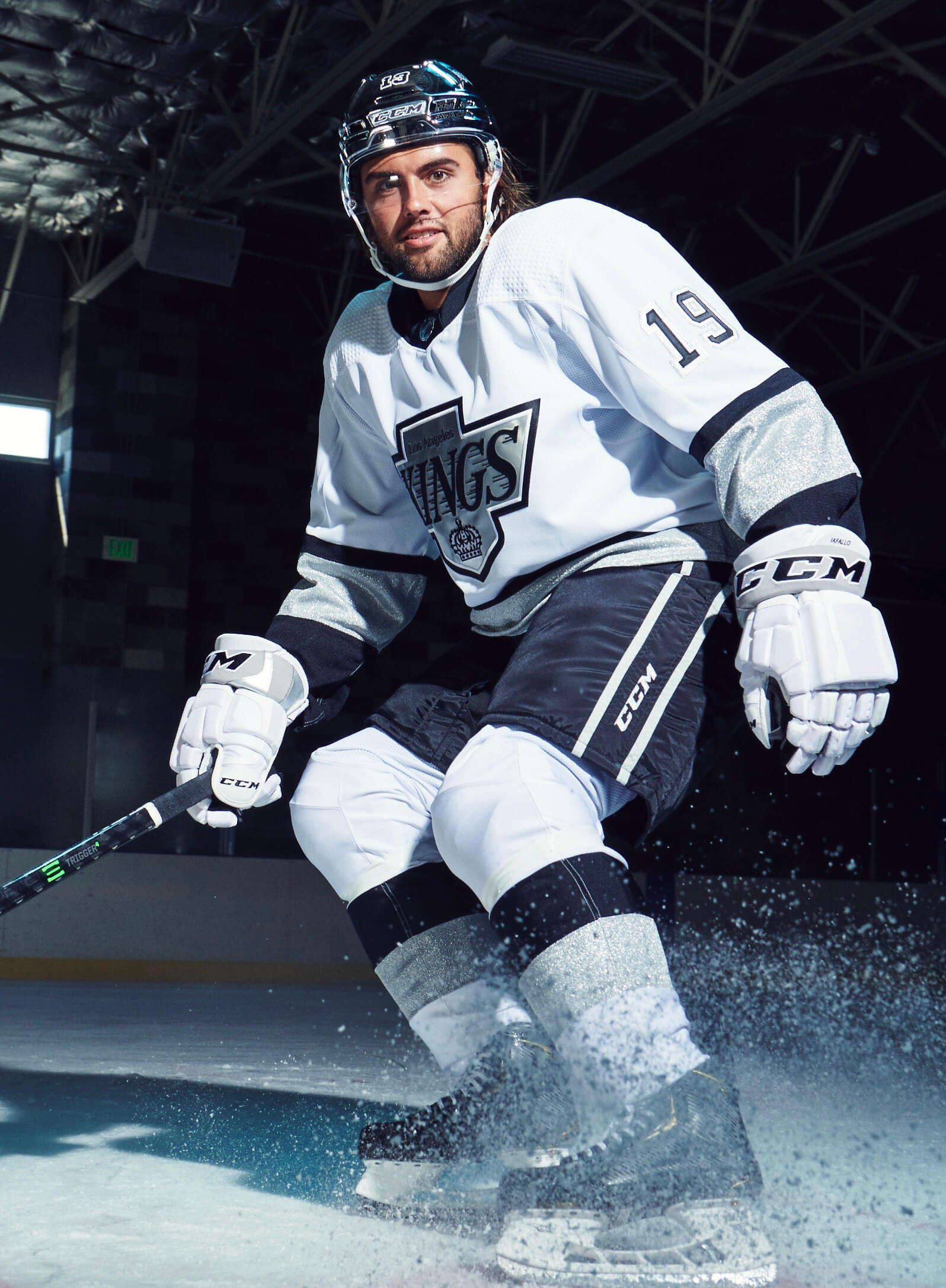 Click to enlarge
The Kings yesterday confirmed a long-running series of reports, rumors, and leaks by officially unveiling their new alternate uniform. It's basically a 1990s throwback, but with metallic silver trim, white gloves (an NHL rarity!), and a chrome helmet.
If you're saying, "Wait, that photo doesn't look like it has a chrome helmet," well, yeah. It's apparently hard to capture in certain lighting conditions, but you can see it much more clearly in this next photo and video clip: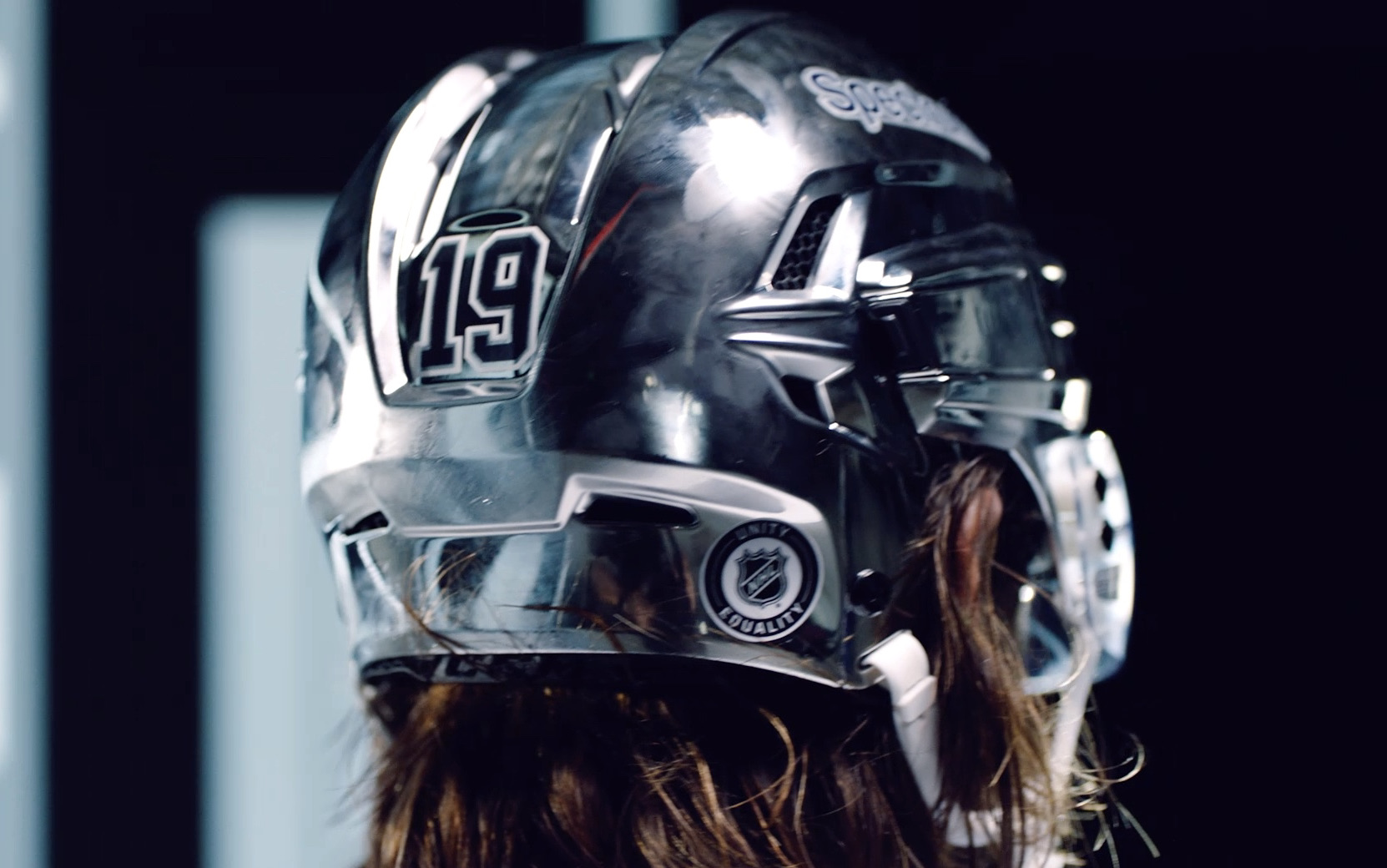 A new spin on your favorite throwback…the LA Kings Authentic adizero Primegreen Alternate Jersey is available this November! →https://t.co/i8QVfVgeUS @adidas | #GoKingsGo pic.twitter.com/E6HT5Xp4Dt

— LA Kings (@LAKings) October 11, 2021
(As you may recall, the Kings also went with the chrome buckets for the 2020 Stadium Series game against the Avs.)
This uniform will be worn 15 times this season, beginning on Nov. 17. Four of those games will be on the road, which means the other 11 will be old-fashioned white-at-home games (and that the visiting teams will have to pack an extra set of uniforms). You can see the full slate of dates, along with additional info and photos, here.
All that silver trim and the chrome helmet got me thinking: As we all know, the Kings changed their color scheme from gold/purple to silver/black in 1988 — the same year they acquired Wayne Gretzky. But a big part of why they chose those colors is that the NFL's Raiders were playing in L.A. at the time. The Raiders later went back to Oakland and have since moved on to Vegas, but their brief sojourn in L.A. several decades ago continues to have ripple effects in a completely different sport. Crazy!
Meanwhile, in another late-breaking NHL development, the Golden Knights unveiled the jersey patch that they'll be wearing as the hosts of this season's All-Star Game:
Not bad! Should look really good on their gold alts, too.
• • • • •
• • • • •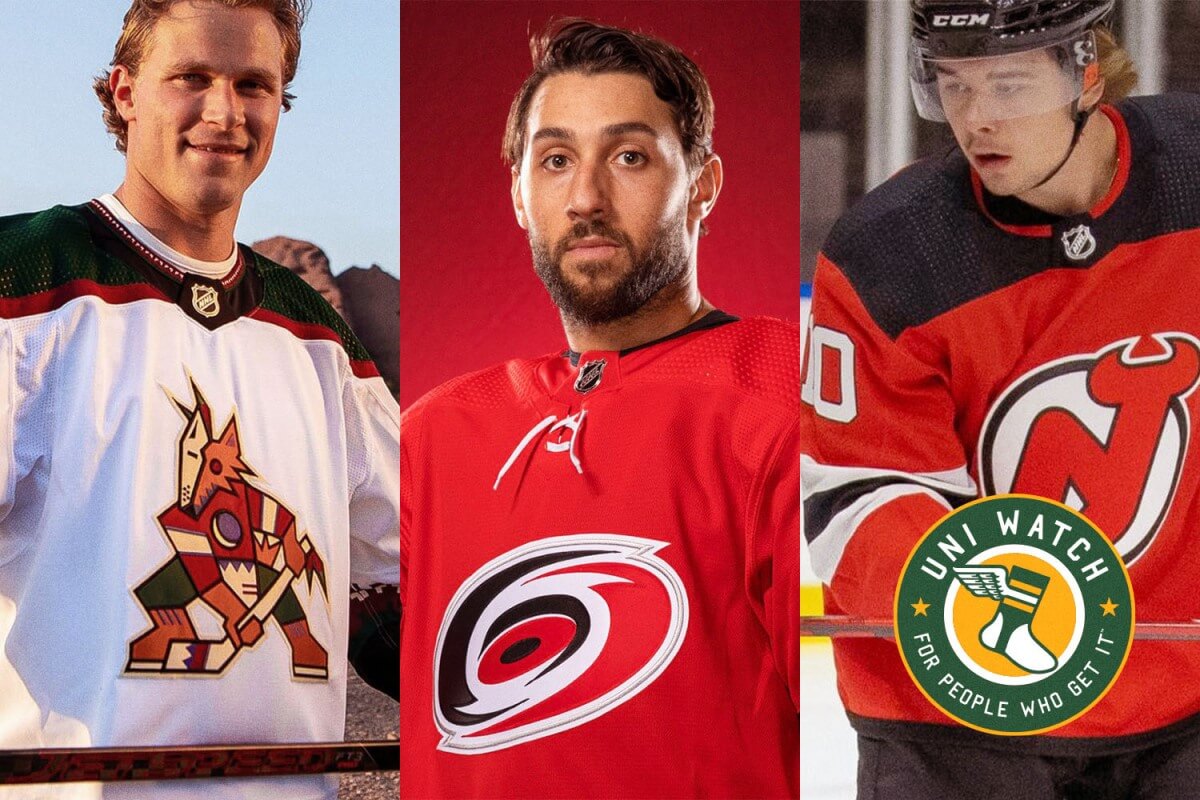 And speaking of the NHL: In case you missed it on Monday, the annual Uni Watch NHL Season Preview, with all the uniform and logo news for the upcoming season (which begins tonight!), is now available for your reading pleasure. Enjoy!
• • • • •
• • • • •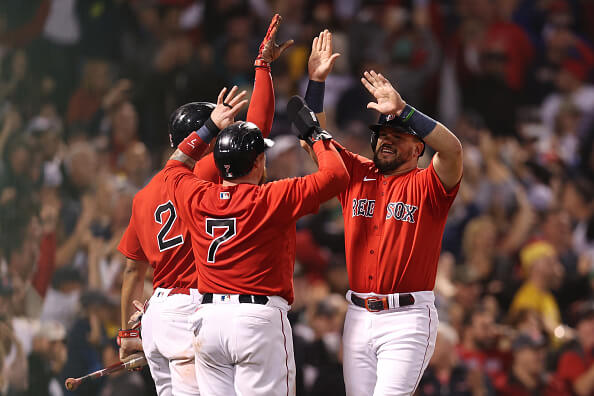 Code yellow red: The Boston Marathon was yesterday (postponed from its usual April date), so — as noted in yesterday's Ticker — there was a widespread expectation that the Red Sox would wear their Marathon-inspired City Connect yellow/blue alternates for last night's playoff game (especially since MLB had given them permission to do so). And if they didn't wear those, the thinking went, they'd surely wear the "Boston Strong" uniform that they wear each April on Marathon Monday, which is also Patriots' Day.
As you can see in the photo above, neither of those scenarios came to pass. Instead, the Sox wore their red softball tops for the second consecutive game.
Why? The question came up in Sox skipper Alex Cora's pregame press conference, as spelled out in this article:
Though the yellow "City Connect" jerseys would have seemed to be a perfect fit for Game 4, Sox manager Alex Cora said that most of the jerseys and helmets the club had in stock had already been signed or given to charity.

"I think the yellow ones, after we used them — a lot of them — have been signed and helmets have been signed," Cora said. "It's memorabilia. There's not too many of them around."
The same thing apparently happened to the "Boston Strong" uniforms:
"From what my understanding is, we used them and then we gave them to the Red Sox Foundation so those are gone," Cora said.
Personally, I dislike the yellow design and prefer that the Patriots' Day uni be used only on Patriots' Day, so I'm not too broken up about those uniforms not being worn last night. But if the Sox wanted to wear either of them (which isn't entirely clear from Cora's presser), it's interesting that they weren't able to do so. Like, it's one thing to say that the original uni sets had been decommissioned and put into the memorabilia market (that's not surprising, especially for the Pats' Day set). But couldn't the team simply have gotten a new set made in time for last night's game, if that's what they wanted?
Consider: The Sox beat the Yankees and advanced to the ALDS a week ago — Oct. 4. Unless they either swept the Rays or got swept by them (both of which were conceivable but unlikely), they knew they'd be hosting Game Four on the same day as the Boston Marathon. You'd think that's enough time to get a new set of jerseys made, right? Now, the yellow/blue set has its own pants, socks, belts, and — here's the tricky part — batting helmets. Getting new inventory on all of those uni elements might be more of a logistical challenge, especially for the helmets. But the "Boston Strong" unis don't require anything but new jerseys. Couldn't they have gotten those made if that's what they wanted?
Is this a(nother) supply chain issue, like the one that reportedly prevented New Era from adding the "Postseason" cap patches this year? Maybe — or maybe it's just superstition: The Sox wore red for their Wild Card victory against the Yankees and for their Game Three victory against Tampa. (And given how last night's game turned out, it's hard to argue with the results.)
Of course, it would be nice if the Sox could just take the highly radical step of, you know, wearing their beautiful home whites at home, but they haven't done much of that this year.
Meanwhile, as long as we're talking about the Sox, check out these two shots of Travis Shaw, who appeared last night as a pinch-hitter in the ninth inning: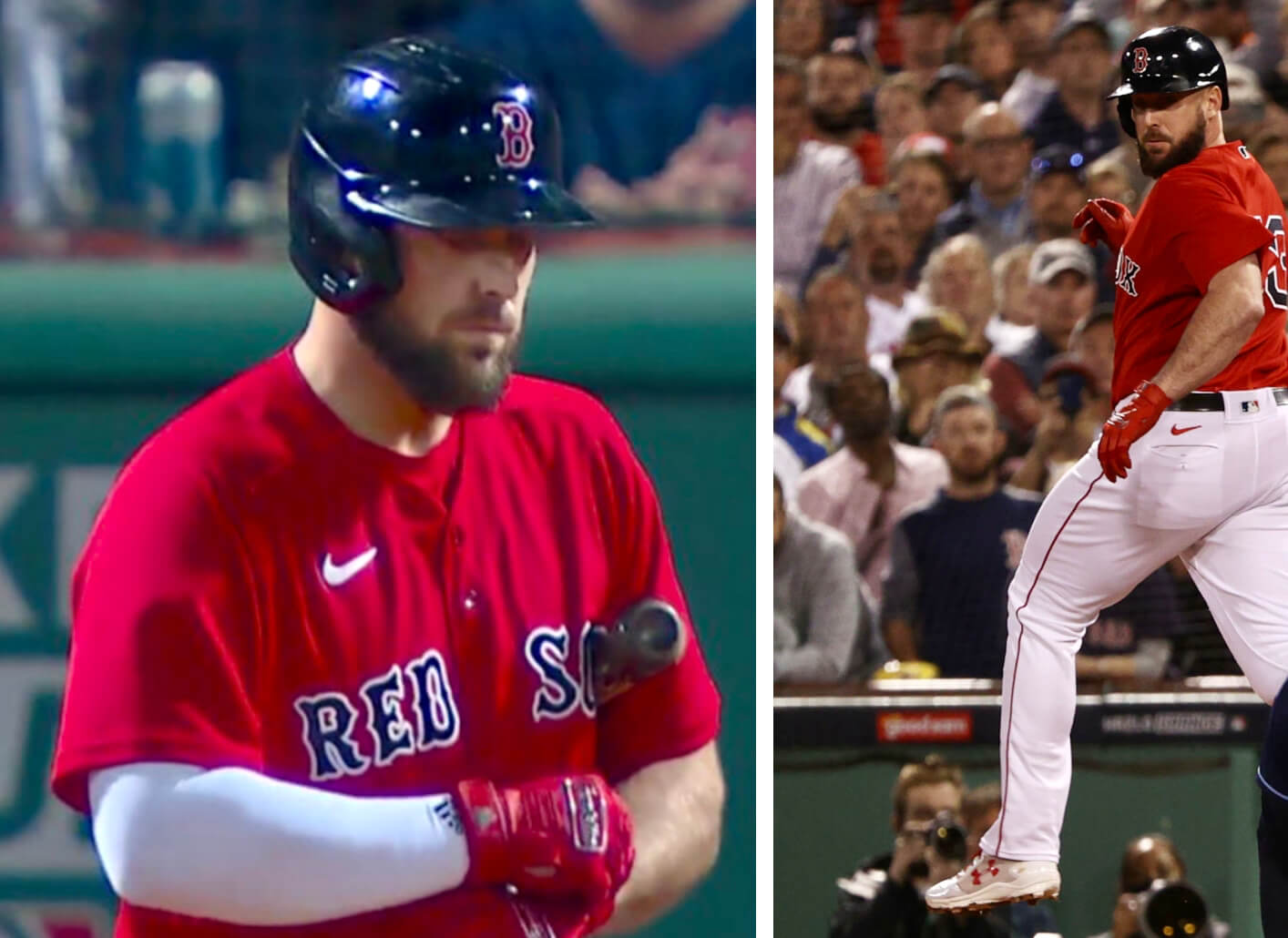 Look closely as you can see that Shaw was wearing Franklin batting gloves, an Adidas compression sleeve, and Under Armour shoes, to go along with his Nike uniform. (Also a Rawlings batting helmet, but at least that didn't have a maker's mark.) He's a one-man sporting goods catalog!
(Special thanks to Phil — he knows why — and to Alex Feldman for spotting Travis Shaw's many maker's marks.)
• • • • •
• • • • •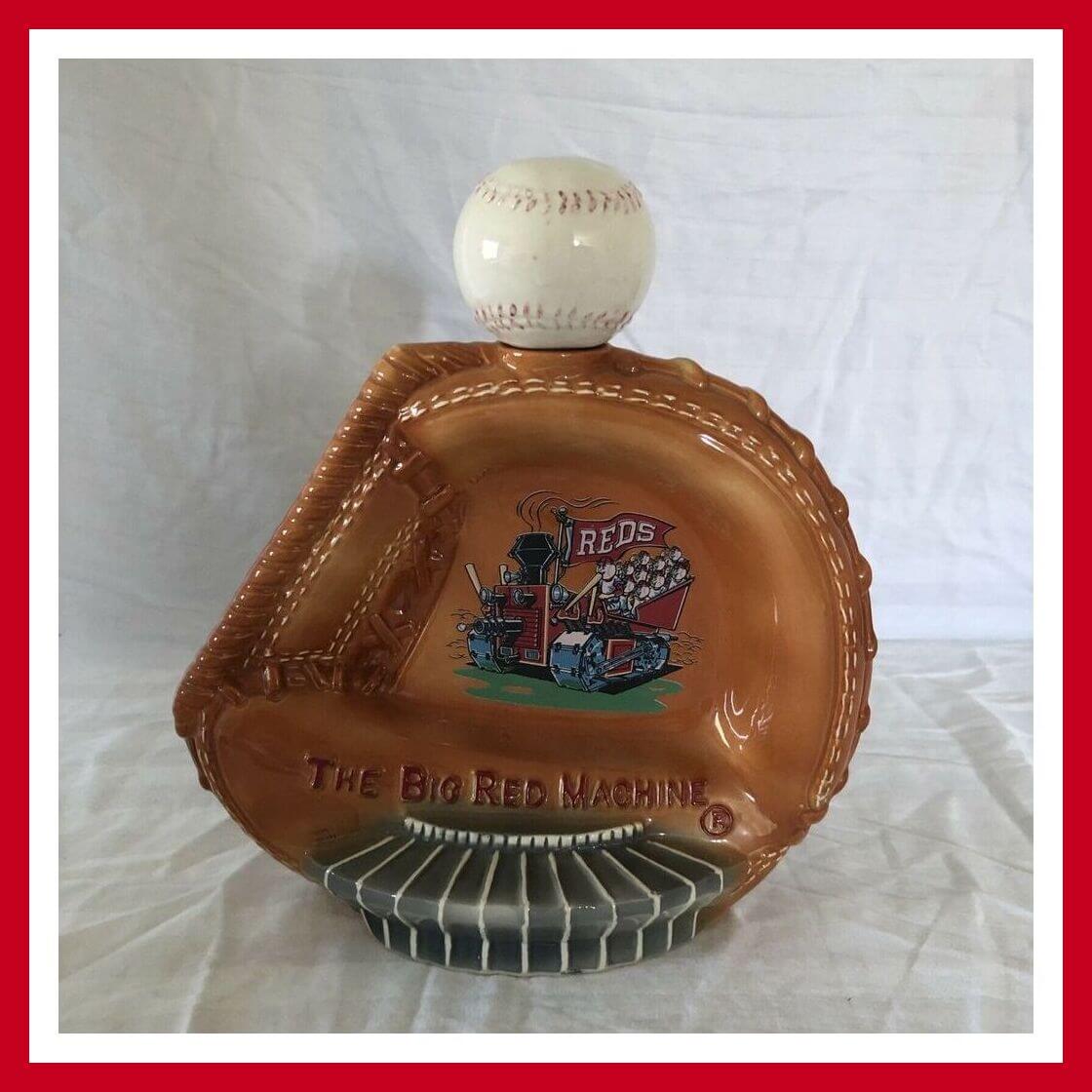 Click to enlarge
Collector's Corner
By Brinke Guthrie
Follow @brinkeguthrie    
We're well into the MLB postseason, so let's start things off with this gem from a team that certainly distinguished themselves in the 1970s-era playoffs: a 1973
Big Red Machine catcher's mitt whiskey decanter made by Hoffman. The seller makes no mention of dimensions here, but it looks pretty big, and includes Riverfront Stadium at the bottom and the team logo on the back. The seller adds "The cork that at one time secured the ball in place on the decanter is missing."
Now for the rest of this week's picks:
• Speaking of catcher's mitts and the Redlegs, here's a 1978 Johnny Bench calendar. Note that the cover photo is clearly from 1976, as you can tell from the National League centennial sleeve patch (one of my favorite logos). 
• Check this out — a 1990 Wayne Gretzky computer hockey game. I didn't know such things existed back then. "For IBM and compatibles; XT Turbo or faster recommended." Uh, right (scurries to Google to see what "XT Turbo" was).
• 49ers fans used to be able to use this official Niners screensaver CD-ROM on their 2001-era computers. Needs "Windows 95 or newer"! You get "Websaver Live! Broadcast Screensaver," an "Interactive Schedule," "Internet Links," and a signup for the PacBell Internet service.
• Finally, a listing with no old-school electronics required: Here's a set of four 1970s NFC Central helmet buggies, including the Vikes, Lions, Bears and Packers.
• Speaking of helmets, this kids' 1960s-'70s Baltimore Colts helmet appears to have been through some backyard wars.
• The San Diego Padres "Swingin' Friar" is livin' large and takin' his cuts under a Southern California palm tree on this pair of 1990s canvas duffle bags.
• How about this copy of "Base Ball Rules" from 1927! "With explanatory notes on the playing rules, a marginal index, and a new series of 'Knotty Problems.'"
• I guess "Rah! Rahs!" is the brand name for this 1969 set of New York Rangers "Win Pins."
• I liked this 1973 Topps Franco Harris football card for two reasons — the little sash/banner design for that year's Topps set, and it's cool when a player wears a toque like that on the sidelines.
• Babe Ruth is featured on this 1951 Kellogg's cereal premium ring. Fairly decent likeness, too!
• If you have a kid, you could do a lot worse than dressing them up in this early-1970s powder blue Chargers youth jersey.
• • • • •
• • • • •
Team-logo jack-o-lantern stencils: Nobody — I mean nobody — loves holidays like our own Brinke Guthrie. So with Halloween fast approaching, he's compiled a bunch of stencil patterns that you can use to create your own team-logo pumpkin. Here they are for MLB, the NFL, the NHL, and the NBA.
You say you want to make a Uni Watch pumpkin? We've got you covered for that as well. Have fun!
• • • • •
• • • • •
Click to enlarge
Too good for the Ticker: Oh man, so much to like in this 1969 Michigan high school hoops photo showing Saginaw St. Stephen and Grosse Pointe St. Paul. Among the highlights:
• St. Paul is wearing sleeved jerseys.
• At least one St. Paul player's jersey is untucked.
• Spectacular stepladder-arched lettering for St. Stephen.
• St. Stephen also has belted shorts.
• Excellent striped hosiery for both teams.
• That kid in glasses!
(Big thanks to Cory Fisher for this one.)
• • • • •
• • • • •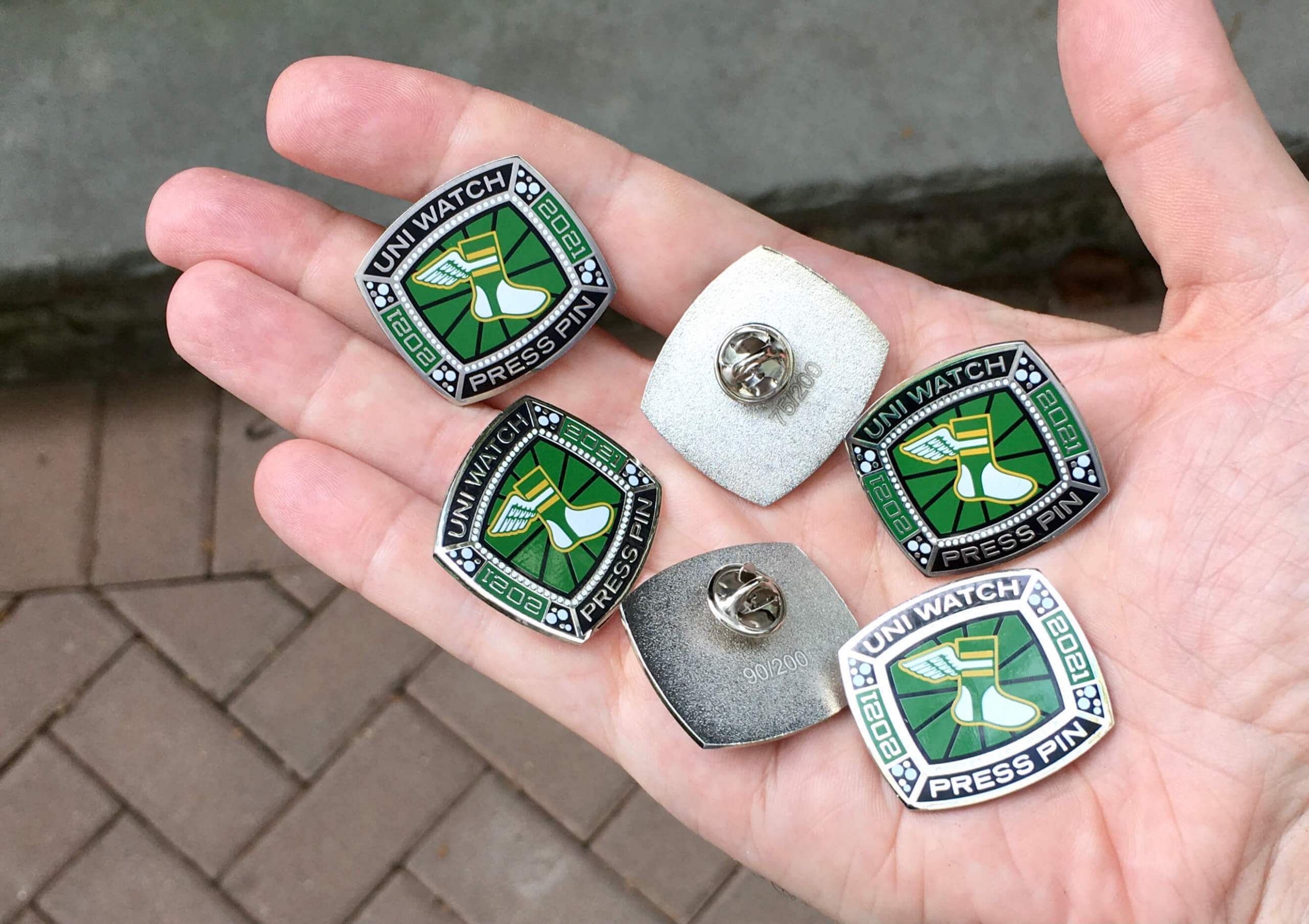 Click to enlarge
Press Pin reminder: In case you missed it last Friday, the annual Uni Watch Press Pin is now available. This pin is not part of the monthly Pin Club series (and you do not have to purchase it in order to qualify for the Pin Club's "Collect 'Em All" bonus prize) — rather, it's an annual pin that Todd Radom and I do each October to coincide with the MLB postseason, inspired by the rich history of World Series press pins. The idea is that everyone in the Uni Watch comm-uni-ty can legitimately wear our Press Pin, because you all contribute information, feedback, and knowledge that helps me do my job of covering the uni-verse.
As you can see above, this year's Press Pin is based on a championship ring. It was produced in a numbered edition of 200 and is available here while supplies last. My thanks, as always, for your consideration of our products.
• • • • •
• • • • •
The Ticker
By Alex Hider

Baseball News: The first three items are from Trevor Williams: Braves OF Joc Pederson tallied the only runs of yesterday's NLDS game against the Brewers with a three-run homer — using Yankees 1B Anthony Rizzo's bat. After the game, Pederson admitted that he stole the bat during a trip to Chicago earlier this year when Rizzo was still with the Cubs … Speaking of Pederson, here's more on why he wears a pearl necklace on the field. … Former MLB pitcher and coach Chuck Hartenstein died earlier this month. While coaching the Brewers pitchers in 1988, his staff committed a ton of balks because pitchers weren't coming to a complete stop before their wind-ups, so Hartenstein tacked a stop sign to the bullpen wall as a reminder. … I don't think I've ever seen the Tigers logo that's on these commemorative placemats celebrating the team's 1984 World Series championship (from @BeautyOfAGame). … New caps for Cal Poly (from Max G.).

NFL News: The Seahawks celebrated Indigenous Peoples' Day by changing their Twitter avatar to a Coast Salish-inspired Seahawks logo designed by the Muckleshoot Indian Tribe (from Phil). … @TitansUni points out that Titans coach Mike Vrabel conducted an interview yesterday in front of an ad-clad backdrop — which was stationed in front of a second backdrop without ads. … As we've previously reported, Eagles coach Nick Sirianni has worn two numbered stickers on his visor for two players who are out with season-ending injuries. This past Sunday he added a third sticker. Here's why he did that (from @PhillyPartTwo). … The NFL hopes to have a regular season game in Germany, possibly as soon as next season, and has narrowed the list of potential host cities to three finalists.

College Football News: BYU will wear navy helmets and pants along with white jerseys at Baylor on Saturday (from Kary Klismet). … The rest of these are from Phil: Tennessee fans will coordinate to create a checkerboard pattern in the stands for Saturday's game against Ole Miss. … Penn State will wear their throwback mashup jerseys on Oct. 23 when they host Illinois. … Speaking of throwbacks, Washington will be wearing 1991 uniforms on Saturday. … South Florida will wear gold helmets and green helmets and pants against Tulsa on Saturday. … Oregon is asking fans to wear black to their game against Cal on Friday night.

Hockey News: Icethetics is tracking all of the special jersey schedules for NHL teams as they announce them (from Phil). … Alaska Air — which is based near Seattle — allowed fans wearing Kraken jerseys to board early for a flight bound for Las Vegas yesterday. The Kraken will play their first regular season game against the Golden Knights tonight (from David Raglin). … Speaking of the Kraken, I hadn't noticed this before, but their logo looks an awful lot like a certain car manufacturer's (from David Payne). … The Islanders haven't said anything about an inaugural season patch for their new arena. Could this be it? (From Mike C..) … St. Cloud State will wear throwback uniforms featuring their famed "Skating Husky" logo on Saturday (from Ben Hagen). … Stevie Dubs notes that the San Diego Gulls of the AHL have some very intricate design details in their jersey numbers.

NBA/WNBA News: Reader Sean McSean spotted a Philly-area van rental company that's using the "Boathouse Row" skyline illustration from the Sixers' 2020-21 City uniforms. … Taking "dark mode" to the next level: The Jazz have blacked out a logo sculpture in front of their h0me arena. Could a BFBS uni be on the way? (From Trent Lowe.) … Members of the W25 — that's the 25 most significant players in WNBA history were given letterman-style jackets prior to Game One of the WNBA Finals on Sunday (from Trevor Williams).

College Hoops: New Mexico State has installed a temporary court in its arena for the upcoming season because of structural defects on the old floor (from Kary Klismet). … New uniforms for Tulsa (from Phil and @UtahDust). … New uniforms for Cornell (from @tony_d14).

Soccer News: FIFA has unveiled the mascot for the 2022 U17 Women's World Cup (from Kary Klismet). … New logo for the Black Women's Player Collective, an organization whose members are all current or former NWSL players (from our own Jamie Rathjen). … Here's a story on Puma's new uniform template (from Phil).

Grab Bag: Celtic Dragons, a Welsh team in the U.K.'s Netball Superleague, has a new logo (from our own Jamie Rathjen). … Sri Lanka's men's national cricket team has new uniforms for the T20 World Cup (from Kary Klismet). … Here's what NHRA Funny Car driver Ron Capps's firesuit, overgloves, and overboots looked like after an in-car fire during an event in June (from David Firestone). … New uniforms for Italian men's volleyball team Gas Sales Bluenergy Piacenza (from Jeremy Brahm). … Also from Jeremy: New uniforms for Brazilian women's volleyball club Itambe/Minas Tennis Clube. … SkyUp, a Ukrainian airline, has unveiled new flight attendant uniforms that feature a loose suit and white sneakers for women, eschewing the skirts and high heels that have been worn in the past. … Minnetonka Moccasin, a footwear brand started by a White family 75 years ago, marked Indigenous Peoples' Day yesterday by issuing an apology for decades of cultural appropriation. … This fascinating video shows every single New York Times front page since 1852 in a 55-second clip. The big change as the video progresses is the increased use of photographs (from John Muir). … Talk about an apostrophe catastrophe: A failure to use an apostrophe in a Facebook post has made an Australian man vulnerable to a defamation lawsuit. Remember, people: Punctuation counts! (From Don Silsby and Frank Ferreri.) … One more new volleyball uni from Jeremy Brahm, this time for Italian women's team Megabox Volley Valle. … NASCAR will allow chrome numbers next season (from Trevor Williams).
• • • • •
Happy belated Thanksgiving to all our Canadian readers. I totally spaced on the holiday yesterday — mea culpa, and hope you all had a great harvest holiday. — Paul