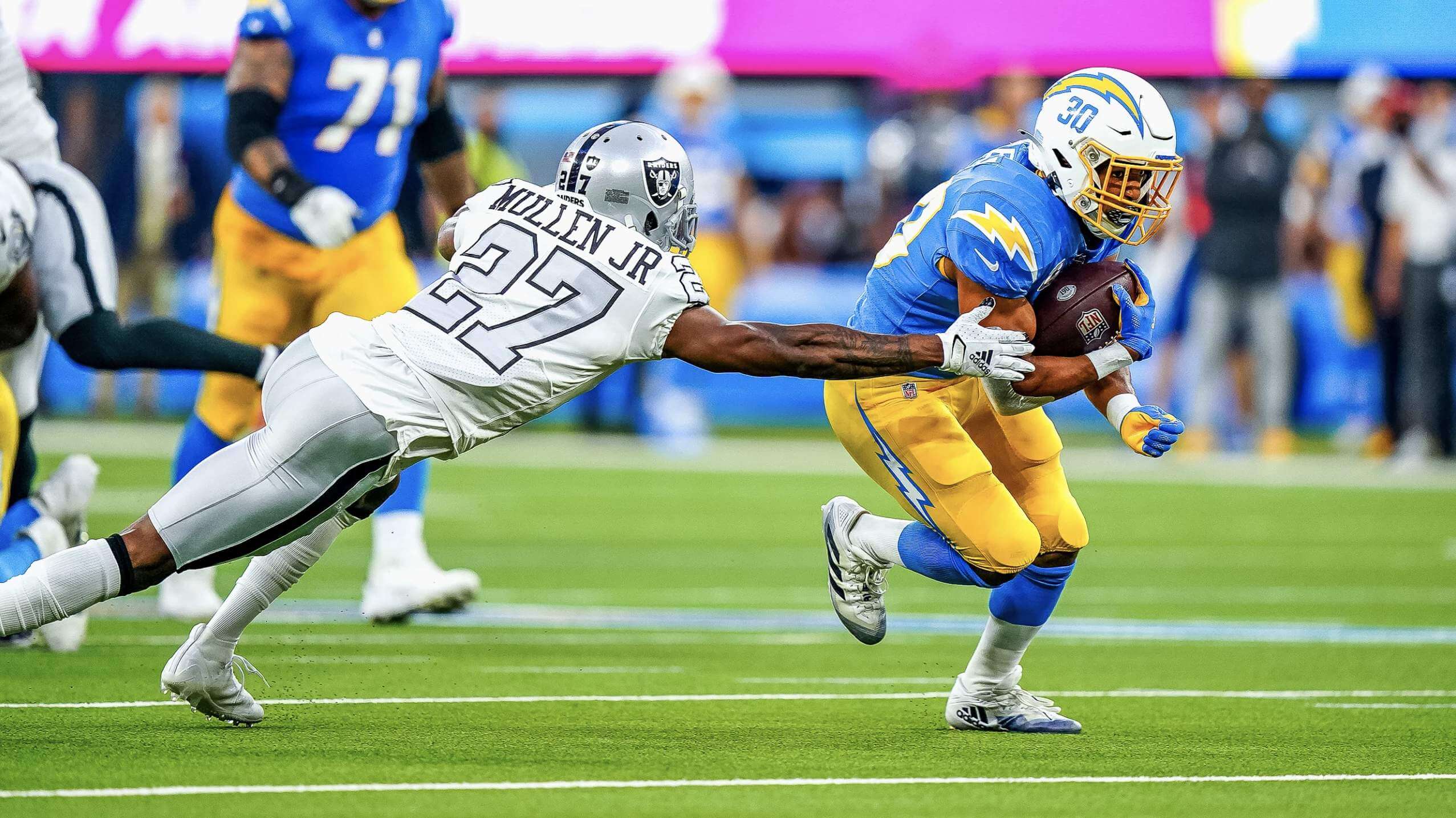 Click to enlarge
The Raiders and Chargers faced each other in L.A. last night. The Raiders wore their silver-numbered throwbacks (which I love, although I know some people think the numerals are too hard to read) and the Bolts wore powder blue over yellow, creating a reasonable simulation of an old-fashioned AFL game. Before the game even started, people on social media were gushing about the uni matchup. I was pretty stoked about it too — it wasn't a perfect-looking game (I'll explain why in a minute), but it was very easy on the eyes. You can see lots more photos here.
But let's face it: From a Uni Watch perspective, this game was almost too easy. People who say I never like anything new would have a field day with this one — it was classic vs. updated classic, so of course I liked it. Of course, I wasn't alone in that regard — like I said, lots of people on social media were totally digging the uni matchup. But that got me wondering: Were there people out there who didn't like the look of this game? And if they didn't like it, why didn't they like it?
I should say here that I had a few reservations about this uni matchup myself, mainly because I think the Chargers' uniforms, while excellent, have several small flaws. For example:
• They need TV numbers.
• They'd be better off if the jersey numbers weren't italic. And that goes double for the NOB lettering.
• The lightning bolts on the pants need a few more points/jaggies/etc.
• I think the numbers on the helmets would look better in navy or black (yes, even though there's no other navy or black on the uniform).
• In addition, the Raiders had some serious sock inconsistencies — would've been better if they'd all worn black. (I realize this is just part of the game now, but still.)
I offer all of that as a reality check, because I heard some people saying last night's game was the best uni matchup of the year (a defensible position but not necessarily a gimme) or even the best uni matchup in NFL history (patently absurd — it wasn't even the best retro-styled Raiders/Chargers game).
All of that said, however, I do think it was a very good-looking game. But what about those folks who felt differently? I wanted to hear from some of them, so I tweeted this:
Like so many of you, I *love* tonight's Raiders/Chargers uni matchup.

Serious question: Does anyone *not* like this uni matchup? I'd be interested in hearing from anyone who can explain what you *don't* like about it, either by tweet, DM, or email (plukas64@gmail.com). Thanks!

— Paul Lukas (@UniWatch) October 5, 2021
Here's one of the email responses I received, from Michael Rich:
My tastes are generally similar to yours, but this is definitely not one of my favorite-looking games. It's by no means bad, but I think both teams have better options in their locker rooms. I actually don't share your love of the Raiders' uniform in general. I tend to find them bland and boring, especially the road uniform (whether with the standard design or the silver throwback numbers). I love the current Chargers set, but I tend to dislike when the hemet, jersey, and pants are all different colors. (I also share your aversion to the dreaded leotard effect, so by necessity I prefer the helmet shell to match either the jersey or the pants.) The yellow pants really do pop with the power blues, but the white helmet throws the balance off for me.
And here's a thoughtful critique I received from Chris Herman:
Raiders: I'm normally a fan of balance with the helmet matching the numbers and the pants. But in this case, I think the silver [for the numbers] is too close to the white and the black outline is the only saving grace from being unreadable. As a Bucs fan, I have a bit of nostalgic jealousy seeing the Raiders with silver numbers and the saints with gold numbers, but the Bucs had to ditch their orange numbers after their inaugural season because they were supposedly unreadable from a distance. Finally, I think having multiple same-color jerseys is redundant.

Chargers: I think they fall victim to what I call the three-color rule, meaning the helmet, jersey, and pants are three different colors. The Titans violated this rule with their last set when they wore white helmets, light blue jerseys, and navy pants. In both cases, I think white pants would make for better balance with the white lid. As far as the overall set, I think they fall into an identity crisis by being powder/yellow for some games, powder/white for others, and then the occasional royal and navy alternates.

I understand why people love these — nostalgia, bright and colorful, better than the last set, etc. And sure, they're definitely better than Atlanta, Arizona, and Tennessee. I just don't get the whole "this is the greatest ever" argument.
And there was this from Luke Lagattuta:
I think this game would have looked just as good if not better had the Raiders gone with their standard road look.

While I wouldn't go so far to say I "didn't like" either team's uniform in a vacuum (I am in the boat that absolutely loves the Chargers' new uniforms and generally like all the Raiders' looks for their tradition alone), I do find it a little strange when one team goes with the throwback look while the other sticks with their current set.  While the Chargers' latest set is certainly a nod to their '60s uniform, it is still a newer take. I just think games should either be true throwback matchups, with both teams wearing an old design, or a regular game with both teams wearing their standard home or away.
I also received this DM from Rick Grayshock:
I'm not a big fan of the Raiders' uniforms in general. I recognize the history and even appreciate their commitment to the set, but I've never really loved the look.

The Chargers have the best look in all of sports, IMO.
I also received dozens and dozens of replies to my tweet. By character-count necessity, they weren't very detailed, but here's the gist:
• Some people don't like the Raiders' silver numbers.
• A few people don't like the Chargers using three different base colors for their helmet, jersey, and pants.
• Some people said the game would look better in daylight and/or on natural grass.
You can see more of the Twitter responses by looking at the tweet.
This was an interesting exercise. I still think it was a very good-looking game, but it's always good to challenge our own assumptions and hear what other people are thinking. I'm actually a bit disappointed that nobody said, "Booooorrring! I'd rather watch the Falcons and the Rams!!" (Of course, people who tend to think that way probably don't follow me on Twitter or read Uni Watch to begin with.)
What about you folks? Anyone out there who thinks last night's game was more eyesore than eye candy? I'm genuinely interested in hearing from such people, so feel free to post in today's comments.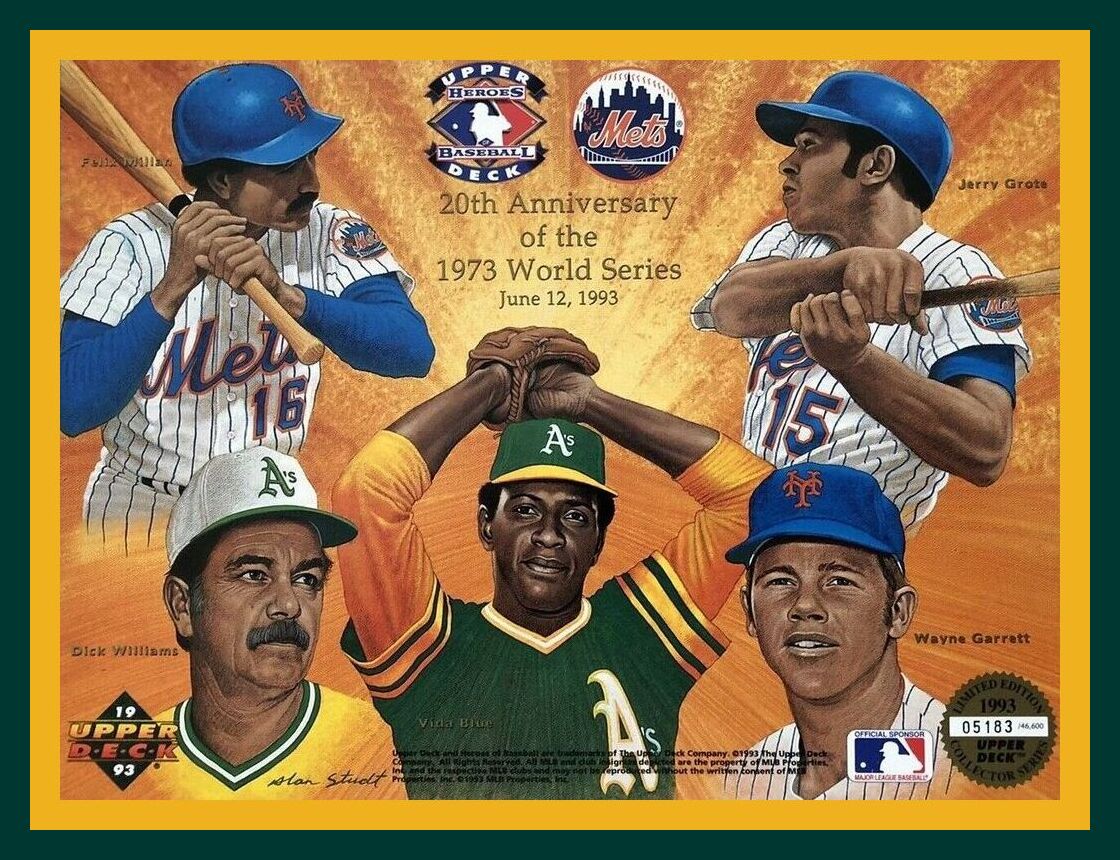 Click to enlarge
Collector's Corner
By Brinke Guthrie
Follow @brinkeguthrie    
The baseball postseason is here, so let's start off this week with a bit of MLB postseason nostalgia, this "giant" 1993 11″ by 8 ½" Upper Deck card commemorating the 20th anniversary of the 1973 A's/Mets World Series. Really nice artwork by Alan Studt featuring Felix Millan (always choked up like that as I remember), Jerry Grote, and Wayne Garrett of the Mets, and Dick Williams and Vida Blue of the A's, who would win the second of an absurd three straight Series titles that year.
Now for the rest of this week's picks:
• This mid-1960s poster by the legendary Dave Boss features the Dallas Cowboys in the navy three-stripe jerseys, which were worn in 1964, '65, and "66.
• If Detroit Red Wings fans feel a need to trim their nails, well, we've got some 1970s nail clippers for ya. 
• Here's a 1969 San Francisco Giants stamp album. Looks like just 10 players are included, Mays, McCovey and Marichal among 'em. 
• "Hello, Canada! Here's the most exciting game you can play!" That's the pitch on the front of this 1950s Foster Hewitt Hockey Game. Hewitt was the well-known announcer for Hockey Night in Canada TV broadcasts. This one is fun for the whole family, by the way.
• I want to draw your attention to the totally 1970s block-shadowed lettering on the packaging for this 1970 Stanley Cup 8mm film highlight reel.
• Drink coasters, cups, glasses, ice buckets — there's a lot for Pittsburgh Steelers fans to love in this auction.
• Nice-looking 1980 decanter here saluting the Philadelphia Phillies' World Series win.  
• That is one fearsome-looking old-school hockey player dude on the cover of Hockey The International Sport, "the Official Rule Book of the National Hockey League."
• Toronto Maple Leafs goalie Mike Palmateer is featured on this 1970s NHLPA-endorsed clipboard/binder, which also includes team logos of the period. 
• This notepad paper cube was produced for the 50th anniversary (1933-1983) of the MLB All-Star Game at Comiskey Park.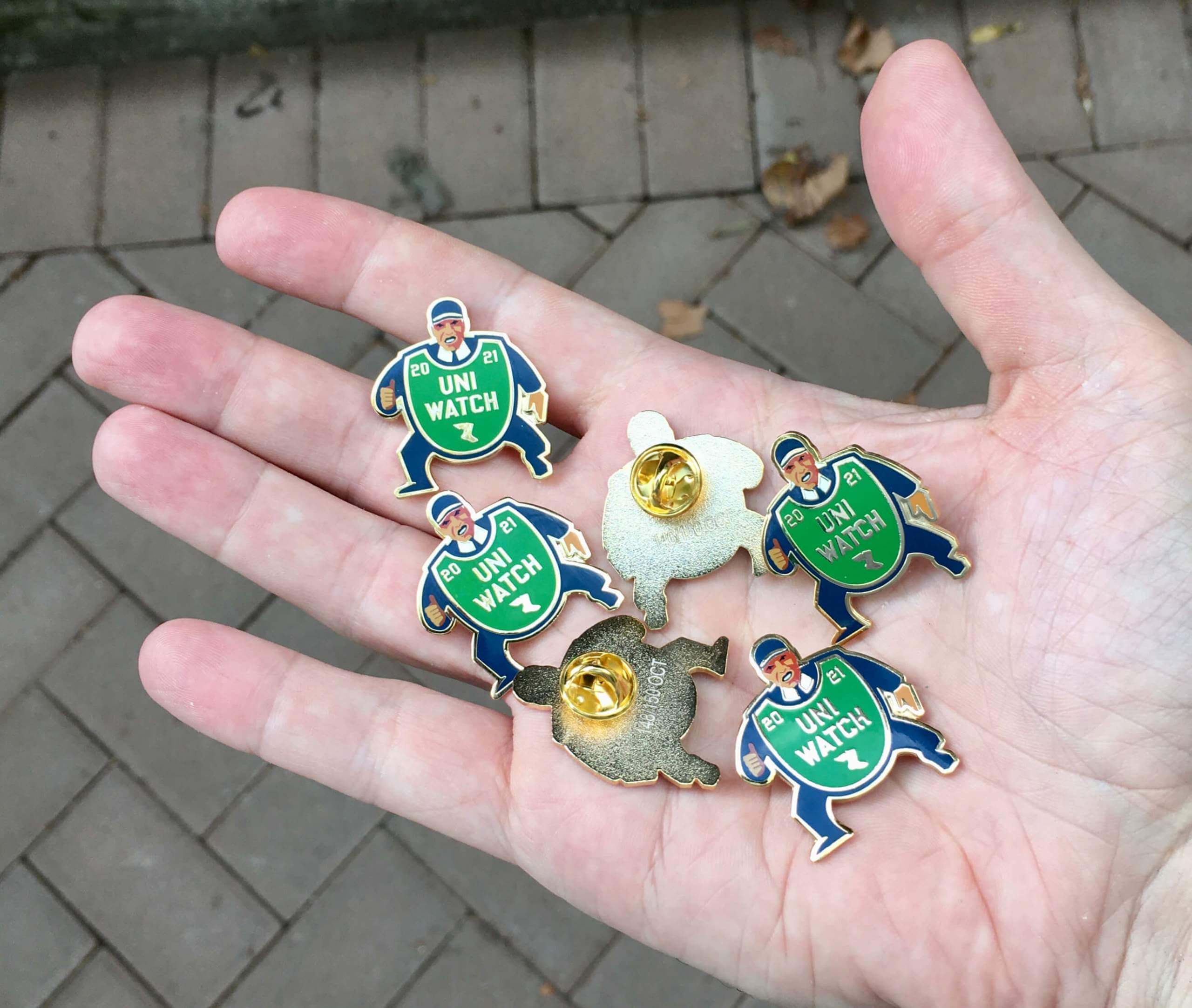 Click to enlarge
Going, going…: As of this morning, we were down to only 16 remaining pins for our October design — a fantastic depiction of a baseball ump with an old-fashioned balloon-style chest protector. You can almost hear him yelling, "Yer out!" Perfect for the playoffs and World Series.
Here's a closer look (click to enlarge):
Sensational, right?
This pin was produced in a numbered edition of 150. With only 16 remaining after the first four days of availability, it will definitely sell out — maybe today. Get yours here while they last.
We'll also have our annual Uni Watch Press Pin later this month, so stay tuned for that!
My thanks, as always, for your consideration of our products.
The Ticker
By Lloyd Alaban

Baseball News: New 20th-season logo for the Albuquerque Isotopes, affiliate of the Rockies (from @DoogieStardust). … Here's the story of how MLB ump Jason Klein got the idea for a new mask design that's also becoming popular with catchers (from Tom Turner). … Here's an article that details the history of the Yankees' short-lived costumed mascot, Dandy (from Kary Klismet). … Mayos de Navojoa of the Mexican League have new caps (from Max G.).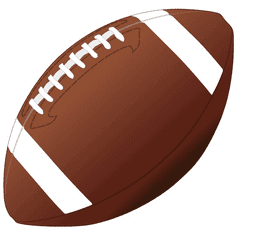 Pro Football News: Eagles head coach Nick Sirianni has been wearing "55" and "56" stickers on his visor for injured players Brandon Graham and Isaac Seumalo, both of whom are out for the year (from Nathan Haas). … Here's a link to a post on reader James Griffin's blog that includes a uni-centric review of some football Starting Lineup figures from the 1980s and '90s. … Ever wonder what font a lot of NFL fields use? Turns out it's called Clarendon (from our own Phil Hecken). … The Southwest Storm, a new Champions Indoor Football League team based in Dodge City, Kansas, has unveiled its name and logo (from Kary Klismet). … The CFL's Winnipeg Blue Bombers will unveil orange jerseys today for Orange Shirt Day (from our own Phil Hecken).

College Football News: Throwback helmets for Florida this weekend (from our own Phil Hecken). … Navy blue over white for Arizona this week (from multiple readers). … BYU's equipment director called the school's alternates the "deepest shade of royal," which we all know as "navy." They will be worn this weekend against Boise State (from multiple readers). … North Carolina will honor former coach Bobby Bowden this week with a graphic of Bowden's signature and his signature fedora on its stadium's inner walls (from @Jrryanlaw2). … Saddleback College, which competes in the California Community College Athletic Association, has opened its new football stadium (from Kary Klismet).

Hockey News: The NHL released its logo for this season's Stadium Series game, which will take place in Nashville on Feb. 26, with the Lightning facing the Predators at the NFL's Tennessee Titans' stadium.

Basketball News: The NBA will release the uniform schedules for all 30 teams on Oct. 12 (from our own Phil Hecken). … New court for the Timberwolves (from @TheRealPepman). … Also from @TheRealPepman: Although Spalding is no longer the NBA's ball supplier, it still is the league's backboard supplier.

College Hoops News: Indiana's men's team held a basketball kickoff event Saturday, and everyone on the team — coaches included — wore team warmups (from Terry Mark). … New unis for Purdue women's (from our own Phil Hecken).

Soccer News: AC Milan and Inter Milan have reportedly chosen architectural firm Populous to design their new stadium (from Kary Klismet). … A manhole cover featuring Kawasaki Frontale FC's mascots, Fron-ta and Cabrera, has been installed in Kawasaki City (from Jeremy Brahm).

Grab Bag: The men's and women's Paris-Roubaix cycling race was held over the weekend. The race, whose course is partially over cobblestones, is usually held in spring but was delayed until Sunday because of the pandemic. Conditions were rainy, which made for some great pictures (from Bernie Langer). … Reader Rick Collins found a site called Rugby Shirt Watch, which takes a look at rugby shirts from around the world. … Also from Rick: Japan's new domestic rugby union circuit has launched, and so have their kits. … New unis for Baylor track and field (from our own Phil Hecken). … A Watergate-related series has been shooting around Washington, D.C., for a few weeks now. The props include an era-appropriate news van (from David Dahl). … The next three items are from Kary Klismet: Here's an interesting article on the decline of Ronald McDonald as a symbol for the McDonald's brand. … This article explores several Minnesota high schools that have recently ditched culturally insensitive team names. … Princeton Secondary School in British Columbia, Canada, has dropped "Rebels" as its team name and associated imagery related to the American Confederacy and is now the "Rapids".