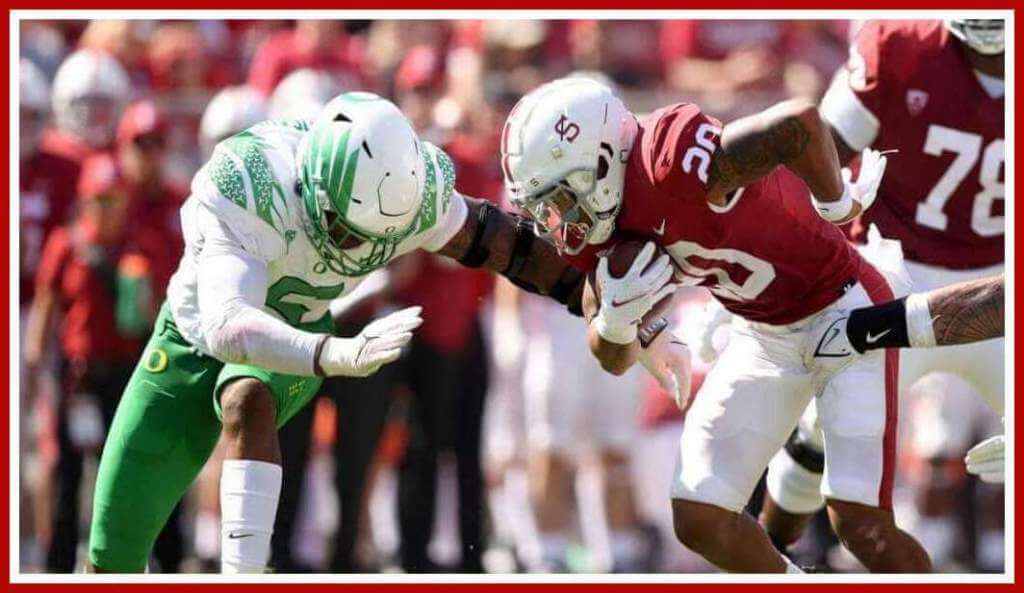 By Phil Hecken & The SMUW Crew
Follow @PhilHecken

Greeting and good Sunday Morning Uni Watchers!
The Stanford Cardinal upset the #3 ranked Oregon Ducks yesterday in a pretty decent looking uni-matchup. Now, if that Stanford uniform doesn't look quite right, that's because the team was throwing back to the 1970-71 Jim Plunkett years (when the team was still known as the "Indians" — a rather ironic twist). For more information about the throwback, here are all the details. And here's Mr. Plunkett wearing said uniform: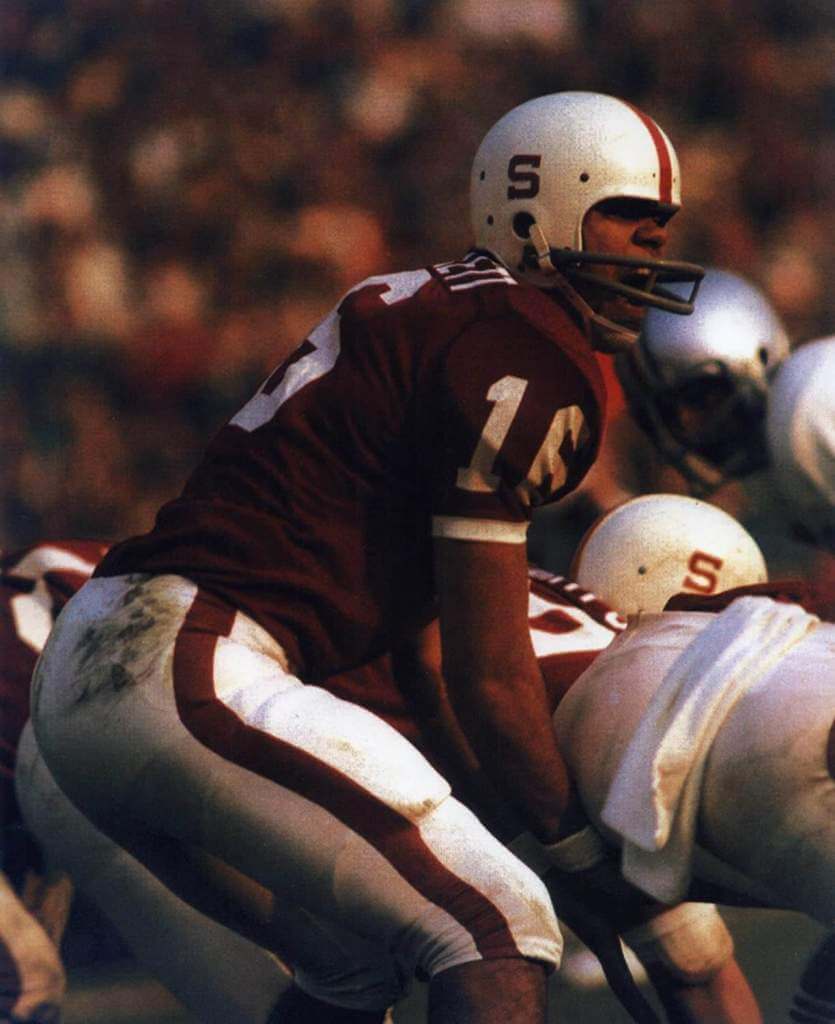 Stanford (Nike) did a pretty good job of replicating the uniform, but as is often the case, the devil was in the details. The helmets the team wore didn't quite match what was worn back then.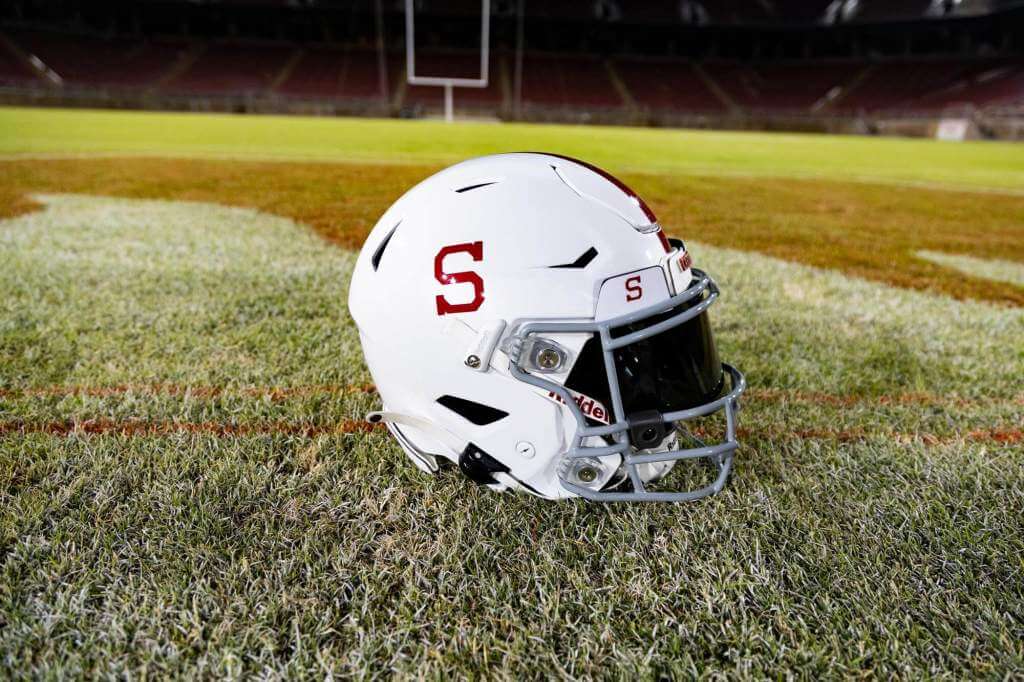 You'll note the "S" is thinner than the original, and it appeared to be positioned slightly higher above the earhole (or what serves as an earhole today) than the original. Also, the pants stripes worn in the throwback appeared to be thicker than the original as well.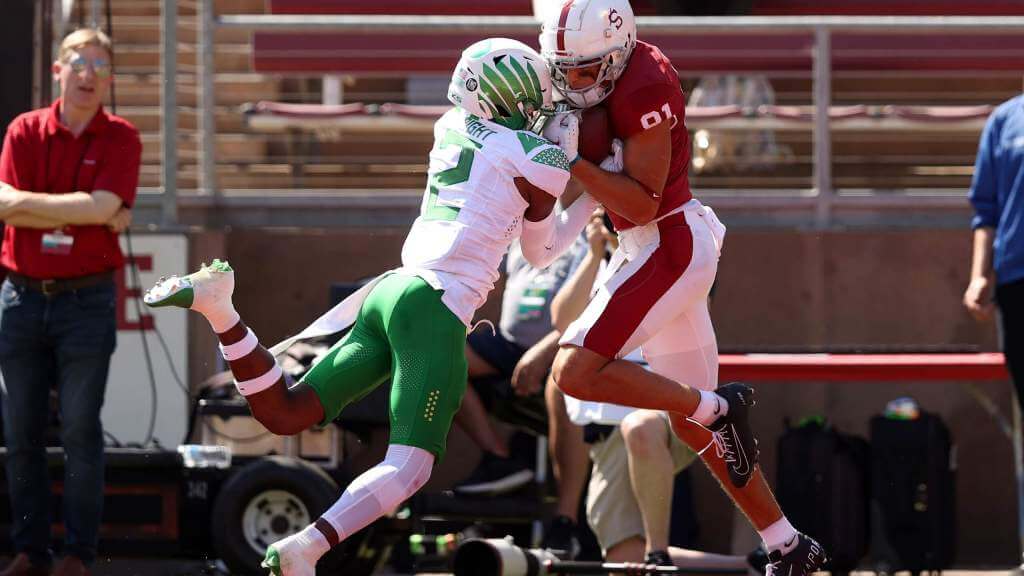 The uniforms also were a deeper cardinal red than their current uniforms, which better matches the original. I can't fault Nike for not being able to replicate the giant TV numbers on the sleeve, as uniforms today don't really have sleeves, but instead are reduced to what we call "caps." But overall, the throwback was pretty well done, and it was nice the Cardinal were able to pull off a big upset over one of their major rivals while wearing them.
Now, let me turn this over to TJ and the rest of your…
• • • • •
Sunday Morning Uni Watch
by Terry Duroncelet, Jr.
So my friend Sean messaged me Friday about these bass drum pedals by one of our favorite companies. At first, I was stoked (these pedals are drip, and no one can convince me otherwise), but then I unfortunately learned which organization will ultimately benefit from this. This intro serves more purpose than just an excuse for me to talk about drum gear: it's also a reminder that Pinktober is here once again. If I'm being perfectly honest, I find that teams seem to have toned it down over these last 10 years, but who knows what lies around the corner in the college landscape? At any rate, let's get into Week 5, shall we? Also, even though I shouldn't have to say this, I think it's best if I cover my bases: my condemnation of K*men and Pinktober demonstrations on the field =/= condemnation of breast cancer awareness as a concept.
From Thursday:
• The block numbers returned for one night, as Miami (FL) wore throwbacks/retros against Virginia in honor of Howard Schnellenberger, the first ever coach to be inducted into the Hurricanes' Ring of Honor. Schnellenberger died back in March.
From Saturday:
• Contrast Matters: Something Old, Something New Edition. Such a good-looking matchup. Also:
• Remember those cursed navy pants that Michigan wore in Week 2? They brought them back this week against Wisconsin, this time with white jerseys. I don't hate 'em as much in this context.
• Neat helmets worn by Boise State (closer look). Also:
• Have you ever looked at a matchup that made you want to eat glass? OOF.
• Time for a palate cleanser. Noice.
• Miami (OH) wore their Fight Against Cancer helmets (a tradition at this point for them) against Central Michigan (more here).
• Kent State can look fun when they want to. Another looker.
• Welp, going all-white is one way to avoid the whole "Mississippi State Aggies vs Texas A&M Bulldogs" thing.
• Shout-out to the helmets and pants in the UNLV/UTSA tilt for being the absolute MVPs in this matchup, for obvious reasons. This is why it makes no sense for people to look at an entire uniform and call them "new jerseys", because this is proof that there's much more to a uniform than just a jersey.
• ASDFGHJKL IS EVERY TEAM CHOOSING VIOLENCE THIS WEEK??? I'm all for going completely feral with the unis during the 31 days of Halloween, but at least talk to the teams beforehand so things like this DON'T HAPPEN. Something-something, rhymes with "Comcast Blathers". At least the trou paired well against each other.
• NNOB alert from the Florida/Kentucky game.
• It's always nice to see Gruff Sparty make an appearance. Closer look (via Blaise D'Sylva).
• Not many pics, but I LOVED Arizona State's helmets that they wore against UCLA. Very reminiscent of LSU's lids from three years back. Closer look (Blaise, again).
That'll do it for Week 5. A massive thanks to Blaise D'Sylva for being on top of the helmet game, as always. Hope you have a great Sunday, an excellent start to October, and I'll see you next week.
• • • • •
Thanks, TJ! OK, now for the 5 & 1 and the remainder of the SMUW.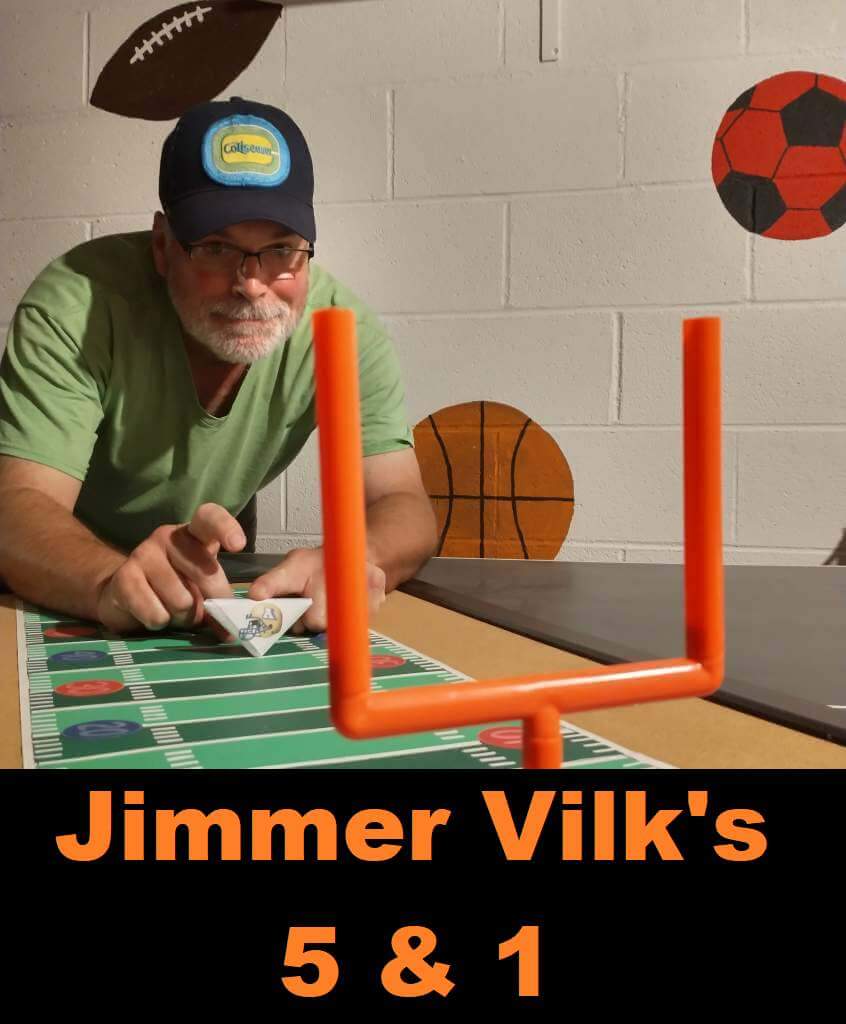 Jimmer Vilk's 5 & 1
After more than a decade in hiatus, the original "5 & 1" decider, Jim Vilk, has returned! Jim began doing the 5 & 1 many years ago, followed Catherine Ryan, Joe Ringham, Michael "Memal" Malinowski, and several guest pickers. Once again, Jim will pick HIS 5 best looking/1 awful matchup, and occasionally have some honorable mentions (both good and bad). You may agree and you may disagree — these are, after all, just opinions and everyone has one. Feel free to let him know what you think in the comments section.
If you have a game you feel is "worthy" of consideration for the 5 & 1, please either post it in the comments below or tweet Mr. Vilk @JVfromOhio.
Here's today's 5 & 1:
• • • • •
Just a quick note on why I'm not a huge fan of mono, especially the whole icy clean white trend. I grew up in the golden age of electric football, and if your players looked like this…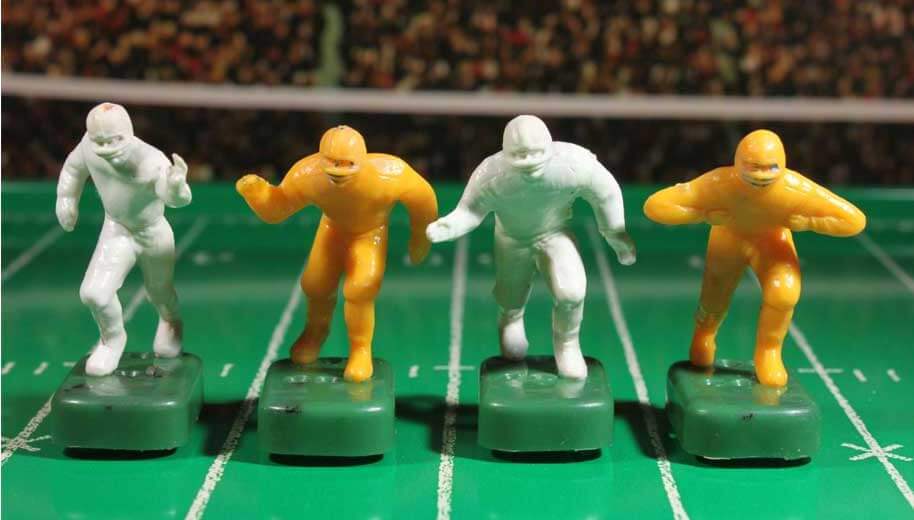 it means your parents got you the cheap game and you were too lazy to paint them. So when I see some of the current whiteout and/or mono y mono games, I see a lazy uninspired matchup. Expand your palette, people!
__________
Honorable Mentions to:
Virginia/Miami (FL)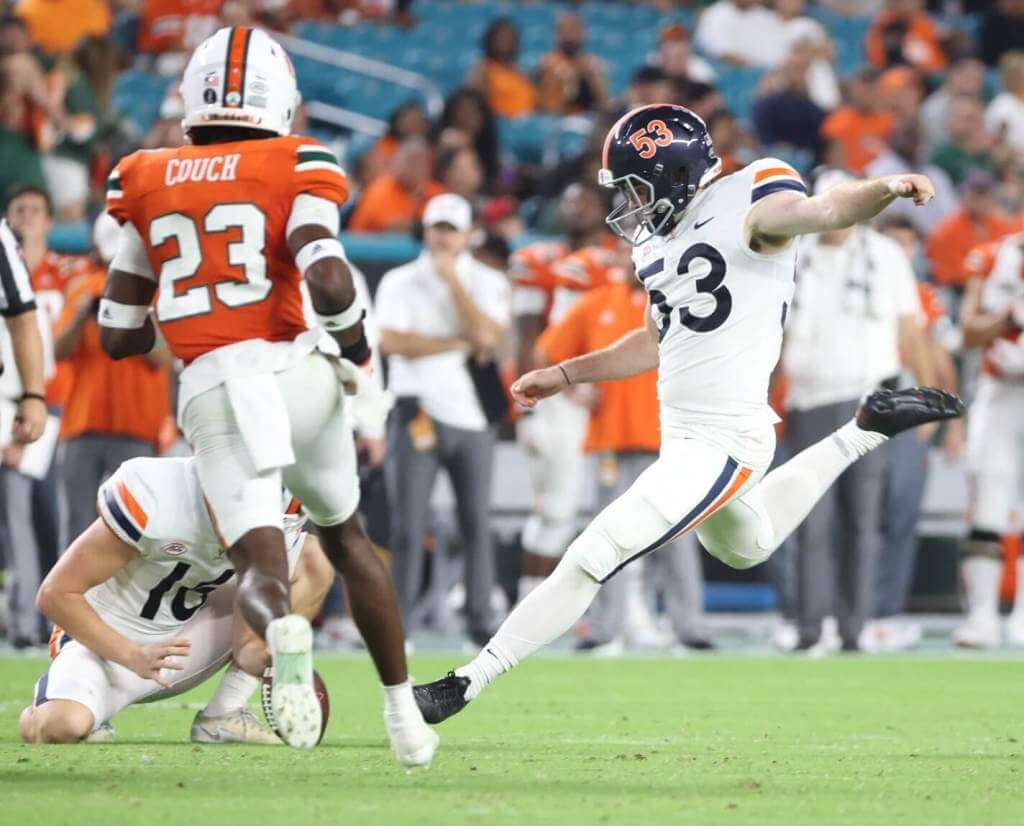 You don't need *much* paint to make your little players look as good as the Cavs.
__________
Minnesota/Purdue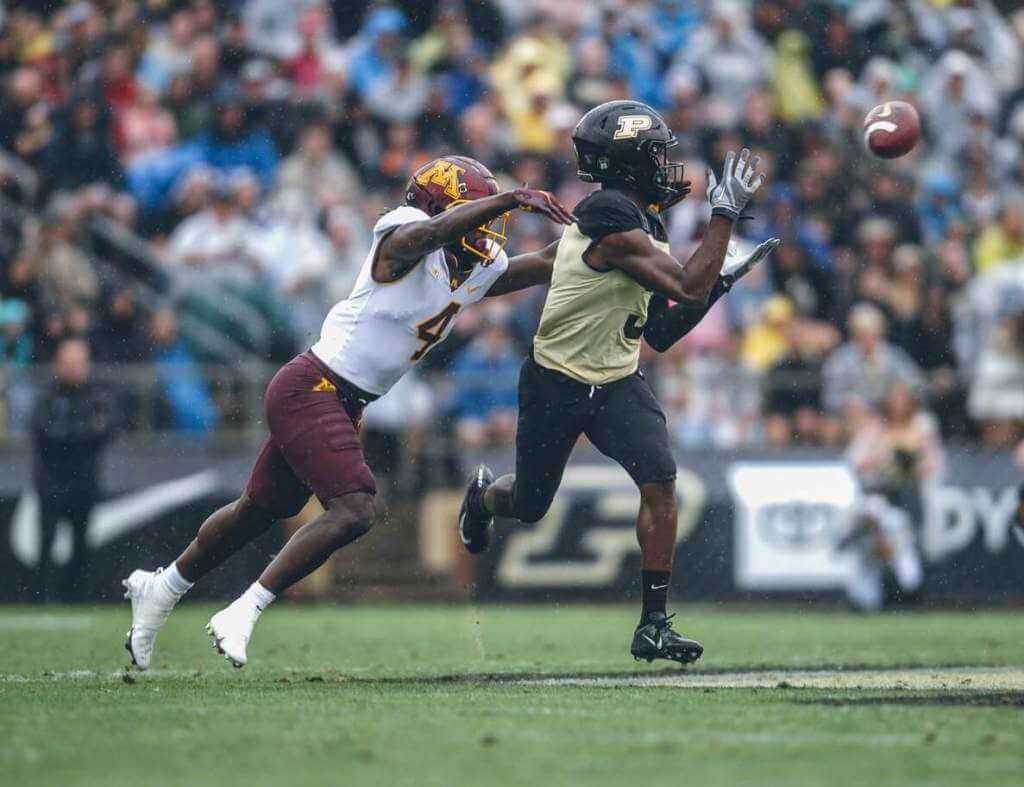 Even though I prefer both teams in gold lids, I liked this.
__________
5. Oregon/Stanford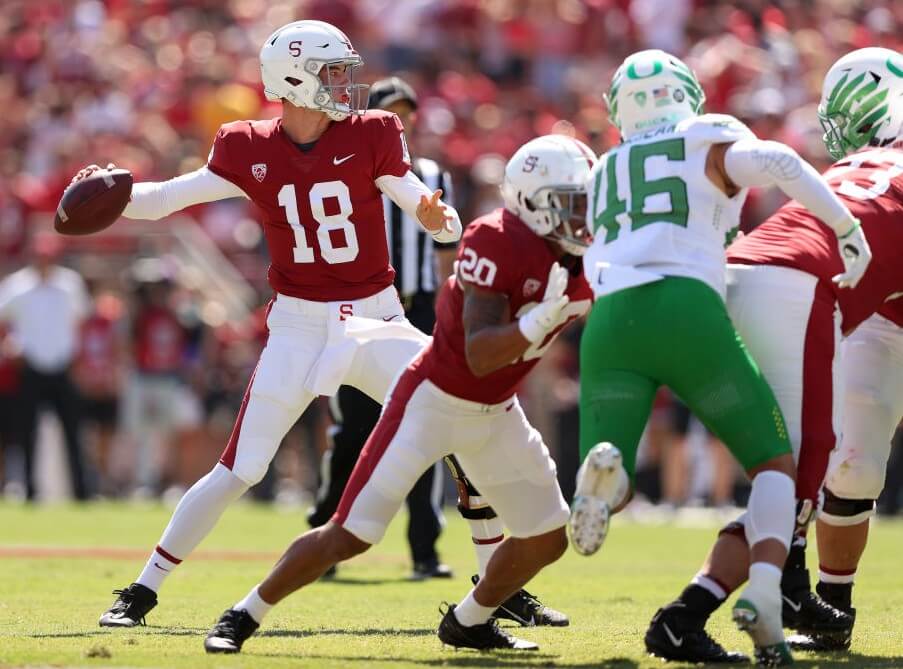 Accurate throwback, yes, but this might have ranked higher with a bigger S on the helmets.
__________
4. Memphis/Temple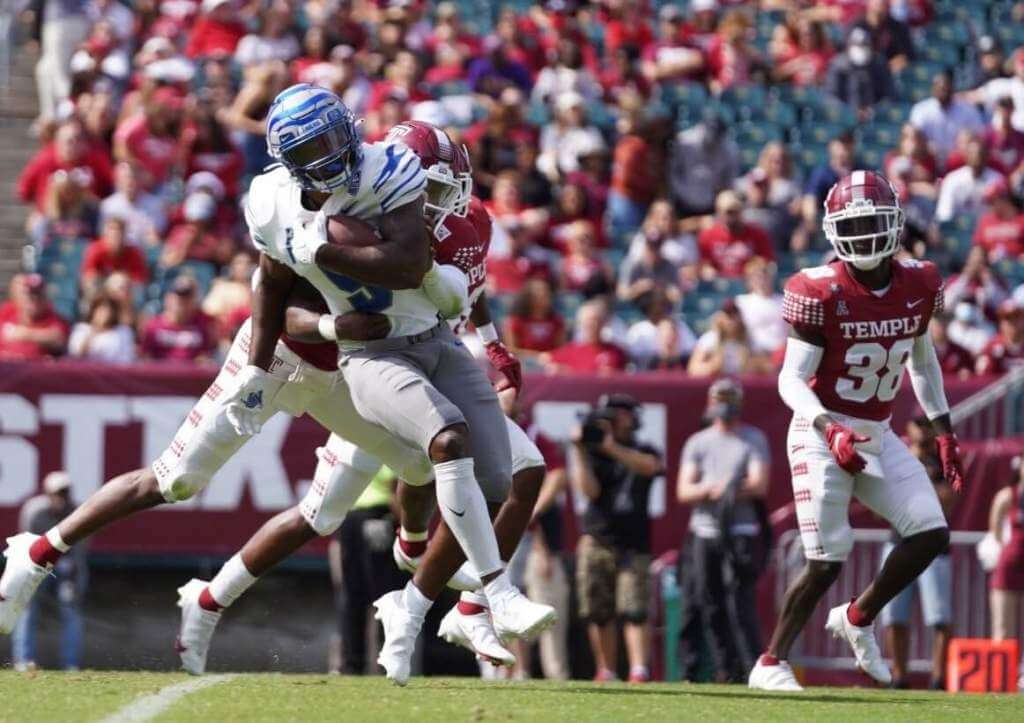 The Owls need to fill in those tile stripes on the britches.
__________
3. Cincinnati/Notre Dame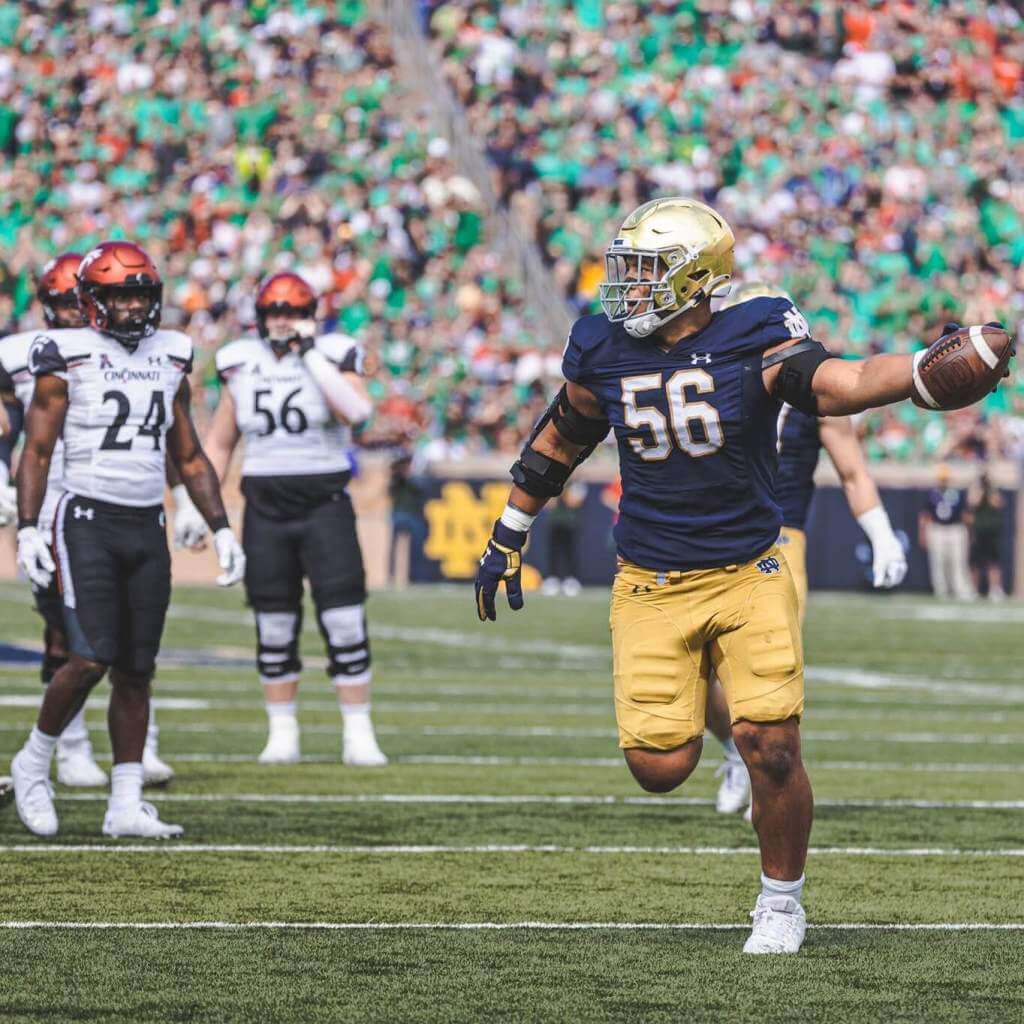 I was thinking of this game early in the week, and once I learned the Bearcats chose the red buckets they rose up my chart.
__________
2. Michigan/Wisconsin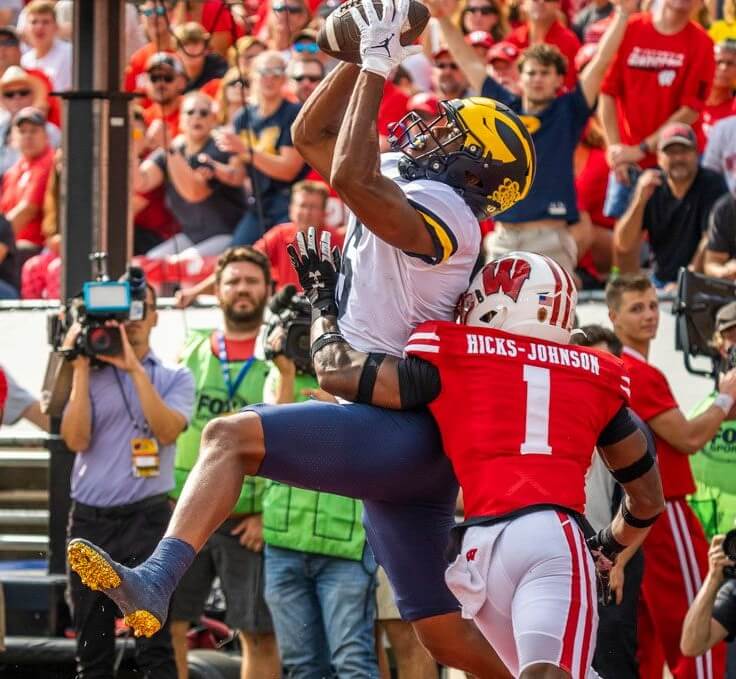 Pleasantly surprised by those road (and only road, please) pants.
__________
1. Auburn/LSU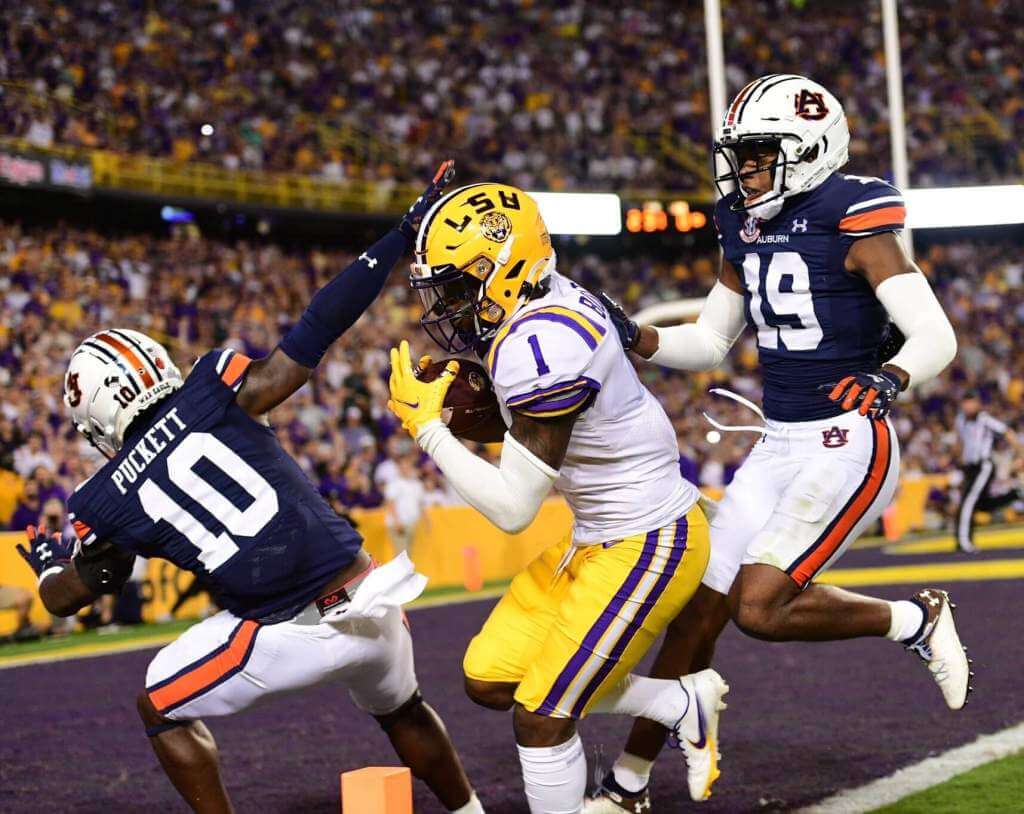 Two very safe bets coming into this game: the Tigers were going to win, and this stripe-a-licious matchup was going to top my list.
__________
&1: UNLV/UTSA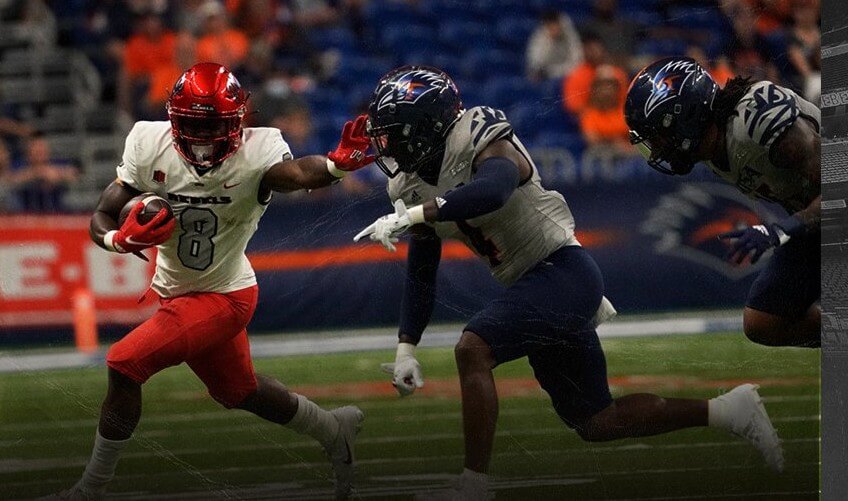 Remember the Alamo but forget this gray vs white matchup from the Alamodome
• • • • •
Thanks, Jim! OK readers? What say you? Agree or disagree with Jimmer's selections? Let him know in the comments below.


NCAA Uni Tracking
Uni Watch will again track the uniform combinations worn by the "Power 5" conferences. All of the 2020 trackers are back!
We've got Rex Henry (tracking the ACC), Dennis Bolt (tracking the PAC-12), Kyle Acker (tracking the B1G), and Ethan Dimitroff (tracking the Big XII AND the SEC). Rex, Dennis, and Kyle and are all returning from 2015, and Ethan is back after joining the NCAA Uni Tracking a couple seasons ago. Ethan will continue to track the SEC, and has swapped the B1G for Big XII (with Kyle).
Here are the Uni Trackers for the Power 5 Conferences (along with each tracker's info):
+ + + + + + + + + +
Rex is up first today (ACC):
• • •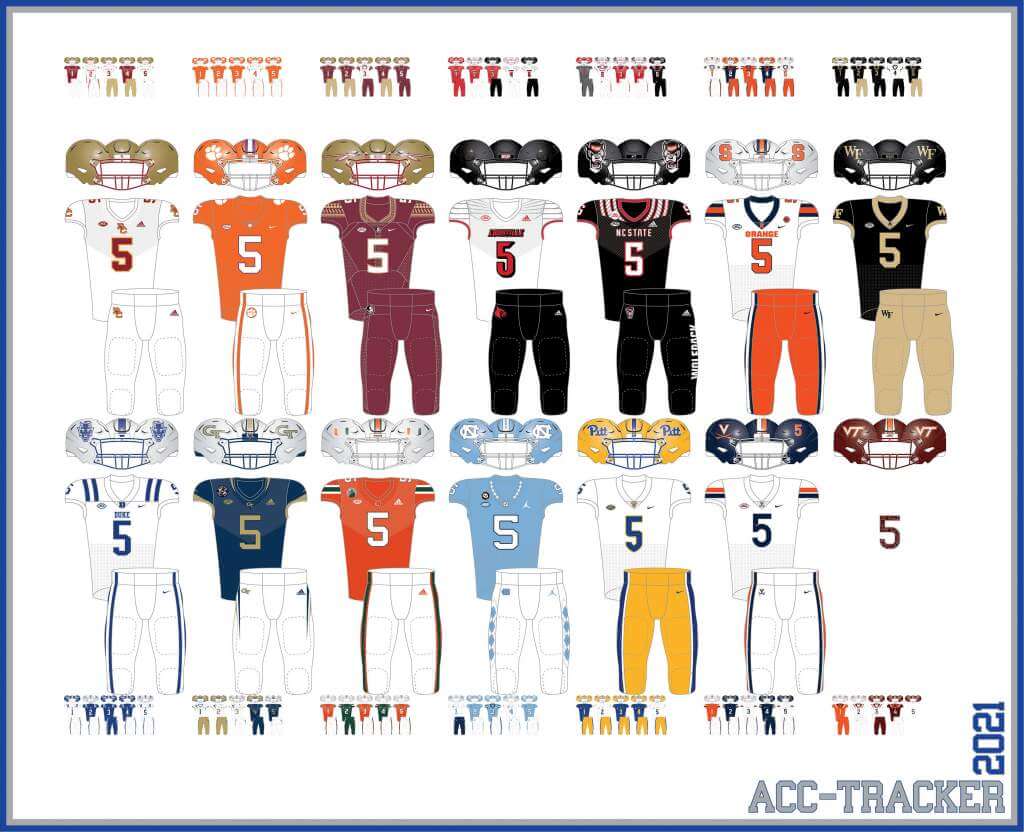 ACC

More Here.
Follow Rex on Twitter here.
• • •
And now, here's Dennis with the PAC-12: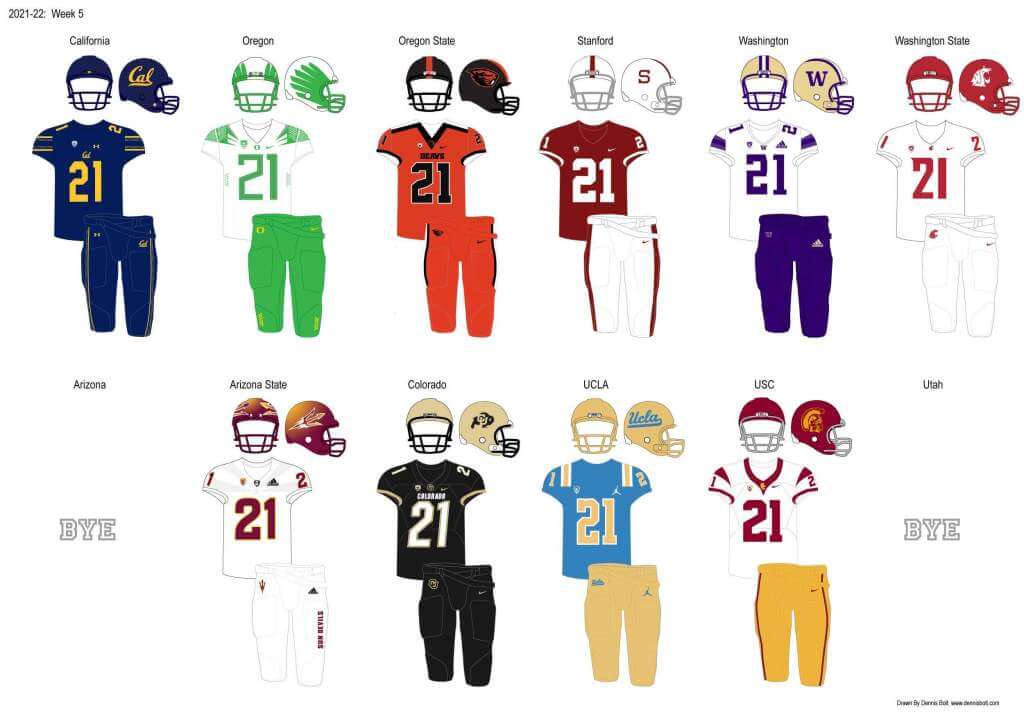 PAC-12

More here.
Follow Dennis on Twitter here.
• • •
And here is Ethan, with the SEC: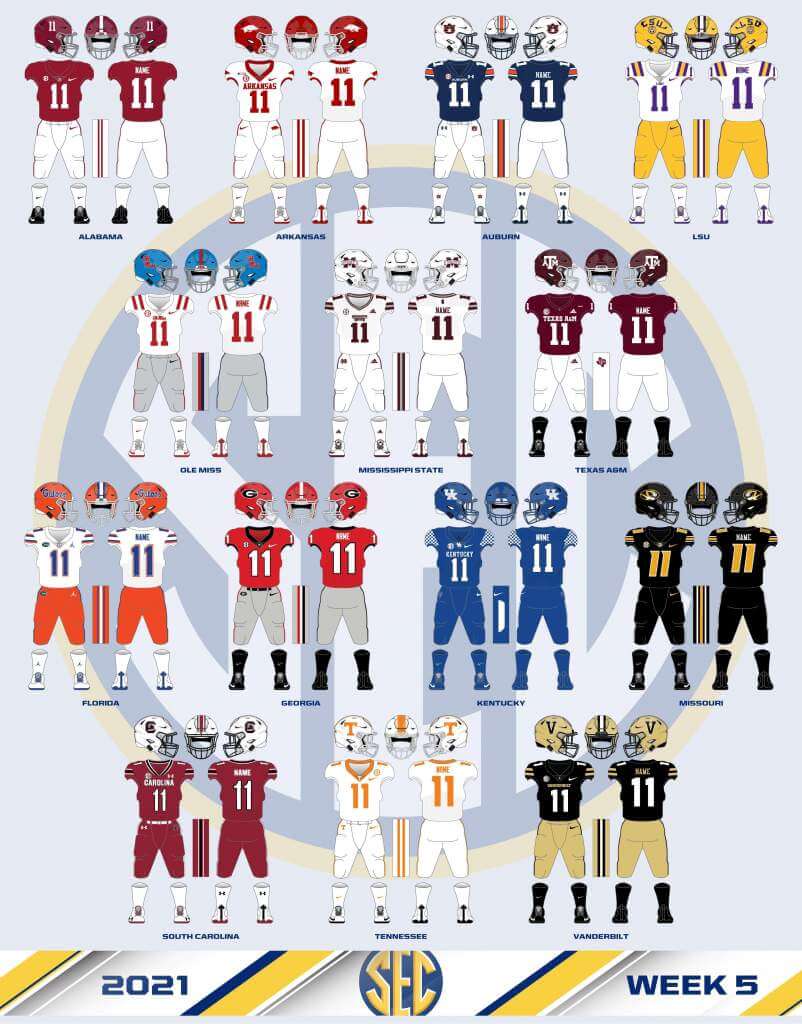 SEC

And be sure to check out Ethan's WVU Mountaineer Tracker.
Follow Ethan on Twitter here.
• • •
And here is Kyle with the B1G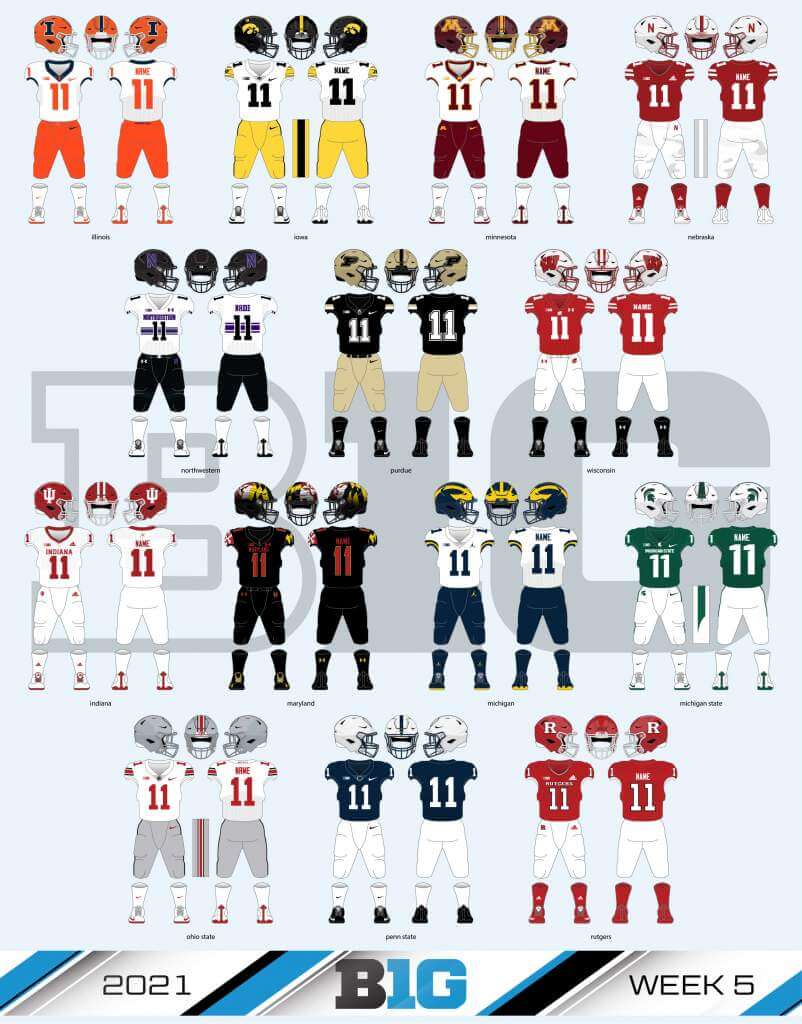 B1G

Follow Kyle on Twitter here.
• • •
And here's Ethan with the Big XII: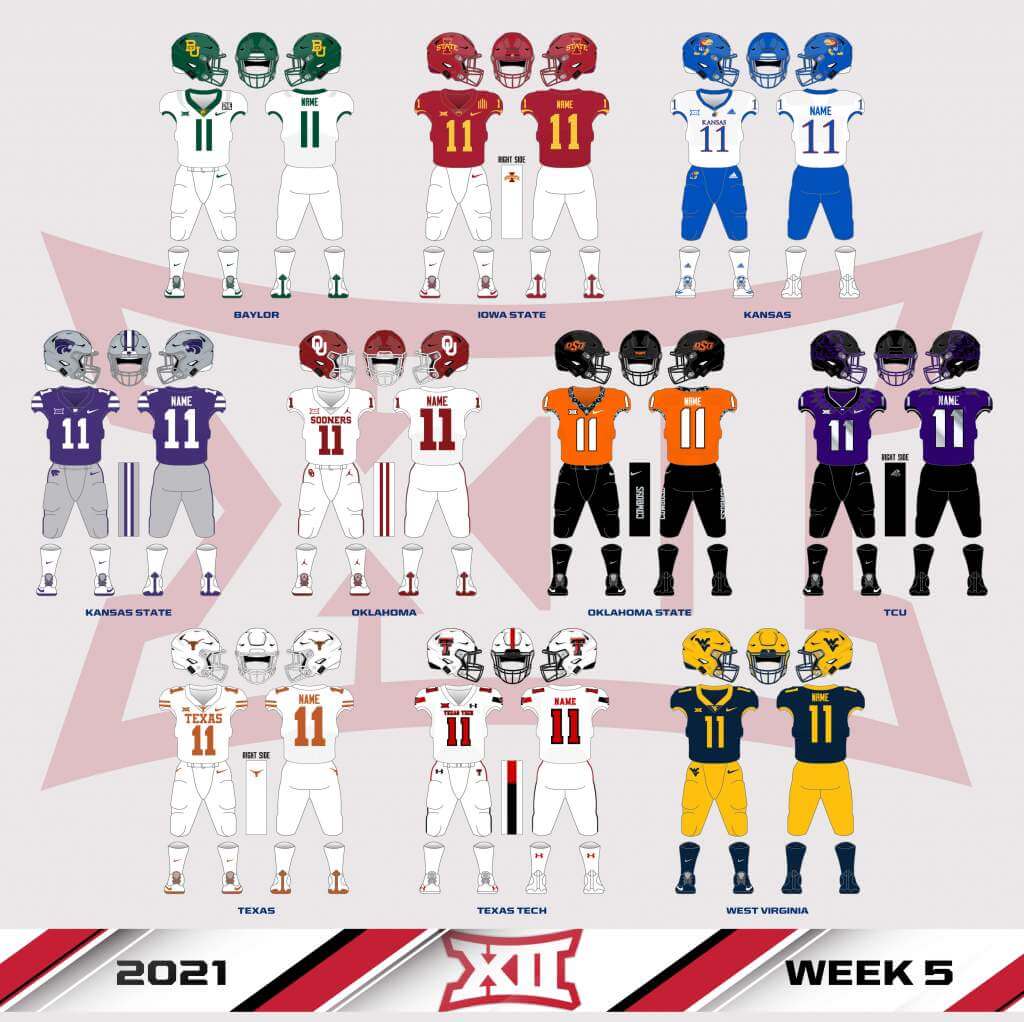 Big XII




Welcome to the 2021 Oregon Ducks Uni Tracker. This little project was originally begun way back in 2008-09 by Michael Princip, who retired after several seasons, whereupon the project was continued by Tim E. O'Brien. He, too, retired from the tracking, but the project has been ably kept up by the man who also tracks the Pac12, Dennis Bolt.
Here's this week's Uniform Combo for the Ducks (you can click to enlarge):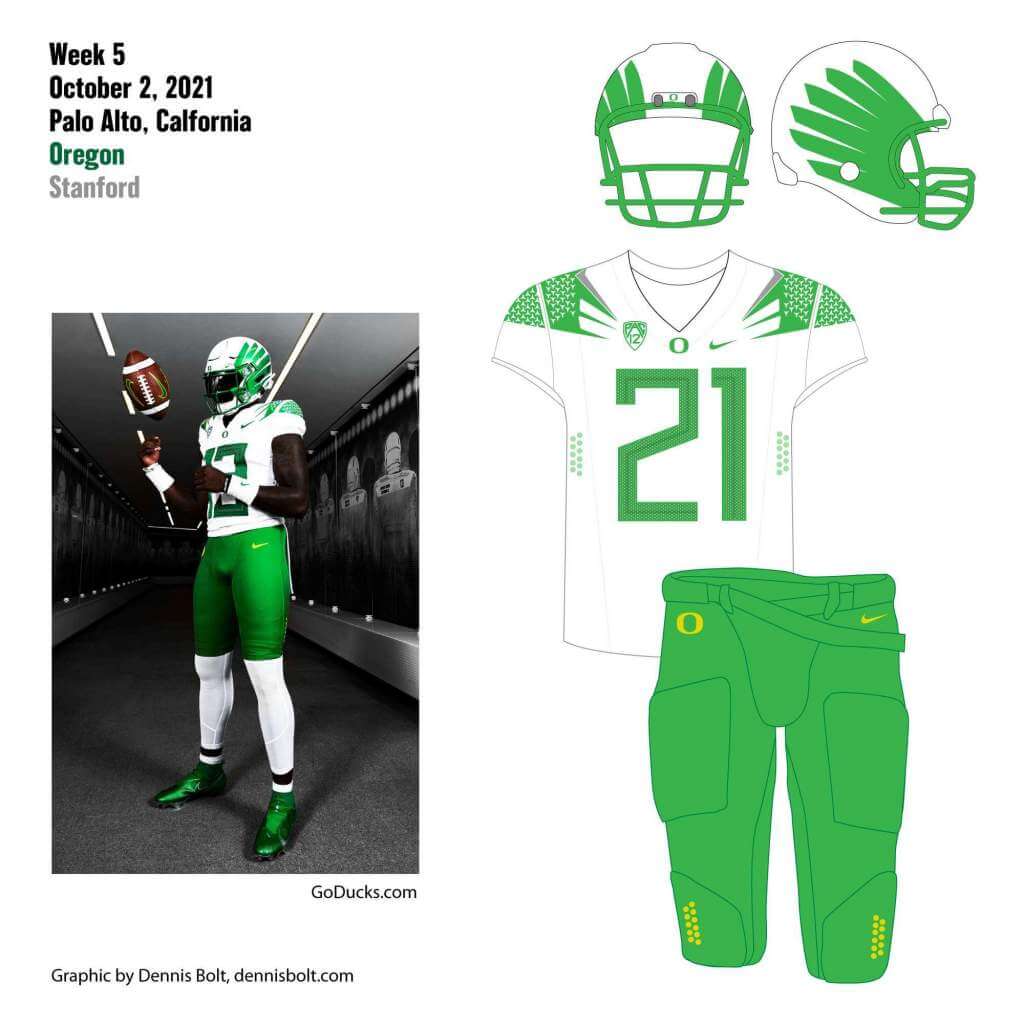 You can read about this uniform, and MUCH MORE, by checking out the Duck Tracker here and the color combo spreadsheet here!
Thanks Dennis!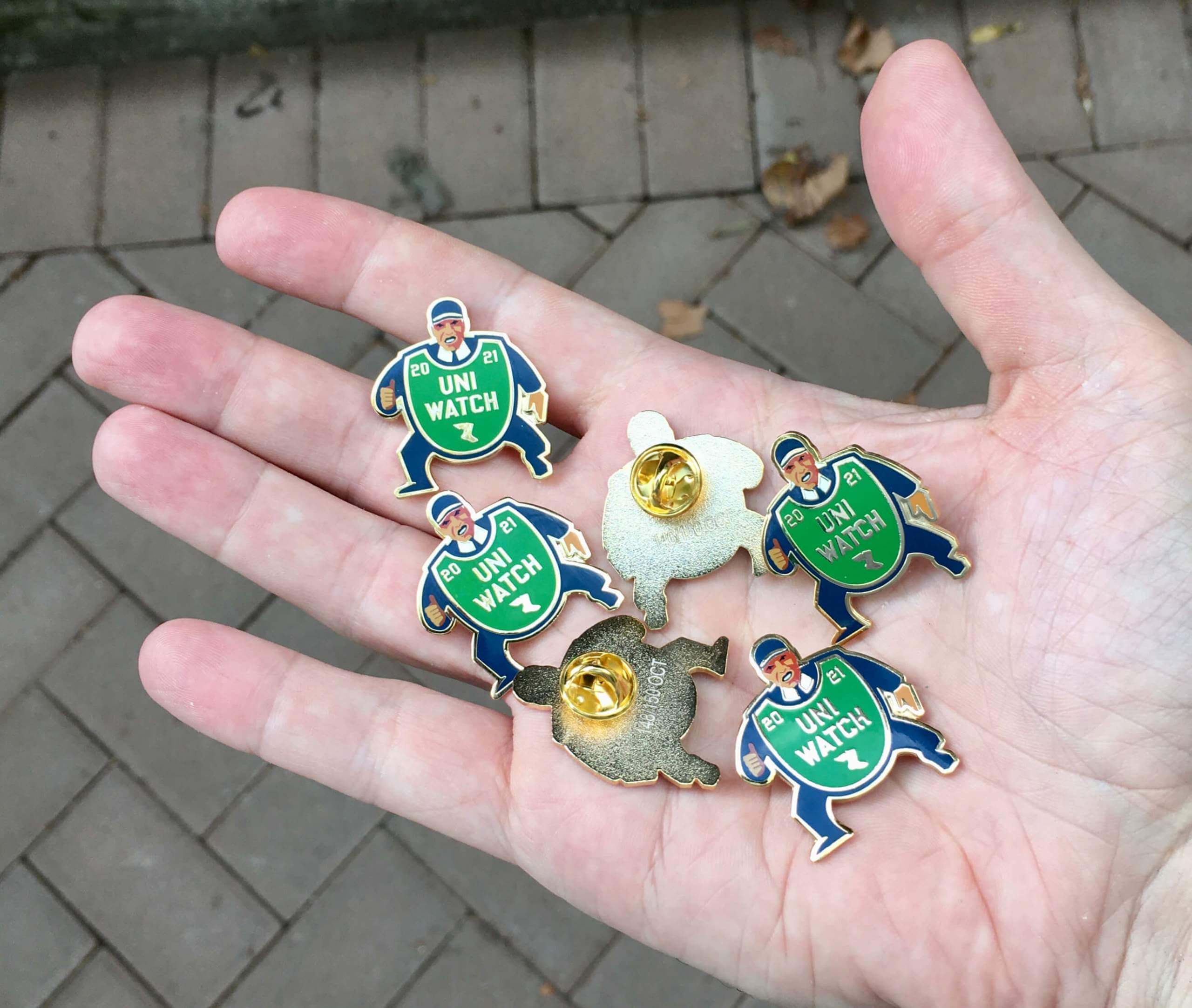 Click to enlarge
October pin reminder: Paul here. In case you missed it on Friday, the Uni Watch Pin Club's design for October is a fantastic depiction of a baseball ump with an old-fashioned balloon-style chest protector. You can almost hear him yelling, "Yer out!" Perfect for the playoffs and World Series.
Here's a closer look (click to enlarge):
Sensational, right?
This pin was produced in a numbered edition of 150. You can order yours here.
We'll also have our annual Uni Watch Press Pin later this month, so stay tuned for that!
My thanks, as always, for your consideration of our products. Now back to Phil for the rest of today's content!


Uni Watch News Ticker
By Phil

Baseball News: Check out this pink/purple/blue jersey being worn by the CTBC Brothers, a Taiwanese team (from Jeremy Brahm). … Neat picture of Sixto Lescano, likely from his big 1974 season with the Sacramento Solons — check out how the pinstripes go through the sleeve logo (from Dan Pfeifer). … "After 30 years of being a J-League team, Gamba Osaka changes their logo to a shield combining, many things Red heart, Goal net, G and O" writes Jeremy Brahm. Here's a better look at the logo. … The Iowa State University Archives website has a cool story about a silver bat trophy contested among several Iowa colleges in the late 19th and early 20th centuries. Be sure to click on the photos of the bat to expand them and see the intricate engraving work (from Kary Klismet). … The Puerto Rico Summer Collegiate Baseball League appears to have "borrowed" its logo from the NHL's Columbus Blue Jackets (also listed in Hockey). From Kary. … Red Sox catcher Christian Vázquez wears a shiny belt, much shiner than his teammates (from bryanwdc). … Speaking of belts, looks like Jonathan Villar was wearing Dom Smith's belt (from Michael Raskin). … Reader Dave Kuruc writes, "While searching for something else – I came across these two finds: Love this Oriole script I hadn't seen before. This Cubs media guide cover is the cutest."

NFL News: Many folks tweeted out this new Tom Brady returns to Foxboro video, noting several wrong Super Bowl logos and/or scores. … Today the Buffalo Bills will wear white/royal/white whilst their opponents, the Houston Texans, will go navy/white/navy. … The Browns will be wearing orange/white/brown against Minnesota. … With the Chicago Bears contemplating a move from Soldier Field to a yet-to-be-built stadium in the distant suburb of Arlington Heights, Chicago's NBC affiliate has put together a feature detailing how far away from their namesake cities several NFL teams play (from Kary Klismet). … Einzelgänger 666 "would have legitimately bought his jersey had he made the team."

College Football News: Next week when the Campbell Fighting Camels visit the Gardner-Webb Runnin' Bulldogs, it'll be for the East/West Barbecue Bowl trophy (from James Gilbert). … Also from James, UNC had an interesting towel giveaway for the student section at yesterday's game. … The latest Heisman House ad has Barry Sanders with a swoosh on his jersey but the others have removed the branding (from Joe Waltasti). … BYU has worn five different uni combos in five games this season, so naturally someone had to rank them. … Following up on the item in yesterday's Ticker about Iowa wearing green ribbon decals for mental health awareness on Friday night, Maryland also wore the same decals in the game. Here's how they looked on the field (from Kary Klismet). … One more from Kary, who writes, "For those of us who stayed up late Friday night watching Iowa's win over Maryland, these photos of Iowa logos in coffee foam are just what we needed to get going the next morning." … Whoa, check out this Clemson-themed fighter pilot helmet (from Mark Johnson).

Hockey News: The Vegas Golden The Knights remembered the aftermath of the Route 91 Harvest festival shooting by holding a moment of silence and putting "Vegas Strong" decals on their helmets on Friday. … Check out this sweater which could best be described as a North Stars/Capitals mashup (from General Soreness). … The Lethbridge Hurricanes tweeted this on Sept 30. A hint we would be seeing new uniforms (from Wade Heidt). … The Puerto Rico Summer Collegiate Baseball League appears to have "borrowed" its logo from the NHL's Columbus Blue Jackets (cross-listed from Baseball). From Kary Klismet. … More beautiful wall art from the amazing Kevin Cearfoss, this time for the St. Looey Blues. … Check out this awesome new center ice logo for the Brandon Wheat Kings as seen at home opener Friday night. The center ice faceoff circle is filled with wheat (from Wade Heidt). … Oops! Looks like the Prince Albert Raiders won't be wearing that third sweater they unveiled two days ago.

NBA/College/High School Basketball News: Idaho has released photos of its newly completed basketball arena (scroll down on the link for a slideshow). From Kary Klismet. … There's also a new basketball floor for the Delta Charter School in Louisiana (from Kary).

Soccer News: Check out this absolutely gorgeous graphic promoting Torpedo Moscow's upcoming match at Volgograd (from Ed Żelaski). … New logo for Gamba Osaka of the J1 league (from Football, Bloody Hell). … FC Ryukyu shows off their 3rd uniform of the sea, which Okinawa boasts of its beauty (from Jeremy Brahm). … Borussia Mönchengladbach's keeper Yann Sommer wore the home white kit while the rest of the team wore the black third kit at Wolfsburg yesterday (from Shane Bua). … Here's a look at the new logo for the Bracknell & District Sunday League, a regional league in England (from Kary Klismet). … Also from Kary, FC Tucson of USL League One has new alternate kits inspired by "El Jefe," a wild jaguar that has been frequently seen in the area.

Grab Bag: Not sports uni related, but the traditionally nomadic men of the Sahara wear lots of blue (from Kenneth Traisman). … Max Weintraub saw this "Just Farm It" Nike shirt at a local farmer's market. … Pretty cool parking garage elevator naming system at Chicago's O'Hare Airport, featuring the names/fight songs of Chicago's teams (from James Gilbert). … Here's a look at the Japanese women's volleyball team Ligare Sendai with their 2021-2022 uniforms for the second division of the V. League (from Jeremy Brahm). … New uniforms for the Southern Arkansas University marching band, and also the Papua New Guinea Defence Force military brass band (from Kary Klismet). … There's a new costumed mascot for Patrick Henry High School in Ohio (also from Kary).


And finally… that's a wrap for this week! Thanks (as always) to the SMUW Crew: TJ, Jimmer, Rex, Dennis, Kyle & Ethan. Every week these guys do a great job — give them a thanks in the comments, why dontcha?
Everyone have a great Sunday and a good week, and I'll catch you back here next Saturday.
Peace,
PH