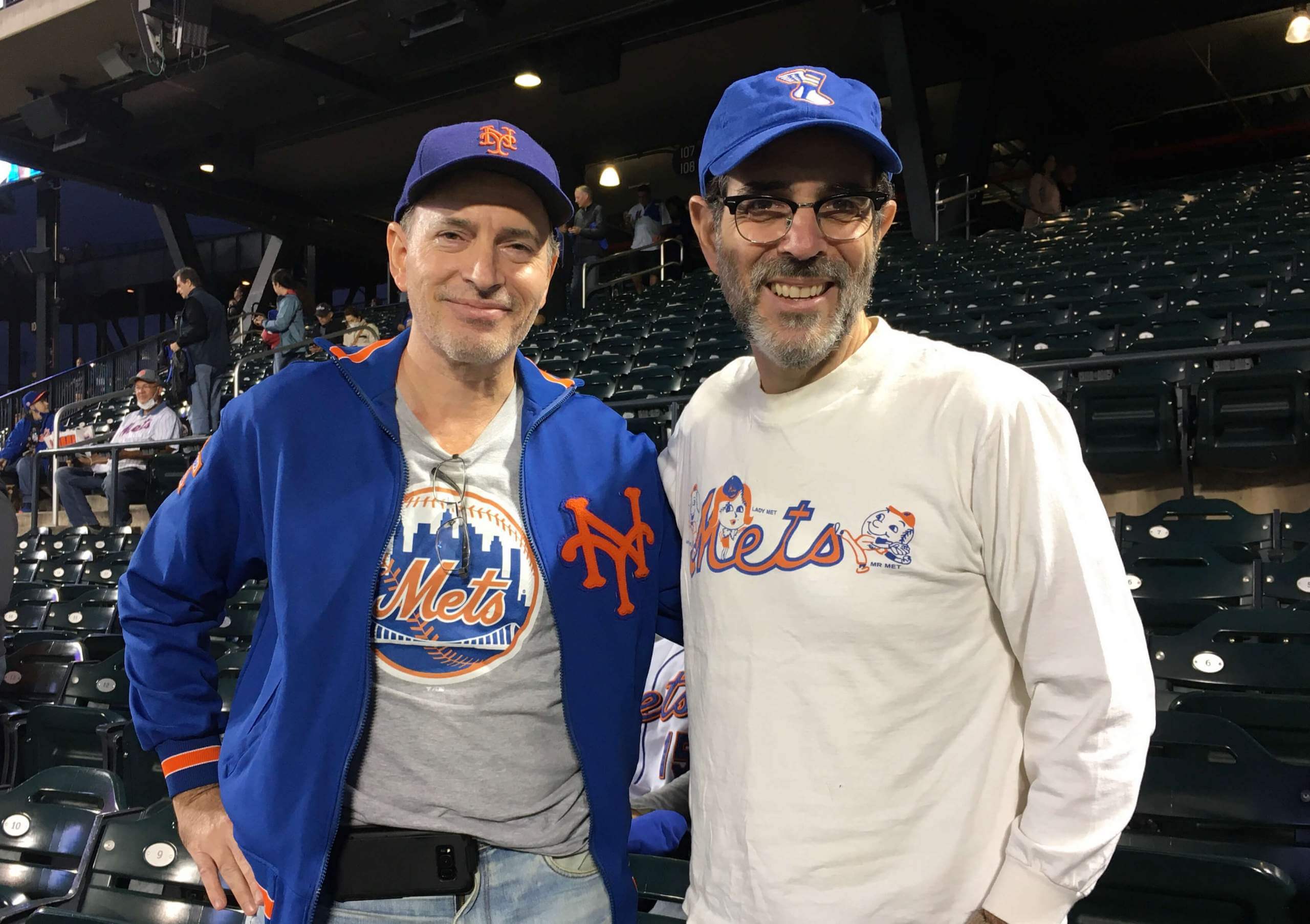 For all photos click to enlarge
Who was that at last night's Mets/Marlins game at Shea? None other than yours truly and longtime Uni Watch reader Steve Dodell. Steve's had many, many Uni Watch contributions over the years, from the guestwritten story of his DIY Mets jacket (the same one he's wearing in the photo shown above!) to his eagle-eyed spot of the true lowercase "d" that the Mets began using in their NOBs in 2014, so it was a treat to meet him in person (and even more of a treat that he treated me to last night's ticket — thanks, Steve!).
Although the game was meaningless, it turned out to be a very uni-eventful night. First and foremost, Mets starter Taijuan Walker pulled a surprise move by wearing stirrups for what I'm pretty sure was the first time this season (photo by Brad Penner, USA Today Sports):
Second, I noticed a guy sitting a few rows in front of us who appeared to have the MLB logo inked into the back of his neck, just like Mets second baseman Javy Báez. I couldn't get a good angle from where I was sitting, so I approached the guy between innings and he obligingly gave me a good view so I could photograph the logo: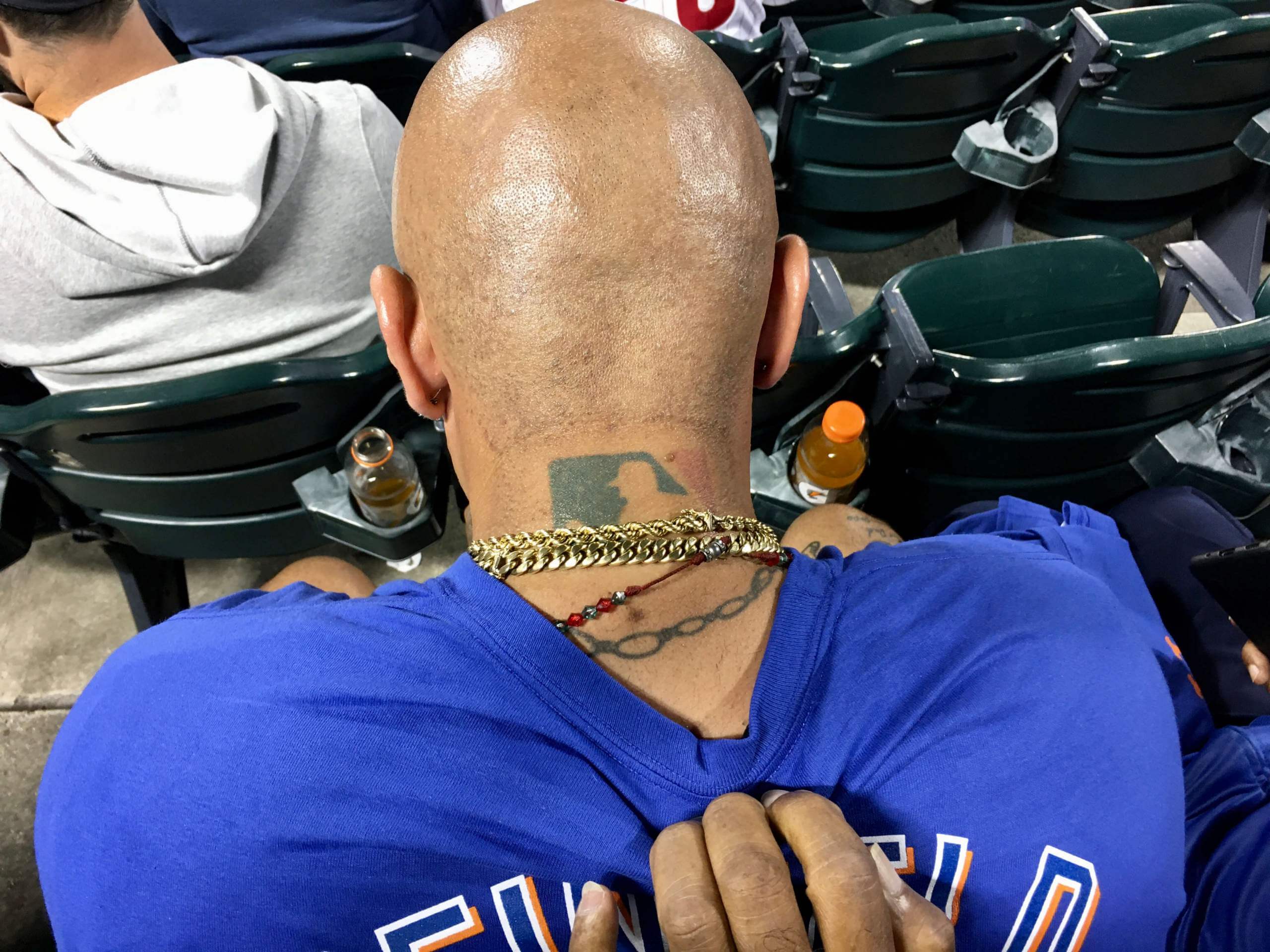 I asked the guy, whose name is Hector, if he got the tat because of Báez. "Nah," he said, "I had it way before I'd even heard of him."
Meanwhile, shortly after the game started, a guy arrived and sat down right in front of us. A fan sitting next to me said, "Hey, that looks like like Pedro Feliciano" — the reliever who pitched for the Mets from 2002 through 2013. I hadn't noticed that myself, but sure enough, the guy did look like Feliciano. And it turns out it was Feliciano: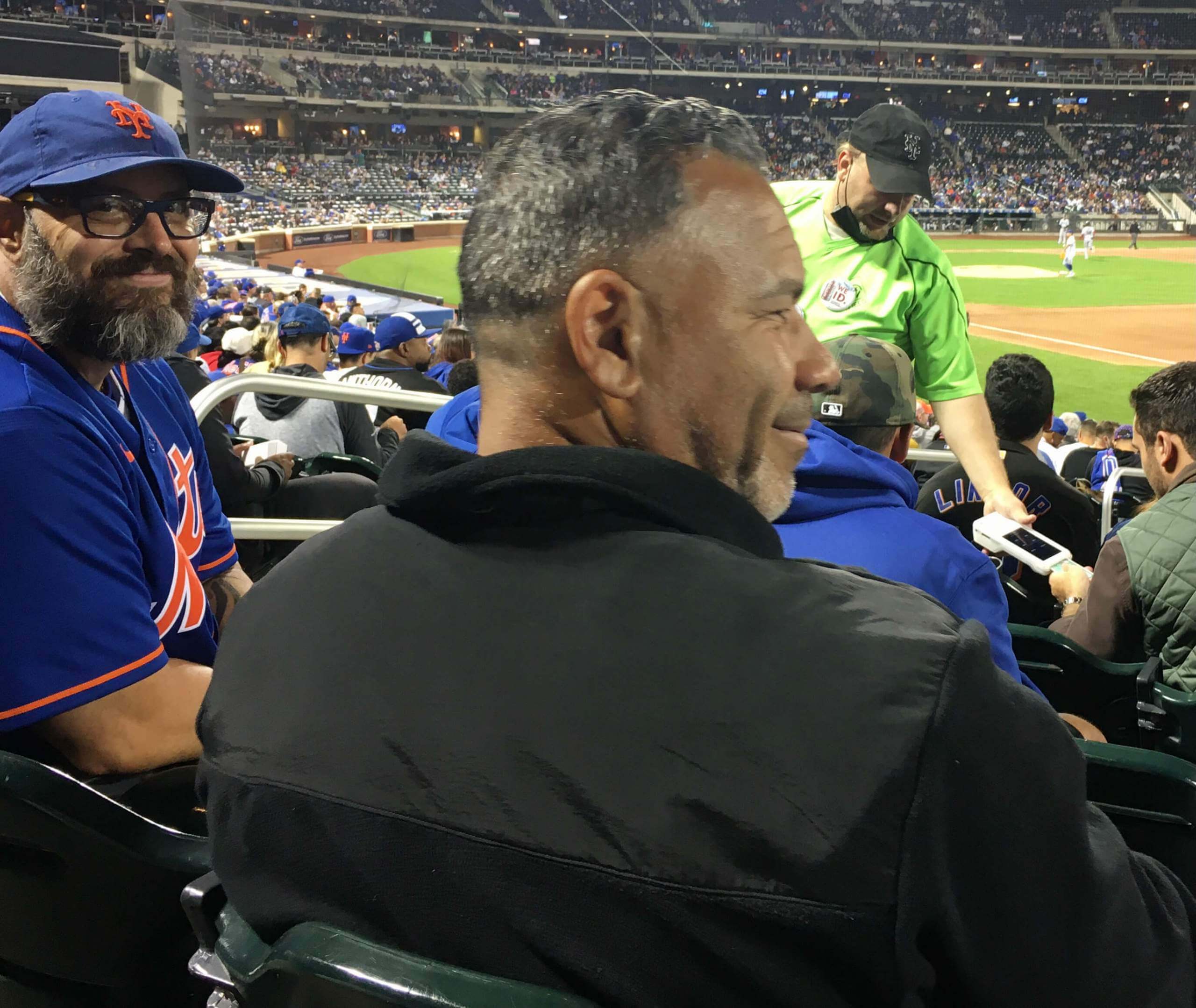 How do I know it was really him? For one thing, all the people sitting with him were calling him Pedro. But aside from that, he had a tattoo that matched the one he had during his playing days (yes, it was a big night for me photographing tattoos):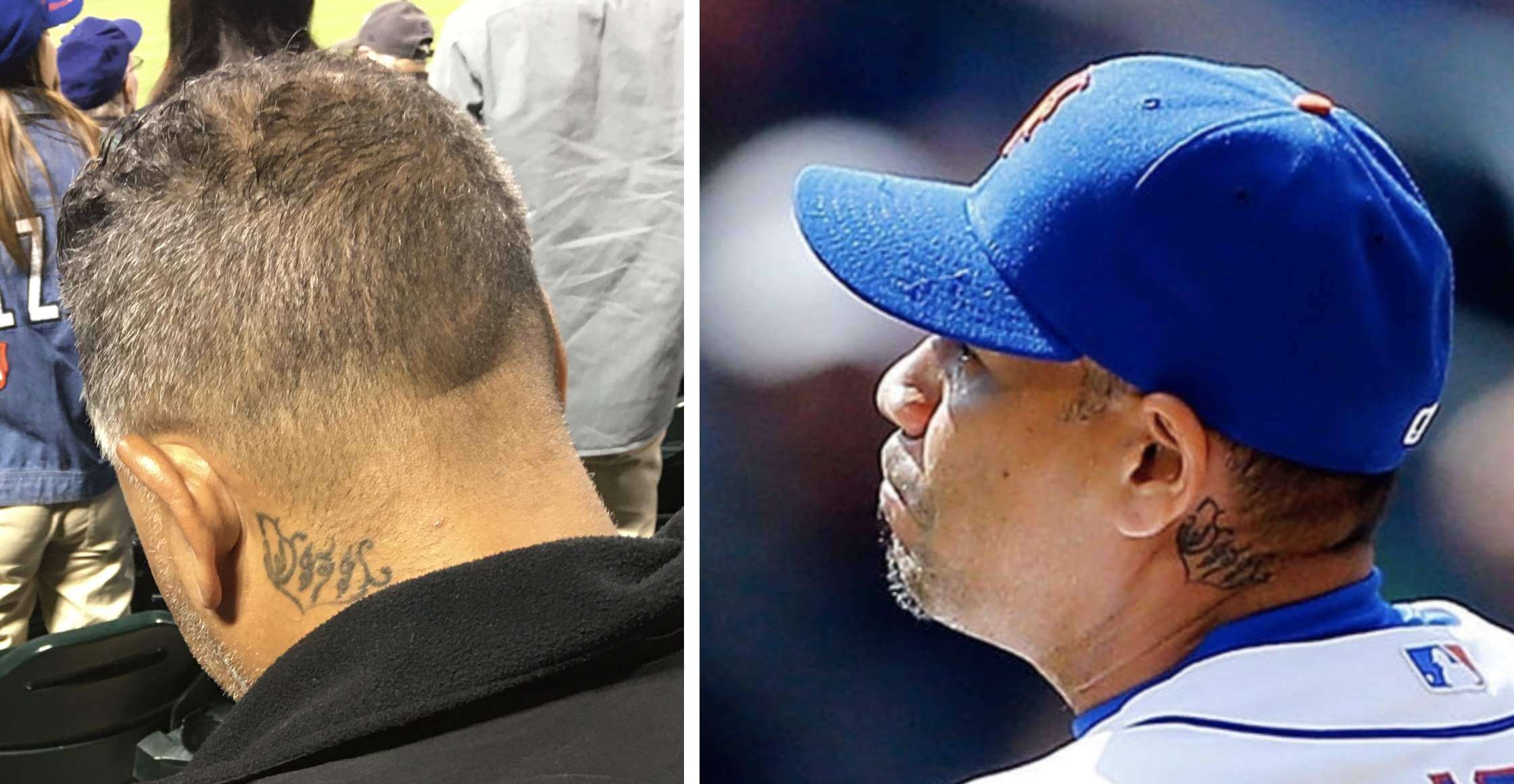 Finally, it was Seinfeld Night, complete with a T-shirt giveaway. I don't expect much from freebie shirts, but the NOB lettering on this one was just astonishingly bad. Check this out: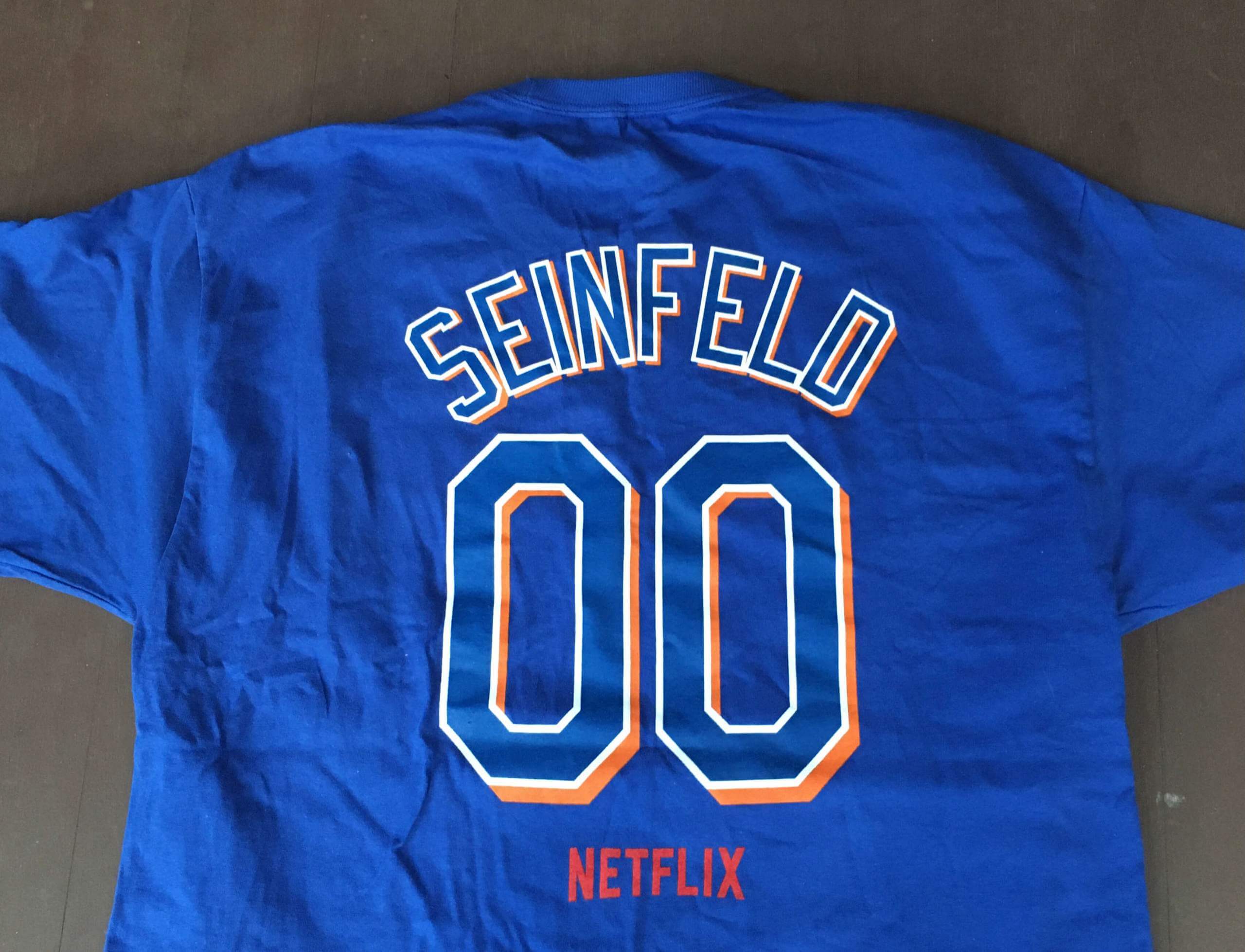 Ay yi yi — what a mess. But hey, what do you want for nothing, right?
All in all: An entertaining night at the ballpark. Thanks again, Steve!
• • • • •
• • • • •

ITEM! New Bulletin article: For years now we've been Tickering NBA uni number updates from the great Etienne Catalan. For my latest Bulletin article, I have an exclusive interview with him — we talked about how he got into uni numbers, how someone in France ended up as the NBA's premier numerologist, and a lot more.
Those of you who've subscribed to receive my Bulletin content via email should already be seeing this piece in your in-boxes. Everyone else can read it on my Bulletin page. Enjoy!
• • • • •
• • • • •
The Ticker
By Paul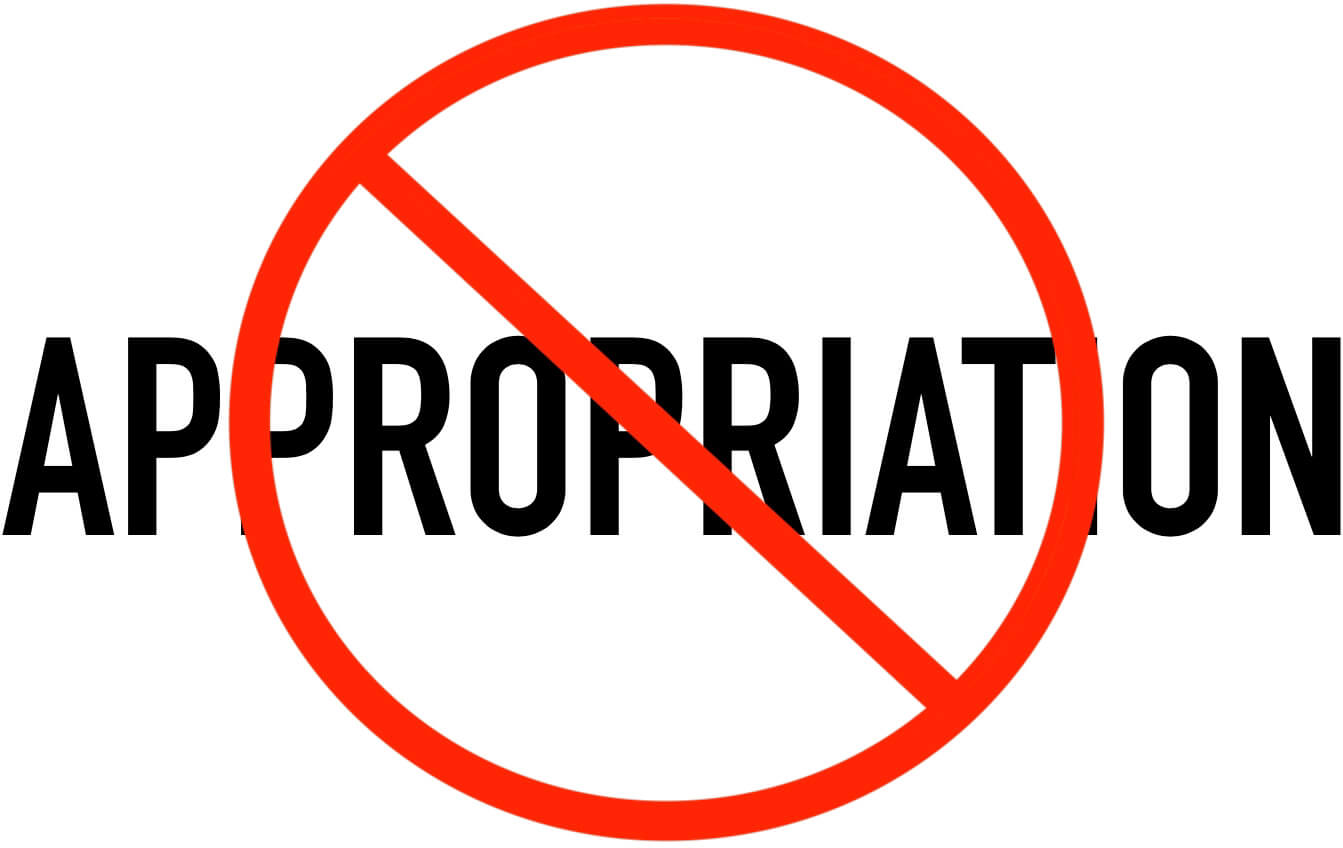 Indigenous Appropriation News: East Islip High School on Long Island, very near where I grew up, has removed its Redmen logo from the school's exterior. … "I was watching the new show Chicago Party Aunt on Netflix and I found it interesting that they have chosen not to display the Chicago Blackhawks' logo on a jersey or anywhere else in the show," says Julie Streeter. "Plenty of Bears, Bulls, Sox, and Cubs logos, but not the Hawks." … According to this article, Cleveland MLB fans "can still wear [Indians apparel] to the games in 2022. The team has no intention of becoming the clothes police. The team also will continue to sell Tribe merchandise in 2022. Team Vice President Curtis Danburg said proceeds from the sale of those Indians items will go to some Native American causes. They will have more specific details later" (from @DoogieStardust). … Football Canada and Indigenous artist Kolten Khasalus Grant have collaborated to produce a new logo to promote football in Indigenous communities across Canada. Additional info here (from Ted Arnold). … Shawnee Mission North High School in Kansas, which recently changed its team name from "Indians" to "Bison," has released its new team logo (from Doug Donahoo).

Baseball News: You might recall that during last year's MLB playoffs, the "Postseason" patch appeared on caps but not on jersey sleeves. I've confirmed via multiple sources that this year it will not appear on jerseys or caps. World Series patches will still appear on caps and sleeves, however. … The annual Congressional Baseball Game was last night. If you look at this video of the game, you'll see that the Democrats wore a variety of uniforms representing their home districts, while Republicans all wore one consistent uniform (thanks to all who shared).

NFL/CFL News: Former Cowboys RB Emmitt Smith, who wore No. 22, has listed his house, which includes a 22-seat dining room, for $2.2 million (from @KCNep95). … The Bears are in the process of purchasing land that could be used for a new stadium. … The Giants will debut their new white pants this weekend (from @duckisgod). … Ahead of Canada's first National Day for Truth and Reconciliation, the CFL's Ottawa Redblacks wore orange "Every Child Matters" helmet decals two nights ago (from Wade Heidt). … Navy jersey and white pants this week for the Titans (thanks, Phil). … The jersey, pants, and socks worn by Ravens K Justin Tucker when he kicked an NFL-record 66-yard field goal last Sunday are now on display at the Hall of Fame (from Andrew Cosentino). … This is pretty cool: a jersey-based infographic of Broncos LB Von Miller's career sacks (from @MomoNaryan). … Here's a breakdown of the Ravens' all-time regular season record by uni combo (from Ty Pruitt). … Looks like the Dolphins may be wearing throwbacks this Sunday. … Speaking of this Sunday, the Panthers will wear their blue alternate jerseys (thanks, Phil).

College and High School Football News: Here are this week's uni combos for Iowa State, Cincinnati, and USF (thanks to all who shared).

Hockey News: Oilers dressing room attendant Joey Moss, who passed away in October 2020, was known for giving out high-fives as players went onto the ice. Now the team has added a high-fiving statue of him to their dressing room (from Wade Heidt). … The Flames marked Canada's National Day for Truth and Reconciliation by wearing orange jerseys for their morning skate yesterday (thanks, Phil). … The ECHL's Iowa Heartlanders have revealed their inaugural ice design (from Kary Klismet). … New uniforms for the Union College men's team (from Zach Pearce). … Rangers players held a golf event yesterday and wore No. 7 on their sleeves for the late Rod Gilbert (from Alan Kreit). … Sharks president Jonathan Becher hinted on a podcast that the team might have a new white retro jersey this season (from Nathan Fry).

Pro Basketball News: NBA leakmeister Igor Coelho's latest scoop: a new Timberwolves alternate. He also has a new website devoted to NBA jerseys (thanks, Phil). … The latest ABA team will be called the Newfoundland Rogues (from Jeff Pollock).

College and High School Hoops News: New uniforms for App State men's (thanks, Phil). … New jerseys for NCAA women's refs (from Wyatt Howard. … Speaking of NCAA women, they can now use the March Madness logo (thanks, Jamie). … New uniforms for Washburn University (from Kary Klismet). … New center-court logo for San Diego State (from @seb_835d).

Soccer News: The MASL has a new partnership with AccuWeather — even though it's an indoor league! (From John Flory.) … Leyton Orient of England's fourth-tier EFL League Two is holding a contest to name its new costumed mascot (from Kary Klismet). … Here are all 16 proposed names for the Minnesota USL W League team. "I'm not a huge fan of making team names by putting basically random words next to a location, which is what most of these are," says our own Jamie Rathjen.

Grab Bag: The 1960s board game Password could perhaps have used a better box design (from Jeff Ash).