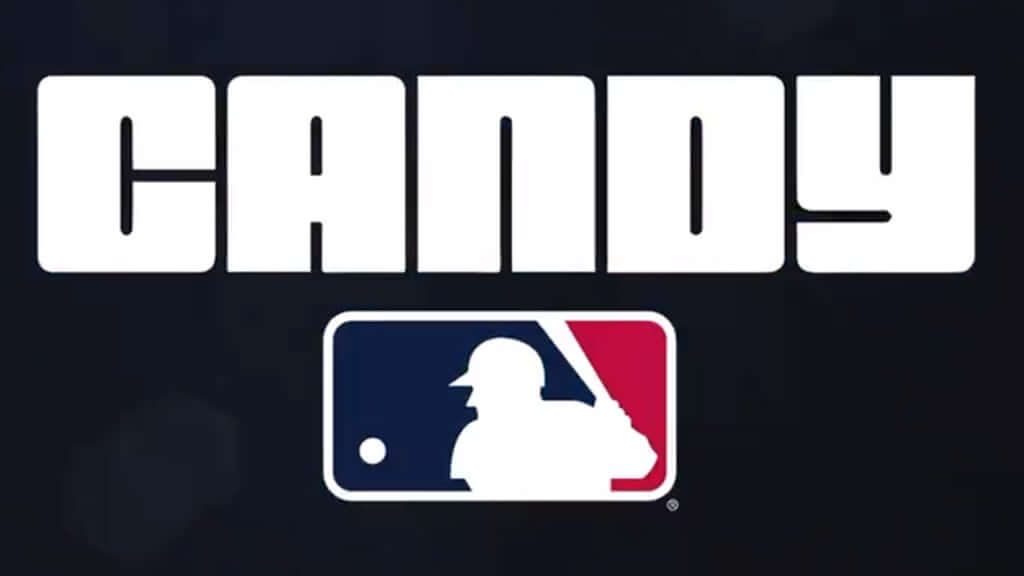 You've probably heard a lot in recent months about non-fungible tokens, or NFTs — unique, blockchain-based digital assets that have become a big deal in the art world. They've also gained a foothold in the realm of sports collectibles, especially in the NBA, where NFTs are sold under the league's NBA Top Shots program.
Major League Baseball dipped its toe into the NFT pond in June, when it announced a partnership with the NFT operation Candy (a venture that, like so many things in sports merchandising, is co-owned by Fanatics). Their first digital collectible was a Lou Gehrig NFT, timed to coincide with the anniversary of Gehrig's "Luckiest Man" speech, and they've launched additional products since then.
I'm not particularly interested in owning or collecting NFTs myself, but I do think they're an interesting phenomenon. For example, they certainly raise some fascinating questions about the concept of value (which we've recently discussed here on the site), and I'm always curious about what collectors are collecting. So I was intrigued when I recently received an email from a Candy representative who I'll call Dave (for all of these screen shots, you can click to enlarge):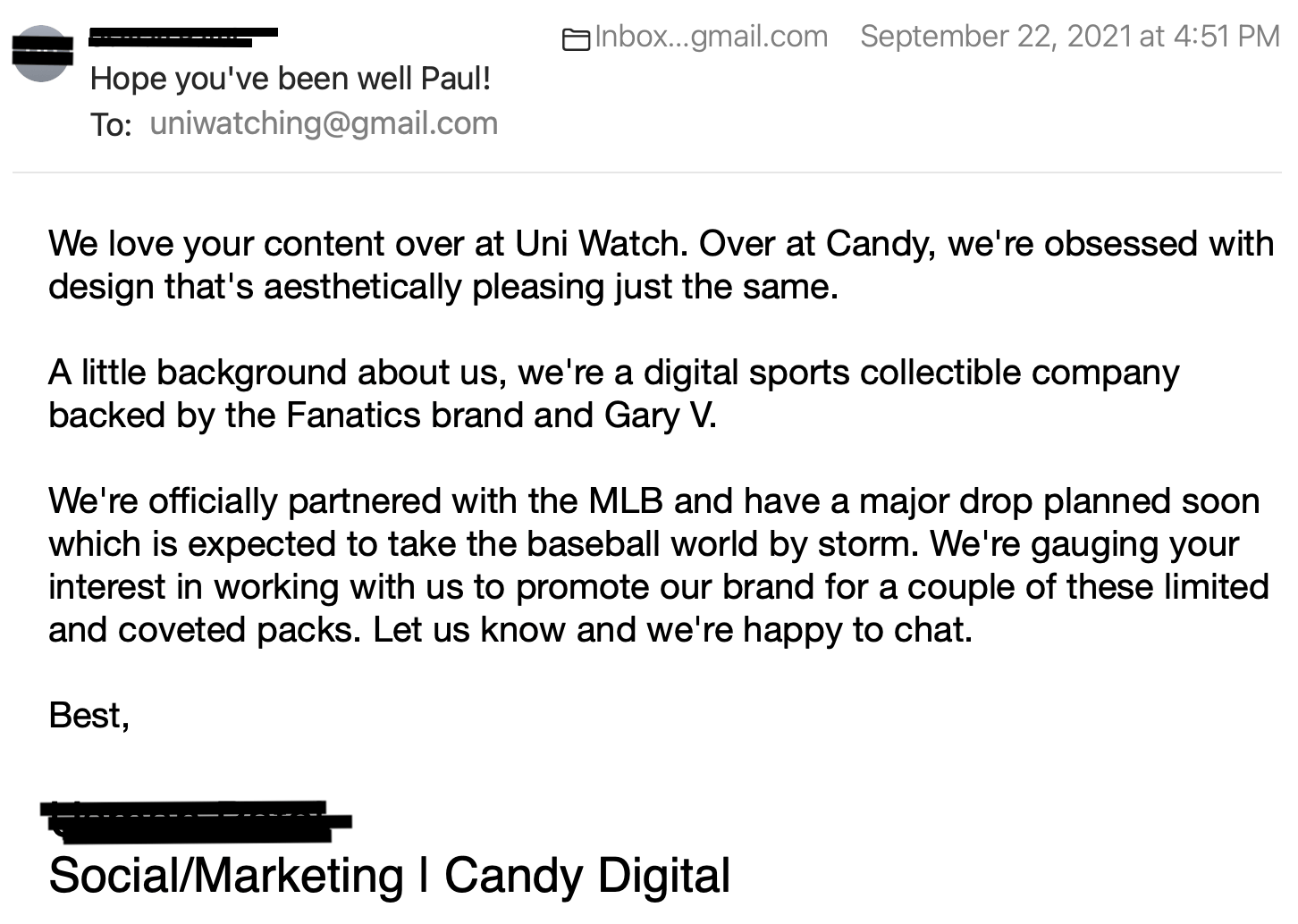 Publicists and marketers pitch me stories all the time (you should see all the emails I've recently received from the guy who wants me to write about a product that NFL kickers and punters use to take care of their feet!). Most of those pitches don't interest me, but I thought MLB NFTs might be an interesting topic. I did think it was a bit odd that this particular story would be pitched my way, given that I've long been on MLB's shit list (remember how they nixed my Topps trading card last year?), but I figured maybe the Candy people didn't know about that. And yeah, of course being asked to "promote our brand" was sort of nauseating, but that's just the way marketers talk. I figured it couldn't hurt to learn a bit more, so I wrote back right away:

Two days went by — nothing. That's a bit unusual, because publicists and marketers are usually very excited when a writer responds to a pitch, so I checked in with Dave. He responded a few hours later: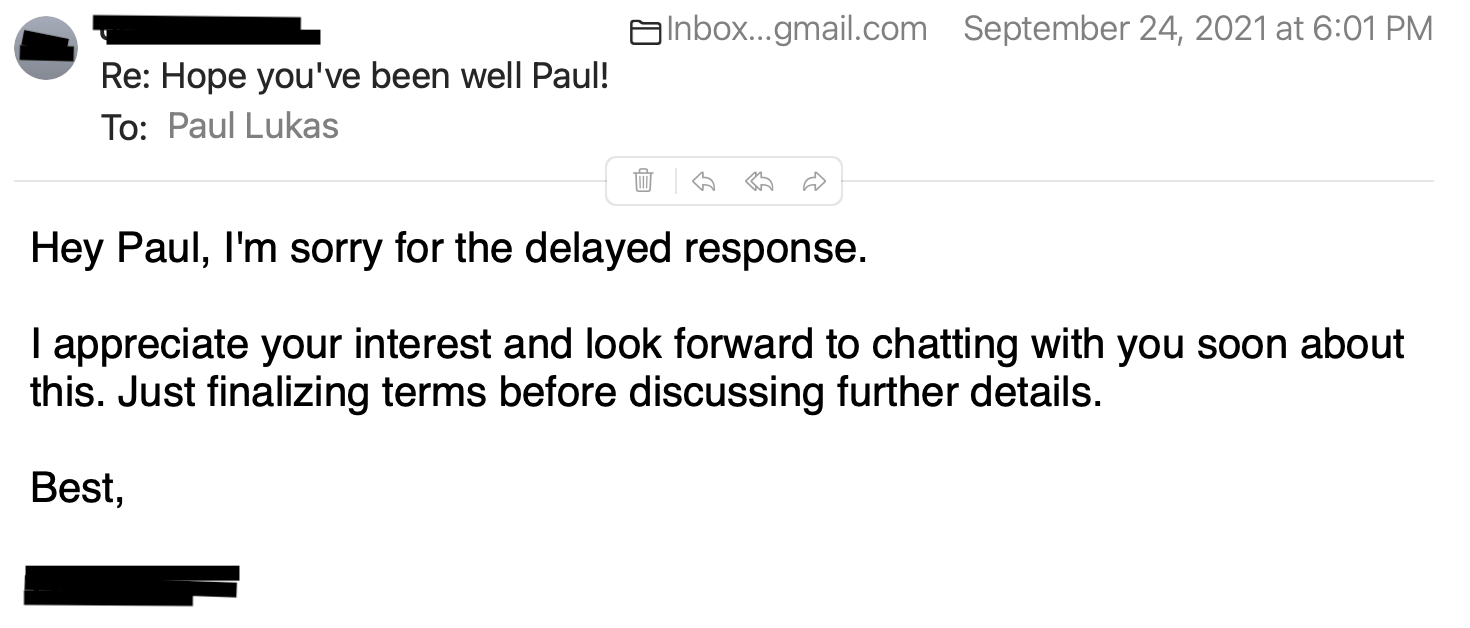 That was last Friday, so I wished Dave a good weekend and looked forward to hearing more from him whenever he was ready.
That turned out to be yesterday evening, when I received this: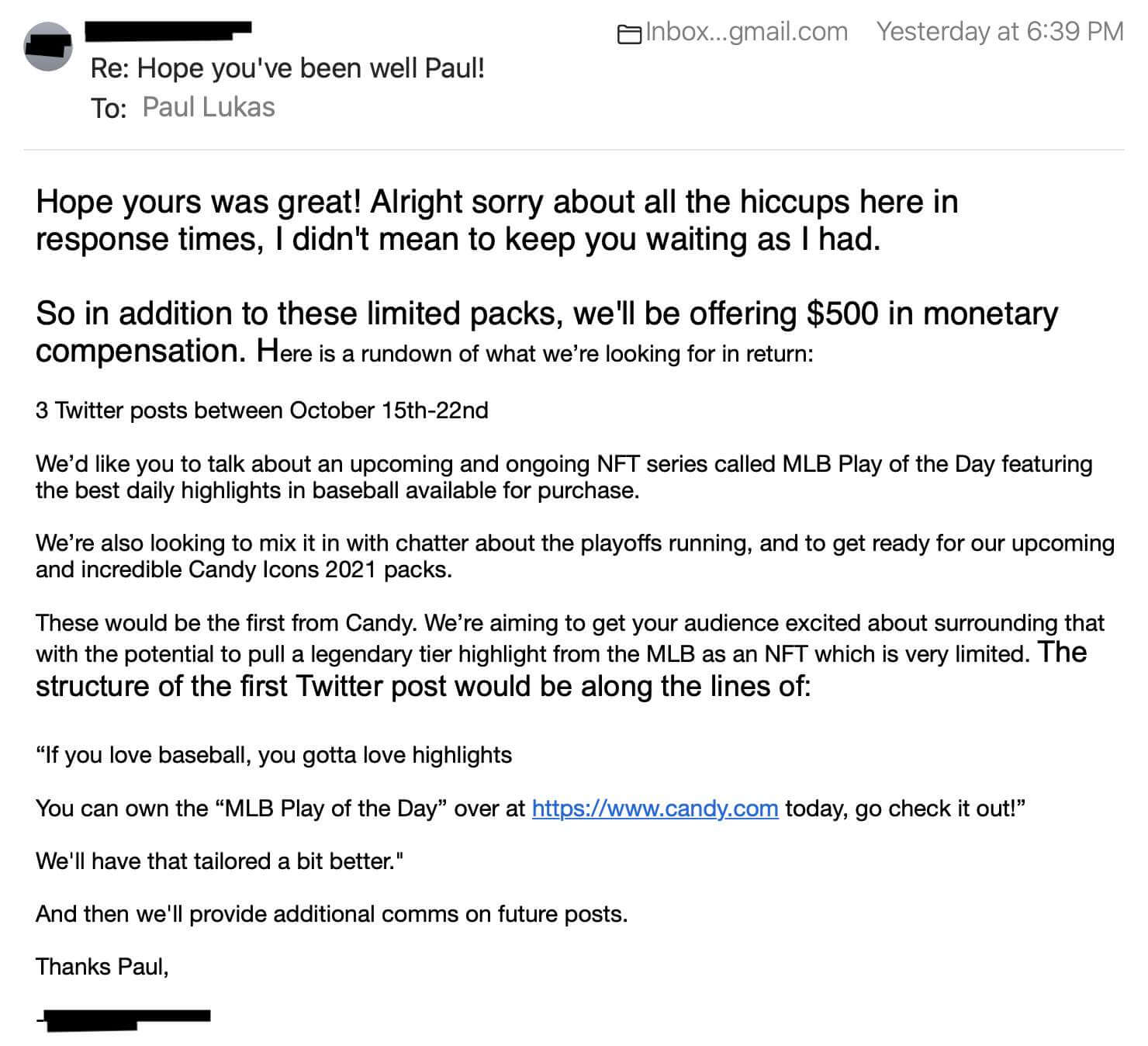 Ewww. So Dave wasn't actually pitching me a story. He was trying to buy (and script!) my tweets. The whole "promote our brand" thing in the first email hadn't been a euphemism — it was literally what they wanted from me.
Brands paying "influencers" to promote various products on social media happens all the time, of course (there's even a new startup called Fuck You Pay Me that helps influencers figure out how much brands are offering other influencers), but I never thought anyone would approach me to be a part of it. I have to admit that it was an exciting opportunity — just think, I too could be an influencer, just like some 17-year-old talking about the latest beauty products on TikTok, whoo-hoo! — but of course I couldn't do that. I wrote back to Dave: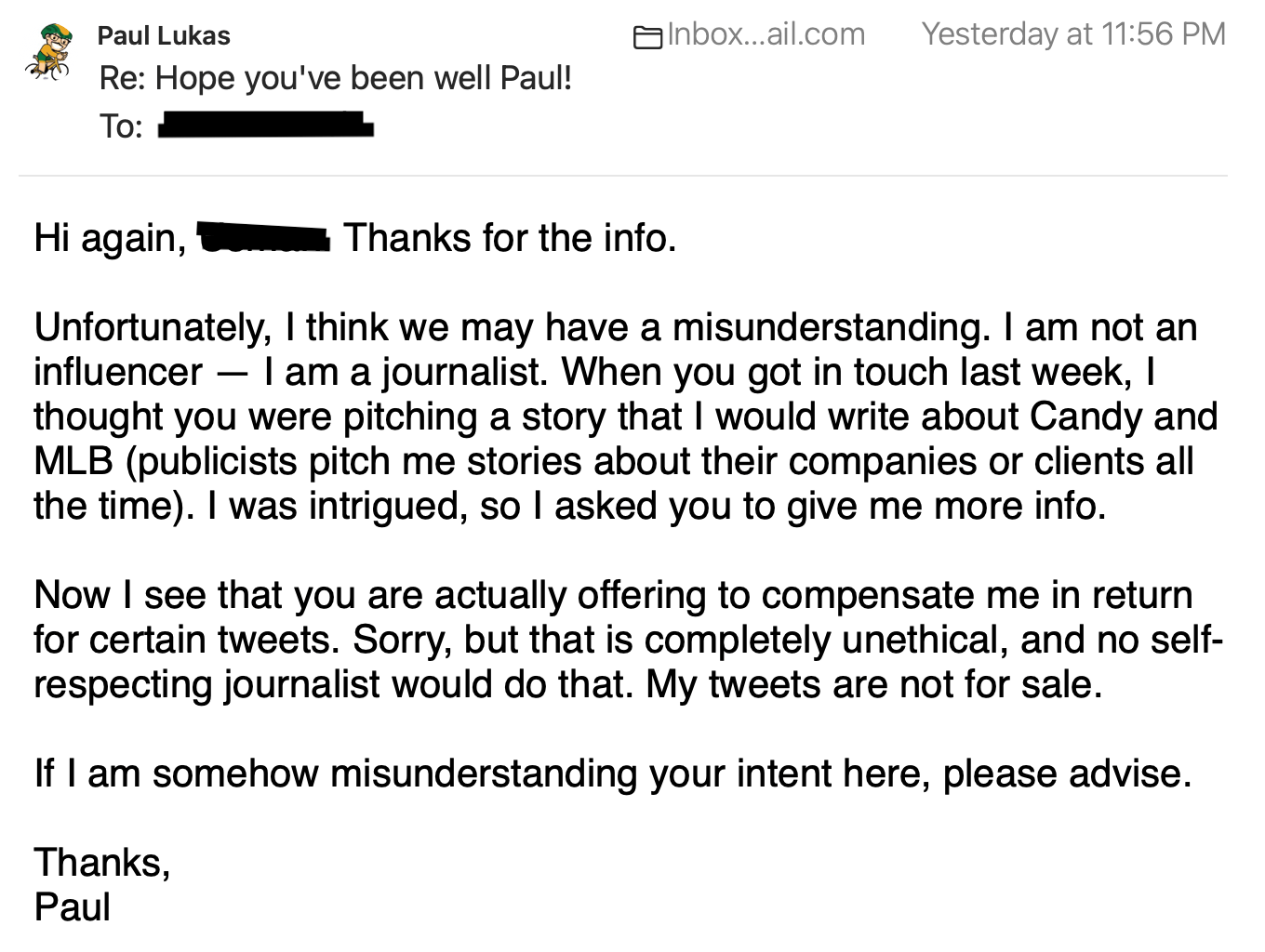 He responded quickly: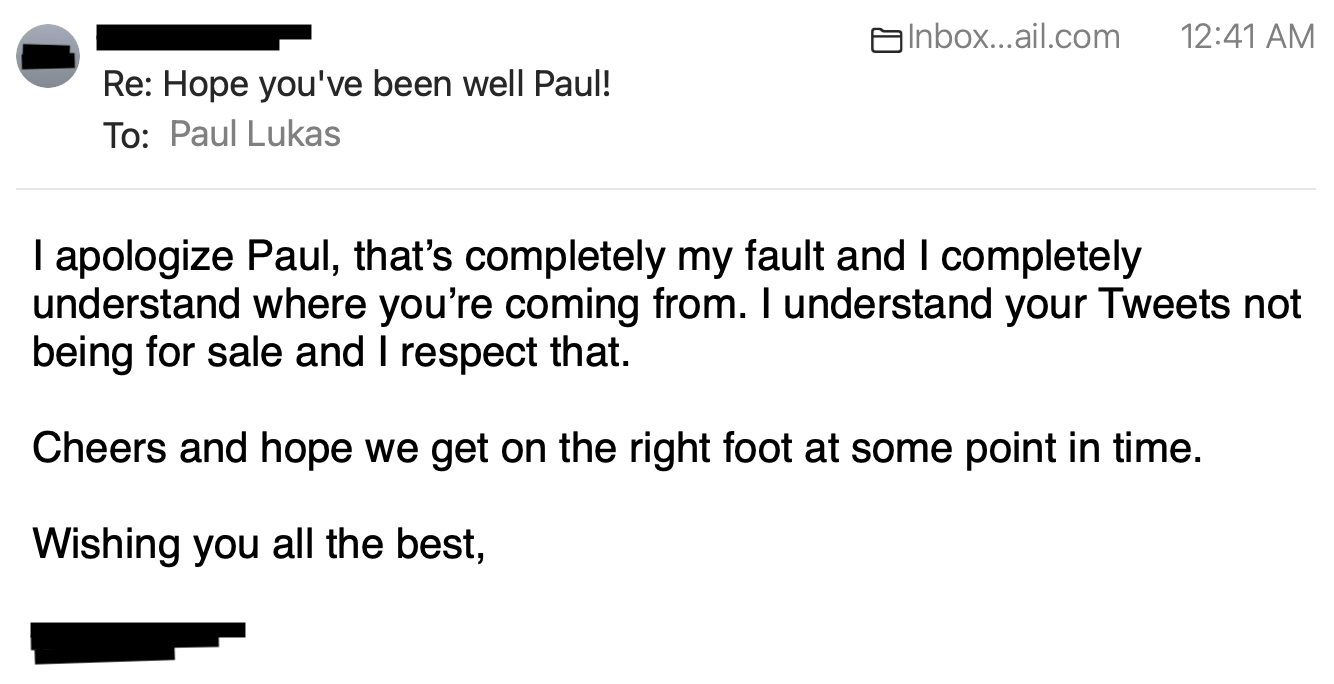 ———
And that was the end of that. I'm not trying to make fun of Dave (on the contrary, he seems like a nice guy, and I'd say his final email was about as graceful as possible under the circumstances), but I do find it interesting that MLB has partnered with a company whose idea of a marketing plan is to bribe people for social media posts. It's all pretty gross.
I'm sure Dave will find someone else who'll be happy to accept his $500, and he's probably making similar offers to other people (depending on how big his "marketing budget" is). So when you see lots of social media chatter about MLB/Candy NFTs next month, now you'll know why.
If anyone at MLB is reading this: Come on, people — be better.
Update: As if on cue, the NFL has just announced the launch of "top plays" NFT collectibles. I look forward to their forthcoming bribe offer!
• • • • •
• • • • •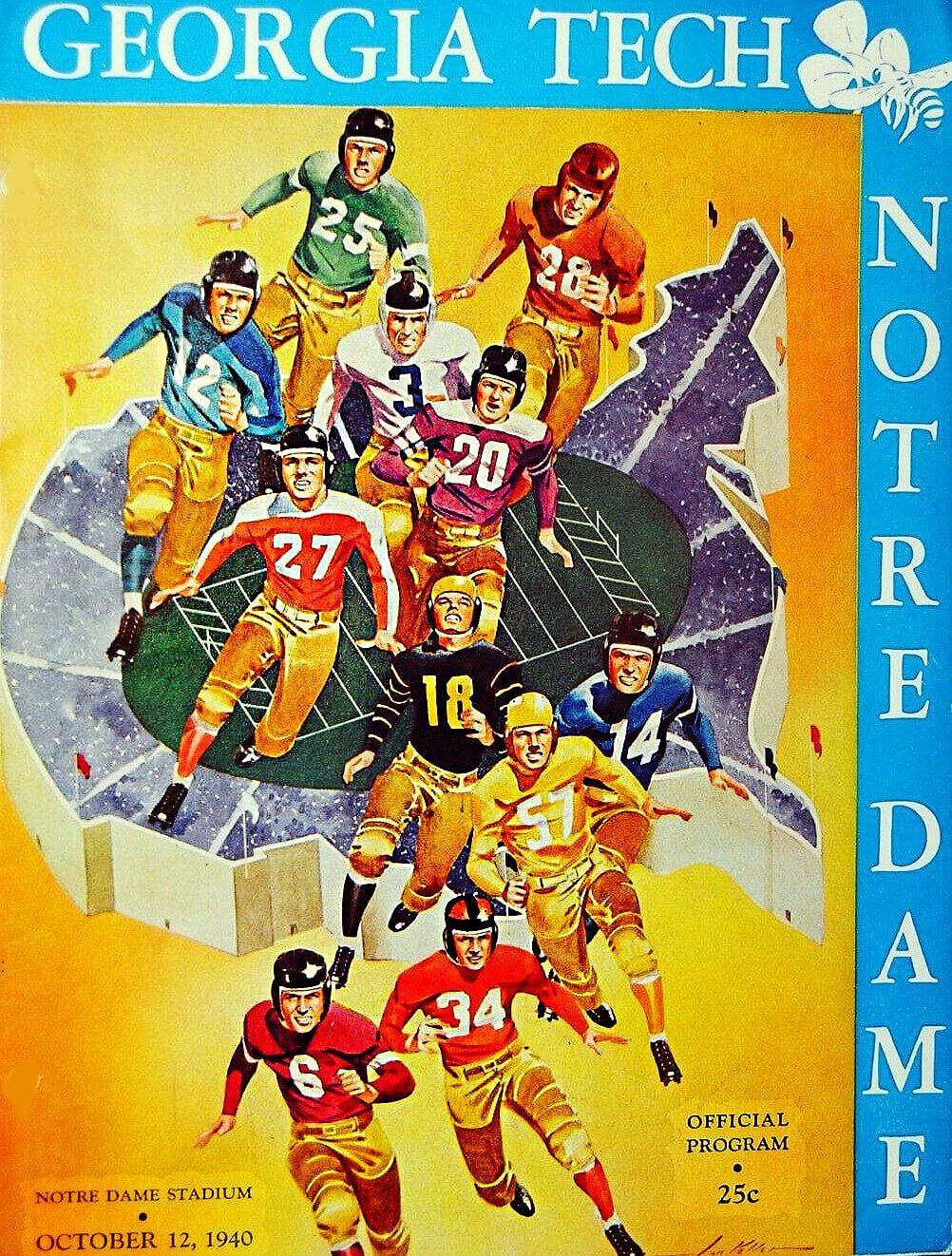 Click to enlarge (it's worth it!)
Waaaay too good for the Ticker: Oh man, is this the greatest football program cover or what? So many great uniforms! My only gripe is that the two guys at the bottom have essentially the same uni (helmet notwithstanding) — seems like they could've dressed one of them differently, just for the sake of variety. But aside from that minor quibble, first-rate!!
The artist was Lon Keller — you can learn more about him here and here.
(Big thanks to @NFL_Journal for this one.)
• • • • •
• • • • •
The Ticker
By Alex Hider, pinch-hitting today for Lloyd Alaban

Baseball News: The Mets have reportedly hired a design firm to help "'evolve' the team's brand" — whatever that means [this will almost certainly end in tears, probably mine — PL] (from @DoogieStardust). … The Dodgers wore their City Connect uniforms last night and will do so again on Friday (from Phil). … Speaking of City Connect unis, Red Sox beat reporter Alex Speier says the team will not wear their yellow alts on the road during the remainder of the regular season, even though MLB said they could if they wanted to (also from Phil). … Here's a fun animation that shows how the MLB standings changed day by day throughout the 2021 season (from John Muir). … In a video shared by the Orioles, artists Ernest Shaw and Christopher Batten talk about the Negro Leagues mural they painted at Camden Yards (from @b_fianchetto). … Mike Engle notes that Blue Jays P Nate Pearson wears a ring on his left index finger — don't think I've seen that in person, much less on a baseball field. … The West Virginia Power of the Atlantic League of Professional Baseball announced yesterday that they are changing their name to the Charleston Dirty Birds and unveiled their new uniforms (thanks to all who shared). … New York magazine published a think piece about the Atlantic League's yet-to-be-named Staten Island club and what makes a team name "quintessentially Staten Island."

NFL News: The Bengals will debut their orange jerseys and orange-striped pants tomorrow against the Jaguars (from Phil). … The Cowboys have opened a new space outside their stadium that includes a 70-yard football field (from Kary Klismet). … Bucs QB Tom Brady has a new line of clothing on the way (from Tom Turner). … The Packers are challenging a Los Angeles memorabilia company's "Twin Title Town" trademark because they think it's too close to their own trademark, "Titletown" (from Kary Klismet).

College Football News: Following up on yesterday's lead: If you're curious about color photos of Ohio State's 1950s-era mono-red uniforms, as opposed to the black-and-white pics featured in yesterday's post, here you go. That's lineman Joe Campanella's 1952 Bowman football card (from Josh). … Boise State will wear throwback helmets on Saturday (thanks to all who shared). … Oklahoma will wear white for the first time this season Saturday when they travel to Kansas State. According to @SoonerTracker, it marks the latest point in a season that they've gone without wearing white since 2004. … Cincinnati will wear black helmets, white jerseys, and black pants on Saturday at Notre Dame (from @UCUniforms). … Speaking of the Irish, next season's Shamrock Series game will be in Las Vegas (from Phil). … Virginia will wear blue helmets, white jerseys, and white pants tomorrow against Miami (from our own Jamie Rathjen). …  After Utah RB Ty Jordan died in December 2020, Utah created a memorial logo for him and gave his number, 22, to his high school friend and Ute teammate Aaron Lowe. Tragically, Lowe was killed earlier this season in a shooting, and Utah has updated Jordan's memorial logo to honor him as well (from Trent Lowe).

Hockey News: The next two are from Wade Heidt: Blues G Jordan Binnington has a new mask design. … On Thursday, Canada will recognize the first National Day for Truth and Reconciliation — a day that honors Indigenous children who were forced to attend "residential schools" for forced assimilation. The Canucks played their first home preseason game Monday night and recognized the upcoming day of remembrance. Coaches wore orange ribbons, and players used orange tape on their sticks in warmups. … New alternate uniforms for the Regina Pats of the WHL (also from Phil).

Basketball News: Jazz PG Mike Conley is switching jersey numbers from 10 to 11 (from Phil). … For more on the latest in NBA numerology, head over to Etienne Catalan's Twitter page. … Wizards G Spencer Dinwiddie says he tried to purchase the team's jersey ad in the offseason in an attempt to advertise a cryptocurrency, but the league put the kibosh on it (from Phil). … New logo for FIBA Europe's SuperCup Women competition (from Kary Klismet).

College/High School Hoops: Clearly copied from inspired by the Miami Heat, Florida Atlantic will have their own "Vice" alternates this season (from Andy Seeley). … A few Akron players have apparently leaked the Zips' new road jerseys (from Jacob Farrar). … St. Edward High School (Ohio) has a new court design (from Tim Smith).

Soccer News: Puma's club-name-on-front designs for several teams have been controversial, especially with fans of Borussia Dortmund. Luckily for them, the team has made a slight change to the jersey to make the team crest a bit more visible (from our own Jamie Rathjen). … Also from Jamie: Australia's leagues are now called A-League Men, Women, and Youth (or A-Leagues, plural) and have new logos (also from Andrew Doran). … UEFA has asked Inter Milan to modify its away jerseys for Champions League matches and remove the snake the wraps around the shirt (from @TRiCKETTengland). … New uniforms for Trinidad and Tobago's Women's National Team (from Everard Santamarina). … The Rotherham United Women's team has an unusual dot pattern on their uni numbers (from Graham Clayton).

Grab Bag: Kansas State has extended its apparel contract with Nike (from Phil). … The next two submissions are from Kary Klismet: West Ridge High School (Tennessee) has unveiled a wolf mascot sculpture made of scrap metal from the three area high schools it replaced. … New marching band uniforms for Permian High School in Texas and Missouri Western State University. … NASCAR drivers will have pink window nets during the Oct. 10 race in Charlotte to support breast cancer awareness (from Clark Ruhland and @mrmichael21). … Speaking of that race, here's what Alex Bowman's car will look like (from Trevor Williams). … Hershey's is selling Halloween candy with BFBS wrappers that glow in the dark (from Al Barcheski Jr.). … The New York Times (soft paywall) challenged six designers to re-imagine the American flag. … Artist Martin Naumann put neon-themed spin on some of the world's most well-known logos.
• • • • •
Our latest raffle winner is Kristopher Stahr, who's won himself a bobblehead from FOCO. Congrats to him, and my repeated thanks to FOCO for sponsoring this one. — Paul