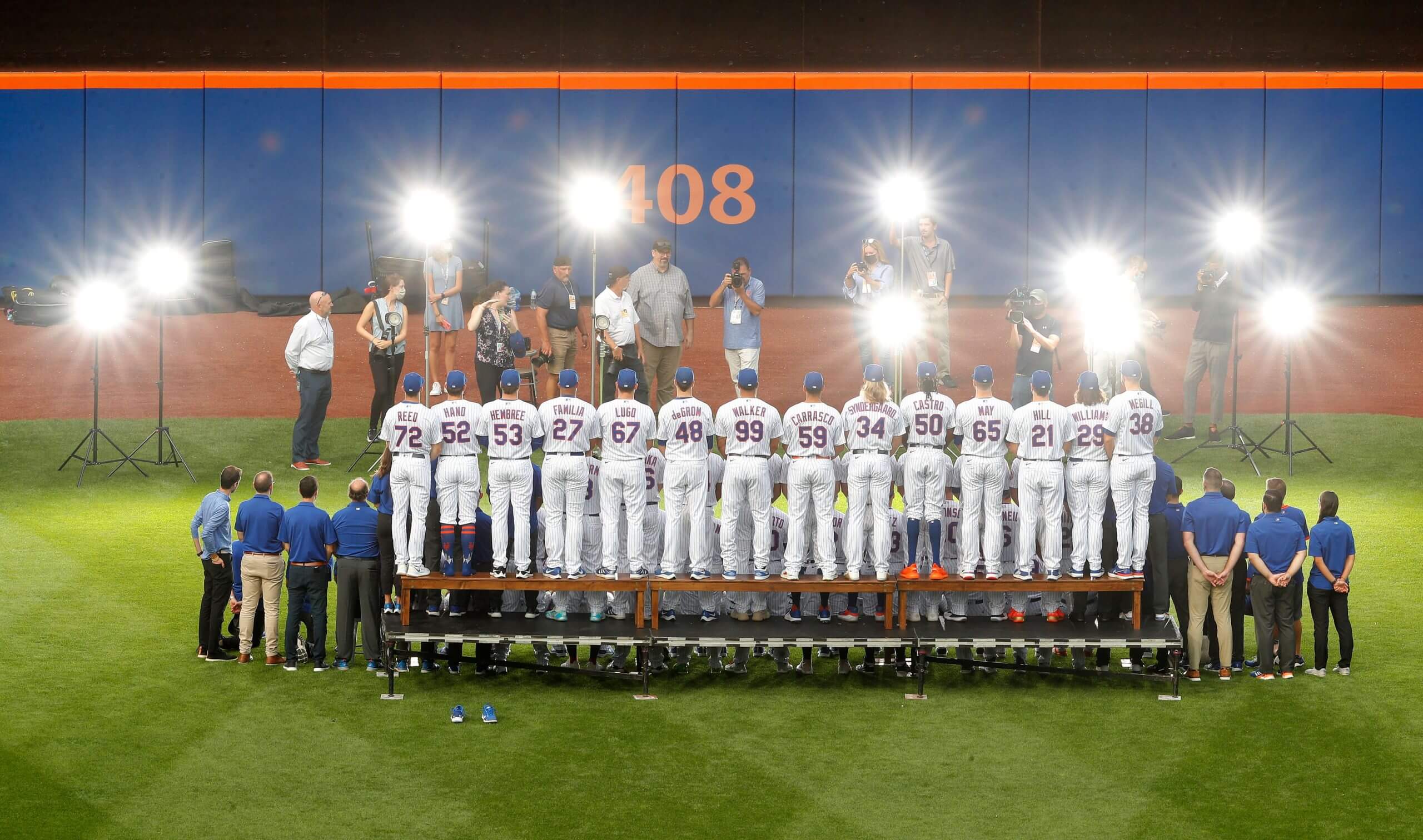 Photo by Jim McIsaac/Getty Images; click to enlarge
Here's something you don't often see: a rear view of a photo shoot for an MLB team portrait, taken prior to Tuesday night's Mets/Cards game at Shea. Nice job by Getty shutterbug Jim McIsaac to capture that moment.
A few notes of interest:
• Man, look at all those lights they have set up — and that's on top of the stadium lighting!
• The players in the back row are all pitchers (but they are not all of the team's pitchers).
• Those pitchers in the back row include Jacob deGrom (who has not pitched since July 7) and Noah Syndergaard (who has not pitched since 2019).
• Reliever Brad Hand (No. 52, second from the left in the back row) appears to be posing in his socks, with his shoes on the ground behind the riser.
• Don't even get me started on the Mets' woeful lack of high-cuffery.  
• As much as I love the rear view, it's killing me that we can't see the front view, and here's why: As mentioned in yesterday's Ticker, MLB teams wore yellow ribbons and wristbands for pediatric cancer awareness on Sept. 1, but the Mets were rained out on that day so they wore the gold accessories on Tuesday night — the same night this team portrait was taken. So did they wear their regular non-ribboned jerseys for the team portrait and then change into the ribbon-clad jerseys for the game, or will future generations be wondering why all the players were wearing yellow ribbons for the 2021 team portrait? We need to get a front view!
Finally, I know this may seem like a silly question, but why do teams take a team portrait so late in the season? I think they also do one early in the season, or even in spring training, and I can understand why they'd do one prior to their first playoff game, if they get that far — but what is the purpose of a team photo taken in mid-September? I'm sure there's a good answer to this question, so someone please tell me what it is!
Update: Twitter-er @_bbbene has pointed me toward some front views of the photo shoot:
A 👀 behind the scenes of photo day. pic.twitter.com/x45Omrh6ln

— New York Mets (@Mets) September 16, 2021
So they did not have the yellow ribbons! That means they either changed into new ribbon-clad jerseys after the photo shoot, or else they just used peel-and-stick adhesive ribbons that were applied to the regular jerseys after the shoot.
(My thanks to Derek Linn for noticing Brad Hand's shoes.)
• • • • •
• • • • •

ITEM! New Bulletin article: Whenever I critique a newfangled uniform or a new uniform "innovation," a certain subset of readers will say, "You just hate anything new!" or "You just hate change!" So for my latest Bulletin article, I decided to try out a thought experiment to see how I would have responded to some major developments uniform history. For example, if I had been writing Uni Watch in the late 1920s, how would I have felt about the advent of MLB uni numbers? I tried to be as honest as possible with a bunch of hypotheticals like that.
Those of you who've subscribed to receive my Bulletin content via email should already be seeing this piece in your in-boxes. Everyone else can read it on my Bulletin page. Enjoy!
• • • • •
• • • • •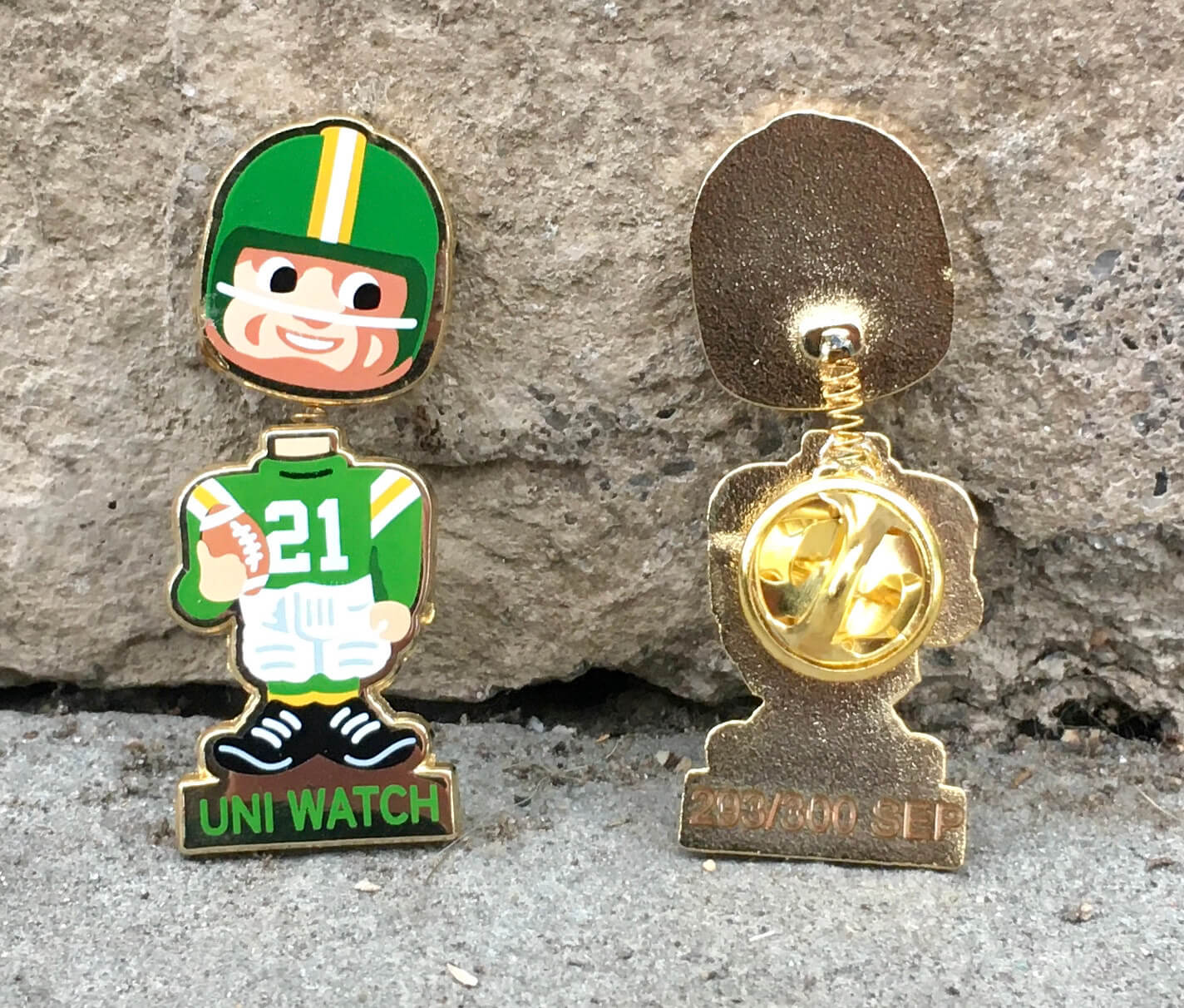 LAST DAY for the Teespring flash sale: Today is the last day that you can save 20% on our September bobble-pin (and on everything else I sell on Teespring) by using the checkout code BOBBLE20. You know what to do!
• • • • •
• • • • •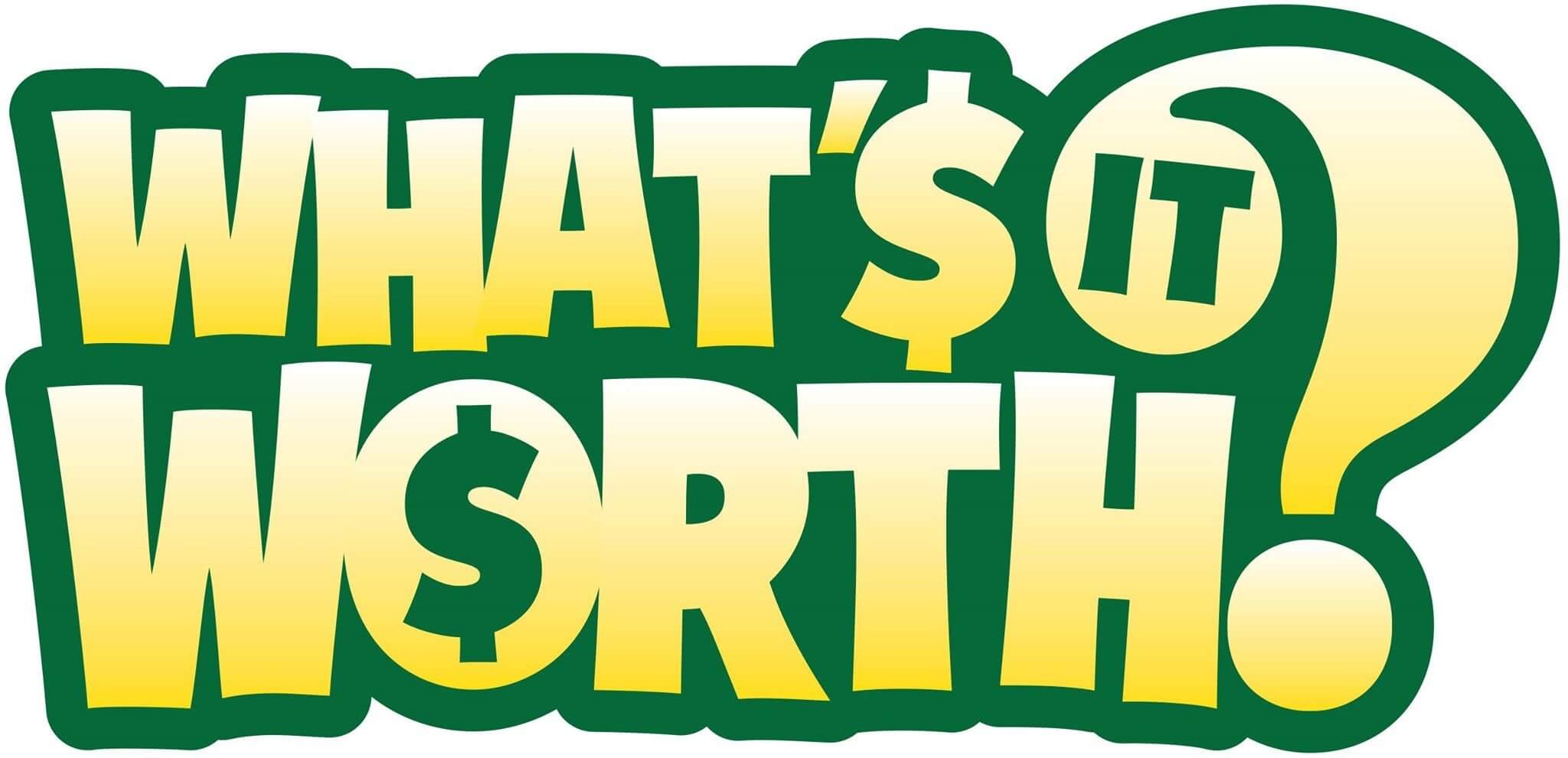 "What's It Worth?" reminder: In case you missed it earlier this week, I'm once again partnering with Grey Flannel Auctions to offer free, no-obligation appraisals of your vintage sports memorabilia items. Full details here.
• • • • •
• • • • •
The Ticker
By Anthony Emerson


Baseball News: Contrary to what Paul wrote in yesterday's lede, it turns out that all of the Dodgers — not just Justin Turner — had the Roberto Clemente patch awkwardly positioned on the left sleeve. [My bad on that, obviously, but what fooled me is that starting pitcher Julio Urias didn't have the patch. — PL]. … Powder blue vs. royal blue for last night's Phillies/Cubs game (from Eric Nits). … The Midland RockHounds, Double-A affiliates of the A's, will have a new logo soon (from @wilds_lee).

Pro Football News: The Rams' social media guy designed the team's hugely popular new end zones (from Todd Usher and Marcus Hall). … WFT went white at home last night (from multiple readers). … The Ravens are going black-purple-white against KC (from Andrew Cosentino). … The BC Lions have drafted artist Corrine Hunt to create an indigenous heritage logo for the team (from Moe Khan and Wade Heidt). … Bengals WR Tee Higgins will stop wearing No. 85 after this season because he doesn't want to be viewed as the "2.0" version of Chad Ochocinco.

College Football News: WR Kaleb Smith will wear Frank Beamer's No. 25 for the Hokies this weekend (from Andrew Cosentino). … Here are this weekend's unis for Mizzou, Virginia, Florida A&M, Michigan State, Troy (the first time the Trojans are wearing a white facemask), Georgia Tech, Texas State, UNC, West Virginia, LSU, Ohio, Tulane, ASU, Louisiana, Oregon, Ole Miss, Tennessee, Cuse, Boise State and Indiana (thanks to all who shared). … Purdue's marching band won't have the World's Biggest Drum for this weekend's game at Notre Dame because the drum is too big for the visitor's tunnel and the Irish won't let them use the home tunnel. It will be the first time since 1979 that the band will not have the drum.

Hockey News: The Blackhawks are adding a memorial chest patch for Tony Esposito (from multiple readers). … Kraken G Chris Driedger has some really awesome pads for this coming season (from multiple readers). … Here's a very satisfying video of Colorado Eagles staff painting the blue line.

Hoops News: The Delaware Blue Coats, G League affiliates of the Sixers, unveiled a new identity earlier this week (from @TrueColorNet). … Here's our first look at UCLA's new Jordan Brand unis (thanks, Phil).

Soccer News: Dinamo București of Romania's men's top division took the field the other day carrying rescue dogs to encourage adoption. … West Ham was without a shirt advertiser during their Europa League match against Dinamo Zagreb, as Croatia limits gambling advertisements (from Jason Collins). … Ajax's home kits don't feature NOBs this year, but they are required to add them for European competition. UEFA is also mandating that their uni numbers be outlined in black, and the three stars on the back collar be replaced with the crosses of the Amsterdam flag (from Trevor Williams).

Grab Bag: Arlington County, Va., has chosen four finalists for its new logo (from William F. Yurasko). … I've never seen an apostrophe catastrophe quite like this grocery store's sign in Edinburgh, Scotland. I guess the workers thought it was a comma? (From Stephen Langdon.)
• • • • •
And that's a wrap for this week. Stay well, enjoy Phil's weekend content, and I'll see you back here on Monday morning. Peace. — Paul