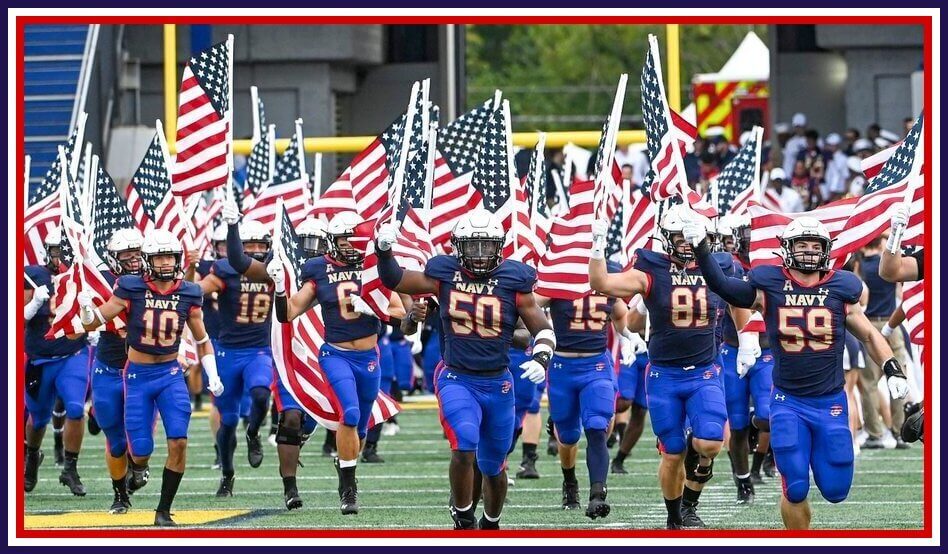 By Phil Hecken & the SMUW Crew
Follow @PhilHecken

Good Sunday Morning, Uni Watchers and welcome to the first official SMUW for the 2021 College Football Season. We actually kicked things off yesterday, with a recap of all the Week 1 games, but from now through the end of the Bowls, we're back in our usual Sunday slot, raring to go!
As you all know, yesterday was the 20th Anniversary of the tragic events that hit the nation on 9/11/01, and it seemed like every college football team tried to find some way to commemorate the event — not all did of course, but it sure did seem that way. Most prolific were the S&S helmet decals, but that was by no means the only sort of remembrance. TJ will try to cover these as much as possible, but there were just so many uni or helmet-related modifications, it will be impossible to hit them all. And not only that, there was a bunch of non 9/11 uni happenings which we'll get to shortly.
Cognizant of the date, Navy and Air Force moved their annual game up to yesterday (I don't believe they've ever played in September period, and this was the earliest in the calendar year they've ever met). And both teams broke out special uniforms for the occasion. Navy's threads celebrate the
Marine Corps and their famed dress blues. Air Force's uniforms are designed to honor B-52 bomber crews that flew in operation Linebacker II in Vietnam. I won't get into the deets here, but if you're interested, here's more on the Navy uniforms, and here is more on the Air Force uniforms.
While neither uniform was designed with 9/11 in mind, the teams did move up the date of their annual game to play this weekend. I'm certainly glad they didn't turn it into a 9/11 memorial, and I think both teams individually looked good. You can see Navy in today's splash running onto the field. Those looked really good. The Air Force, on the other hand, looked a bit drab: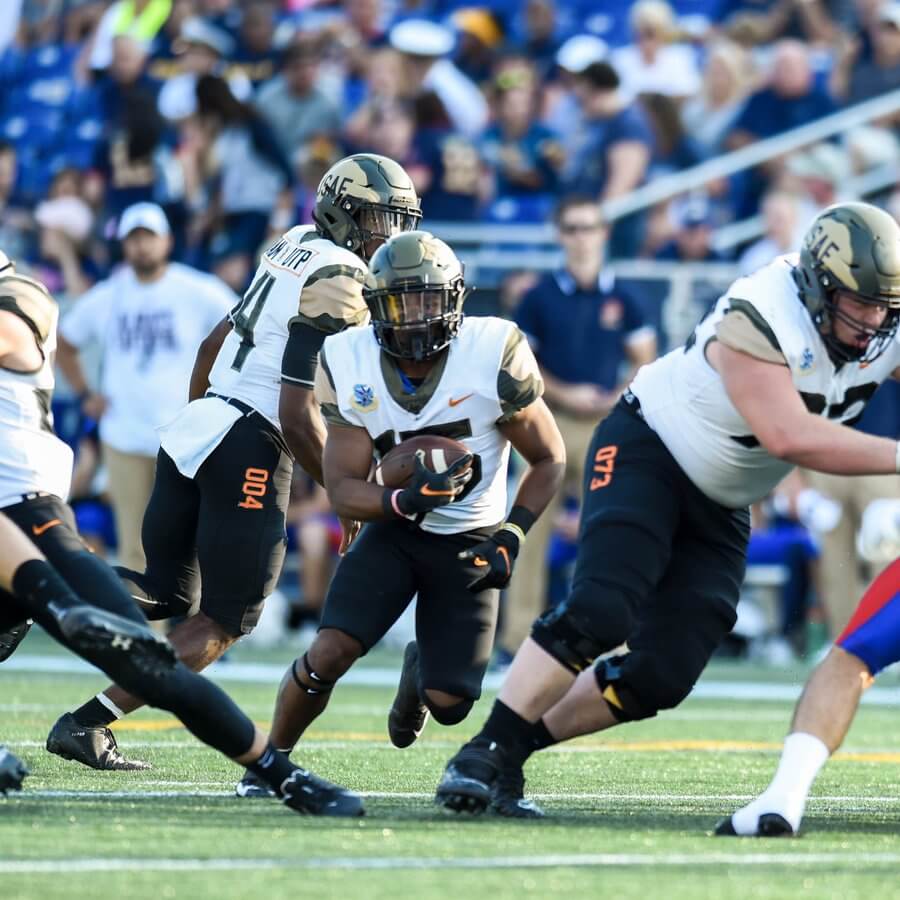 Together, they didn't quite mesh as well as I would have hoped.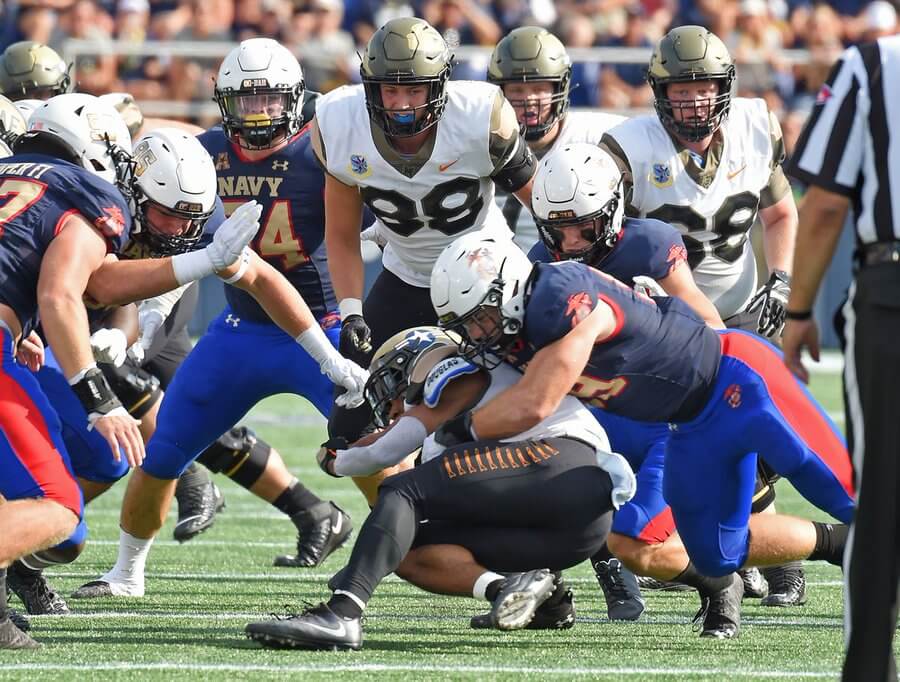 I totally get (and respect) the Academies wearing special uniforms for special games (like Army/Navy every year), and most of the time, the designers hit the ball out of the park. Air Force, in particular, has had some stellar special unis over the years, but these felt…well, just not as good.
Anyway, we've got a lot to get to today, so I'm going to turn it over to TJ right now, as they bring you the…
• • • • •
Sunday Morning Uni Watch
by Terry Duroncelet, Jr.
From Friday:
• White-at-home for the C H A N T I C L E E R S (I will never get tired of that name).
From Saturday:
• Contrast Matters: A Trilogy of D I S G U S T Edition.
• OOF, West Virginia vs LIU wasn't any better, but at least there isn't a third case of this to happen in a da–
•…You gotta be friggin' kidding me. W H Y
• What was it that Lao Tzu once said? "He who speaks does not know. He who knows… does not speak." … Yes, I know he said it the other way, but this flows better to me. That was the Eastern Michigan sideline, BTW.
• Despite Ohio State wearing scarlet against a whiteout-bound Oregon squad, it was the Buckeyes who were seeing red at the end of it all. Also:
• It's a fool's errand to mention every single solitary team that did the S&S thing, but luckily, you know who to call. Blaise D'Sylva truly is a real one.
• A bit of Lexington FD love from Kentucky's head coach.
• Out-of-context camouflage notwithstanding, Nebraska didn't look too bad against Buffalo.
• For those wondering what the number 37 on the left side of the Rutgers helmets signified, it's in recognition of the 37 Scarlet Knight alumni who were killed in the September 11th attacks 20 years ago.
• I didn't know The U made the move to The UA.
• …WHAT. THE. ASS. Who's bright idea was this? I've never felt a greater sense of betrayal in my life. The worst part is that in a vacuum, it's not a bad uniform… but it isn't Michigan. I… y'know what, let's just move on.
• Color-vs-Color action between Houston and Rice.
• I tuned in to Indiana vs Idaho, and genuinely thought I was looking at Indiana vs Kent State instead (some pics for reference).
• NNOB alert courtesy of Tyler Moody.
• I sadly have no visuals, but Trey Volk notes that Iowa's long snapper was also sans-NOB.
• SMU wore their new blue 'Dallas' uniforms against North Texas.
• The Saints fan, anti-camo person, and menswear specialist in me are all writhing in pain.
• It's not often that you see a team wearing a uniform against an opponent with a custom number font made specifically… for their opponent.
• Boston College wore the latest edition of the Red Bandana uniforms (the first ones under Adidas) against UMass (love that helmet logo, BTW).
• The one instance that would've made perfect sense to wear this, and BYU doesn't capitalize. Heck. Worst part is that they won't get another chance to right this wrong until 2024, when these two teams will play each other next time.
That'll do it for Week 2. Tune in next week for what I suspect will be the first wave of Homecoming games, and maybe more upsets? Who knows? At any rate, I hope you guys have a good day, make sure to take care of yourselves (especially if you're still feeling the very real, sobering sting of yesterday's significance), and I'll see you next week.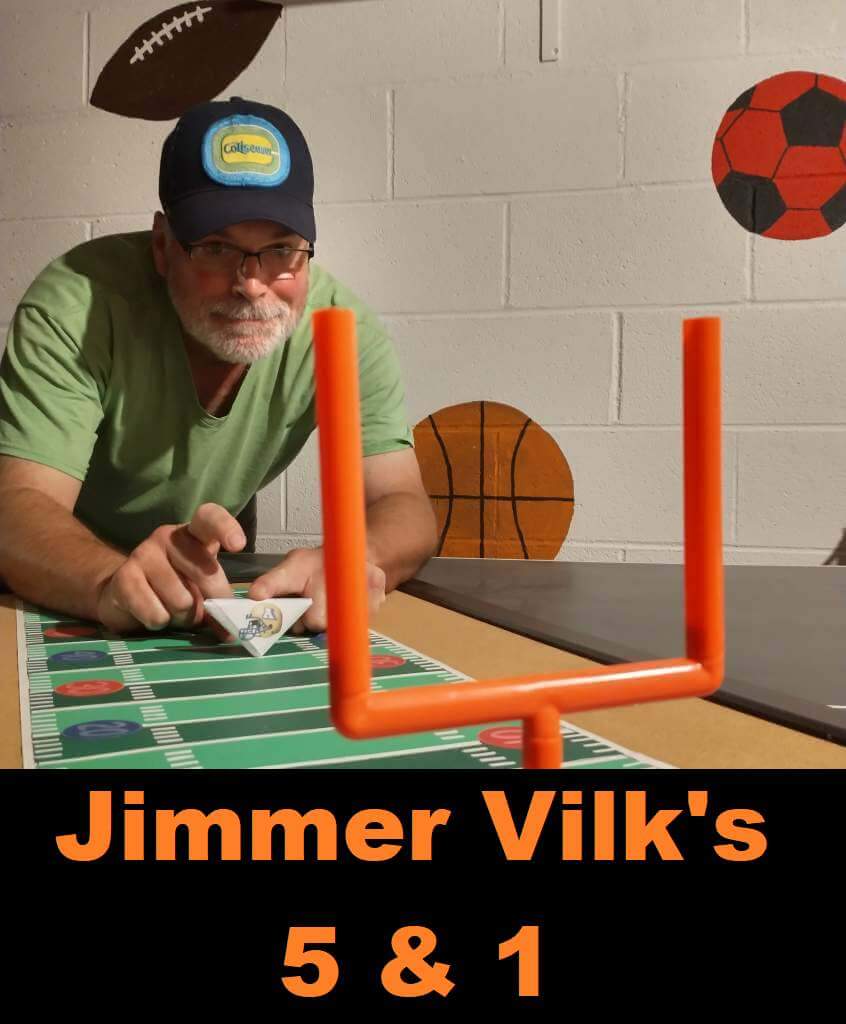 Jimmer Vilk's 5 & 1
After more than a decade in hiatus, the original "5 & 1" decider, Jim Vilk, has returned! Jim began doing the 5 & 1 many years ago, followed Catherine Ryan, Joe Ringham, Michael "Memal" Malinowski, and several guest pickers. Once again, Jim will pick HIS 5 best looking/1 awful matchup, and occasionally have some honorable mentions (both good and bad). You may agree and you may disagree — these are, after all, just opinions and everyone has one. Feel free to let him know what you think in the comments section.
If you have a game you feel is "worthy" of consideration for the 5 & 1, please either post it in the comments below or tweet Mr. Vilk @JVfromOhio.
Here's today's 5 & 1:
• • • • •
A couple of things before we start:
1) I love this country. That being said, please don't Stars&Stripes your helmet logo. It doesn't look good. There are many other ways to honor this great nation without making your logo a blurry mess from even a short distance.
2) If your regular everyday helmet is white, I don't have a problem with you wearing all white. Except for Nebraska. Always wear red britches with white tops. And yes…I'm gonna say it…Penn State should really consider blue road pants. Now, If your regular helmet is not white, please don't go all WFWS, especially on a sunny day.
With that off my chest, let's honorably mention
Houston/Rice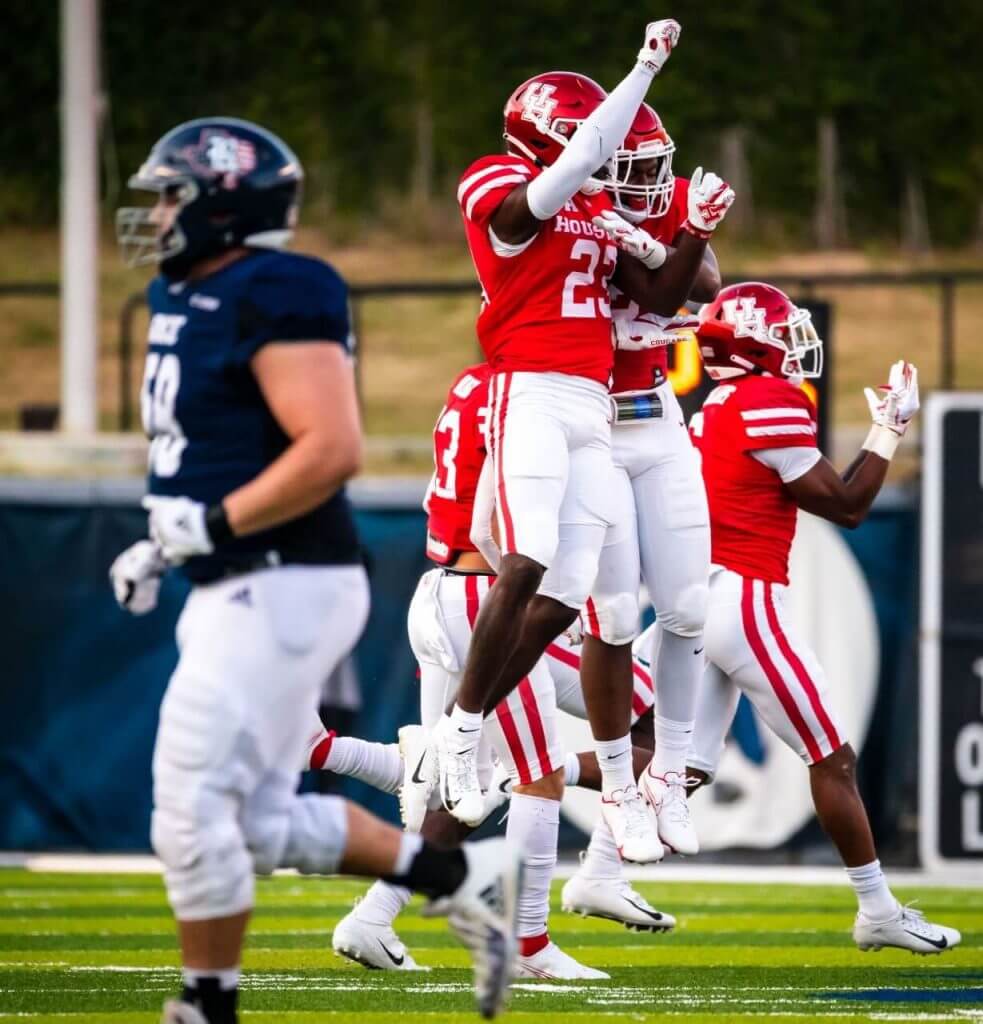 At least the Owls' logo stands out a bit from the S&S background.
__________
And an honorable mention to
Mercer/Alabama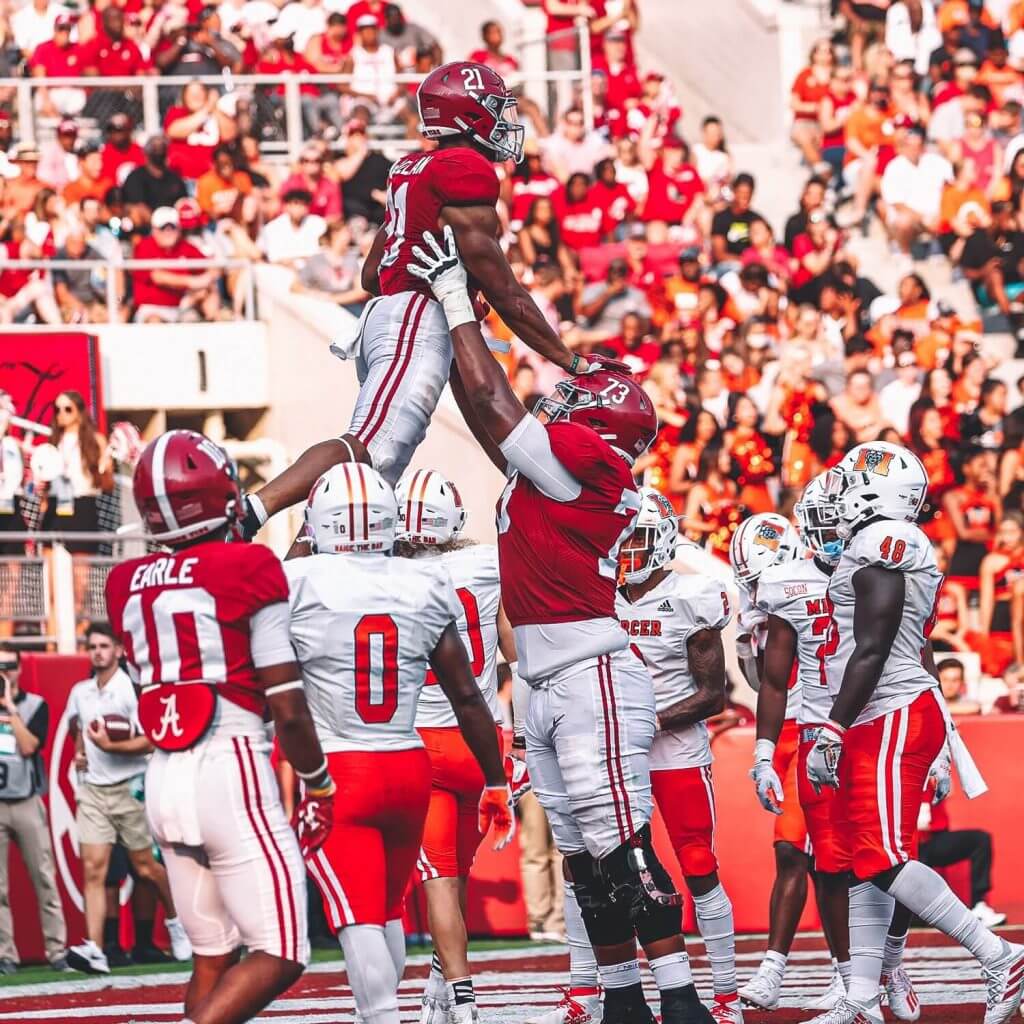 Nobody puts Bama in a corner.
__________
5. North Carolina A&T/Duke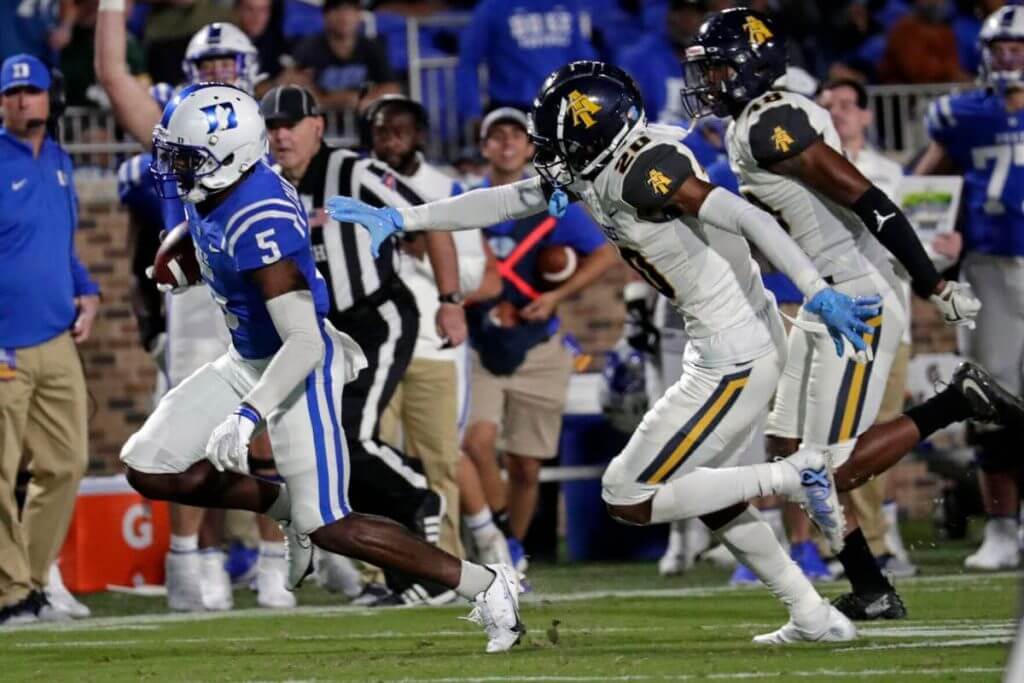 A&T's sleeves (what little there are of them) break up the mostly white uni nicely.
__________
4. Missouri/Kentucky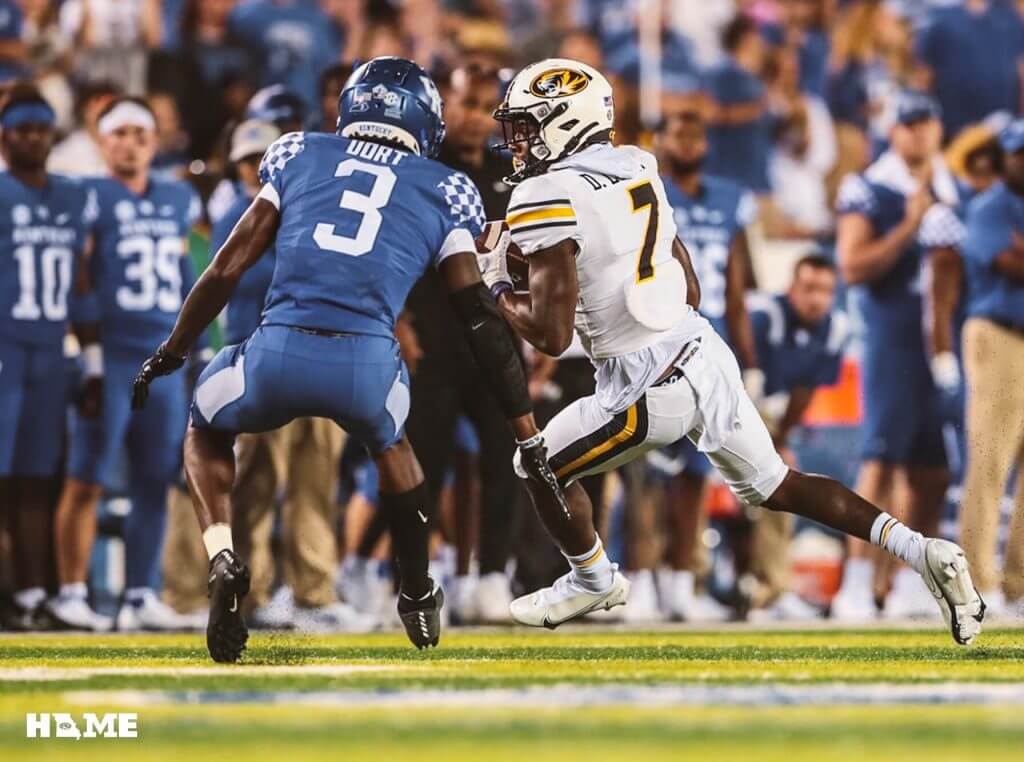 I actually found a mono y mono matchup I liked, thanks to Mizzou's stripes and Kentucky's checkers.
__________
3. Pitt/Tennessee
I'm usually a cloudy day person but this game put me in a Major-ly sunny mood.
__________
2. Illinois/Virginia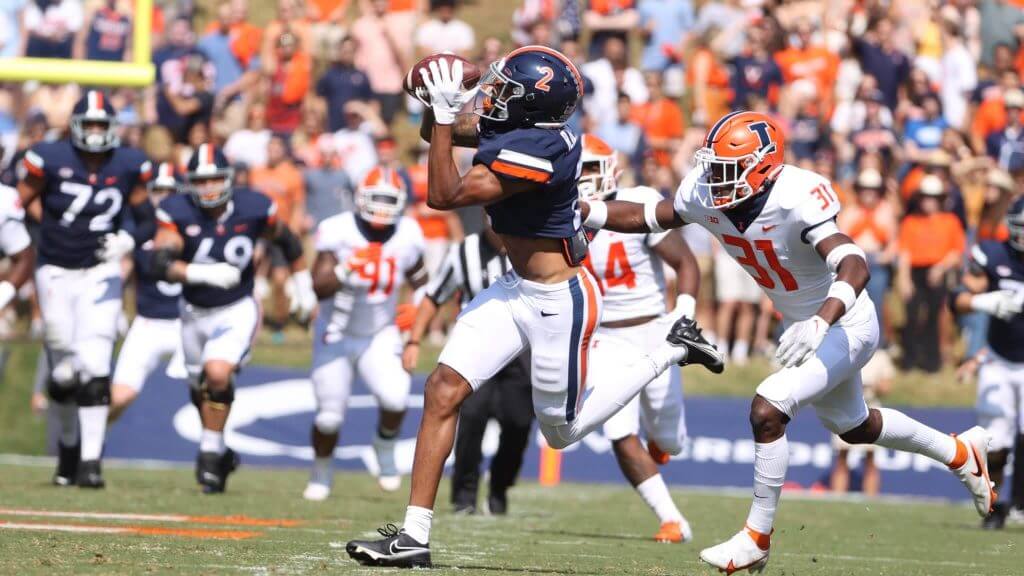 I love UVa's number font, and diamonds in the end zone are one of this boy's best friends.
__________
1. South Carolina State/Clemson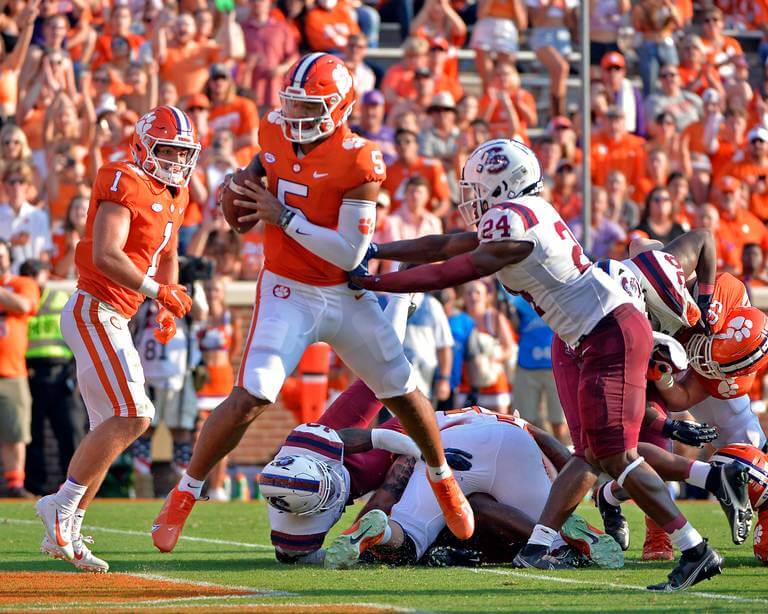 Seeing this matchup gives me a real Fall vibe.
__________
&1. Tulsa/Oklahoma State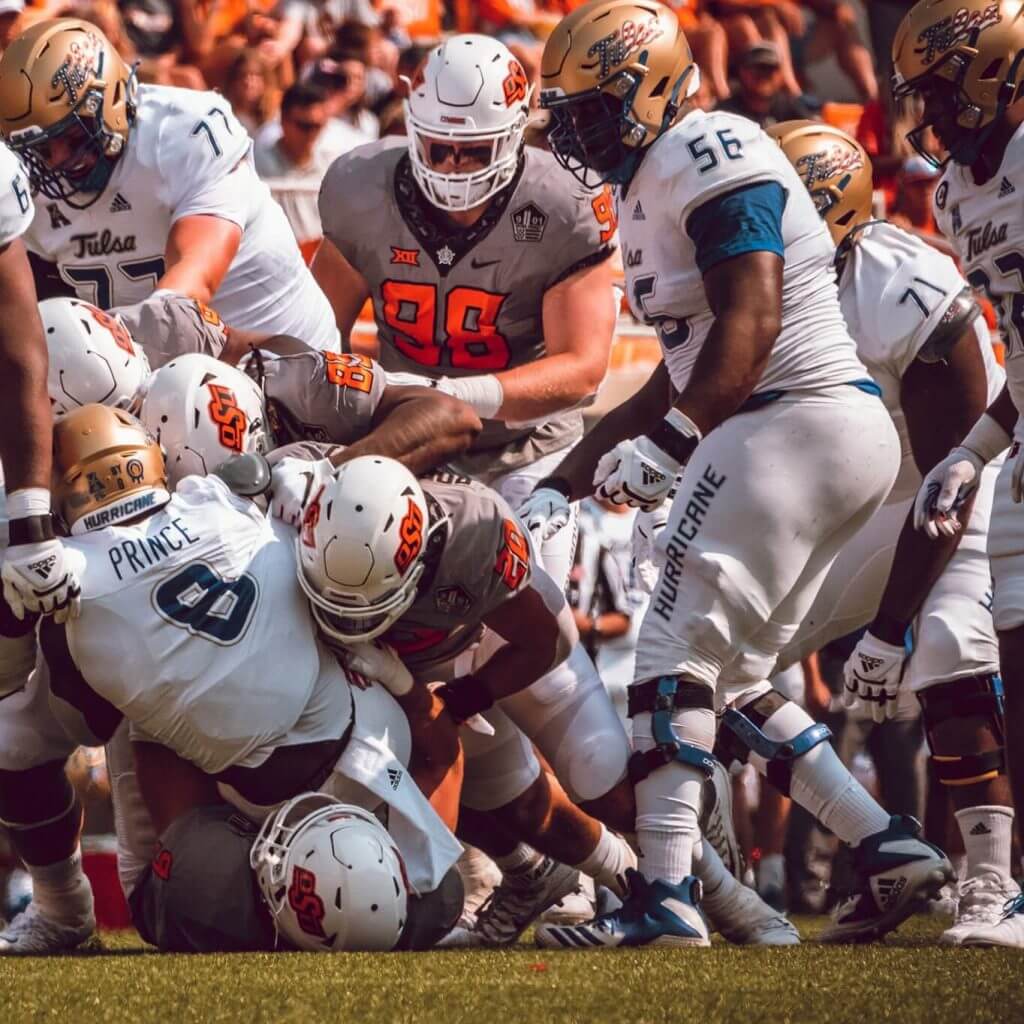 The only time I want to see white vs. gray is if I ever go back to watching baseball.
__________
I'll be on the road next week, but that won't keep me from my duties. See you then!
• • • • •
Thanks, Jim! OK readers? What say you? Agree or disagree with Jimmer's selections? Let him know in the comments below.


NCAA Uni Tracking
Uni Watch will again track the uniform combinations worn by the "Power 5" conferences. All of the 2020 trackers are back!
We've got Rex Henry (tracking the ACC), Dennis Bolt (tracking the PAC-12), Kyle Acker (tracking the B1G), and Ethan Dimitroff (tracking the Big XII AND the SEC). Rex, Dennis, and Kyle and are all returning from 2015, and Ethan is back after joining the NCAA Uni Tracking a couple seasons ago. Ethan will continue to track the SEC, and has swapped the B1G for Big XII (with Kyle).
Here are the Uni Trackers for the Power 5 Conferences (along with each tracker's info):
+ + + + + + + + + +
Rex is up first today (ACC):
• • •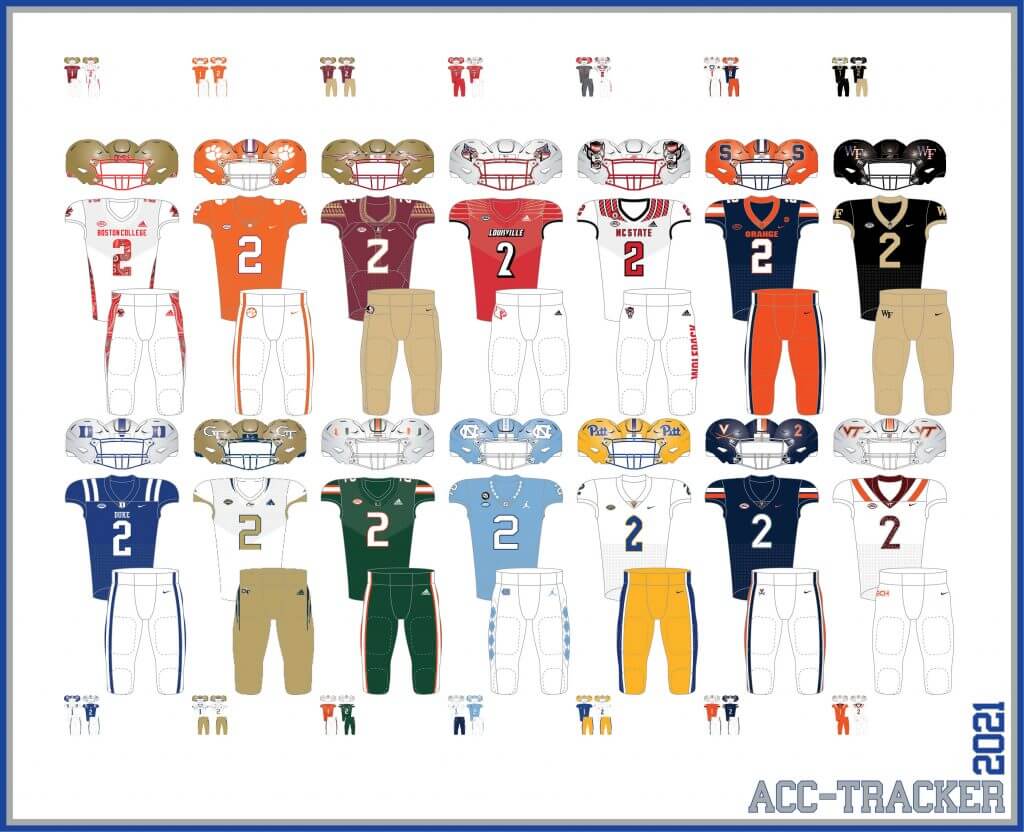 ACC

More Here.
Follow Rex on Twitter here.
• • •
And now, here's Dennis with the PAC-12: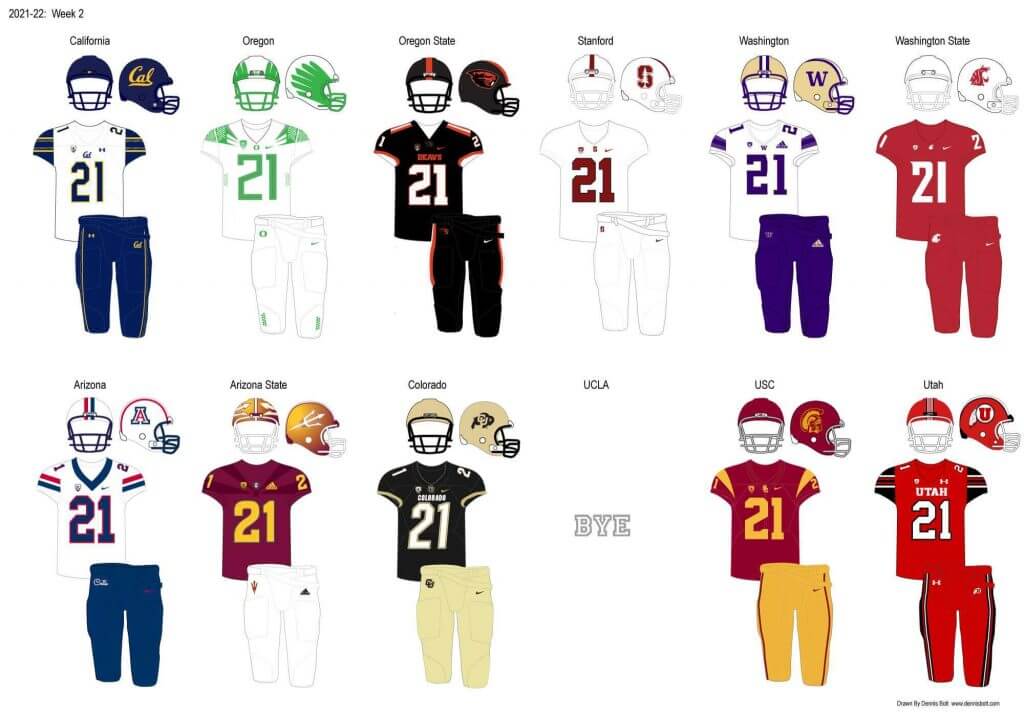 PAC-12

More here.
Follow Dennis on Twitter here.
• • •
And here is Ethan, with the SEC: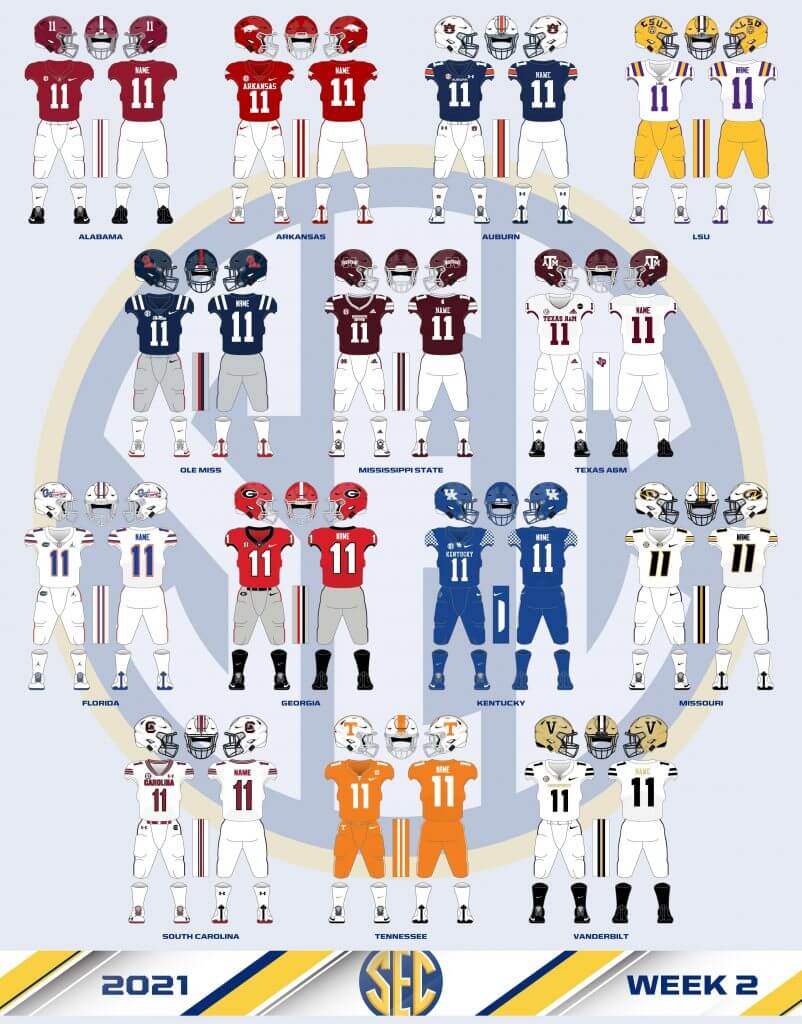 SEC

And be sure to check out Ethan's WVU Mountaineer Tracker.
Follow Ethan on Twitter here.
• • •
And here is Kyle with the B1G: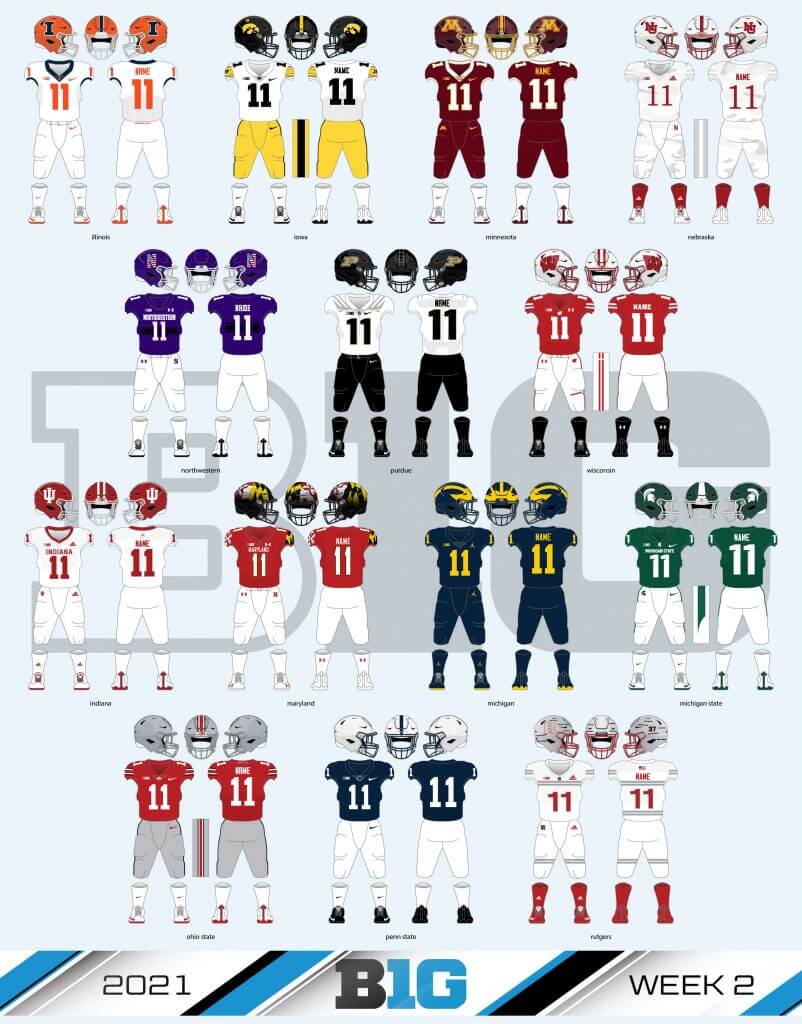 B1G

Follow Kyle on Twitter here.
• • •
And here's Ethan with the Big XII: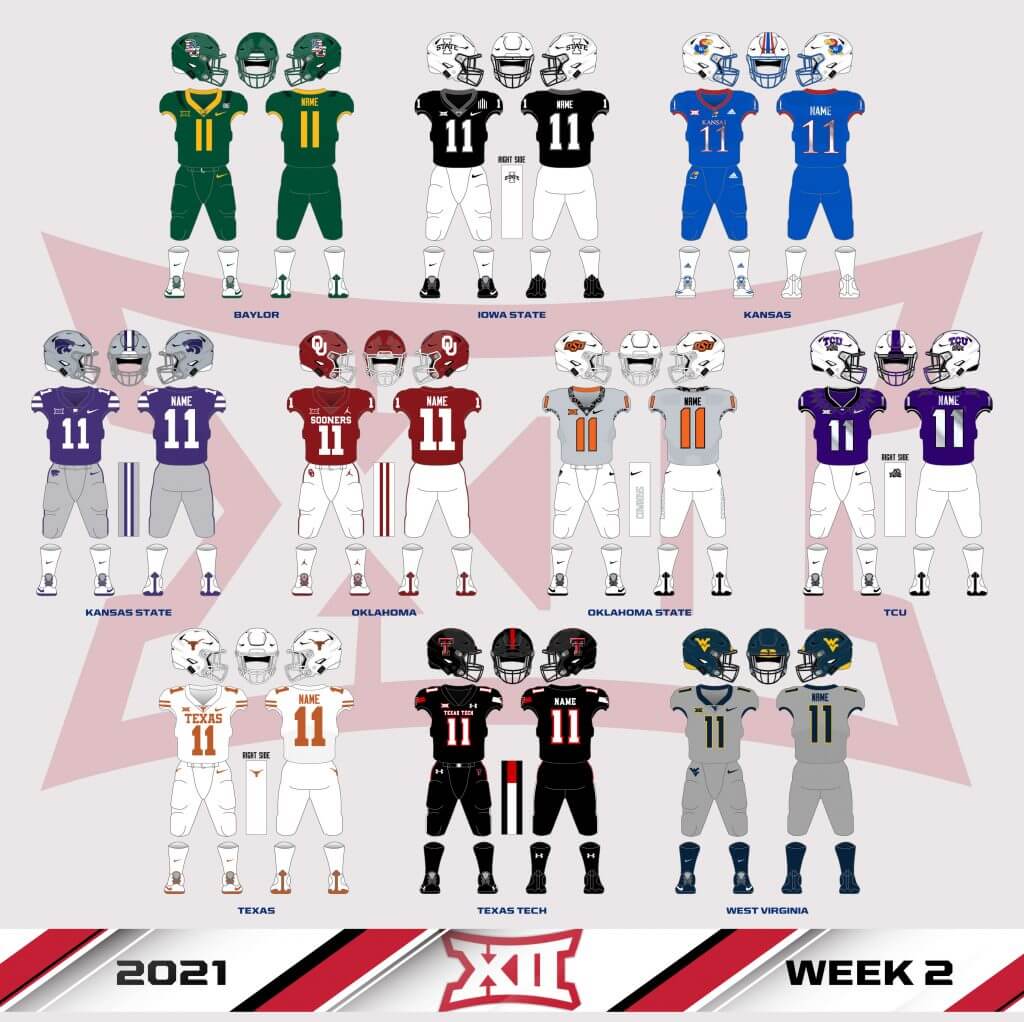 Big XII




Welcome to the 2021 Oregon Ducks Uni Tracker. This little project was originally begun way back in 2008-09 by Michael Princip, who retired after several seasons, whereupon the project was continued by Tim E. O'Brien. He, too, retired from the tracking, but the project has been ably kept up by the man who also tracks the Pac12, Dennis Bolt.
Here's this week's Uniform Combo for the Ducks (you can click to enlarge):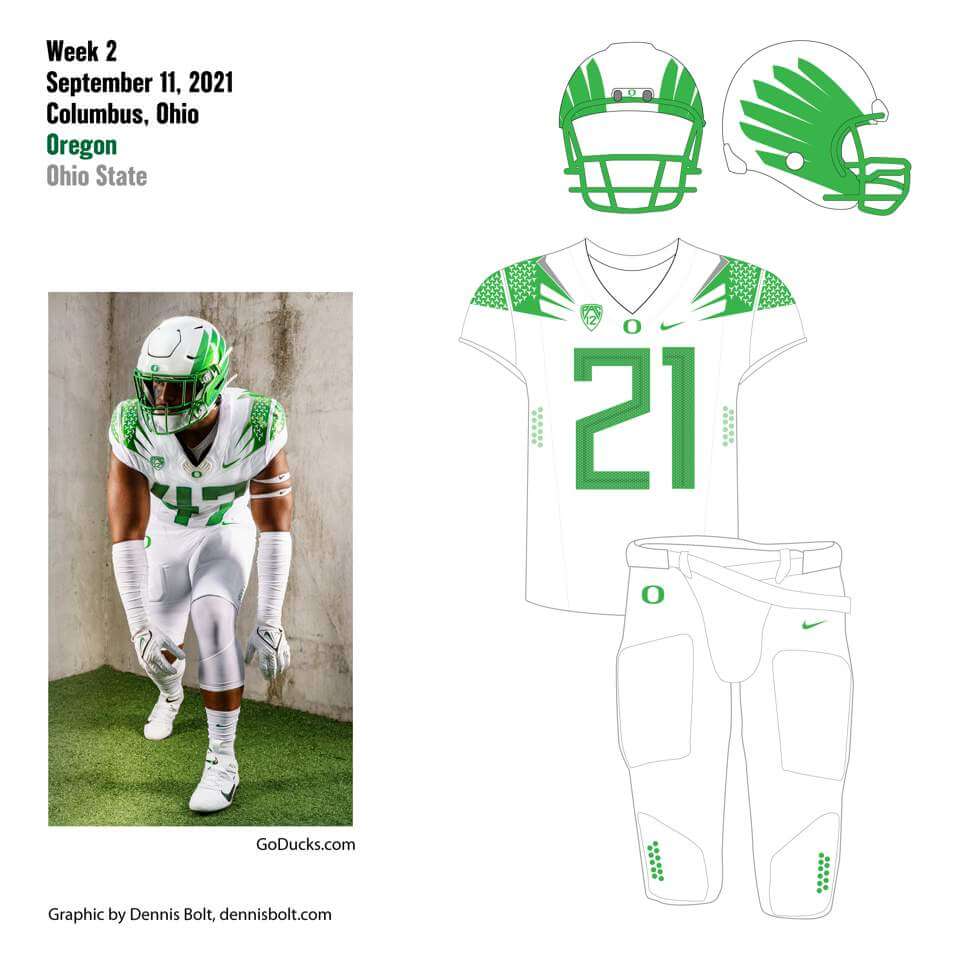 You can read about this uniform, and MUCH MORE, by checking out the Duck Tracker here and the color combo spreadsheet here!
Thanks Dennis!


Mets Create New Uniform for 9/11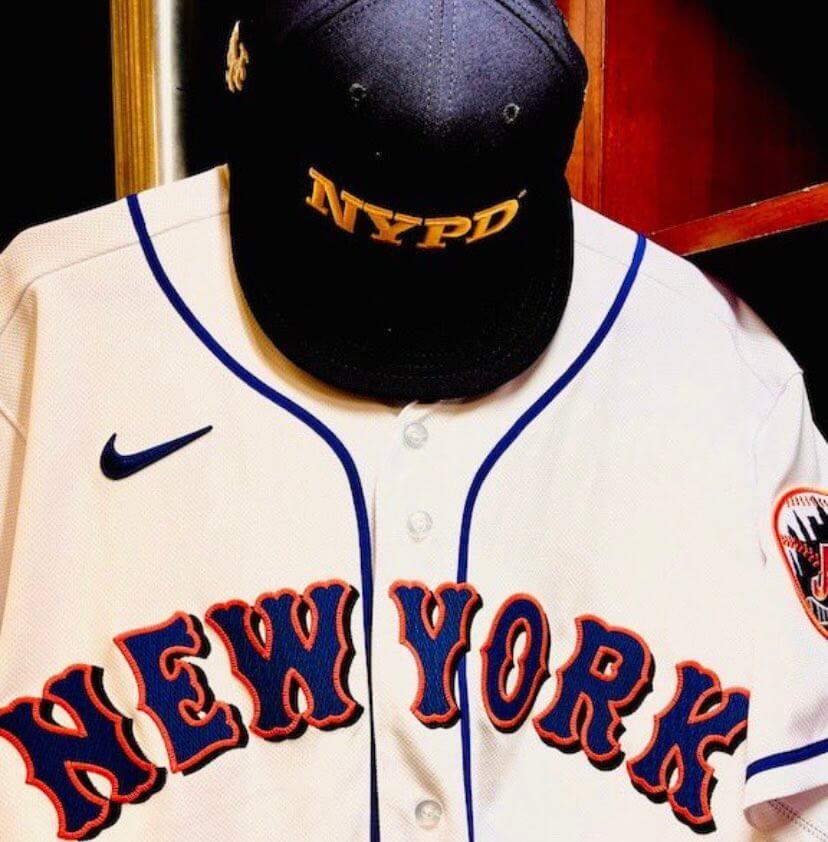 We knew it was coming, we just weren't quite sure "what" it was going to be — and last night we got our answer. It had been revealed late Friday that the New York Mets (who played the Yankees yesterday) would have some kind of new uniform that harkened back to the uniforms the team wore after the 9/11 attacks. What they came up with was special (but not unique).
As you can see, the team wore "NEW YORK" in their road tuscan font across the front of an old "snow white" jersey (which they wore in 2001), making the first time (I believe) the Mets have EVER worn "NEW YORK" on a home jersey. The rest of the jersey pretty much mimicked those worn immediately after the terrorist attacks. It looked like the Mets went an used glacier twill for their lettering/numbering, which they used in 2001 (a nice treat!).
The jersey (and matching pants) were, as I mentioned, plain, or "snow white" as they were nicknamed, with blue piping around the headspoon and sleeves, and down the pants legs. Like they did in 2001, the team affixed a 9-11-01 patch on the right sleeve of the jerseys.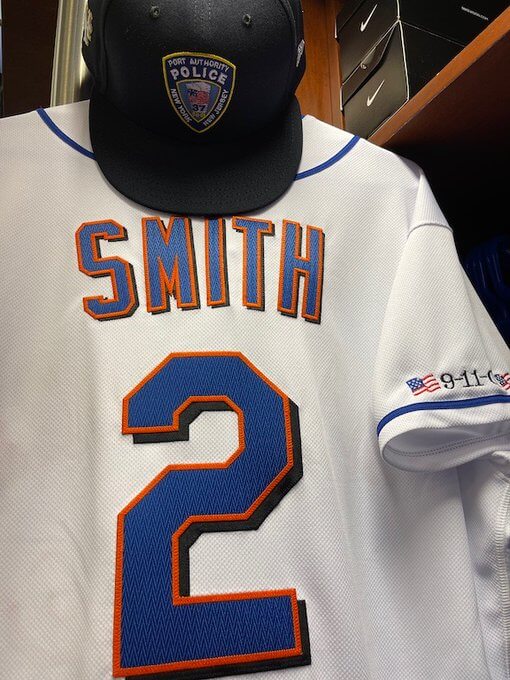 As you can see in the above photo, players wore first responder caps (as they did in the days immediately following 9/21/01, the first game played after the attacks). What you can't see in that photo is an American flag placed on top of the collar. You can see it here: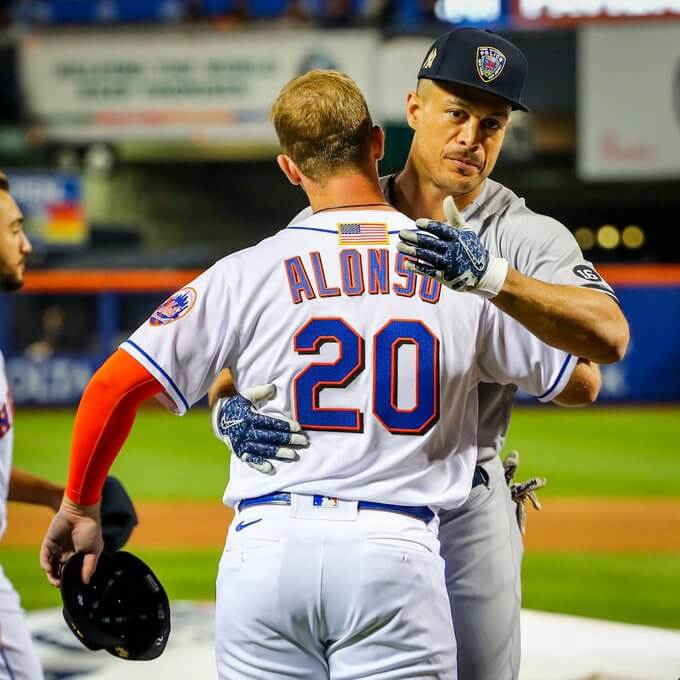 The Mets also created special batting helmets (again meant to mimic those worn in 2001), with black crowns and blue brims, and the helmets had first responder tributes (I don't believe they had *those* back in 2001 on the helmets):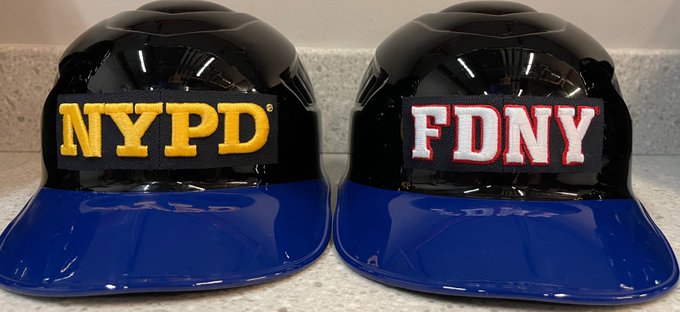 The Yankees also had some changes to their uniforms: they added American flag patches to the right sides of their caps, and also had American flag patches on the neckline of their jerseys — unfortunately, while the Mets' were sewn on, the Yankees' were glued, and many were peeling before the game even began. The Yankees also wore first responder caps in the field (but kept their regular batting helmets, adding a small American flag sticker to the right side). On their caps, the Yankees had their interlocking NY logo on the side. You can get a sense of the Yankee additions in this moving video of both teams coming together pre-game:
The Mets and Yankees came together to show unity before tonight's game. 🤝

(🎥: @SNYtv)pic.twitter.com/8LyuH2wOs7

— theScore (@theScore) September 11, 2021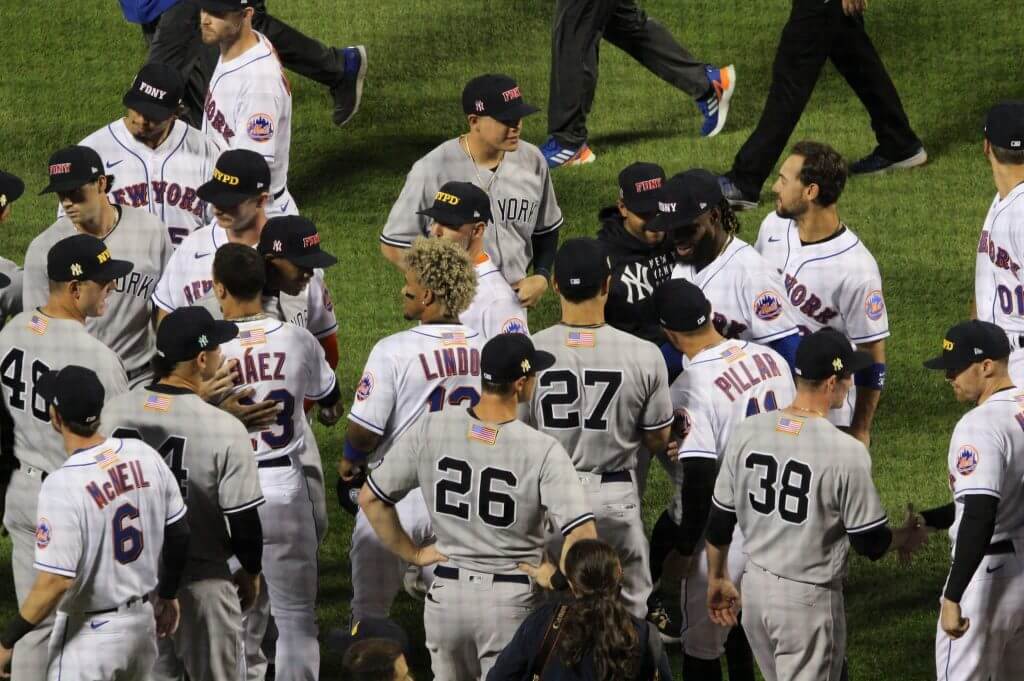 In a nice move, the Mets invited Bobby Valentine and Joe Torre to throw out the evening's first pitches (Torre, of course, was the Yanks manager in 2001, and Valentine was the Mets manager that year).
The special uniforms were a nice touch (even though I was never a fan of the snow whites, and I hated that black blockshadow), but for a one-time, 20th Anniversary event like this, I was fine with it.
Of course, New Era and Nike couldn't fucking keep their logos off the caps and jerseys, so that kinda ruined it for me. This is why we can't have nice things.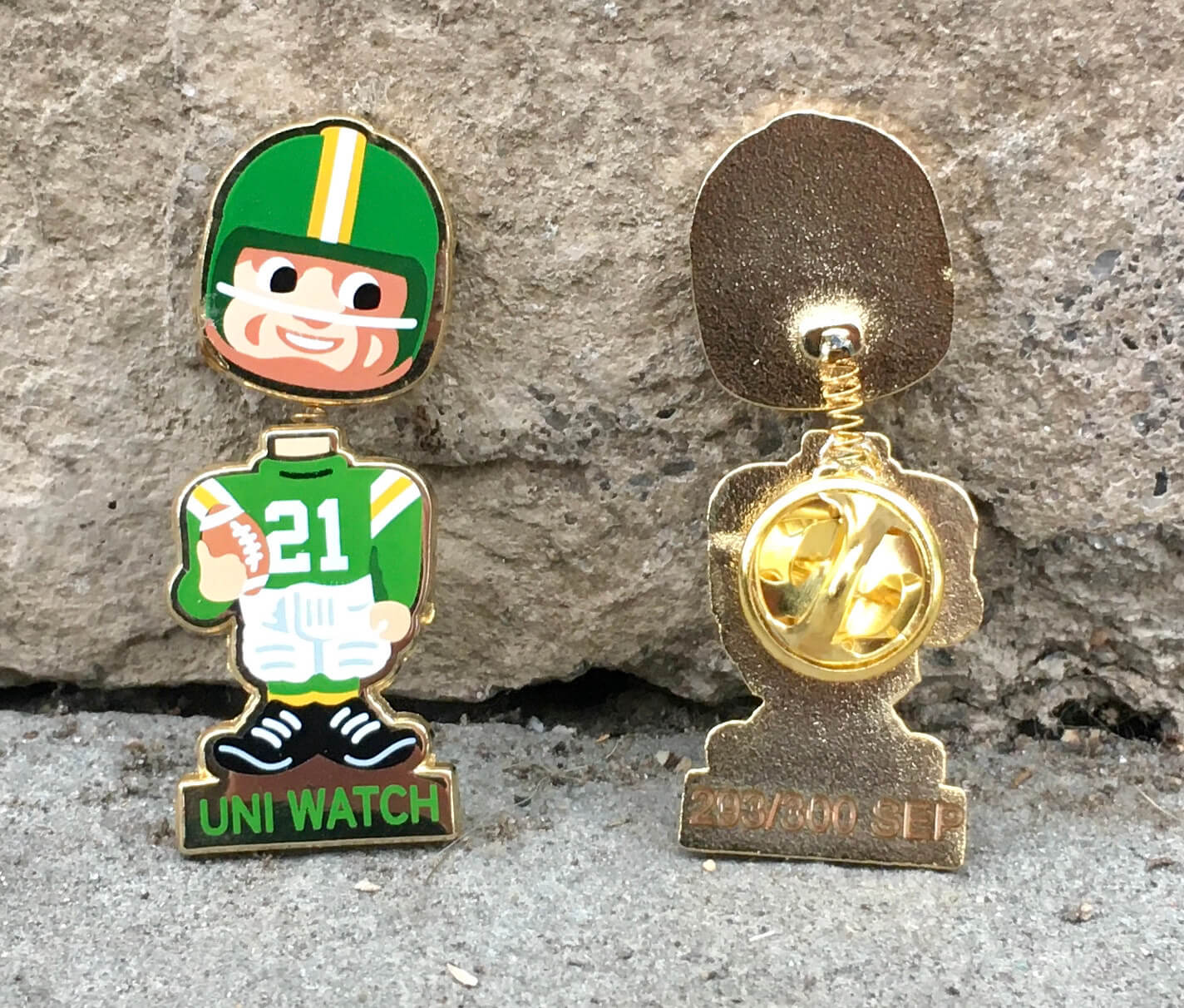 Click to enlarge
And now a few words from Paul: Hello! In case you missed it earlier this week, the Uni Watch Pin Club's September Pin is finally available for ordering. As you can see above, it's a football bobblehead design. And it really bobbles! Dig:
This pin was produced in a numbered edition of 300; as of this morning, about 175 were remaining. It's available here.
Also: You can save 10% on this pin (and everything else I sell on Teespring) by using the checkout code FABMERCH10. That code is good through the end of Sunday.
Need to get caught up? Here are our January, February, April, May, June, July, and August pins. (Sorry, March is sold out!)
Meanwhile: In case you missed it yesterday, my latest article on Bulletin is an interview with a guy named Greg Harvey, who specializes in creating animated timelines like this one:
In honor of the College Football season starting this month, I have created an interactive timeline that details All-Time AP Poll Appearances ranked by CFB programs.

Check out how different programs rise and fall throughout during different eras of CFB! 🏈🔥📈 @AP_Top25 pic.twitter.com/AirYnRvsO3

— Greg Harvey (@BetweenTheNums) August 1, 2021
These timelines are called bar chart races, and I find them irresistible, so I interviewed Harvey for my latest Bulletin piece. You can check it out here.


Uni Watch News Ticker
By Phil

Baseball News: MLB teams wore 9/11 patches on their caps yesterday, and unfortunately they appeared to be glued on, and several fell off during games (thanks to Jonathan McCardell for those screen shots). Here's a look at the patch. … Riota has made illustrations of each of the mascots of Japan's Pacific League. Top (L) Chiba Lotte, (R) Orix, Middle (L) Rakuten, (R) SoftBank, Bottom (L) Seibu, (R) Nippon Ham (from Jeremy Brahm). Andhere is Riota's work on the Japanese Central League mascots. Top L Hanshin, R Yomiuri, Middle L Yakult, R Chunichi, Bottom L Hiroshima, R Yokohama.

NFL/CFL News: The Chicago Bears have a game-day poster series, with one poster per week (from Ken Traisman). … For you stats geeks: what do you think is the commonly worn number by NFL players? This list the top 10. … The Seahawks will be wearing white jerseys over blue pants today. … The Eagles will be wearing midnight green in Atlanta. … Jags will be in teal over black. … For all other announced uniforms, be sure to check out the GUD. … Over the last week, there has been a billboard war between the Toronto Argonauts and the Hamilton Tiger-Cats. Billboard insults fired at each other to continue this rivalry. The Argonauts and the Tiger-Cats have just completed back-to-back games against each other on Friday night (from Wade Heidt). … Also from Wade "better look at (Edmonton) Elks new alternate helmet. Some small changes on alternate uniform but not any great photos yet." Here's one of the better photos. Wade adds, "Elks other change to alt unis besides helmet. Pants have "Edmonton" down sides now instead of the old team name. Stampeders still wearing silver horse on helmets and barb wire stripe which was introduced for their alt black Labour Day Classic unis."

College Football News: Remember how last weekend that one Hoosier dude had INDINIA in one of the more memorable misspellings of late? Well, Uni Watchers weren't the only ones who noticed. In fact, there was a whole segment (You Had One Job) on ESPN's Game Day that ripped on it.

Hockey News: The Utica Comets (a minor league affiliate of the New Jersey Devils) will sport the Devils red and black colorscheme this season. … Columbus Blue Jackets goalie Elvis Merzlikins' mask pays tribute to Matiss Kivlenieks, the Blue Jackets goalie who recently passed away (from Wade Heidt).

Basketball News: The Las Vegas Aces (formerly the San Antonio Silver Stars) of the WNBA are retiring Becky Hammon's #25 jersey, even though Hammon never played a game in Vegas.

Soccer News: "Have you already noted that the kit ad placement for Newcastle Utd. makes every Ayer kooks like he wears number 4 on his chest?" asks Max Weintraub.

Grab Bag: The Nebraska Cornhuskers volleyball team joined their football team in wearing white camouflage jerseys for their match yesterday (from dex+). Here's a better view (from gjmarmet@yahoo.com).


And finally… that's all for today. Big thanks to the SMUW crew for another great effort.
I'm out at the family summer place for another couple weekends, but I got a surprise yesterday when the family actually showed up, unannounced — it's not a big deal, but it totally threw my whole day off (which includes the weekend UW), and I never did get quite caught up. So apologies for any typos or mistakes on my part if there are any. And due to a later dinner than usual, I missed yesterday's sunset, so I'm gonna post one from the Labor Day Weekend, which produced a few magical ones…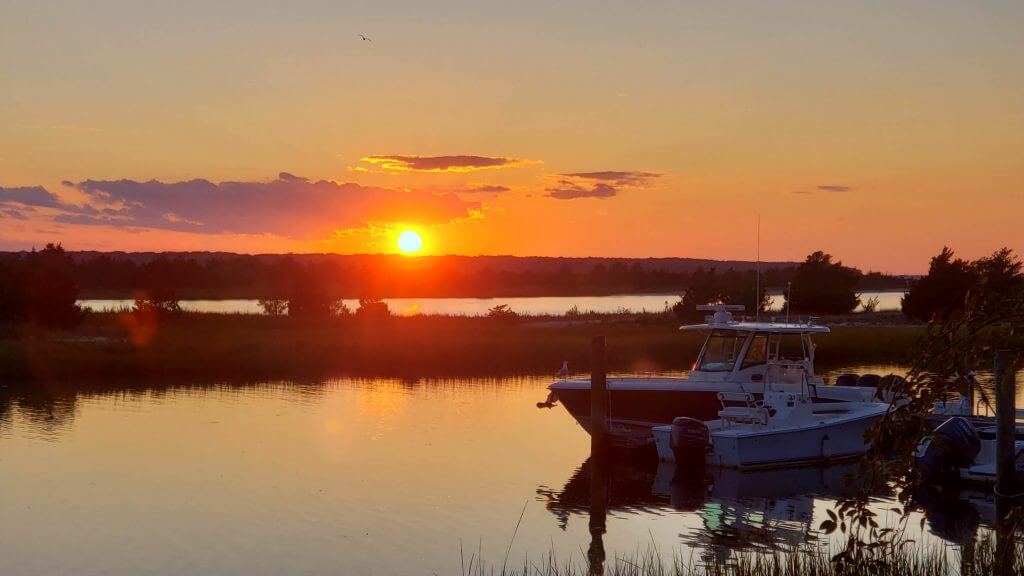 Everyone have a good Sunday — enjoy opening weekend of the NFL, and if you're into tennis even a little bit, you may want to check out Novak Djokovic make history this afternoon as he seeks to win the U.S. Open and complete the calendar Grand Slam. It's one of the rarest achievements in sports.
You guys have a great week and I'll catch you next Saturday.
Peace,
PH