Click to enlarge
Good morning! Are you ready for a big football day? Let's start with this: The Jags yesterday announced that center Brandon Linder is the first player in team history to wear a gold captaincy patch (which is awarded to a player once he reaches his fifth year as captain). Looks good on that Jags jersey, right? I've been saying for years now that the Jags need to restore more gold to their uniforms — this isn't quite what I had in mind, but I'll take it!
While announcing Linder's patch, the Jags inadvertently revealed that their inner jersey collars now have an embarrassing slogan (and hey, it's underlined, so you can tell they really mean it!). That slogan comes from new head coach Urban Meyer, who really should have left this type of silliness in the NCAA.
Anyway: The NFL season kicks off tonight and then shifts into high gear this Sunday, which means it's time for the annual Uni Watch NFL Season Preview, which has the full scoop on this year's new uniforms, logos, and related items. Some of those items are small, like the Jags items I just mentioned. Others are big, like the new throwbacks from the Packers, Browns, and 49ers: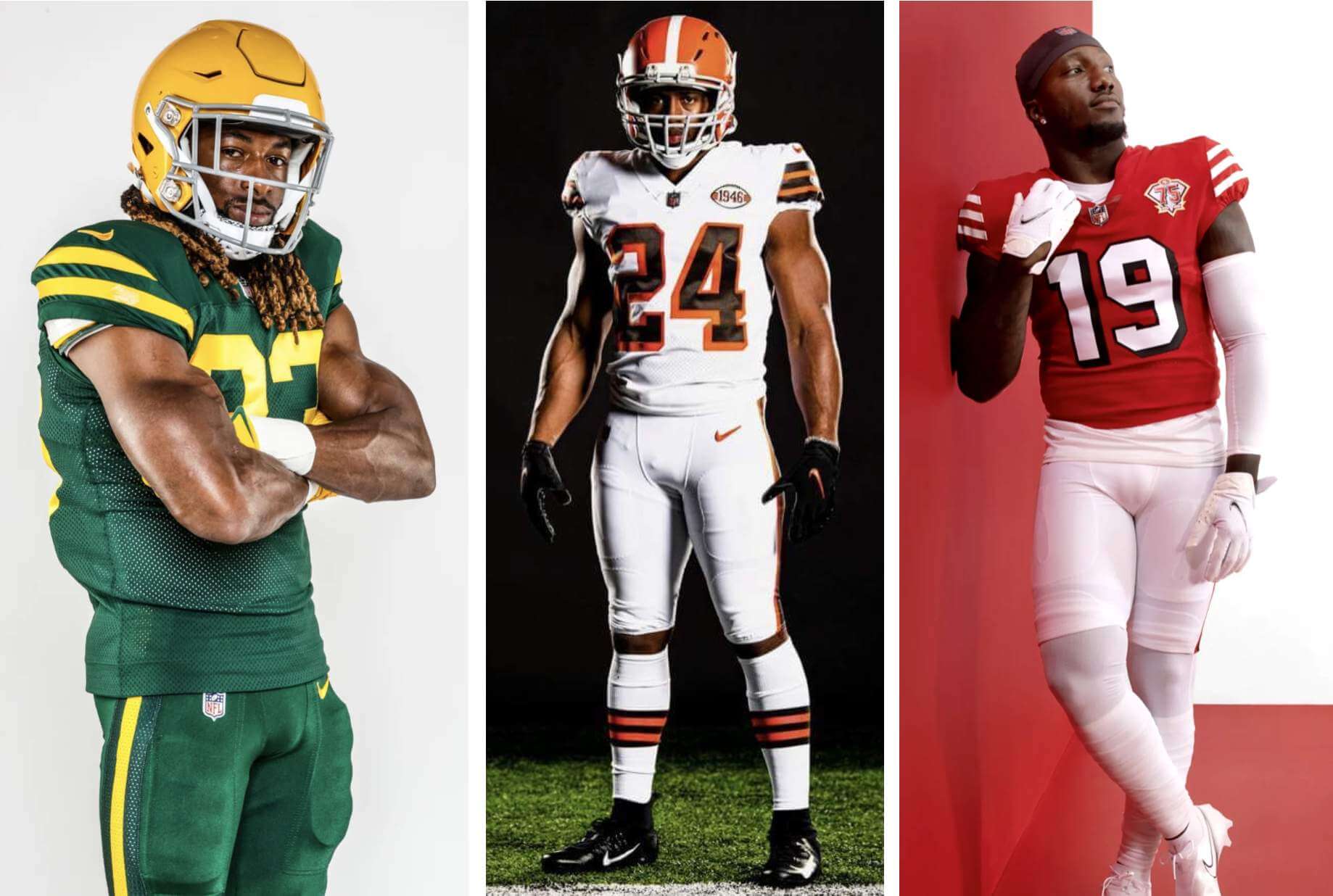 Ready to dive in and get up to speed on all that juicy NFL uni news? The NFL Preview is now available on InsideHook. Enjoy!
• • • • •
• • • • •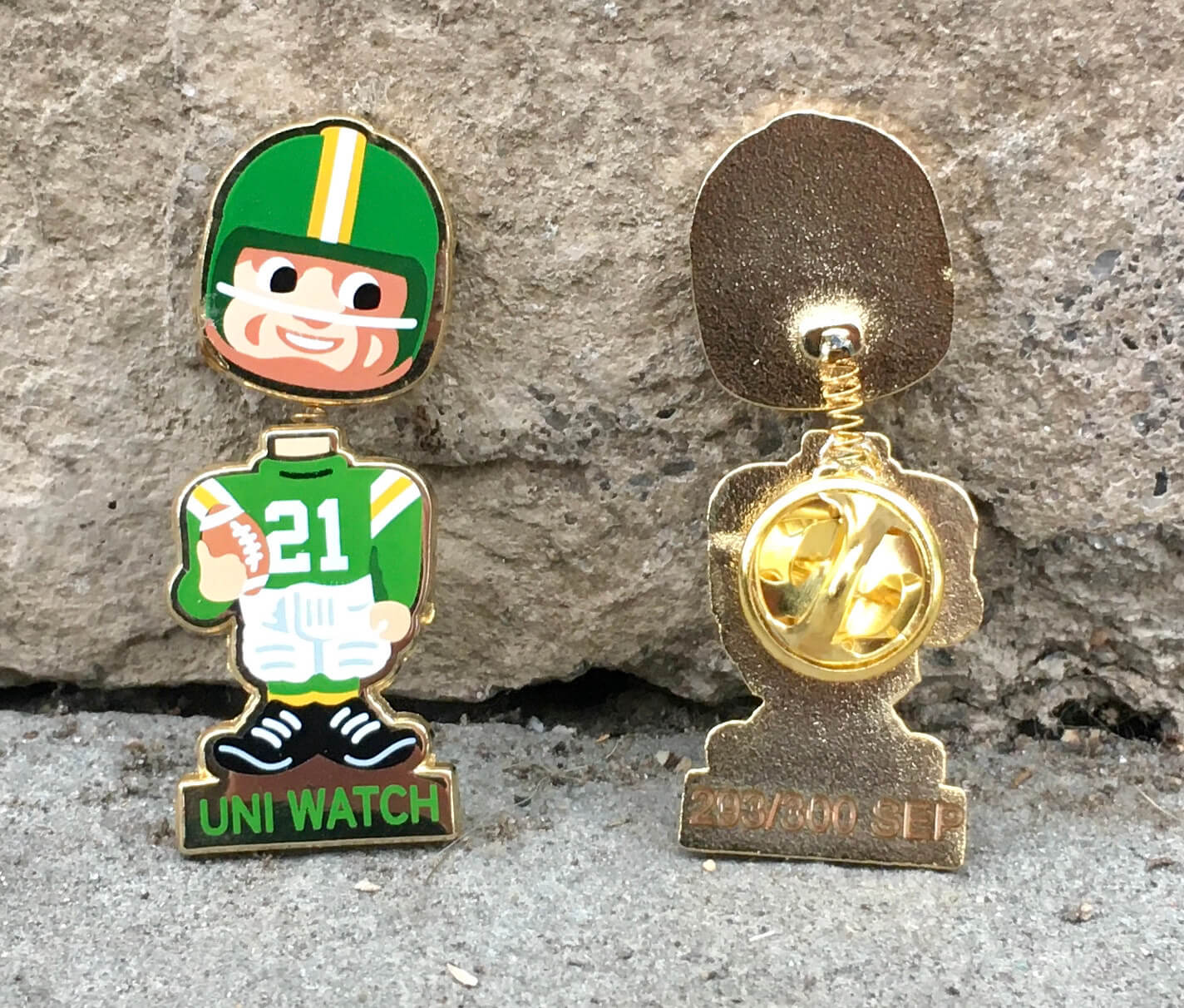 Click to enlarge
ITEM! September pin finally available: After production delays, FedEx delays, and other hassles, and just in time for the start of the NFL season, I'm happy to announce the Uni Watch Pin Club's September Pin is finally available for ordering.
As you can see above, it's a football bobblehead design. And it really bobbles! Dig:
This pin was produced in a numbered edition of 300 and is available here.
Now, I know many of you were hoping to use Teespring's recent site-wide 10% discount on this item, but the shipping delays made that impossible. So here's what we're gonna do: For today only, I'm running a one-day sale. You can save 10% on the new pin (and everything else I sell on Teespring) by using the checkout code BOBBLE. In addition, I've convinced Teespring to sponsor a new sale for Friday, Saturday, and Sunday — for those days, you can save 10% with the checkout code FABMERCH10 (I know, I know).
Need to get caught up on older pins? Here are our January, February, April, May, June, July, and August pins. (Sorry, March is sold out!)
• • • • •
• • • • •
The Ticker
By Paul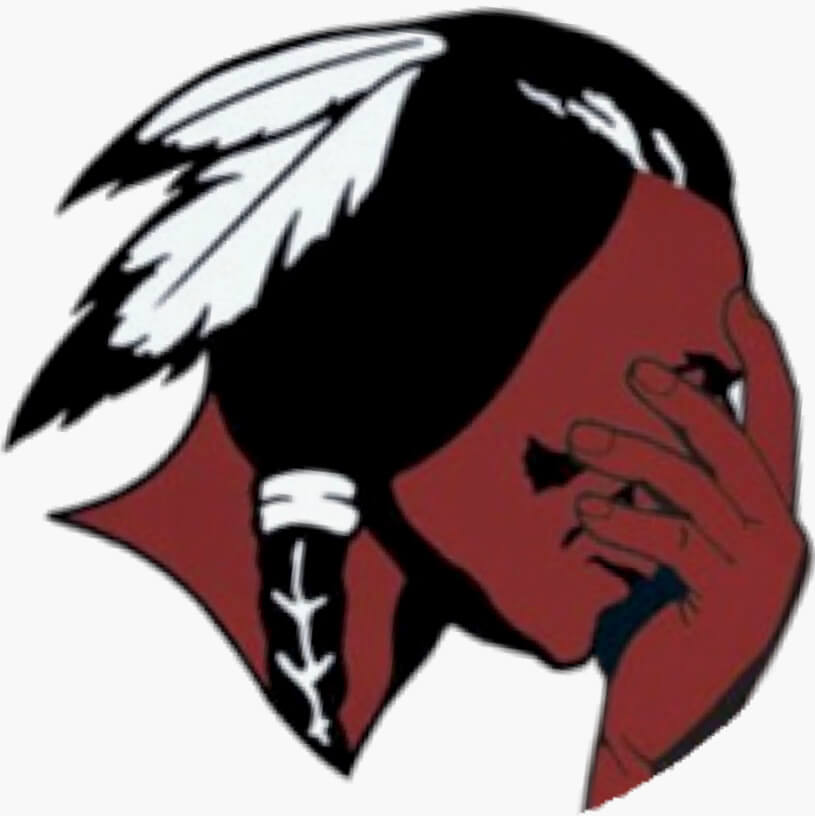 Indigenous Appropriation News: Kickapoo High School in Missouri will no longer call its teams the Chiefs (from Sam Kucera). … The WHL's Moose Jaw Warriors, who previously had a center-ice logo featuring a headdress-clad Indigenous person, are now using a new logo featuring a moose's head (from Wade Hedit). … Reprinted from yesterday's comments: McClymonds High School in Oakland, Calif., which has a predominantly Black student body, is keeping its "Warriors" team name, but the associated imagery is changing from Native American to African (from reader/commenter GM). … What's worse than a team called the Braves? A team called the Lady Braves (thanks, Phil).

Baseball News: Taiwanese team Fubon Guardians are wearing uniforms made from recycled plastic bottles and coffee grounds this weekend. … Good article on MLB's authentication program. … Reprinted from yesterday's comments: Tigers P Derek Holland has new Kiss-themed cleats, although it's unclear if he'll wear them on the field (from Patrick in Michigan). … Astros 3B Alex Bregman and Angels P/DH Shohei Ohtani both wore T-shirts supporting Curt Flood's Hall of Fame candidacy (from WB Young). … Larry Walker yesterday became the first Baseball Hall of Famer with a Rockies cap on his plaque (from @Jon_Star). … Speaking of Walker, he wore a SpongeBob pin at yesterday's induction ceremony. … Meanwhile, Derek Jeter's Hall plaque has some weird word spacing on the second line, apparently to avoid using a hyphen (thanks to all who shared). … The Mets will wear first responder caps for their game against the Yankees this Saturday — the 20th anniversary of 9/11. Just to clarify, they will wear the caps in the game, not just for pregame activites. … The Triple-A Louisville Bats will wear pink cancer-awareness jerseys on Friday (from Bill Fenbers). … The High-A Wisconsin Timber Rattlers will be doing the lederhosen thing tomorrow (from @mikeobs).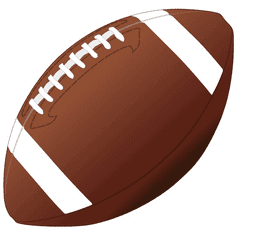 Pro Football News News: "Art of Words" honcho Dan Duffy, who makes amazing lettering-based artwork, has a new piece devoted to the Steelers' stadium (from Joe Werner). … Longtime reader and all-around swell guy Jason Von Stein has created a cool illustration mapping out this week's NFL team/uni matchups. … Topeka's new Champions Indoor Football team will be called the Topeka Tropics (from David Street).

College and High School Football News: Jackson State coach Deion Sanders is annoyed that all SWAC teams, including his, are NNOB. … As had been expected, Boston College will wear the "red bandana" design this Saturday (from Rex Henry). … New maroon helmets for Arizona State (from @JediASU). … Here are this week's uni combos for Iowa State, Washington State, UMass, Oregon, BYU, and Utah (thanks to all who shared). … UTSA will no longer use the rallying cry "Come and Take It" during games or on merchandise. The university president said that the phrase, originally associated with the Texas Revolutionary Battle of 1836, "has become increasingly affiliated with cultural and political issues beyond its traditional historical context" (from Ignacio Salazar). … Here's what the wordmark for Iowa's newly christened Duke Slater Field looks like on the turf (from Kary Klismet). … The Texas chapter of the NAACP and a group of U. of Texas students have filed a federal civil rights complaint against the university over the marching band's continued playing of "The Eyes of Texas." … Missouri will wear a commemorative decal to mark the 20th anniversary of 9/11 (thanks, Phil). … Also from Phil: More than a dozen high schools in Ohio are completely missing the point of 9/11 by wearing camouflage uniforms this Friday.

Hockey News: Rangers jersey-themed banners were hung outside St. Monica's Church in Manhattan for Rod Gilbert's funeral service earlier this week (from Alan Kreit). … Blackhawks G Malcolm Subban's new mask is a tribute to Tony Esposito (from Wade Heidt).

Basketball News: Lots of speculation regarding the Hawks' next alternate uniform (thanks, Phil).


Soccer News: New third kit for Liverpool (from Ben Hagen). … USL Championship side El Paso Locomotive FC is doing a sugar skull-themed bandana giveaway on Sept. 29 (from Mark Gutierrez). … Here's a ranking of the Premier League kits that have been unveiled so far this season (from Kary Klismet).

Grab Bag: The city council in Waterloo, Iowa, has voted to remove a griffin logo from the city's police uniforms because of the logo's historical ties to the Ku Klux Klan. … New uniforms and teal turf for NLL's Calgary Roughnecks. "The teal turf is obviously the result of their new naming advertiser — it's now WestJet Field at Scotiabank Saddledome, and teal is a WestJet color," notes Wade Heidt. … Australia's national men's rugby union team, the Wallabies, have new Indigenous-patterned uni numbers (thanks, Phil). … New logo for TV show The View. … Freight rail company CSX has tweaked its logo on locomotives. … If you think there's a big market for counterfeit jerseys, check out this article about counterfeit punk clothing. … Did you know companies can put the recycling logo on their products even if the products aren't recyclable? California is looking to prohibit that. … New rugby union kits for Scotland (from Sy Hart).