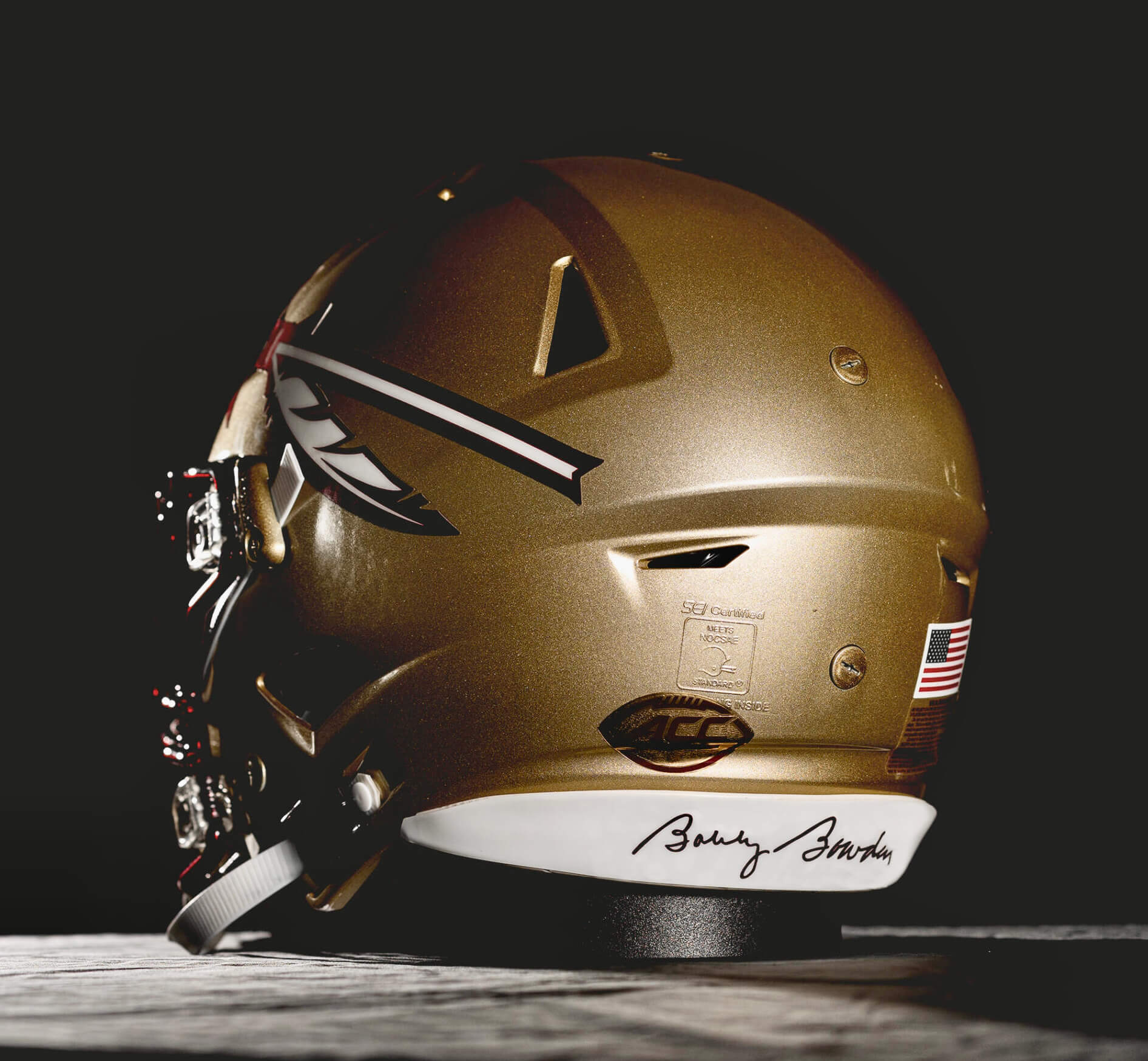 For all photos, click to enlarge
Good morning and greetings from Fun City, where we got just a wee bit of rain last night. Even stadiums with roofs weren't immune (to say nothing of stadiums without roofs). Fortunately, everything is fine here at Uni Watch HQ, at least for now, and of course all of this is nothing compared to what New Orleans and Tennessee have recently gone through. But between hurricanes, flooding, wildfires, and the pandemic, the world sure does seem broken these days. Dang.
Okay, enough of that. Now then: When my College Football Season Preview was published yesterday, the entry for Florida State mentioned that "some sort of uni-borne memorial for former coach Bobby Bowden, who died on Aug. 8, seems likely, but no word on that yet." Sure enough, FSU announced a bevy of Bowden memorials yesterday, beginning with his signature on the team's rear helmet bumper.
Other Bowden tributes will include the following:
• All coaches will wear a memorial patch: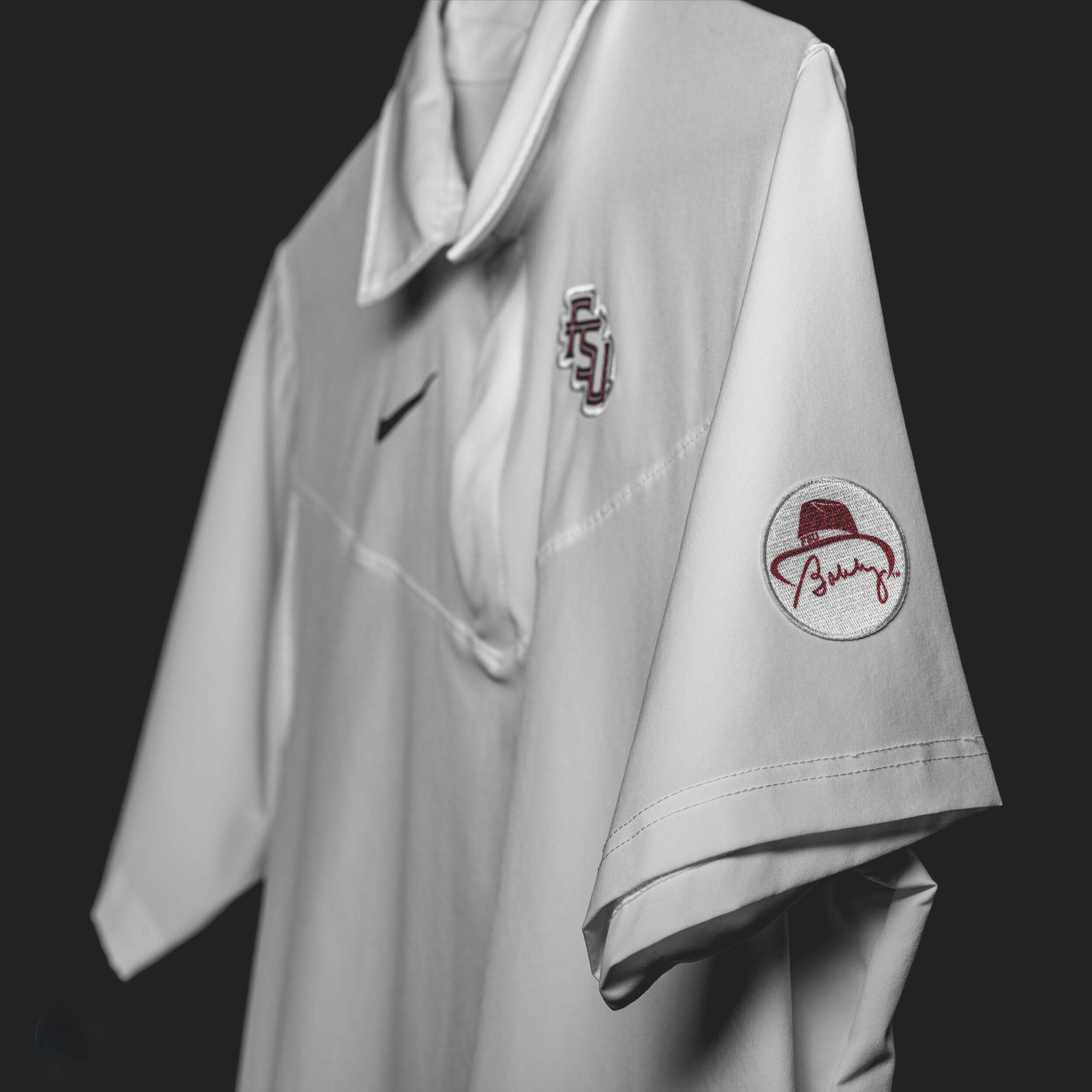 • A memorial banner has been added behind the south end zone: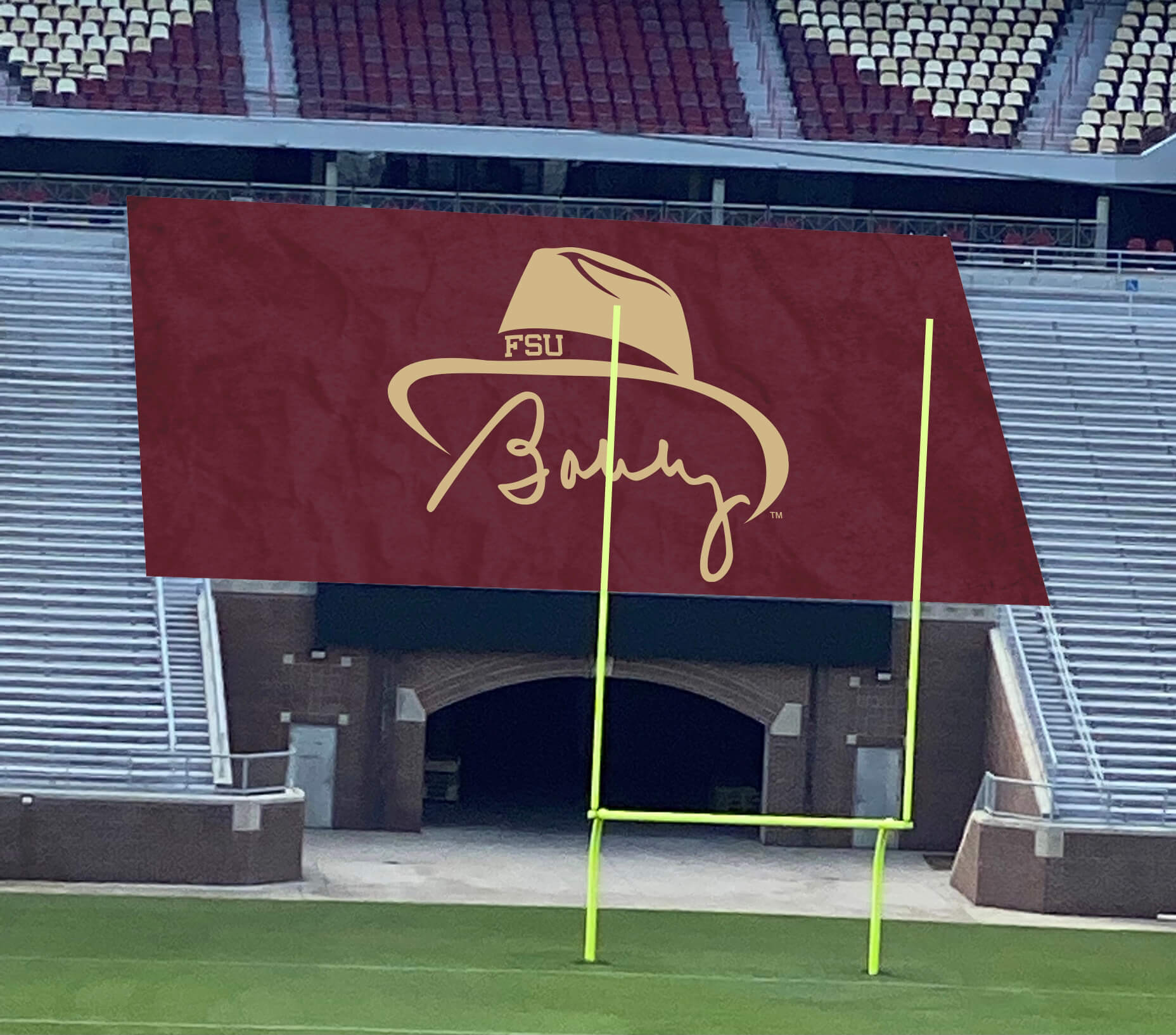 • A on-field memorial logo has been added on the 25-yard lines: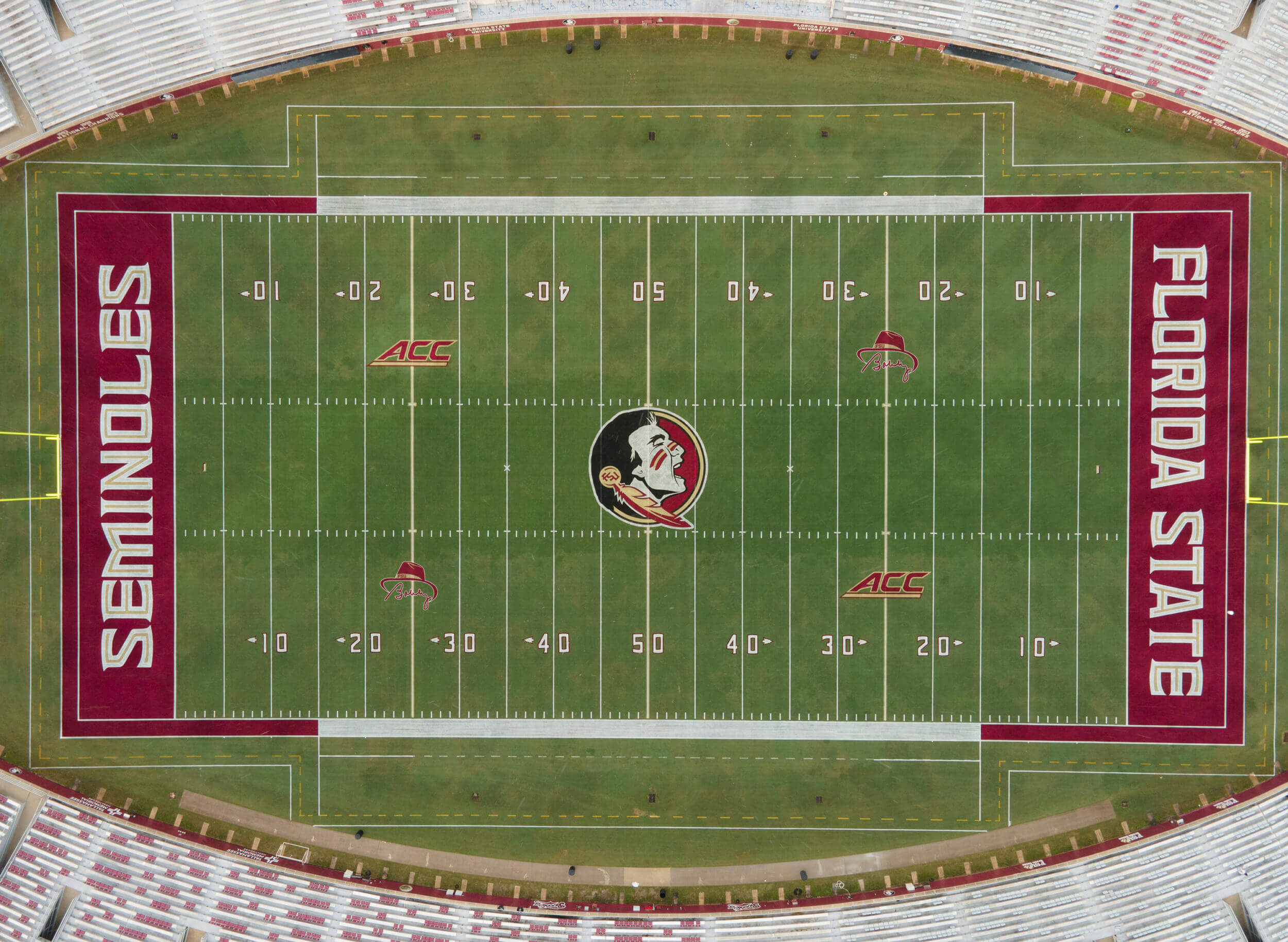 A few other late-breaking FBS items that didn't make it into the Season Preview:
• New helmet setup for Purdue.
• UNC is keeping the social justice patch that they added last year.
• Pitt is yet another ACC team with a new nose bumper graphic (and a particularly lame-o one).
• And still another ACC team with a new (and fairly lame-o) nose bumper: Virginia Tech.
• Speaking of front bumpers, Louisiana-Monroe, which previously had the Riddell logo, is now going with the Sun Belt logo.
• UNLV has added a new mono-black uniform.
If you missed the CFB Season Preview, it's available for your enjoyment here.
(My thanks to James Gilbert, Matthew Petit, and @Kurzy17 for their contributions to this section.)
• • • • •
• • • • •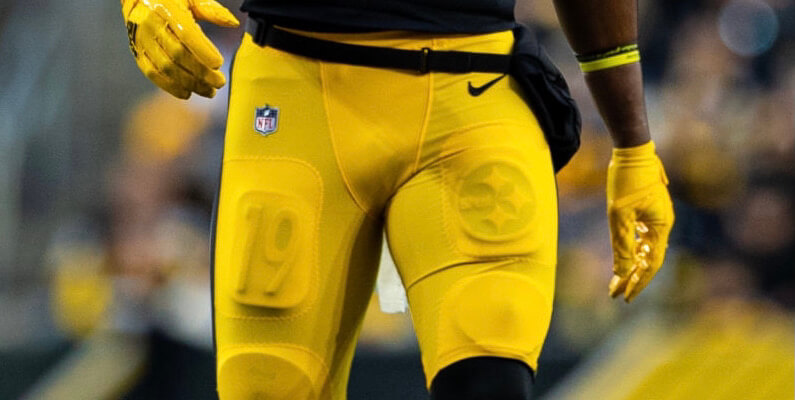 ITEM! New Bulletin article: One of the more interesting uni-related developments in football over the past several years is the rise of thigh pads imprinted with logos, uni numbers, and other messaging (as seen on Steelers wideout Juju Smith-Schuster, above). Some fans mistakenly think these are made by Nike or one of the other sportswear giants, but they're actually produced by one guy in Kentucky, who I interviewed for my latest Bulletin article. Those of you who've subscribed to receive my Bulletin content via email should already be seeing this piece in your in-boxes. Everyone else can read it on my Bulletin page. Enjoy!
• • • • •
• • • • •
ITEM! September pin update: As I mentioned yesterday, the Uni Watch Pin Club's design for September isn't yet ready for ordering (maybe tomorrow, but more likely next Tuesday). But as you can see in the video above, at least today I can show you what it looks like.
Isn't it cool? A perfect complement to the baseball bobblehead pin we did last year. All credit to my pin collaborator, the great Todd Radom, for perfectly capturing the old-style bobble look!
• • • • •
• • • • •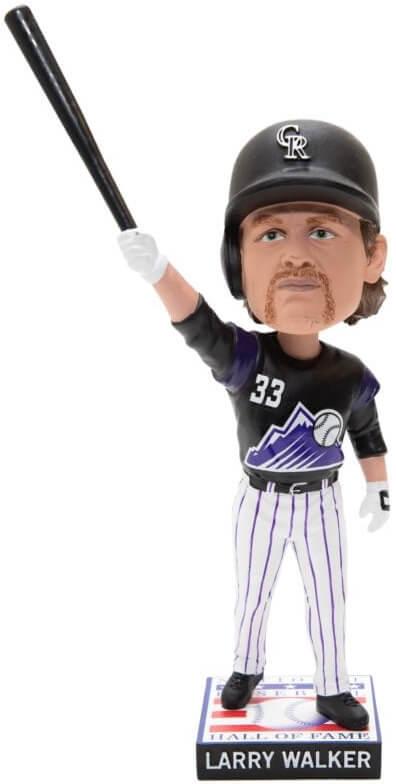 Baseball News: When the Rockies retire Larry Walker's No. 33 on Sept. 25, they'll give away what might be MLB's first-ever TATC bobblehead, as shown at right (from Ron Ruelle). … MLB teams wore yellow ribbons yesterday for childhood cancer awareness. … Dodgers P Max Scherzer wore teammate Albert Pujols's batting gloves last night (from Eric Suttle). … The Atlantic League has approved a new team in Hagerstown, Md. … My best wishes to Mets radio announcer and card-carrying Uni Watch member Howie Rose, who's undergoing a medical procedure tomorrow that will keep him on the IL for the rest of the season. Here's hoping for a full and speedy recovery.

NFL News: The Giants announced that they will retire Michael Strahan's No. 92 on Nov. 28. On Good Morning America, where Strahan is now a co-host, his former teammates Eli Manning, Justin Tuck, and Jessie Armstead all wore No. 92 jerseys as the announcement was made (from Neil Vendetti). … Good WaPo article on how the new uni-numbering rules have played out (thanks to all who shared). … The Athletic has a paywalled article about Walter Payton that includes the following passage: "Payton took the insoles out of his KangaROOS cleats and wore only a thin baseball-style sanitary sock so he could feel the seven cleats on the ground against the sole of his foot" (from Jason Hillyer). … A Denver grocery store prints the Broncos' logo on its receipts (from @elephantghost). … The four projected starters in the 49ers' secondary have changed their uni numbers to 1 through 4 (from Claude Langford).

College and High School Football News: Here's an unusually strong analysis/critique of Nebraska's 9/11 uniforms. Recommended. … DB Chamarri Conner will wear Virginia Tech's No. 25 this week (from Andrew Cosentino). … Here are this week's uni combos for UNC, Michigan State, Cincinnati, Iowa State, Arizona State, Virginia Tech, Purdue, Northern Arizona, Tennessee, and Bowling Green (from James Gilbert, @ForrestJPage86, Phil, Chad Lehman, Nick Lough, @Kurzy17, @kobe24_kyle, Jake Taylor, and Chad Fields, respectively). … New helmet for FCS school Southern Illinois (from @mrmichael21).

Hockey News: New gold jersey for the ECHL's Newfoundland Growlers (from Andrew Warford). … Here's an analysis of the NHL's plans for jersey ads (blame Phil). … Here's the Wild's latest Winter Classic jersey tease (from Ben Hagen). … The QMJHL's Cape Breton Eagles are retiring Chris Culligan's No. 7 (from Wade Heidt).

Soccer News: "Scottish club Livingston did a photoshoot where their teams modeled some of their old shirts dating to 1995, which is when they moved to Livingston from Edinburgh and were renamed from Meadowbank Thistle," says our own Jamie Rathjen. … USL Championship club Rochester Rhinos will henceforth be known as Rochester New York FC (from Ed Zelaski). … The Chile national team will now be outfitted by Adidas (from Germán Cabrejo).

Grab Bag: New home kits for defending Premiership Rugby and Premier 15s champions Harlequins (from Sy Hart). … Also from Sy: Rugby union team Colorado Raptors are now the American Raptors. … "This weekend is the first Formula One Dutch Grand Prix since 1985," says our own Jamie Rathjen. "A certain Dutch beer company is an advertiser for F1 and now also the W Series, so the trophies being given out this weekend are made from recycled beer bottles." … New 100th-anniversary badge design for the Massachusetts State Police's patrol division. … New women's volleyball jerseys for Japanese team NEC Red Rockets (from Jeremy Brahm). … New uniform and grooming rules for the U.S. Navy. … Check out the unusual placement of the dollar sign in this ad. Don't think I've ever seen it done like that before.