[Editor's Note: Paul is on his annual August break from the site. Deputy editor Phil Hecken is in charge from now through the end of the month, although Paul may be popping up here occasionally.]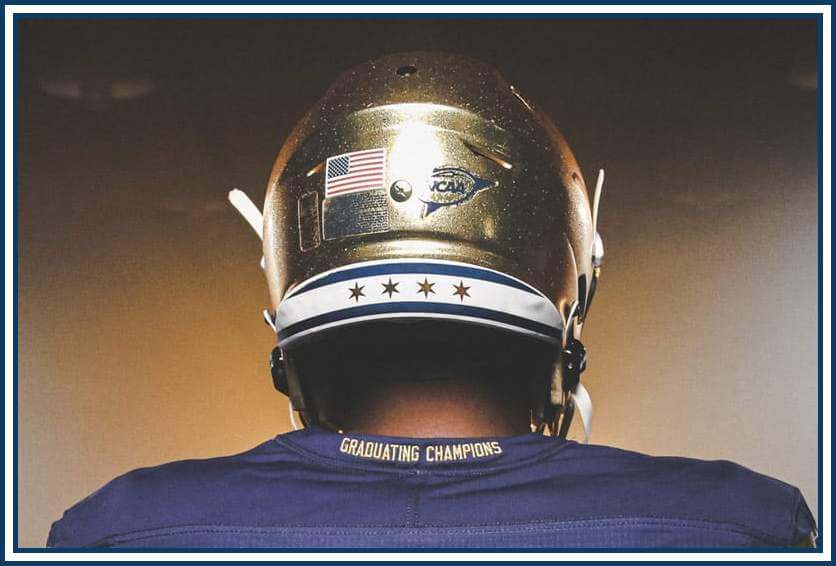 By Phil Hecken
Follow @PhilHecken

Yesterday, the Fighting Irish of Notre Dame unveiled their 2021 "Shamrock Series" uniforms, which they will be wearing at Soldier Field in Chicago, on September 25th. As you can see from the splash photo, the Irish will be working in some Chicago-flavor to their uniforms, including a neck bumper that features the four "Chicago Stars" from the Chicago flag. They'll also have "GRADUATING CHAMPIONS" on the rear collar of their jersey (but we'll get to that and the other uni details momentarily).
But first, the hype video. If you're not into the chatter and Chicago-related quips, which take up about the first minute and a half of the video and want to go straight to the video with the uniform reveals, feel free to skip ahead about 90 seconds.
As you can see from the uni-unveil portion of the video, these uniforms don't differ greatly from Notre Dame's current uniforms, though there are differences. Unlike some of their previous Shamrock Series' uniforms, these are fairly staid.
Notre Dame was originally scheduled to play a Stadium Series game in 2020 (at Lambeau Field), but last year's COVID-19 outbreak forced a postponement. Because this game will be played in Chicago's historic Soldier Field, the Irish (and uni-manufacturer Under Armour) have attempted to give the uniforms some Windy City flavor.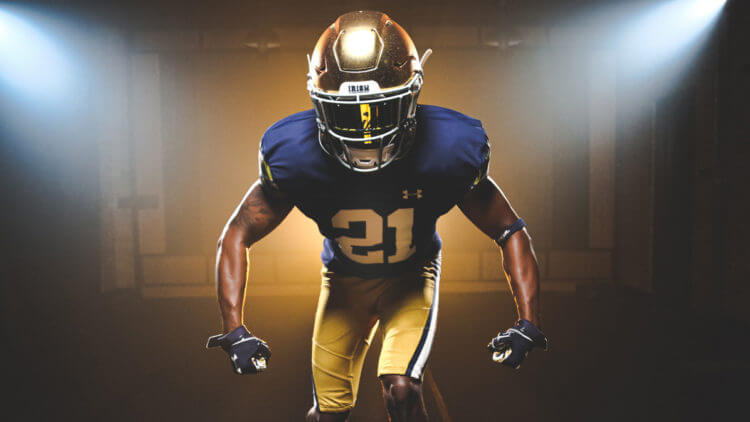 The Irish will be wearing their traditional gold helmets, navy blue jerseys and gold pants. If you just looked quickly, you might not even notice any differences from their current duds. The helmet will not feature any kind of special decal on the sides, remaining blank, but the back will have the special rear bumper as noted above (plus the annoying collar slogan). Jersey numbers are in a "block slab serif" font, meant to "represent the city of broad shoulders."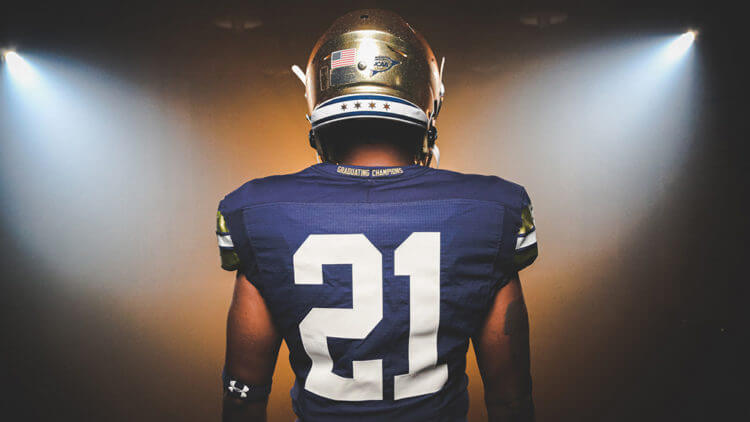 The navy blue jersey has added sleeve stripes in a wide gold/narrow navy/medium white/narrow navy/wide gold color pattern. A large interlocking "ND" logo bisects the stripe.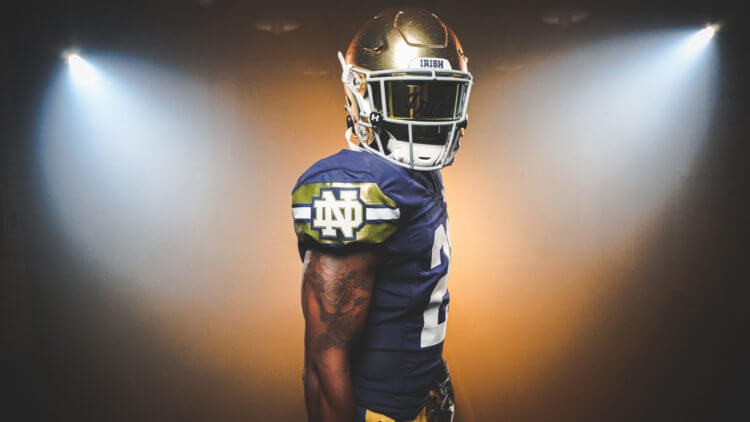 According to the team, the "two gold stripes resemble the rivers and waterways represented on the city of Chicago's flag." Seriously.
The gold pants will also have a navy/white/navy striping pattern (their pants are normally solid gold), which I think looks terrific. There's also a large interlocking ND logo on the upper left thigh.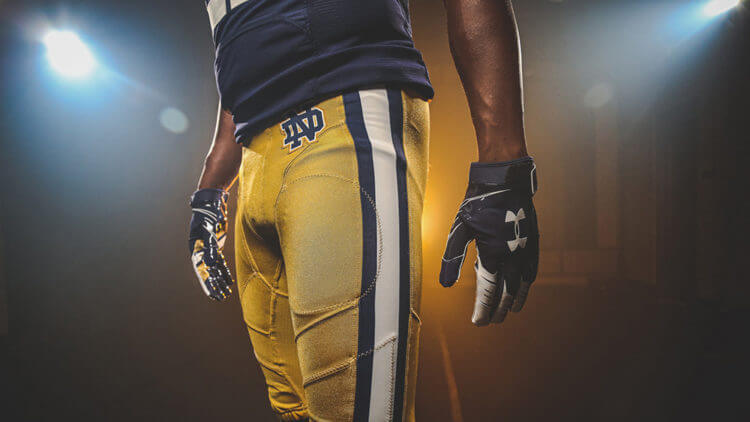 Those are, according to the team, "a direct nod to our Notre Dame team that played the first game at Soldier Field in 1924, the same year we won our first national championship."
Of course, the team will also be fitted with special shoes and gloves, the latter of which will be blue with a striping pattern that mimics that on the shoulder caps. Those "echo(es) the city of Chicago's flag by mirroring the pants stripe."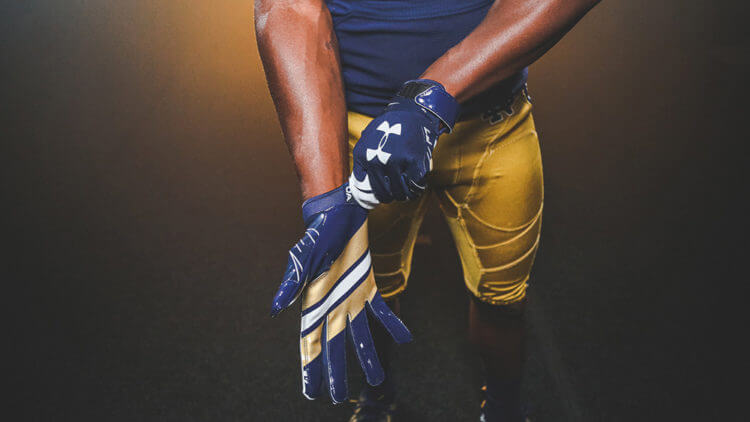 Here's an additional look at the jersey. I'm not complaining, but those numbers are ginormous. No word on what the size represents.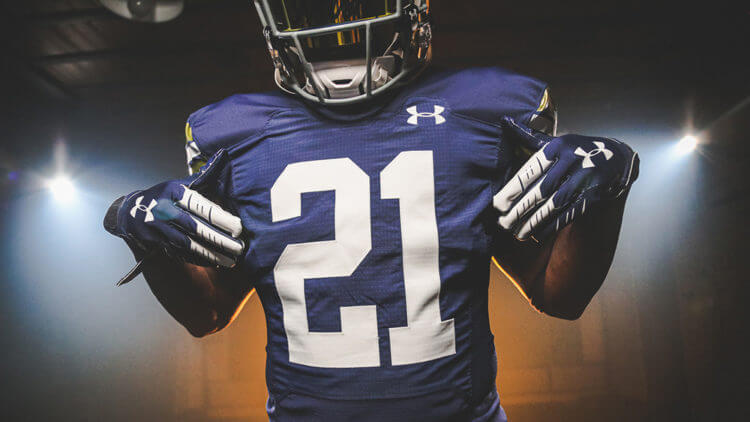 If you're somewhat aghast of those uniform detail descriptions, you're not alone. I think the team has created a really good looking one-off uniform, and it should stand alone as such — but the marketing speak, as usual, has been turned up to 11 here. I mean seriously, the sleeve cap stripes look great, but did they really design them with the city flag's depiction of Chicago's "rivers and waterways"? I do rather like the neck bumper (with the four Chicago stars), and of course there's the collar slogan, "GRADUATING CHAPMPIONS" — normally these sort of things are hidden on the inside of the collar, visible to no one on the field, but here UA has put the slogan on the outside. I'm hoping this doesn't indicate the beginning of a trend. Oh, but that location "prominently displays our program's mission statement."
Think I'm kidding about these deets? Feast your eyes…
✶ ✶ ✶ ✶

Inspired by the Windy City, @NDFootball's #ShamrockSeries uniforms are HERE.

➡️ https://t.co/L53yER6xPw#GoIrish pic.twitter.com/WBOkBy9be3

— The Fighting Irish (@FightingIrish) August 9, 2021
Notre Dame is not the only team wearing a special uniform for this matchup. Their opponent, Wisconsin, will also wear a different uni for the game (they announced their uni set earlier this year).
— Wisconsin Football (@BadgerFootball) June 23, 2021
You'll note several differences from Wisconsin's normal uniform, including "FORWARD" in a ribbon atop the motion W on the helmet, thin sleeve loops stripes over the shoulders, and different fonts. That's also a really good looking uniform, so the matchup should be a Top 5 this fall.
Notre Dame played in a Shamrock Series from 2009 through 2018 (but excluding 2017), when they last hosted Syracuse at Yankee Stadium. Despite being a road game, the Irish are calling this year's game at Soldier Field a Shamrock Series game. Last year's game (which was scheduled to be played at Lambeau Field in Wisconsin and for which ND was the home team) was rescheduled for September 5, 2026.
_____
As I mentioned above, I particularly like the ND uni for the resumption of the "Shamrock Series." In 2009, the team called their game against Washington State (and played in the Alamodome in San Antonio, TX) a "Shamrock Series" game, but they didn't wear any kind of special uniforms. Beginning with their 2010 game against Army (played in Yankee Stadium), the team began breaking out special looks. Some have been good, some…not. You be the judge how this new Stadium Series uniform fits in with those of the past:
2010
ND vs. Army (Yankee Stadium in Bronx, NY)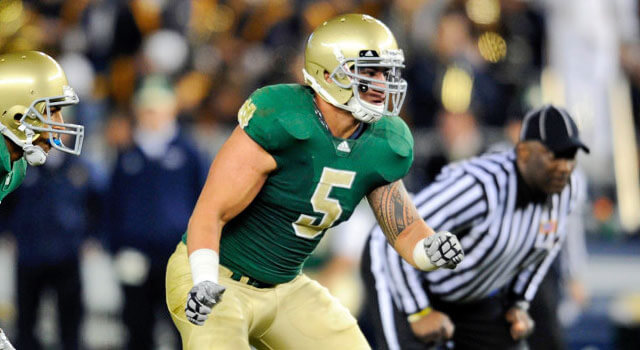 2011
ND vs. Maryland (FedEx Field in Landover, MD)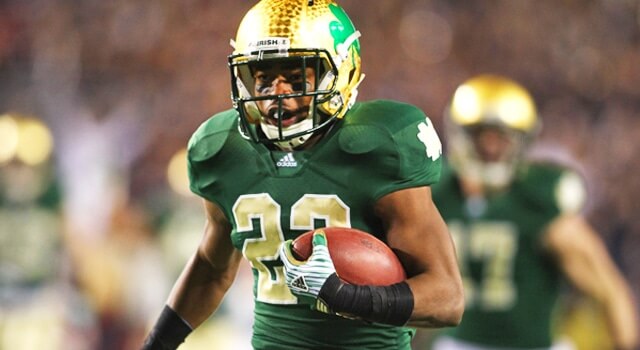 2012
ND vs. Miami (Soldier Field)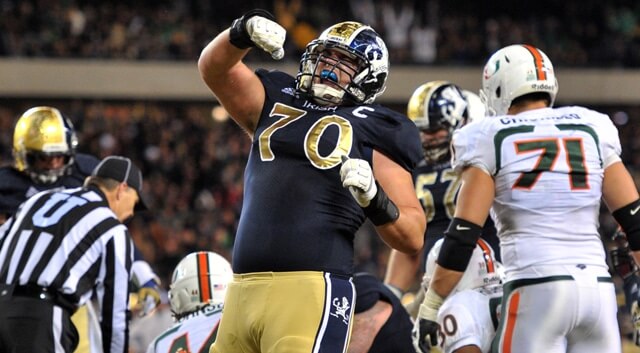 2013
ND vs. Arizona State (AT&T Stadium in Arlington, TX)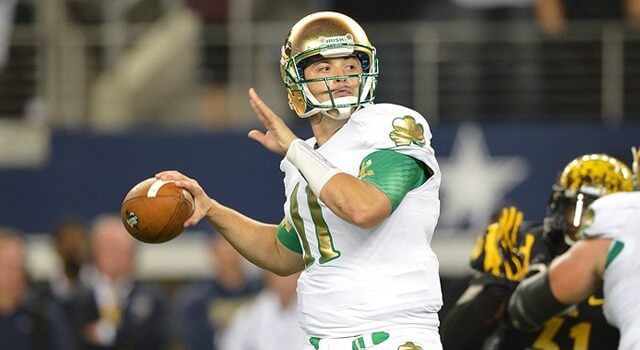 2014
ND vs. Purdue (Lucas Oil Stadium in Indianapolis, IN)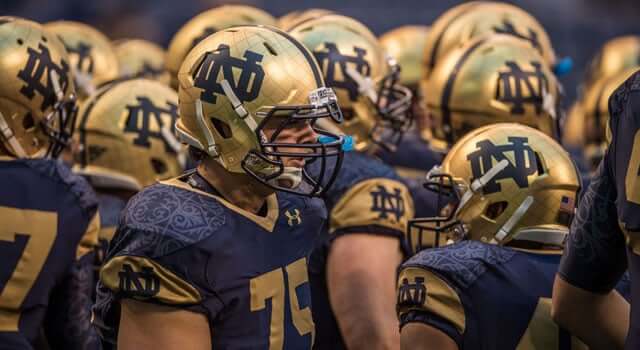 2015
ND vs. Boston College (Fenway Park in Boston, MA)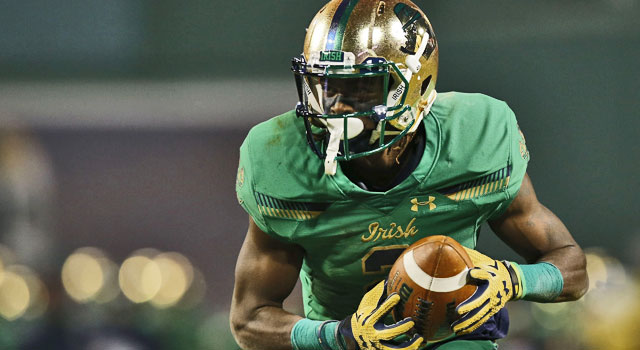 2016
ND vs. Army (Alamodome in San Antonio, TX)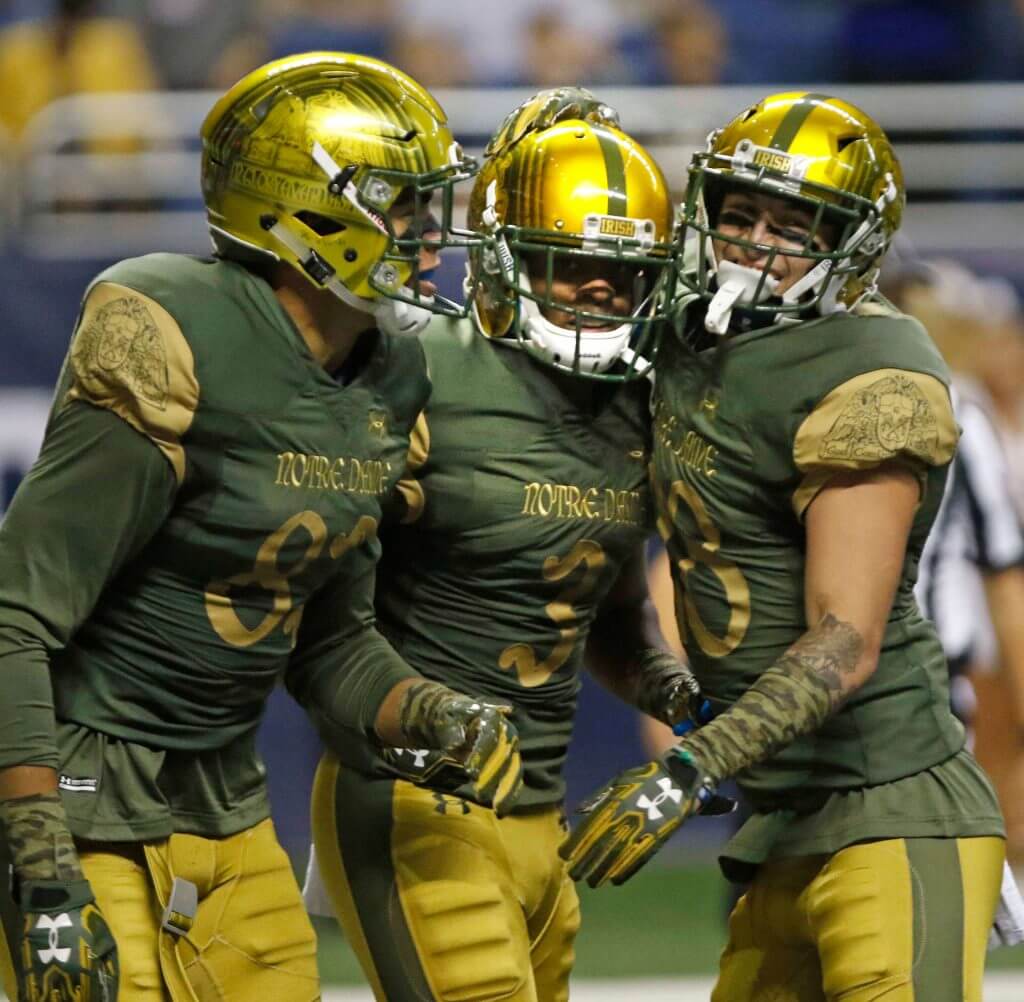 2018
ND vs. Syracuse (Yankee Stadium in Bronx, NY)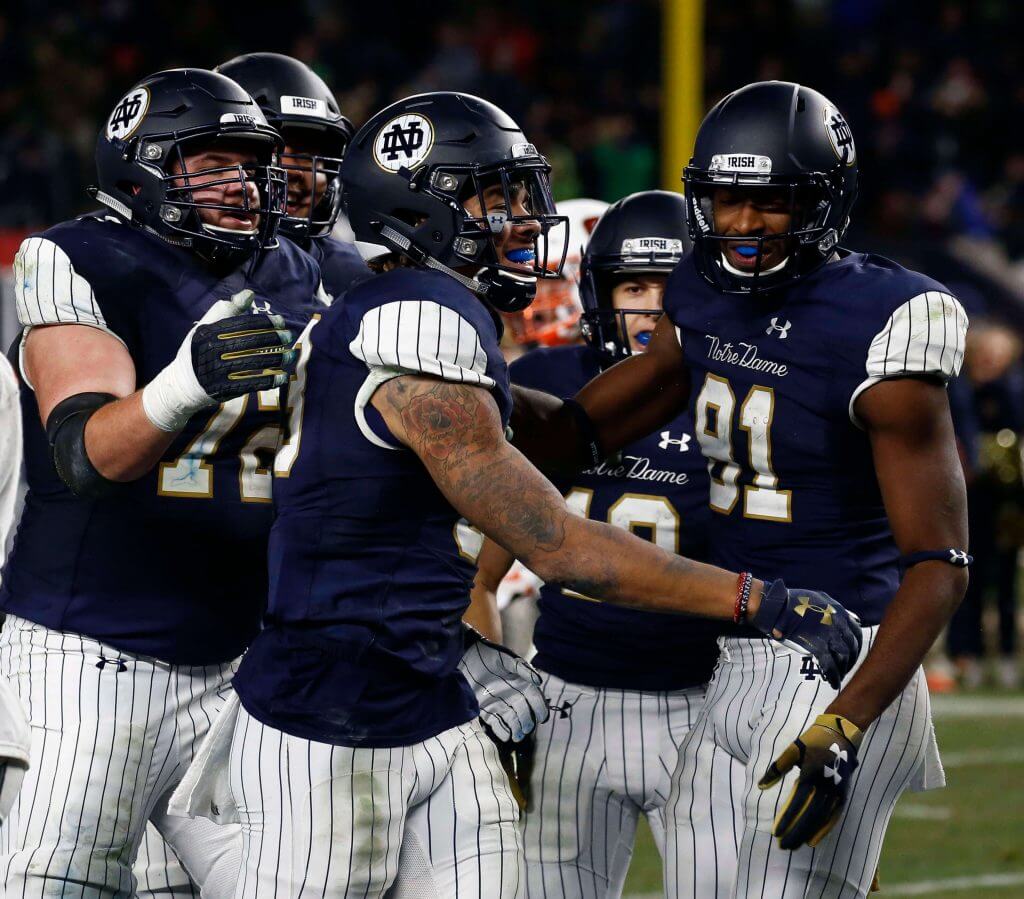 __________
So there you have it. What do you guys think?
• • • • •
• • • • •
Collector's Corner
By Brinke Guthrie
Follow @brinkeguthrie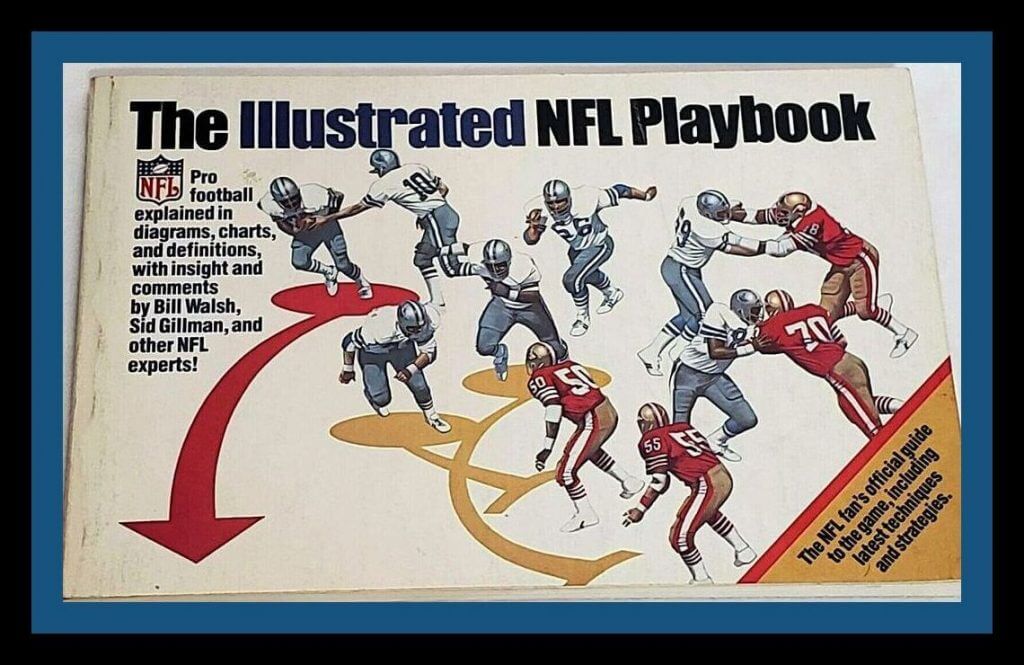 Leading off this week with this cool looking book, the "NFL Illustrated Playbook from 1982. What's interesting about that terrific cover art is, those are the Cowboys and Niners, without the star and SF on their helmets. It's kind of a similar looking doodle, but not the accurate logo.
___________
Now for the rest of this week's picks:
• Here's another NFL playbook; this one came from the 1972 game "NFL Strategy." Learned a lot about pro football from this game and booklet, for sure. Collector's Corner gives this game its highest recommendation.
• This 1970s button-down shirt by Balfour features the original Bengals helmet.
• J.P. Stevens & Co. were the makers of this 1960s (judging from the NFL shield) stadium blanket.
• "Foto-Electric Baseball" from 1949 is touted as "the finest baseball game ever made." Well, it may have been the real deal 72 years ago, but I studied the photos here and I have no idea how it works. (Helpful tip: "always turn the light off when not in use.")
• You could go ANYWHERE IN STADIUM with this 1976 Bills @ Colts TV pass. Says so right on the pass; just display at all times!
• "Detroit Baseball Company" was the name on the front of this maybe-1950s era Briggs Stadium ticket stub. It was renamed Tigers Stadium in 1961.
• When I look at this 1950s photo of New York Football Giants players Jim Katcavage and Andy Robustelli, I think of one thing: football players. Heck, even their names sound like football player names. This 1950s Bears photo is great, too. Cue Facenda, please.
• I can't say I've ever heard of "Flexkateers" as any sort of nickname associated with the New Orleans Saints, but here it is on a 1970s T-shirt. Maybe this was a name given to their defensive line, IE the "Flex" defensive scheme.
• "Dirty Dunk" is emblazoned on this 1990s over-the-door NBA basketball hoop. I saw another photo of this item where the decals were similarly plastered all over in a haphazard fashion; maybe the maker supplied the stickers for fans to apply on their own?
• How about this pair of 1960s Baltimore Colts schedules from National Beer. Look at the artistic license taken with those facemasks!
• • • • •
• • • • •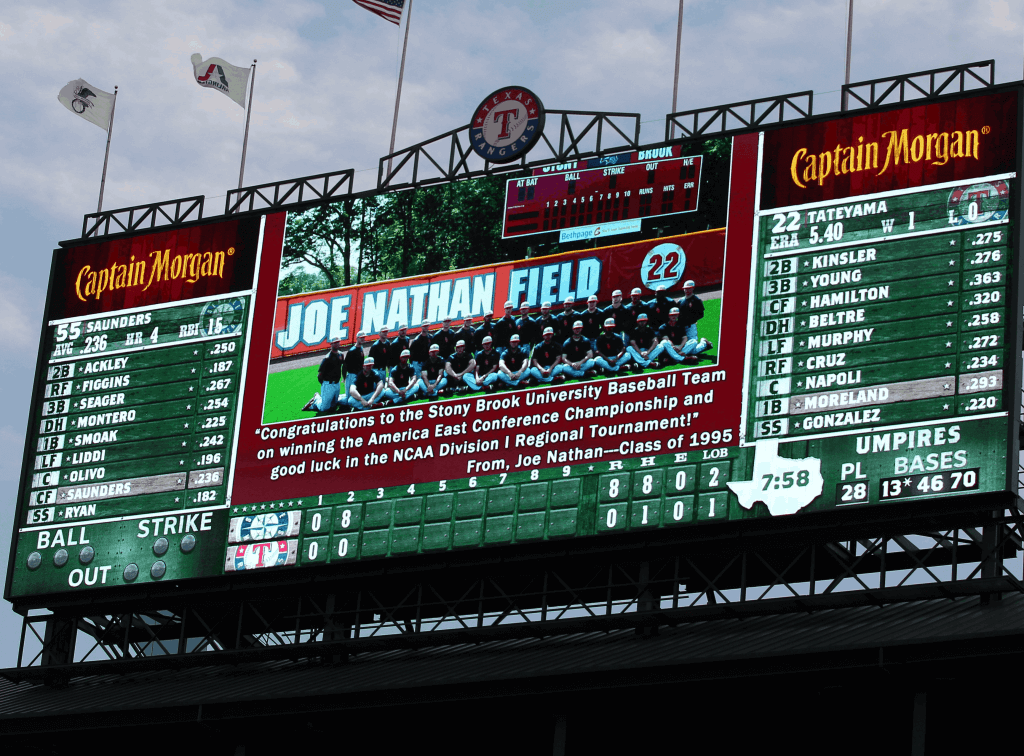 Guess The Game…
from the scoreboard
Today's scoreboard comes from Chris Hickey.
The premise of the game (GTGFTS) is simple: I'll post a scoreboard and you guys simply identify the game depicted. In the past, I don't know if I've ever completely stumped you (some are easier than others).
Here's the Scoreboard. In the comments below, try to identify the game (date & location, as well as final score). If anything noteworthy occurred during the game, please add that in (and if you were AT the game, well bonus points for you!):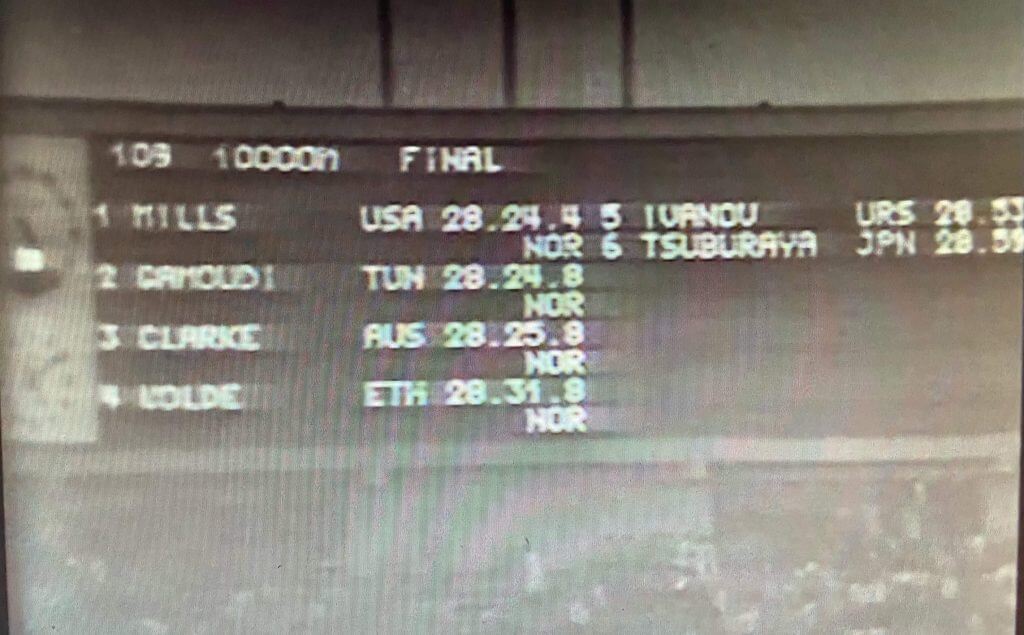 Please continue sending these in! You're welcome to send me any scoreboard photos (with answers please), and I'll keep running them.
• • • • •
• • • • •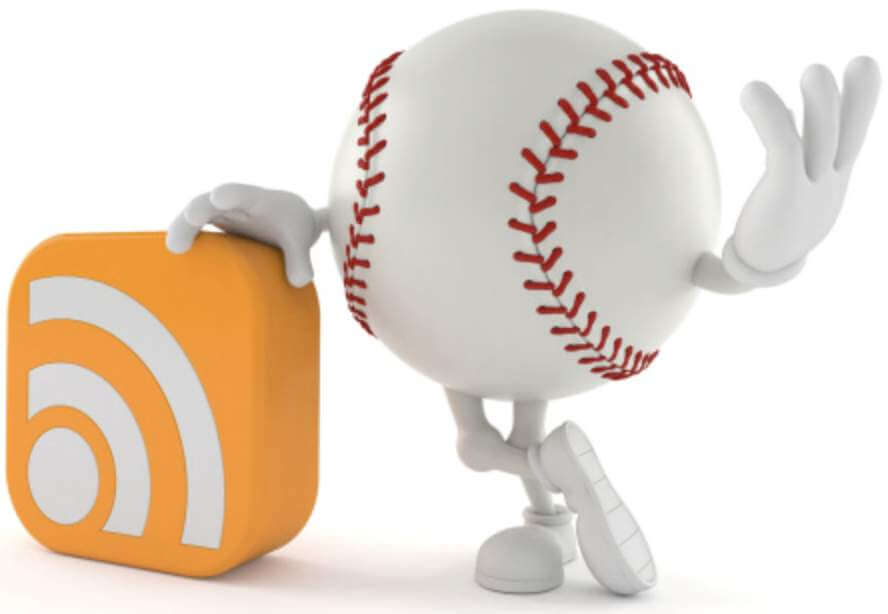 A podcast episode worth listening to: Paul here. I appeared as a guest on the latest episode of Sox Degrees, a podcast hosted by the great White Sox broadcasters Len Kasper and Jason Benetti. We spent an hour geeking out over all sorts of uni-related topics (not just Chisox stuff), and I can honestly say it was one of the most enjoyable guest appearances I've ever done. Len and Jason, aside from being first-rate broadcast professionals, are also great guys and very into uniforms — I think you'll get a kick out of our discussion, which you can do here.
Meanwhile: I'll be doing a Zoom presentation this Thursday, Aug. 12, 6pm Eastern, as part of the Worcester Museum of Art's exhibition about baseball jerseys. It's free for museum members and kids, $5 for everyone else. If you're interested, you can sign up here.
Okay, back to Phil!
• • • • •
• • • • •
The Ticker
By Alex Hider

Baseball News: Seriously lame: Reader @smntcsilverfox notes that the MLB is selling advertising on their 404 page. … Reader Johnny notes that there are some subtle differences between the uniforms that will be worn during the Field of Dreams game between the Yankees and White Sox on Thursday and the uniforms displayed in MLB The Show. … The Triple-A Louisville Bats will wear their "Mashers" uniforms again on Sunday (from Josh Claywell). … Not uniform-related but an incredible story — at 81, Joe Zich is pitching for a men's baseball league in Milwaukee. Not softball, mind you. Baseball (from Randy Koehn). … New uniforms for the Altona Angels, a youth softball team from Manitoba (from Kary Klismet).

NFL News: Big news out of New York, as the Giants announced that, for the most part, their grey pants are goners. Replacing them on the road is a new pair of white pants with red stripes that match the striping on their white road jersey. They'll wear white pants with blue, grey and red striping at home, just as they've done for the past few seasons. Grey pants will only make one appearance in 2021 — Oct. 17 against the Rams, when they'll wear white at home to celebrate the 10-year anniversary of their win in Super Bowl XLVI (thanks to all who shared). …  Chiefs QB Patrick Mahomes has a new personal logo for his new line of Adidas sneakers and apparel (thanks to all who shared). … Lots of snark on social media in recent days about Peyton Manning's Hall of Fame bust (from Kary Klismet). … Did the Bills tease a return to the red helmets?

College Football News: Vanderbilt has unveiled their uniforms for the upcoming season (from Phil). … Savor it, Florida State fans; the day is finally here. We've got some training camp photos of the Seminoles in their new (read: old) brighter garnet facemasks (from  @VictoryCB). … UCF is close to selling the naming rights to its stadium to a new advertiser (from Timmy Donahue). … New uniforms for D-II school Northwest Missouri State (from Phil).

Hockey News: NHL.com has a great interview with Dean Barnes, a hockey fan who has an enormous collection of hockey cards featuring players of African descent (from @MMMMBLT).
.

Soccer News: Winger Gareth Bale has returned to Real Madrid after spending last season on loan with Tottenham. He'll wear No. 50 in his first match back with the club against AC Milan — a number not typically worn in the sport — and some fans aren't happy (from Rich Fuller). … The Athletic (hard paywall) has a comprehensive guide to Premier League team Brentford FC's new stadium (from Kary Klismet). … Another EPL note from Kary: NBC Sports has ranked this season's kits. … … Russian second division club FC Akron Tolyatti found a creative way to unveil their new third shirt by Photoshopping it in pieces of iconic art (from Ed Żelaski). … New jerseys for the University of Louisville (from @RJsModernLife).

Grab Bag: The New York Times (soft paywall) has a recap of the style trends from the Tokyo Olympics (from Kary Klismet). … More Olympics from Kary: Here's a look at the mascot for the 2022 Winter Olympics in Beijing. … One more from Kary: Camanche High School in Iowa is changing its team name from Indians to Storm. … Speaking of new names, Valparaiso University will unveil its new team name today. The team decided to drop its Crusaders nickname earlier this year (from Scott Held). … A Japanese fan has created look-alike caricatures with each player for the men's Olympic volleyball tournament from Tokyo (from Jeremy Brahm). … Teams in the Tewaaraton Lacrosse League, major junior lacrosse league in Ontario for players aged 18 to 22, unveiled new jerseys and shorts yesterday (from Michael Sullivan). … Police in Nicholasville, Kentucky, have purchased an old-school ice cream truck in an effort to connect with the community (from Timmy Donahue). … Reader John Cerone notes that two companies have debuted anniversary logos — restaurant chain Burgerville has a new logo for its 60th, and See's Candies has a new logo for its 100th.
• • • • •
• • • • •
Uni Tweet of the Day
I love that the G-men are ditching the gray road pants (except for the Supe 46 *throwback*), I just wish they'd have gone with more (big) blue. Matching the northwestern sleeve cap stripe is an upgrade though.
These new away uniforms are CLEAN imo 🔥🔥🔥 pic.twitter.com/4217GGPSGs

— NYG/NYY/NYK COVERAGE ➐ (@NYGPD) August 9, 2021
• • • • •
• • • • •
And finally… that's all for today. Everyone have a great Tuesday and I'll catch you all back here tomorrow.
Peace,
PH