We are not talking enough about the fact that the Olympics have a bullpen cart for relievers to enter the game. 😅 pic.twitter.com/r3xBlCQcZE

— Boardroom (@boardroom) July 29, 2021
I think most of us agree that what baseball needs is the return of bullpen buggies. To clear, I'm not saying the players need it — a professional athlete should be able jog the 100 yards or so from the bullpen to the mound — but the game needs it, because bullpen buggies are a fun spectacle that add a playful sense of entertainment to the proceedings.
The Nationals and Diamondbacks brought back bullpen buggies in 2018 (Washington's even has its own Twitter feed), but their pitchers tend not to use them and no other MLB teams have followed. The minor leagues are really where bullpen buggies should be thriving — it fits the MiLB marketing spirit, right? — but I realize that a small-town team operating on a shoestring budget may not have the resources for that type of thing.
The Olympics are about the last institution I'd expect to step into this breach. But as you can see above, they've come up with their own bullpen buggy, and it's pretty excellent! I really like the glove throne (although it would be nice if they had a left-handed version for southpaw relievers), plus there's the "Go!Go!" animation on the front, plus-plus the driver and pitcher stay socially distant! It's a win-win-win.
But wait, it gets better — the driver is high-cuffed! Check this out (click to enlarge):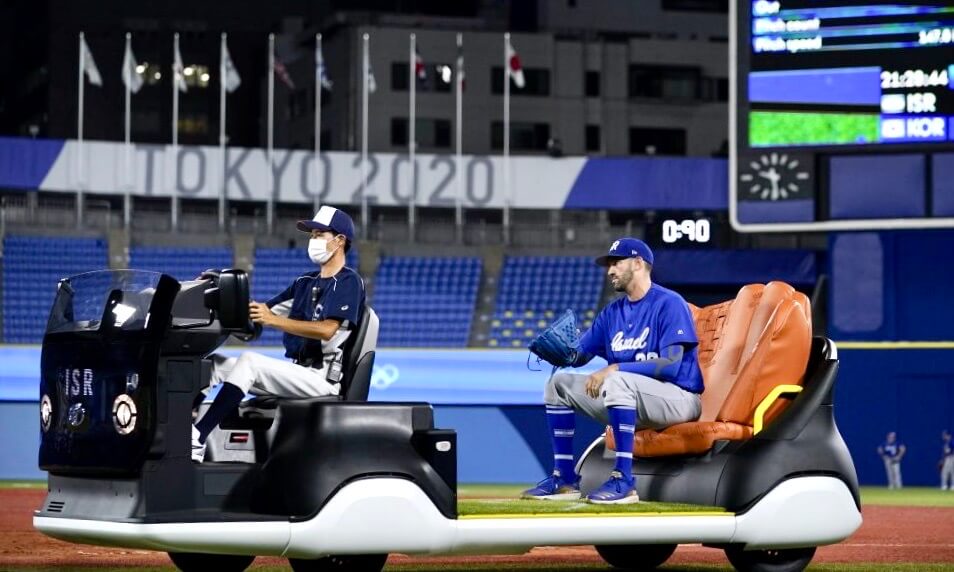 No logo creep on the driver's cap, either — nice.
Of course, the Olympics are taking place in Tokyo, and this bullpen buggy seems like precisely the sort of thing that would already be a well-established thing in Japanese professional baseball. Can anyone tell us more about the state of bullpen buggies in Japan?
Meanwhile, if you want to learn about the history of bullpen buggies in MLB, check out this ESPN piece that I wrote back in 2007.
(Thanks to reader/commenter RickAZ for reminding me about the D-backs' bullpen buggy.)
• • • • •
• • • • •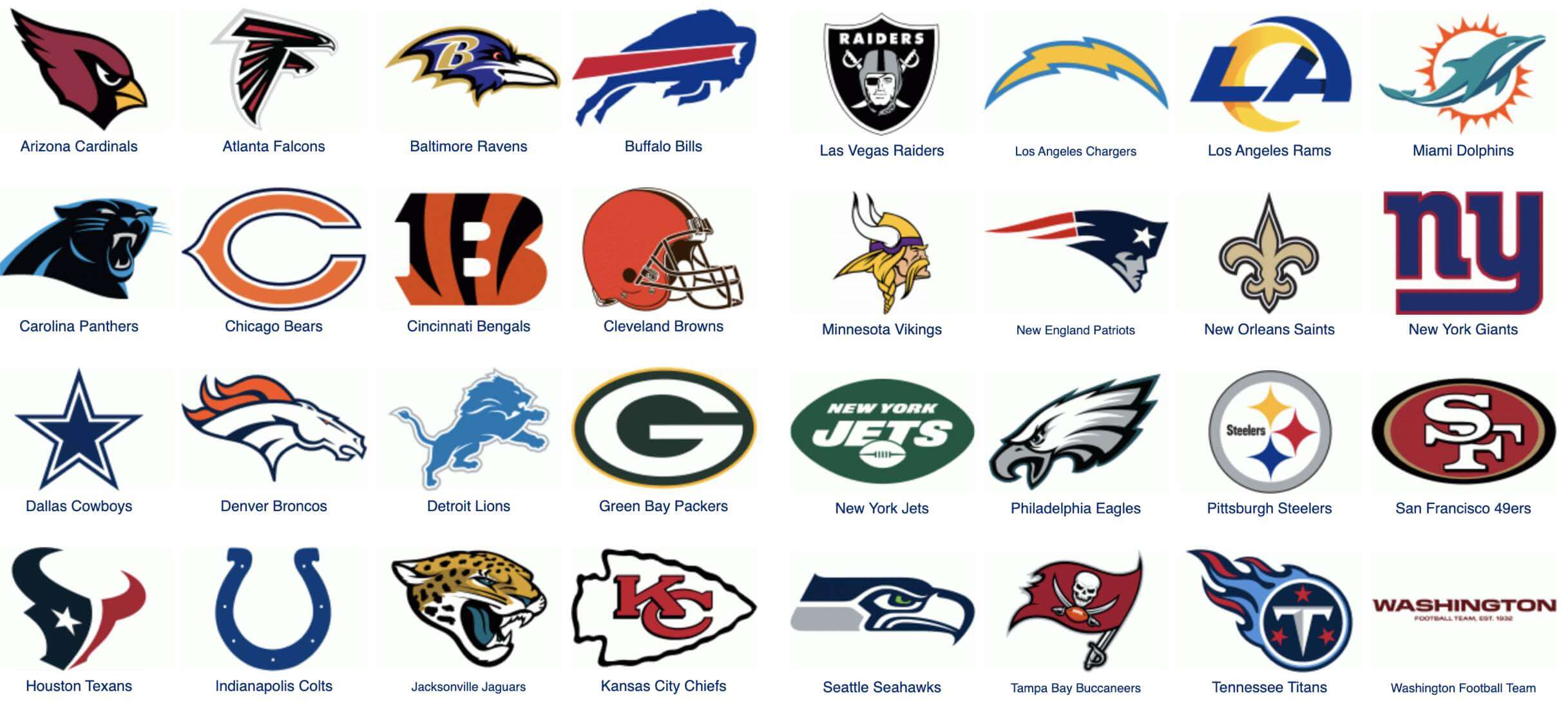 The left and the right of it: For my latest article over on Bulletin, I wrote about left- and right-facing team logos in all the major pro leagues (including but not limited to the NFL, as shown above).
It was a fun investigation prompted by something I randomly noticed while researching something else, and I think you'll really enjoy it. There's a technical glitch that's currently preventing me from publishing the piece, but I expect that to be resolved shortly — link coming soon, or you can just see if it's shown up yet on my Bulletin page.
• • • • •
• • • • •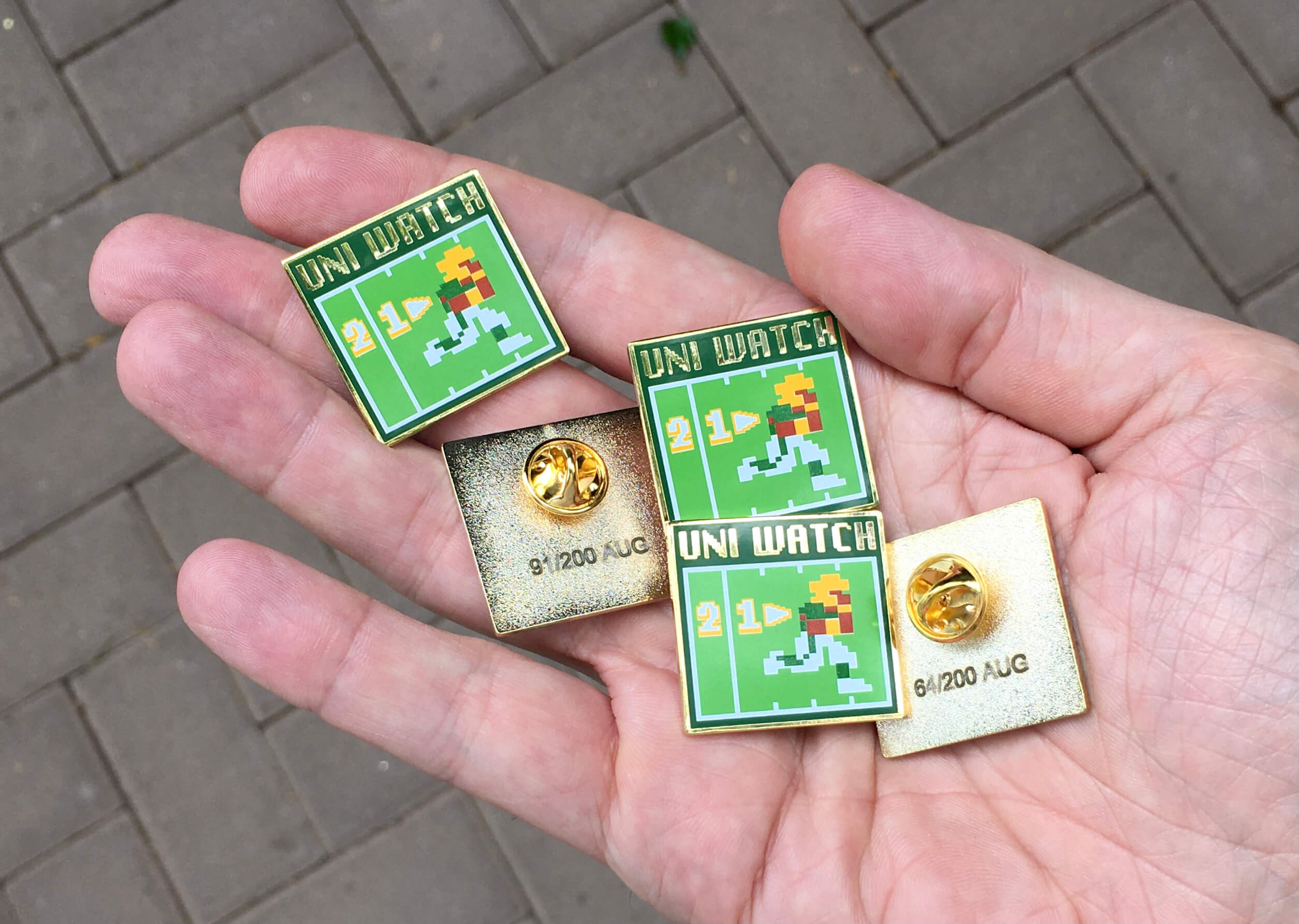 Click to enlarge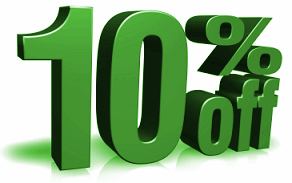 ITEM! New Teespring sale: In case you missed it on Thursday, I've decided to launch the August pin a bit early because I'm about to take my annual month-long break from the site (more on that in a minute). And with football training camps gearing up, Todd Radom and I thought it would be fun to do a Tecmo Bowl-style pin, complete with 8-bit graphics. I really love how this one turned out. This is a numbered edition of 200 pins. You can order it here.
What I didn't know when I launched the pin yesterday was that Teespring was about to roll out a site-wide sale. Now through Monday, you can get 10% off of the pin by using the checkout code BACKTOSCHOOL. (Yes, I realize school is still a ways off, but I don't come up with these code names, folks.) This same discount applies to everything in the Uni Watch, Naming Wrongs, and Uni Rock shops.
Need to get caught up on the pins? Here are this years pins from January, February, April, May, June, and July (sorry, March is sold out!), plus all of our remaining pins from last year are available at a discounted price.
My thanks, as always, for considering our products.
• • • • •
• • • • •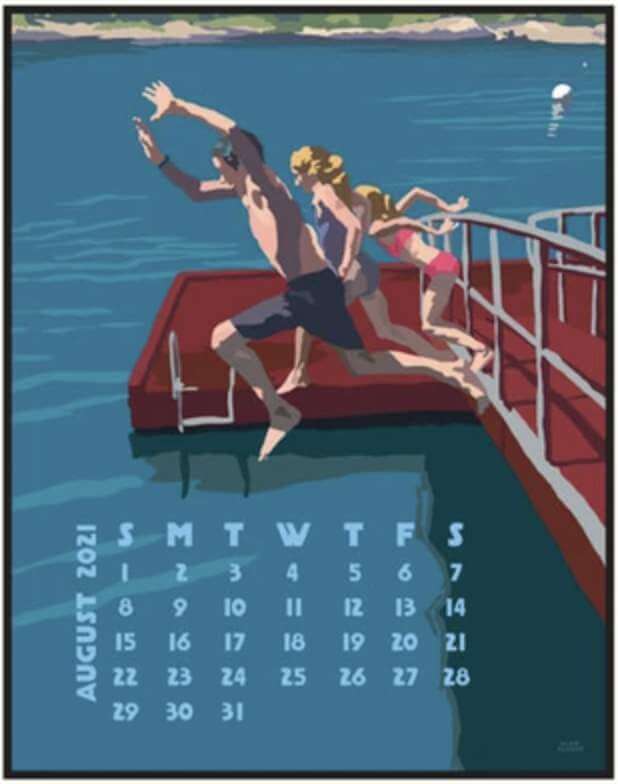 August plans: As longtime readers know, I usually take a break from the site in August — in part to recharge my batteries and travel, and in part so I can focus on my College Football Season Preview, which is always a big task. (This year's edition will run on InsideHook sometime around Sept. 1, and then the NFL season preview will follow on Sept. 7-ish.)
Here's how the site will run for the next month or so:
• Tomorrow, July 31: Phil has this weekend off, so tomorrow I'll make a rare Saturday appearance.
• Sunday, Aug. 1: Uni Watch will be closed on Sunday.
• Aug. 2–31: Starting on Monday, Phil will be running the site on weekdays and webmaster John Ekdahl will handle the weekends. Tickers will appear every weekday as usual, but probably not on weekends. I'll still be doing my weekly articles over on Bulletin (links for those pieces will be provided here on the blog), and I may also pop up occasionally here on the blog. But for the most part, I'll try to stay away from the site.
So what will I be doing in August? For starters, I'll be taking a nice, long road trip — my first vacation in two years. And I don't mind saying that I need it!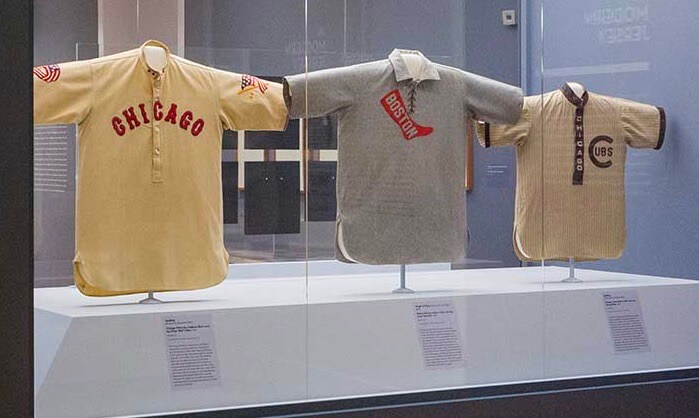 Also: The Worcester Museum of Art in Massachusetts currently has an exhibition about baseball jerseys. They've invited me to be a guest speaker, so I'll doing a presentation about baseball uniforms on Aug. 12, 6pm. I had hoped to do this in person, but the museum has decided that all the guest programs will be done remotely, via Zoom. It's free for museum members and kids, $5 for everyone else. If you're interested, you can sign up here.
That's about it!
• • • • •
• • • • •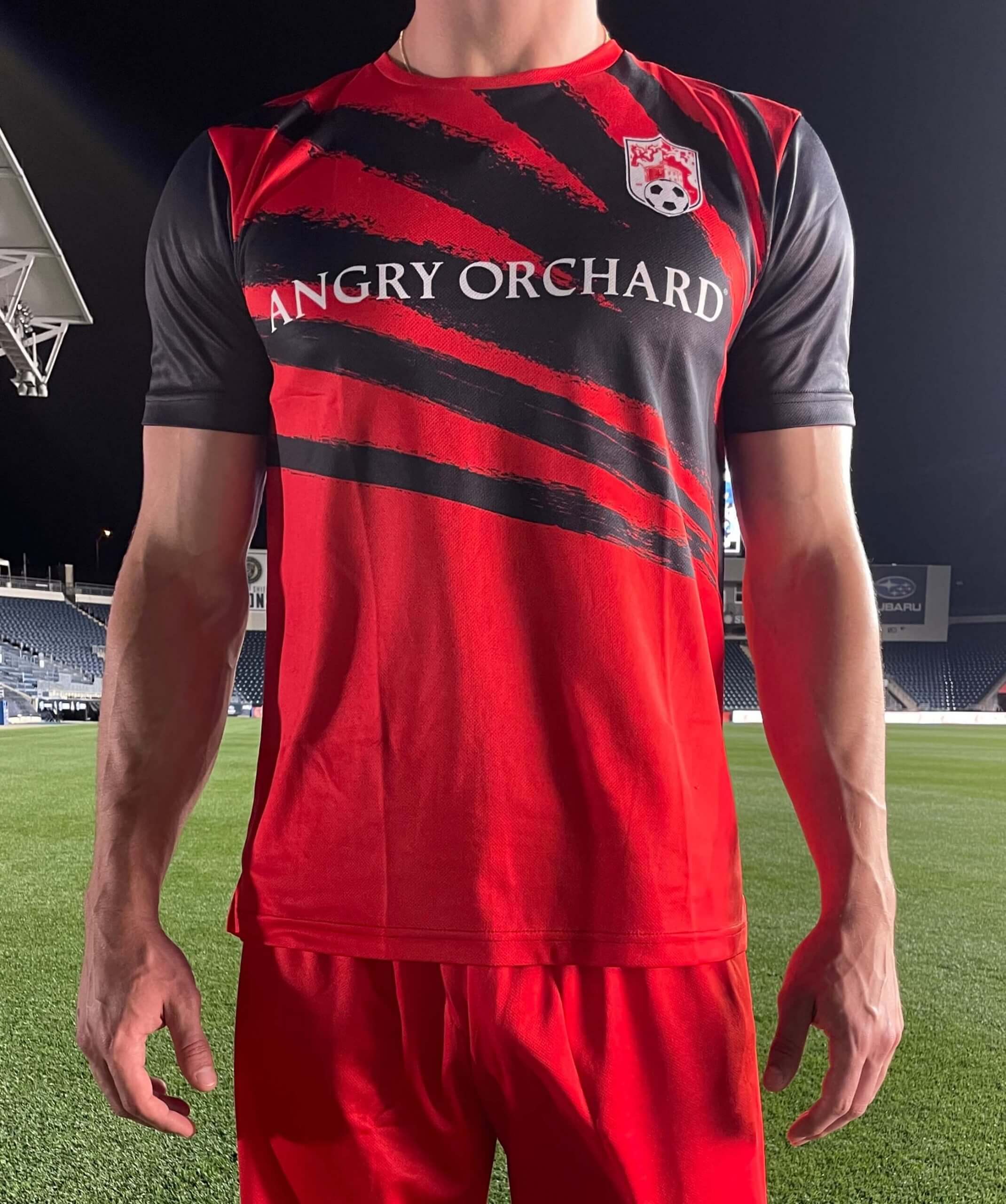 Click to enlarge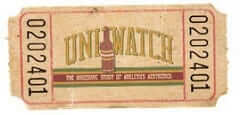 ITEM! Angry Orchard soccer shirt raffle: With this being the "summer of soccer" (Euros, Copa Americas, Gold Cup, Olympics), the folks at Angry Orchard hard cider, who are active in soccer promotions, have now created their own soccer jersey and have generously offered to let me raffle off five of them to Uni Watch readers.
The front design is shown above. The jerseys will be blank on the back. Here's a closer look at the crest, which, like the jersey design itself, references the branches motif in the Angry Orchard branding: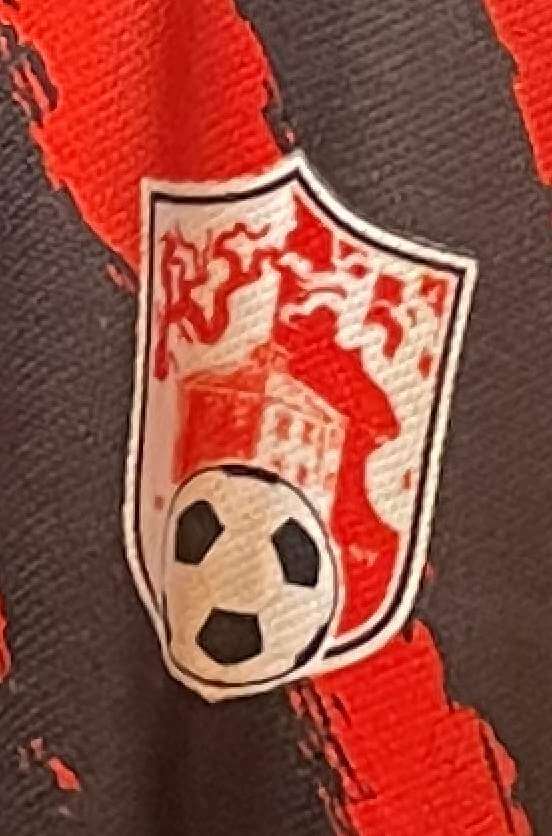 This will be a two-day raffle. USA residents only, and all entrants must be 21 or over. To enter, send an email address with your mailing address and size (XS through XXXL) to the raffle in-box by 8pm tomorrow, July 31. One entry per person. Phil will announce the winners on Monday. Thanks to Angry Orchard for sponsoring this one!
• • • • •
• • • • •
Click to enlarge
Mirror, mirror: Mary and I went out for a walk yesterday afternoon and came across an empty storefront with a spectacularly evocative broken window. (Although it looks like a mirror, it's a clear window. Just happened to catch it at a very reflective angle.)
We've all seen windows that crack in a "spider web pattern," of course. What I especially like about this one is the spiral in the center:
Man, I love that. Also love how it just happened. Like, nobody could plan for it to crack like that, nor could you duplicate it. One of a kind, like a snowflake or a fingerprint!
• • • • •
• • • • •
The Ticker
By Anthony Emerson

Baseball News: Atlanta OF Joc Pederson is doing the old trick of impaling his pant cuffs on his rear spikes, which is supposed to be banned. Red Sox P Pedro Martinez was fined $5,000 for doing it in 2006 (from Benjamin Alexander Hochenberg). … Tim Dunn has kindly provided us with a rundown of all the uni number changes that the Mariners' flurry of moves has brought about. … Tomorrow the Amarillo Sod Poodles, Double A affiliates of the D-Backs, will wear jerseys with a gigantic photograph of a prairie dog on them (from Ignacio Salazar). … Kary Klismet writes in: "This slideshow shows some uni-notable details about New London (Iowa) High School's baseball team. Their jerseys include an interesting twist on the classic 'birds on a bat' motif (featuring two tigers instead). And their players wear different sock styles, with some in color blocks and other in Northwestern stripes."

NFL News: The NFL is allowing their 14 international development players to wear decals of their native flags, in addition to the US flag, during preseason games (from @BenOnSports).


NBA News: ESPN's graphics package for last night's NBA draft included neon green accents for the Hawks — a color that's no longer part of their visual identity. … Warriors F Jonathan Kuminga will become the latest NBA player — and the 44th in league history — to wear double-zero. … Looks like the Sixers may have a new jersey sponsor advertiser this fall.

Soccer News: A father and son rate every Premier League home kit in this long but fun video (from Ted Arnold). … 2. Bundesliga teams will take the pitch with their right sleeves rolled up to encourage vaccination (thanks, Jamie). … Also from Jamie, new second shirts for Manchester City, Watford, and Chelsea while a new third shirt for West Ham.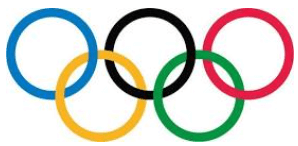 Olympics News: You know those masks American athletes have been wearing in Tokyo, the ones that kind of look like Jerry's puffy shirt from Seinfeld? NPR has an explainer on them (from Rex Henry). … The following are all from Kary Klismet: The New York Times has an article on female athletes' attempts to gain control over their own attire at the Olympics. … Some people on social media have found fault with the aesthetics of the United States' women's swimsuits. … You may have noticed that some of the United States' women gymnasts wore blue leotards during the qualification rounds earlier this week while others wore red. This article explains why.