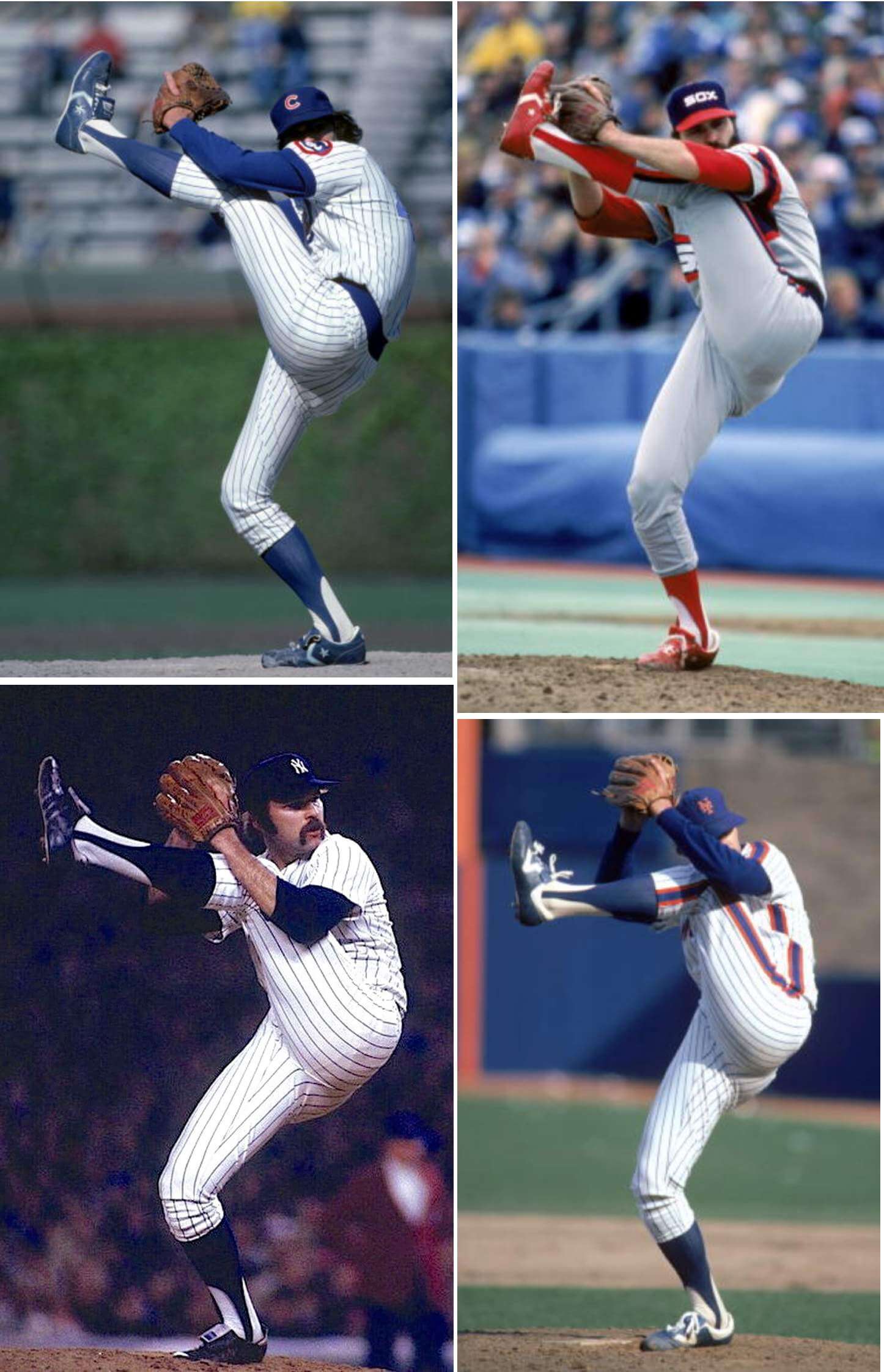 Click to enlarge
Former MLB pitcher Dick Tidrow, who had a 13-year career in the 1970s and '80s — including stints with both Chicago teams and both New York teams! — died a few days ago at the age of 74. He was never a star — more of a journeyman, really — but I used to love watching him pitch, and I'd like to talk about that today.
From an aesthetic standpoint, Tidrow was really interesting to watch. As you can see above, he had superb stirrup stylings, some serious facial hair, and an unusually high leg kick that photographers loved to capture. (In all of these aspects, he was essentially a forerunner of 1987 National League Cy Young winner Steve Bedrosian.)
But beyond that, Tidrow had a uni-related behavioral tic that fascinated me from an early age: After delivering a pitch, he would always — always — tug at the bill of his cap. You can see what I mean by watching this video from Game Four of the 1978 World Series, when Tidrow pitched three innings for the Yankees against the Dodgers. This embed picks up the action in the top of the sixth inning, when Tidrow had just entered the game and was tossing his warm-up pitches:
If you watch that video for a while, you'll see that Tidrow's post-pitch tug on the cap bill was a reflexive, almost involuntary thing. He did it after warm-up pitches, pitches that the batter took for a called ball or strike, pitches at which the batter swung and missed, and even pitches that resulted in the ball being put in play. (If you want to see more Tidrow footage from that game, the top of the seventh starts at the 1:01:45 mark.)
Tidrow did the cap tug throughout his career. Here's a sequence from a 1980 game when he was pitching for the Cubs against the Cardinals. This one is particularly uni-licious because the opposing batter is Bobby Bonds, who was wearing No. 00 on his back and on his sleeves (the Cards had TV numbers in 1979 and '80):
(As an aside: Bonds carried his batting helmet with him to the plate for that at-bat. I don't think I've ever seen a player do that before! And if you stick with the video, the next batter is George "Low Pants" Hendrick. So much uni-notable content in that sequence!)
There have been several pitchers over the years whose caps have repeatedly fallen off during their delivery, like Jim Bouton, John Pacella and Mike MacDougal, but I can't think of another pitcher who habitually tugged at his brim like Tidrow did. As a kid, I became mildly obsessed with it. On the one hand, it was the kind of personal quirk that I loved noticing and fixating on (having a radar for that kind of thing would eventually lead to Uni Watch). On the other hand, some control-freak part of my brain also found something oddly annoying about it. Like, "Can't you not tug on the cap just once?" (By contrast, seeing the cap tug in these old video clips is nicely reassuring, like reconnecting with an old friend I hadn't seen in decades.)
In 1984, the final year of his career, Tidrow appeared in a handful of games for the Mets. I specifically remember a play in which the opposing batter hit a comebacker that caromed off of Tidrow's shin, and he wasn't in proper position to field it because he was reflexively tugging at the bill of his cap just as the ball struck his leg. I remember being incensed; a few days later, Tidrow was released and his career was over.
Tidrow spent the last 28 years working in the Giants' front office — more than twice as long as he was an active player. Others may remember him for other things (like his nickname, "Dirt"), but I'll always remember him for the cap tug. R.I.P.
(Special thanks to Twitter-ers @NFL_Journal and @darkstarharry for their assistance in locating the video sequences embedded in today's post.)
• • • • •
• • • • •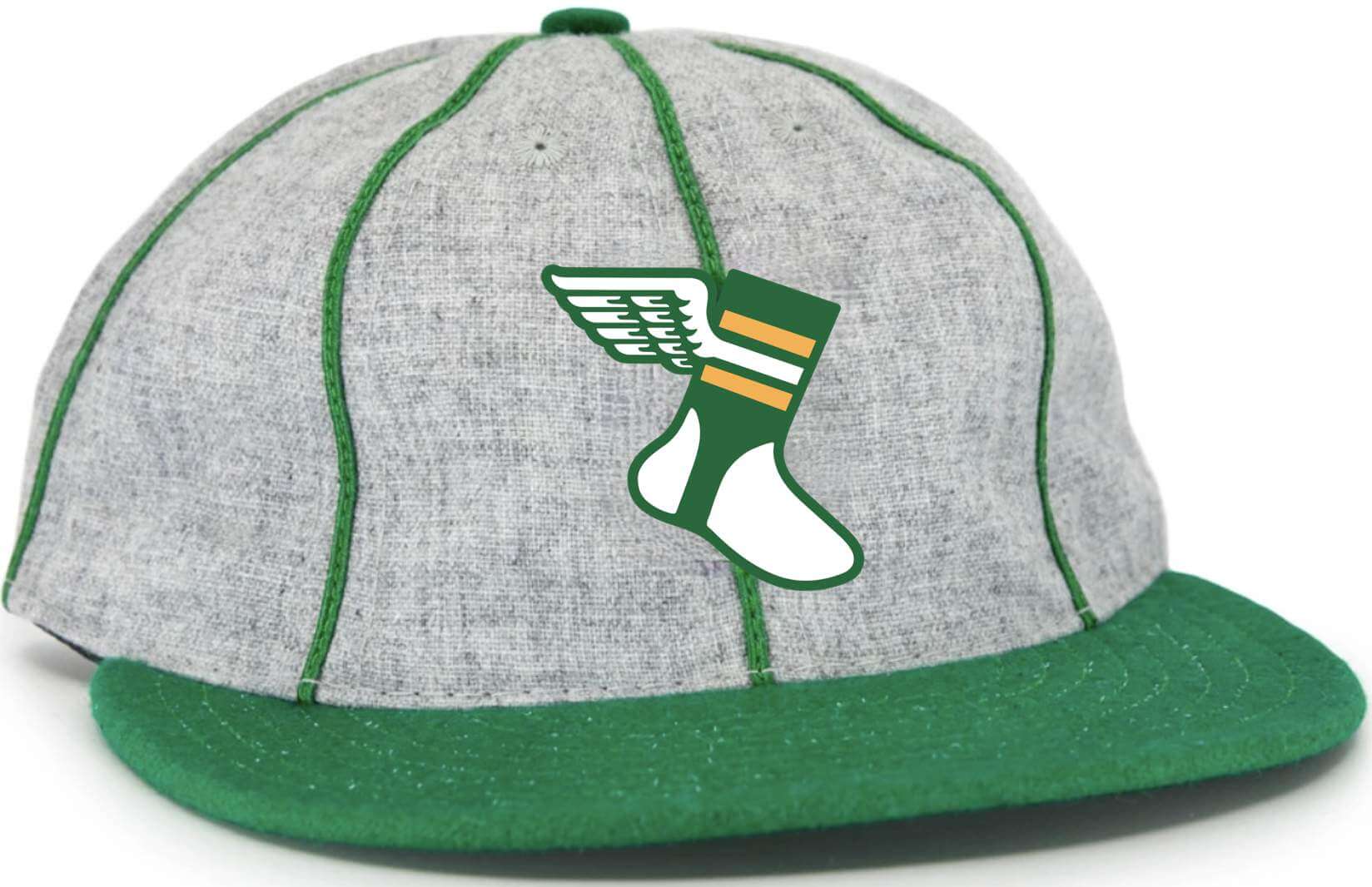 Click to enlarge
Should this be the new Uni Watch cap? Last week we sold through the last of the Uni Watch Classic Caps (thank you!). I've been fooling around with some crude mock-ups of some other cap designs we could do with Ebbets Field Flannels, and the one I like best is shown above. What do you think?
Before you answer that question, here are some details:
• This would be an eight-panel cap (not the more common six-panel) with green piping as shown in the mock-up.
• Just like the Classic Cap, this one would be 100% wool and made in the USA by Ebbets.
• That green brim is a Kelly green. As I recently explained, Ebbets no longer has the shade of green we were using for the Classic Cap. I don't want to do a solid-Kelly cap, but I think the combination of Kelly, grey, and piping works really well.
• Speaking of the brim: The photo that I used for the mock-up showed a cap with a short, soft visor. But if I go ahead with this product, it will have a conventional-length stiff visor.
• No visible maker's mark, of course.
• It would be available in fitted sizes. If enough people expressed interest in an adjustable version, I'd do that as well.
• It would be available to ship around the end of September.
• It would not be cheap — based on the quote Ebbets has given me, the price would be something like $43 plus $6 shipping.
I will not go ahead with this product unless I'm certain that a significant number of you are willing to purchase it. I might even require pre-orders, or at least deposits. But for now, I'm just trying to gauge how many people are interested, based on the details and pricing I've just spelled out. If that's you, please send me a note indicating that you'd be on board. If you want to list your preferred size (or if you'd prefer an adjustable instead of fitted), that would also be helpful.
Thanks in advance for your feedback — much appreciated.
• • • • •
• • • • •
The Ticker
By Anthony Emerson

Baseball News: Unfortunately, black unis are coming back for the Mets on July 30, and for all Friday home games going forward. Notably, the sleeve patch is the regular Mets logo with the blue skyline, and not the black-skyline version that was worn with the original black jerseys (from multiple readers). … The Pirates will wear a patch marking the 50th anniversary of their 1971 World Series championship on Saturday (from Jerry Wolper). … Apparently happy with the overwhelmingly negative reaction to the All-Star unis, MLB and Nike are planning on doing it again in 2022 (thanks, Phil). … The Jersey Shore BlueClaws, High-A affiliates of the Phillies, will become the BruceClaws for Bruce Springsteen Night on July 31 (from John Cerone). … In lieu of kippot, Team Israel opted to keep their caps on during the performance of Hatikvah, the Israeli national anthem. The Israeli players then removed their caps for the American anthem (from Avi Miller).

NFL News: The NFL is continuing social justice messaging for the coming season (thanks, Phil). … The Superdome is just called the Superdome again, as the naming rights deal with a German car manufacturer has ended (from Timmy Donahue).

College/High School Football News: Eagle-eyed reader Joseph A. Bailey noticed a mistake in the new movie Black Widow. In a scene set in 1995, the characters drive past a high school football game. "It took all of two seconds to realize that they are clearly using footage from now," wrote Joseph. "The officials are wearing black slacks, not white knickers. The black slacks weren't used by high school officials until 2010. As a football official, it bums me they didn't care to get it correct."

Hockey News: The AHL's Milwaukee Admirals, affiliates of the Predators, have unveiled the logo that will go on their new third sweater. The logo is not a throwback, though it's certainly supposed to look retro (and they even call it a "fauxback" in the explainer graphic), and the Admirals had a kinda-sorta similar one back in the '80s and '90s (from multiple readers). … The NWHL has teased a forthcoming rebrand (thanks, Jamie).

Basketball News: Apparel company Homage has released a line of WNBA shirts paying, ahem, homage to the NBA JAM series of video games (from Andrew Cosentino). … The Thunder's arena is getting a new advertised name. The signage for its previous corporate advertiser was removed yesterday (from Timmy Donahue). … Really interesting NYT article about a guy who goes around New York City playgrounds installing nets on bare basketball hoops.

Soccer News: Serie A has banned green kits, effective as of the 2022-23 season. This poses huge problems for US Sassuolo, whose colors are black and green (from multiple readers and our own Phil Hecken). … The replica version of Manchester United's new home shirt lacks several key design elements. The cynic in me says this is to try to get fans to buy the more expensive authentic jerseys. … Bundesliga side 1. FC Köln have unveiled their new home kits (from Alex Peerenboom). … The USWNT has unveiled its Olympic kit, with the USSF crest swapped out for a "USA" inscription (thanks, Jamie). … Also from Jamie, every MLS team — even the Canadian ones — are getting camo warm-ups (also from David Hanson). … Lokomotiv Moscow have unveiled all three of their new kits (from Ed Żelaski). … Also from Ed, new home kit for Lech Poznań. … The USL League One expansion team in Northern Colorado will be known as the Hailstorm, and have revealed their crest (from Scott Rogers). … Peruvian side Club Universitario have unveiled some very nice fauxback kits to celebrate the 200th anniversary of Peru's independence (from @texastrevor). … Atlético Mineiro of Brazil's Série A have unveiled an absolutely gorgeous new home kit (from multiple readers).

Grab Bag: Illinois Gov. J.B. Pritzker has signed a bill allowing high school athletes to make their uniforms more modest for religious or cultural reasons (from Kenneth Traisman). … New logos for Southeastern Louisiana University athletics (from Chris Mycoskie). … Nike apparently had a shirt ready to celebrate Rafael Nadal's 21st Grand Slam title if he won at the French Open. Nadal, of course, lost in the semis to eventual champ Novak Djokovic.
• • • • •
That's it for this week. Mary and I are spending the weekend at a friend's house upstate (which will be our first nights sleeping anywhere other than Uni Watch HQ since January of 2020!). Hope you all have fun weekends planned as well. Enjoy Phil's content for the next two days and I'll see you back here on Monday. — Paul