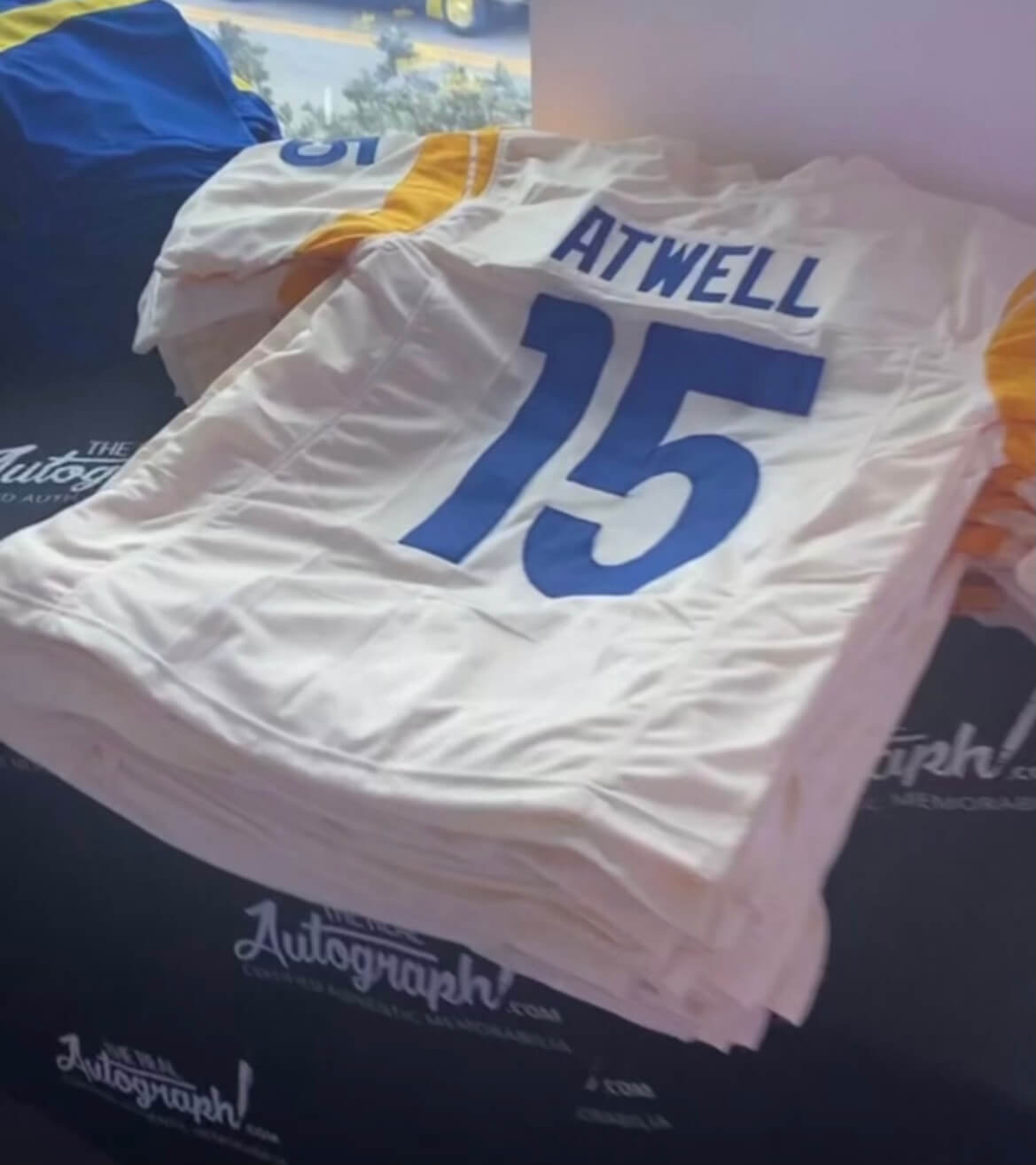 Click to enlarge
Three weeks ago, Rams COO Kevin Demoff said the team would unveil its new alternate jersey sometime in July. Two weeks after that, Rams offensive lineman Andrew Whitworth said the new design would be "a throwback to the old Rams unis with the yellow and everything."
Now it appears that the new jersey will actually be white. That's based on an Instagram video posted yesterday by Rams wide receiver Tutu Atwell, which showed him autographing a bunch of white jerseys.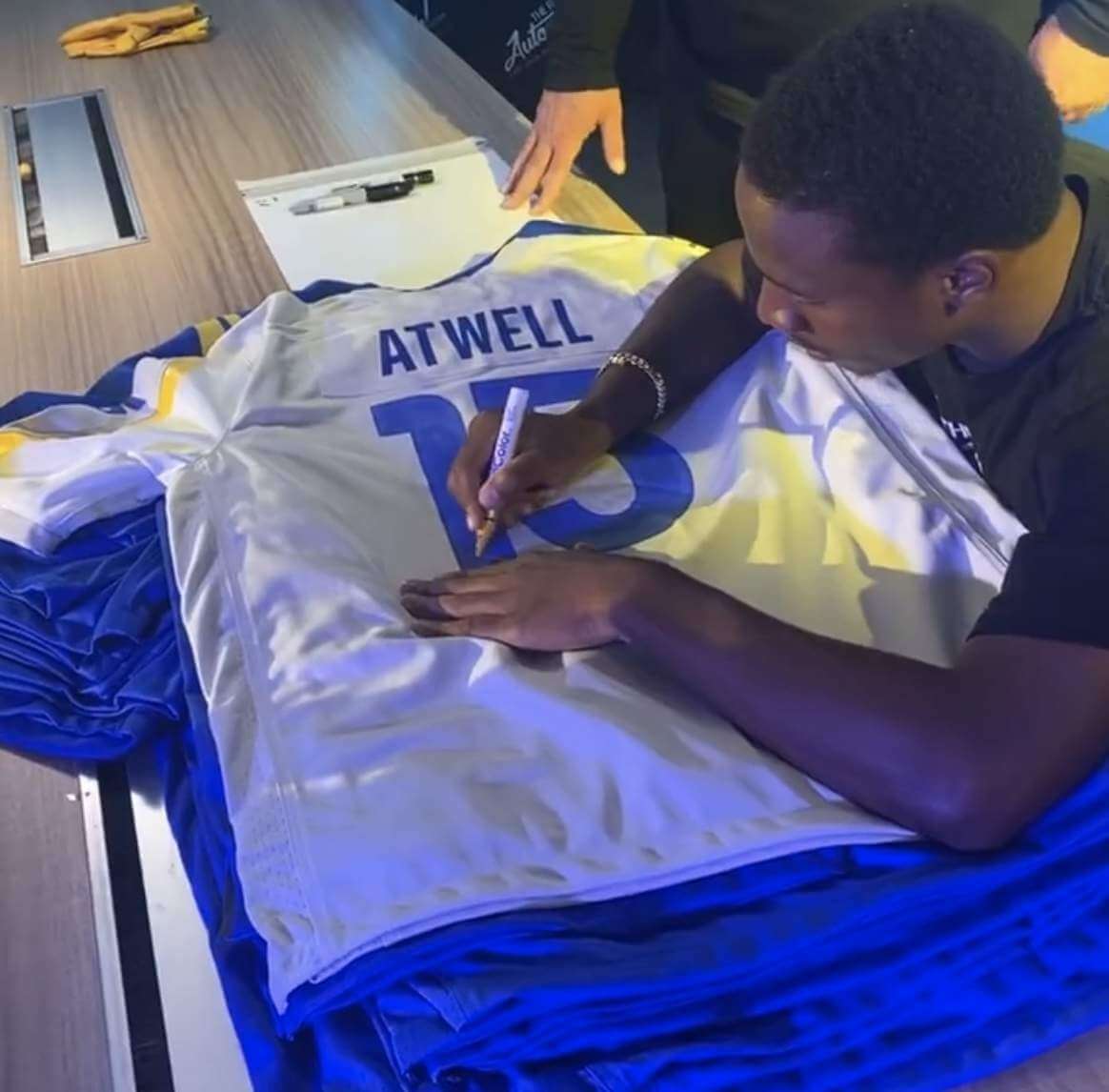 Let's shift into FAQ mode:
Do we know this is the alternate design? Couldn't it just be a fashion jersey or something like that?
SportsLogos.net is reporting that the white design is in fact the new alternate jersey. I have not yet been able to independently confirm that, but SL.N is reliable for this type of thing.
Why did Whitworth say the jersey would be yellow if it's actually white?
Looking back at his quote, he didn't actually say the jersey would be yellow. Here's his full quote:
This year, another jersey and uniform is coming out that's really sharp. It kind of has a throwback to the old Rams unis with the yellow and everything.
Most people, myself included, interpreted that as a reference to a yellow jersey. But if you look at the quote, that's not what he said. And if the Rams were to pair this new white jersey with their existing yellow pants, that would create a look very similar to what they wore in the 1970s, '80s, and '90s — so that could be the yellow-inclusive throwback look that Whitworth was referring to. Or maybe he was just giving us all a head-fake. Or maybe he just didn't know what he was talking about.
When will they formally unveil the new design?
They've said they'll do it before the start of training camp, which is July 25, but no specific date has been announced. It's not clear whether this leak will have any effect on the unveiling date.
What do you think of the white jersey?
Wow, an NFL team with a white jersey — groundbreaking!
Seriously, it'll take more than a white jersey to fix the Rams' uniform problems, but this design sure beats the dishwater version. And it appears to have TV numbers, so that's a plus.
• • • • •
• • • • •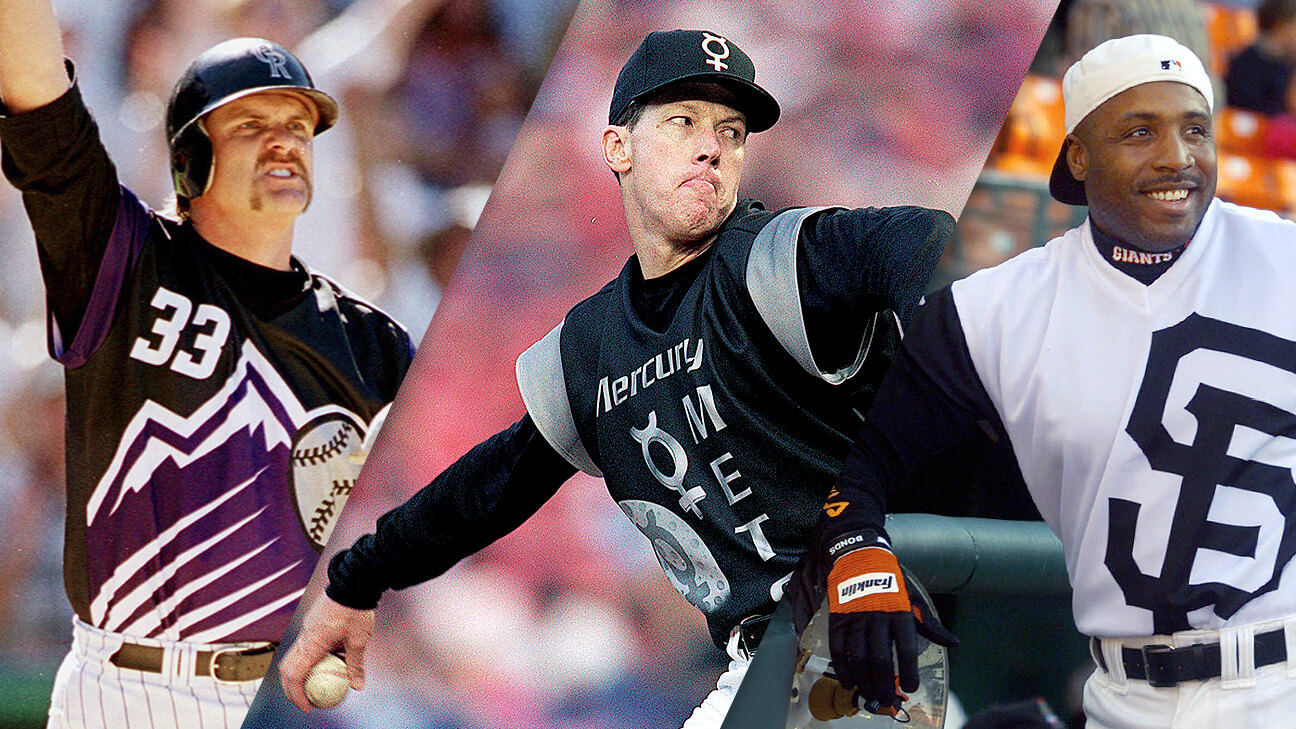 Revisiting "Turn Ahead the Clock": It was 22 years ago this month that MLB rolled out its "Turn Ahead the Clock" promotion, featuring uniforms that supposedly represented the year 2021 — the future is now! With that in mind, my latest piece for InsideHook is a look back at TATC, including new interviews with four key people who made the program happen. It's long, informative, and entertaining, and I think you'll really like it. You can check it out here.
• • • • •
• • • • •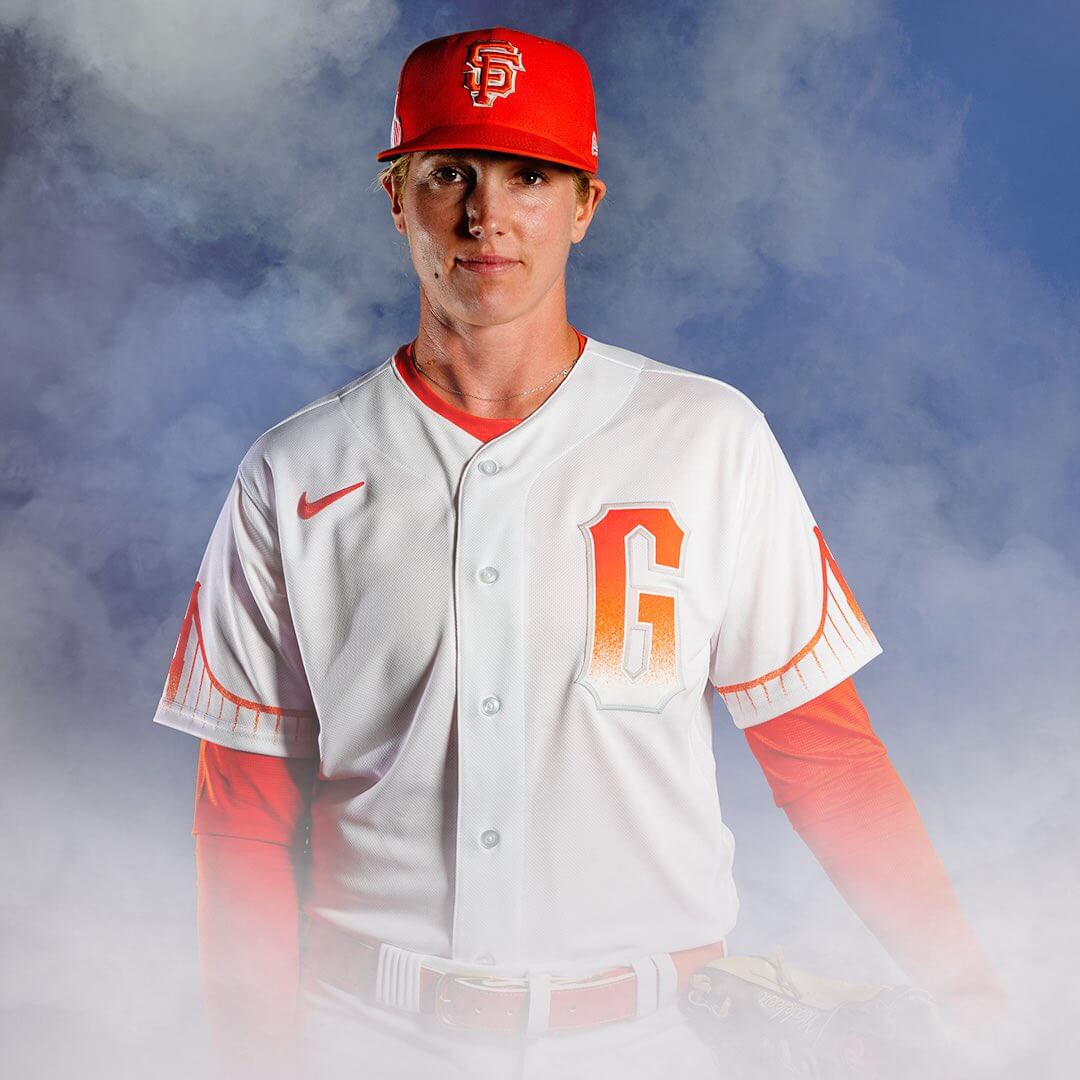 From the mouths of babes: Yesterday's assessment of the Giants' new City alternates prompted a very interesting comment from reader Michael Galante. I know that many of you don't read the comments (which is fine), but this one is worth sharing. Here it is:
I dropped off my 11-year-old son and his two buddies this morning at baseball camp in New Jersey. For the 12-minute car ride, three 11-year-old boys from New Jersey talked about nothing else but the uniforms of an MLB team from San Francisco, and how they compared to baseball uniforms from teams in Boston, Phoenix, two from Chicago, and Miami. Again, these are New Jersey kids who are all Yankees or Mets fans talking about uniforms of teams they do not root for from far-away places.

These uniforms are tangible connections to the game for these kids. It makes them bigger fans. Sure they often go too far. But, for the most part, they work. If things like this get little kids into playing and watching baseball more and spending less time on YouTube, then I'm in.
Obviously, three kids is a very small sample size, and even a much larger groundswell of support from kids wouldn't necessarily justify bad design. Still, I wouldn't have guessed that the Youth were embracing these uniforms. If that's truly the case, I guess you'd have to call them successful, at least in terms of enhancing the sport's appeal for the next generation, which is clearly one of the City program's goals.
• • • • •
• • • • •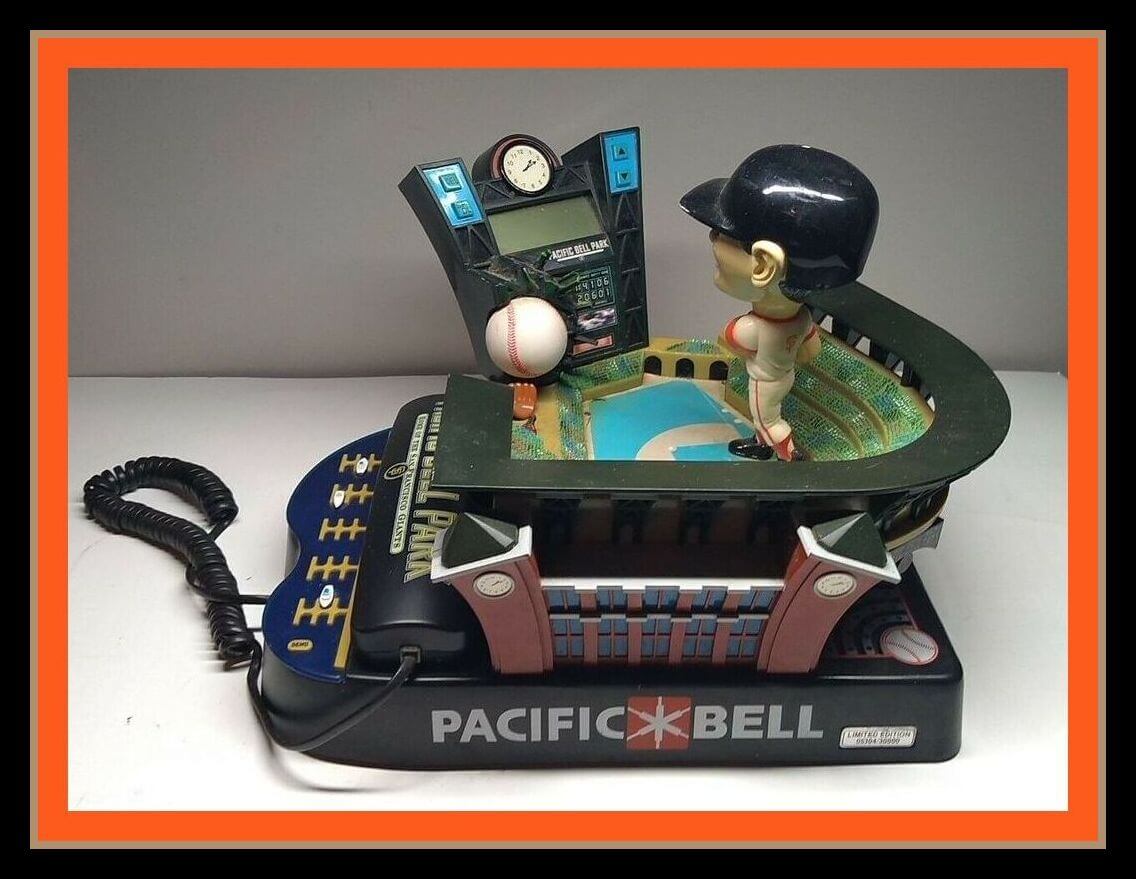 Click to enlarge
Collector's Corner
Brinke Guthrie
Follow @brinkeguthrie    
Welcome to another edition of Collector's Corner. We start off this week with this San Francisco Giants-Pacific Bell Park phone. (That was the park's original name; 21 years later, it's on its fourth.) This phone is big, and shows a batter bashing a home run into the scoreboard. And as long as we're talking Pac-Bell, here's a nice-looking PBP gear bag.
Now for the rest of this week's picks:
• Speaking of the Giants, you know how their new alternate uniform is fog-themed? A few years ago they did a "Karl the Fog" snow globe giveaway. (And why is the San Francisco fog named Karl? The answer is here, although it seems Karla is now in charge of things, fog-wise.)
• Will ya look at this! A 1975 New York Giants helmet buggy with the famous disco "NY" logo! Wish Big Blue would bring that back as an alternate helmet design.
• This is one nice, clean-looking 1980s Baltimore Colts varsity jacket, made by Pro Elite.
• Packer backers, add this set of 1960s hand-painted Packers nesting dolls to your collection. Featured players are Herb Adderley (26), Jim Taylor (31), Paul Hornung (5), Bart Starr (15), and Ray Nitschke (66).
• Staying in the NFC North, how about this 1960s Vikings Acrometal plaque? SKOL!
• NBA Warriors/Rockets Hall of Famer Rick Barry supposedly wore these Super Star basketball shoes way back in the day. "Made to Fit, Built to Last!" They don't seem very sturdy to me, though. Barry would later go upscale with Adidas.
• One more sneaker entry here: Look at the size of this 1972 Bata brand/Boston Celtics ceramic sneaker bank. The seller says it's 24-1/2″ long by 12″ high and 8″ wide — you can keep lots of spare change in this one!
• If you went into a hardware store in the 1960s and bought a Yale lock, you'd get this record, called Personal Pointers from All-Pro Linebacker Dick Butkus: How to Play Line-backer Like a Pro! Recorded in "Auravision," whatever that means.
• Look at the style of this St. Louis Cardinals NFL kids' helmet. The seller says, "This helmet is a Ford NFL PP&K winner, used to be given out to the regional winner in the competition."
• This 1960s/1970s Montreal Expos milk mug is in perfect condition.
• • • • •
• • • • •
Uni Watch's highest rating: Summer of Soul, the Questlove-directed documentary featuring loads of previously unseen footage from a 1969 Harlem music festival colloquially known as the "Black Woodstock," isn't just the best concert movie I've seen in a long time — it's the best movie I've seen in a long time, period.
The music (including a pre-cokehead Sly Stone, a 19-year-old Stevie Wonder, gospel tracks by Sister Mahalia Jackson and Mavis Staples that made me cry, the best B.B. King footage I've ever seen, riveting stuff from Nina Simone, and a lot more) is superb. But the editing is amazing as well, and there are just enough talking-head breaks to be informative without being disruptive.
The movie is streamable on Hulu, but see it in a theater — it's something worth experiencing in the company of other people. Trust me.
• • • • •
• • • • •
The Ticker
By Lloyd Alaban

Baseball News: Mets 1B Pete Alonso will use eight custom-painted bats at next week's Home Run Derby (from Nicklaus Wallmeyer). … Houston-based Karbach Brewing Company has released an Astros-themed mini-keg (from Ignacio Salazar). … Mets SS Francisco Lindor swapped jerseys with New York Rangers D Adam Fox (from Alan Kreit). … During last night's Astros/A's game, Houston P Bryan Abreu, who wears No. 66, appeared in the sixth inning while the score was 6-6 (from @SteveinLC). … The Rangers gave away Dallas Stars-themed Rangers caps last night. … The Australian national team is adding an Indigenous recognition symbol to the front of its jerseys (from Tyler Maun).

Hockey News: The Flyers almost changed their unis in 1995, and the proposed design looked terrible (from Jack Connell). … Cross-listed from the baseball section: New York Mets SS Francisco Lindor jersey swapped with Rangers D Adam Fox (from Alan Wrench). … Another one from the baseball section: MLB's Texas Rangers gave away Stars-themed Rangers caps last night.

Basketball News: Here's the uni schedule for the NBA Finals. … Fort Collins Audubon changed its social media logo to white-tailed ptarmigan wearing league MVP Nikola Jokic jerseys (from @so_it_gohs). … University of Minnesota F Eric Curry, who has been with the team since 2016, will return for one final season and change his number from 24 to 1 (from Timmy Donahue).

Soccer News: A few Scottish clubs have new first kits — Ayr United, Inverness Caledonian Thistle, and Queen of the South (from our own Jamie Rathjen). … Also from Jamie: The Orlando Pride had American flag corner flags and red, white, and blue nets on Sunday. … MLS has revealed its All-Star jersey. … New warm-ups for Norwich City (from @weirdsportmerch). … New kit for Bundesliga club Augsburg (from Ed Zelaski). … Here's a quiz featuring all of Euro 1996's jerseys (from K.C. Kless). … The J-League released some kits to celebrate Tanabata, a festival that falls on July 7 (from Jeremy Brahm). … New away shirt for 1860 Munich and new home kit for Belgian side Genk (both from Ed Zelaski).

Grab Bag: New rugby union kits for Racing 92 (from Gregory Neal). … New unis for the Wake Forest marching band (from multiple readers). … Last night's Final Jeopardy round of Jeopardy! featured a clue about Ohio State's effort to trademark the word "the" for use on clothing and hats. Ohio State eventually had to split trademark rights with fashion brand Marc Jacobs (from James Gilbert). … There's been some controversy over the Ukrainian army's decision to make female soldiers march in high heels (from Timmy Donahue). … The Sydney Swans of the Australian Football League sometimes wear throwbacks to their original identity of South Melbourne, and are doing so this weekend (from our own Jamie Rathjen). … UFC fighters will now wear ads on their uniforms.
• • • • •
I have a complicated day today, including a doctor's appointment in the afternoon and then I'm meeting up with Phil for tonight's Mets/Brewers game (first time we've seen each other since 2019!). Play nice while I'm away and I'll see you back here tomorrow. — Paul