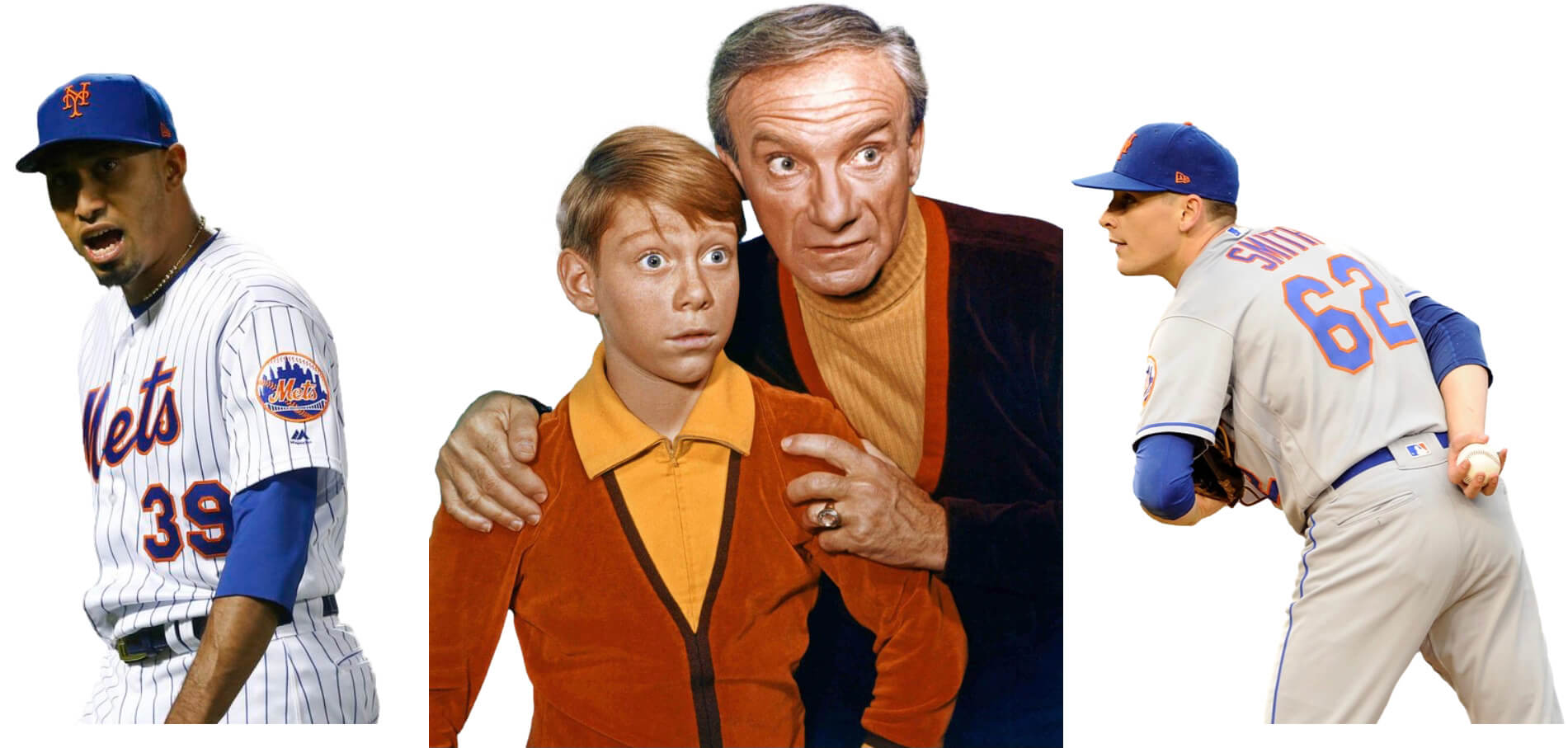 Hello, and happy summer solstice! Hope everyone had a good Juneteenth and Father's Day. Since yesterday's post was Phil's annual "Fathers in Uniform" installment, I want to catch up today on a few items that took place on Saturday.
Let's start with this: The Mets currently have relievers Yennsy Díaz and Edwin Díaz in their bullpen. That led to some surreal banter between SNY play-by-play man Gary Cohen and color analyst Keith Hernandez during the second game of Saturday's Mets/Nats doubleheader.
To set the stage: It's the bottom of the fifth inning (remember, it's the second game of a twinbill, which means it's only a seven-inning game) and the Mets are getting blown out, 6-0, so at this point everyone just wants to go home — nobody more so than Hernandez, who gets cranky during doubleheaders and/or blowouts. Yennsy Díaz is on the mound for the Mets, and the following dialogue unfolds:
Cohen [clearly just trying to fill time]: You know, it used to be that if you had two players with the same last name on the same team, you would have an initial on your back. It would be "Y. Díaz," because the Mets also have an "E. Díaz." But they don't do that anymore.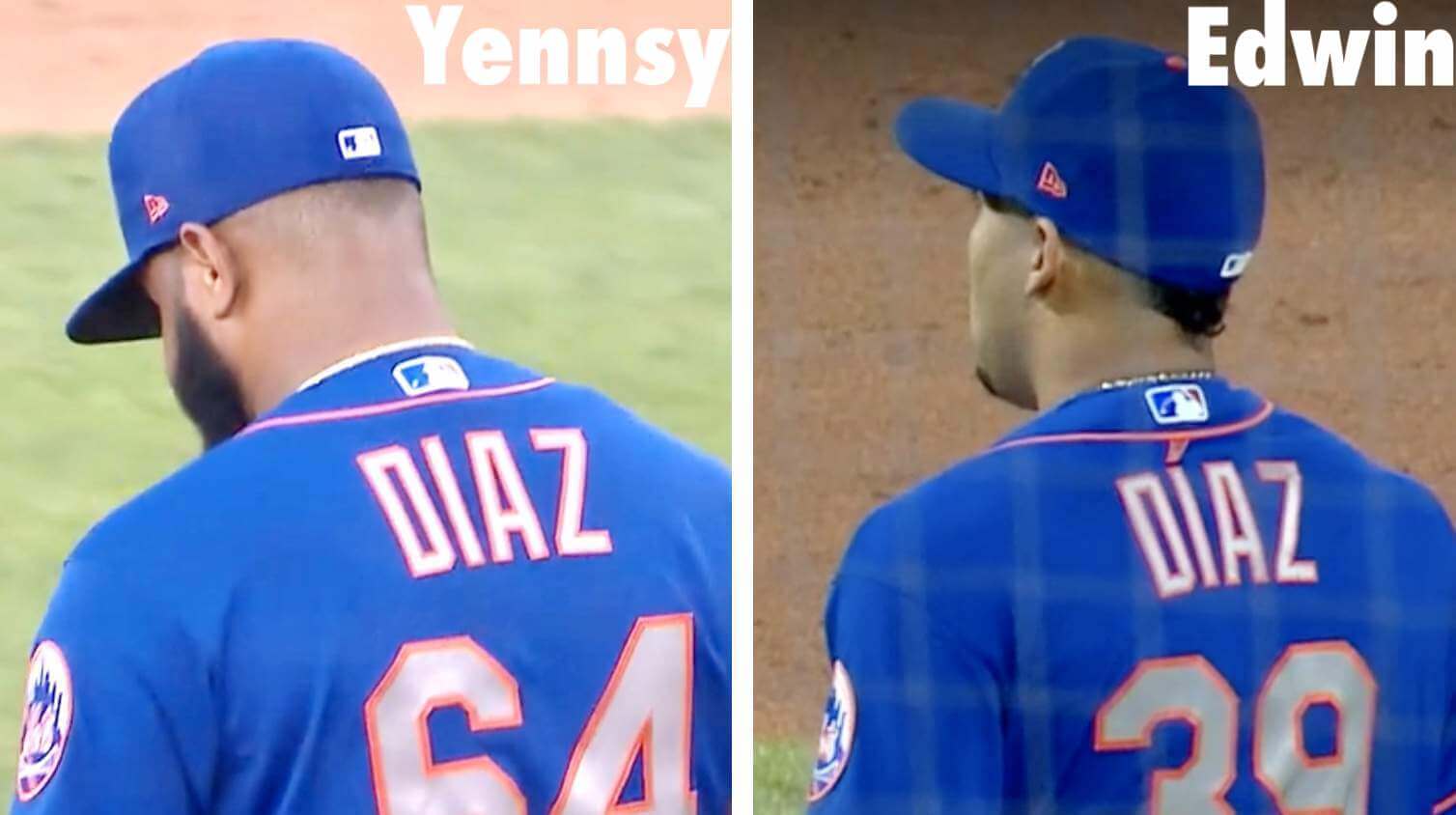 Hernandez: That's true.
Cohen: Why do you suppose that is?
Hernandez [cutting him off]: I don't know. I have a hard enough time, Gary, you know, doing my job. I can't worry about these little details.
Cohen: But this is part of your job, worrying about these little details. And it's part of my job to bug you about these little details.
Hernandez [audibly annoyed]: As far as I'm concerned, it is not part of analysis.
Cohen [egging him on]: I mean, when Howard Johnson came to the Mets [in the mid-1980s, when Hernandez was on the team], it said "H. Johnson" on his back, because Davey Johnson was the manager. Right?
Hernandez: Right. Davey didn't have a "D," did he?
Cohen: No, he just had "Johnson."
Hernandez: But Howard had "H"?
Cohen: Yes, he had "H. Johnson" on his back.
Hernandez: All these details, Gary…
Cohen: Now, if the Mets were to do that, of course, they would run into a further problem, which is that they have two players whose last name is Smith, and for both of them, their first initial is D — Dom Smith and Drew Smith.
Hernandez: Right. [Suddenly seeing the light.] Ooohhhh…
Cohen: So they'd have to put "Do. Smith" and "Dr. Smith," and then people would think Drew Smith had a medical degree.
Hernandez: That — yeah, I never thought of that one. That's a good one. That's a conundrum.
Cohen: And if it said "Dr. Smith," they might think he was a character from Lost in Space.
Hernandez: That's right.
Cohen: "Danger, Will Robinson!"
Hernandez [clearly back on more comfortable footing]: Yes. June Lockhart was the wife, remember? Our young audience has no clue.
Cohen: Billy Mumy played Will Robinson.
Hernandez: Was that his name? Okay. I liked that show, it was fun.
Cohen: It was silly.
Hernandez: It was silly, but it was fun.
[Inning mercifully ends.]
———
Okay, so that was a classic. But there are several follow-up points worth making here:
• Cohen and Hernandez completely missed the fact that while Edwin and Yennsy Díaz both have an accent in their surnames, only Edwin has the accent included as part of his NOB (as you can see in the pics earlier in this entry). That's the real story here, not the lack of first initials!
• Contrary to Cohen's assertion, there are still some first initials floating around MLB. At the start of this season, for example, the Pirates used initials for Adam and Todd Frazier:
Adam and Todd Frazier have been wearing first initials this season. But Todd was DFA'd yesterday afternoon, so will Adam drop his first initial? He still had it last night, but maybe they didn't have time to reletter his jersey.

(h/t @SJSUProfCraig) pic.twitter.com/AlCAUw0Wai

— Paul Lukas (@UniWatch) May 11, 2021
Todd was released in early May, but Adam is still wearing the initial, even though he's now the only Frazier on the roster.
• Cohen was also mistaken when he said Davey Johnson never wore an initial. It true that he didn't have it for most of the time that he and Howard Johnson overlapped, but there was a brief period, I think in 1985, when he wore it: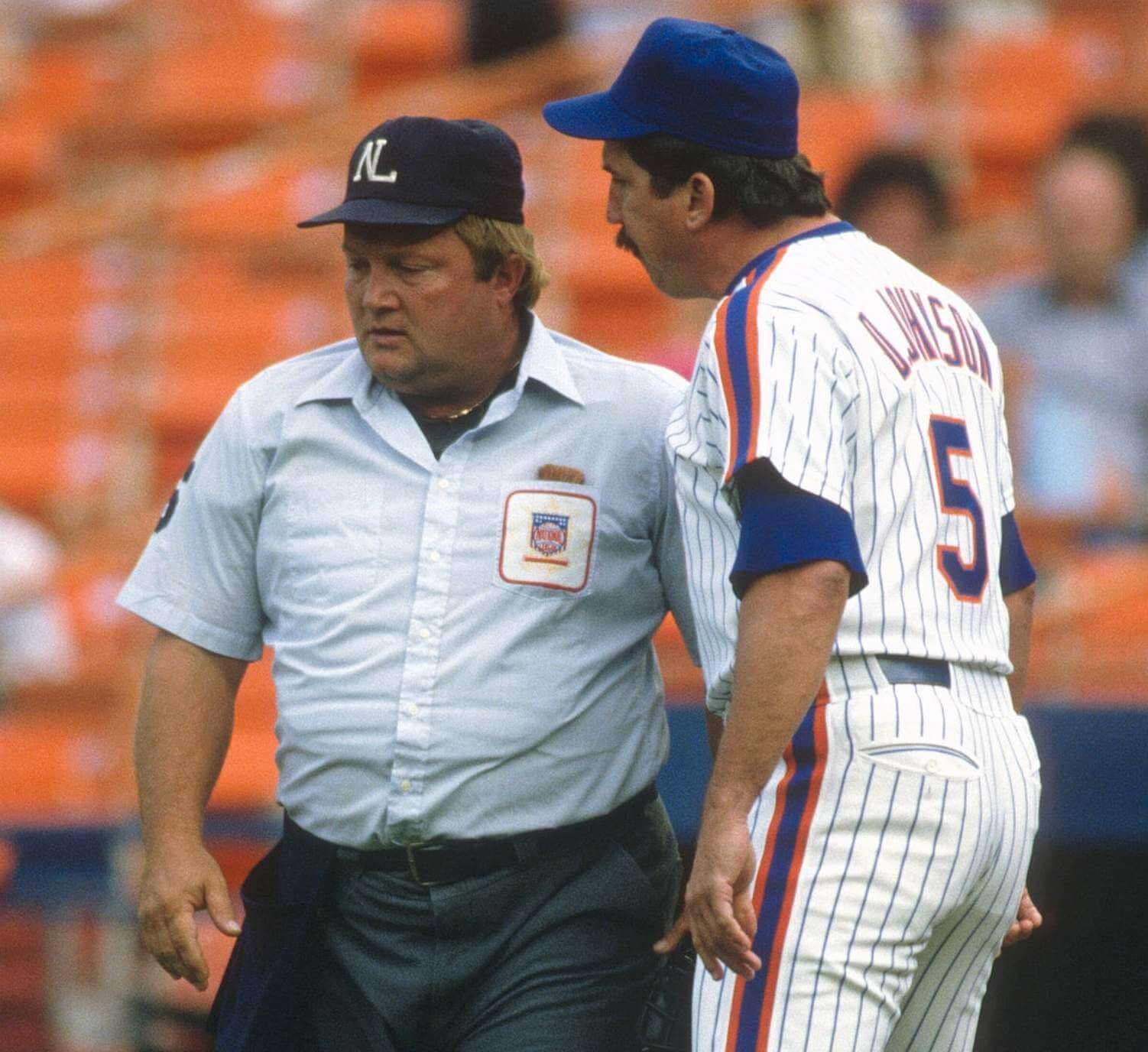 I don't mean to pick on Cohen, who's a great broadcaster. But hey, if you're gonna make a point of delving into the details, you have to get the details right!
(My thanks to Steve Dodell for bringing this dialogue to my attention.)
• • • • •
• • • • •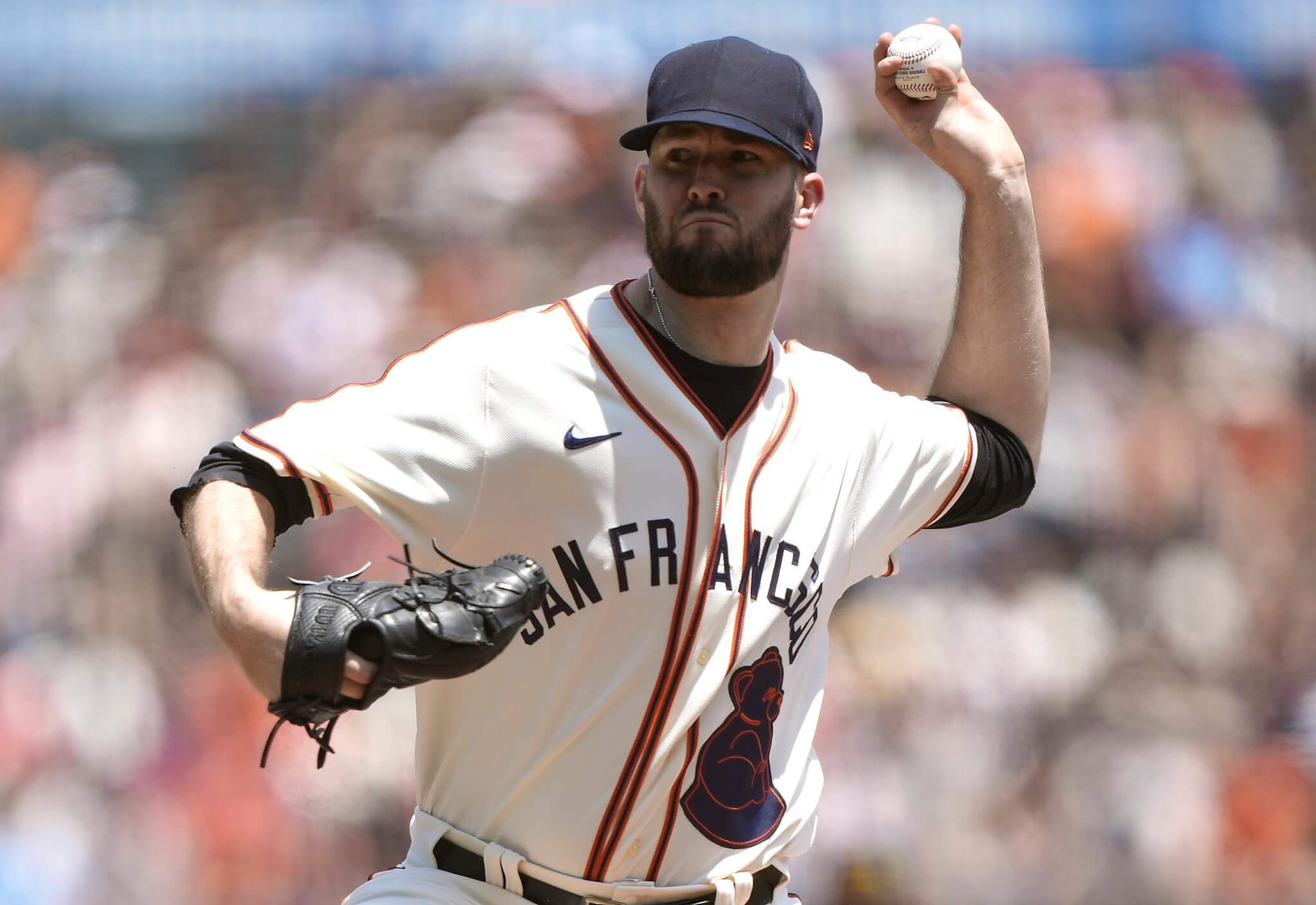 Click to enlarge
MLB Juneteenth recap: The Giants wore their San Francisco Sea Lions Negro Leagues throwbacks for Juneteenth on Saturday. Here's a closer look at the bear on the jersey (which is part of the design because the original Sea Lions purchased their uniforms from a defunct team called the Cubs):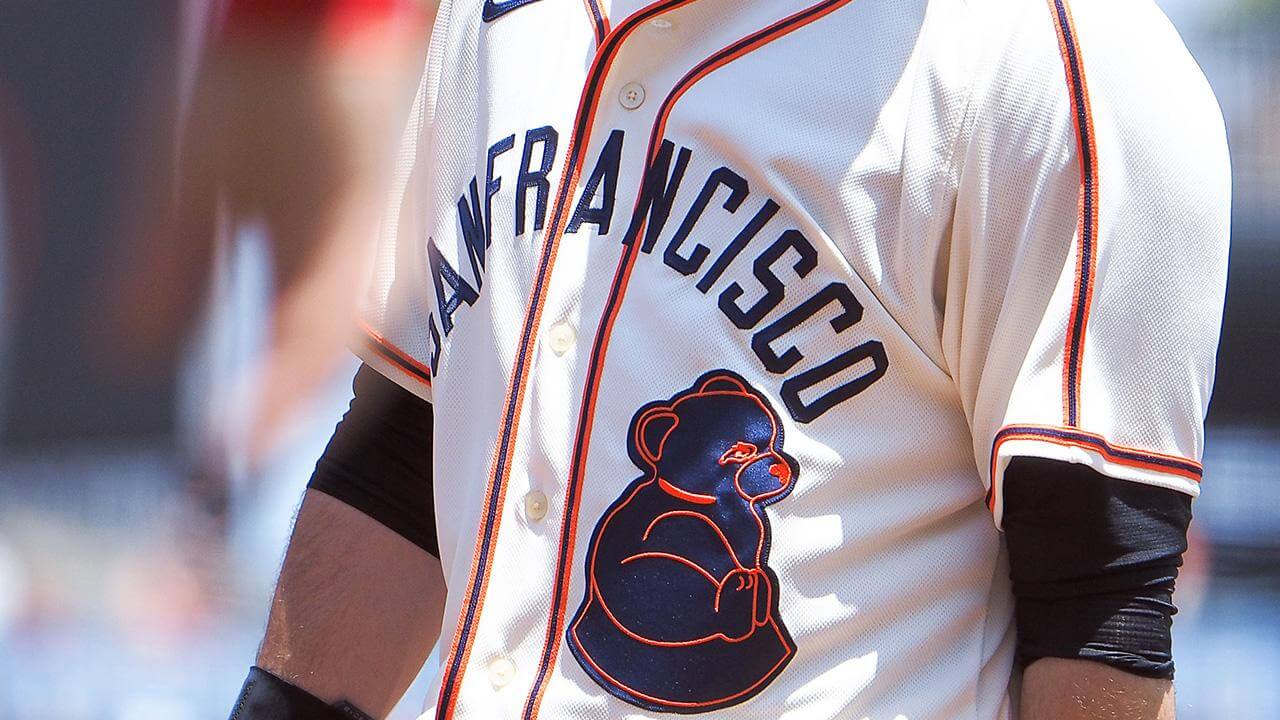 Since the caps were blank, it seems like it would've been simple enough to remove the "SF" logo decals for the helmets to create matching headgear, but they didn't bother to do that: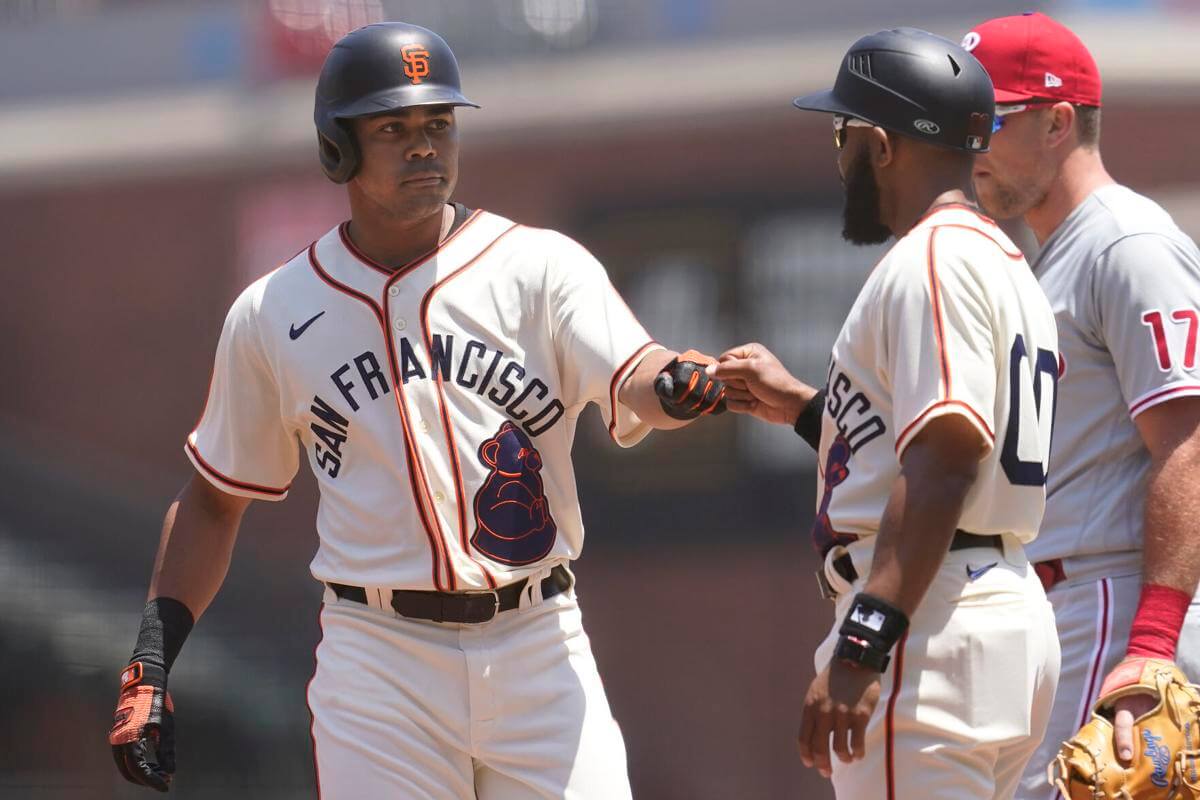 (As an aside: Until I saw that last photo, I didn't realize that Giants first base coach Antoan Richardson wears No. 00. Not only that, but the team's bullpen/catching coach, Craig Albernaz, wears No. 0. How often have zero and double-zero ever been worn by coaches on the same team?)
The Giants' opponents, the Phillies, just wore their regular road uniforms. Their starting pitcher was Aaron Nola, whose red cap included the New Era logo.
You can see more photos from this game here.
Meanwhile, in Seattle, the Mariners also wore Negro Leagues throwbacks for Juneteenth, dressing up as the Seattle Steelheads: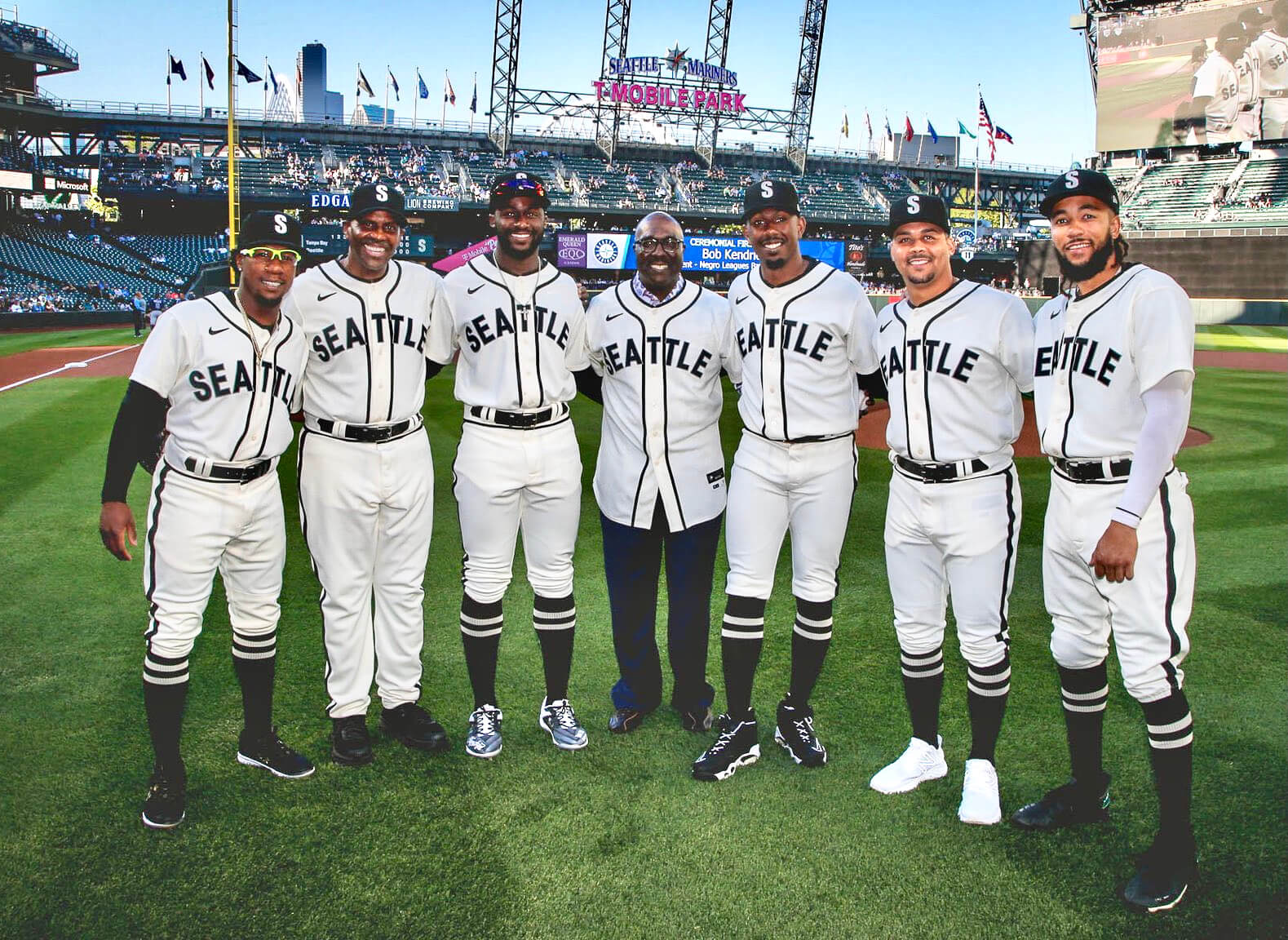 Unlike the Giants, the M's had throwback batting helmets (which also had very prominent uni number decals on the back — an odd touch):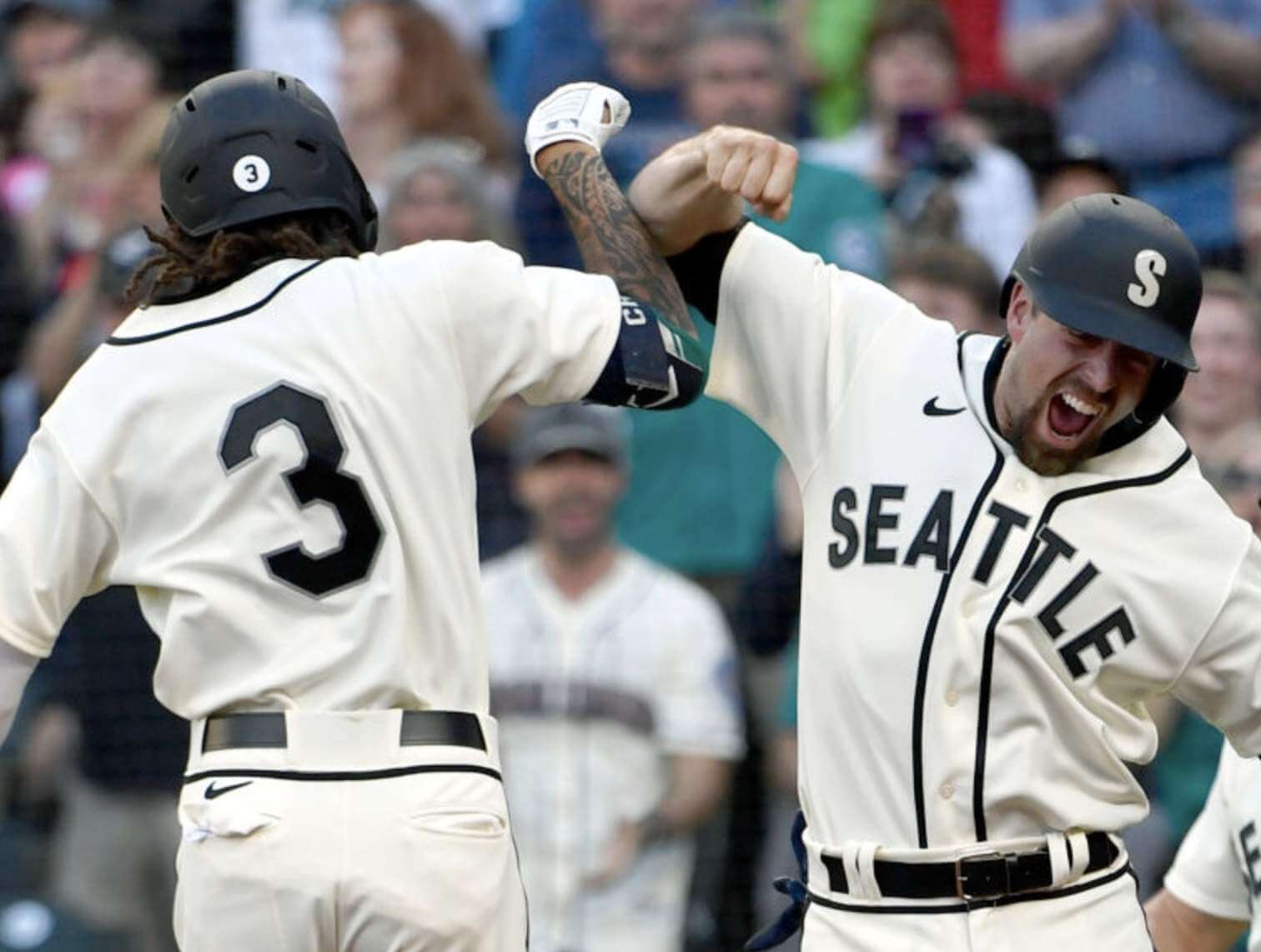 You can see more photos from this game here.
• • • • •
• • • • •
Click to enlarge
Cooler than Pantone swatches: I recently got this vintage thread sample card on eBay for $4. It's hard to see in the photo, but each little color swatch is made up of actual threads! I love the color names — Moonlight Mauve, Bicardi Brown, Cloverdust.
Anyway, as you can see, I stuck it in a frame ($10) — looks great! We're gonna put it on the wall next to Mary's sewing machine.
• • • • •
• • • • •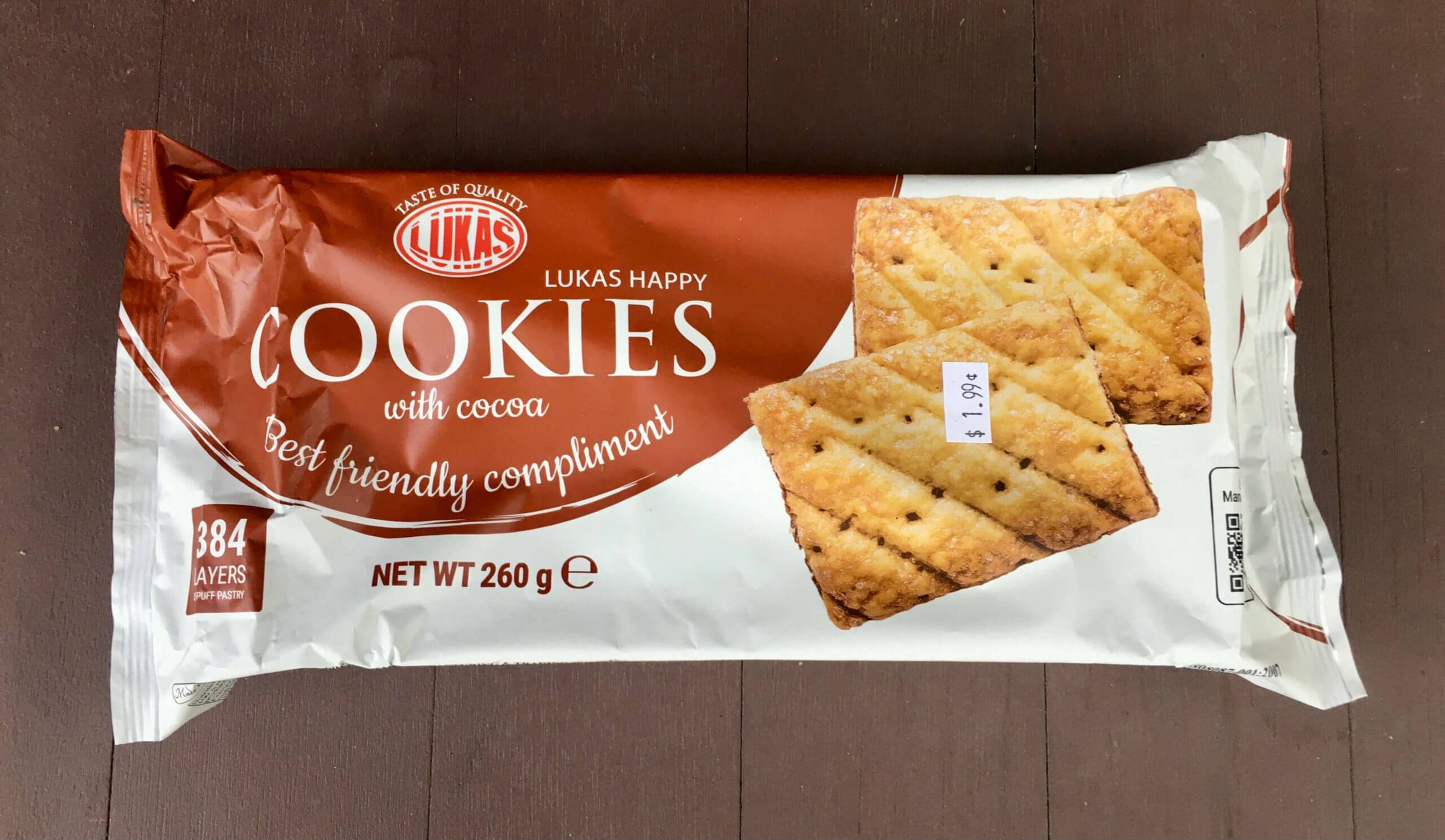 Click to enlarge
What's in a name? It's fairly rare that I see my surname "in the wild." One simple measure of that: There has never been a Lukas in any of the Big Four pro leagues. (Lucas, yes, but not Lukas.) So I was surprised to discover the other day that one of our neighborhood groceries carries a bunch of pastries and candies made by the Lukas Manufacturing & Trading Co., a Ukrainian firm I'd never heard of before.
Here are a few more of their products (click to enlarge):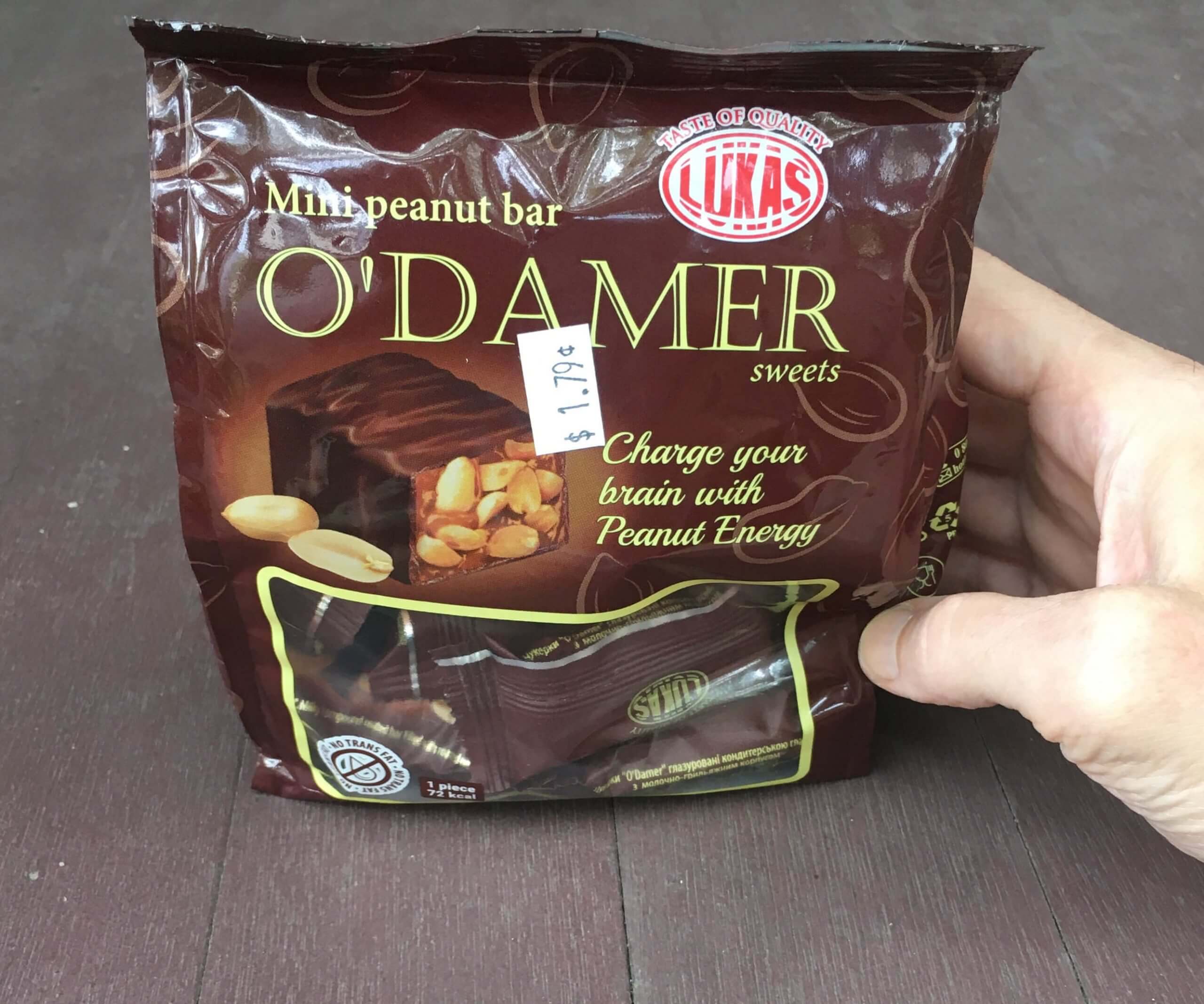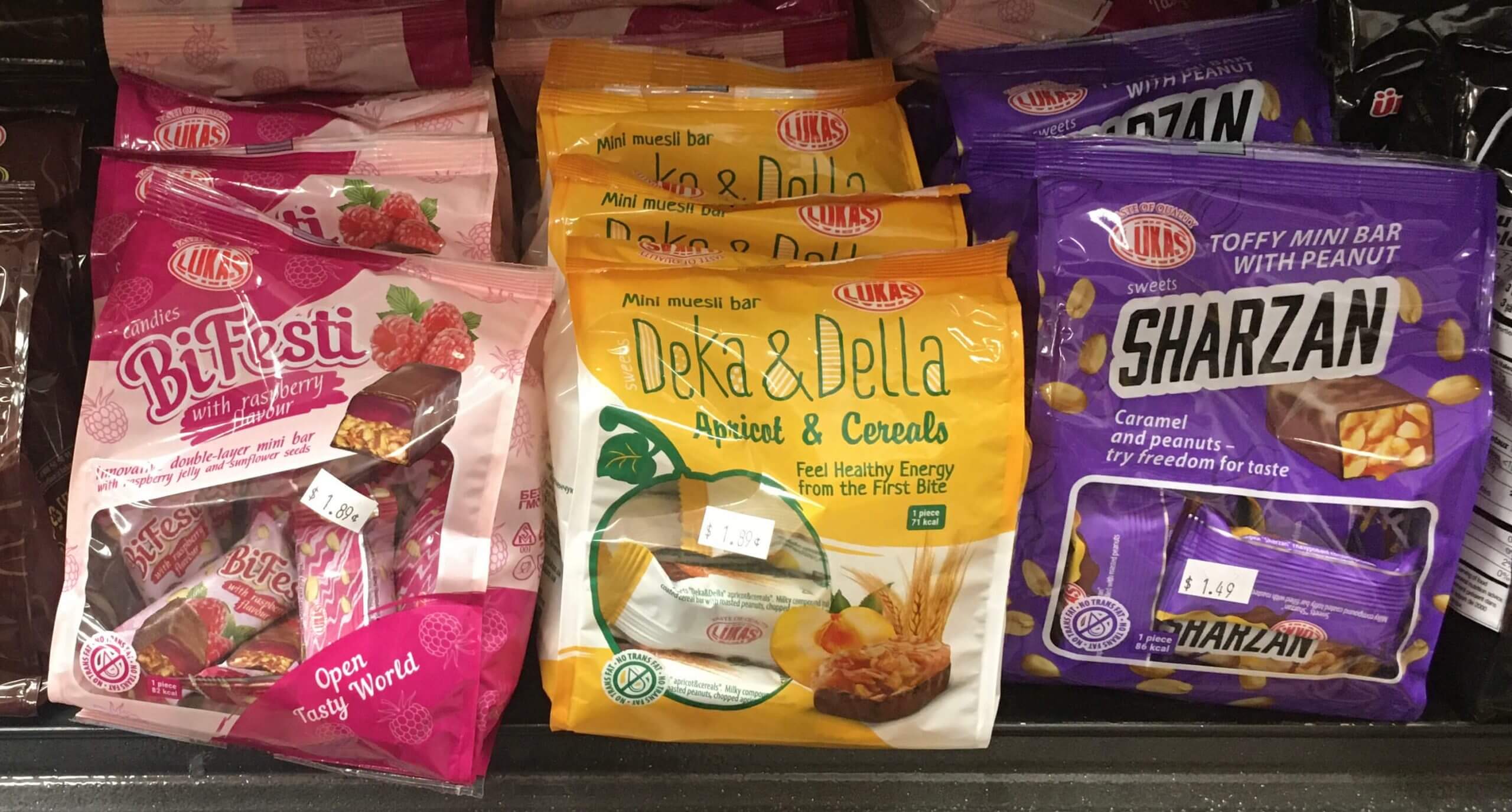 Let's have a closer look at that logo: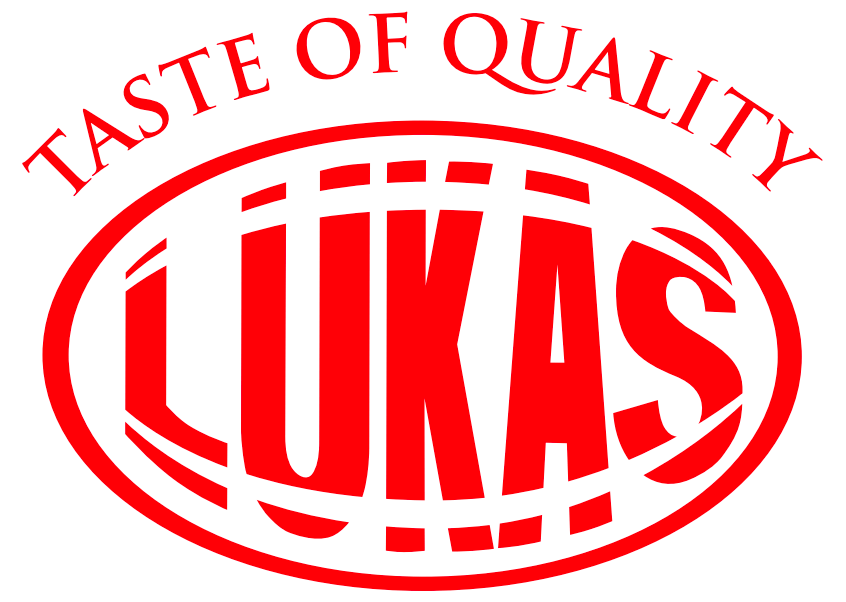 I like the lozenge shape (a bit like a rugby ball, no?), but I don't really understand the two white arcs running through the lettering. Still, I have to admit that it's a kick to see my surname get an official logo treatment. Look, there's even this animation of it:
You can learn more about the company here and here. Full disclosure: Initial research suggests that Lukas's "Taste of Quality" slogan may be a slight exaggeration. But I'm inclined to give them a bit of a pass, for obvious reasons.
• • • • •
• • • • •
Culinary Corner: Every year around this time, I go to my favorite fishmonger in Chinatown and get a bunch of crawfish so we can have a crawfish boil. This year, that day was Saturday. The video above shows the five pounds of bugs I came home with.
We added, corn, potatoes, andouille, kielbasa, and this spice mixture. Here's how it turned out (for all photos, click to enlarge):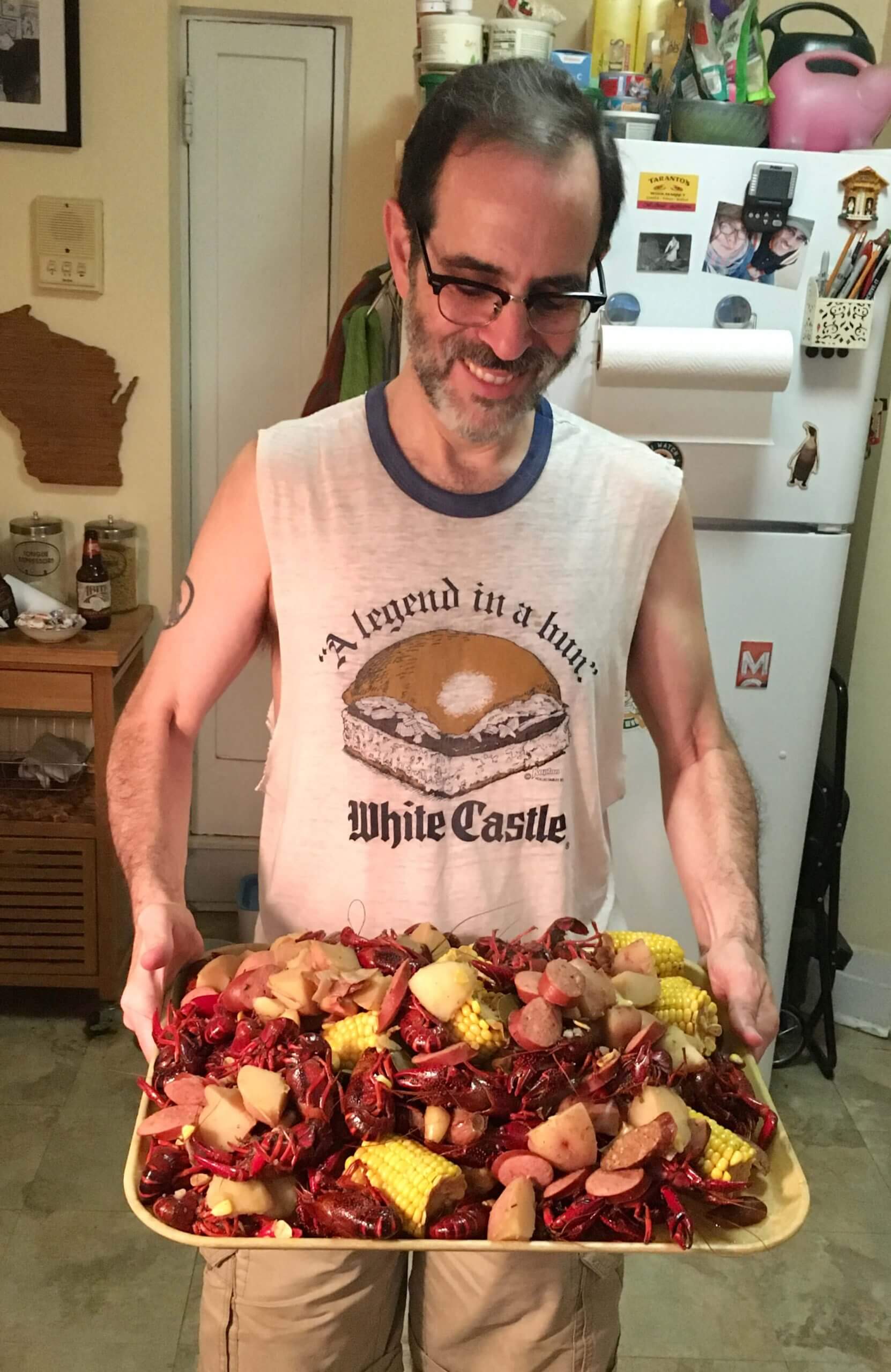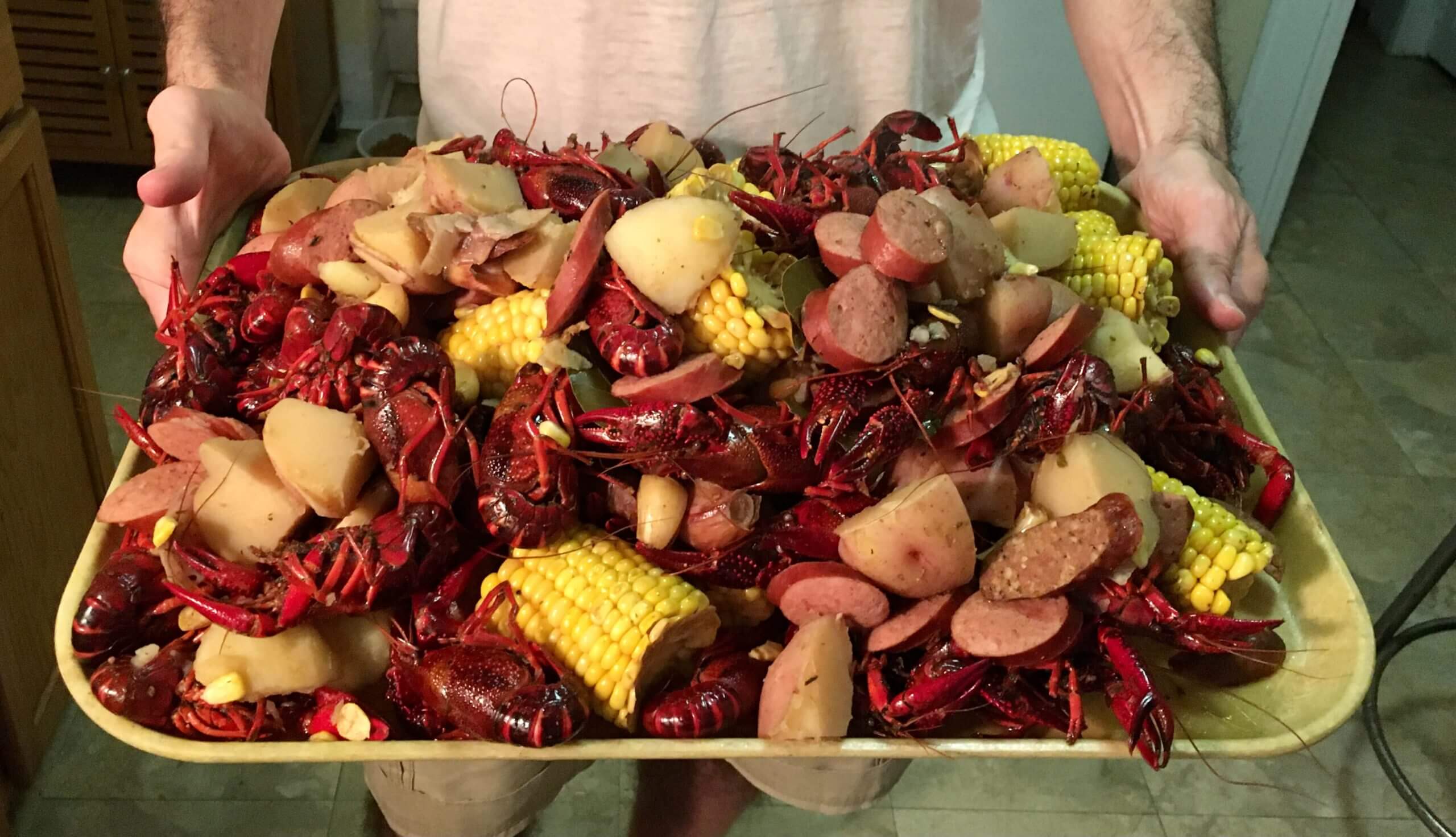 Our friend Sujan came over to join us. To help make the proceedings feel more Louisiana-y, we had Abita beer and Zapp's chips: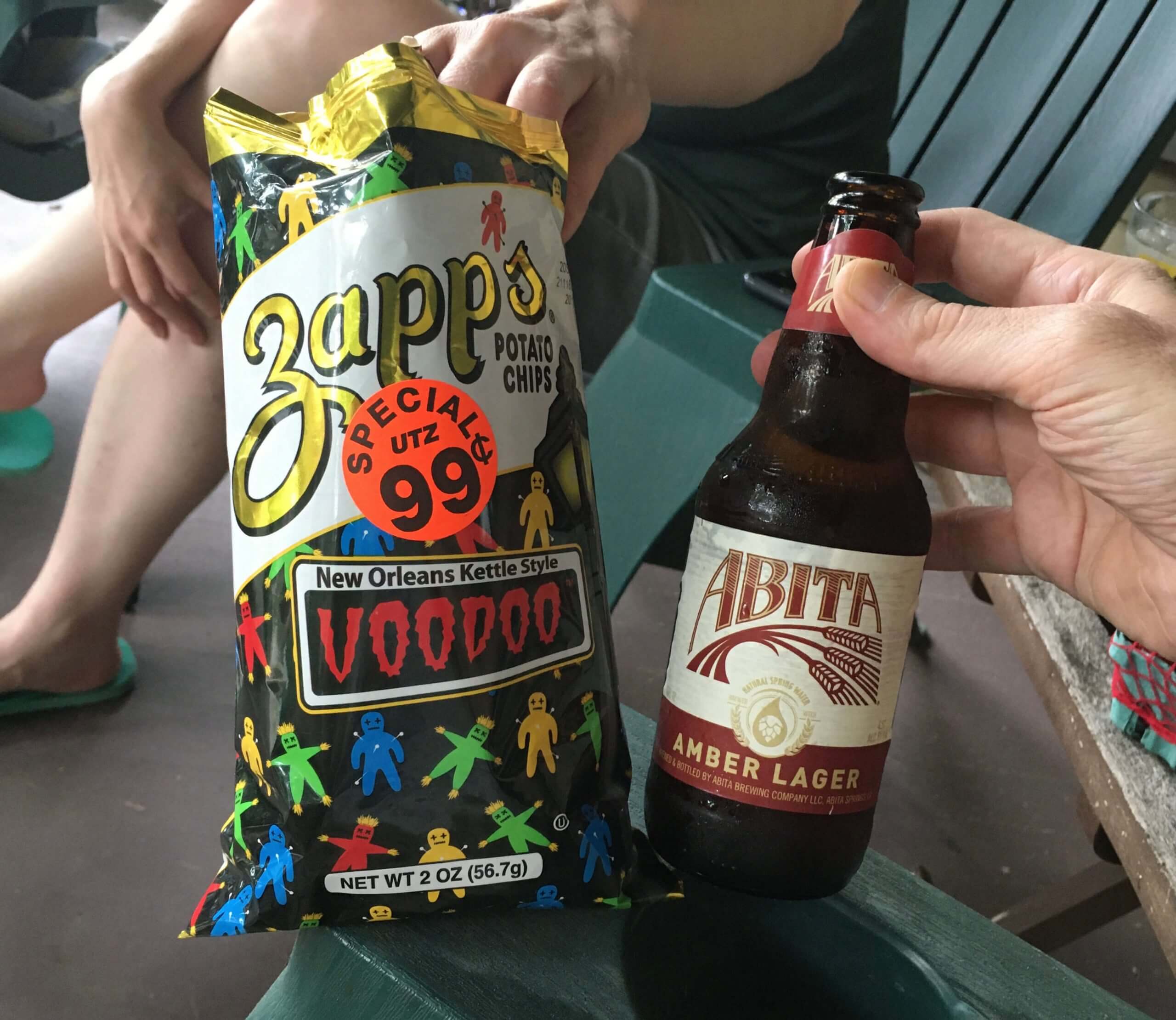 And here was the crowning touch: The day before we did all of this, we were shopping at a local market (the same one where we found the Lukas confections) and discovered a candy with crawfish-themed packaging! Look: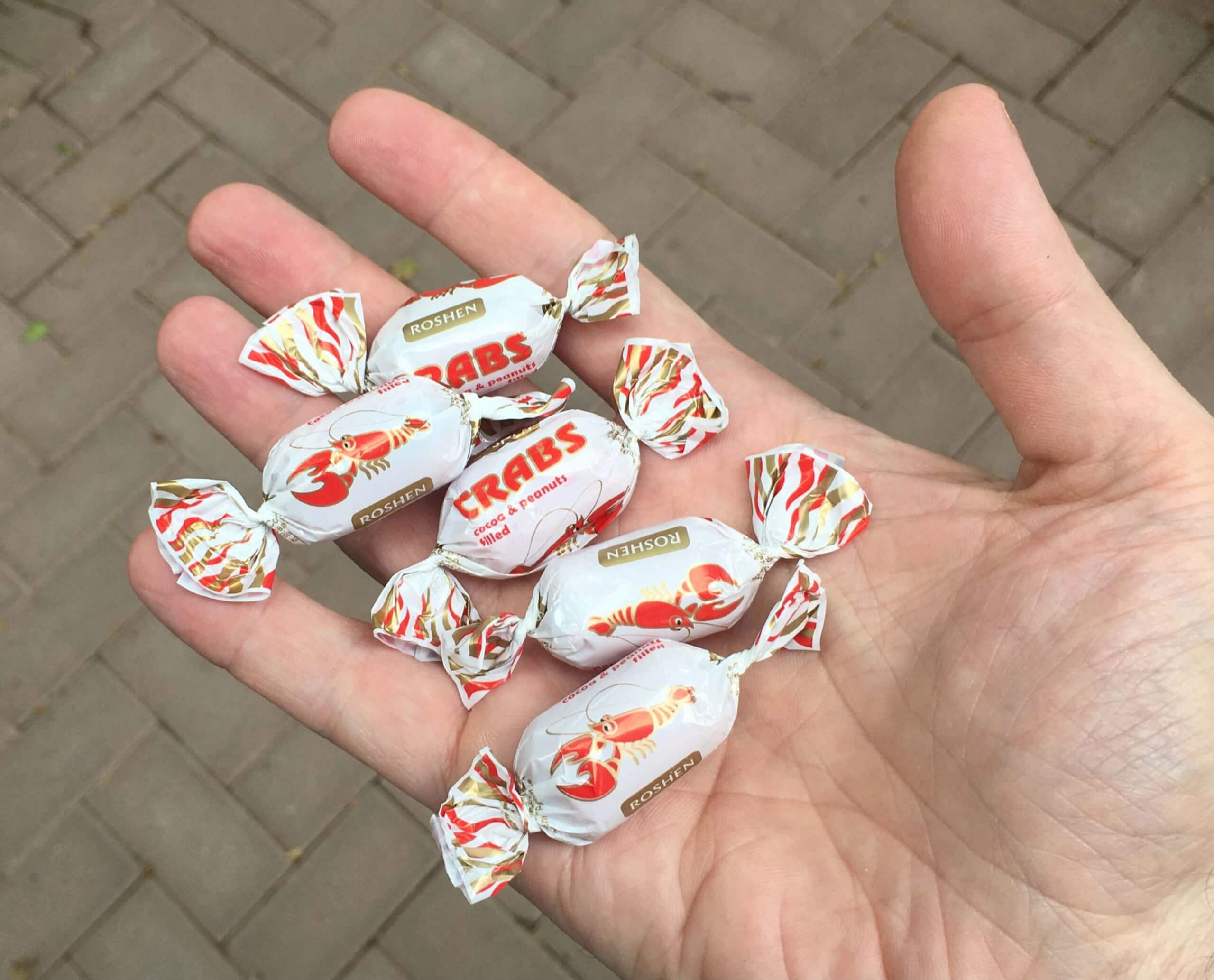 It's actually a chocolate/peanut candy, so I don't really understand the crustacean theme on the wrapper. But whatever — of course we got a bunch.
It was a fun, festive time. The potatoes and, especially, the corn absorbed
a lot of the spices, and the crawfish tails were big and meaty: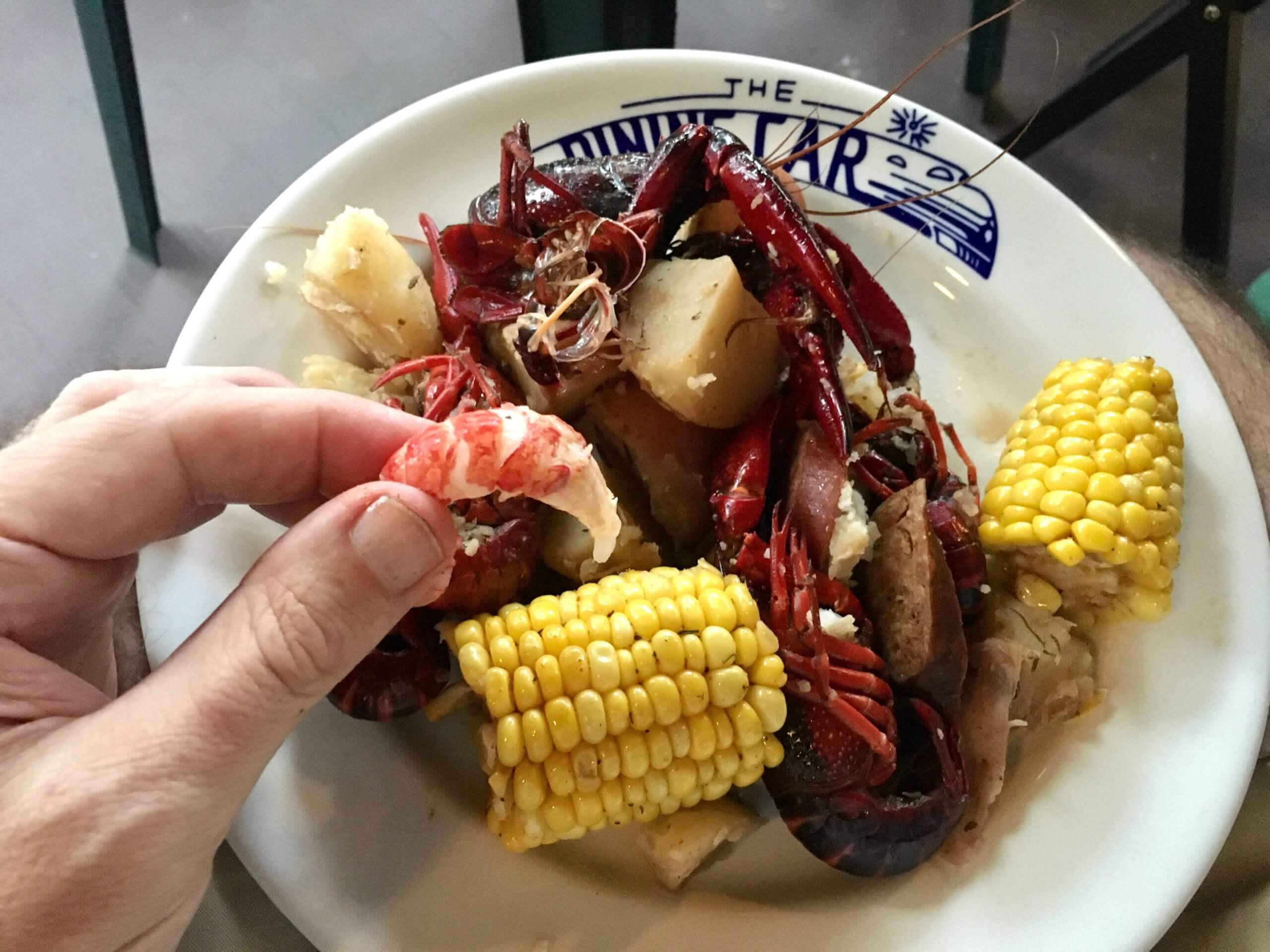 • • • • •
• • • • •

Click to enlarge
Cap update: We continue to sell through the remaining inventory of Uni Watch caps. We should get our new supply of shipping boxes today, so all orders from the past five or six days or will now ship out. Thanks for your patience!
Most sizes are now sold out. Here what we have left, broken down by size:
7-1/4: 3
7-3/4: 5
7-7/8: 5
Once they're gone, they're gone! So if you want one (or more than one), get your order in now.
• • • • •
• • • • •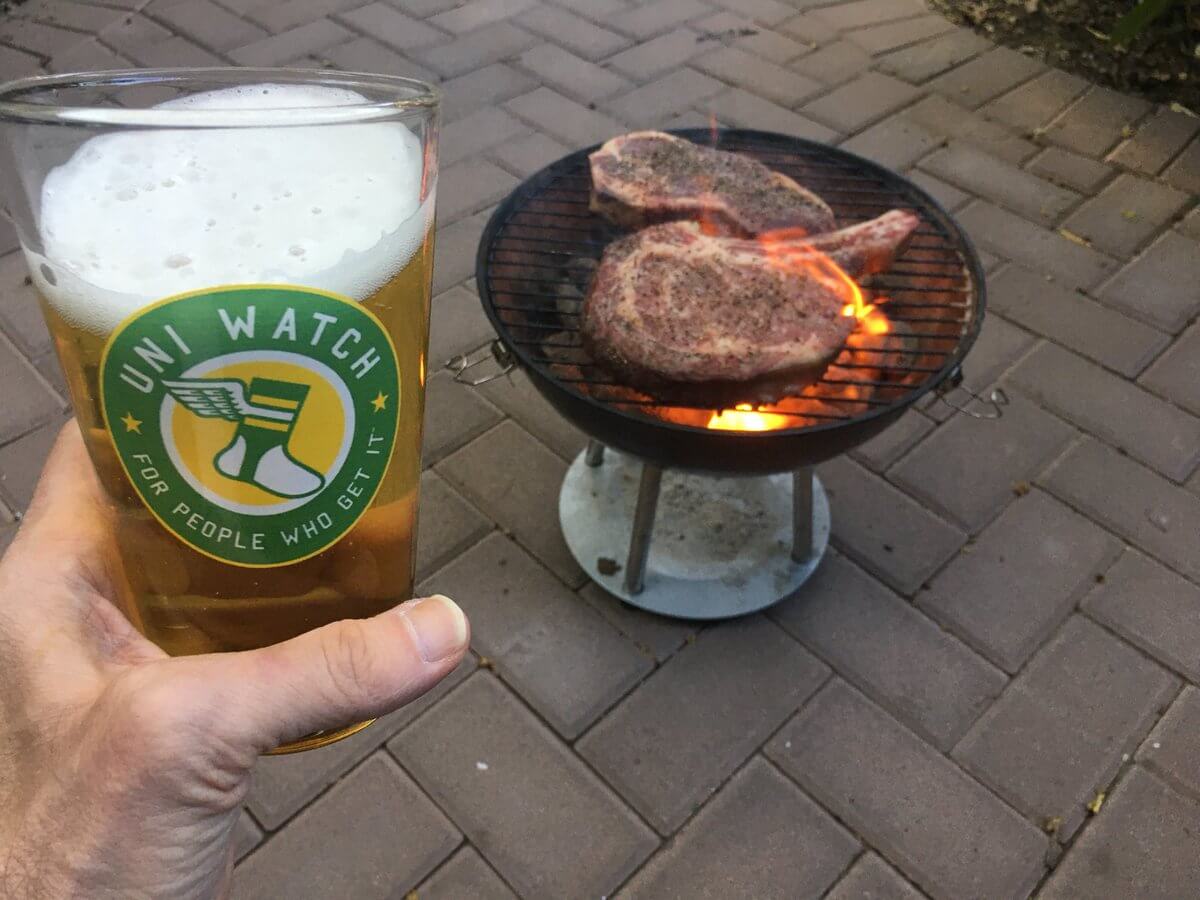 PPPC reminder: In case you missed it last Friday, reader Bob Andrews has come up with a good idea, as follows:
I ordered a couple of the Uni Watch pint glasses yesterday. Maybe once enough of them are sold and distributed, you could schedule a "Post-Pandemic Porch Cocktails" event — everyone raising a (Uni Watch) glass to the "new normal," whatever that means, and posting a pic.
I have to say, I love that idea! So here's what we're gonna do:
• I hereby declare that Thursday, July 8, will be Uni Watch Post-Pandemic Porch Cocktails Day.
• On that date, I encourage all Uni Watch readers to take some sort of photo of themselves enjoying a beverage on their porch (or stoop, or deck, or terrace, or sidewalk, or wherever). The photo can be like the one at the top of this section, or it can be a more traditional selfie that shows your face as well as your libation, but it should definitely include a view of your glass. Maybe I'll even livestream the proceedings from the Uni Watch HQ porch.
• If you want to order a Uni Watch pint glass for the occasion (or a Uni Watch koozie, for that matter), that would be great! But feel free to use any glass you like, Uni Watch or otherwise. The idea here is to celebrate our comm-uni-ty and the return to some semblance of normalcy, not to move merchandise.
• When we get closer to the date, I'll let you know where you can email or post your PPPC photo. Not sure yet if I'll set up a Facebook page or something like that, or if I'll just have you email the pics to me. But we have a few weeks to get that sorted out.
• • • • •
• • • • •
The Ticker
By Jamie Rathjen

Baseball News: MLB players wore Father's Day caps and accessories yesterday. Catchers who wore Father's Day-themed gear included the Astros' Martín Maldonado (from Chris Bowman) and the Cubs' Willson Contreras (from Josh Claywell). … Tigers P Casey Mize used fellow pitcher Kyle Funkhouser's glove yesterday (from Eric Kohli). … An Astros player ripped his pants while sliding yesterday (from Sean Robbins). … The Edmonton Prospects of the collegiate summer Western Canadian Baseball League have a new stadium coming (from Wade Heidt). … The Pioneer League's Ogden Raptors have an ad patch for the company named after the family that their stadium is also named after (from Brice Wallace).

NFL News: The Washington Football Team has been trying to trademark its placeholder name, but its application has been denied. This doesn't mean they can't keep calling themselves the WFT; it just means that that name can't be legally protected as intellectual property (from our own Brinke Guthrie).

Hockey News: The Junior A British Columbia Hockey League's Nanaimo Clippers briefly moved down Vancouver Island to Esquimalt for part of the 1982-83 season. While there, they called themselves the Buccaneers and used a logo very similar to Bucco Bruce (from Wade Heidt).

Soccer News: Juneteenth and Pride collided in this weekend's NWSL games. First, the North Carolina Courage and OL Reign wore "Believe Black Voices" warm-up shirts for Juneteenth. The Portland Thorns also wore their own shirts with the same theme and the old NWSL number font. … Team captains wore commemorative armbands. … The Orlando Pride wore rainbow numbers, among other things, including their warm-up shirts, all tying into the fifth anniversary June 12 of the Pulse nightclub massacre in the city. … Germany men's captain Manuel Neuer wore a rainbow armband for their first two Euro 2020 games, which briefly earned them an investigation, as it was considered potentially a political statement. About two hours after that story broke yesterday, UEFA decided not to take action (also from our own Anthony Emerson). … Meanwhile, Munich's city council and mayor want the stadium to be lit in rainbow colors when Germany play Hungary there on Wednesday, as Hungary's parliament recently passed a law usually described as banning the "promotion" of homosexuality or non-binary gender identities to minors. … Black armbands also made a rare appearance in a tournament at Euro 2020, as Italy wore them in memory of striker Giampiero Boniperti. … New kits for Scottish club Kilmarnock and Germany's Hansa Rostock. … New away shirt for Croatian side Hajduk Split and new home shirt for Portuguese club FC Porto (both from Ed Zelaski).

Grab Bag: Formula One team Aston Martin added rainbow stripes to their halos at this weekend's French Grand Prix. … Golfer Bryson DeChambeau has two middle initials but includes only one of them on his yardage booklet (from @Byron_2284). … Team USA hurdler Christina Clemons wore Cool Ranch Doritos earrings at the Olympic qualifying trials (from David Wiechmann). … The volleyball organization Volleyball World is promoting gender equality within the sport by via a new "Equal Jersey" campaign, which will see the sport's top players wearing a jersey featuring their own name and that of a player of the opposite gender (from Jeremy Brahm).