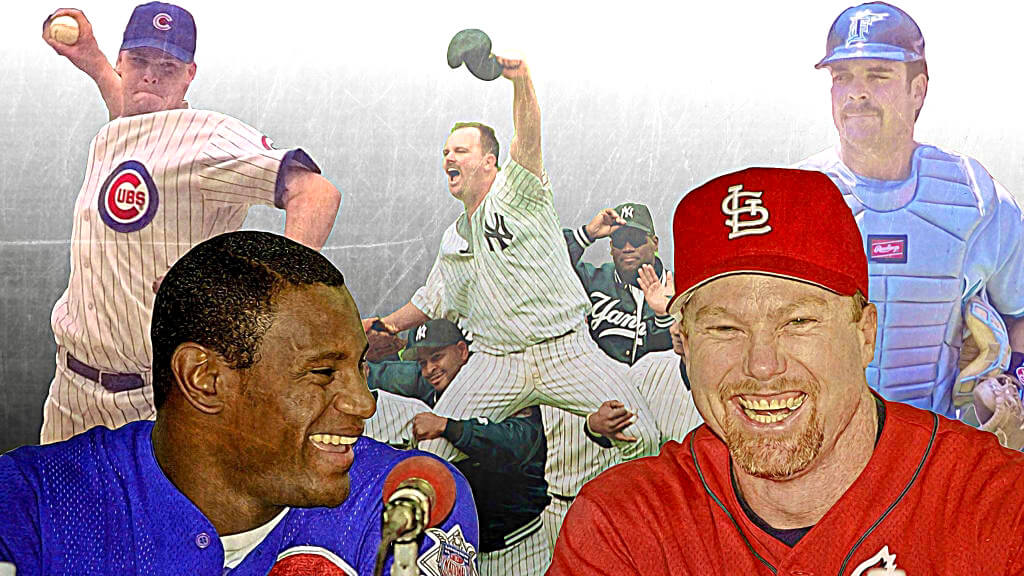 Nowadays, Twitter is full of "tracker" accounts that keep track of which uniforms are worn in which games by specific teams, plus the NBA provides all that info on LockerVision and a few seasons' worth of MLB and NHL uni-tracking info is available on SportsLogos.net.
But if you're looking for, say, MLB uni-tracking data from 1998, you're shit out of luck — or at least you were until now.
That link will take you to a spreadsheet that shows the game-by-game uniform choices for almost every game of the 1998 MLB season. It was compiled by Uni Watch reader Patrick Lavery, who did the research by following a YouTube account called SW561, which features tons of ESPN highlight footage from throughout that season (and many others). By watching the highlight videos, Patrick was able to determine which uniforms were being worn for almost every 1998 MLB game.
"1998 is the year I started seriously following baseball for the first time, so that's why I chose that season," says Patrick. "It's a bit challenging, because not all scheduled games on a certain day are shown in the highlight packages (not much interest in an Aug. 1 Jays/Twins game, for instance), but boy has it been fun."
Along the way, Patrick has uncovered a number of uni-notable finds from that 1998 season. For example, back in April I shared his discovery that the Mets wore blue helmets with their BFBS jerseys during the second game of a doubleheader on Aug. 18, something I had zero memory of myself.
Here are some additional things Patrick discovered about the '98 season:
• I didn't remember the Angels wearing their solid-blue alts on the road, but it appears they did for at least five games (and possibly more). Whether home or away, the blue alts were almost always worn on Saturdays, and always (even on the road) paired with an alternate helmet that matched the alt cap, with the light-blue/periwinkle bill.

• I always thought the Diamondbacks wore their white and teal alternate caps just a couple of times that season. I located footage for 68 of 81 home games, and in those games, the purple caps were worn 53 times, the white caps 10, teal 4, and black 1. Each home cap option (purple, white, teal) was worn with each home jersey option (primary, sleeveless, purple) at least once. Between cap, jersey, and pants, the Diamondbacks wore 13 different uni combinations in '98, the most of any team. (Not to mention the purple home helmet with the "D" logo and the black road helmet with the "A" logo and a purple brim, both worn in '98 only, and neither of which matched an actual cap style.)

• I've seen pictures from collectors of "game-worn" versions of the Orioles' alternate (orange-billed) cap, complete with the '98-specific bird, but I can't find any evidence of them actually being worn in a game. I'm missing seven Orioles games from this season, but most are in September, and I would think the caps would have been worn well before then if they were to be used at all.

• Highlights are available for all Cubs games during the '98 season, and they reveal an interesting trend: In the team's first 117 games, they wore their blue alternate jerseys — the ones that are still part of their uni set today — just four times (Memorial Day on the road, two Sunday road games in June, and the home game on June 30). But starting on Aug. 9, they wore the alts for 21 of their final 27 road games (plus Game 2 of the NLDS in Atlanta). Weird.

• I found footage for 159 of Cleveland's 162 games, and I can say with confidence that they did not wear their navy home alternates — the ones with the red "Indians" script — at any point in 1998. My suspicion is that after blowing Game 7 of the 1997 World Series in those jerseys — the second time in three years that they lost the Series wearing them — they decided to unofficially mothball them for a year at least. The navy "Cleveland" road alternates, which were added in 1997, were worn for only five out of 79 road games in 1998.

• I don't have a complete record for Astros or Blue Jays games, but I took a leap of sorts and filled in almost all of their contests because it appears both teams, with very few exceptions, only wore their alternates on Sundays. In fact, it looks to me like those two teams plus the Angels and Royals were the only teams that wore their alternate jerseys on any kind of schedule. For the Royals, that meant some (but not all) Sunday home games. I don't have any documentation of the Royals wearing the alts on the road that season, but I'm missing info for about 10 road games (they received less national coverage than any other MLB team in '98), so it's possible that they did so.

• The Padres wore their navy alts for a whopping 97 of the 153 games I have info on. The "primary" pinstriped home unis were worn for only about a quarter of the home games. Can they still truly be called "primary" in that case?

• The Mariners seemed to be one of the teams that left cap/jersey selection up to that day's starting pitcher, at least at home. Randy Johnson (before he was traded) almost always wore the green-brimmed cap with the regular home jersey; Jamie Moyer opted for the solid navy cap paired with the sleeveless jersey. I seem to remember the Diamondbacks had this policy around this time as well.

• The Cardinals wore the bird-on-bat alternate cap both at home and on the road in '98, for most (but not all) Sunday games.

• Interesting stuff with the Devil Rays for their inaugural season. As you know, they mostly ditched what the 1998 style guide said they would do, which was wear a purple-brimmed black cap with the Ray logo at home and a solid-black version of that same design on the road. Instead, they took the "TB" design that was supposed to be their alternate cap and made it their primary, right from the beginning of the season. I saw the purple-brimmed design that was supposed to be the home cap only once, on Aug. 23 (paired with the black alternate jersey). The originally designated road cap did start to show up in road games in late August and through September, but I don't have any record of it being used prior to that.

• Although this isn't something shown on the spreadsheet, I found it interesting that the Mets went NNOB for the first two games of that year's Subway Series against the Yankees. You can get a good view of it in this video clip:
———
Good stuff from Patrick!
As an aside, although Uni Watch didn't yet exist in 1998, I remember that Mets/Yanks Subway Series well. The Mets went NNOB to give the series more of an old-timey flavor (it was only the second year of interleague play, so teams were still experimenting a bit), and someone in management liked it so much that the Mets went NNOB as a season-long thing the following year. But the players didn't like it and fans weren't nuts about it either, and by mid-'99 it had already been decided that the NOBs would return in 2000.
Again, you can check out Patrick's 1998 spreadsheet here. He tells me he may soon do something similar for 1999.
• • • • •
• • • • •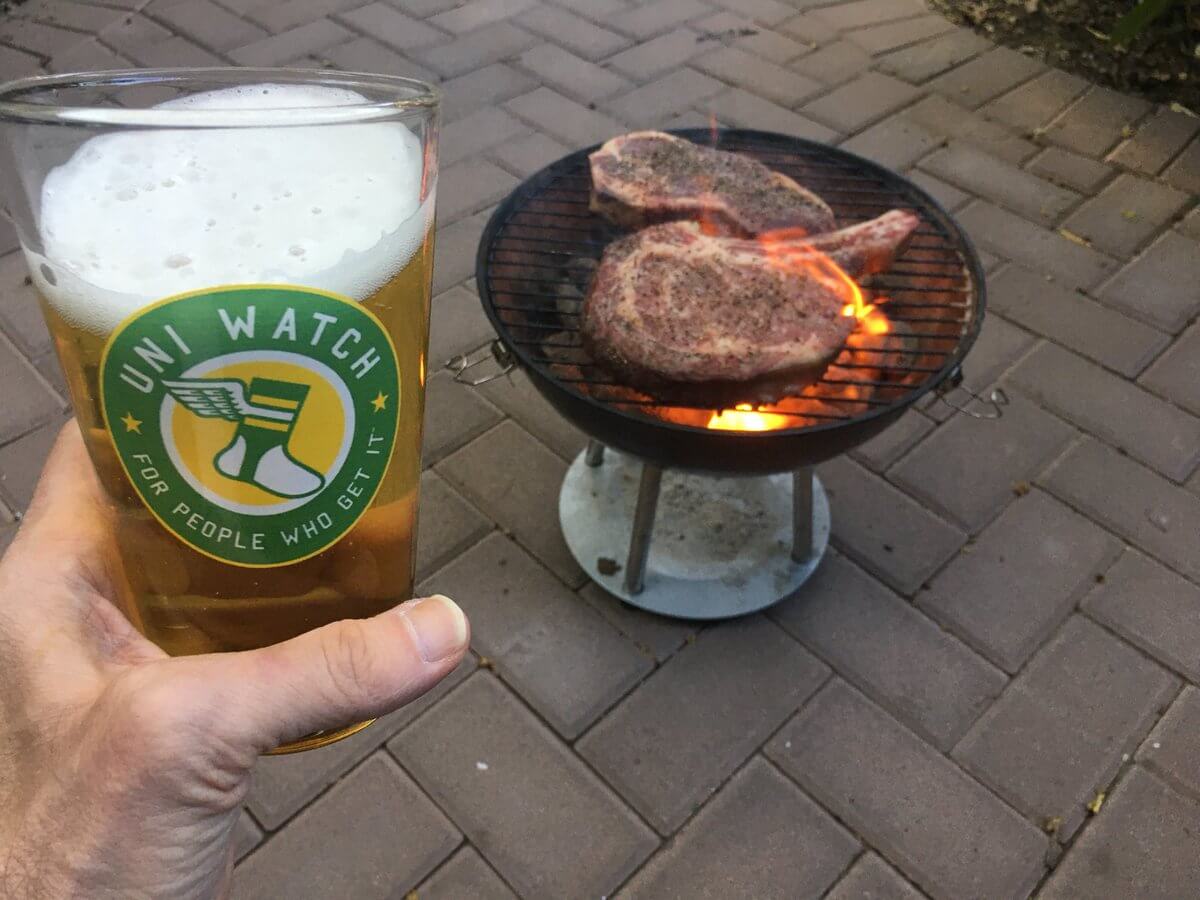 ITEM! Really fun pint glass idea: I received a note yesterday from reader Bob Andrews, as follows:
I ordered a couple of the pint glasses yesterday. Maybe once enough of them are sold and distributed, you could schedule a "Post-Pandemic Porch Cocktails" event — everyone raising a (Uni Watch) glass to the "new normal," whatever that means, and posting a pic.
I have to say, I love that idea! So here's what we're gonna do:
• I hereby declare that Thursday, July 8, will be Uni Watch Post-Pandemic Porch Cocktails Day.
• On that date, I encourage all Uni Watch readers to take some sort of photo of themselves enjoying a beverage on their porch (or stoop, or deck, or terrace, or sidewalk, or wherever). The photo can be like the one at the top of this section, or it can be a more traditional selfie that shows your face as well as your libation, but it should definitely include a view of your glass. Maybe I'll even livestream the proceedings from the Uni Watch HQ porch.
• If you want to order a Uni Watch pint glass for the occasion (or a Uni Watch koozie, for that matter), that would be great! But feel free to use any glass you like, Uni Watch or otherwise. The idea here is to celebrate our comm-uni-ty and the return to some semblance of normalcy, not to move merchandise.
• When we get closer to the date, I'll let you know where you can email or post your PPPC photo. Not sure yet if I'll set up a Facebook page or something like that, or if I'll just have you email the pics to me. But we have a few weeks to get that sorted out.
This should be fun! Please join me in thanking Rob Andrews for this excellent idea.
• • • • •
• • • • •
The Ticker
By Anthony Emerson


Baseball News: The Geneva Red Wings of the Perfect Game Collegiate Baseball League have some gargantuan uni numbers (from Kurt Blumenau). … On Tuesday, umps made Tigers P Casey Mize change his glove, saying it was too light. Yesterday, Tigers manager AJ Hinch said they overreacted (from Mark Kunz). … The Worcester Art Museum has a new exhibit about the history of baseball jerseys. Paul will be doing a livestreamed presentation in connection with the exhibit on Aug. 12 (from Kary Klismet). … At a "Low A East" game between the Carolina Mudcats and Fayetteville Woodpeckers, Mark Wheeler caught an old Carolina League ball.

NFL News: EA Sports revealed the Madden 22 cover, featuring Bucs QB Tom Brady and KC QB Patrick Mahomes. Both have previously been cover athletes, Brady for Madden 18 and Mahomes for Madden 20. This is the first time Madden has had two cover players since Madden 10, which featured Troy Polamalu and Larry Fitzgerald (from multiple readers). … The NFL now has an official "spirits partner," so get ready a lot of NFL stars pitching you Crown Royal, Smirnoff, and Bailey's (from John Cerone).

College/High School Football News: Pitt has unveiled new "ice white" unis (from multiple readers). … The 2021 Vanier Cup logo has been revealed. The Vanier Cup is the Canadian football university championship (from Wade Heidt). … Wisconsin appears to have some sort of new all-white uni in the works (from multiple readers).

Hockey News: A reader who wishes to remain anonymous discovered some 1936 NHL footage between the Rangers and Habs that appears to be color-vs-color (though the footage is in black-an-white, natch). Great find.

NBA News: Here's a look at the new Wilson NBA game ball, which will replace the Spalding ball next season and will also be used during the upcoming draft combine (from Marcus Hall). … If the Cavs, Heat and Lakers were to retire LeBron's numbers, with the Lakers retiring both 23 and 6, he would become the first player in NBA history with four retired numbers (thanks, Phil).

Soccer News: UEFA has warned players and coaches not to remove advertising bottles from postgame press conferences. In the past few days, Portugal's Cristiano Ronaldo replaced Coca Cola bottles with water, and France's Paul Pogba — a devout Muslim — removed the Heineken bottle placed in front of him (from Max Weintraub). … For Pride Month, the United States Soccer Federation has replaced the red stripes in their crest with rainbow colors (from Kary Klismet). … Manchester United's new home kit and third kit have leaked. As a United fan: I love them. … Barcelona's Champions League kits have been leaked. … Brazilian side Corinthians have unveiled their new home kits. … Portuguese giants FC Porto have had all three of their new kits leaked. … Paris Saint-Germain's away kits have leaked. … Atlanta United have unveiled their new third kit, which they're calling the Unity Kit. It features messages of encouragement in various languages. However, soon after its launch, it was pulled from shelves because the Hebrew phrase was incorrect (kit launch from multiple readers, incorrect Hebrew from Bryant Singleton). … The entirety of MLS will wear Juneteenth numbers tomorrow (from Jeff Wilk and our own Jamie Rathjen).

Grab Bag: F1 driver Charles Leclerc will wear a new helmet design during Sunday's French Grand Prix, inspired by the design he wore during his karting career (from Megan Brown). … The Air Force Materiel Command Headquarters at Wright-Patterson Air Force Base in Ohio has a new exhibit detailing the history of Air Force uniforms and the command's role in that history (from Kary Klismet). … Texas and Louisiana both enacted new laws this week requiring the national anthem to be played at sporting events.
• • • • •
Our latest raffle winner is Dave Moravcik, who's won himself a Uni Watch hoodie. Congrats to him, and major thanks to Ben Hollett for donating the hoodie.
That's it for this week. Enjoy Phil's content over the next two days (including his annual Father's Day special on Sunday), have a great Juneteenth and Father's Day, and I'll see you back here on Monday. — Paul