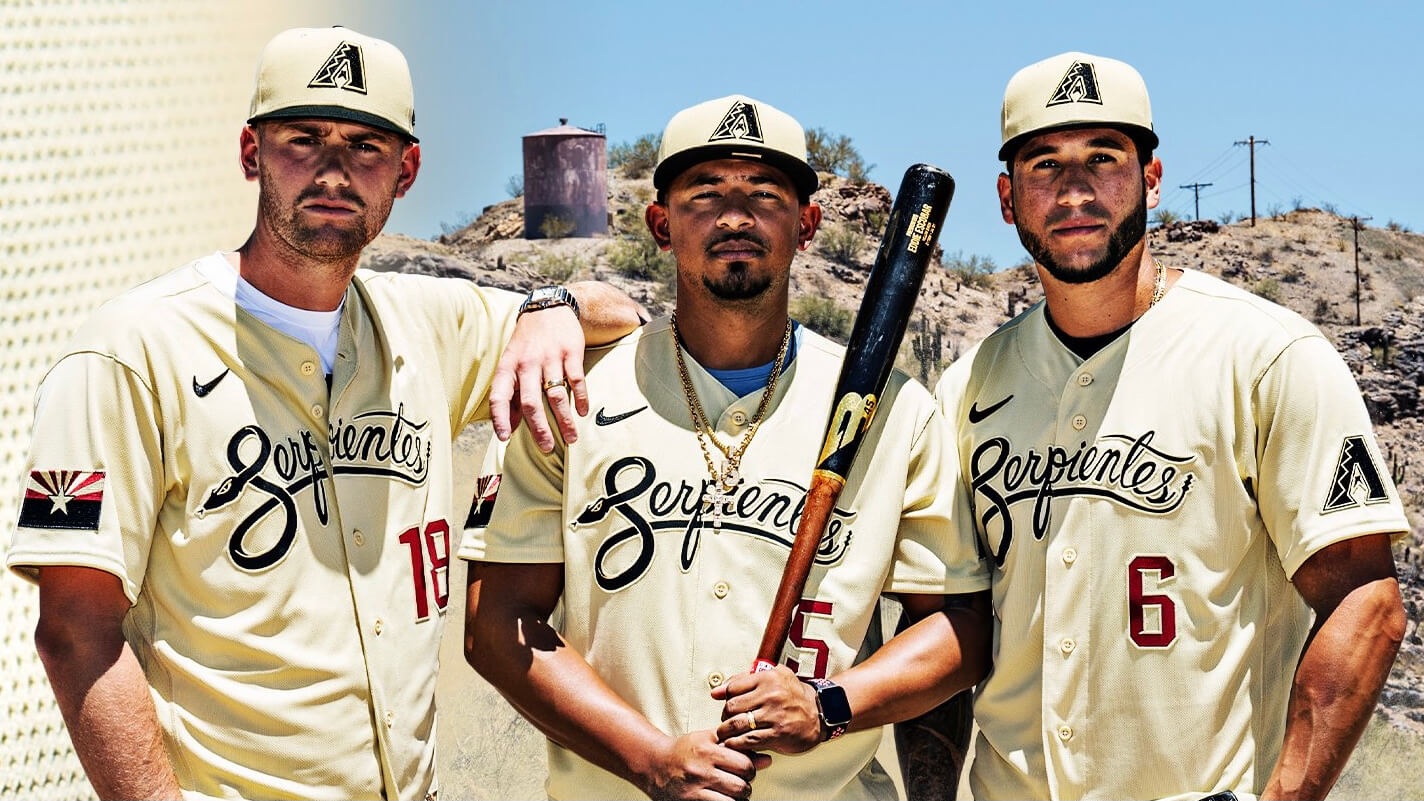 Click to enlarge
The Diamondbacks yesterday became the latest MLB team to release a City Connect alternate uniform (or, as I'll explain in a minute), most of the uniform. As you can see above, it features a sand-colored jersey with a black "Serpientes" script and a red front number. The team's primary logo, rendered in black, is on the left sleeve, and a modified version of the Arizona state flag is on the other sleeve. The cap matches the jersey's sand color and has a black brim and black logo.
Here's a look at the back: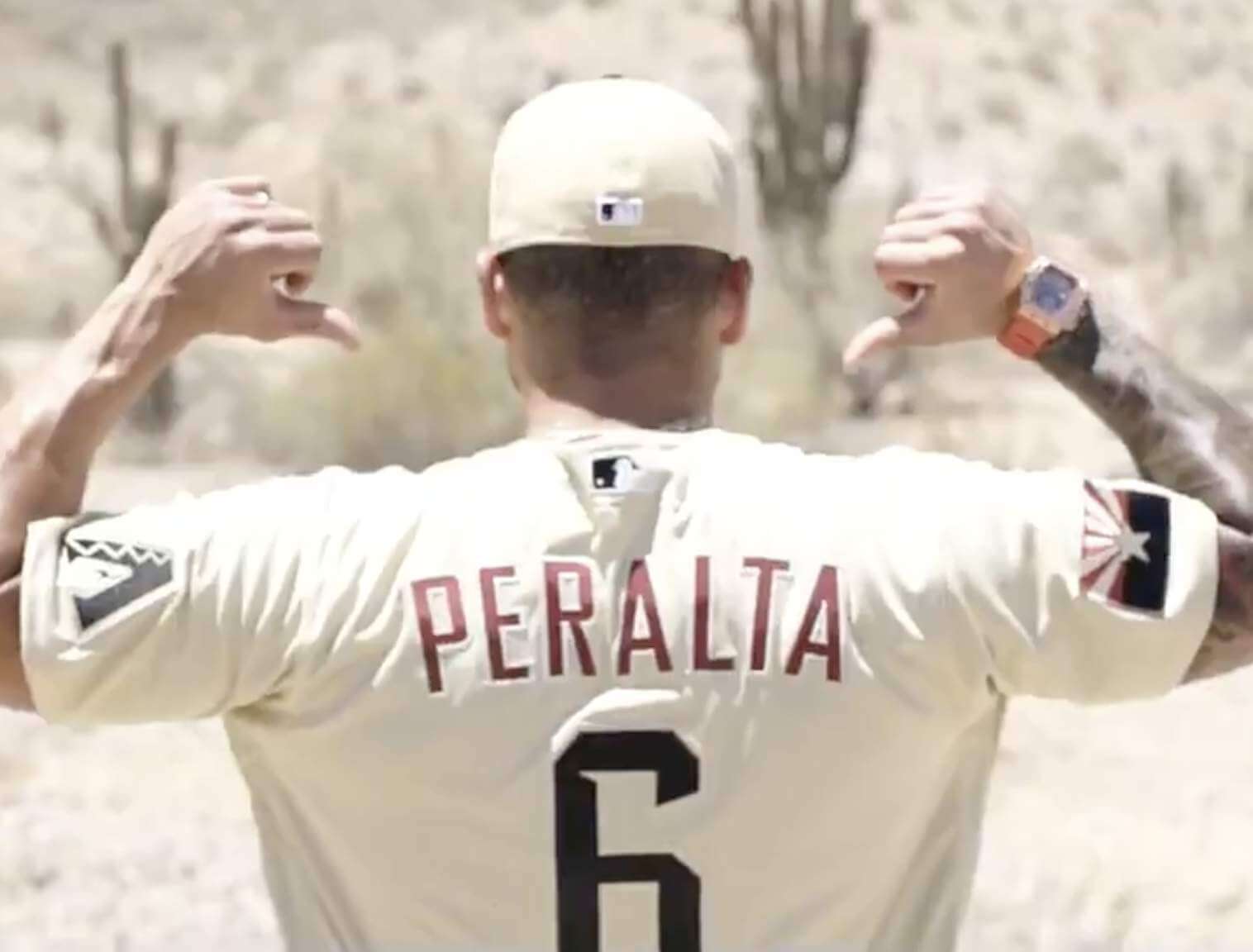 Some thoughts:
• I love the idea of calling the team the Serpientes. So much better than their "Los D-backs" alternate (which is now being retired). Good move!
• I love the design of the script — very, very nice — but I hate that it's done in black. For that matter, I hate the use of black throughout the uniform. Seems like such an unimaginative and reductive choice, especially given all the options presented by the Southwest's distinctive color palette. Moreover, the sand color reminds me of the team's original cream uniforms, so my mind's eye keeps wanting the script, the cap brim, and the cap logo to be purple and/or teal.
• Similarly, changing to the state flag to include black seems like a really misguided move. Here's a comparison of the actual Arizona flag and the black-centric sleeve patch:

Has there ever been another instance of a team in any sport changing a flag's colors in this way? I can't think of one.
• The front number bugs me on two levels: First, the modern font (which is the team's standard number font) doesn't feel like a good match for the classic-looking script. And second, the use of a red number beneath a classy-looking script insignia seems inescapably Dodgers-esque.
• On the plus side: Let's give them some credit for resisting the urge to bring back the snakeskin pattern!
———
So those are my thoughts about the jersey and cap. By this point you're probably thinking, "What about the pants?" But it turns out that they are no matching pants — when this jersey and cap make their on-field debut this Friday, the D-backs will wear them with their standard white home pants. Sand over white — ewwww. And that's not all. SportsLogos.net is reporting that the D-backs may also wear this uniform on the road, with their grey road pants.
Can you imagine how sand over grey will look? Well, imagining is all we can do for now, because the team hasn't released any photos showing the full uniform. Instead, all of the promotional photos and videos show the jersey and cap being worn with jeans and shorts. In other words, they're treating this like a merch dump instead of a uniform unveiling. Which is a shame, because the Serpientes concept is a good one and the script design is excellent (even if I don't care for the use of black).
This uniform is slated to be worn seven times this season. You can see those seven dates here.
Five teams have now released CC alternates this season: the Red Sox, Marlins, White Sox, Cubs, and D-backs. Next up: the Giants (in July) and Dodgers (August). That will wrap up the CC program for this season.
As a side note, ESPN's article about these uniforms included a very interesting quote from D-backs CEO Derrick Hall, as follows:
We've been bold at times, maybe too bold, had too many options in the past, and we simplified. We were one of the first teams to completely abandon our original colors and we were purple and teal, and for years, we had MLB asking us to consider changing our colors. We already had the Rockies with the purple. The purple never really matched up, and on TV, it looked more blue. The purple and teal was somewhat outdated.

There was no red in our division, and they put on an entire presentation for us where baseball was showing us that we should be the color red because of the Sedona Mountains and the sky and we said, no, thank you, but the more we thought about it, it made sense. We're such a young franchise, and you can do that.
Hall is wrong, of course, about the D-backs being one of the first teams to change their colors (earlier examples include the Phillies, Pirates, Dodgers, A's, Astros, and Padres, among others). But the real news here is that the D-backs changed their colors in 2007 because MLB wanted them to. I wasn't aware of that!
(My thanks to Tim Donovan for alerting me to Hall's quote.)
• • • • •
• • • • •
Click to enlarge
Who needs a clash kit? The photo above is from an Irish hurling match between Blackrock (green and yellow) and Glen Rovers (green, yellow, and black). A change kit would probably have been useful, but the lack of one resulted in probably the most chromatically pleasing sporting event I've ever seen. Tasty!
Lots of additional photos here.
(Big thanks to Reid Nimmers for this one.)
• • • • •
• • • • •

Click to enlarge
Cap reminder: In case you missed it on Friday, Ebbets Field Flannels no longer has access to the green wool fabric we've been using for our Uni Watch caps. They sent me samples of two potential replacement fabrics, but both of those were much darker than the fabric we've been using and didn't feel right to me. So I won't be getting any more caps from EFF, at least for now.
That means the caps we currently have on hand will be the final inventory of this product. They've been selling briskly over the past few days, leaving us with the following quantities (I'm updating this list in real time as orders come in):
7: 1 cap
7-1/8: 1
7-1/4: 6
7-3/8: 4
7-1/2: 1
7-5/8: Sold out
7-3/4: 6
7-7/8: 6
8: 3
Adjustable: Sold out
Once they're gone, they're gone! So if you want one (or more than one), get your order in now.
I haven't yet decided if I'll seek out a new cap supplier or if I'll just get out of the cap biz. Either way, I won't make that decision until we've sold out of the EFF caps, so get 'em while you can and then we'll decide about whether there'll be a new variety of Uni Watch headwear.
• • • • •
• • • • •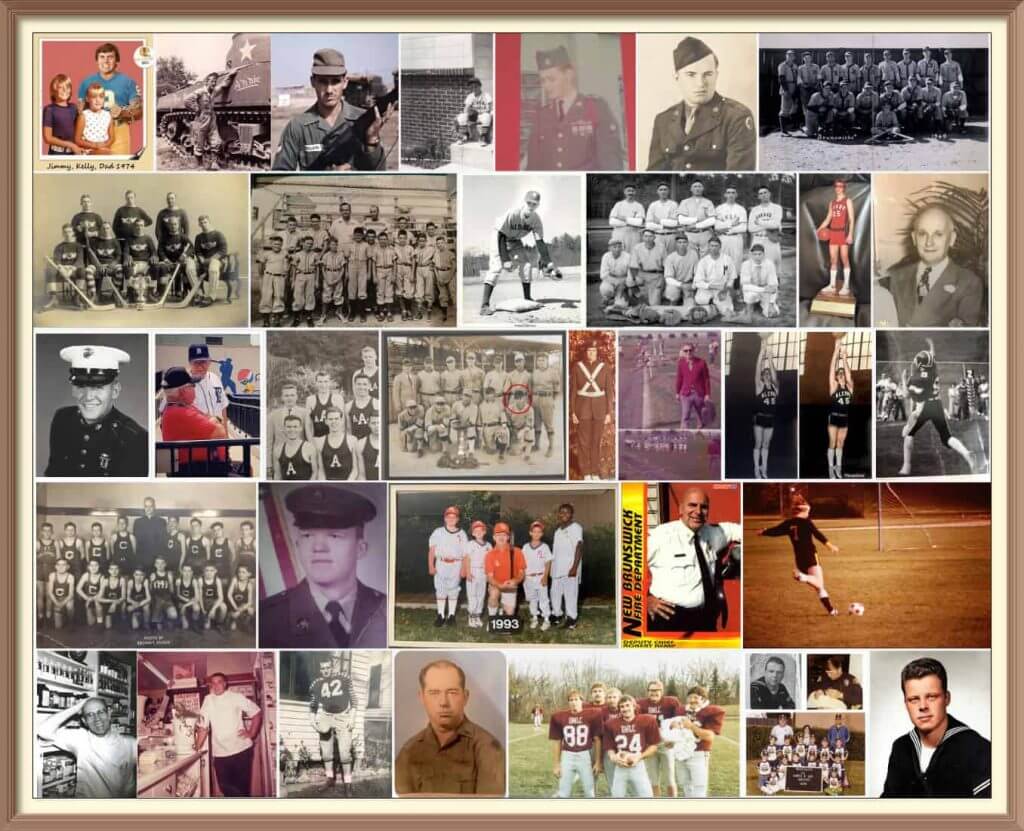 And now a few words from Phil: Phil here. Sunday is Father's Day, and I'll once again be posting photos of Uni Watch readers' "Dads in Uniform," an annual tradition that began in 2013. This is always a very special day on the site, and I'd love for as many readers as possible to participate — especially those of you who haven't done so before. A few of you have reached out to me saying "I've run out of photos of my Dad," so if you want to resubmit a photo that we've used before, please feel free to do so!
To take part in this annual tradition, select one photo of your father (or grandfather or uncle) in uniform (it can be sports, military, work — as long as it's a uniform) along with a short description of 100 words or fewer. Then email your description along with the photo — again, only one, please — to me by by this Thursday, June 17, midnight Eastern. I'll run all of the submissions this Sunday. Thanks!
• • • • •
• • • • •
The Ticker
By Jamie Rathjen

Baseball News: Mets C Tomás Nido was wearing OF Michael Conforto's batting gloves yesterday (from @stevenwoj). … Nationals C Alex Avila is apparently one of those players who has his jersey sewn shut. "That horizontal line under his second button makes it look like that to me," says Max Weintraub. … Tigers players came to yesterday's game wearing NBA and U.S. men's basketball team jerseys (thanks, Brinke). … Tennessee baseball IF Liam Spence had his sleeve patch coming off yesterday (from Timmy Donahue). … Reader Jerome Peirick sent us this picture of a 1941 Missouri amateur team that wore orange jerseys and dark-colored pants.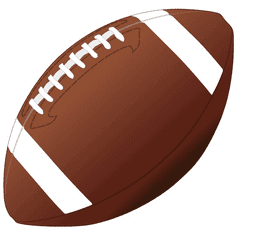 Football News: Rams CB Jalen Ramsey joined the ranks of new single-digit wearers yesterday by switching to No. 5 (from Timmy Donahue and our own Brinke Guthrie). … Reader Mike Cline, of the Helmet Addict Twitter account, had a combo Bills/Miami (Fla.) helmet cake, intended for his and his wife's aborted wedding reception, made for the anniversary instead. … The Athletic has a good piece on why renaming the Washington Football Team is so challenging (from Nicklaus Wallmeyer).

Hockey News: Reader Jonathan Karberg has a T-shirt with a soccer-style Blues logo that he says the team gave away at the event in 2018 where they revealed their current third jersey — which then did not feature that logo.

Basketball News: The WNBA's Minnesota Lynx are to retire No. 32 and 33 for Rebekkah Brunson and Seimone Augustus, respectively, next season (from Kary Klismet). … Cross-posted from the baseball section: Tigers players came to yesterday's game wearing NBA and U.S. men's basketball team jerseys (thanks, Brinke).

Soccer News: Multiple current and former teammates of Denmark midfielder Christian Eriksen supported him through their goal celebrations after his medical emergency on Saturday, as did Austria right-back Stefan Lainer. … Austria and North Macedonia both wore second kits in their Euro 2020 game yesterday, which happened three times in 2016 — the Portugal/Wales semifinal and two of Croatia's group stage matches. … One more item from Canada's friendly on Friday mentioned here yesterday: Captain Christine Sinclair's armband was the colors of the transgender pride flag. … Germany's women's team are to wear the men's black shirts in a friendly on Tuesday. … Guatemala's and Venezuela's teams have new shirts. … The U.S. teams had new warm-up shirts for their games last week. Pictures of the alleged new second shirt that first appeared a few months ago have also resurfaced (from Kary Klismet). … New second shirt for Scottish League One's Dumbarton. … Aston Villa/England winger Jack Grealish famously wears his socks very low. He recently said it's because he once had a pair that shrunk (from Rich Fuller). … The NWSL's OL Reign are playing at the Sounders' and Seahawks' stadium for the first time Aug. 29 — before they moved to Tacoma, Wash., they played at Seattle's city high school football stadium.

Grab Bag: The Australian Football League's Greater Western Sydney have a new orange clash guernsey worn for the second time yesterday. … Australian teams sometimes wear black armbands in memory of players' family members, and Super Netball's West Coast Fever did so for reserve team shooter Donelle Wallam's grandmother. … Division II's Wingate has a new sports logo (from Kary Klismet). … Nike has been granted a patent for the Air Jordan 1 silhouette.